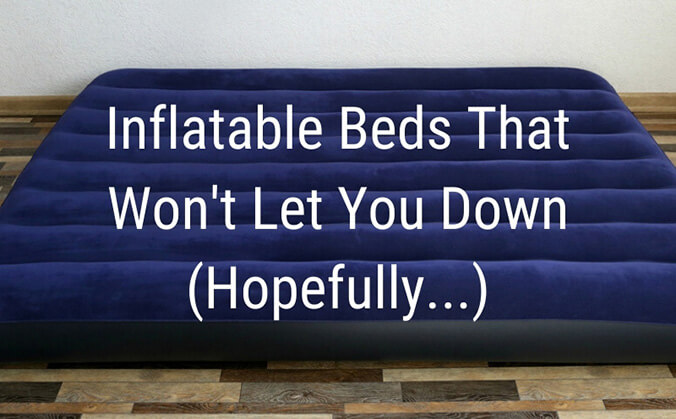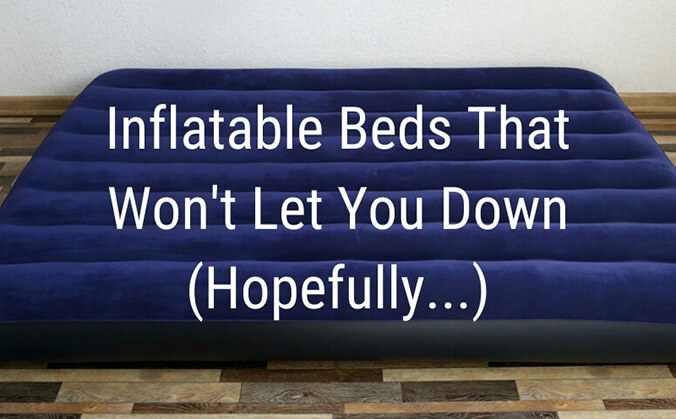 Before I talk about the air mattresses, join me for a brief stroll down memory lane.
When I first went camping with friends in rainy England in the 1980s (yeah, I'm old), I had what would now be called a yoga mat as a mattress. I soon discovered why the word 'camping' is so similar to 'cramping'.
After a lot of moaning, my parents got me a funky red and blue air mattress the following year. It seemed like a perfect upgrade from the yoga mat, but the tube structure was so pronounced, I had to let half the air out to create a comfy surface to sleep on.
That same air bed made regular appearances at large family gatherings when real beds were in short supply. I'm sure it was the only bad thing about Christmas (other than the random tangerine in the stocking).
Fast forward 20 years and there's now an unspoke rule in my family that we all have a decent air mattress for when we run out of bedrooms. And when I'm camping, it's an air bed, duvet, and pillow at a minimum. Not quite glamping, but not cowboy boots and sausages on sticks either.
It's not just that we want to sleep on a good air mattress nowadays, it's because they actually exist.
Flat(ish) surface. Easy or auto inflation. Comfortable feel. Doesn't dip in the middle. Doesn't deflate in the night. Able to resist assassination attempts by pins, puppies, and porcupines. Maybe not the last one, but you get the point.
It's not much to ask, is it?
Let's take a look then at the air mattresses that have most impressed me, and that I'd personally use in my home or when away for a night under the stars.
I can't promise you that they will be as comfortable as your normal bed or that they will never, ever have problems. But I can promise you that they'll be better than my vintage yoga mat.
Disclosure: There are affiliate links in this article. So if you choose to buy a product via a link, I may make a small commission, at no extra cost to you (learn more).
1. SoundAsleep Dream Series
Ideal for the home, with auto-inflation and deflation along with a sturdy design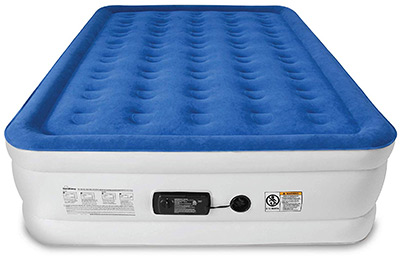 The SoundAsleep Dream Series is an excellent air mattress that has convenience in mind, either as a temporary bed or for extra guests. You can use it for camping too, but you'd need a power source to use the internal pump.
One of the main benefits is that it has a simple dial to auto-inflate or deflate it as needed. And that just makes life simpler than endlessly stomping on a pump or being on your hands and knees trying to squeeze the air out of a valve.
It has 40 internal coils, which does a great job of stopping it from dipping too much in the middle. So if you're sharing with a partner, you'll both be comfortable without rolling into the center in a neverending nightly hug.
It's made from thick puncture-resistant eco-friendly PVC, with a comfy flock top. Since it's a whopping 20 inches high (great for getting in and out), it does end up being quite heavy to transport, weighing just under 20 pounds. But in my experience, to keep slow air leaks at bay, bigger is better.
The price ranges from $100 to $150, depending on the size you choose, which puts it in the top three most expensive. We're not talking huge differences between those three though, as $100 to $150 is a common range for this type of air bed.
And while most air beds in this list only come in a twin or a queen, the SoundAsleep is available in four sizes so you can find the best fit for your tent or spare room.
---
2. Intex Dura-Beam
A sturdy auto-inflating air bed for a reasonable price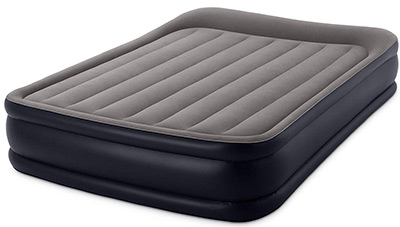 As the name suggests, the Intex Dura-Beam uses a long internal beam system instead of coils. And with lightweight and durable fibers to increase the support, it's a good choice for two people.
Like the SoundAsleep, there's an internal pump that will inflate or deflate the bed in just a few minutes. It's a little shorter than the SoundAsleep, at 16.5 inches high, but also lighter at 16.6 pounds. So it's perhaps more convenient if you need to carry it further than the cupboard to the middle of a room.
The product description says that the built-in pillow section means you don't need to bring your own, but I disagree. An air bed might beat my pillow in a pillow fight, but would lose in a comfort competition. So ignore them, and do bring your own.
It has a soft top layer with a velvet feel, which adds a little extra comfort under your bedsheet. It's worth noting that it costs considerably less than the SoundAsleep, at under $70 for the standard twin. I'm not entirely sure why though as this is also a dependable air mattress that manages to hold its breath well.
---
3. Coleman Double High Support Rest
Ideal for camping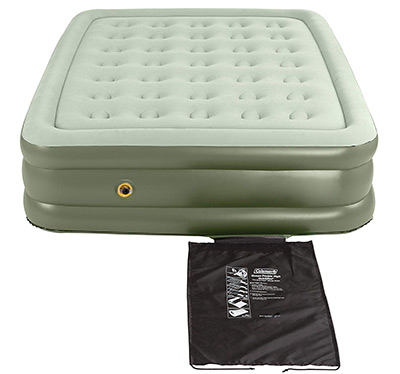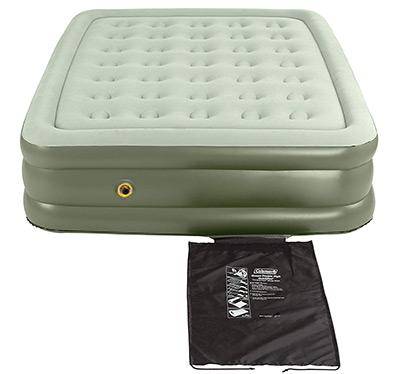 The Coleman double-high support rest, as you can guess from the name, is 18 inches tall and easy to get in and out of. Just remember that for camping, you'll need space in your tent to accommodate the combined height of the bed and your horizontal body.
It's designed with robustness in mind. It has a reinforced PVC construction with internal coils to maintain the shape, and a dual-sealed valve to prevent leaks.
It doesn't inflate automatically, so you need to use a separate pump. It doesn't come with a pump though, so you'll need to buy one if you don't already own a Coleman compatible pump.
Bear in mind that the total weight is 18.5 pounds, so if you are taking it camping, it's not one to carry on your back unless you fancy training your leg muscles. But to pull out of the car at the end of a long day in the great outdoors, or just as an extra bed back at home, it's a comfortable air bed.
The price is good too, with the twin usually under $60 and the queen under $80.
---
4. King Koil
Comfortable auto-inflating air bed that will suit shorter people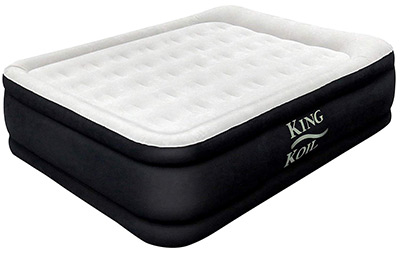 The King Koil would win the prize for best name. But is this a king that the people love, or has he let them down too many times?
When it comes to inflation, it does so in almost record time – just a couple of minutes using the internal pump. The same pump will also deflate, which is always preferable to the old-school routine of squeeze, squash, roll, repeat.
It has fairly standard durable PVC to fend off sharp objects, and a coil system to support your body. And a flocked top puts the finishing touches to the essential support+comfort balance.
One notable point is that it has raised sides all the way around, which significantly reduces the amount of 'flat' space to sleep on. So tall people who don't sleep in the fetal position might have to offer up their feet to inquisitive pets in the morning.
It does come in a California King size though. So although I wouldn't say this is the King of air mattresses, you can at least use the literal name to convince taller guests it really is a king size.
This is a slightly more expensive air bed, like the SoundAsleep. It comes in a twin that hovers around $100 and the queen a bit more than that.
---
5. Insta-Bed Raised Air Mattress
An automatic pump keeps it topped up in the night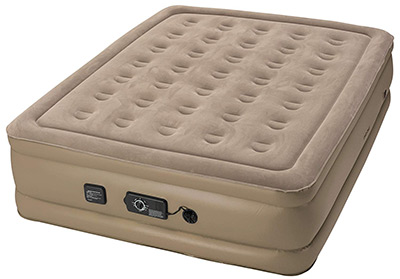 The Insta-Bed takes around four minutes to inflate using the automatic internal pump, which is standard for queen size air beds.
What makes it unique though is the addition of a second pump, which generally divides opinion as to how useful it is. Rather than manually stopping it when it reaches your chosen fill level, you have to select one of three firmness options.
That's great if one of those set levels suits you perfectly because the second pump will then automatically keep it topped up in the night to maintain that firmness. But it does mean it's a little less flexible, while adding an extra component that can potentially go wrong.
Having said that, this is an air mattress that you might appreciate if you tend to get frustrated by the natural slow deflation that can happen over the course of the night. And with 35 coils and 18 inches of height, it will do its job as a substitute bed if those pumps hold tight.
Again, it's a little pricier than the budget options, with both the twin and the queen costing over $100.