Have you ever switched off the bedside light, only to suddenly see strange shapes, animals or figures in the darkness? Perhaps you've heard voices or sounds which can't possibly be real?
If so, it could be that you've experienced what's known as a sleep hallucination, also sometimes referred to as hypnagogic hallucinations.
Many people experience hypnagogic hallucinations at some point in their lives, sometimes on a regular basis. And I'm no exception.
As a child I'd often see strange, multicolored geometric shapes in the darkness when trying to sleep. I used to lie there alternating between marveling at them and wishing them away so I could sleep in peace.
It doesn't happen so often nowadays, but once in a while I'm still prone to these mathematical manifestations. Perhaps I should be grateful for my geeky hypnagogic hallucinations. Especially compared to the disturbing experiences that some people have.
So what exactly is this strange phenomenon and why does it happen? In this article I'll be taking a closer look to help you understand what you've experienced yourself.
Definition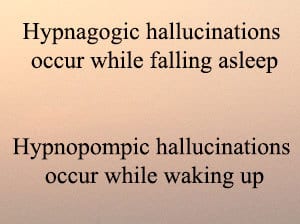 Hypnagogic hallucinations are usually short-lasting experiences in which you might see, hear or feel something which isn't real whilst transitioning from being awake to asleep.
It can be an auditory, sensory, tactile or any other sensory experience. Whatever form it takes though, it's not real and is caused by your amazingly creative brain.
Hypnopompic hallucinations are exactly the same thing, except that they occur while you're waking from sleep. For the sake of simplicity I'll refer to the phenomenon as hypagogic hallucination throughout this article.
Both hypnagogic and hypnopompic hallucinations can be very vivid, so can be disturbing in some cases. Especially if you see creatures appearing in your room, voices saying unpleasant things or feeling something touch you.
The history
Hypnagogic hallucinations were first described in 1664 by the Dutch Physician Isbrand Van Diemerbroeck. He might not have called it by the name we know it as today, but he did describe a woman who appears to have experienced hypnagogic hallucinations.
How many people experience it?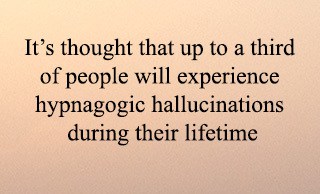 There hasn't been much research done to find out how many people experience this. But the following surveys and research show how common it might be:
1. A telephone survey in the United Kingdom in 1996 of 4972 people found that 37% experienced hypnagogic hallucinations twice a week or more.
Furthermore, 12.5% experienced hypnopompic hallucinations. It was more common among people with insomnia, excessive daytime sleepiness and mental illness.
2. A review of 35 different studies in 2011 found that 7.6% of people experience sleep paralysis in their lifetime. We'll see later how sleep paralysis often occurs alongside hypnagogic hallucinations.
3. In 2000 a survey of 13,000 people found that 38.7% experienced hallucinations, though 27% were in the daytime. 2.7% of people had them once a week, with 2.4% more than once a week.
So you can see that if you do experience hypnagogic hallucinations, you're definitely not alone!
Symptoms of hypnagogic hallucinations
It's possible to experience hallucinations that correspond to any of your senses, though visual hallucinations are the most common. They can be experienced from between just a few seconds to a few minutes:
Visual – for example the geometric shapes in the picture above. But possibly also images of people, animals or other complex shapes.
Auditory – this can be simple sounds like hissing, humming or whistling. But it can also be more complex sounds like human voices. It may also be extremely loud, similar to the sleep disorder known as

exploding head syndrome

.
Olfactory – perceiving smells which aren't actually there, either pleasant or unpleasant.
Tactile – this can be very disturbing, such as feeling insects or spiders crawling on the skin. It can also be a strange rubbing, stroking, tapping or tickling sensation.
Furthermore, there can be more complex hallucinations as part of sleep disorders such as sleep paralysis. You may feel unable to move your body, and perhaps see or sense a person or presence in the room.
Causes
The latest international classification of sleep disorders manual in 2014 presents the following 2 main causes, though does state more research is needed to confirm them:
An intrusion of dream imagery onto wakefulness.
A lack of stimulus leading to the visual cortex in the brain creating images.
The causes of sleep hallucinations may also be related to another illness or sleep disorder. For example, they're often associated with these sleep disorders:
Narcolepsy.
Sleep paralysis.
Exploding head syndrome.
Excessive daytime sleepiness.
Sleep terrors.
They can also be associated with a mental illness such as Schizophrenia. Each of the above will have a particular way of explaining the causes that's relevant to them.
In addition there are some things which might lead to an increase in frequency or intensity of hallucinations, including:
Stress.
Sleep deprivation or exhaustion.
Electrical activity in the brain.
Drugs – particularly illegal drugs such as hallucinogenics, ecstasy and marijuana. But also some medical drugs, including sleeping pills.
Brain damage or lesions.
Treatment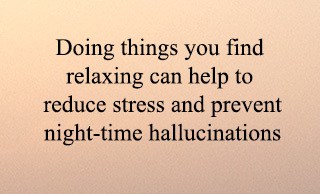 A doctor would want to rule out any of the other illnesses or sleep disorders first, particularly narcolepsy and schizophrenia.
If you do have one of those, then your treatment would be tailored accordingly.
For example, Schizophrenia is usually treated with anti-psychotic medication. Narcolepsy will be treated with advice about lifestyle changes and possibly medication.
For most people, however, there's no specific treatment for hypnagogic hallucinations and reassurance is the main need. It's something which you just need to accept as a normal part of life.
Despite that, there are lifestyle choices you can make which may help. And the same applies to those who experience them as part of another sleep disorder. Here are some ideas which may help keep the hallucinations at bay:
Get an adequate amount of sleep every night, follow a stable sleep schedule and don't allow yourself to become sleep deprived.
Avoid illegal drugs and check with a doctor if any medication you're taking may be causing it.
Eat a healthy diet and drink plenty of water.
Try to reduce your stress levels.
Try using a soft night light in the bedroom. This might help fill the space that your brain uses as a blank canvas.
If you tend to hear things, perhaps listening to music or the radio at night will help.
If you find yourself focusing on visual hallucinations, try to re-focus your mind on something else. So for example, breathing exercises or muscle relaxation can keep your brain occupied.
If it's overwhelming, turn on a light and get up for a while, do something relaxing and then try to sleep again after 10-15 minutes.
Several readers have said in the comments below that wearing a sleep mask helps them.
Generally though, you can see that hypnagogic and hypnopompic hallucinations are a normal part of life for many people. Once you've ruled out any serious illness or disorder, then you're left to deal with the experience in two ways.
First, try to adapt your lifestyle to make sure you do everything possible to sleep well. Second, relax and try not to worry about things that go bump in the night.
If you do find yourself becoming overwhelmed by your experiences, it might help to talk to your doctor for some reassurance. You may also find it helpful to try some relaxation techniques which can help take your mind off any hallucinations.
Your thoughts
Do you ever experience hallucinations when falling asleep or waking up? What form do they take?
Do you find they get worse at certain points in your life, or if you do certain things? Have you found anything which helps prevent them?
Feel free to describe your experience in the comments below and share any ideas you have about dealing with them.
Please note that after years of responding to comments personally, I've now decided to leave this discussion entirely to readers.
I will still read your comment before publishing it, but would like to leave the fantastic discussion that has grown here over the years in your hands now.