Disclosure: This website is supported by my readers. If you decide to purchase a product through one of the links provided, I may receive a commission, at no additional cost to you. Learn more.
At a glance
The Big Red Rooster is one of very few white noise machine machines that can be powered either with standard AA batteries or a USB cable.
It's somewhat limited by only having six sound choices, and the speaker distorts a bit when you turn the volume up high. Despite those points, it's still a reasonably good low-cost sound machine, especially if you'd like one that works with normal batteries.
Pros
Works with normal batteries (3 x AA) or a USB cable.
Small and lightweight.
Reasonable speaker quality on low to mid volume.
Auto-off timers from 15 to 30 minutes or continuous play.
Small timer lights so you know which one is set.
Each soundtrack has a large, labeled button.
Good price (I paid $20).
Cons
Limited number of sounds.
Clicky buttons.
Speaker distortion on maximum volume.
Full review
Please note that the written article isn't an exact transcript of my video review. I edited it so that it's easier to scan for specific information.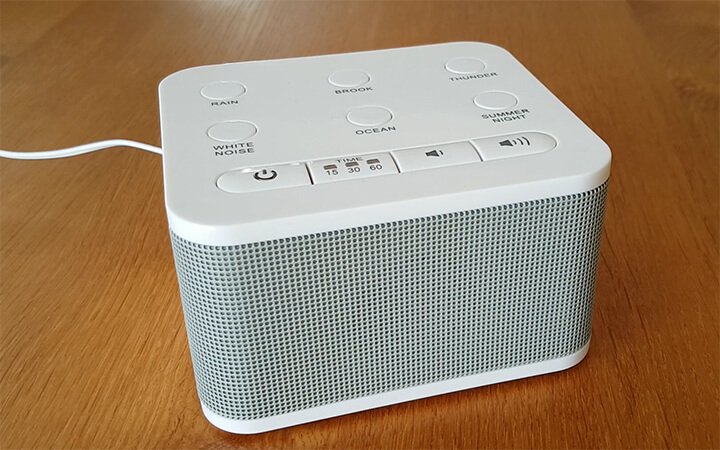 The six soundtracks
The Big Red Rooster has a choice of six soundtracks. Here's what I thought about each of them:
White noise: the standard option found in most white noise machines. It sounds fine to me, though it might be too intense for some people.
Rain: seems like heavy rain on a window. On louder volumes, the speaker doesn't cope so well. Use this one on low to mid volume for the best effect.
Ocean: sounds good – more of a gentle lapping wave sound than a powerful ocean. On a short loop, but well spliced together. No added bird sounds.
Brook: my favorite on this machine. A pleasant, constant running water sound. No animal sounds overlaid.
Summer night: combines a light fan sound with crickets. A slightly odd combination for my taste.
Thunder: the sound of distant thunder. On a loop, but still sounds quite good.
Speaker quality, volume, and sound masking
The speaker faces sideways, allowing for targeted listening. The quality is reasonable, especially for the price. But on loud volumes, the thunder and rain don't sound so crisp.
Compared to some of the higher-end models, like the LectroFan and Dreamegg D3 Pro, the max volume isn't as high, but it's still good enough to mask a lot of external noise.
Using it in the bedroom, I was able to block out the sound of the TV in another room, people talking, and some kitchen noise. But loud traffic, music, or dogs barking might still reach your ears.
Auto-off feature
There are essentially four options:
Constant play
15 minute timer
30 minute timer
60 minute timer
It's good to have this choice, and the timers work well. One hour is probably enough if you're planning on using a timer at all.
Design and size
The Big Red Rooster looks neat from a distance, with its glossy white finish and simple buttons. And those big labeled buttons make it very easy to use.
However, if you inspect it closely or press any button, it's obvious that it's made from quite light plastic and doesn't feel as robust as it first appears.
It is relatively compact though, which is good for travel. Measuring 4 x 4.4 x 2.6 inches and weighing 5.9 ounces, you can easily pack it in a suitcase or car.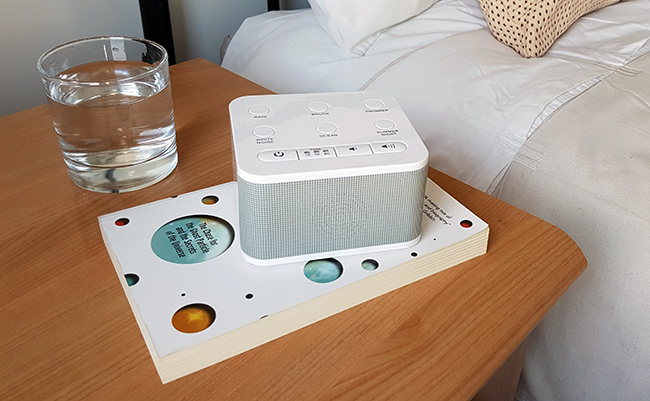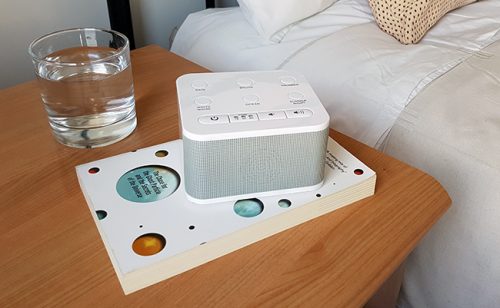 Power options
The power options, along with the small size, make this a conveniently portable device.
It comes with an AC power adaptor and USB cable, so you can plug it into any standard socket. The cable is a good length to reach a nightstand from a wall socket close by.
It also takes 3 AA batteries if you need to use it where there's no power source close by. Many sound machines don't have a battery option at all, so this is one of the big points in the Rooster's favor.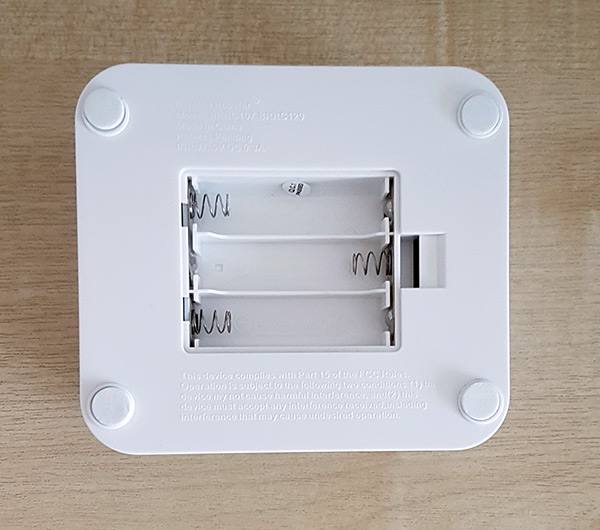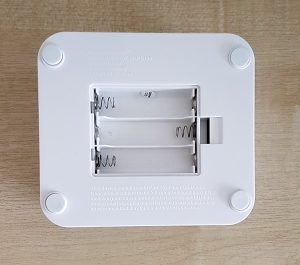 Criticisms
Lack of sound choice
Six sound options aren't a lot, especially compared to more high-end machines. I think it's better to at least include a couple of deeper pink or brown noise options.
By comparison, the Lectrofan, Dreamegg D3 Pro, and Sound+Sleep have 20 or more sound options.
Clicky buttons
The buttons make a loud click sound when you press them. It's not a major issue, but if you need to smoothly change sounds in the night, it's a bit jarring.
Sound quality suffers at a loud volume
For this price, you're not going to get an amazing speaker, and it's actually fine on low to mid volume.
But if you need a loud machine to drown out noise, you might find the louder volume on the Big Red Rooster is as bothersome as the sound you're trying to mask.
Verdict
If you don't want to spend much on a white noise machine, the Big Red Rooster is one of the better ones I've seen for under $20.
Probably the main points in its favor are the easy to use buttons and the fact that it can be battery operated, which isn't common with these devices.
However, you do get what you pay for. And in this case, that means a small selection of sounds and a design that feels cheaply made.
One final note is that there are two very similar models. The one reviewed here is for adults, but they also make another one for babies, which you can tell by the inclusion of a lullaby sound. So be sure to check before you buy.
Price and where to buy
I bought mine in the US for $20. However, that was a while ago and more recently I've seen it listed online for closer to $25.
In the UK, it used to cost closer to £20, but recently I've seen it sold for much more. I'm not sure why, but I don't think I'd recommend it if it costs much more than £30 as you can find others that are cheaper and equally good, if not better. The battery-operated feature may mean you're willing to pay the extra price though.