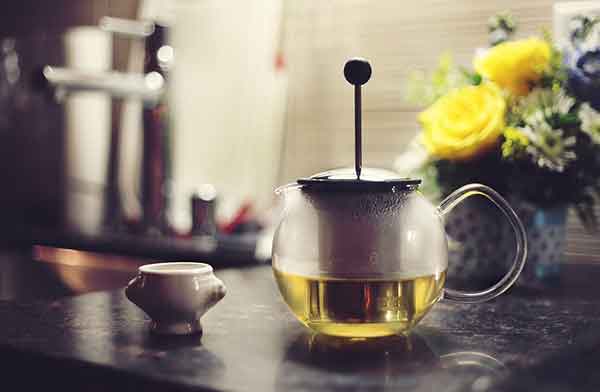 If you're looking for a bedtime tea which both tastes good and helps you sleep, I have some good news and some bad news for you.
The bad news is that there isn't a great deal of scientific evidence that any tea can really help you get to sleep.
The good news is that the lack of evidence may be due to a lack research rather than a lack of effectiveness.
In this article I'll be taking a look at some of the most popular nighttime teas, and checking out which herbs, flowers and plants go into them.
And I'll also explore why it is that even though some research says tea doesn't help you sleep, millions of people say it does.
And that includes me!
Contents
Part 1: Can tea really help you sleep or is it all in the mind?
Part 2: The herbs, flowers, plants and roots that may help you relax and sleep.

Part 3: The best bedtime teas.
Part 1: Can tea really help you sleep?
Why do you drink tea before bedtime? Maybe you find it relaxing, or you simply like the taste. Perhaps you truly believe it can help you fall asleep.
If you like the taste and find it relaxing to sit down with your favorite bedtime tea, then that's perhaps the only thing that really matters.
The only real problem lies in the lack of evidence for the effectiveness of tea as a sedative; a large piece of research in 2012 found that there's little evidence that herbal teas actually help you sleep.
However, when I was writing about natural remedies for sleep, I came to 2 conclusions:
Just because there isn't much research, doesn't mean a bedtime tea won't help.
It could be that simply taking the time to enjoy a cup of tea is relaxing in itself.
For me, drinking herbal tea is a part of my bedtime ritual; sitting down to drink it helps me unwind and relax after a long day.
Whether there's evidence or not, millions of people believe in the power of a nice cup of tea to help you sleep. Myself included.
Part 2: The plants and herbs that help you sleep
1. Chamomile
Chamomile is of course the superstar of night time teas. There's precious little evidence that it has any sedative effects, yet millions of people continue to drink it before going to bed.
You can easily make it yourself by drying out the flowers and brewing them. And it's also found in most brands of bedtime tea.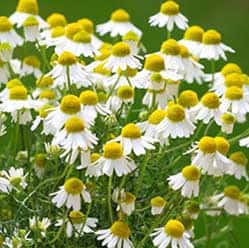 2. Valerian
Valerian is one of the few herbs which have actually been found by researchers to have sedative properties. It's been used for centuries to help with sleep and also anxiety. Made from the root of the flower, it may take a couple of weeks of regular drinking before taking effect.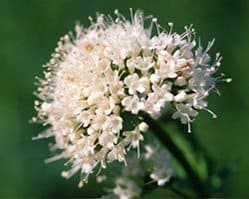 3. Lavender
Whilst Chamomile and Valerian reign supreme in the bedtime tea category, they aren't alone. Another plant sometimes put into the mix is Lavender, which is thought to have relaxing and anti-stress properties.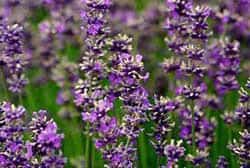 4. Lemon balm
Lemon balm also cropped up in the study reporting a lack of evidence for natural remedies and teas that help you sleep. However, it's still popularly believed to aid relaxation, and for this reason is often included in brands of teas for sleep.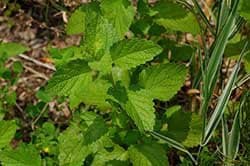 5. St John's Wort
St John's Wort is most commonly used as a natural anti-depressant, but has also been found to help with anxiety. Since worry and stress are common reasons why people suffer from insomnia, it could be that it can help promote sleep by reducing the nightly worries.
It does come with some warnings though, so before you go out harvesting the plant, make sure it's safe for you to use.
6. Peppermint
Peppermint is more often associated with providing energy and helping stomach problems. However, it is sometimes included in bedtime tea.
It's thought to help calm your internal systems, and with that your mind. It may be particularly useful if you've over-indulged and your tummy is keeping you awake!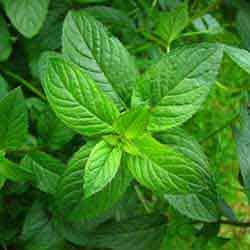 7. Kava Kava
I was hesitant to include Kava Kava on the list because of the various dangers it can pose. However, it's still a valid plant used for insomnia. You just need to be slightly cautious if you're thinking of using it. Do further research and check it won't pose a problem considering your current health.
8. Chinese herbs
Chinese medicine is a complex world. The philosophy tends to be more that you need to have a combination of herbs created specifically for you. Not so much that they create a magic potion that works for everyone.
That said, there are some herbs typically used to help promote sleep:
Sour Date Seed
Poria Paradicis
Arborvitae Seed
Schizandra Fruit
And there are some formulas created to reflect the kind of sleep problems you might have. They tend to be connected to a body part as well. For example, problems falling asleep may be connected to the heart. And so Chinese medicine would look at ways to restore balance to that organ.
Part 3: The best bedtime teas
Nowadays there's a great choice of ready-made herbal teas, but some brands have lasted the test of time. Here are three which prove ever popular with millions of people around the world, and are also my personal favorites.
Celestial Seasonings Sleepytime Tea
Celestical Seasonings Sleepytime continues to be the most popular brand of tea for sleep in the United Sates. It's also now very well known in Great Britain and many other countries.
It's been my personal favorite night-time tea for a long time now, as I find it has a delicious taste and definitely helps me unwind at the end of a long day.
It also has the added benefit of being soothing on the tummy. So when I've eaten a little too much for dinner (or been at the chocolate brownies again…), this is the tea to calm both the body and mind.
Sleepytime tea contains the following ingredients:
Chamomile
Spearmint
Lemon Grass
Tilia Flowers
Blackberry Leaves
Orange Blossoms
Hawthorn Berries
Rosebuds
Bigelow Sweet Dreams
Bigelow Sweet Dreams has some extra minty pizazz to accompany the usual chamomile that you'll find in most night-time teas. It's another of my favorites, especially as I'm a mint lover.
The inclusion of two types of mint fuse together to create a lovely aroma, and like the Sleepytime tea can help calm a poorly stomach.
If you're as much of a mint fanatic as I am, then this is one to try at least once. The ingredients of Sweet Dreams are:
Chamomile
Peppermint
Spearmint
Rose Blossoms
Spices
Orange blossoms
Yogi Bedtime Tea
Yogi Bedtime Tea is just one of many excellent teas that Yogi make – they have several others which can help with stress relief and relaxation.
I find it a relaxing drink, which isn't surprising considering the quantity of ingredients which are known to help promote calmness. Do note that it includes St. John's Wort though, so you need to be sure it's safe for you to use.
It's also the only tea which includes just about every plant on the list in part 2 of this article. The ingredients of Yogi Bedtime tea are:
Chamomile Flower
Valerian
St. John's Wort
Lavender
Skullcap Leaf
Cardamom
Cinnamon
Rose Hip
Raspberry Leaf
Stevia Leaf
Passion Flower
Licorice Root
Spearmint
Which teas do you drink?
So there you have my thoughts about the various teas that might help you unwind at the end of a stressful day and perhaps sleep a little easier.
Now it's over to you to talk about the teas you like. Do you make your own? Do you have a favorite brand? Feel free to share your ideas in the comments below.