White noise sounds similar to the noise produced by an old-school analog television or radio when there's no signal.
It's a sound people used to get rid of as quickly as possible if it started blasting through the speakers.
So why is there a whole industry built around white noise production? And can it really help you sleep or concentrate better?
To understand why anybody would choose to listen to it, let's first take a look at exactly what white noise is.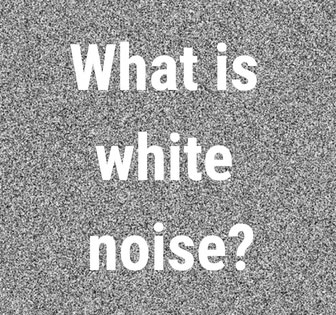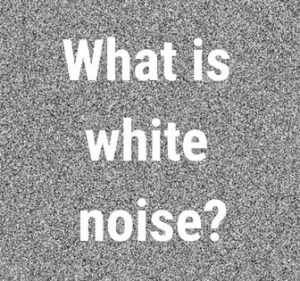 What is white noise exactly?
It's helpful to look at the name itself to start with. White noise gets its name from 'white light'. In simple terms, white light is all colors, or frequencies of color, combined together.
In a similar way, white noise is a unique type of sound signal that contains equal intensities of all frequencies audible to the human ear, typically ranging from 20 Hz to 20,000 Hz.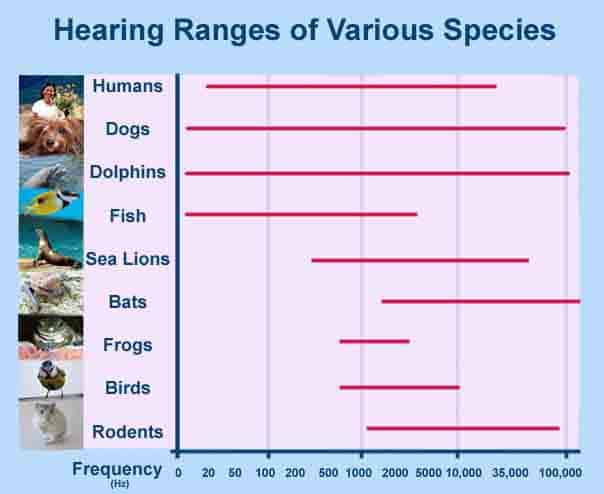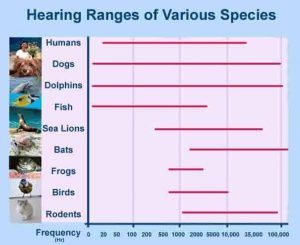 20,000 tones
The sound of white noise we hear as humans is the sound of all the frequencies between 20 and 20,000 Hz. So you're literally hearing around 20,000 different tones of sound all at the same time.
If you think about it this way – imagine you're sitting in a quiet restaurant. You'll be able to pick out the individual voices of your companions, and perhaps those on nearby tables.
Now imagine you're in a full sports stadium waiting for the game to start. There could be thousands of people all talking at the same time, and it will sound like a blurred roar.
White noise has a similar effect. You hear so many different tones all at the same time, it blurs into that 'hissing' or 'shushing' sound.
It's also why nature sounds, such as rain, wind, waterfalls, or oceans, are often included on white noise players. There are so many different tones created by those forces of nature, that it turns into natural white noise.
What is pink noise?
The simple explanation is that pink noise is a variation of white noise which sounds deeper, and with less of a high-pitched hiss.
The more complex explanation revolves around why white noise sounds high pitched in the first place.
The reason is that each octave contains twice as many frequencies as the one below it. For example, between 100 Hz and 200 Hz there are 100 distinct frequencies.
But between 200 and 400 Hz there are 200 frequencies. So by the time you get to 20,000 Hz, there are many more frequencies than there were at the lower end of the range.
When pink noise is created in a sound lab, the sound engineers will usually reduce the volume of each successive octave by three decibels to compensate for the extra frequencies.
This balances the sound out by giving more energy to the lower octaves and gives it a deeper sound overall than white noise.
What is brown noise?
Brown noise, sometimes called Brownian noise, sounds even deeper than pink noise, and considerably deeper than white noise. It's sometimes described as sounding like the deep roar of a waterfall.
It's not named after the color brown, but after Robert Brown, a botanist who first observed the random movement of particles suspended in a fluid, a phenomenon now known as Brownian motion.
Unlike white or pink noise, brown noise has a power density that decreases six decibels per octave with increasing frequency (or increases 6 decibels per octave with decreasing frequency). This means it has even more energy at lower frequencies than pink noise, resulting in that deep, rumbling sound.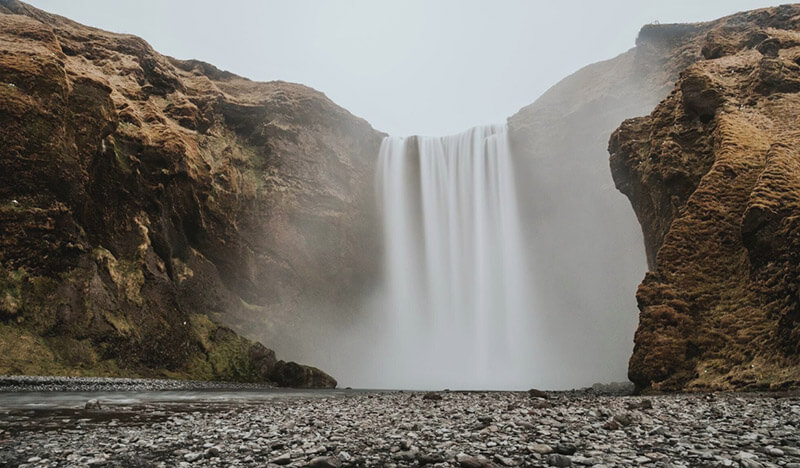 Can brown noise make you lose bowel control?
The famed 'brown note' is allegedly a particular low-frequency sound that induces involuntary bowel movements. As entertaining as this urban myth might be, there's no evidence that brown noise can cause such a drastic loss of control.
Various investigations – from scientific studies to military research and even documentary features – have explored the existence of such a universal frequency. Their conclusion? No singular 'magic' frequency with such an unpleasant effect exists.
While certain frequencies might sound very unpleasant to some people, there isn't a unique sound potent enough to send a crowd rushing towards the restroom.
What is white noise useful for?
Because white noise contains all audible frequencies, its most common use is to mask unwanted sounds. So who might find that useful?
1. Helps you sleep by masking disruptive noises
White noise can be a blessing for light sleepers who are often disturbed by external sounds. If traffic noise or someone's loud music is keeping you awake, white noise can effectively mask these irritating noises.
For this strategy to work, however, the white noise needs to be at a sufficient volume; otherwise, it will merely soften but not completely drown out other sounds.
Another reason why white noise promotes sleep lies in the nature of our brain: it thrives on stimulation. Nightly noises tend to activate our brain, disrupting our rest. A consistent white noise serves as a satisfying stimulus, preventing overexcitement when sudden sounds occur at night.
If this sounds all too familiar, try experimenting with different types of white noise. If a low rumbling traffic noise is the problem, consider trying pink or brown noise, as they provide stronger resonance at lower frequencies.
2. Aids in soothing babies and improving their sleep
Babies, with their heightened sensitivity to sudden sounds, can sometimes benefit from the use of white noise. It can effectively mask abrupt noises, prolonging their peaceful slumber.
Moreover, the womb isn't a tranquil place, so babies are already habituated to a steady stream of noise. The hum of white noise can replicate the familiar sound of blood flow in the womb, thereby inducing a sense of comfort and calm.
3. Can help you concentrate – for a while
While writing this article, I've been listening to pink noise constantly. I can hear the sound of traffic quite loudly from where I work, but the pink noise completely drowns it out.
This keeps distractions at bay – the fluctuating traffic volume, roaring motorbikes, thunderous trucks, and blaring horns are all silenced.
I find it's very effective and I'm so used to the sound now that as soon as I put it on I feel focused, and it fades nicely into the background.
It's also sometimes used by people who work in other kinds of noisy environments, such as manufacturing or where there's a drone of technological devices.
Despite my positive experience with white noise, some studies have suggested continuous white noise usage might negatively impact performance, stress levels, and memory.
Research into whether white noise boosts concentration in children with attention difficulties have yielded mixed results; it seems to aid some, while impairing others who lack attention issues.
The verdict is still out then. Personally, I find white noise preferable to persistent traffic drone. Given more time, however, it may morph from a soothing background hum to just another annoying noise.
4. Helps in mitigating tinnitus
Speaking from personal experience, I can confirm that white noise can offer relief from tinnitus. Following a chemotherapy regimen for cancer two years ago, tinnitus emerged as a lasting side effect of the drug Cisplatin in my case.
The condition tends to intensify at night or during periods of fatigue, illness, or stress. In these moments, white noise – be it pure or nature sounds – provides an effective remedy, helping to suppress the ringing I hear because of the tinnitus.
5. Promotes relaxation
Many people find the sound of oceans, rivers, waterfalls, or rain relaxing and peaceful. It may not be for everyone, but most people will state that one of the joys of being in nature is listening to the sounds.
So the next time you're feeling stressed, why not have a listen to the sound of an ocean or waterfall and see if it helps you unwind?
Can white noise genuinely enhance sleep? What the research says
A number of compelling studies have delved into the potential of white noise to improve sleep quality. These investigations often target specific populations, like newborns or adults in noisy hospital settings. Nonetheless, they've unveiled some intriguing positive findings.
Adults in noisy New York
In 2021, researchers undertook a study into the effects of white noise on the sleep of New Yorkers.
It was only a small-scale study involving ten people, but it's an interesting one as they recruited participants from a sleep clinic who reported noise as being a factor in their sleep problems.
The researchers found that both subjective and objective measures showed improvements in sleep in the group that was exposed to white noise.
I've previously reviewed the device they used – the Dohm Classic. It's not a loud white noise machine, one of the quietest in fact. So it's interesting that they had such positive results from a relatively gentle white noise machine.
Adult patients in a critical care unit
In 2016, researchers in Iran undertook a study to see if white noise would help patients in a critical care unit sleep better.
The patients were divided into two groups. One group was exposed to white noise at 50-60 decibels, while the other group experienced the standard sounds of a hospital ward.
At the onset, no discernible difference in sleep quality was observed between the groups. However, after three days, those exposed to white noise reported significantly better sleep than the control group. Their conclusion was as follows:
Sleep disorders are more common among patients in intensive care units. Environmental factors like noise is a common cause of sleep disorders. Based on the findings of this study, the use of white noise is recommended as a method for masking environmental noises, sleep induction, improving sleep, and maintaining sleep in the coronary care unit.
Adult patients recovering from heart surgery
In a study conducted in 1992, a researcher at Huntsville Hospital in Alabama examined the effects of white noise on the sleep of patients recuperating from heart surgery.
For this study, 30 patients were played ocean sounds via a white noise machine, while another 30 were exposed to the typical sounds of the ward.
They found no difference in the groups' sleep latency – the time it took to fall asleep. However, the group listening to white noise reportedly had better overall sleep. This was based on better results for 'sleep depth, awakening, return to sleep, quality of sleep, and total sleep scores'.
The researcher's conclusion was as follows:
The use of ocean sounds is a viable intervention to foster optimal sleep patterns in postoperative CABG patients after transfer from the ICU.
White noise reduces the effect of changing noise levels in an intensive care unit
In 2004, a study was conducted to determine whether the volume of environmental noises, changes in that volume, or both were more disruptive to sleep in an intensive care unit. The study also explored if white noise could mitigate this disruption.
Interestingly, the researchers used Polysomnography – the gold standard of sleep monitoring – rather than relying on subjective or observational measures of sleep.
The findings revealed that white noise helped by minimizing the disparity between the usual background noise and louder, abrupt noises:
Peak noise was not the main determinant of sleep disruption from ICU noise. Mixed frequency white noise increases arousal thresholds in normal individuals exposed to recorded ICU noise by reducing the difference between background noise and peak noise.
This study holds particular significance as it corroborates one of the central assertions about white noise – its capacity to prevent sudden external sounds from waking people up during sleep.
Newborns
Arguably, the most famous study concerning white noise and newborns was conducted in 1990.
The research, carried out at Queen Charlotte's Hospital in London, evaluated the effects of white noise on newborns aged between two and seven days.
The newborns were divided into two groups of 20. One group was monitored in silence in their cots to determine how long it took for them to fall asleep.
The second group was exposed to white noise played through a standard white noise machine (positioned adjacent to the cot, 30 cm from the head).
It was observed that 16 (80%) of the newborns fell asleep within five minutes when exposed to white noise. In contrast, only 5 (25%) fell asleep within the same timeframe in the absence of white noise.
Moreover, the researchers noted two fascinating findings. Firstly, noise at lower frequencies, similar to the hum of a vacuum cleaner, proved more effective. Secondly, white noise didn't assist in soothing the infants if they were hungry but proved beneficial once they had been fed.
Addressing safety concerns when using white noise for newborns
This next study didn't examine the effectiveness of white noise, but I think it's useful to go off on a brief tangent to look at the safety advice arising from it.
In 2014, a study by researchers at the University of Toronto gained international media attention, with coverage in outlets such as New York Times.
The study examined a selection of white noise machines, revealing that several had a maximum volume level that could potentially harm a child's hearing.
The primary point made by the researchers wasn't to condemn the use of white noise, but rather to advocate for manufacturers to provide clearer usage guidelines to ensure safety.
They concluded:
ISMs (Infant Sleep Machines) are capable of producing output sound pressure levels that may be damaging to infant hearing and auditory development. We outline recommendations for safer operation of these machines.
Guidelines for the safe use of white noise
As well as urging manufacturers to lower maximum output, incorporate safety warnings, and embed auto-off timers, the researchers also provided a set of useful guidelines for parents:
1. Place the ISM as far away as possible from the infant and never in the crib or on a crib rail.
2. Play the ISM at a low volume.
3. Operate the ISM for a short duration of time.
What these studies collectively suggest is that scientific evidence backs up the potential of white noise in enhancing sleep for certain adults and newborns.
However, if you use it to help children sleep, it's important to do so in a safe way. Don't play white noise at a loud volume or for extended periods of time, and aim to avoid developing a reliance on it for inducing sleep.
What do sleep experts say?
The National Sleep Foundation says that noise at night can wake you briefly, especially during the lighter sleep stages. So they suggest that white noise can help "mask activity from inside and outside the house".
They also report that in their large sleep survey in 2012, 74% of Americans rated a quiet bedroom as being important for sleep.
Dr. Rebecca Kempton, M.D., a pediatric sleep specialist writing on her website babysleeppro.com, advises parents to use white noise.
She asserts that babies, accustomed to the noise within the womb that's nearly as loud as a lawnmower, may find white noise more soothing than silence.
What do manufacturers say?
As you'd expect, the companies that make white noise machines all speak highly of the potential for white noise to improve sleep.
On the LectroFan website, for example, there's a suggestion that it helps with noise changes:
When a noise wakes you up in the night, it's not the noise itself that wakes you up, per se, but the sudden change or inconsistencies in noise that jar you. White noise creates a masking effect, blocking out those sudden changes that frustrate light sleepers, or people trying to fall asleep.
They also explain why it can be helpful for babies. They point to the 'shushing' sound that parents naturally make to calm their babies, explaining that white noise is a way of 'outsourcing' your shushing.
The company behind LectroFan also believes that white noise creates a safe environment by blocking out noise that can be overstimulating.
It reduces the number of sudden disturbances from siblings, TVs, and music. And that it can help babies stay asleep longer by extending how long it is before they experience natural arousals.
Yogasleep (formally Marpac) says on their website that white noise can help if snoring keeps you awake, or if you live in a loud environment.
They suggest that it provides a consistent sound environment that is especially soothing to infants, but also for adults.
They also propose the interesting idea that parents can continue normal activities without tiptoeing around the house.
My personal experience
I have to admit that I tend to sleep best when I have absolute silence. My solution is usually to use earplugs and shut the world out as much as possible.
However, earplugs don't always do the trick – they can only reduce so much noise. So on occasion, I've played pink noise (I find the lower frequency more relaxing), as I find it does a great job of blocking out noise.
However, I have to play it on as low a volume as possible, so as not to find it more disturbing than the original noise. And recently, I've discovered that white noise in the form of natural sounds, like rain and waves, also helps me relax and fall asleep.
Your views
Do you listen to any type of white noise to help with your sleep, work, or studies? What kind of white noise do you find works best? Let me know in the comments below!