Disclosure: My website is reader supported. If you make a purchase through a link, I may receive a commission, at no extra cost to you. Learn more.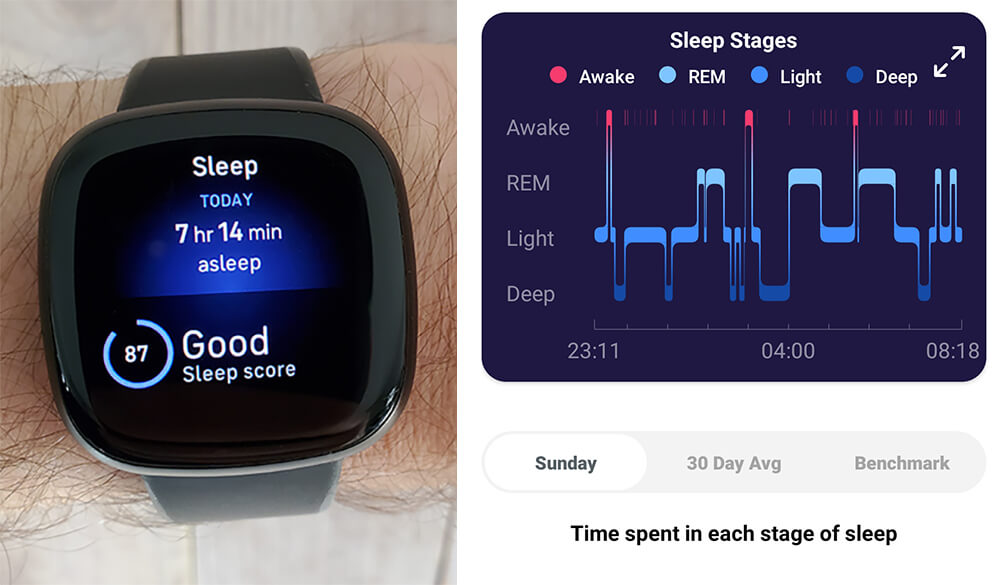 In the left photo, you can see the Fitbit Versa 3. In my experience, it's the best sleep tracker overall due to its comfort, accuracy, and deep health insights. On the right, the app presents your nightly sleep stages, which are intriguing to follow over time. The Versa 3's SpO2 sensor provides overnight blood oxygen tracking, while additional health metrics like breathing rate and heart rate variability make it useful both as a sleep tracker and a wellness tool. (see it on Amazon).
Personal sleep trackers can provide a fascinating insight into the mysterious third of your life you spend asleep. Understanding your sleep patterns may be an important step in improving your overall wellbeing, as quality sleep is an essential component of good health.
Though they may not be as accurate as a professional assessment, sleep trackers offer a convenient, accessible way to gain insights about your sleep quality. They can identify trends over time, shed light on your sleep stages, and help you identify if there are potential issues that need further investigation.
I've tested a growing range of these devices in the last few years and continue to explore new models as they enter the market. In this review, I'll share my experiences with the sleep trackers I've found to be the most reliable and insightful. So whether you're a sleep enthusiast looking to delve deeper into your sleep data or simply hoping to improve your sleep quality, this article is for you.
1. Fitbit Versa 3
An excellent wearable sleep tracker that has a wide range of sleep and health tracking features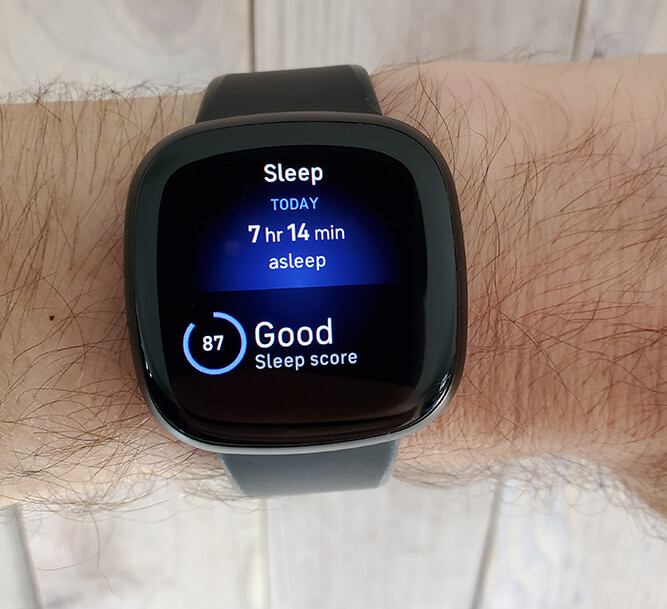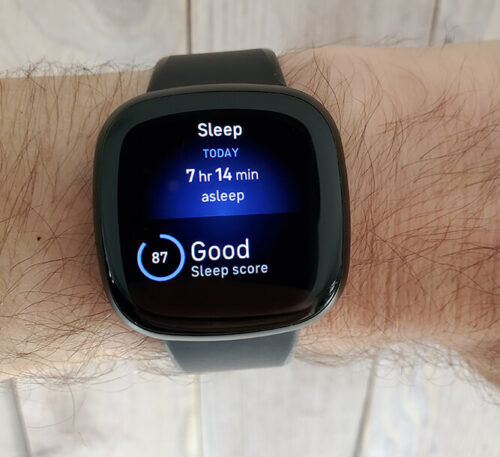 The Fitbit Versa 3 is the most reliable of the many sleep trackers I've tried over the years and is currently my personal favorite.
Even though this is an article about sleep trackers, the inclusion of built-in GPS with the Fitbit Versa 3 is one of the key upgrades improvements compared to the also very good Fitbit Versa 2. I like to run and cycle, so it's great being able to check your heart rate in different sections of your routes, as well as get an accurate distance measurement.
Back to the sleep tracking, and the Versa 3 is generally accurate when it comes to the measurements I can verify myself. For example, it can tell if I'm lying in bed reading or sleeping, how often I wake up in the night, and what time I wake up in the morning.
Many sleep trackers mistake resting in bed with being asleep, but the Versa 3 gets this right with more accuracy than any previous sleep tracker I've used.
It has a constant heart rate monitor too, which seems accurate when resting, and is an important part of how it calculates your sleep stages.
You'll get a breakdown of your sleep stages in the morning, both on the watch face itself, and the accompanying app. I always take sleep stage data with a pinch of salt, but it's still interesting to see it and keep an eye out for anything particularly unusual happening with your sleep.
In this photo below, you can see one night's sleep stages, accessed right on the watch: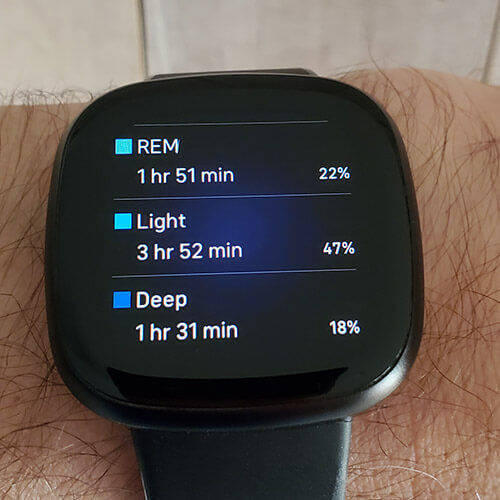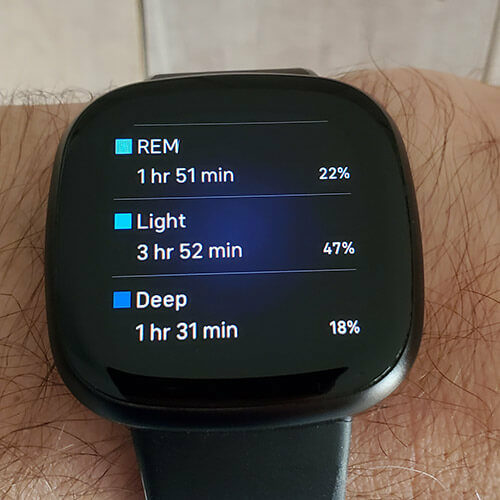 A key addition that first appeared with the Fitbit Versa 2 is the Alexa voice assistant. It's great being able to dictate messages with your voice, make general searches, and set alarms, timers, reminders and more. It's a useful feature that I use a lot more than I thought I would.
The Fitbit app is excellent, presenting each of your sleep stages in a clear and detailed graph. I really like how it compares the time you spend in sleep stages to the average of your demographic and your previous 30 day average. It's helpful information that either provides reassurance or offers a clue that something isn't quite right.
Below is a screenshot of my sleep tracking data. You can see how it gives today (last night really), my 30 day average, and how I compare to men my age: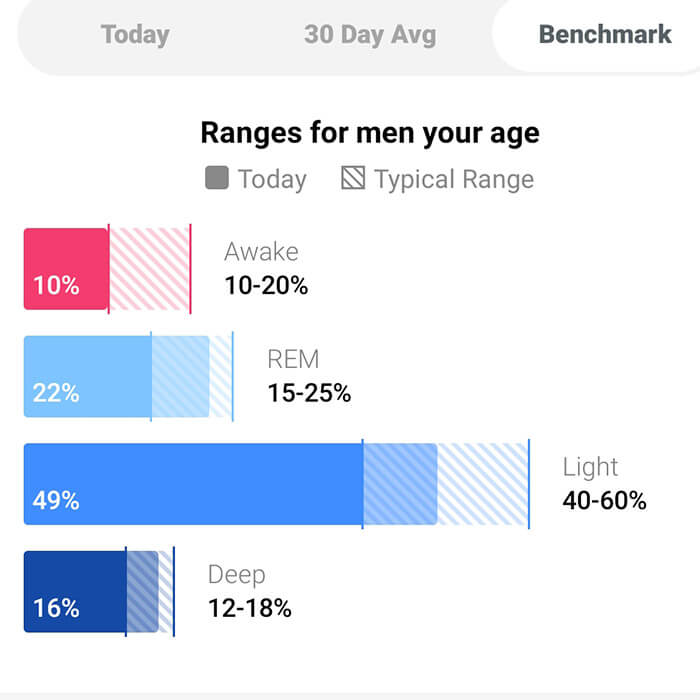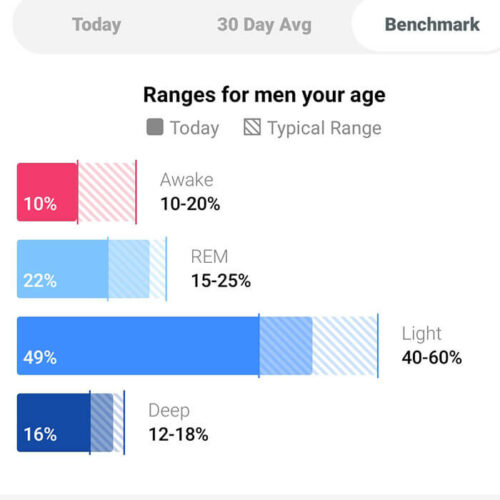 Another useful upgrade to the Versa 3 is the nightly SpO2 tracking. You can see your blood oxygen levels each morning on the app, along with other key health metrics, such as breathing rate, heart rate variability, and skin temperature.
I also like that you can set reminders to stick to a sleep schedule and to stay active every hour of the day. These are things that might actually help improve your sleep. And a new smart alarm feature is designed to wake you up during the light sleep stage, helping you start the day feeling less groggy.
As an activity tracker, it's a useful companion in the gym. It's great to have your pulse, calories burned and timer on your wrist, and on-screen workouts if you desire. You can also take it for a swim as it can handle depths of up to 50 meters.
The Versa 3 looks great, with a 1.58 inch, 336 by 336 pixel AMOLED display. It's bright and vibrant even in direct sunlight. And finally, it has an excellent six day battery life.
Pros
Automatic and accurate sleep tracking.
The app shows a breakdown of four sleep stages: awake, light, deep, and REM. You can also see the time spent in each stage, wakings, and total sleep time.
Benchmarking against your own 30 day average sleep, and also people your age and gender.
You can set a target for your desired total sleep and sleep schedule, with vibrating reminders to help you keep on target.
The app gives you sleep insights to help improve your sleep.
You can set a smart alarm window of 30 minutes that attempts to wake you up during a light sleep stage, which might improve how you feel on waking.
SpO2 sensor estimates nightly oxygen level variability in the bloodstream.
Heart rate variability tracking with premium subscriptions.
Excellent fitness tracking, with on-screen pulse, calories burned, and specific exercise tracking. Monitors resting heart rate, heart rate trends over time, and cardio fitness. Readiness score to help you decide how intensely to train each day.
Alexa voice assistant.
Water resistant up to 50 meters.
Bright touchscreen.
Excellent six day battery life.
Cons
Occasional slow syncing which requires some patience.
As with all sleep trackers, you can't confirm how precise the sleep stage tracking is.
The haptic button sometimes needs more than one attempt to push.
Some advanced tracking features, exercise coaching, and personalized insights are only available with Fitbit premium subscriptions. You still get plenty of the most popular data without that service, such as sleep stages and SpO2 tracking. So it's not really necessary to pay for the premium service just for the sleep tracking, unless you want personalized insights and every possible feature Fitbit offers.
Verdict
The sleep tracking of the Fitbit Versa 3 is accurate for the points I can easily confirm. The heart rate and movement tracking are generally reliable, and it has excellent battery life which is always good as there will be less lost nights data due to forgetting to charge it.
The Fitbit app provides an interesting breakdown of your sleep stages. And there are several useful features that can help improve your sleep, like reminders to keep to a stable sleep routine, and encouragement to stay active during the day.
It's interesting to see the SpO2 sensor in action, with a graph of oxygen level variability to inspect on the app. It won't tell you if your specific data means anything, but unusual spikes and drops might be worth keeping an eye on. Note that it only provides SpO2 data for your sleep, not while you're awake.
If you're into fitness, sleep tracking, and like the idea of a smartwatch with a growing number of apps and features, this is an excellent choice of wearable sleep tracker. It's also a good choice if you like to keep up with modern tech and have a voice assistant on your wrist.
I've been very happy using my Fitbit Versa 3 and can imagine using it for a long time to come unless something vastly superior comes along as it does everything I want a sleep tracker to do, and also works well as a daily activity tracker.
Why not the Fitbit Versa 4?
Because they removed the third-party apps, and the interface is more clunky and less intuitive! I've been testing it in 2023, but still prefer the Versa 3 at the moment.
---
2. Beautyrest
A contactless sleep tracker that sits under your mattress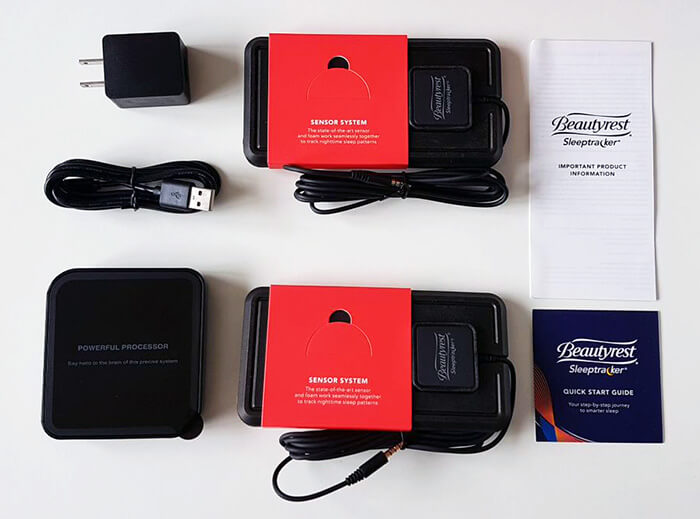 The Beautyrest is a contactless sleep tracker, using a measuring pad that sits under your mattress instead of a device worn on the wrist. You then have a small data processor connected, and a smartphone app where you'll receive the sleep data.
It's easy enough to set up, with videos on the app that walk you through the process. After that, you can leave it switched on and it will track your sleep automatically when you get into bed.
It was designed to be useful to the average person with an interest in their sleep. And to provide helpful interpretations of the sleep data, along with advice for improving your sleep. So it doesn't leave you scratching your head as to what the graphs mean.
I recently tested the Beautyrest alongside the Emfit, Fitbit Versa 3, and my manual sleep diary. I found it was consistently accurate for the measurements I can confirm, such as when I fell asleep and woke up, and the exact time of wakings in the night.
In the photo on the left, you can see the base unit that records your sleep. The photo on the right shows one of the measuring pads, that needs to sit on a flat surface on the bed frame under your mattress.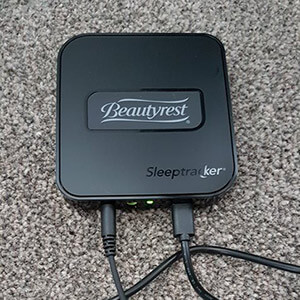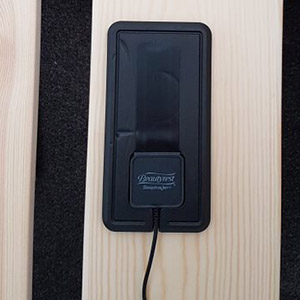 Pros
Easy to set up and nothing to wear in bed.
Automatic sleep tracking – you can leave it switched on permanently or turn it on at night.
Reasonably accurate tracking of total sleep time, time fell asleep and woke up, and wakings
Measures four sleep stages: awake, light, deep, and REM.
Tracks heart rate and breathing rate.
Gives a total sleep score, based on how much sleep you say you need.
Asks you lifestyle questions, like stress and activity, and then suggests how they affect your sleep.
Easy to use smartphone app with useful graphs and pretty visual results.
Daily sleep coaching advice based on your results.
Cons
As with all trackers, you can't be sure if the sleep stages are truly accurate.
You need to keep it connected to your home Wifi.
Small annual subscription for more detailed interpretation of the data. I didn't use this though, as the initial data is more than enough.
Verdict
What impressed me was that the Beautyrest didn't mistake relaxing in bed as being asleep. During a week-long careful test, it only made one small error with this in the morning. And compared to most trackers, that's a good result.
It was also good at spotting my significant wakings in the night. So all that gives me hope that the sleep stage data might be reasonably accurate, though still an estimate of course.
In addition to the sleep stage data, the Beautyrest excels in one department – the sleep coaching. Many sleep trackers provide generic sleep coaching tips, none at all, or beyond a paywall. But you'll receive useful recommendations based on your results with this one.
The more information you give it, the better the coaching. So if you answer the daily lifestyle questionnaire, you'll get helpful advice like how much worse you sleep after a stressful or less active day.
And with the addition of a second measuring pad for a bed partner, it's an excellent sleep tracker for couples as well as individuals.
---
3. Withings Sleep
A focus on sleep schedules, measures snoring, home integration with IFTTT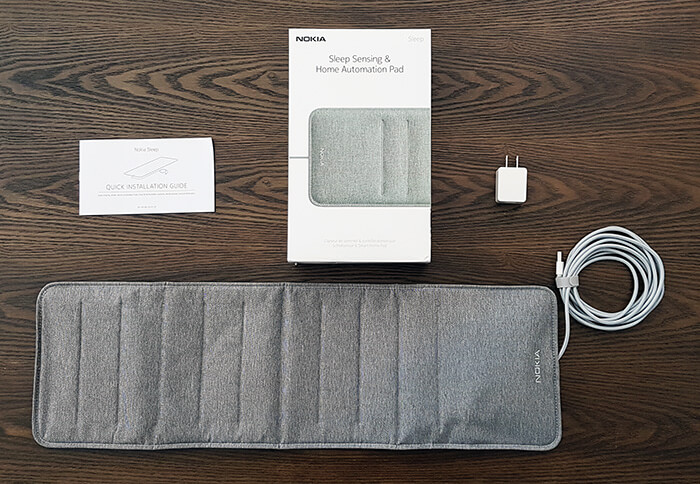 The Withings sleep tracker has had an interesting evolution. Withings originally produced the Aura, on the back of which the technology was bought by Nokia. They then sold it back to Withings – hence the confusion around the exact name. So even though my version had Nokia written on it, they now sell them with Withings printed on them.
Like the Beautyrest and Emfit, the tracking device is a contactless mat that you place under your mattress. You'll then receive your sleep data on your smartphone (there's currently no desktop version).
They appear to have a particular focus on improving your sleep schedule. Soon after registering, the Health Mate app asked me if I wanted to join a social jet lag program, to improve my sleep routine consistency, seven days a week.
It also has an interesting option to integrate with smart home devices via IFTTT. So you can turn the lights on and off or adjust the thermostat automatically when you get into bed, for example.
As far as sleep tracking itself is concerned, it attempts to track sleep stages and give you detailed graphs in the morning on the App. However, like so many devices, I found that the more time I spent in bed reading, the harder it became for the Withings to tell if I was awake or asleep.
Pros
Easy to set up the tracker and app.
Automatic and contactless sleep tracking – just plug it in and leave it on.
Easy to use and clean app interface.
Presents the sleep data in visual graphs.
Shows key points like overall sleep score, time to fall asleep, and interruptions.
Measures sleep stages: light, deep, and REM, telling you total time in each and percentages.
Records snoring and heart rate.
Personalized sleep coaching.
Integrates with smart home via IFTTT and Alexa compatible.
Cons
Sometimes mistakes relaxing in bed as sleep.
Doesn't always record bed exits if they don't last long.
Hard to see the exact times that sleep stages occurred on the graphs, and requires careful tapping on the graph to bring up more data.
No alarm function.
Verdict
I had high expectations from a sleep tracker that was developed in partnership with Nokia. The features it offers sounded promising, and I was hoping the accuracy would be an improvement on similar under-mattress trackers.
After using it for two weeks and comparing the data with my own notes, however, there were more inaccuracies than I was hoping for. Most sleep trackers have a hard time distinguishing between sleep and quiet relaxation time, and the Withings seemed to struggle a bit with this.
It was pretty good on the nights when I tried to sleep straight away, and when I got up as soon as I woke. But for more complicated nights, with multiple wakings, the accuracy was questionable.
Where it did impress me was with some of the sleep coaching app functions. I liked the social jet lag program, and think that's a genuinely useful feature. I also liked the clean interface, even if the graphs are a little fiddly to dissect.
One final positive is that I apparently only snored once in the last two weeks, which is likely to be accurate from what I already know about my silent sleeping. So I'm sure people with a serious snoring problem will be interested in this feature.
---
4. Emfit QS
A sleep tracker for sportspeople with heart rate variability & recovery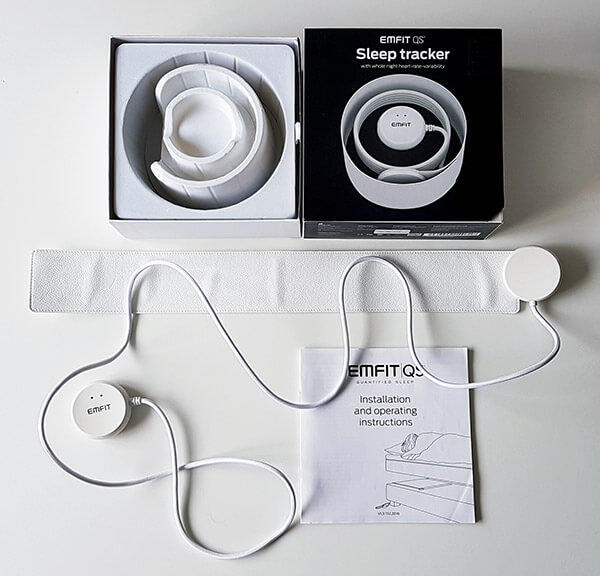 Made by the Finnish company EMFIT, the QS was originally intended to be used by athletes. But anyone with a keen interest in their sleep and health might benefit from the extra details it provides.
Like the Beautyrest and Withings, the Emfit works without any contact with your body. A measuring strip goes under your side of the mattress (not the bed sheet) and takes readings using ballistocardiography, with a sensitive compression sensor.
It provides you with a staggering amount of data, including the standard sleep tracker measurements such as heart rate, breathing rate, restlessness in bed, time spent in light, deep and REM sleep.
It then goes several steps further than standard sleep trackers. It provides measurements that athletes will find useful, such as whole night heart rate variability, total recovery, and recovery efficiency.
Pros
Measures all the usual sleep points, including sleep stages, along with heart and breathing rate.
Provides a huge amount of data, which is potentially helpful for sportspeople in particular.
The data is neatly presented in a series of graphs on the Emfit website, which you can log into on your computer, tablet, or phone.
The measuring strip sits under your mattress, so you have 100% contactless sleep monitoring.
No manual interaction is needed – just set it once and wait for the results every morning.
Cons
If you sleep with a partner, they can affect the results if they roll over your measuring strip.
It's a steep learning curve working out what all the complex data means.
Works on a subscription based service, so it's not just a one off payment for a sleep tracker.
Can make mistakes if you spend a lot of time in bed relaxing but not trying to sleep.
Verdict
When I tested the Emfit QS alongside other trackers, I found it was good at picking up some of the basics, like time asleep and wakings in the night.
However, it struggled to differentiate between relaxing in bed and sleeping. Admittedly, this is an issue that many devices face, and it's often a case of accepting an estimation rather than perfection.
But I was still a bit disappointed by some of the major mistakes, such as recording REM or deep sleep when I was most definitely awake and reading a book.
And that makes me question the reliability of all the other results, which at first glance look amazing. I was very impressed by the visual representation of the data in multiple graphs, though they can be a little overwhelming at first.
From sleep stages to respiration and heart rate variability, it appears to do it all. But with no sleep coaching, you're left to sift through the data and graphs and try to work out what it means. And that's no easy task.
My feeling is that this isn't the most appropriate tracker for the average home user who wants clear information about their sleep patterns and a friendly nudge in the right direction to improve their sleep.
If you're a sports person though, or intrigued to find out more about what goes on in your sleep than the average tracker will tell you, perhaps you'll enjoy all that data.
Additional information
How accurate are sleep trackers?
A concern people sometimes have with sleep trackers is that they might confuse a lack of movement in bed with being asleep.
The good news is that an increasing number of devices use your heart rate to help judge when you're asleep. And I find they are much more accurate than budget trackers that rely on movement alone.
When it comes to detailed sleep stage tracking, the truth is that it's hard to judge how precise any of them are. And even if they are accurate, there isn't much guidance as to what you should do with all that data anyway.
So my point of view is that although sleep stage reports are fascinating, I try not to get caught up in unraveling the mysteries of the data. And if I don't appear to get a lot of deep sleep one night, I don't panic about it and 'try' to sleep better the next night.
A more useful point is that many sleep trackers have features that are actually helpful, such as sleep coaching and reminders to stick to a good sleep routine. And at the end of the day, those can make a real difference to your sleep.
If you'd like to know more about the accuracy, you might find it helpful to read my article about how sleep trackers work.
Which type to choose: a wearable or non-wearable?
The most obvious difference lies in whether you want to wear a sleep tracker on your wrist, or have it tucked away under your mattress or on a bedside table.
Using a wearable makes sense to me personally because I like sports, so it kills two birds with one stone. But in my experience, there doesn't seem to be a clear winner where the accuracy of their sleep tracking is concerned.
Both wearables and non-wearables can make similar mistakes, such as mistaking relaxing for sleeping. And the best ones I've found are fairly similar in terms of what they get right, like total sleep time and bed exits.
You can find wearables and non-wearables that provide a breakdown of your sleep stages and heart rate throughout the night. As I said before though, try to keep in mind that the sleep stages are not 100% accurate.
Where non-wearables shine is in the amount of data they give you. The Beautyrest and Emfit, for example, provide sleep tracking data that goes beyond most basic wearables.
Whether that's a good thing or not is up for debate though. It's not always clear how useful all the data is, how you can apply it to your sleep, and it can be time consuming to sift through. So in some ways, a simple report on a smartphone app is arguably more user-friendly.
So my opinion is that it's largely personal preference as to which will suit you best. However, here are some useful points to consider if you're not sure which to go for:
Wearables
You can combine activity and sleep tracking. Some offer coaching telling you how you slept after an active or relaxed day.
Some provide vibrating sleep schedule reminders and alarms.
Other smartwatch features and apps such as music and contactless payment.
It can be inconvenient to wear in bed.
Needs frequent charging, which can lead to lost data when it runs out of charge in the night.
Non-wearables
Often just a one time setup and will automatically track sleep when you get into bed.
Sometimes better if you don't need activity tracking.
No device to wear on your wrist in bed.
Sleeping with a partner risks affecting the data, especially with the less advanced trackers.
Usually more affordable than high-end smartwatches and fitness trackers.