Last updated: August 29, 2018 by Ethan Green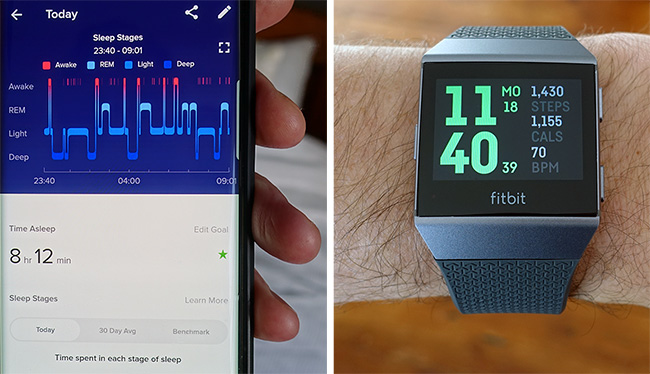 If you're concerned about your sleep, or just interested in knowing more about it, a personal sleep tracker can provide a useful overview of your nightly slumber, and even help you improve it.
I've tested a wide range of sleep trackers in the last couple of years, and will continue to do so on an ongoing basis in 2018.
In this review, I'll be giving you my opinion of the latest and most popular devices. I'll explain what kind of sleep data you'll get, and how they might be able to help you sleep better.
Some of them are also activity trackers, so although I'll provide an overview of the activity tracking features, the main focus will be on the sleep tracking aspect.
Contents
How accurate are personal sleep trackers?
Which type of sleep tracker to choose?
Emfit QS
S+ by Resmed
Beddit 3.0 Smart Sleep Monitor
Withings Aura Smart Sleep System
Sleepace Reston
Sense with voice
Wearable sleep and fitness trackers
Fitbit Ionic
Fitbit charge 2
Fitbit Alta HR
Jawbone Up3
---
Summary of the top trackers
---
If you don't have time to read what has evolved over the years into a very long review, here's a shorter summary of three that I recommend.
1. Fitbit Ionic
Best overall smartwatch with sleep tracking
The Ionic is an impressive smartwatch that does a great job of both fitness and sleep tracking. It provides a detailed breakdown of your sleep stages, neatly presented in useful graphs on the App.
It has constant heart rate monitoring, visible on a crisp and bright screen. It's the sleep tracker I'm personally using, as I've been very impressed by the accuracy – both for sports and sleep.
And if you've heard that the new Fitbit Versa is very similar to the Ionic, that's true. In fact, there are only really three notable differences.
The Versa doesn't have built-in GPS, has a smaller rounded design, and is less expensive. So it's probably a better choice if you're not a runner or cyclist.
Buy from Amazon
2. Emfit QS
Best non-wearable sleep tracker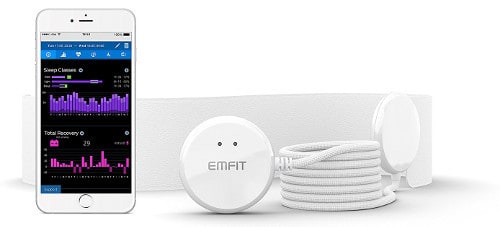 The Emfit QS works with a measuring strip that sits under your mattress, avoiding the need to wear a device on your wrist, but still tracks your sleep with movement sensors and heart rate monitoring.
It was intended for use by sports people, so there are extras most sleep trackers don't have, such as heart rate variability. It provides some complex data, which is great if that's what you're looking for.
However, if you're looking for a simple tracker, it could feel a little overwhelming. But as it stands, it's the most accurate of the contactless sleep trackers I've tried.
Buy from Amazon
3. Fitbit Alta HR
Slim and affordable wearable that tracks sleep well
If you don't want to spend too much on a sleep tracker, and prefer one that's as unobtrusive as possible, the Fitbit Alta HR is a good option. It has an elegant design that looks great during the day, and is slim enough to feel comfortable when you wear it in bed.
Despite its small size, it still offers the same as the more expensive models where sleep tracking is concerned, such as sleep stages, sleep routine reminders and sleep coaching.
The constant heart rate monitor struggles a bit to keep up during intense exercise. But for sleep, it does a reliable job, with enough features to make it a useful little tracker.
Buy from Amazon
---
Key questions
---
How accurate are personal sleep trackers?
A concern people sometimes have with sleep trackers is the issue of mistaking lying still as being asleep. In my experience, this is one of the key factors that separate the reliable ones from the not so reliable.
An increasing number of sleep trackers now use your heart rate as an indicator of sleep, not just movement. And even though they still aren't perfect, I've found these to be considerably more accurate, so prefer the ones that offer that feature.
When it comes to detailed sleep stage tracking, they still aren't as accurate as a professional sleep study in a lab. However, it's definitely interesting to look at the sleep stage graphs, and the technology is improving at a fast pace.
Importantly, many trackers have helpful features, such as sleep coaching and reminders to stick to a good sleep routine. And at the end of the day, those are important points that can make a real difference.
If you'd like to know more about the accuracy of sleep tracking, you might find it helpful to read about how sleep trackers work.
Which type of sleep tracker to choose?
If you're an active person or think you'd benefit from motivation to be more active, one of the wearables could be a good choice.
There are an increasing number of wearables, and keeping on top of the constant developments is no easy task!
Although some people might not agree, I've chosen to focus on Fitbit in the wearables section, for two main reasons.
Firstly, they made major changes to the way they track sleep in 2017. And since then, I've found the latest devices to be much more accurate on the whole.
Secondly, they have an excellent battery life. Whereas many competitors need charging every day or two, Fitbits last for four to seven days.
And that means they are less likely to run out of charge during the night, or be forgotten about while charging.
But if you'd prefer not to wear anything on your wrist at night, you might prefer one of the non-wearables: the Emfit QS, Beddit, S+ by Resmed, Withings Aura or Sleepace Reston.
If you're interested in finding out how factors such as noise, light and temperature affect your sleep, take a look at the S+, Beddit, Sense or Withings Aura.
So with those points in mind, let's take a look at the different sleep trackers.
---
Non-wearable sleep trackers
---
1. Emfit QS
Ideal sleep tracker for sports people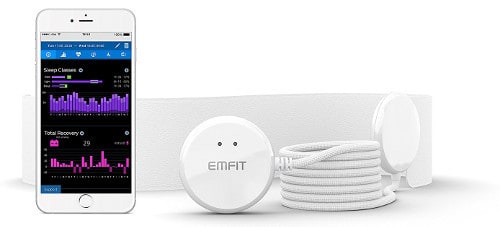 Made by the Finnish company EMFIT, the QS was originally intended to be used by athletes. But anyone with a keen interest in their sleep and health can benefit from the extra details it provides.
The Emfit works without any actual contact with your body. A measuring strip goes under your side of the mattress (not the bed sheet) and takes readings using ballistocardiography, with a highly sensitive compression sensor.
You get a vast amount of data, including the standard sleep tracker measurements such as heart rate, breathing rate, restlessness in bed, time spent in light, deep and REM sleep.
However, it then goes several steps further, providing measurements that athletes will find invaluable, such as whole night heart rate variability (HRV), total recovery and recovery efficiency.
The HRV measurements can help you decide which days to train, train harder or rest. And helpfully, the trends over the weeks and months can help prevent overtraining.
pros
Very sensitive measuring device provides accurate data, especially the heart and breathing rate.
Huge amount of tracking data, helpful for everyday use and sports people interested in maximizing their recovery and training schedule.
Choice of either uploading results to your smartphone or computer via WiFi, reducing the chance of Bluetooth connectivity problems.
Measuring strip sits under your mattress, so you have 100% contactless sleep monitoring.
Unobtrusive with no manual interaction needed. Just set it and go, and check the data in the morning.
cons
Some people may not want a WiFi device next to their bed all night.
If you sleep with a partner, they can affect the results if they roll over your measuring strip.
A huge amount of data and not enough sleep coaching advice. You need to be proactive to understand the data and take action based on it.
Verdict
The Emfit QS is one of the most accurate sleep trackers available, doing a great job of monitoring your total sleep time, restlessness and wakings. It also seems to be remarkably accurate at measuring heart and breathing rates.
It's potentially a very helpful tool if you're a sports person, capable of helping you take those all important decisions around training intensity and rest days.
But I do wonder how helpful it is for the average person who won't want to check every morning to see if they can do an intense workout that day or not.
Having said that, it could be useful if you suspect you have a sleep-related breathing or movement disorder, or major changes in heart rate during the night. The results it provides could be helpful to present to a doctor for discussion.
Overall, if you're the proactive type who enjoys working through complex data to get a detailed understanding of your sleep and health, this could be a great choice.
Buy from Amazon
2. S+ by ResMed Personal Sleep Solution
Sleep tracker that works without physical contact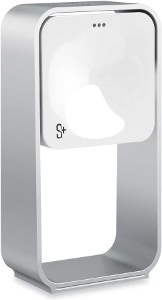 Like the Emfit, the S+ by ResMed also works without any physical contact, though this time it doesn't even sit under your mattress. Instead, the S+ sits on your bedside table and monitors your sleep and bedroom environment from a distance.
I'd be skeptical that this was even possible if it weren't for the fact that RedMed is a well-respected sleep technology company that makes sleep apnea devices. So how does it work? Well, basically by sonar, or as the ResMed website states:
patented non-contact radio frequency technology to monitor your breathing and body movement while you sleep
Where it really shines is in gathering a wealth of information about what you did during the day, bedroom environment and sleep, and then combining all of that data to help you sleep better.
When it came to measuring sleep, I found the S+ to be surprisingly accurate. The amount of data it gives you in the morning is fascinating, with detailed sleep graphs full of useful information.
It's difficult to personally confirm the amount of time you spend in different sleep stages. But the nights when I felt I slept badly, and woke up feeling less refreshed, seemed to be reflected in less deep or REM sleep.
Pros
Detailed tracking of light, deep and REM sleep stages and wakings.
Compares your sleep score against the average for your age and gender.
Measures light, noise and temperature in the bedroom.
A nightly questionnaire about factors like alcohol, caffeine, activity and stress levels helps correlate your daily behavior with your sleep.
Encourages you to leave a text or voice memo to clear your mind and relax before sleeping.
Synchronizes with your breathing to play relaxing sounds through your phone.
Smart alarm wakes you gently during a light stage of sleep.
Provides personalized sleep coaching advice based on your sleep pattern, bedroom environment and lifestyle.
Detailed results and sleep graphs on a very clear App, with even more on the website.
Printable sleep report you can take to your doctor.
Cons
You need to tell it when you're physically in bed and about to try to sleep.
Uses a lot of mobile phone battery, but does have a USB port to charge during the night.
Needs to be paired with your phone throughout the night.
You have to use your phone to control it.
Verdict
What I liked about the S+ is the fact that it takes a holistic approach to the sleep coaching.
Over time, it uses the questionnaire answers, environmental factors, and your sleep data to make personal and practical suggestions for improving your sleep.
So you're not just left with ambiguous sleep scores and confusing graphs, but told exactly how you can make lifestyle changes to sleep better.
If you can forgive the need to stay synced to your phone all night, it's a decent sleep tracker which might actually make a difference to your sleep.
Buy from Amazon
3. Beddit 3 Smart Sleep Monitor
Sleep tracker with heart rate, breathing and snoring monitoring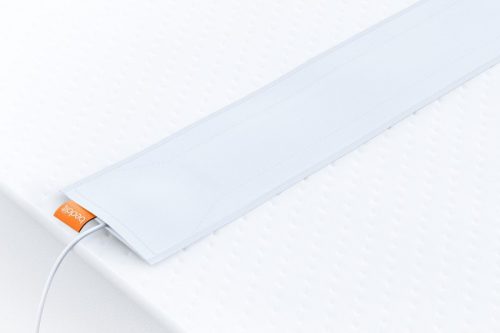 The Beddit Smart Sleep Monitor is a dedicated sleep tracker which consists of an unobtrusive thin strip that lies under your bed sheet to track your sleep, with an accompanying App to use on your smartphone.
It tracks a wide range of interesting sleep information, with some useful additions to this latest version 3, such as snoring, bedroom temperature and humidity.
It also monitors heart and respiration rate, which could be useful if you're worried about your health, or suspect you have a sleep disorder such as apnea.
You can't use it to self-diagnose, of course. But the results could be worth presenting to your doctor for discussion.
Pros
The accuracy is generally good, especially if you sleep alone.
Lots of different tracking data: your heart rate, breathing and snoring, time asleep or restless and times out of bed, bedroom humidity and temperature.
Easy to set up and use.
Thin measuring strip which you don't feel when placed under a sheet or mattress protector.
Automatically senses when you go to bed and try to sleep.
Smart alarm system wakes you up at the best point in your sleep cycle.
Good App with a wide range of sleep data to inspect. Provides an overall sleep score and tips to help you improve your sleep.
Cons
The measuring strip has to be plugged into the mains during the night to work.
If you sleep with a partner they can disturb your results. Equally, if you roll away from the strip to the other side of a wide bed, it might affect the results.
Verdict
The Beddit sleep monitor provides lots of fascinating data about your sleep, and the accuracy overall is quite good. However, if you sleep with a partner, there's a possibility they might affect the tracking if they move onto your measuring strip in the night.
Overall, I think if you sleep alone, the Beddit is a good way to get a deeper insight into your sleep and health. If you share your bed though, I'd recommend using a wearable device instead.
Update: in 2017, Beddit was purchased by Apple. So it will be interesting to see what the future holds for it, and is one to keep an eye on in the future.
Buy from Amazon
4. Withings Aura Smart Sleep System
Bedside sleep tracker with light and music to help you sleep

The Withings Aura Smart Sleep System isn't exactly a subtle addition to the bedroom, but it makes up for that with its wide range of features.
As well as monitoring your sleep, it includes a light and sound unit to help you relax and fall asleep, and then wake you up gently in the morning.
It consists of three main elements: a strap which you sleep on top of to monitor your movement, a bedside unit which measures environmental factors and also creates light and sound, with a mobile phone App where you'll get your results.
Really it's more than that though, combing a range of bedroom devices; it's an all-in-one sleep tracker, alarm clock, reading lamp, sleep machine and wake-up light.
Pros
The bedside unit plays music on a timer to help you sleep and wake up.
The unit emits a fading glowing light on a timer. The specific red wavelengths are designed to help trigger melatonin production, the hormone that tells your body clock it's time to sleep.
The smart alarm function can wake you up slowly during light sleep.
It tracks your time awake, time restless, time it took to fall asleep, time spent in light, deep and REM sleep.
Monitors your heart and breathing rate, as well as movement during the night to give a better picture of your sleep.
Environmental sensors monitor room temperature, light and noise. The App then tells you if these factors disturbed your sleep.
Cons
Complex App with no sleep coaching telling you what to do with all the potentially useful data.
Limited choice of music input. You can use the inbuilt sounds or Spotify premium, but not iTunes, your mp3 or mobile phone music database.
The instructions, touch interface and data interpretation are confusing.
It's expensive compared to other sleep trackers.
Verdict
The Withings Aura Smart Sleep System is a complete sleep system which aims to do more than many other devices. The fading light and sound features might also help you fall asleep quicker and rise peacefully.
Similarly to the Beddit and Sleepace, the accuracy of some elements of the sleep monitoring can be questionable if a partner rolls onto the strip. And the many results that you do get leave you to work out for yourself what you should do about them.
But you do get a wealth of fascinating data about your sleep, so for those with money to spend and a keen interest in their sleep, it can give you a deep insight into your nightly slumber.
Buy from Amazon
5. Sleepace Reston
Dedicated bedroom sleep tracker – ideal if you sleep alone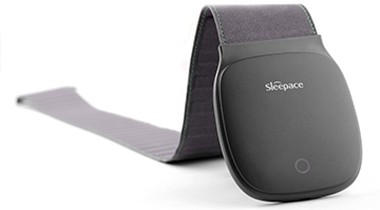 The Sleepace Reston is one of only a few dedicated sleep trackers. Considering that's its sole purpose, you would understandably have high expectations of its accuracy – especially as the company says they use medical grade sensors in the device.
Instead of wearing the tracker on your wrist or around your chest, it has a long, flat belt which sits underneath your sheet or mattress protector. The end piece, which houses the technical bits, neatly clips out of the way onto your sheets using magnets.
Pros
Measures your sleep in detail: time asleep, time awake, number of wakings, times turned over in bed or got out of bed, quantity of light, mid and deep sleep.
Measures your heart and breathing rate, monitoring for sleep apnea and heart pauses.
Provides you with lots of technical data, sleep coaching advice and tips.
Fantastic App interface.
Excellent battery life.
Made from a soft, flat felt casing that you shouldn't feel underneath you.
Cons
May slip out of place if you're very restless in bed.
Doesn't automatically sense when you go to sleep or wake up, so you have to manually start and stop the recording session.
If your partner rolls onto the recording belt, it might skew the results.
Verdict
The Sleepace Reston provides a serious level of depth of sleep assessment in the home. The range of results, graphical representations and recommendations for improving your sleep are quite impressive.
There's one potentially major problem, which many of the bed systems share: if your partner rolls onto the belt or you roll off it, it might affect the results.
I think if you sleep alone though, you'll get a detailed view of what's happening in your sleep with the Sleepace. For those who love analyzing details, facts and graphs the excellent App will definitely keep you busy the next morning.
Buy from Amazon
6. Sense with voice sleep system
Detailed bedroom environment monitoring with voice commands
The Sense is quite a unique sleep tracker, with a stylish design that doesn't take up too much space on the bedside table. With sleep tracking, environmental sensors, smart alarm and sound machine, it's a unique take on home sleep monitoring tech.
Sense comes with two pieces to monitor different factors. A futuristic little orb sits on your bedside table, checking your bedroom environment is right for sleep. Then you have a small disc which clips onto your pillow and records your movement during the night.
It can also play a range of mellow sounds to help you sleep. And it can be programmed to wake you during light sleep with mellow lighting and tones.
This second generation version now has voice commands to add to the hand wave commands. So you can speak to access functions such as the alarm or get feedback on your night's sleep.
I liked the Sense for its environmental monitoring features, voice commands and motion controls, and wide range of light settings and effects. I think the slow wake-up light alarm is a nice feature, and found it helped me wake up more gently than with a loud alarm.
Pros
A pretty design that's small and unobtrusive on a bedside table.
Measures and gives recommendations for bedroom temperature, humidity, ambient light, noise and air quality.
Measures time asleep, time to fall asleep, wakings, times restless, and time spent in deep, medium and light sleep.
Fun and colorful glow features. Wave your hand over it to see a green glow for ideal bedroom conditions, red for bad and orange needing improvement.
Good smart alarm feature. You set an ideal wake time and it will wake you at the best point in the 30 mins before to ensure you wake happily.
Good App with overall sleep score, sleep timings and interruptions due to factors like noise.
Helpful Sleep coaching, even comparing your sleep to other Sense users.
Cons
The microphone doesn't record noise – it just tells you that there was noise.
No snooze function on the alarm.
Not the most reliable sleep tracking.
Verdict
If you're interested in a fun piece of tech which gives you useful advice about setting up your bedroom each night, and an excellent alarm, you might find the Sense helpful.
However, if you're looking for the most accurate sleep tracking possible, I think there are better options, even if they don't have all the cool features the Sense does.
Update
Hello, the company behind Sense, has shut down. The future of the sleep tracker itself still isn't clear.
Buy from Amazon
---
Wearable sleep and activity trackers
---
1. Fitbit Ionic
Smartwatch with accurate sleep tracking & sleep stage breakdown
The Ionic is the latest in the Fitbit range, and their first true smartwatch. It's currently my personal favorite – both for sleep tracking and fitness tracking.
As with all the newer Fitbit models, it tracks your different sleep stages. So far, I've found it to be accurate when it comes to the things I can verify myself, such as when I was lying in bed reading or sleeping, wakings in the night, how restless the night was, and the time I woke up.
And when it comes to fitness tracking, it also seems impressively reliable – the step count is spot on, as is my pulse at different intensity levels of training, and automatic movement tracking.
So the accuracy of the basic sleep data, heart rate and movement give me confidence that the sleep stage tracking is a decent enough estimate.
The Fitbit App is excellent, presenting each of your sleep stages in a clear and detailed graph. And I really like how it compares the time you spend in sleep stages to other people of your age and gender.
It's helpful information that either provides reassurance or might offer a clue that something isn't quite right.
And I also like that you can set reminders to stick to a sleep schedule and to stay active every hour of the day. These are things that might actually help improve your sleep.
As a fitness tracker, it has a huge amount to offer. It has built-in GPS, which is great for runners and cyclists who don't want their phone with them.
You can take it for a swim as it's water resistant up to 50 meters. And It's great to have your pulse, calories burned and timer on your wrist in the gym.
You can store up to 300 songs for Bluetooth listening, use it for contactless payment, receive notifications, and explore a growing number of Apps.
And that leads me to the final point – the overall look, screen and battery life. The Ionic looks great, feels light, has a beautiful bright and sharp screen, with an excellent 4 day battery life.
Pros
Automatic and accurate sleep tracking.
The App gives you a breakdown of 3 sleep stages: REM, light and deep. You can see how much, and when, in the night you were in each stage, times awake and total sleep time.
Benchmarking against your own 30 day average sleep, and also people your age and gender.
Can set a target for total sleep and sleep schedule, with vibrating reminders to improve your sleep pattern.
Sleep insights to help improve your sleep.
Excellent fitness tracking, with constant pulse, and specific exercise tracking. Monitors resting heart rate, heart rate trends over time, and cardio fitness.
On-screen workout coaching, with visual guides to exercises like abs and chest.
Has built-in GPS.
Water resistant up to 50 meters.
Beautiful gorilla glass touchscreen, with brightness up to 1000 nits.
Many different clock and display options to choose from.
Lightweight design that lies flat and hugs the wrist.
Interchangeable wrist straps, including sporty and elegant looks.
Great 4 day battery life.
Cons
Occasional slow syncing which requires some patience.
Outside of the U.S., there are limited banks available for contactless payments.
Music transfer is slow.
More expensive end of the wearables spectrum.
Verdict
The Ionic has a few key points that for me make it the clear winner of the wearable sleep trackers. The sleep tracking is remarkably accurate, the heart rate and movement tracking is reliable, and it has an excellent battery life.
The Fitbit App provides an interesting breakdown of your sleep stages. And there are several useful features that can help improve your sleep, like reminders to keep to a stable sleep routine, and encouragement to stay active during the day.
Even though it has a lightweight feel, if you have very thin wrists, the Ionic might not be the one for you. But if you're into fitness, sleep tracking, and like the idea of a smartwatch with a growing number of Apps and features, the Ionic is an excellent choice of wearable sleep tracker.
Update: Ionic or Versa?
I'm currently doing some extended testing of the new Versa and will add it to the list in a future update.
From what I've seen so far, it's very similar to the Ionic. The main difference is that if you're not a runner or cyclist, the Versa saves you a lot of money by not including GPS.
It also has a more rounded, softer looking design, which some people will find more attractive.
So if you're mainly interested in sleep tracking, and not fitness, I would probably choose the Fitbit Versa as the price difference is notable, and all the other features are identical.
Buy from Amazon
2. Fitbit Charge 2
Great all-rounder with accurate sleep and activity tracking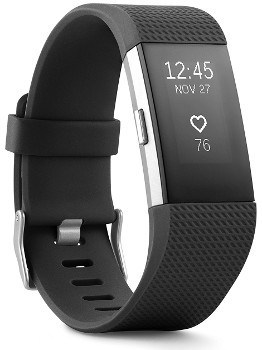 The Fitbit Charge 2 was my previous favorite before the Ionic came along. I still think it's a useful fitness and sleep tracker, especially if you don't want to spend too much, and you'd prefer a more slender design.
Importantly, it has just enough features to make you want to keep using it, and not forget about it when it's charging one day. And it looks lovely, with the steel sides and bright OLED tap display screen.
Where sleep tracking is concerned, it does the same as the Ionic and the Alta HR. Fitbit rolled out their new sleep tracking software to all the latest models, so what goes for one, goes for the rest.
It has a constant heart rate monitor, which appears accurate, and helps determine your sleep stages. The App will give you a breakdown of your sleep stages, and you can dive down into detailed graphs to see at what points in the night you were in each stage.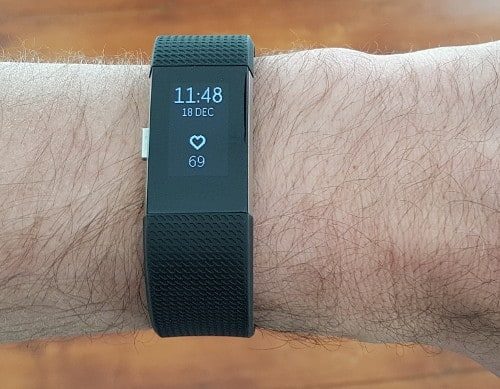 The Fitbit App doesn't currently tell you if your sleep stage pattern is healthy. But I do like being able to compare the percentage time spent in each stage to other people, as it gives you some reassurance that your sleep might be normal.
And as with other models, the vibrating reminders are great, both to stick to your bedtime and to stay active. Working at the computer all day, I really benefit from my chosen hourly reminder to complete 250 steps. Little changes like that can make all the difference to your health and well-being.
The Charge 2 was also the first one to include the guided breathing App. It's nice to take the occasional 5 minute time out, focus on your breathing, and keep those stress levels down.
And as a fitness tracker, I like that you can select and start one of several exercise types, receiving a breakdown of how you did during the session. You'll then get all the useful and detailed fitness data fed into the App that Fitbit excel at.
Pros

Automatic sleep tracking.
Measures your total sleep time, and time spent in REM, deep and light sleep, along with wakings during the night.
Useful sleep coaching, with bedtime reminders encouraging you to stick to your sleep routine.
Provides benchmarks against your age so you can see if your sleep pattern is relatively normal.
The heart rate monitor is accurate.
Accurately measures steps, distance, floors climbed and calories burnt.
Can sync with your phone to give you incoming call, text and appointment alerts.
Silent vibrating alarm to wake you, but not your partner.
On-screen guided relaxation breathing exercises.
Excellent App interface, with interesting and detailed graph displays.
Changeable clock face and display options like pulse, steps and calories.
Steel body and interchangeable wristbands.
Modern design and comfortable to wear.
Great battery life of 5 days.
Cons
No GPS feature for activity tracking, unless connected to your phone.
It's not waterproof, so no shower or swimming, but it can handle rain and sweat.
Black and white screen only.
Verdict
Overall, the Charge 2 is a great all-rounder, either as an entry into wearable devices or an upgrade to a previous model. The sleep tracking seems mostly accurate, with only the occasional mistake, as most trackers can be guilty of at times.
Unless you want to have all the latest fitness tracking features, it's a useful fitness tracker with accurate constant heart rate monitoring, and step counting you can rely on.
And with a great battery life of up to 5 days, it will outlast many other wearables.
Buy from Amazon
3. Fitbit Alta HR
The slimmest Fitbit, great for wearing regularly in bed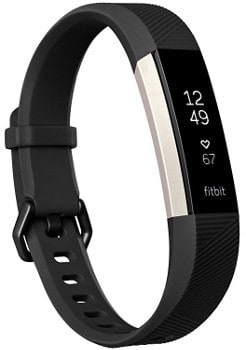 In many ways, the Fitbit Alta HR looks and feels like a downsized version of the Charge 2. The main benefit to the thinner, sleeker and unobtrusive design is that you don't notice it so much when you're in bed.
That slender design does have a downside though – less Apps, features and activity tracking. But not having those options does result in one impressive benefit – a huge battery life of up to 7 days.
Late in 2017, I wore the Alta HR for a month to test Fitbit's new sleep tracking software and algorithm, and was generally very impressed by its accuracy.
Compared to many trackers, there were only a couple of occasions when it mistook resting in bed for sleep. And it was very reliable when it came to recording the times I got up in the night.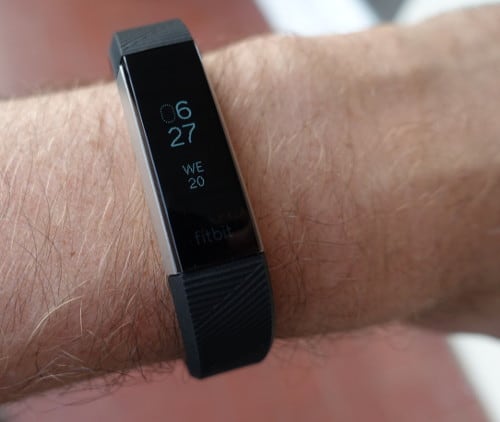 I'm also a fan of the new sleep breakdown on the App. As I mentioned with the Ionic and Charge 2, it's great to have such a detailed breakdown of your sleep and benchmarking with your age.
And I really like the vibrating reminders to stay active each hour of the day, and to help me stick to my target bedtime. I personally choose a 30 minute wind down period, which I'll often ignore if I'm watching a movie.
But the little vibration does remind me that it's a bedtime I've chosen to try and stick to. And since having a regular sleep routine is key to good sleep, this is the kind of thing that can really make a difference.
Pros
Automatic and accurate sleep tracking.
Has the latest Fitbit sleep tracking features – total sleep time, time spent in REM, deep and light sleep, along with wakings during the night.
Constant heart rate monitor helps improve the accuracy of the sleep tracking.
Vibrating alerts to stick to your selected sleep schedule.
Vibrating reminders to get up and move if sitting or inactive for long periods.
Like the Charge 2, the excellent App shows your sleep in a detailed breakdown, with benchmarks for your age and gender.
Tracks steps, distance, calories burned and active minutes.
You can select call, text and calendar alerts on the device.
Customizable display, such as clock, heart rate and steps.
Interchangeable straps to further customize the look.
Cons
It sometimes struggles with heart rate monitoring during heavy exercise.
The touch screen is low on features.
No built in GPS, so you have to sync with your phone to track and records routes.
It's not waterproof, though is resistant to sweat and light rain.
Verdict
If you're a fan of wearables with beautiful screens, and a vast range of features, you might find it difficult to downsize to the Alta HR. I also don't think it's the most accurate when it comes to intense exercise, which isn't ideal if fitness tracking is important to you.
But if you don't regularly do intense exercise, and it's the sleep tracking that most interests you, there's a lot to like about the Alta HR – especially if you want a subtle wearable that looks great on the wrist and feels comfortable to wear in bed at night.
Buy from Amazon
4. Jawbone UP3
A low cost tracker

When it first came out, Jawbone claimed that the up3 was one of the most advanced personal sleep trackers. It was designed to build a detailed picture of your sleep using a range of advanced sensors, such as heart rate, breathing rate, body temperature and galvanic skin response.
It was one of the first wearable sleep trackers to try and distinguish between being awake and the light, deep and REM sleep stages. And at first glance, it appears to do a reasonable job when you check the App in the morning.
However, I found the UP3 had very mixed accuracy during the month I tested it. The good points were that when I got up in the night, it reliably recorded it every time. And the nights when I felt like I'd slept badly were shown as being more restless, and with less total sleep time.
But there were several times when I know I was awake for long periods in the middle of the night, and this wasn't reflected in the data. The App only seemed to suggest lots of restlessness, rather than the fact that I was wide awake for at least an hour sometimes.
On a more positive note, the activity tracking appeared to be more accurate. I wore it alongside my Fitbit one day, finding they were quite similar for measurements such as steps and heart rate.
Where the UP3 does shine is with the detailed sleep coaching. Even though I had to manually change some of the sleep data on occasions, I think the App and sleep coaching is engaging, meaningful and helpful.
Pros
Automatic sleep monitoring.
Advanced sensors giving a detailed assessment of your sleep, including time spent awake, in light, deep and REM sleep.
Accurate activity monitor measuring essentials like steps taken, distance traveled and calories burnt.
A good App provides a detailed breakdown of your activity and sleep stages.
Useful and personalized sleep coaching tips to improve your sleep.
Lightweight and unobtrusive design that's comfortable in bed.
Fantastic battery life of up to 7 days.
Low price.
Cons
No screen display to provide you with information during the day.
Less detailed activity monitoring than many other devices.
Sometimes mistakes resting as sleeping.
No longer supported and unavailable in most stores (see below).
Verdict
The UP3 is the lowest priced of all the trackers in this review, so if you're looking for a starter device rather than a high-end tracker, you might be interested in it.
But if you're looking for the most accurate sleep tracking, it might disappoint. And if you've had one of the more stylish wearables in the past, with screens that provide details like your pulse and step count on the go, the lack of a screen might not appeal.
Update
Jawbone trackers are no longer supported, and so have been pulled from most stores. I'll be removing the Up3 from this list in a future update, but decided to keep it here for now to let readers know what has happened to the devices.
Buy from Amazon