Disclosure: This website is supported by my readers. If you decide to purchase a product through one of the links provided, I may receive a commission, at no additional cost to you. Learn more.
At a glance
As an intelligent sleep assistant, the Hatch Restore is packed with features that are designed to foster consistent sleep routines and improve sleep quality.
With dozens of relaxing sounds and meditations, 22 nightlight colors, and a rich assortment of 20+ sunrise and sunset simulations, you can create just the right relaxing bedroom ambiance.
While it offers plenty of customization options, it's worth noting that access to the full library of sounds required a premium subscription. However, it still gives you a good selection of light options, sounds, and daily alarms, irrespective of membership status.
Pros
Extensive range of features, controlled with a companion app.
Diverse spectrum of colors that can serve as a soothing nightlight or a functional reading light.
Good selection of calming sounds, including nature, white noise, meditations, piano, acoustic guitar, sleep stories, and more.
Programmable sleep routine steps to help you stick to a regular sleep routine, relax, and fall asleep.
Customizable digital display clock.
Sleek, minimalist design.
Robust ABS plastic exterior.
60 day trial period.
Cons
Many of the best sounds are only available with the additional premium membership. It's $129 for the device and $49 per year for the membership.
Need to connect both via Wi-Fi and Bluetooth to set it up and change most settings. Not many features can be accessed manually.
Maximum volume won't block out loud external noise.
The color transition at the start of the sunrise and end of the sunset could be smoother.
Full review and video transcript
Please note that this written article isn't an exact transcript of my video above. I've organised it to make it easier to find the information you might be most interested in. I've also included some additional points that I've thought of since filming. I've marked these as notes, so you know they aren't in the video.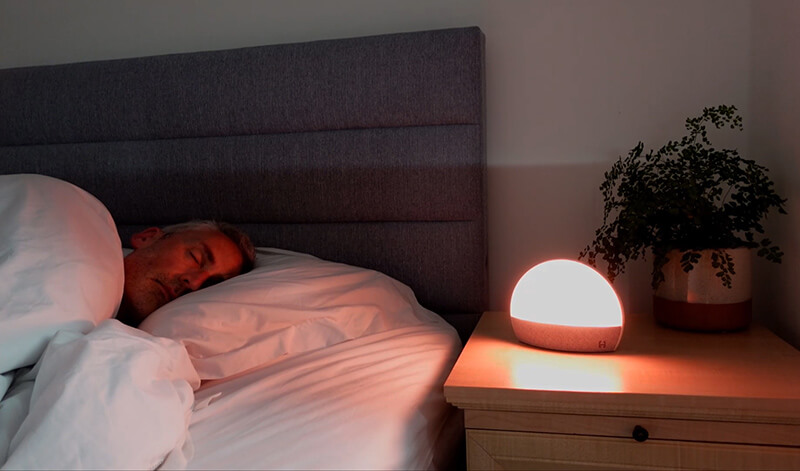 The Hatch company was founded by a husband and wife team of entrepreneurs in the United States. They had a successful showing on Shark Tank with a previous product back in 2016, and have been working on sleep tech products since then.
This time, they've created the Hatch Restore – a smart sleep device that's intended to help adults unwind at night, fall asleep more easily, and wake up more gently in the morning.
To do that, it has a wide range of features. It's an all-in-one sunset and sunrise simulator, sound machine, reading light, nightlight, and bedtime routine assistance. The core concept, other than having lots of colors and sounds to play around with, is that it encourages you to set up and stick to a regular and relaxing sleep routine, which is a key sleep habit to adopt if you have difficulty sleeping.
I've been using the Hatch Restore for the past month and I've had a mostly positive experience with it, but I do have one or two gripes, which I'll explain in this review.
Just to be completely transparent, I was given the Hatch Restore for free to test. And if you choose to buy one through my links, I might make a commission, which will help with the upkeep of my YouTube channel and my website. Giving me one for free to test and review doesn't mean I'll only talk about the positives though. I will point out the downsides as I try and give a fair and balanced review.
The Hatch Restore Close Up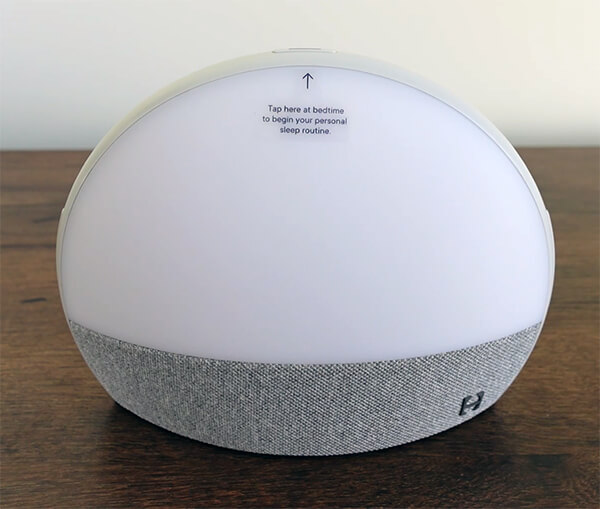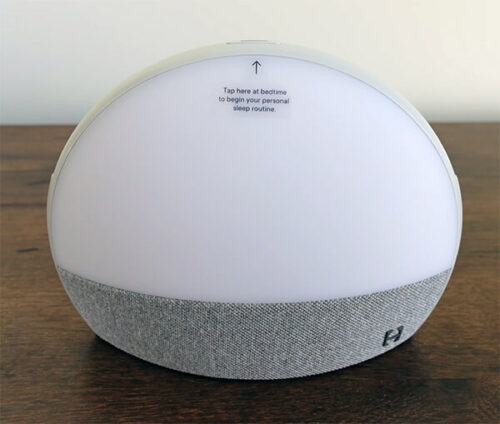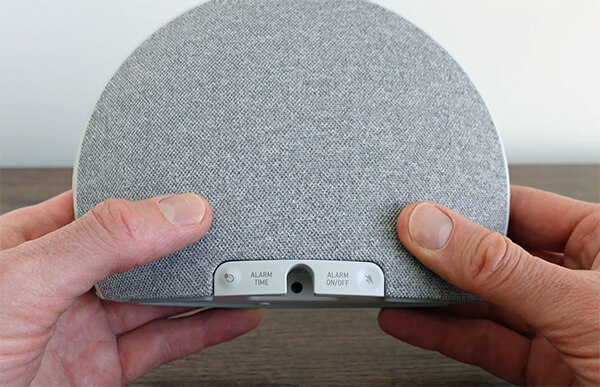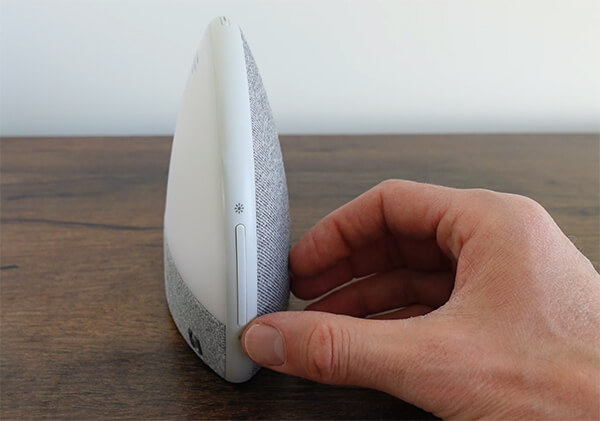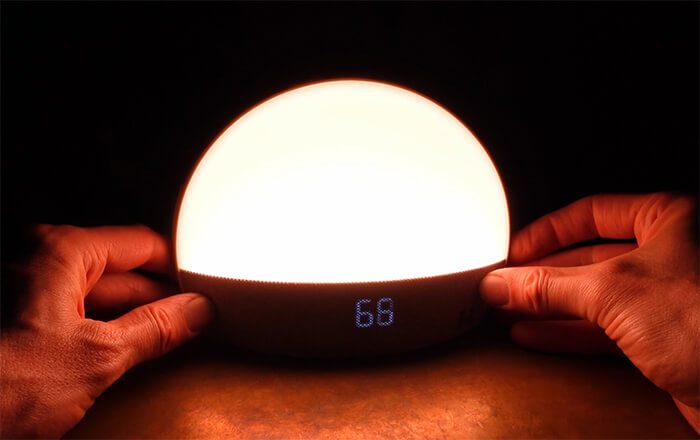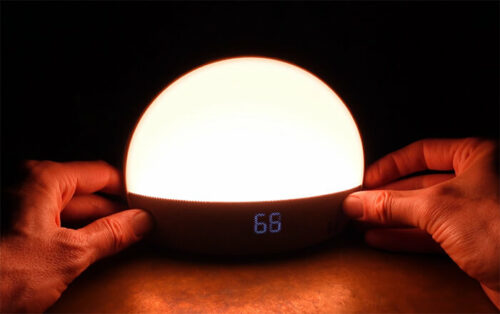 Packaging
The Hatch Restore comes in a nice looking, sturdy box, and wasn't wrapped in unnecessary plastic, which is always good for the environment.
Note: There's only a small paper manual included as most of the instructions are on the app. This helps reduce more waste, though some people might have preferred to have a physical manual.
Design and dimensions
I like the sleek, modern, and minimalist design of the Hatch Restore and the half-moon shape. It's a good size for a bedside table and doesn't take up too much space, especially as you can remove your current reading lamp if you prefer.
The main exterior is robust ABS plastic, which holds up well to impact and drops, although I wouldn't recommend dropping it too many times! There's also some grey fabric around the front and the back, which should blend well with a lot of modern bedroom décor.
Specifications
Weight: 19 ounces / 539 grams
Dimensions: 7.5 x 2.75 x 5.75 inches / 19 x 7 x 14.6 cm
Casing materials: ABS plastic and fabric
Bulbs: LED
Manual buttons
You can see it doesn't have many buttons, and that's because most of the controls are on the companion app. However, there are some basic manual controls.
On the top – I've left the sticker on for now but you can remove that – there's a button to start your sleep routine or skip steps in the routine, which I'll discuss in more depth later. This button also works as a snooze function for the morning alarm.
On one side, there's a button to turn the volume up or down. And on the other side, there are buttons to increase or decrease the brightness. Here you can see those functions with the Hatch plugged in, with the display showing the brightness. And there are a lot of incremental steps in the brightness, which I do like about this device.
On the reverse, there's a button telling you what your current alarm is set to and also one to turn all alarms on or off.
Note: the two physical alarm buttons are useful for when you don't want to, or can't, open the app in the nighttime, but want to quickly check the alarm time or turn the alarm off.
Power
To power it, there's a long cable and adapter that has to be plugged in for it to work. There's no battery option and no battery backup in case of a power cut. However, it will remember your pre-programmed settings if you turn it off to move it from room to room.
Connecting and syncing the Hatch Restore with the companion app
It's worth noting at this point that most features can only be accessed with the app, so the hatch won't suit you if you'd like to be able to fully control your devices manually.
Once you've downloaded the app (iPhone or Android compatible), you have to sync with your Hatch Restore via Bluetooth. But you also have to connect it to your wi-fi, which is a permanent requirement if you want to adjust the sleep settings.
Note: There's a button on the underside of the Hatch Restore that you press to enable syncing via Bluetooth. You'll also need your wi-fi password. The whole setup process took me under ten minutes.
Overview of the app interface
Most options are accessed by the home or explore button. In home, you can set your bedtime routine and sunrise alarm. In explore, you can browse and preview the colors or set a solid color. You can also browse the three sound categories and preview the sounds directly on your smartphone before adding them to your routine.
I won't go through all of the setup process in the settings now, as I'm going to demonstrate the app in more depth as I go through each of the main features in the rest of this video.
I think there are a few really important points to understand with the app of the Hatch Restore. Firstly, I do like the interface now that I've had a chance to play around with it. It's quite modern, sleek, and pretty. However, it did take me time to understand how it works and how to get the settings that I want to adjust.
Then again, that's what you get when you have a device, a piece of tech, with so many different features and functions. You do have an element of learning to understand how to get the best out of it.
However, my main concerns around the app aren't so much the interface. It's more about the connectivity. Firstly, you need a strong and stable Wi-Fi connection in your bedroom to actually send over the settings from the app to your device. The other thing to understand is that sometimes there's a bit of a delay when you open up the app and you connect it to the hatch restore. It takes a few seconds, which I find mildly irritating.
I'd like to be able to open the app and just have it connect immediately or to be able to start playing with the settings straight away without having to wait for it to connect.
So, probably one of the main downsides for me with this device is the fact that you need that stable wi-fi connection. I think that's just going to rule out quite a lot of people who might be interested in having the Hatch Restore in their bedroom, but just don't have the ability to connect with strong wi-fi.
Multiple light colors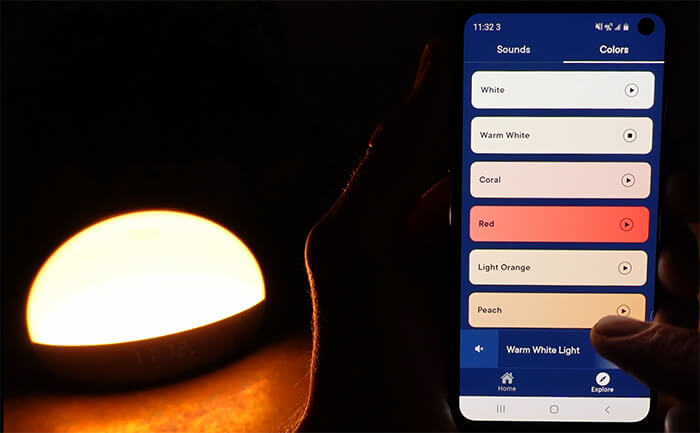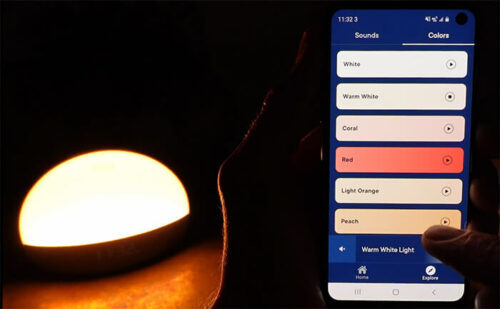 The wide range of light colors is one of the areas where the Hatch Restore really shines. After you select the explore option, you can then go into the colors tab. At the time of filming, there are 22 different colors to choose from. For example, there's a warm white, red, green, turquoise, and purple.
Note that these aren't the sunrise or sunset options, but just solid colors to use as a reading light, a night light, or mood lighting for your bedroom. You can also adjust the brightness, either with the app or the manual buttons on the device.
The bulbs are LEDs, which typically last for many years. I personally love the warm whites, oranges, and yellows which seem to work well as reading light colors, and the light is more than bright enough to use for reading.
I think the wide range of colors is one of the areas that really separates the Hatch Restore from a lot of other reading nights, night lights, and wake-up lights. For example, the Lumie and Phillips range, which tend to be the better wake-up lights on the market, normally just have one color scheme from white to red. You can pause it in one of the hues in between to have as a reading light or a nightlight, but they don't typically have extra colors like turquoise, purple and pink, for example.
So when it comes to color choice, the Hatch Restore is really good and I think adults and kids will enjoy playing around with the different colors and the brightness levels to get just the right bedroom ambiance that they prefer and that they find relaxing in the nighttime.
Sound options and the premium membership access to more choice
The choice of sounds you get with the Hatch Restore is one of the more complicated areas to explain. Firstly, the good point is that it has many different sounds, whether that's the alarm clock, sleep sounds, or unwind sounds, which are the three main categories.
However, the bad point is that not all of those are available immediately when you buy the device. A large number of them are only available if you subscribe to their premium membership.
Pricing options and the sounds you have to pay a subscription for
To understand the available sounds on the app, and what you do or don't get when you buy the device outright, let's have a look at the different pricing options.
At the time of filming, the Hatch Restore costs $129.99 up front, which comes with the sleep sounds and alarm sounds, but only a couple of the unwind sounds.
If you want to access the currently 160+ unwind sounds it's going to cost an extra $49.99 per year. There's also a pay monthly option if you prefer, which is $14.99 per month for the device and premium membership.
To help you decide whether the membership is worth it or not, let's go through the different sound options.
Note: Even though I received the Hatch Restore for free to test, I paid for the premium membership myself. Just to be clear, as far as I could tell, it's only the unwind sounds that are hidden behind the paywall. All of the colors, sunsets and sunrises come free. So if you're only interested in the light aspect and are happy with some basic sounds (or silence), you can save money by ignoring the membership.
The sounds
There are three main sound sections: unwind, sleep, and wake, which I'll go through in reverse order.
At the moment, there are 10 wake sounds which you can choose as your alarm sound if you want. These will start at the end of the sunrise, but you don't have to have a sound if you prefer not to. The meditative flute is probably my favorite. It kind of makes me feel like I'm waking up in the safe zone of a video game! There are some more abrupt sounds as well, like signal, if you need it.
Wake sounds
Beep beep
Bells
Chinese Bells
Lovely Chimes
Meditative flute
Morning bird
Old clock variations
Relaxing chimes
Retro alarm
Signal
There are eight sleep sounds to choose from, which you can set on a timer or run all night. These are typical white noise machine sounds, like fan, rain, pink noise, creek, and crickets.
The loops are much longer than most white noise machines I've reviewed, which is more than 20. So I'm really impressed with the length of the loops and the quality of the recordings. These sleep and the wake sounds come free without needing the membership.
Sleep sounds
Dishwasher
Evening campfire
Fan
Heavy rain
Night's tranquility
Pink noise
River creek
Calm ocean
The most extensive category is unwind. This has 19 channels of music, soundscapes, stories, and meditations to help you relax before falling asleep. Personally, I really like the slow and hypnotic astronomy archive stories, which I thought were going to be boring, and they kind of are, but they help me to unwind.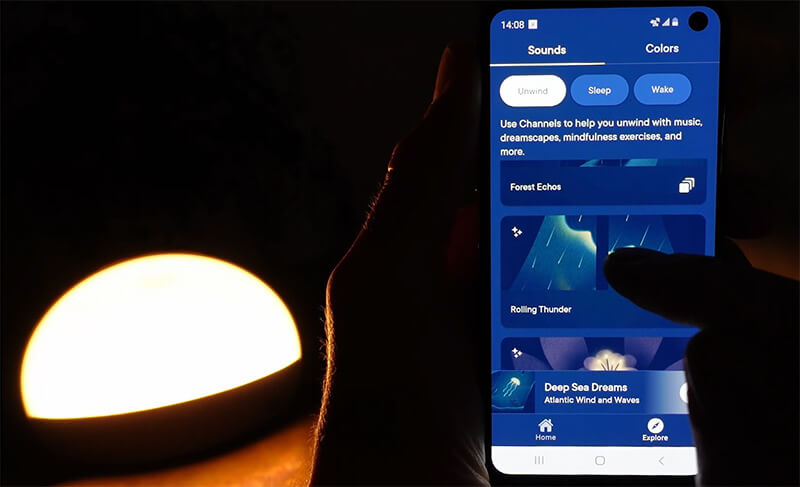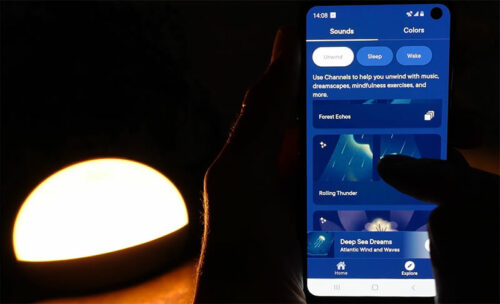 The rain and thunder options are also excellent because of the long loops and the variety of authentic-sounding thunder. I like how there are multiple rain and thunder options, with most of them being distant thunder rather than the speaker-rattling variety.
I also like having the body scan meditations which are a good way to reduce stress at night. These seem to be like mindfulness exercises and are essentially mini guided meditations.
Unwind sound categories
The astronomy archive
The craft corner
Nostalgic journeys
Relax in nature
Signal falls
Acoustic campfire
Ambient overlook
City wanderings
Classical cascade
Moonrise melodies
The body scan studio
Breathing in nature
Grateful reflections
Restful meditation
Sharing kindness
Deep sea dreams
En route
Forest echos
Rolling thunder
Botany and blooms
Beekeeper's manual
Sound within the deep sea dreams category
I won't list every sound in every category, but just to give you an idea of the excellent variety that the Hatch Restore has, here are the current sounds in the deep sea dreams section:
Atlantic wind and waves
Crescent lake shoreline
Deserted Isle in Thailand
Moonlit sea and dunes
Cozy beach campfire
Colorado mountain snowfall
Iceland glacier lagoons
Rocky ocean coastline
As you can see, there are lots of sounds, with more added on an ongoing basis.
It's worth mentioning at this point that you can't play your own music through Hatch Restore, and there's no way to play radio through it either.
Note: if you haven't watched the video, I do play through several of the sounds so you can listen to them. I don't play all of them though, as that would have turned it into an even longer video. Some of the unwind sounds are musical, rather than just white noise, nature sounds, or meditations. There are some gentle acoustic guitar campfire and contemporary classical piano songs, which are very pleasant to listen to.
Speaker quality
As for the speaker quality, I think it's more than good enough for quiet bedtime listening, especially if you're just going to be listening to some stories or meditations. Some of the sounds, such as the nature sounds, also sound pretty good through the speaker.
Where I think it's a little bit lacking is in the bass department, and it's not exactly the loudest either. So if you're hoping to mask really loud neighbors or street noise with this machine, it might not be the right one for you, especially because it doesn't have a headphone jack, so you can't get that even closer sound experience. But for quiet bedtime listening it does a perfectly good job.
My opinion of the premium membership
My point of view is that it would have been good to have a few more of the unwind sounds included for free. I can understand the desire to charge people if you're going to be continually evolving the category of unwind sounds on the app.
Some other apps, like Headspace and Calm, which are very popular ones that have meditations that people use in the nighttime, require a yearly or monthly subscription to access all the features too, so it's not like the Hatch Restore is unique.
However, I think that the fact that you first have to pay for the device to begin with and then pay for a membership is going to be a deal-breaker for some people. Whether you're one of those people or not, I'll leave up to you to decide.
Programmable sleep routines – the core concept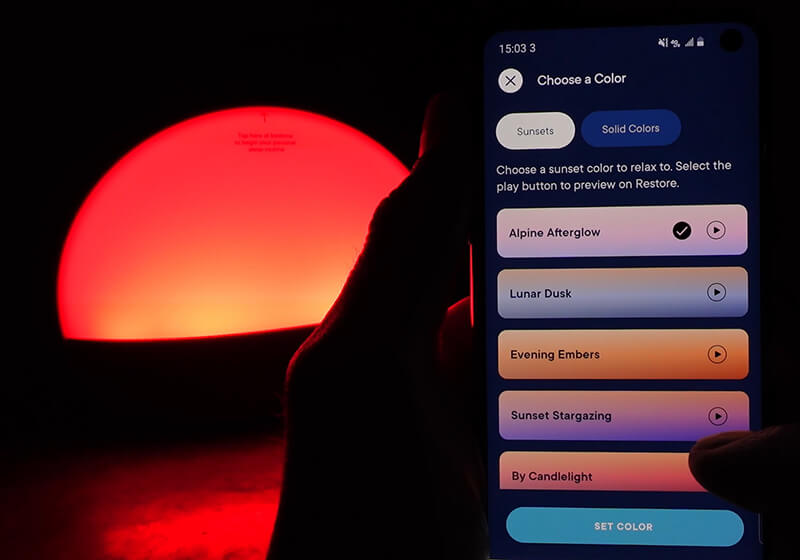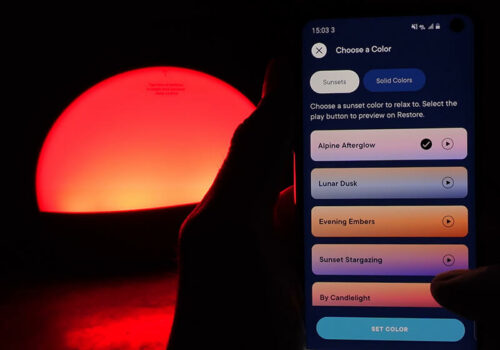 In many ways, the programmable sleep routine is the core feature of the Hatch Restore and the main way that it's supposed to help you fall asleep easier. When you go into the bedtime routine section, you can program anything from one to ten steps.
For example, I've got a read step first with the deep sea dreams sound playing and a warm white light that lasts for 20 minutes. Next I've programmed a relax step. I listen to an astronomy archive story for 15 minutes, with a sunset rather than a solid color this time.
There are lots of sunset options to choose from, but my favorite so far is probably evening embers. It fades out very slowly over 15 minutes, but you can make it last longer if you want. The final part of the sunset admittedly is a little bit jumpy, but I have my eyes closed by then so I don't really care.
And honestly, a lot of wake up lights and sunset simulators that I've tried have a similar problem. They fade nicely for a while and then the last little bit can be a little bit jumpy. Overall, it does have a nice fade.
Finally, I have rain set to play quietly for 30 minutes, but with no light on this time, and that's the final part of my sleep routine. Incidentally, if you wanted to you could have the rain to last all night.
It took me a few days of trial and error to find a sleep routine that seems to work well for me and I'm still playing around with the different sound options and the different sunsets to find the one that I really like. I have a feeling I'm probably going to have several of them on the sleep routine screen, and just turn them on and off from one night to the next depending on my mood.
I really like the flexibility that the Hatch Restore gives you. It's great that you can adapt it and change it from one night to the next, or once you've found a sleep routine that works for you, just stick with it.
I think it's something that you do need to be somewhat committed to doing because not everyone wants to have the same sleep routine every night. But if you're willing to give it a go and try it for a couple of weeks, or even just a few days, then you might surprise yourself with how well it helps to remind you to put your phone down, or your book, or whatever you're doing and actually try and fall asleep.
So for me, this is one of the best features of the Hatch Restore and I have found that it works in encouraging me to have a more regular sleep routine in the nighttime. It helps me to unwind and take a little bit of time before I close my eyes and try to fall asleep to actually just relax.
The sunrise options
Once you've got your unwind and sunset routine in place, the next thing to work on is the sunrise. The sunrise is a really nice way to wake up in the morning because it's much more pleasant to wake up with light filling the room slowly rather than with a blaring alarm tone.
I've been using wake-up lights for years and I really like the gentle way that they wake you up. The Hatch Restore does a good job on this front as well because it has many different built-in sunrises.
You can set different alarms for different days if you like. I currently have one for weekends and one for weekdays. For example, from Monday to Friday, I have it set for 7:30 a.m. with the overly joyful flute sound coming in. Like the sunset, you can also select a range of sunrises, such as the spring sunrise that I selected. You can change the duration from 5 to 60 minutes and the light will fade in for that length of time before your chosen alarm time.
If you choose a sound as well, it only comes on at the exact time of your alarm. It doesn't fade in like the light does. Again, I really like the flexibility you get with the Hatch Restore to tailor your wake up routine to your liking. The sunrise effect works well and I often wake up just before the tone goes off, which is great because then I can turn it off myself without needing to be woken up by a loud alarm.
And if you're someone that likes to snooze, you can just tap the top button of the Hatch Restore and you'll have a snooze function.
Note: the Snooze feature automatically counts down nine minutes. Only the sound goes off for this time, and the light stays on. However, you can hold down the top button and it will turn off completely.
Flexible digital display and clock settings
You may have noticed that the digital display clock was on in some sections of the video. I know that digital clock lights bother some people. Fortunately, the Hatch Restore has some settings to adjust the clock or turn it off completely.
I know that this is a point that people complained about in the past and I like the fact that the company responded to those complaints and updated the software to give you more flexibility to control the clock.
To start with, if you want to you can permanently turn the clock display off, which is great for people who just don't like any light at all in the bedroom. You can also dim it if you like to have a visible clock as long as it's not too bright.
You can switch from 12 to 24 hour time, which will suit people in different regions of the world who prefer one or the other. Finally, you can set a clock display schedule. So if you want to be able to see the time during the daytime, but for it to switch it off automatically at night, you can have just that. This is a useful feature of the Hatch Restore, and one that very few other wake-up lights have.
Comparing the Hatch Restore and Lumie Bodyclock Shine 300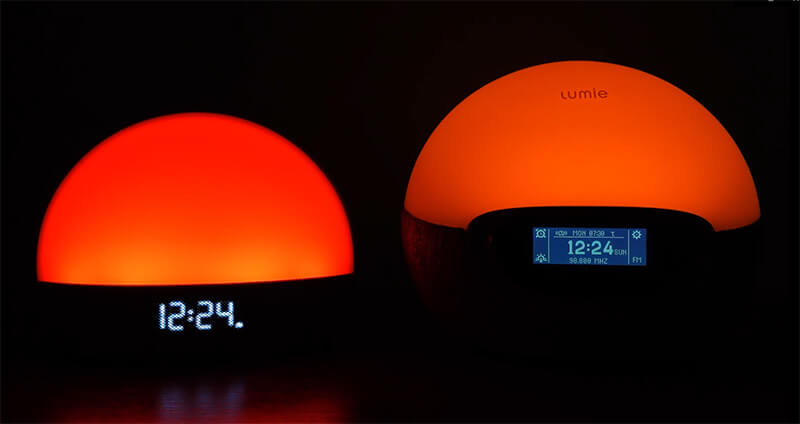 Let's compare the Hatch Restore to another good wake-up light, which is the Lumie Bodyclock Shine 300. I've done a previous review of this one, which you can see here.
Which one of those is better? Personally, I think the Hatch Restore has many more features and many more options than the Lumie Bodyclock Shine 300. It has all the different colors and a lot more sounds to choose from.
The Lumie Bodyclock Shine 300, however, has a smoother sunset and sunrise simulator I think. The way it fades from white to red is a little bit smoother and doesn't have quite so many jumps. But it only has that one color scheme, you can't change the colors, so if you want to use it as a reading light or a night light you have to choose one of the hues between white and red. You can't have greens and purples for example.
The available sounds on the Lumie Bodyclock Shine 300 aren't as extensive as the Hatch Restore either. It doesn't have meditations and so on, but it does have a radio.
Which one would be right for you? Well, if you're worried about the wi-fi connectivity, the Bodyclock Shine 300 doesn't require Bluetooth or wi-fi and there's no app. It has all the controls on the device itself.
However, if you like to have lots of different features and you want to play around with different colors and sounds then perhaps the Hatch Restore is the one for you.
---
Pros
Many features. The main pro is the fact that it has so many different features. It really is a feature-rich device with so many sounds, lights, and extra settings other wake-up lights don't often have. As a smart sleep assistant, it has a lot to offer and many ways you can tailor the experience to suit you.
Range of colors. All the different light options make it useful as a reading light or nightlight. It's great to have so many different colors and so many different options in the sunrise and sunsets.
Range of sounds. It's good that it has so many different sound options. The catalog of over 160 sleep sounds is fantastic. However, it is a bit of an issue that you have to pay for some of them. But if you do decide to pay for the membership, you get a lot of different sounds to choose from.
Sleep routines. I think the sleep routine idea is a good one and it works pretty well. I like the fact that it has so much flexibility to tailor the sleep routine just how you like it.
Digital display controls. It's good that you can control the digital clock brightness and turn it off in the nighttime or have it on that schedule if you want. It might seem like a small point, but I know for some people it's really important.
Design. It looks nice in the bedroom, doesn't take up too much space on the nightstand, and has an appealingly sleek and minimalist look.
Cons
Some sounds are hidden behind a paywall. The number one con is the fact that many of the sounds are hidden behind a paywall. For this kind of price, it would have been good to have many more different unwind sounds for free, and then if you want to pay extra to get more of them then you can do. I think it's a little bit cheeky just having a couple of meditations. I would have liked to have seen more included and I know that this is going to be a deal-breaker for some people. But for many others, maybe $49.99 per year to have a growing library of sounds to listen to isn't such an issue.
Price comparison
To give you an idea of the typical price range of wake-up lights and sunrise simulators, I've listed several brands and models in the table below.
The prices may change over time, but were accurate on 17 June 2022. They are in US dollars, with the prices taken from Amazon and the company websites. Please keep in mind that the features are different with each device.
| Model | Price |
| --- | --- |
| Philips SmartSleep HF3500/60 | 41.61 |
| Hatch Rest Baby | 69.99 |
| Lumie Bodyclock Spark 100 | 99 |
| Hatch Restore | 129.99 |
| Lumie Bodyclock Shine 300 | 149 |
| Philips SmartSleep HF3520/60 | 169 |
| Philips SmartSleep HF3670/60 | 199.99 |
| Bodyclock Luxe 750DAB | 229 |
The need to connect via wi-fi. It's a bit of a pain that you have to connect both via wi-fi and Bluetooth to sync it. I would have liked to see it just connecting via Bluetooth.
Bass and volume. The speaker quality could be better on loud volumes, with richer bass production. It's not a device that you're going to play loudly to block out external noise.
Sunrise and sunset could be smoother. The sunrise and the sunset aren't quite as smooth as some of the more dedicated wake up lights, like the high-end lumie and Philips models. They have a slightly smoother sunset and sunrise in my experience. But, when you're falling asleep and you've got your eyes closed, you perhaps don't notice those moments right at the end or the beginning where it's a little bit more jumpy in the color change.
Verdict
My final verdict of the Hatch Restore is that it's an excellent device with a lot to offer and many good features that I really enjoyed using and found helpful.
However, I think there are a couple of potential deal-breakers that are important to understand, namely around the need for wi-fi in your bedroom and the decision as to whether you need to pay for the premium subscription to get all the different sounds or not.
And for that reason, I don't think I'd recommend it if you're buying it as a gift for someone else (unless you know they have good wi-fi, and would be happy with or without the premium subscription).
To use for yourself, I think there's a lot to like about the Hatch Restore though. Does it do its main job of helping you sleep better and wake up more gently in the morning?
Personally, I think it does. I think it has a lot of potential to help you to actually take some time out in the nighttime to unwind and relax, and to stop doing what you're doing if you're the kind of person that uses your phone or reads a book too late into the night when you could be trying to go to sleep.
So if you'd like some help reminding you to go to sleep earlier, and a good unwind routine, then this is a smart sleep device to consider. I think I've been sleeping a little bit easier, falling asleep easier, since I've been using it. And I definitely like waking up with the light in the morning.
The Hatch Restore comes with a 60 day money-back guarantee and a one month premium membership trial. So if you don't like the the device itself, you can send it back to get a refund.
Where to buy
You can buy it directly from the company on their website Hatch.co.
It's also available on Amazon.com in the United States and Amazon.co.uk in the United Kingdom.
Your views and questions
If you have a question I haven't answered already, feel free to ask in the comments. And if you've had a Hatch Restore yourself, I'd love to hear your thoughts about it.