Disclosure: This website is supported by my readers. If you decide to purchase a product through one of the links provided, I may receive a commission, at no additional cost to you. Learn more.
At a glance
The Emma Original mattress is robustly constructed, with multiple foam layers that combine to provide excellent support for your body. It's particularly comfortable for those who prefer sleeping on their backs or stomachs, as it gently molds to your body shape while providing effective pressure relief in the shoulder and hip areas.
Considering it's an all-foam mattress, it feels more breathable than other memory foam mattresses I've slept on in recent times. However, it might not be the right choice for hot sleepers living in extremely warm climates with no air conditioning.
Pros
Robustly constructed with high-quality materials throughout.
Breathable top foam layer and memory foam middle layer.
Base layer with multiple zones to improve body support.
Effective motion isolation for undisturbed sleep.
Washable cover.
Good value for money.
Extended trial period: 200 days in the UK, 365 days in the US.
Backed by a robust 10-year guarantee.
Cons
Takes a long time to replace the cover after washing.
Lacks a reinforced edge for structural support.
The all-foam structure, without the inclusion of pocket springs, may feel too warm for hot sleepers.
Full review and video transcript
Please note that I've made a few edits to the transcript so it's easier to read and find the information you may be most interested in.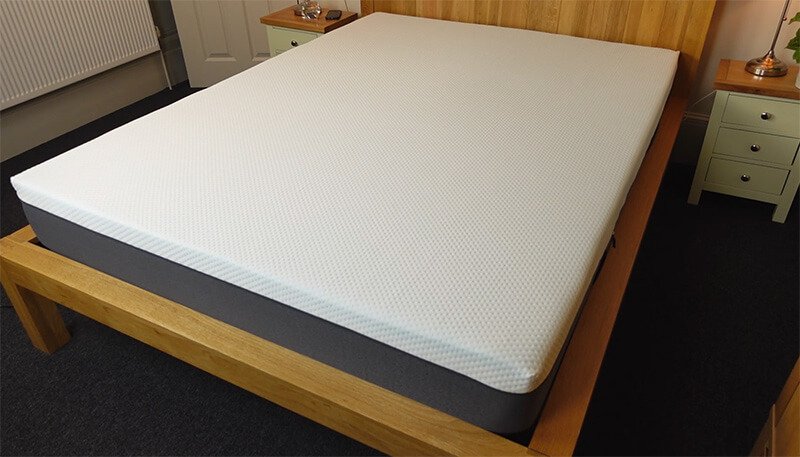 Introduction
Hi, I'm Ethan from No Sleepless Nights.com, and in this video/article, I'll be doing an in-depth review of the Emma Original Mattress.
My partner and I have slept in it every night for the past six weeks, and we've found it to be very comfortable. As with all mattresses though, it won't be right for everyone, and I'll explain who I think it may or may not be suitable for later in this article.
Before I get started, it's important to note that there are several different Emma mattresses to choose from. In this review, I'll only be talking about our experience with the Emma Original, which is an all-foam mattress and their best seller internationally.
Just to be completely transparent from the outset, Emma did give me this mattress as a demo, and if you choose to buy one through the link in the description below, I might make a commission. But I'll try not to let that sway my opinion, and I hope you'll see that as I go through and talk about the pros and the cons of the mattress.
So let's start at the beginning with how it arrived, unrolled and smelled on day one.
Packaging, unboxing, and setup
The Emma is a bed-in-a-box mattress that's mainly sold online and arrives tightly compressed. My king size was very heavy, weighing over 27 kilos. Even though I was able to carry it from the front door to the bedroom, I imagine some people will need help to set it up.
I used scissors to carefully cut through the layers of plastic, and it only took a couple of minutes to unwrap the mattress and position it on my bed frame, which it fits nicely.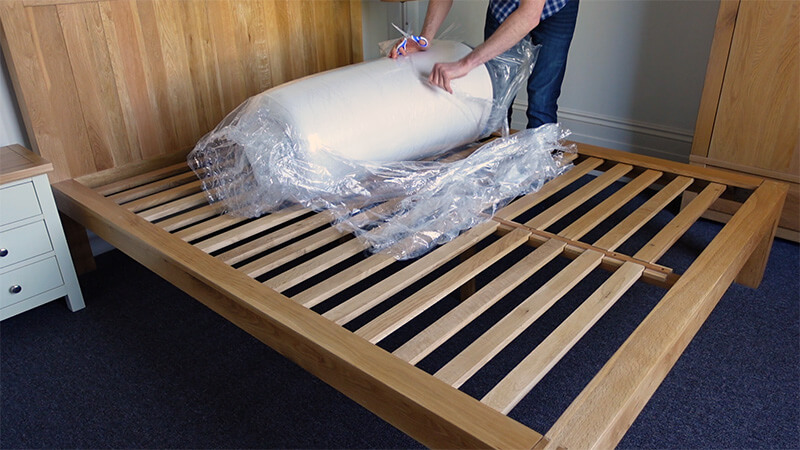 Emma says it takes two to six hours to regain its full shape, and sometimes longer. Mine took the whole day to reach what seemed to be its full size though. I was expecting it to look misshapen at first because I've seen the same effect in other mattresses, if you're not prepared for it, it can seem a bit odd.
I also had to adjust the cover once it had fully expanded. It might not be necessary because you'll probably cover it with a bed sheet anyway, but I quite like my bed and bedding to look neat.
As for the smell, it had a new smell, but it wasn't particularly strong or off-putting, so I was happy to sleep on mine the same night I set it up.
Just in case you're wondering, In most of this video (and photos in this article), I'll demonstrate the mattress without bedding so you can actually see how it conforms to my body. But yeah, I obviously don't actually sleep like that!
Construction and materials
The Emma Original has three foam layers and a cover. It's important to note that there aren't any springs in this one, but other models of Emma mattresses do have springs. Since the cover is removable, you can actually see the foam layers. So, let's take a closer look.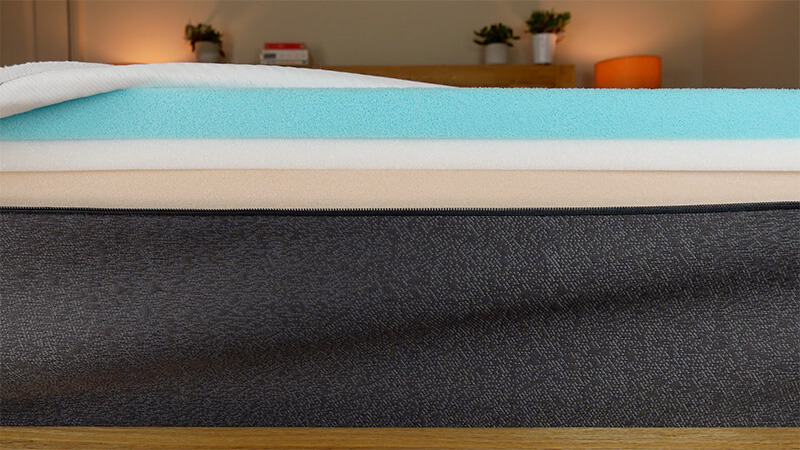 Cover
Starting with the cover, I really like how soft it feels. It's made from 99% polyester and 1% elastane. Emma says it's designed to be moisture-wicking and breathable, but it's kind of hard to confirm that when the foam underneath would have a bigger impact on how breathable it is.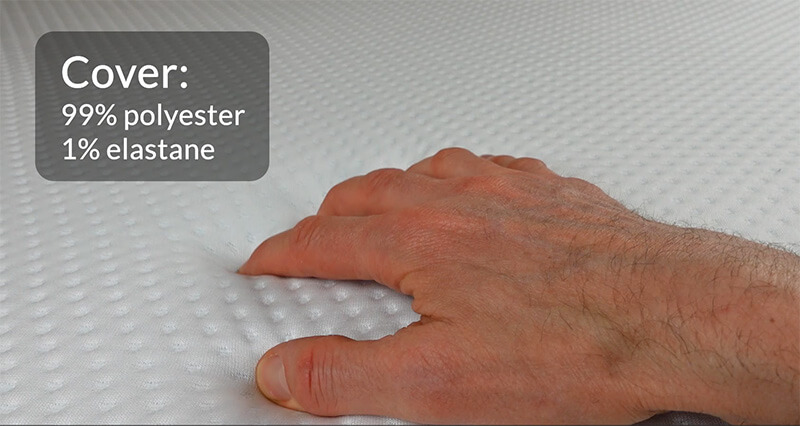 Importantly, the cover appears to be robustly stitched and well constructed. It's great that you can remove the cover and machine wash it. However, it took me a really long time to get the cover back on again – nearly 10 minutes.
It involved a lot of lifting of the mattress to get the cover into the right place, so I wouldn't recommend doing it unless you've got help. But on balance, it is a worthwhile hassle for the option to be able to deep clean it.
Foam layers
Looking at the foam layers now, the height of the mattress is 25 centimeters, which is just under 10 inches. The top layer is made with what Emma describes as "Point Elastic Ergocell Technology".
This layer isn't memory foam, and you can see that it springs back quickly when I press into it. It feels soft and is more breathable than memory foam. I like how this layer provides somewhere for your body heat and sweat to escape through, rather than lying directly on the warmer memory foam.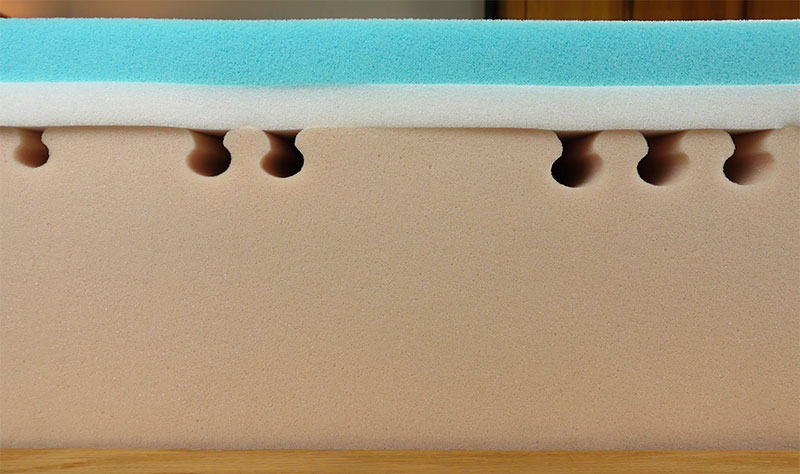 The middle layer is made with Halo memory foam. You can see when I push into it that it regains its shape much slower than the top layer, which is what you'd expect from memory foam. This is the layer that will adapt to your body shape and provide the most pressure relief, and I find the mattress does contour well to my body.
The most substantial layer is the base, which is a support layer made up of dense foam. Emma says they use HRX foam, which stands for High Resiliency Extra. You can see when I push into it that it springs back into position quite quickly, so it's a thick and strong layer designed to reduce sag over time.
The base layer is also constructed with five zones, which is what the large holes are for. It means there's more give in the area around the shoulders and hips, for example, which enhances the body support and contouring.
All in all, it looks and feels well constructed. There were no loose bits of foam, and even after six weeks, my mattress has retained its shape well.
Comfort and support
It's one thing to describe the layers and the fancy terminology that mattress companies sometimes use for them, but more importantly, how comfortable and supportive does it feel?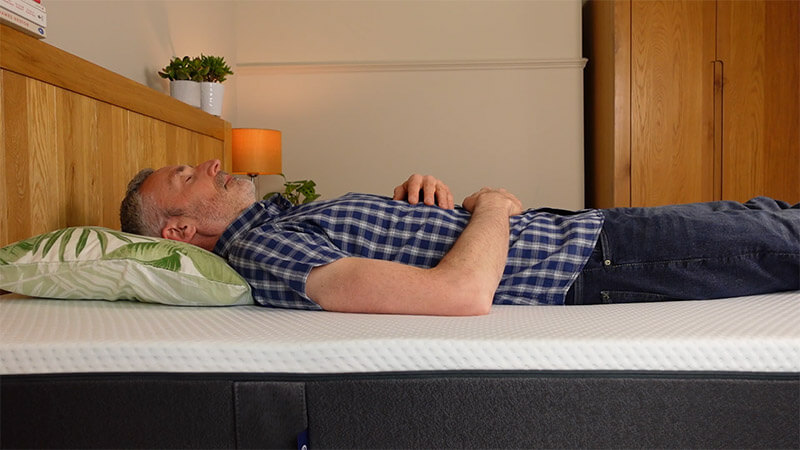 Well, my partner and I agree that it's a really comfortable mattress, but it did take a few days to get used to it. For example, I was initially quite surprised that it kind of keeps you on top rather than sinking in deeply like I have done with previous memory foam mattresses.
I find it's particularly good when I lie on my back, with just the right amount of padding and contouring around my body. It seems to support my back, hips, and shoulders well, and I've actually been sleeping more on my back than I used to since getting it.
It's also great on my stomach because my hips don't sink in too much, so I feel my spine is kept in better alignment than with very soft mattresses.
It's okay on my side too, but I think I probably prefer a slightly softer surface with more sinkage when I'm on my side. Having said that, I do have a history of back problems that I've long suspected get worse when I spend too long on my side or stomach, so if I feel comfortable enough to sleep on my back with the Emma mattress, that'll be a good thing in the long run.
Overall though, we've both been sleeping well on the mattress, so it's clearly comfortable enough.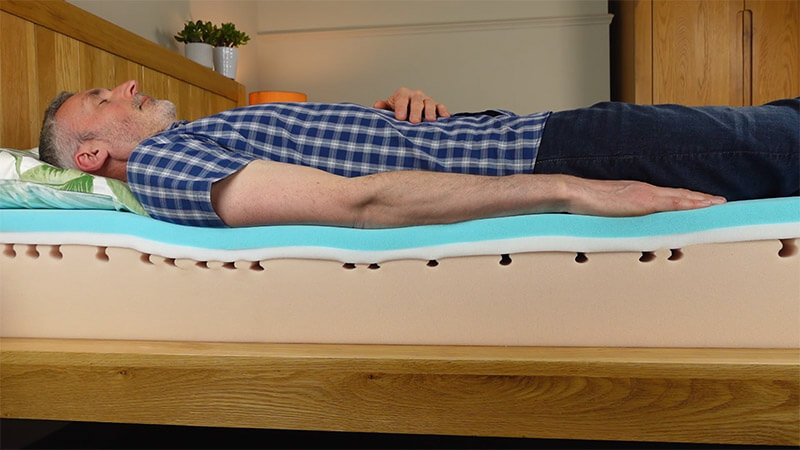 Firmness
To understand why I find it more comfortable on my back or stomach than my side, let's have a think about the firmness. Emma describes it as a medium-firmness mattress, and while I generally agree, I do think it's on the firmer side of medium.
Personally, that's fine. But if you're looking for a softer mattress, this one might not be quite right for you unless you add a plush mattress topper as well.
To give you a clearer idea so you can see how it might feel for you, I'm six foot three (192 centimeters) and weigh 83 kilos (182 pounds). I'd give it a 6.5 out of 10 on the firmness scale.
My partner is five foot four (163 centimeters) and weighs 60 kilos (132 pounds). She says she'd give it a 7 out of 10.
So we're both in agreement that it's a medium-firm mattress. Please keep in mind though that your own size, weight, and preferences will all play a role in how you perceive the firmness.
Edge support
Let's talk about the edge support now, which is particularly relevant if you share your bed or you like to be able to sit on the edge of the bed without feeling like it's collapsing under you.
The Emma Original doesn't have a reinforced perimeter, but the dense foam at the base layer does ensure that it maintains its shape right up to the edge.
You can see here when I sit on the edge that I do sink in, but not too far. And when I push firmly into the top of the mattress, it withstands the pressure well. Even if I stand near the edge, the extra pressure doesn't collapse the mattress.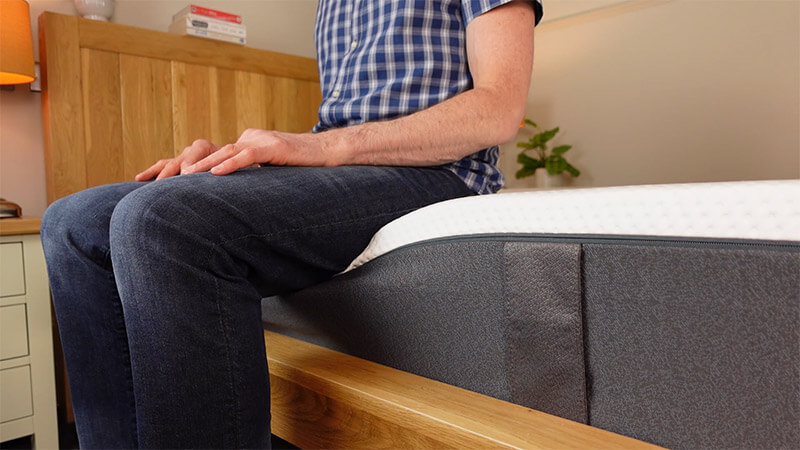 This resilience is also reflected in our real-life experience. My partner likes to sleep close to the edge of the bed, and she says she is able to lie comfortably on the edge without feeling like she's on a slope. So, our experience has been positive in this respect, and it's great that you can sprawl out and use the full width of the mattress if you share your bed without ending up both in the middle all the time.
Having said that, if you're much heavier than me, you may find there's a bit of a slope on the edge, and a mattress with a reinforced edge or strong pocket springs might be better for you.
Temperature regulation
Another key point to consider is the temperature regulation. Will it feel too hot in the summer or too cold in the winter? So far, I've found the Emma Original to be fairly temperature neutral, which has impressed me considering it's an all-foam mattress.
I find I can lie comfortably on the mattress without waking up feeling like I need to roll into a cooler area, which I hope continues into the summer. Perhaps the air holes in the design of the top layer do actually help to mitigate some of the heat buildup around your body.
Having said that, I am in the UK, which isn't exactly the hottest region in the world. So I think if you're a very hot sleeper and live somewhere really warm, an all-foam mattress may not be the best choice unless you have decent air con and light bedding.
Motion isolation
If you share your bed, you're probably going to want a mattress with good motion isolation; otherwise, you're more likely to disturb each other and wake each other up when you change positions or get out of bed in the night.
One of the benefits of an all-foam mattress without springs is that it has excellent motion isolation. You can see here when I roll around on the mattress, the glass of water wobbles a bit but doesn't spill or tip over. Even if I fall heavily onto the bed, the motion isolation is good.
And from real-life experience, I can tell you it's very effective. If my partner or I get up in the night, the other one doesn't usually wake up. I'm quite a light sleeper, so it's fantastic that my partner's movements don't disturb me. So if you or your partner are very restless or need to use the bathroom throughout the night, this might be a good option for you.
Responsiveness
One final point to consider regarding the feel of the mattress is the responsiveness, or how easy it is to move around on the mattress and change positions.
As I said earlier, the Emma Original manages to keep you propped up on top of the mattress, so you won't feel like you're stuck.
This is ideal for combination sleepers who change positions a lot, those with mobility issues, and of course, if you're getting passionate under the covers.
Mattress sizes and prices
The Emma Original is currently available in five bed sizes in the UK and six in the US. It's important to note that the prices may change throughout the year, but to give you a rough idea at the time of doing this review, they range from £248.80 to £499.20 in the UK and $349 to $799 in the US.
Note: these sizes and prices were accurate on May 27, 2023. Please check their website for up-to-date information if you're weighing up your options.
I think those are quite reasonable prices for an all-foam mattress of this quality. Yes, you can find cheaper mattresses, but also significantly more expensive, so I personally think the Emma Original is good value for money.
UK Sizes and prices
| Size | Dimensions | Price |
| --- | --- | --- |
| Single | 90 x 190cm | £248.80 |
| Small double | 120 x 190cm | £348.80 |
| Double | 135 x 190cm | £379.20 |
| King | 150 x 200cm | £428.80 |
| Super king | 180 x 200cm | £499.20 |
US Sizes and prices
| Size | Dimensions | Price |
| --- | --- | --- |
| Twin | 39 x 75″ | $349 |
| Twin XL | 39 x 80″ | $499 |
| Full | 54 x 75″ | $599 |
| Queen | 60 x 80″ | $699 |
| King | 76 x 80″ | $799 |
| Cal King | 72 x 84″ | $799 |
Trial period and warranty
Emma has a good trial period for the mattresses, with a 200-night trial in the UK and 365 nights in the US, for example.
I'm not sure why the time period isn't the same, but it's worth keeping in mind if you read or watch other reviews from people in different countries.
It comes with a 10-year warranty in both the UK and the US though, which is reassuring in the long run.
Final verdict
It's time for my final verdict and who I think the Emma Original may or may not be suitable for.
First of all, on a personal level, my partner and I both agree that it's the best mattress we've tested in the last couple of years. That includes an Ikea pocket sprung mattress, the Inofia hybrid, and a couple of basic memory foam mattresses.
I really like how it gently contours to my body without making me feel like I'm sinking in, and it's nice feeling like I can sleep easily on my back for a change. I've also been surprised by how breathable it is for a mattress containing memory foam.
The main downside for me is that it was a little firmer than I was expecting, which is only really an issue when I lie on my side on the nights when my back or an old shoulder injury are bothering me.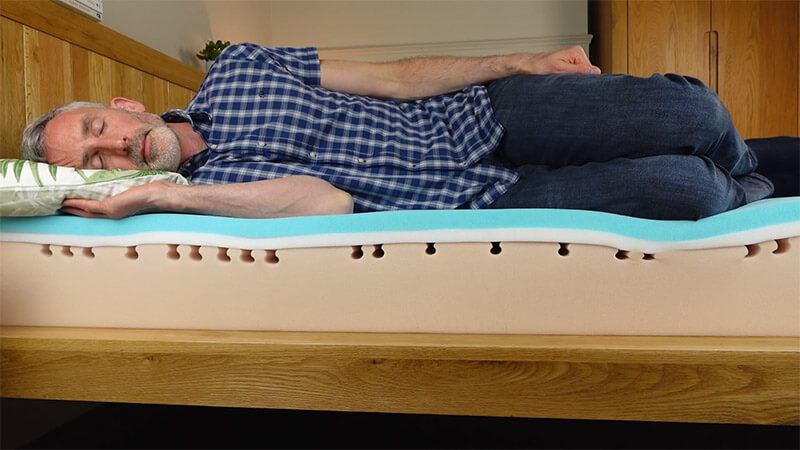 Who might like the Emma original
On balance, I think many people will like the Emma Original, but not everyone, of course.
I think it could be a good choice if you'd like a medium to firm mattress, if you sleep on your stomach or back, if you sleep on your side and don't have an issue with pressure points, if you need good motion isolation, or if you'd like a memory foam mattress that's not too hot.
Who the Emma Original might not be the right choice for
It's perhaps not going to be the best choice if you prefer a soft mattress or a tufted pillow top, unless you get a mattress topper as well. If you're a side sleeper needing lots of pressure relief, or if you're a very hot sleeper and don't have any other cooling in the bedroom.
And that's it for my review of the Emma Original Mattress. I hope you found it useful. If you'd like to find out more or buy it, there's a link below to do so. And please also subscribe to my YouTube channel to keep in touch and see future reviews. Thanks for watching (and reading of course!) This is Ethan from No Sleepless Nights.
Your views
Have you tried an Emma mattress before? If so, I'd love to hear from you in the comments below. And if you have any questions, I'll do my best to answer them.