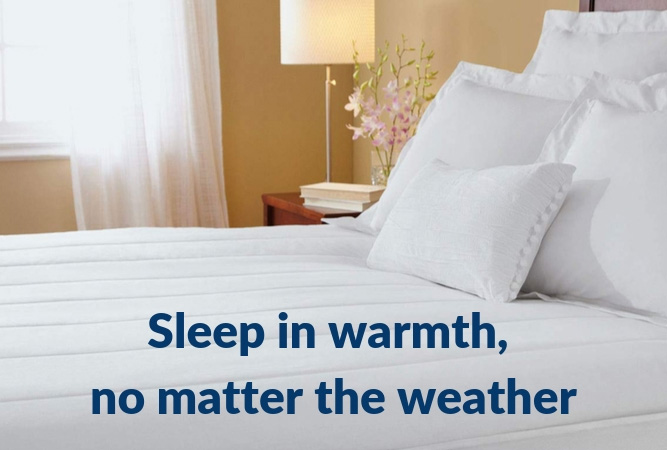 In the icy depths of winter, it always amazes me how a bed can look so cozy, only to give you a shivery surprise when you climb in.
So when the world outside is freezing over, heated bedding is an effective way to warm your bed to the exact temperature you need.
It can also help you save money on utility bills as it's often more energy-efficient than heating the entire bedroom.
In this review, I'll be looking at the most effective and comfortable heated bedding – particularly mattress pads. I'll also cover a couple of interesting alternatives to traditional heated bedding.
Heated pad, blanket or bed heating system?
A heated mattress pad is arguably a better option than an electric blanket. Having the heat under you and the covers is more efficient, and just feels cozier in my experience.
I also like that the elastic skirting keeps a heated pad firmly in place on the bed. Blankets are more likely to bunch up (which isn't ideal for safety reasons) and can slide around the bed, resulting in uneven heating.
Heated mattress pads come in a wide range of materials and prices, including some reasonable budget options, so you can usually find one that suits your needs.
The more high-tech bed heating systems I'll cover later in this article are excellent at providing targeted warmth, with even more control over the temperature and timers. They also have the added bonus of doing cooling as well as heating.
However, they are significantly more expensive than heated mattress pads. So considering the current economic climate, I've left those two to the end. And if your budget is particularly tight right now, have a look at number two in the article as it's currently the cheapest of the heated pads I recommend.
Disclosure: There are affiliate links in this article. If you choose to buy a product via a link, I may make a small commission, at no extra cost to you (learn more).
1. Sunbeam Premium Heated Mattress Pad
A great choice if you want an even balance of heating, padded comfort, and safety features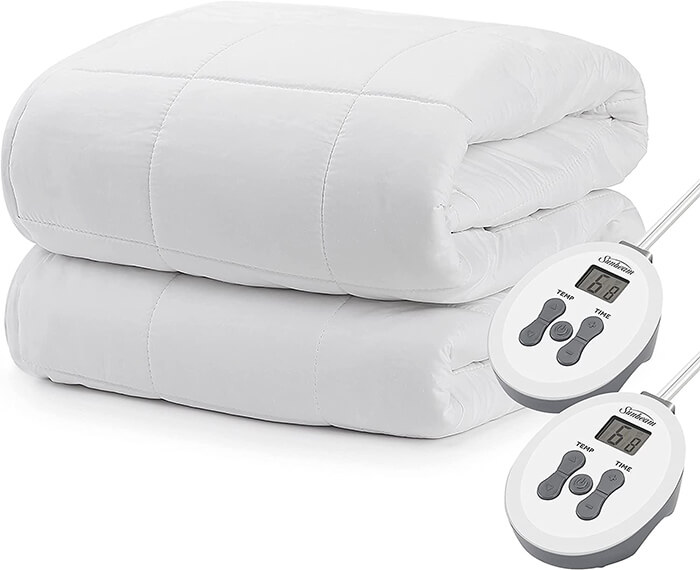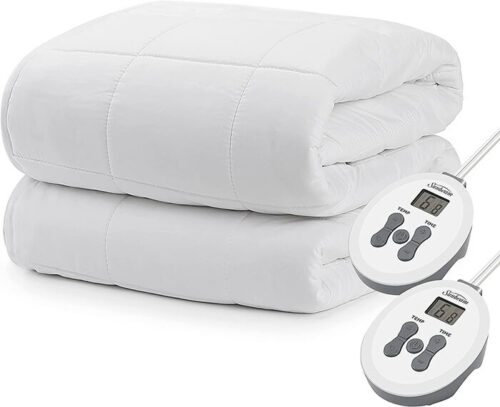 This is my favorite heated mattress pad overall for one key reason: it has more generous fill than any other I've tried, which makes the wires undetectable while you sleep and provides extra comfort.
It also helps that the fill is neatly boxed into small squares, rather than vertical seams, which helps keep the shape better. It has a 200 thread count 100% cotton top, which helps wick moisture and keeps you feeling comfortable.
With simple backlit dual controls, 10 heat settings for each side of the bed, and a preheat function, it does the warming part very effectively. It has a solid locking mechanism to help keep the cables safely in place and a reassuring auto-off function. Conveniently, it only needs one outlet, even with dual controls.
If your feet reach right to the end of your bed, you might occasionally feel the small lump of the connector port. That's often the case with heated bedding, and it's only a minor criticism really.
At the end of the day, the most important point is that this is a heated mattress pad that will reliably keep you snug and warm on even the coldest of winter nights. It costs between $140 and $170, depending on the size, and is available in full, queen, and king.
---
2. Sunbeam Quilted Heated Mattress Pad
A low-cost option that has multiple heat settings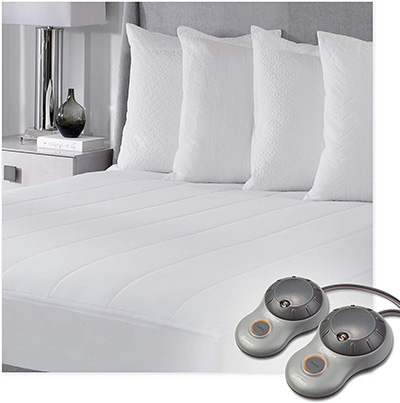 For a lower price than the premium Sunbeam pad, this quilted pad version still gives you the same temperature range, 10 heat settings, an efficient pre-heat function, dual controls for larger sizes, and an auto-off safety feature.
What you won't get though is so much padding, with just 5 ounces rather than 9. That means it's not quite as soft to lie on, and you may occasionally feel the grid of the wires, depending on your weight. It also has a polyester top rather than cotton, which is less breathable.
The control unit is a no-frills dial, which is very easy to use. It may not look quite as modern as the control units that come with the premium pad, but it works just fine, and some people may prefer the dial version rather than buttons anyway.
On paper, it basically has the same key features as my top-rated pad, so you just need to weigh up the balance between cost and comfortable padding.
---
3. Electrowarmth
If you're looking for a particular size, this one comes in the widest range of bed dimensions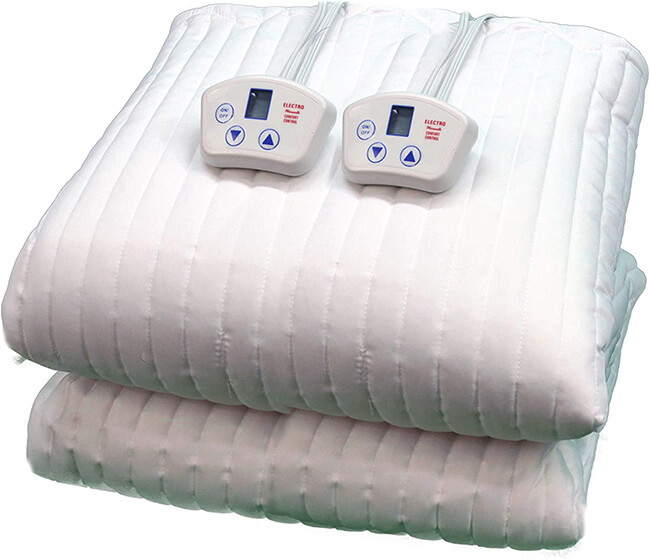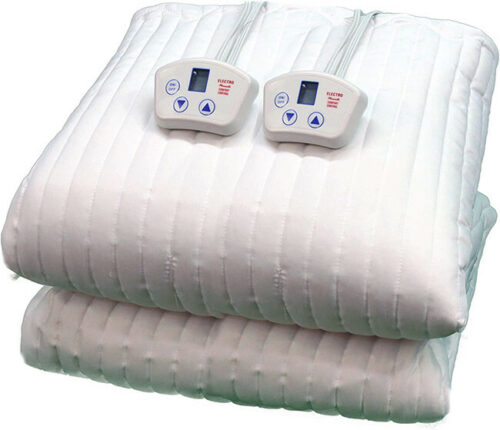 The Electrowarmth is unique in that it's available in an unusually wide range of sizes, including some that the other brands tend to ignore, like Olympic queen or double extra long.
It has 10 warming settings, just like the Sunbeams. There's also a rapid pre-heat function that initially heats on the highest setting, then drops to your temperature choice once it reaches it.
It has an auto-off feature after 10 hours, and a safety cut-off if it overheats – both features that help reduce risk. For larger mattress sizes, you and your partner can have separate controls to adjust the temperature just on your side of the bed.
The remote control isn't exactly the most ergonomically enticing, but at least it's easy to use and clear which setting you have it on. The price is higher than average, with some sizes costing over $200, so perhaps this is one for those who chose a rarer mattress size and are struggling to equip it.
---
4. Sunbeam Water-Resistant Heated Pad
A reliable option if you're worried about spills damaging your mattress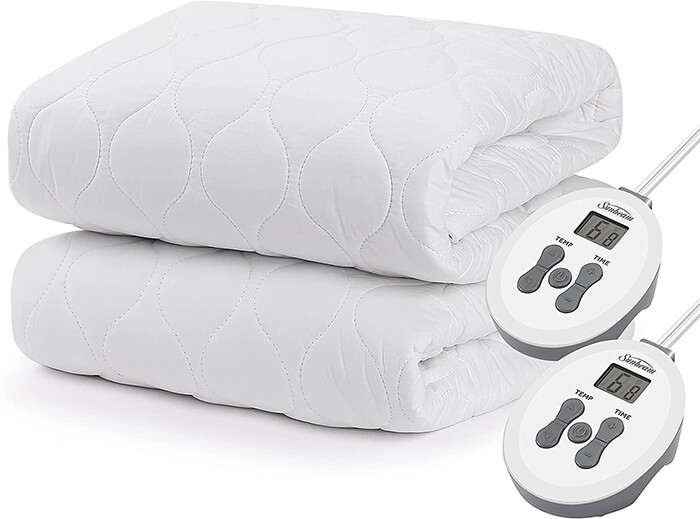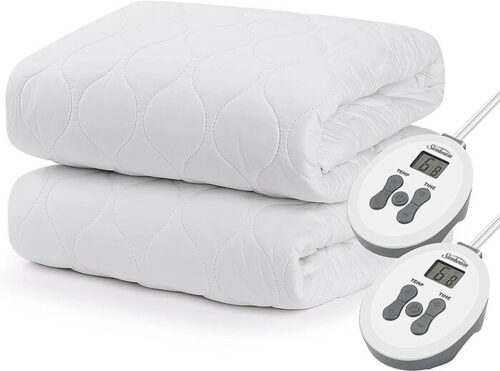 It's first worth noting that all heated mattress pads need to have a reliable water-resistant casing for the wires to pass standard safety tests. When a manufacturer specifically markets a pad as being water-resistant, it's really to help prevent catastrophic levels of spillage from reaching your mattress underneath.
This pad from Sunbeam has a 200 thread count 100% cotton top, which gives it a comfy feel. The water-resistant backing should give you the peace of mind to relax and enjoy that comfort.
Like most Sunbeams, you get the standard dual controls for queen size and larger. There are 12 heat settings, and a 12 hour selectable auto-off timer so you can choose how long to have it on for. The heating works well and warms rapidly before you get into bed.
It has 6 ounces of fill, which is slightly better than the budget option, but not as much as the premium. However, the wires are still well padded and you shouldn't notice them. If you need to give your mattress some extra protection from spills, this is a good option for a reasonable price.
It's available in a twin, full, queen, and king, with the price ranging from around $80 to $160.
---
5. Ooler Sleep System
A high-tech option that's an alternative to standard heated bedding. Instead of having wires under you, it pumps warm water around tubes in the pad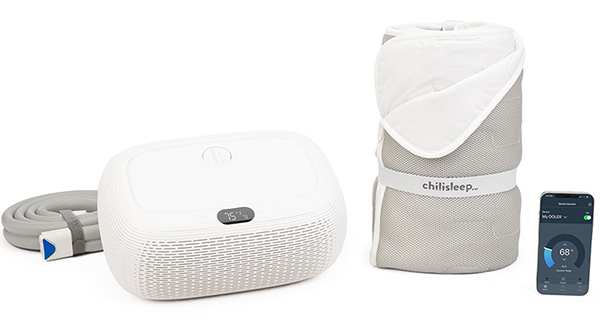 The Ooler Sleep System, made by the company Sleepme, is a luxury product that takes a different approach to traditional heated bedding. Rather than heating using wires, a base unit heats water and pumps it through a system of thin silicone tubes that are tucked away inside a comfortable mattress pad.
The heating and cooling it's capable of is very impressive, with a range of 55-115°F / 13-46°C. The sleek companion app lets you quickly set the temperature and even program different temperatures throughout the night. With a dual zone version for larger bed sizes, you and a partner can independently control the temperature on your side of the bed.
The mattress pad itself is made from polyester and cotton, it's easily thick enough to disguise the tubes, and it feels comfortable to lie on. It's also designed to fit any bed and requires very little maintenance.
My main criticism is that the base unit does make a little noise as it pumps the water, so it's not one for those who need total silence to sleep. And considering the price, you'll arguably really get your money's worth if you use it both for heating in the winter and cooling in the summer. It costs over $500 for a single unit and over $1000 for dual zones.
---
6. Sunbeam Microplush Heated Blanket
If you'd prefer a heated blanket over you instead of a pad under you, this one is cozy and has plenty of heating settings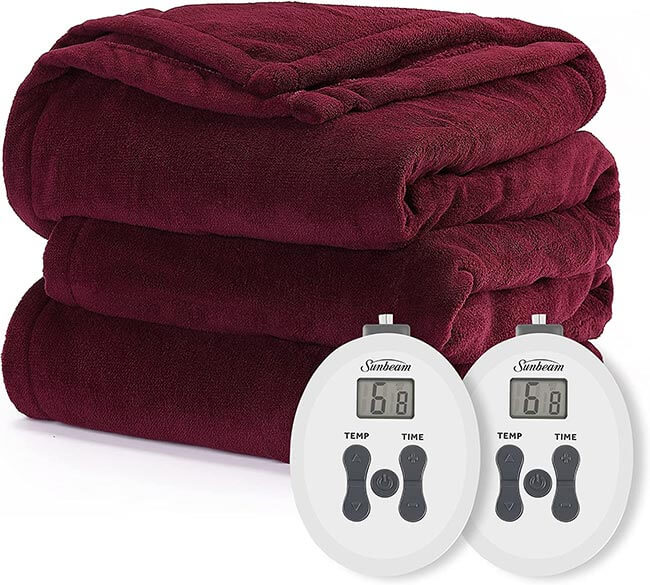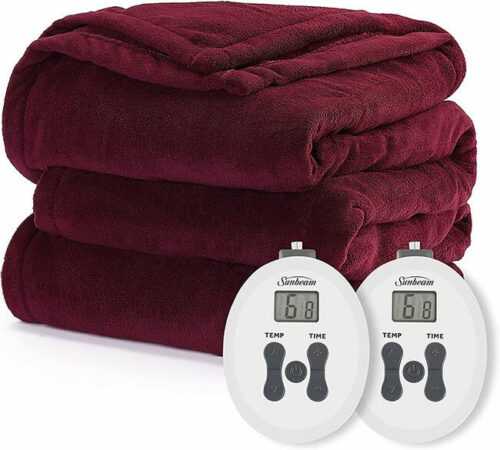 As I mentioned above, my personal preference is for a heated mattress pad or a heating system that doesn't put wires in your bed at all. However, if you like electric blankets, the Sunbeam Microplush is a good option.
The material itself feels lovely and soft, which makes up for the fact that you can just about feel the wires if you lay your arm on top of the blanket.
It has 10 heat settings and a pre-heat, so you'll be able to find just the right temperature to keep you feeling cozy. And like many Sunbeams, it has a 10 hour selectable auto shut-off feature.
The controllers are easy to use, with simple buttons to adjust the temperature and timer. For queen size or larger, you'll get two controllers so one person won't be sweating at night while the other is enjoying their fabric tropical cocoon.
One issue is the potential for it to slide around or even off the bed because of the slippery fabric, which can create uneven heating. Be careful not to let it bunch up, and machine wash it exactly as per the instructions to limit the risk of any damage occurring.
It's available in twin, full, queen, and king size, with the price ranging from around $50 to $100. Note that there are different colors to choose from, some of which are less expensive if you want to save some money.
---
7. BedJet 3
If you'd rather not have any wires or tubes under or over you, the high-tech BedJet 3 blows warm air under the covers and has a fantastic range of temperatures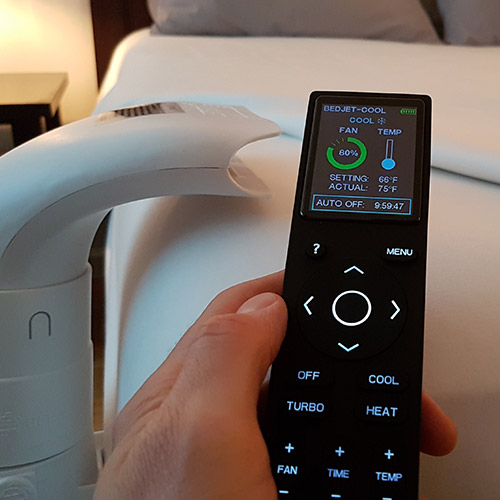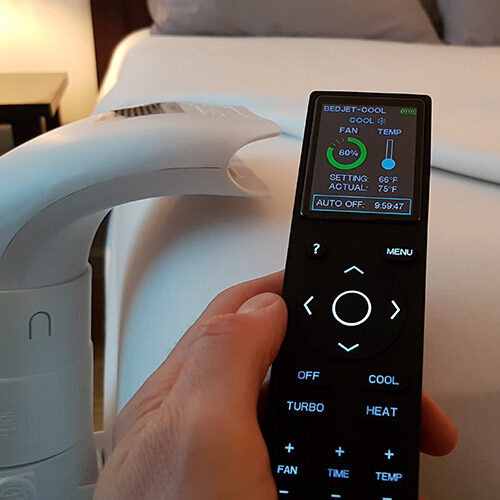 If you'd like to heat your bed, but feel concerned about the safety implications of sleeping on a mesh of wires that heat up, the best alternative I've found is the BedJet 3.
If money is no object, I would recommend it above any heated mattress pad; it really is incredibly effective in the bleak depths of winter. But since this review was primarily about heated pads, I thought I'd save this surprise to the end.
Essentially, it works by heating air in a unit next to your bed and then either blowing it between your existing sheets or into a special boxed sheet so you feel the warmth but not the air.
That's me in the photo below, showing how my BedJet 3 works at home. The air flows out of the tube, which you can position where you like to target different parts of your body. It's great for warming cold feet!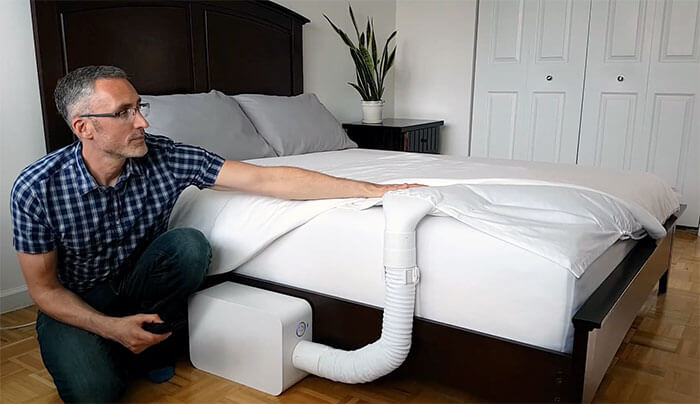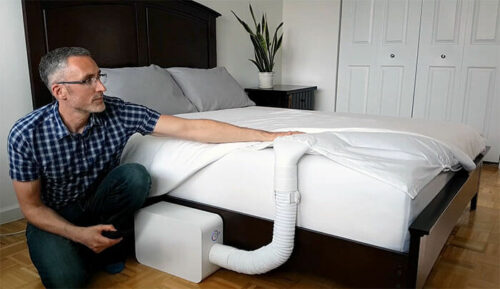 It's a joy to use, especially if you hate getting into a chilly bed. One key point is that it also does cooling, and even lets one person heat their side while their partner cools the other.
With an advanced remote control that makes standard heated bedding controls look like 1990s games console joysticks, this is one for those with a bigger budget and a love of tech.
It's around $400-$500 for a single unit and $900 for the dual-zone version, depending on seasonal sales.
---
Heated bedding buying guide
---
If you're confused by all the options out there or have a question about using heated bedding, hopefully you'll find this section useful.
The heating element
Five of the seven products in this article heat using wires encased in fabric bedding, which is standard for pads and blankets.
It's good to find ones that have thinner wires and/or a more generous amount of fill that stops you from feeling them. This is one of the key points I looked at when researching for this review. There's a big difference between zero, five and nine ounces of fill, for example.
In the case of the ChiliPad, there are tubes buried in the mattress pad that carry heated water instead of using wires. The BedJet pumps warm air out of a tube on the side of your bed, so there are no wires or tubes at all under your covers.
The controller
All heated pads and blankets come with an attached controller, typically on the end of a cable. The bed heating systems are operated with a remote control or an accompanying smartphone App.
The controllers vary in their design, though often look a little dated and ugly in my opinion! They are usually very simple – either a turn dial with numbers or a small screen saying little more than the number it's set on.
For queen size and up, there are usually two controllers so you and your partner can dictate your side of the bed's temperature. This usually works well, though the middle of the bed can end up being a little harder to keep under control due to the build-up of heat from the pad and your body.
Cover material and fill
The cover is usually made from cotton, polyester or a blend. Cotton is my preference as it's more breathable, which helps deal with sweat/moisture building up in the heated nest.
Polyester is more stretchy and might feel softer, especially when in microfiber form. Many electric blankets go for the soft feel and are marketed with appealing words like 'plush' or 'velvet plush'.
The fill is arguably more important. In many cases, the fill will feel lacking and you can feel the wires through the pad or blanket. I believe there's a limit to how much they can pad them out to maintain safety and let the heat flow. But it's worth checking to see how much fill there is in the product description. Try to find more than 5 ounces if possible on a queen or above.
Heating options
When investigating heated pads and blankets, it would appear that there's a global cookie-cutter set of features that manufacturers stick to in most cases. 10 heat settings seems to be the standard, along with a pre-heat function.
You'll sometimes find 11 or 20, but I don't think it really makes much difference; 10 is more than enough. It's useful to have that pre-heat function, though you can achieve the same just by turning the heated bedding on earlier.
Safety
All of the heated pads and blankets in this review are either UL or ETL certified, meaning they have been tested as safe by an independent body. Always look out for one of these if you're shopping in the United States.
Manufacturers are obviously concerned that their products are both safe, and perceived as safe by consumers, so they make sure they include reassuring safety features. It's common to find an auto-off feature, which is typically set at 10 hours. Some also sense overheating and shut off if they do.
My advice would be to skim through the bad reviews on customer sites like Amazon. You'll find most people give one star just because it stopped working at some point. But if you do find complaints about electrical defaults, I would avoid it!
And in terms of looking after your heated bedding yourself, make sure you're careful to check it for defects when you first buy it. Clean it exactly according to the manufacturer's instructions. Store it carefully off-season so it doesn't bunch up. And if you have any suspicion that there might be a default, use the warranty to get it checked out.
For more about safety, the Wireirecutter website has a useful section about this, including an interview with a UL safety testing director. Interestingly, they also have a good test of the cost of running heated bedding, which shows how it's more efficient than whole room heating.
Cleaning
Many heated pads can be machine washed, and even dried. This is preferable to spot cleaning in my experience. However, they normally require a special cycle and shouldn't be washed any more than is really necessary.
You'll find the recommended cycle is usually a short, cold wash – don't throw it in with your normal washing settings activated! Then the drying will either be very short and cooler, or air-dried only.
As well as following the instructions, I'd be careful that your machine does what it says it does too. Our latest dryer, for example, heats too high even on settings that are supposed to be cooler, which could damage the wiring.
Warranty
All the products I've discussed here have a warranty of at least one year. Some have up to five years. I think this is an important point, so I highly recommend checking yours has a good warranty.
It's also great if a trial period is offered, ideally with a no questions asked returns policy so you can check it meets your expectations before fully committing to spending your money on it.