Disclosure: My website is reader supported. If you purchase a product after clicking a link, I may receive a commission, at no extra cost to you. Learn more.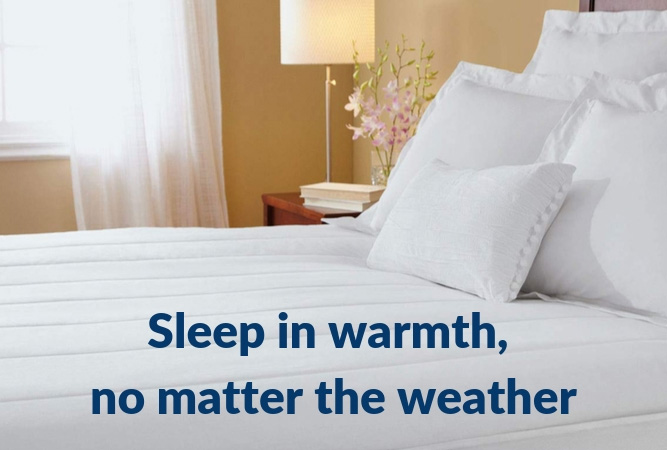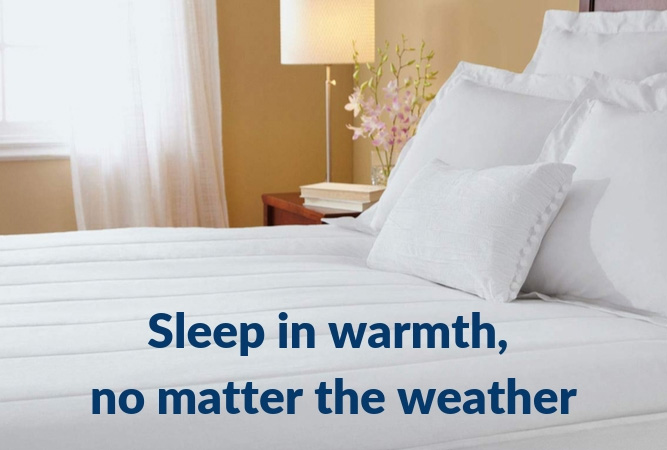 In the icy depths of winter, it always amazes me how a bed can look so cozy, only to give you a shivery surprise when you climb in.
When the world outside is freezing over, heated bedding can be a practical solution, offering customizable warmth and a cozy haven from the chill.
Not only does it provide a snug sleeping environment, but it can also be more energy-efficient than heating your entire bedroom, potentially reducing your utility bills.
In this review, I'll be looking at the most effective and comfortable heated bedding, with a focus on heated mattress pads. I'll also cover a couple of high-tech bed heating systems, which are interesting alternatives to traditional heated bedding.
Heated pad, blanket, or bed heating system?
A heated mattress pad is often considered a more efficient option than an electric blanket. The heat generated from beneath you, enveloped by your covers, circulates more effectively, resulting in an evenly warmed bed and a cozy feel.
Another plus is that the elastic skirting on most heated pads ensures they stay firmly in place, preventing uneven heating and improving safety.
Heated mattress pads come in a wide range of materials and prices, including some reasonable budget options, so you can usually find one that suits your needs.
On the other hand, the high-tech bed heating systems that I'll discuss later in the article provide targeted warmth with precise control over temperature and timers.
They even offer cooling capabilities and dual zones for partners. However, these features come with a significantly higher price tag. So in light of the current economic climate, I've left those two towards the end of this article.
And if your budget is particularly tight right now, have a look at my second recommendation as it's currently the most affordable heated pad I recommend.
1. Sunbeam Premium Heated Mattress Pad
A great choice if you want an even balance of heating, padded comfort, and safety features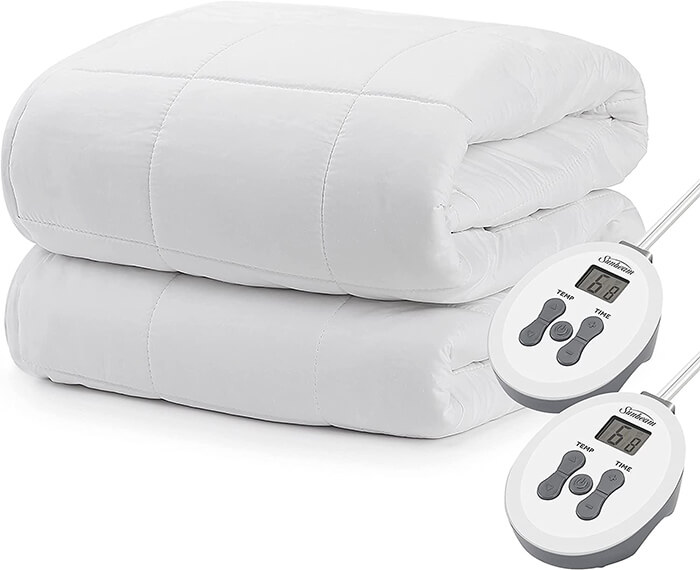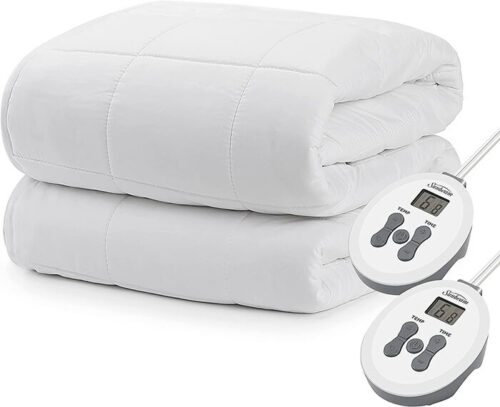 This is my favorite heated mattress pad overall for one key reason: it has more generous fill than any other I've tried, which makes the wires undetectable while you sleep and provides extra comfort.
It also helps that the fill is neatly boxed into small squares, rather than vertical seams, which helps keep the shape better. It has a 200 thread count 100% cotton top, which helps wick moisture and keeps you feeling comfortable.
With simple backlit dual controls, 10 heat settings for each side of the bed, and a preheat function, it does the warming part very effectively. It has a solid locking mechanism to help keep the cables safely in place and a reassuring auto-off function. Conveniently, it only needs one outlet, even with dual controls.
If your feet reach right to the end of your bed, you might occasionally feel the small lump of the connector port. That's often the case with heated bedding, and it's only a minor criticism really.
At the end of the day, the most important point is that this is a heated mattress pad that will reliably keep you snug and warm on even the coldest of winter nights. It costs between $140 and $170, depending on the size, and is available in full, queen, and king.
---
2. Sunbeam Quilted Heated Mattress Pad
A low-cost option that has multiple heat settings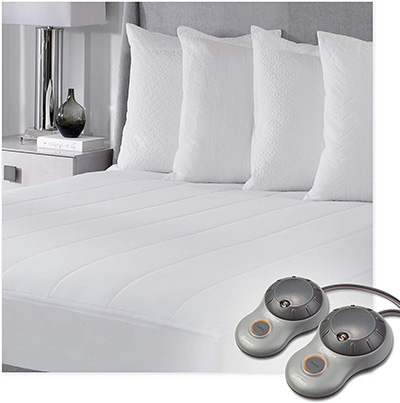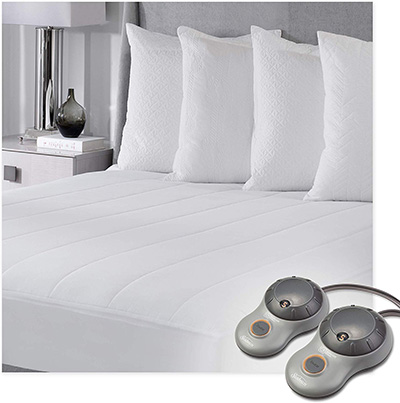 For a lower price than the premium Sunbeam pad, this quilted pad version still gives you the same temperature range, 10 heat settings, an efficient pre-heat function, dual controls for larger sizes, and an auto-off safety feature.
What you won't get though is so much padding, with just 5 ounces rather than 9. That means it's not quite as soft to lie on, and you may occasionally feel the grid of the wires, depending on your weight. It also has a polyester top rather than cotton, which is less breathable.
The control unit is a no-frills dial, which is very easy to use. It may not look quite as modern as the control units that come with the premium pad, but it works just fine, and some people may prefer the dial version rather than buttons anyway.
On paper, it basically has the same key features as my top-rated pad, so you just need to weigh up the balance between cost and comfortable padding.
---
3. Electrowarmth
If you're looking for a particular size, this one comes in the widest range of bed dimensions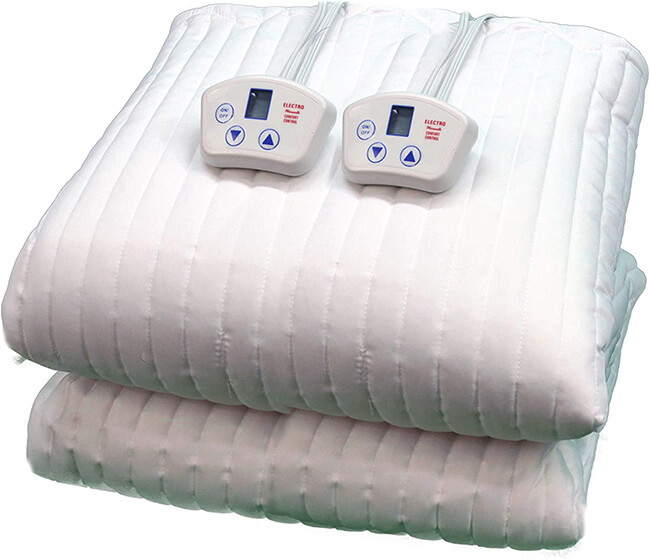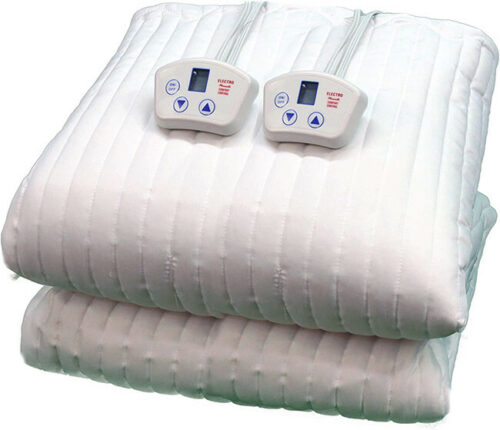 The Electrowarmth is unique in that it's available in an unusually wide range of sizes, including some that the other brands tend to ignore, like Olympic queen or double extra long.
It has 10 warming settings, just like the Sunbeams. There's also a rapid pre-heat function that initially heats on the highest setting, then drops to your temperature choice once it reaches it.
It has an auto-off feature after 10 hours, and a safety cut-off if it overheats – both features that help reduce risk. For larger mattress sizes, you and your partner can have separate controls to adjust the temperature just on your side of the bed.
The remote control isn't exactly the most ergonomically enticing, but at least it's easy to use and clear which setting you have it on. The price is higher than average, with some sizes costing over $200, so perhaps this is one for those who chose a rarer mattress size and are struggling to equip it.
---
4. Sunbeam Water Resistant Heated Pad
A reliable option if you're worried about spills damaging your mattress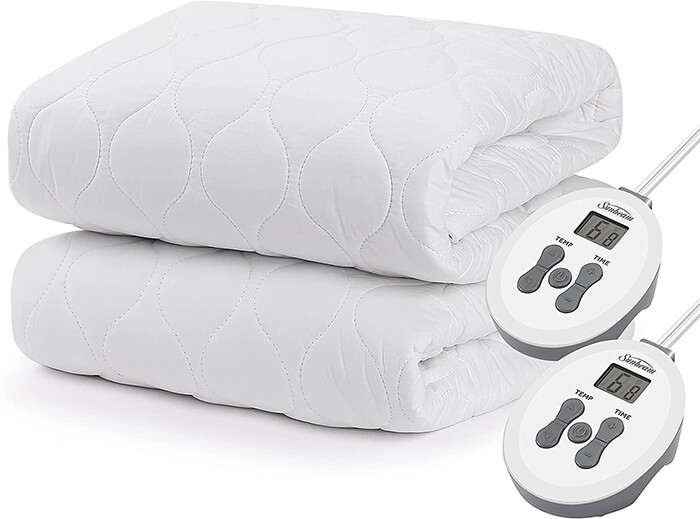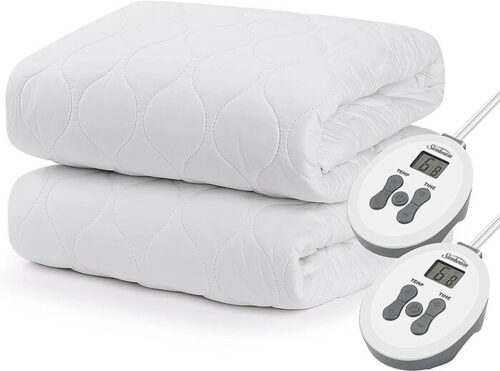 It's first worth noting that all heated mattress pads need to have a reliable water-resistant casing for the wires to pass standard safety tests. When a manufacturer specifically markets a pad as being water-resistant, it's really to help prevent catastrophic levels of spillage from reaching your mattress underneath.
This pad from Sunbeam has a 200 thread count 100% cotton top, which gives it a comfy feel. The water-resistant backing should give you the peace of mind to relax and enjoy that comfort.
Like most Sunbeams, you get the standard dual controls for queen size and larger. There are 12 heat settings, and a 12 hour selectable auto-off timer so you can choose how long to have it on for. The heating works well and warms rapidly before you get into bed.
It has 6 ounces of fill, which is slightly better than the budget option, but not as much as the premium. However, the wires are still well padded and you shouldn't notice them. If you need to give your mattress some extra protection from spills, this is a good option for a reasonable price.
It's available in a twin, full, queen, and king, with the price ranging from around $80 to $160.
---
5. Sunbeam Heated Blanket
If you'd prefer a heated blanket over you instead of a pad under you, this one is cozy and has plenty of heating settings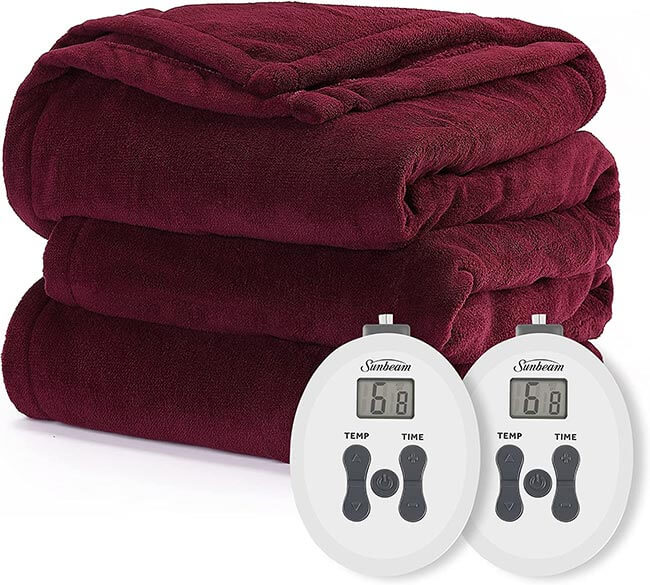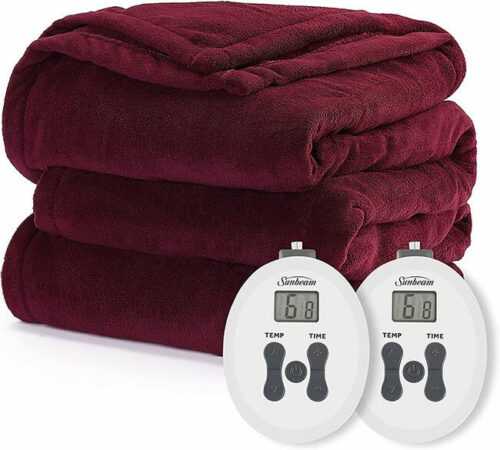 As I mentioned above, my personal preference is for a heated mattress pad or a heating system that doesn't put wires in your bed at all. However, if you like electric blankets, the Sunbeam Microplush is a good option.
The material itself feels lovely and soft, which makes up for the fact that you can just about feel the wires if you lay your arm on top of the blanket.
It has 12 heat settings and a pre-heat, so you'll be able to find just the right temperature to keep you feeling cozy. And like many Sunbeams, it has a 12 hour selectable auto shut-off feature.
The controllers are easy to use, with simple buttons to adjust the temperature and timer. For queen size or larger, you'll get two controllers so one person won't be sweating at night while the other is enjoying their fabric tropical cocoon.
One issue is the potential for it to slide around or even off the bed because of the slippery fabric, which can create uneven heating. Be careful not to let it bunch up, and machine wash it exactly as per the instructions to limit the risk of any damage occurring.
It's available in twin, full, queen, and king size, with the price ranging from around $50 to $135. Note that there are different colors to choose from, some of which are less expensive if you want to save some money.
---
6. Eight Sleep Pod 3 Cover
A smart bed heating and cooling system that circulates water through a mattress pad for optimal comfort, and learns from your sleep patterns to finetune the temperature selection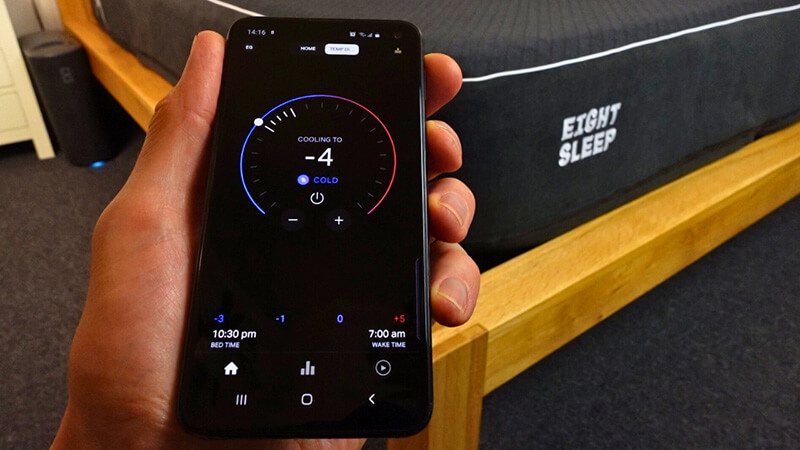 Now let's delve into the more high-tech realm of bed heating (and cooling) systems, starting with the Eight Sleep Pod 3 Cover. You can see in the photo above that I currently have one installed in my own bedroom – with no plans to change it!
In contrast to the heated mattress pads I've looked at so far, this innovative device uses a central unit to heat water, which then circulates through an intricate network of thin silicone tubes nestled in a comfortable mattress cover.
The Eight Sleep Pod excels with its possible temperature range of 55-115°F / 13-46°C. A user-friendly companion app gives you the option to make quick temperature adjustments, as well as the ability to program different temperatures throughout the night to sync with your sleep cycle.
In the photo below, I'm setting up the Eight Sleep Pod in my bedroom. The process took a few hours as the system needs priming. But it was well worth the effort as I've been very impressed with its heating and cooling capabilities.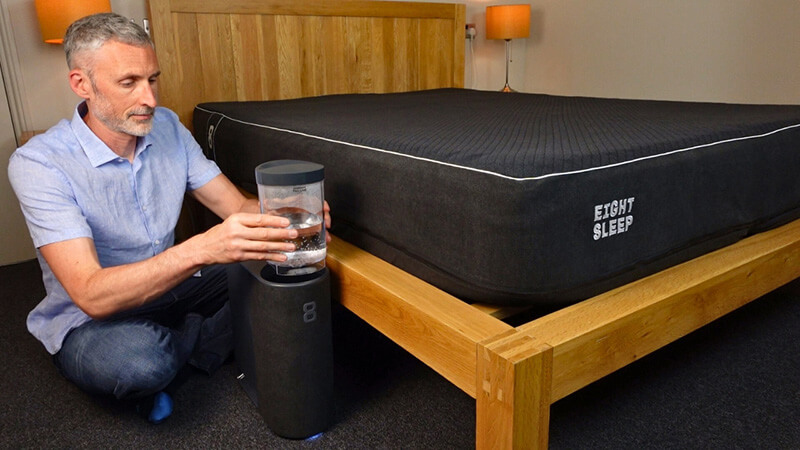 With dual zones built into the mattress pad, it allows independent temperature control on each side of the bed. This means you and your partner could enjoy warmth on one side and cooling on the other – all at the same time.
What also sets the Pod apart are its smart features. Using sophisticated biometric tracking, it learns your sleep habits and actively adjusts the bed temperature in real-time to optimize comfort and enhance sleep quality.
Given the advanced technology incorporated into this mattress pad, the price point is understandably high, at over $2000. So it's a luxury product that's clearly designed for luxury consumers who are able to invest a larger budget into improving their sleep quality.
---
7. BedJet 3
If you'd rather not have any wires or tubes under or over you, the high-tech BedJet 3 blows warm air under the covers, giving you control over both the fan speed and temperature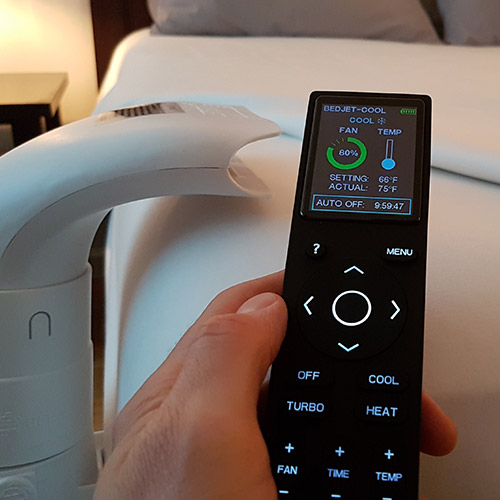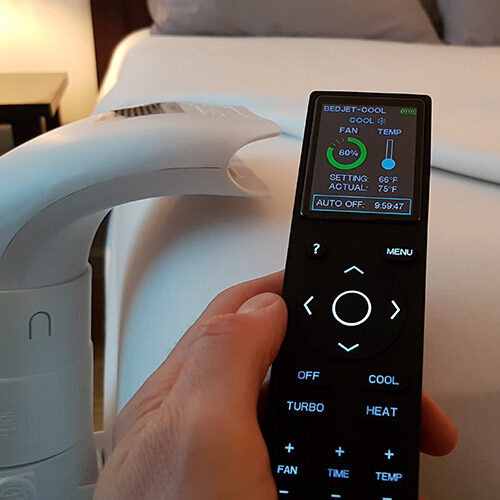 If you'd like to warm your body and bed, but feel concerned about the safety implications of sleeping on a mesh of wires that heat up, the BedJet 3 is an effective alternative.
Were price no concern, I would recommend it over traditional heated mattress pads; it really is incredibly effective in the frosty grip of winter. But since this review was primarily about heated pads, I thought I'd save this gem to the end.
In essence, the BedJet 3 operates by heating air within a unit adjacent to your bed and channeling it between your existing sheets or into a specialized sheet. This design ensures you experience the warmth, but without so much direct contact with the air if you prefer.
In the photo below, I'm demonstrating how my BedJet 3 works in my previous bedroom. The air flows out of the tube, which you can position where you like to target different parts of your body. It's great for warming cold feet!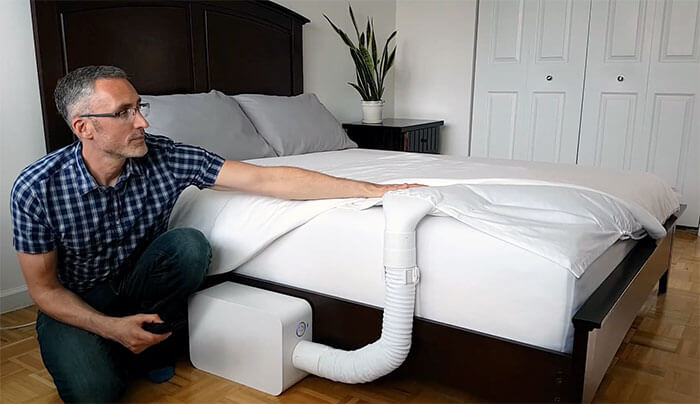 It's a joy to use, especially if you struggle with the feeling of getting into a chilly bed. One key point is that it also does cooling, and even lets one person heat their side while their partner cools the other. So in that way, it offers similar flexibility for bed partners as the Eight Sleep Pod 3 Cover.
With an advanced remote control that makes standard heated bedding controls look like 1990s games console joysticks, this is again one for those with a bigger budget and a love of tech. It's around $400-$500 for a single unit and $900 for the dual-zone version, depending on seasonal sales.
Heated bedding buying guide
If you're confused by all the options out there or have a question about using heated bedding, hopefully you'll find this section useful.
The heating element
Among the seven products in this article, five utilize encased wires in fabric bedding for heating, which is a standard feature for both heated mattress pads and blankets.
Prioritizing options with thinner wires and/or a substantial amount of fill to cushion against them can enhance your comfort. This is a key factor I considered during my research for this review. Notably, there's a significant difference between zero, five, and nine ounces of fill.
Distinct from the others, the Eight Sleep Pod 3 Cover contains tubes nestled within the mattress pad that circulate heated water, eliminating the need for wires. On the other hand, the BedJet 3 dispenses warm air from a tube situated on the side of your bed, making your covers free of wires or tubes altogether.
The controller
Every heated pad and blanket includes an attached controller, typically connected via a cable. The Eight Sleep Pod can only be controlled with an app, and the BedJet 3 either with the physical remote control or an app.
The design of the traditional heated mattress pad controllers varies, often appearing somewhat dated and lacking aesthetic appeal, in my opinion. Their operation is generally straightforward – either a numbered turn dial or a minimalistic screen displaying the current setting.
For queen size and larger, dual controllers are standard, allowing you and your partner to personalize the temperature on your side of the bed. While this system generally functions well, managing the temperature in the middle of the bed can be more challenging due to the combined heat from the pad and your bodies.
Cover material and fill
The material for heated mattress pad covers usually falls into three categories: cotton, polyester, or a blend of the two.
Cotton is often preferred for its breathability, which can help mitigate the build-up of sweat or moisture when using the pad. However, it's worth mentioning that not all cotton is the same. For instance, high-quality, long-staple cotton will likely perform better than lower-quality varieties.
Polyester, particularly in its microfiber form, tends to be stretchier and can feel softer to the touch. You'll often see electric blankets marketing their "plush" or "velvet plush" polyester materials to highlight their softness.
The fill is also important in how a pad will feel to lie on. The amount and type of fill can affect how noticeable the heating wires are through the pad or blanket. However, the thickness of the fill can't be increased indefinitely, as it needs to allow heat flow and meet safety standards.
Manufacturers will usually indicate the amount of fill in their product descriptions. If possible, aim to find a pad with more than 5 ounces of fill for a queen-sized pad or larger. Keep in mind that the right amount of fill can vary depending on personal comfort preferences and the specific construction of the heating pad.
Remember that both the cover material and fill can impact the overall comfort, heat distribution, and longevity of the heated mattress pad. As such, they're important factors to consider when making your choice.
Heating options
When examining various heated pads and blankets, you'll often find a similar set of features across most manufacturers. Typically, these products have around 10-12 heat settings, providing you with flexibility to adjust the warmth to your preference.
Though you might occasionally come across heated bedding with up to 20 heat settings, the difference is arguably minimal. Having at least 10 settings should suffice for most people, ensuring a broad range to cater to individual comfort levels.
Another common feature is the pre-heat function. While you can technically pre-heat your bedding simply by turning it on earlier, this function adds a level of convenience. It often includes a timer, ensuring your bed is warm when you're ready to sleep and preventing the pad from overheating or staying on unnecessarily long. It's a useful feature that enhances both comfort and safety.
Safety
All of the heated pads and blankets in this review are either UL or ETL certified, meaning they have been tested as safe by an independent entity. If you're shopping within the United States, always look for one of these certifications.
Manufacturers prioritize their products' safety and consumer perception of this safety, implementing reassuring features such as an auto-off function, typically set at 10-12 hours, and overheating detection with automatic shut-off.
I recommend browsing through lower-rated reviews on customer sites like Amazon. While many one-star reviews are due to a product that stopped working over time, any complaints regarding electrical faults should be cause for concern.
In terms of personal care for your heated bedding, ensure you inspect it for any defects upon purchase. Follow the manufacturer's cleaning instructions closely and store it properly during off-season to avoid bunching. If you suspect a fault, make sure to use the warranty to have it examined.
For more about safety, the Wireirecutter website has a useful section about this, including an interview with a UL safety testing director. Interestingly, they also test the cost-efficiency of heated bedding compared to whole room heating.
Cleaning
Most heated pads are machine washable and can even be dried, which in my experience, is more convenient than spot cleaning. However, they typically require a specific cycle and should only be washed when absolutely necessary.
Typically, the recommended cycle is a brief, cold wash – so don't just toss it in with your regular laundry! Drying may require a short, cool cycle or air drying.
In addition to following the provided instructions, I suggest ensuring your appliances function as they're supposed to. For instance, our most recent dryer tends to overheat even on supposedly cooler settings, which could potentially damage the wiring in a heated pad.
Warranty
Every product I've discussed in this article comes with a minimum one-year warranty, with some extending up to five years. Considering the importance of this aspect, I strongly recommend ensuring your chosen product comes with a substantial warranty.
It's also beneficial if the product comes with a trial period, ideally accompanied by a no-questions-asked return policy. This allows you to evaluate whether it meets your needs before fully investing your hard-earned money in it.