Disclosure: This website is supported by my readers. If you decide to purchase a product through one of the links provided, I may receive a commission, at no additional cost to you. Learn more.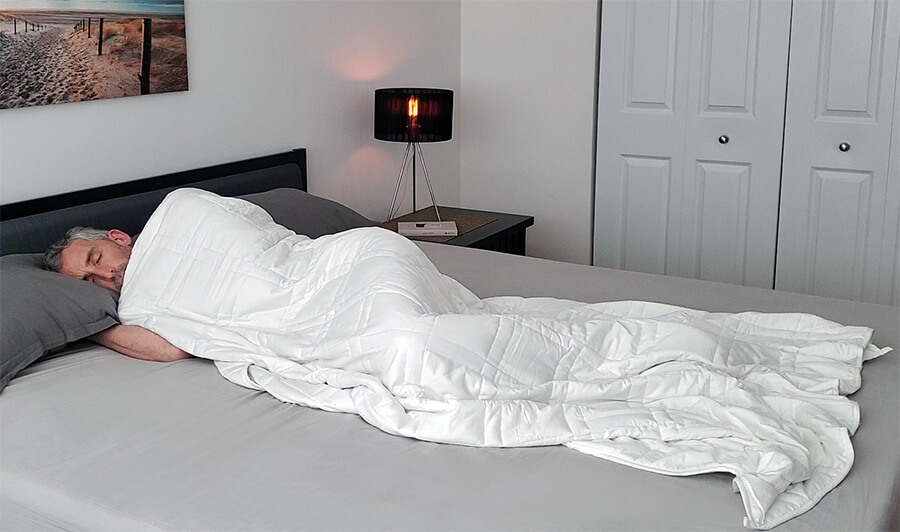 In the photo above, I'm using the Baloo weighted blanket (trying my best to pretend I'm asleep for the photo!) All the photos in this article are my own, so you can compare how the different weighted blankets look in the same real-world home setting.
If you're looking for a new way to relax or sleep better, it might be worth rolling the proverbial dice and seeing if you're one of the people that seems to love weighted blankets. If luck isn't on your side though, you might find they feel a bit too heavy or hot.
To be completely honest, it's hard to predict whether it will give you that comforting therapeutic hug that leads to reduced stress and blissful sleep, or end up discarded on the bedroom floor at 2 a.m.
Personally, I do find that weighted blankets have a relaxing effect when I use them for sleep, especially in cooler weather. However, if it's a roasting hot summer night and the air con is playing up, I don't need 20 pounds of extra material, I need a light cotton sheet (and maybe an electrician).
While my own experience with weighted blankets has been mostly positive, I have one key tip in case they turn out not to be your thing: keep your weighted blanket and packaging in good condition while you test it out. Most companies have a reasonable trial and refund policy, but often require you to return the blanket in the original packaging within 30 days.
In this article, I'll first discuss eight of the many weighted blankets I've tested in the last few years, with both budget and luxury brands included to give you options to consider.
After that, I'll share my thoughts on the most common questions I know people have about choosing a weighted blanket.
Contents
The weighted blankets
1. Baloo
The best weighted blanket if you're looking for a balance of style, less artificial filler, breathability, and a robust design.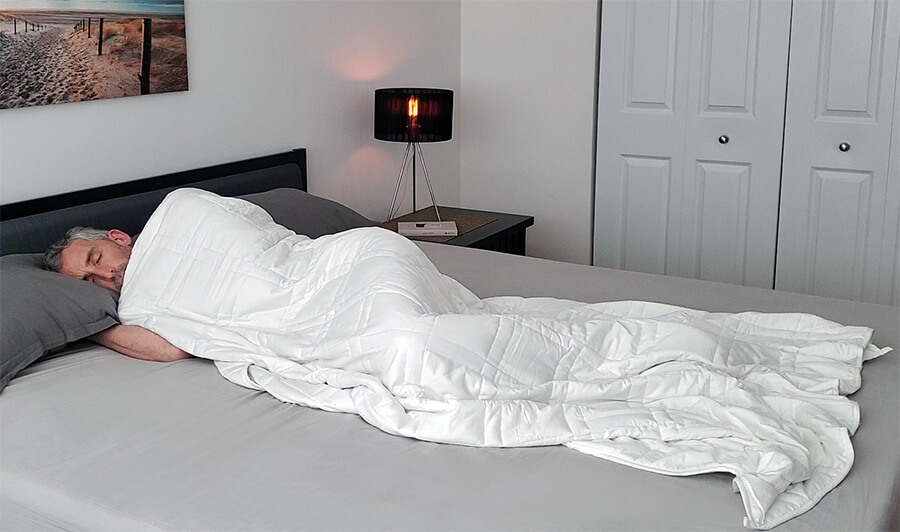 The Baloo weighted blanket merges style and comfort brilliantly. Not only is it gentle on the skin and the eye, but it's also breathable, making it one of my top picks for those who tend to sleep hot at night.
While many weighted blankets contain a lot of polyester, both the exterior and fill of the internal section of the Baloo are 100% cotton. In the photo above, for example, I'm only using the internal section.
The use of high-quality cotton rather than artificial filler makes it second only to the Bearaby (coming up next) in terms of breathability. It won't keep you cool (none of them will) but it won't overheat as much as some of the others.
One of the main points I like about the Baloo is that it's a versatile weighted blanket. The core inner blanket is elegant and comfortable enough to use on its own. But you can also accessorize it with the French flax linen cover to change the aesthetics and make cleaning it a bit easier.
Another key point to consider is that the pockets holding the glass microbeads to create the weight are double-stitched to improve durability. My own Baloo is still going strong after three years, without a single microbead escaping in that time.
However, the Baloo isn't without its limitations. While the craftsmanship is superb, the size and cover choices aren't as extensive as some other brands. And the sole cover option, while chic, is a bit pricey.
Verdict: The Baloo is a stylish and breathable weighted blanket that conforms well to your body, providing the all-body hug effect that's needed for it to work well. While the higher price tag might deter those on a tighter budget, it's a high-quality weighted blanket that should last the test of time.
Sizes/weights: Available in five sizes: 9 lb,12 lb, 15 lb, 20 lb, 25 lb.
Price: From $179 (throw size) to $249 (king) without a cover.
Returns: 30 day returns policy.
Pros
Breathable.
Visually appealing.
Soft touch.
Even weight distribution.
100% cotton interior and exterior.
Robust double-stitched pockets.
Eco-friendly company.
Cons
Less insulating.
Pricey cover.
Lack of choice of cover material.
---
2. Bearaby Napper
The most breathable weighted blanket overall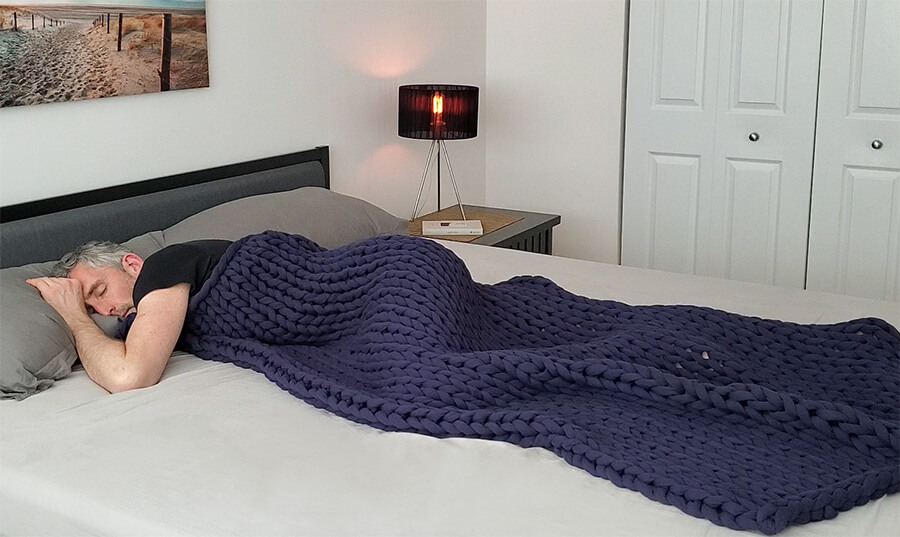 The Bearaby Napper is an outlier in the world of weighted blankets, and one that gives hot sleepers an opportunity to try a weighted blanket without overheating.
Rather than being filled with microbeads, it's uniquely hand-knitted with chunky cotton. The cotton weave creates natural ventilation, with air holes throughout the entire length and width of the blanket. In a test I did to find the most breathable weighted blanket, the Bearaby Napper was the clear winner.
The interlinking weave design also adds a stylish edge, perfect for both bedroom and living areas, while ensuring it hugs the body just right.
While smaller sizes are pure cotton, larger ones have a touch of spandex, allowing them to stretch slightly. The texture feels natural and authentic, especially when compared with the blankets that have synthetic minky covers. Moreover, its Oeko-Tex certification underscores Bearaby's commitment to sustainability.
The main downside is that cleaning can be time consuming. Lacking a detachable cover, you'll need to wash the entire blanket. It's machine-friendly, but drying it can take time, whether in a machine or air drying.
Another point to consider is that like the Baloo, the Bearaby Napper is at the pricier end of the spectrum of weighted blankets.
Verdict: The Bearaby Napper, albeit a bit expensive and requiring more effort to clean, is a great choice for those prioritizing aesthetics, cool sleeping, and eco-friendliness.
Sizes/weights: Four adult sizes: 10 lb, 15 lb, 20 lb, 25 lb. Two 'Nappling' sizes for children: 6 lb, 8 lb.
Price: From $199 to $279.
Returns: 30 day returns policy.
Pros
Breathable design.
Stylish appearance.
Pure cotton construction with no artificial filler.
Effective weight distribution.
Environmentally conscious brand.
Cons
No cover options, so you have to wash the whole blanket.
Extended drying time.
Pricier than alternatives.
---
3. Gravity blanket
The best weighted blanket for cold sleepers, with an easier zipper system to attach the cover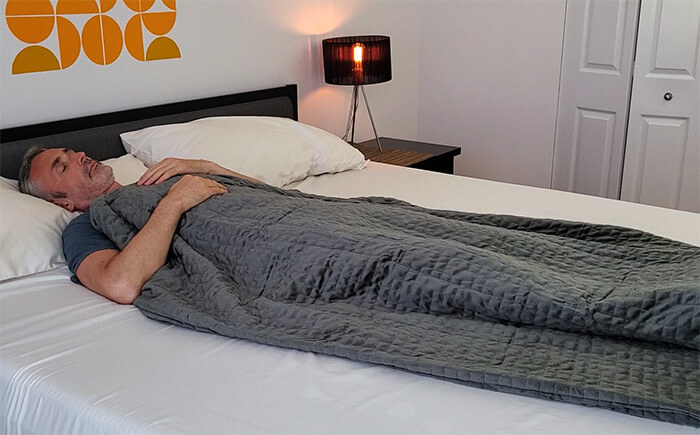 Gravity brought weighted blankets to the fore with their 2017 Kickstarter campaign. Since then, they've evolved their designs, with a clever and unique cover attachment system.
I've tried four versions of the Gravity Blanket in the past: the original microfleece, the cooling cover, the queen size, and the latest upgraded zipper design.
My favorites were the Original Gravity blanket with the microfleece cover and the latest one with the new zipper system (now on all of their blankets).
The new version feels very comfortable and is particularly user-friendly. The grid design of the cover looks stylish, and it's warm and cozy in cold weather. But the best feature is that the zips to attach the cover on three sides are quicker and less fiddly than having ties on all four sides like most brands have.
The inner blanket combines a cotton exterior with polyester filling and glass microbeads, enclosed in six-inch pockets. While the stitching isn't double-layered like the Baloo, it is strong and has a robust feel.
The main downside is that only the cover is machine washable – the inner section is restricted to spot cleaning. Additionally, the company doesn't appear to have a focus on sustainability when browsing their website.
Verdict: The Gravity Blanket plush cover version could be a good choice if you'd like a warm weighted blanket with a cover that's easier to remove than most brands. While it has a luxury feel and look, it might not be ideal for hot sleepers though.
Sizes/weights: Three sizes: 15 lb single, 20 lb single, 35 lb queen/king.
Price: From $250 to $300.
Returns: 30 day returns policy.
Pros
Unique zip system for easier cover removal.
Warm cover and blanket.
Stylish grid design.
Feels soft.
Even weight distribution.
Robust stitching.
Machine washable cover.
Cons
Inner section can't be machine washed.
Limited number of sizes.
Relatively expensive.
---
4. Luxome
If you'd rather choose a weighted blanket according to the bed size rather than your weight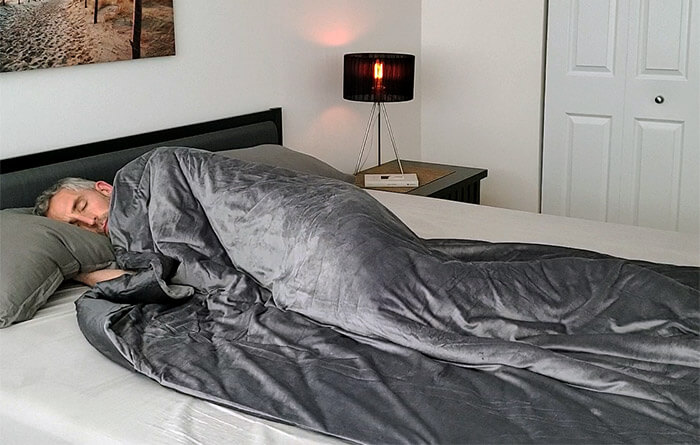 Luxome's approach is to make weighted blankets based on the bed dimensions rather than a percentage of your body weight. Their blankets have an average weight per square foot that 'nearly everyone agreed on' during extensive testing.
In the photo above, I'm using the large 18 lb version, which measures 60″ x 80″. While lighter per square foot compared to typical individual-sized blankets like the 20 lb Bearaby (45″x72″), I still found it provides a calming weight.
The inner weighted section contains glass microbeads inside six-inch square pockets. It doesn't have double stitching, but the stitching is robust enough to keep the beads contained inside.
There are several covers to choose from, including double-sided ones. Mine has soft minky on one side and bamboo lyocell on the reverse, which feels cooler on your skin. Conveniently, both the inner blanket and the cover are machine-washable.
There's also an integrated cover version, which is a good option if you don't want to faff around with the loops and ties when you need to wash it.
The main downside is that the inner section material and filler are quite thick, which affects breathability. So this is one that's best suited to cold sleepers rather than those who sleep warm or who live in hot climates.
Verdict: Luxome strikes a good balance between style and function. It's one to consider if you're uncertain about weight choice or want to cover a larger bed with one blanket.
Sizes/weights: Four bed sizes: small (8 lb), medium (10 lb), large (18lb), extra-large (30 lb).
Price: From $105 to $290.
Returns: 30 day returns policy.
Pros
Simplified weight choice.
Elegant look and soft feel.
Many cover options, including double sided.
Machine washable.
Cons
Less breathable.
Larger sizes are expensive.
Many ties and loops to attach the cover.
---
5. Layla
A stylish one-piece weighted blanket that's machine washable and avoids the need to remove fiddly covers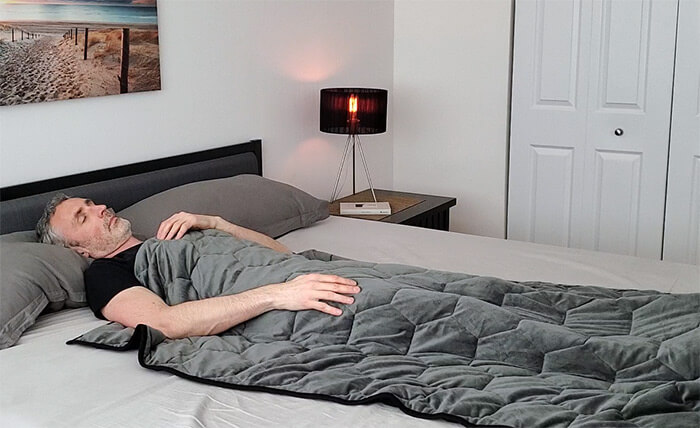 Like the Bearaby Napper and the integrated cover Luxome versions, Layla's weighted blankets are one-piece. This is ideal for those who prefer to avoid the hassle of detaching and re-attaching an external cover. Instead, you can just pop the entire blanket in the washing machine and dryer.
The hexagonal pocket design, combined with a dark green and black palette, creates an elegant aesthetic. However, this is the only color option, which may clash with minimalist decors. It will definitely stand out in a bedroom filled with whites.
The weight is achieved using standard glass microbeads, and the stitching quality is top-notch, making it a durable blanket. The fiber fill ensures even bead distribution and good body conformity.
With a plush minky top and a smooth 300-thread count cotton reverse side, the blanket feels luxuriously soft. Though minky tends to be warmer, the Layla blanket feels very comfortable in most seasons.
As well as the single color choice, another drawback is the limited weight and size variations. This might be an issue if you're looking for a specific weight, but will suit those who prefer to choose based on the bed size rather than their own weight.
Verdict: The Layla is a comfortable and stylish-looking weighted blanket that's conveniently machine washable and dryer friendly. It's just a shame there aren't more color options as I can't fault the overall quality.
Sizes/weights: Three sizes: 15 lb (48″ x 72″), 20 lb (60″ x 80″), 25 lb (80″ x 87″).
Price: Officially $189 to $239. However, every time I've checked their website in the last three years there have been lower sale prices listed.
Returns: 30 day returns policy.
Pros
Machine washable with no detachable cover.
Aesthetically pleasing.
Precise and durable stitching.
Soft texture.
Even weight distribution, conforming well to the body.
Cons
Limited weight and size options.
Only available in one color scheme.
---
6. Quility
The best low-cost weighted blanket. Ideal for cold sleepers on a budget.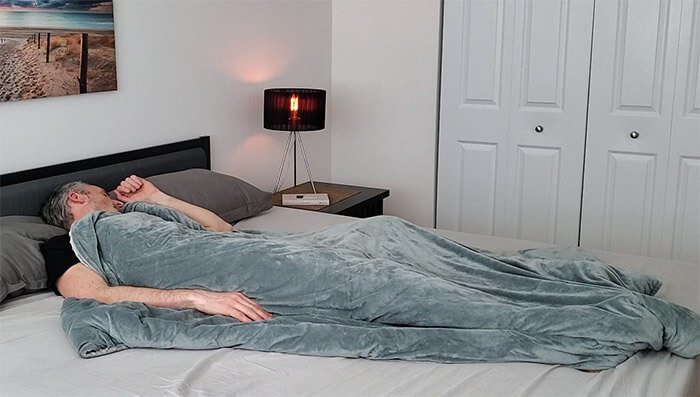 The Quility weighted blanket seems tailored for warmth and snugness. Its seven-layer composition, paired with a soft minky cover, makes it an ideal choice for chillier nights or those who tend to feel cold.
The inner blanket is crafted from pure cotton, housing glass microbeads within six-inch pockets to create a comforting, body-hugging weight. The stitching is robust, with no rogue beads escaping from mine in the four years I've had it.
The cotton insert has a somewhat coarse exterior, so I'd advise getting a cover. You could opt to use only the insert, but considering it's not machine-washable, a cover is a sensible addition unless you're happy to spot clean it.
The dual-sided minky cover is beautifully soft and a tactile joy. One side is covered in sensory nodes which is a pleasure to run your hands across, while the reverse side has a simple, sleek finish.
Quility stands out with its extensive size and weight options – more varied than many other brands. Several sizes are available in different weights, increasing the chances of finding the perfect match for both bed and personal preference.
The price is very reasonable, especially compared to the more luxury brands, such as Baloo, Bearaby, or Gravity. Many sizes come in at less than half the price of those companies.
Verdict: For cooler sleepers shopping on a budget, the Quility is a great choice, especially if you like the idea of the sensory nodes. For those who run hot or prioritize sleek aesthetics, however, it may not measure up to brands like Baloo or Bearaby. Additionally, the washing constraints of the insert might be a deciding factor for some.
Sizes/weights: 14 options, from 5 lb (36″ x 48″) up to 30 lb (86″ x 92″). The 60″ x 80″ blanket is available in 12 lb, 15 lb, 20 lb, 25 lb.
Price: From $50 to around $140, depending on size and cover color.
Returns: Standard Amazon 30 day returns policy.
Pros
Cozy feel for cold sleepers.
Double-sided cover option with soft minky and sensory nodes.
Wide variety of weights and sizes.
Robust stitching.
Affordable price.
Cons
Not suitable for hot sleepers.
Inner blanket isn't machine-washable.
Less stylish than some luxury brands.
---
7. Weighted Evolution
The weighted blanket with the largest sensory dots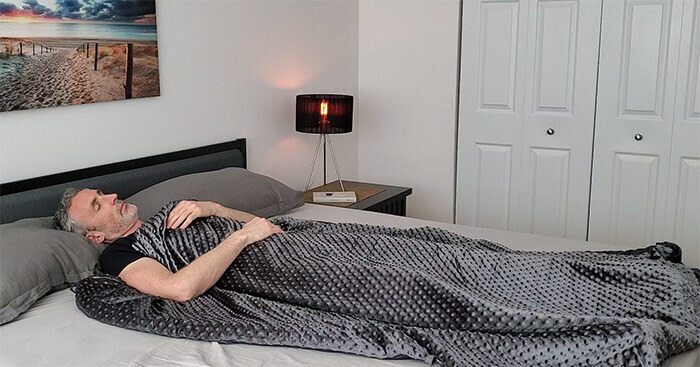 The Weighted Evolution has a fun and futuristic look with its gleaming metallic minky side, covered in sensory dots. This is balanced by the bamboo lyocell on the flip side, which is smooth and marginally cooler to the touch.
The cover has meticulous stitching, a discreet zipper, and 12 loops on the larger sizes to ensure it stays attached to the inner section without it bunching on one side.
The microfiber interior blanket has tight four-inch square pockets, reinforced by double-stitching, ensuring the glass microbeads stay in place and spread the weight evenly. It equals the Baloo in how robust the stitching is, with less chance the beads will leak over time.
In terms of breathability, it's in the middle of the spectrum for heat buildup. It's not as breathable as the Baloo or Bearaby, but not as warm as the Quility or Luxome either. For those who swelter at night, there's a version with a 95% bamboo cover.
The main downsides are that you can only machine-wash the cover, and there's only a handful of size and weight choices available.
Verdict: The Weighted Evolution is a good choice if you'd like the most engaging sensory nodes, thanks to their large size and shiny, futuristic appearance. Hot or cold sleepers might like it, depending on how far you are on the spectrum of temperature preferences.
Sizes/weights: Four sizes: twin 12 lb, queen 15 lb, queen 20 lb, king 25 lb.
Price: From $145 to $209, depending on the size and color.
Returns: 100 day returns policy.
Pros
Dual-sided cover, with tactile sensory nodes.
Robust internal pocket design.
Effective body conformance.
Cozy feel.
Extended trial period.
Cons
Limited size/weight choices.
Inner blanket is hand wash only.
---
8. YNM
A basic weighted blanket for a low price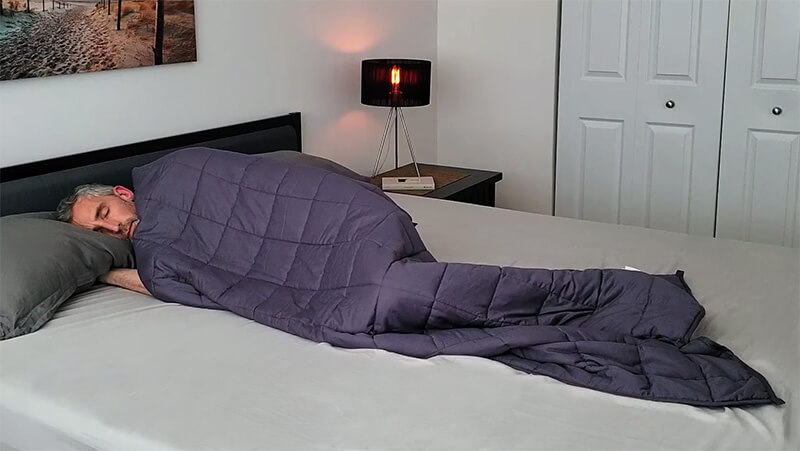 I bought the YNM as I was curious to see what the trade-off in quality would be with one of the lowest-cost weighted blankets. I found the YNM does what it's meant to do, providing enough weight for that desired deep-pressure sensation, but it looks and feels rather basic.
The exterior of the core YNM blanket is made of quite coarse cotton, similar to the Quility. The pockets, measuring 4.7″ x 4.7″, are sized well, ensuring even distribution of the glass microbeads. To its credit, the stitching has held up, showing no signs of wear or loose beads.
Conveniently, you can machine wash the inner section, which is one point in its favor if you want to try a weighted blanket without increasing the cost by adding a cover.
Where YNM does excel is in its range. The brand offers an unmatched variety of weights, dimensions, internal colors, and optional covers. It's uncommon to see different colors and patterns for the inner blanket, setting it apart from brands that stick with one standard insert and varied covers.
Around the house, the bare YNM won't impress aesthetically due to the cotton's texture and basic design. As for breathability, like the Weighted Evolution it's in the middle of the range – neither overly warm nor cool.
Verdict: The YNM is a practical introduction to weighted blankets without a hefty price tag. It gets the weight part right, but if you're on the hunt for a premium feel, pretty aesthetics, or breathability, there are more refined options out there.
Sizes/weights: 14 sizes and weights, from 5 lb up to 30 lb. The 60″ x 80″ blanket is available in 15 lb, 17 lb, 20 lb, 22 lb, 25 lb.
Price: From $34 to $150, depending on the size, color, and pattern. Cover priced separately, starting at $30.
Returns: Standard Amazon 30 day returns policy.
Pros
Tight pockets and strong stitching.
Extensive variety in design and size.
Affordably priced.
Both blanket and cover can be machine washed and dried.
Cons
Basic cotton feel.
Simple design.
Could be more breathable.
My weighted blanket video reviews
In the videos below, I discuss all of the weighted blankets in this article in depth. I filmed them in 2020 and 2021, so a few details have changed since, especially the sizes and prices.
However, I think they still give you a clear idea of how the blankets look, with lots of close-up shots of the materials, stitching, loops and ties, zips, and care instructions.
In the first video, you can see seven of the eight weighted blankets. The only one missing is the Gravity Blanket, which is in the second video.
In the next video, I compare four different versions of the Gravity Blanket.
Tips for choosing a weighted blanket
First things first – do weighted blankets actually work?
Weighted blanket manufacturers often suggest that their blankets are good for sleep and relaxation because they mimic the feeling of deep touch pressure, sometimes comparing it to the reassuring feeling of being hugged. The basic idea is that the feeling of pressure over your body from the weight helps regulate your body's chemistry naturally and promotes calmness.
If you're feeling skeptical about these claims, there is a growing body of scientific evidence that they might help some people beyond just being another way of keeping warm and cozy.
For example, a piece of research in 2008 involving 32 adults appeared to show that using a weighted blanket might help with anxiety. In the study, 33% showed a lowering of electrodermal activity, 63% reported that they felt lower anxiety after using the blanket, and 78% preferred it as a calming method.
In another study involving 120 adults in 2020, participants were given a metal chain blanket to use during sleep. It's not the same as the commercial weighted blankets in this review, but the concept of the weight is similar. The researchers found that the people who used the weighted blanket showed "significantly better sleep maintenance, a higher daytime activity level, and reduced daytime symptoms of fatigue, depression, and anxiety."
My personal experience has been that weighted blankets give me a sense of calm at night that's more noticeable than normal bedding. Even during the daytime, I find them comforting to use – as long as they don't make you feel too hot in the summer months.
As for sleep, I don't feel it's fair to say that they will definitely help you sleep better because it depends on the individual and what causes your sleep problems in the first place.
If you'd like to see more studies about the effectiveness of weighted blankets, there's a useful article on Healthline.com that summarises some of the latest research studies into them.
For most healthy adults and older children/teenagers, weighted blankets should be safe to use. However, according to WebMD.com, infants, toddlers, or very young children shouldn't use a weighted blanket.
They also recommend consulting a doctor before using one if you have any of the following conditions:
Sleep apnea.
Breathing problems.
Circulation problems.
Any other chronic health condition.
---
Which style to choose?
Choosing the right weighted blanket starts with understanding the common styles available. Predominantly, you'll find blankets that consist of an internal section filled with thousands of glass microbeads, encased in pockets, and an external cover that attaches with loops, ties, or sometimes zippers.
Many manufacturers offer standard inserts in various weights while giving you more design flexibility with the fabric, color, and pattern of the detachable cover. This design not only enables easy washing of the cover but also lets you pick one that aligns with your home decor.
Alternatively, some brands offer all-in-one weighted blankets, where the cover is integrated. This design simplifies the maintenance process, as you won't need to wrestle with removing and reattaching a separate cover, which can be fiddly and time-consuming.
For those concerned about the use of glass microbeads or prefer a different feel, a knitted cotton style is a good option. The Bearaby company pioneered this design, but several other companies now offer similar styles. These blankets offer the same comforting pressure without the microbeads.
Choosing the right weighted blanket for you personally is a personal matter, with no style being the 'right' one. It's just a case of deciding which particular style you like most to help narrow down your choice.
---
Do weighted blankets feel hot?
When you think of putting a 20 pound blanket on top of you, maybe even on top of your existing bedding, it's natural to wonder about heat build-up.
In my experience, most weighted blankets do feel warm, especially if your bedroom is already warm. But there's a big difference between the warmest and coolest ones, which is largely determined by the fabrics used and how they are filled.
For example, the Bearaby is very breathable because of all the holes between the weave, and it doesn't trap your body heat so much. The thicker blankets with polyester/minky covers, such as the Quility and Gravity Blanket will quickly make you feel quite toasty. While that's great in the winter, it's a problem in the summer if you live somewhere warm and don't have air conditioning.
I've noticed in the last couple of years that some weighted blanket sellers use the word 'cooling' quite liberally. When you check the details, it's often the case that they just use a cooler fabric for the external cover, but the internal weighted blanket is the same as the one you get if you select a warmer cover.
The fabric might feel cooler to the touch and be a bit more breathable, but it's still a heavy blanket with lots of material that's not going to do any real 'cooling'. If you want to be pedantic about it (which I do), perhaps the words 'cooler' or 'more breathable' would be more accurate.
So, I personally think it makes sense to assume a weighted blanket will not 'cool' you. Yes, some are more breathable than others, but it's best to keep your expectations in check. If you want cooling, you need air conditioning, a fan, or some other technique – not an extra blanket.
That said, as a hot sleeper myself, I've had no problem using the knitted weighted blankets like the Bearaby all year round. And even others like the 'cooling' Gravity Blanket and the Baloo have been fine in the summer unless it's a particularly hot night.
---
How to choose the weight
There are two approaches to choosing the weight of the blanket. One method is that you choose a blanket that's around 8% to 12% of your own body weight.
Weighted blanket manufacturers don't typically make a 10, 11, 12, 13, 14, or 15 pound version to cater to every possible required weight, so the old idea of 10% being the sweet spot isn't so practical.
They are more likely to have a combination of 10, 15, 20, 25, 30, 35 lb blankets available. Occasionally there's an in-between weight to choose from, such as 8 lb or 12 lb, but many seem to stick to increments of 5 lb.
If you do the math and ideally need a 22 lb blanket, for example, you might need to decide whether to go down to 20 lb or up to 25 lb. This is a personal choice, but my experience, and those I've given blankets to, has been that going down a bit often feels more comfortable than going up.
The second approach is that you have a set weight for each square foot, which a couple of manufacturers do, such as Luxome. They claim that people prefer that rather than having a particular weight based on your body size.
I can see some logic in that approach; two people can weigh the same but have completely different body dimensions. So an average weight per square foot across different blanket dimensions might suit more people. This also makes more sense if you want a weighted blanket that covers the entire bed rather than a single blanket on one half of a queen size bed.
Interestingly, three weighted blanket manufacturers I spoke to – Baloo, Gravity, and Bearaby – all told me that the most common reason for exchanges is wanting a different weight. This is a good reason to check that the company you're buying from offers exchanges, and to be mindful of the window of time within which they permit exchanges.
One other point to consider is the width and length of the blanket. Personally, I prefer single sizes as you'll then get most of the weight on your body rather than large sections being wasted on parts of the bed you're not even sleeping on. So it's important to bear in mind that if you choose a 20 lb queen or king size, it's not going to feel the same as a 20 lb single size.
Most weighted blanket companies offer their own guidelines for picking the size on their website. One of the most useful I've seen is on the Baloo website. Here's a quote from their site with some of their key advice:
There is a commonly-heard "rule" that for a weighted blanket, you should look for about 8-12% of your body weight. However, that's really just a guideline; there are other factors that are actually more important in choosing the right weighted blanket for you. We recommend that you select a blanket based on what size you want. Then, if you are choosing between two weights in the same size (e.g. 15lb vs. 20lb Full/Queen blankets), you can consider other factors such as how you sleep and any joint sensitivity.

The ideal blanket is meant to be relaxing, lull you to sleep, and calm your nerves; it shouldn't be so heavy as to be uncomfortable. Make sure to consider what position you sleep in: if you're a back or stomach sleeper you can probably handle a heavier blanket, while a side-sleeper might opt for something lighter.

Baloo.com
---
Cover options
Some weighted blankets, like the Bearaby Napper and the Layla, don't come with a cover because they are designed as one piece.
This style will suit people who think they'll struggle to tie and untie all those ties when it's washing time. It can be a fiddly job, and not fun when you realize you've attached the cover the wrong way round and have to start over!
Most companies sell weighted blankets with a pre-attached cover though, so you just choose the style and the material that appeals to you and it will arrive ready to go.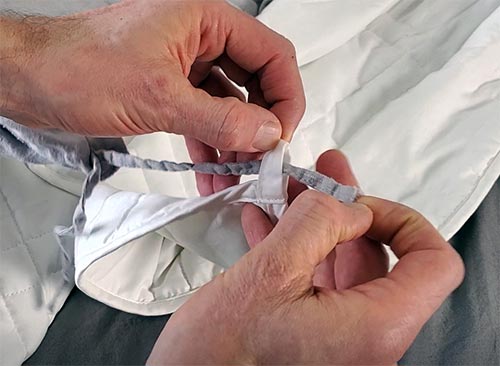 In the photo above, I'm attaching the Baloo weighted blanket cover to the inner section. Each corner and halfway down the sides has a tie and loop that need to be attached. After that, you need to turn the blanket inside out. It isn't difficult, but it can be time-consuming.
In some cases, you're given the choice to buy a cover separately. So if you're a hot sleeper or on a tight budget, you could just get the main weighted blanket and skip the cover to reduce the heat and the expense.
However, one major benefit of having a cover is that you can just wash that, instead of having to stuff a heavy blanket into your washing machine – assuming your washing machine can cope with a 25 lb blanket (not all can).
Another point to think about with the cover is that the internal blanket doesn't always feel so soft. It's usually the cover that creates a luxurious feel, such as ultrasoft minky, bamboo lyocell, or cotton. And if you like the style with sensory nodes, that will normally be on the cover, not the internal blanket.
---
The materials used to make them heavy
Most of the weighted blankets in this article have glass microbeads inside robustly stitched pockets of the internal blanket to create the weight. The cover and fabric fill will contribute a little weight, but it's mostly the beads that make them feel heavy.
The one exception is the Bearaby, which doesn't have any fill as it's made from a thick cotton weave instead. There are some newer companies that also use this style, so if you see a giant fabric weave in the design, it's likely to be just material and no beads.
For those that use microbeads, there's one important point to keep in mind: if the stitching comes undone, or a pet bites through a pocket, a lot of tiny beads are going to spill everywhere. It's a good reason to get a blanket with strong stitching, and the main reason I think it's good if they have more individual pockets to contain each section of microbeads.
On a positive note, none of the weighted blankets I've personally used have ever come undone, other than the one I intentionally opened.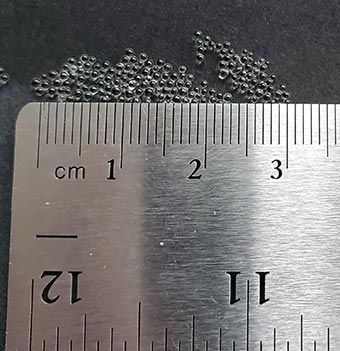 In the photo above, you can see some of the tiny glass microbeads I removed from the pocket of the YNM weighted blanket:
And that's it for my advice for choosing weighted blankets. I hope these tips were useful, and remember that most companies offer a trial period so you can get your money back, or exchange for a different style if you're not satisfied.
My final tip would be to check the returns policy carefully as they sometimes stipulate you have to return them in the original bag and pay for shipping. And all that internal weight can mean a hefty surprise shipping fee.