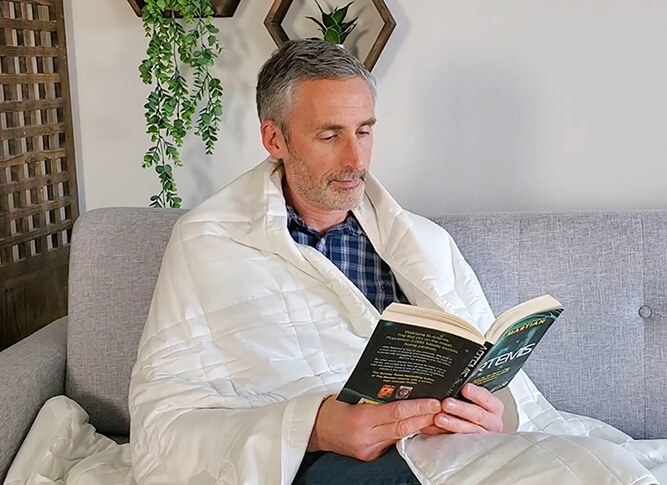 In the photo above, I'm using the Baloo weighted blanket. I took all the photos and videos in my apartment, so you'll be able to compare what the weighted blankets look like in the same setting.
There's a lot of information in this review, so I'll briefly explain how it's organized and my thinking behind it before I dive in.
I start by discussing each blanket in turn, and who I think might like each one. This is based on three different comparison videos I've done over the last year, and several years of using many different ones in my apartment.
You can watch all the videos right here on this page, as there's one in each of the first three sections, or just read about them if you prefer. The top three weighted blankets each feature in one of those videos, just in different ways.
At the end, I share my thoughts on some key points to bear in mind when choosing a weighted blanket. So if you're unsure how to go about picking the right one, you might find that section useful.
---
Weighted blankets
---
1. Baloo
A great choice if you'd like an elegant and robustly made weighted blanket
In the photo below, I'm using the queen size 20 pound Baloo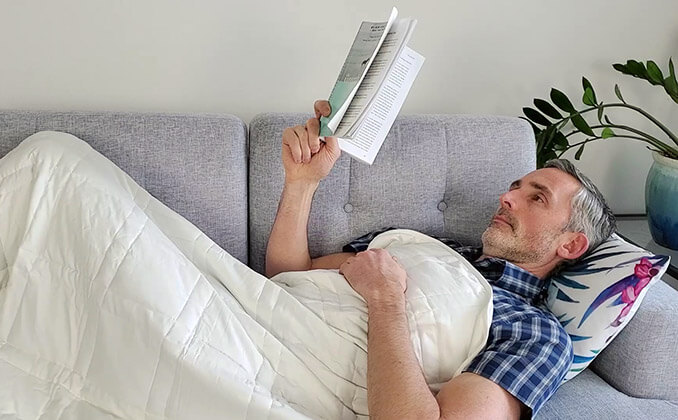 The Baloo is elegant and breathable, which is why it's long been one of my favorites. My wife's also a big fan of this one because it feels soft and smooth on the skin, and she likes the design.
It was my personal favorite when I did my first big comparison video because it was so breathable and elegant. And although I still think it's an excellent weighted blanket aesthetically, I've since discovered that the Bearaby is even more breathable (coming up next).
The Baloo comes out top in my comparison video
Here's the video I made in 2020 in which the Baloo did really well. You can see most of the other weighted blankets featuring later in this article in the video too.
The Baloo section starts at 4 mins 30 seconds. Before then I go over all the questions that form the additional information section at the end of this article.
Materials, stitching and cleaning
The Baloo blanket is made from premium cotton and it's noticeably very soft to touch. And I like how it has small double-stitched pockets, which improves the durability and the weight distribution of the glass microbeads.
In addition to the glass beads, the pockets contain minimal fabric batting, and it's 100% cotton rather than polyester. If you watch the video, you'll notice I say the filling is polyester. They have since changed it to cotton though, and I feel it adds a little more padding and comfort.
The stitching is consistently good across the whole blanket, and I like the attention to detail that's gone into the construction. It really does look very well made, especially compared to many of the cheaper blankets popping up on big stores like Amazon.
On my queen size, there are six strong loops and ties, but I think eight would have been a bit better to keep the cover in place. Unlike most weighted blankets, the Baloo uses wooden buttons instead of a zip, which looks nice aesthetically.
The only cover option they have at the moment is French flax linen. I personally like the natural feel of that, but my wife says she would have preferred cotton. It's also worth noting that all the materials are Oeko-Tex certified, so they are free from harmful chemicals. And conveniently, you can machine wash and dry both the external cover and the internal weighted blanket.
When it comes to relaxation during the day and the evening, the Baloo is a great choice. But at the same time, I can imagine the plain white cotton and minimalist look might feel like it belongs more in a bedroom for some people.
Weight options and price
It comes in set sizes rather than having the same weight across different dimensions. So at the moment, they have a 12 pound twin, 15 and 20 pound queen, and a 25 pound King. And the one I'm using is the 20 pound queen size.
As always, the price varies by size. Mine was just under $170, so it's not a budget weighted blanket (which I will cover later in the review). I do think the French linen cover is very expensive at $129, which makes it one of the most expensive brands when you get both the blanket and the cover. But if you're happy with white cotton, you can just use the internal blanket and save yourself some money.
They have a 30 day returns window, which is standard for weighted blanket companies. However, they offer a lifetime craftsmanship warranty, which is pretty exceptional considering many don't offer any warranty at all.
Sleep
The Baloo is a great choice for sleep because it's relatively breathable and it's comfortable to use. I also like how well the weight is distributed and how it hugs your body nicely. And for colder months you can use it on top of or in-between your own bedding to add some extra warmth.
Verdict
Overall, there's a lot to like about the Baloo. It's not a cheap option, but the quality of the craftsmanship, the soft feel, breathability, and elegant look make it a great choice.
---
2. Bearaby Napper
The most breathable weighted blanket that will suit hot sleepers
In the photo, I'm using the 42 x 72 inch, 20 pound Bearaby Napper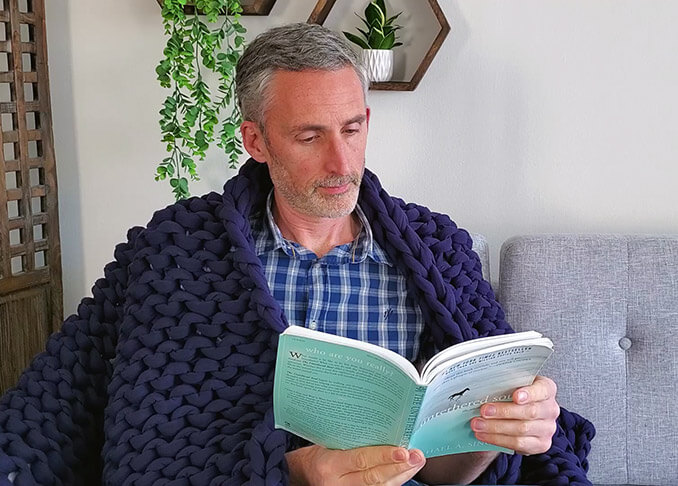 The Bearaby Napper is an outlier when it comes to weighted blankets because they haven't adopted the standard approach of filling it with thousands of microbeads.
Instead, their method is to use a giant woven cotton design, so there's no internal filling. It's literally just cotton weave, which looks great and has a lovely soft feel to it.
Materials, stitching and cleaning
They use 95% organic cotton and 5% spandex. And the weave has a little stretch to it, whilst being very durable. With no synthetic filler, it's the chunky layers of hand-knitted cotton weave that manage to create all the weight.
It's good that you can machine wash and dry the Bearaby, but it does weigh a lot when you pull it out of the washing machine.
When it comes to using a weighted blanket on the sofa for relaxation the Bearaby is definitely one of our favorites. My wife always says this is the one for the sofa, just because it looks beautiful aesthetically.
Weight options and price
They have three different weights for adults at the moment: 15, 20, and 25 pounds. Interestingly, they avoid large sharing sizes and only make them for individuals.
It comes in nine vibrant colors. And they recently added a smaller 8 pound kid's size, with five different color choices.
The Bearaby is one of the most expensive weighted blankets because of all the craftsmanship involved. Mine was just under $260. They have a 30 day returns period, but no extended warranty, so make sure you look after it. Mine's still going strong after a year though, so it's as robust as you'd expect for the price.
Video comparing the breathability of weighted blankets
In the video below, I did an experiment to test how warm I felt after 30 minutes of lying under different weighted blankets. You can see exactly why I rate the Bearaby so highly for breathability and recommend it for hot sleepers.
Sleep
For sleep, the breathability makes the Bearaby Napper a really good option for hot sleepers, and anyone else who struggles to sleep in the summer.
I also like how well it hugs your body – more than any of the other weighted blankets I've tried.
Verdict
The Bearaby is a great choice for three key reasons: It's breathable, made with sustainability in mind, and it looks beautiful. Like the Baloo, it's not a budget option, which is the only real downside.
But if you're a hot sleeper and/or you value how pretty your bedding looks, the Bearaby is one I highly recommend considering.
---
3. Gravity Blanket
If you struggle with buttons and ties, this one has a unique zipper system
In the photo below I'm using the single size 20 pound Gravity blanket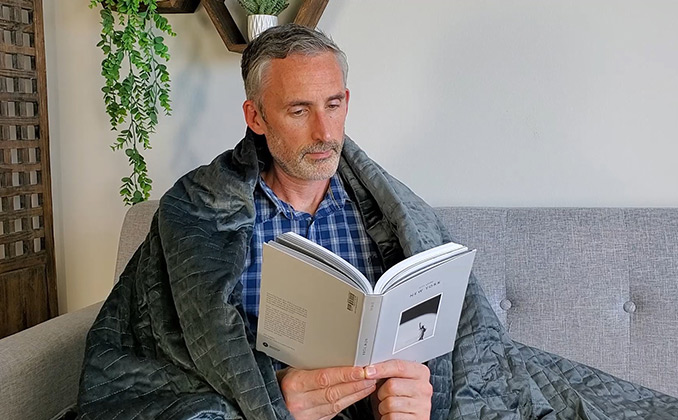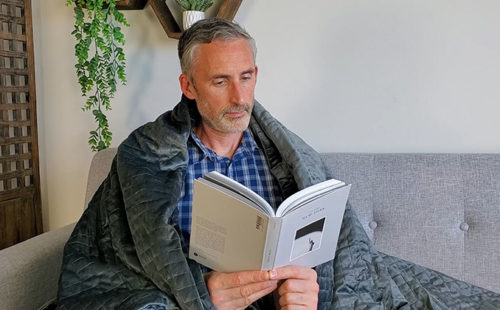 Following a very successful Kickstarter campaign in 2017, Gravity was arguably the first company to raise the profile of weighted blankets and make them more widely available to the public.
I personally really like the look and feel of the microfleece cover version, but their 'cooling' cover is also a more breathable option for hot sleepers.
The main feature that impressed me though is the new zipper system on the version 3 Gravity blanket. It makes removing the cover a whole lot easier than the standard ties and loops approach that most companies use.
Video comparing four Gravity Blanket versions
The Gravity Blanket is the only one that wasn't in my first comparison video. But I did a later video in which I compared four styles of the Gravity blanket, which then led to me including it in this ongoing written review.
You can see them in action in the video below, and I also demonstrate their new zipper system on three sides.
Materials, stitching and cleaning
The inner weighted blanket uses glass microbeads to create the weight. There's some polyester batting to help spread the beads around and add some warmth, and the internal blanket cover is cotton.
The beads are held inside pockets measuring six by six inches. The stitching seems very robust and neatly finished. It would have been good to see tighter pockets like the Baloo has, but they are strong enough.
There are two cover options: very soft microfleece, or a style of polyester similar to sportswear that Gravity says is cooling. I don't think it's actively cooling, but it is more breathable than the microfleece. Both covers have the stunning grid design that's unique to Gravity blankets. Other companies tend to have a plain flat finish or sensory dots, so I really like the look of the Gravity covers.
The new zip system is fantastic as it does away with the need for ties on three sides. When I timed it, the zip system was twice as fast as the ties. So this is a great option if you have finger sensitivity issues, or if you appreciate efficiency in life generally.
My main criticism is that you can't machine wash the internal weighted section. You can wash the cover, but it's a point to bear in mind if you're likely to have spillages of any kind on the bed. They also have a short returns period like the Bearaby and Luxome (below) of just 30 days.
Weight options and price
It's available in a single size in a 15, 20, and 25 pound weight. There's also a 35 pound queen/king size. I've used both the single and queen, and definitely prefer the queen, for multiple reasons.
The main reason is that I prefer to have individual control over when you use the blanket. There's no need to have a discussion about removing it with your partner at 3 a.m. because you're too warm.
The microfleece single sizes are all $195, with the queen costing $255. The cooling version is a bit more, $205 for a single and $265 for the queen.
So although the single sizes aren't as expensive as the Baloo or Bearaby, it's still relatively expensive and you can find cheaper weighted blankets.
Sleep
The material of the microfleece Gravity blanket is a cozy option to use in bed. It looks good on the bed, and you'll feel warm and snug under it.
As for the cooling version, it's not as breathable as the Bearaby, but it still does a respectable job. The material isn't quite as soft as the microfleece version, but you won't notice that when you're asleep!
Verdict
Gravity blankets are well-made, robust, look good, and are comfortable to use. And I like how they have a dedicated option for hot and cold sleepers.
The main appeal for me is the new zipper system, which is just much more convenient than standard blankets. As a hot sleeper, I would probably stick with the Bearaby. But if I were a cold sleeper specifically looking for a warm blanket, I would definitely have a microfleece Gravity blanket on my shortlist.
---
4. Luxome
If you're not sure what weight to choose, you can just choose the size instead
In the photo, I'm using the large version, with a minky and bamboo cover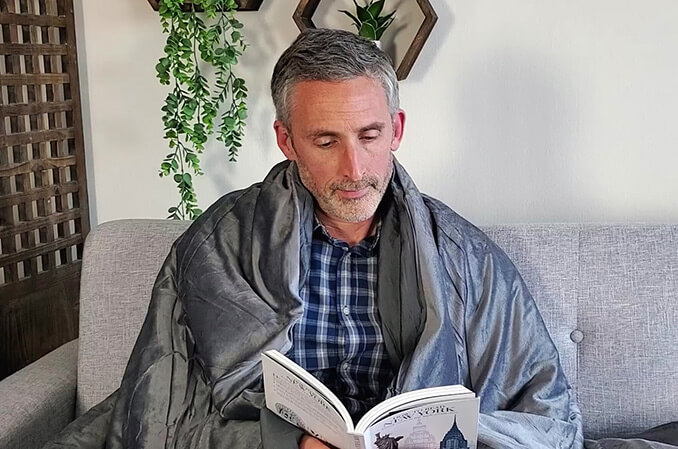 Luxome was the first company I noticed that had moved away from the general 'choose the weight based on ten percent of your body weight' rule. Instead, they worked out an average per square foot by testing their blanket weights on different age groups, settling on an average that most people like.
So if you're not quite sure about choosing based on your body weight or you're not quite sure about the 10 percent rule, then perhaps this is one that will suit you.
Materials, stitching and cleaning
The Luxome has various different cover options. Mine is double-sided, with a smooth minky on one side that feels very soft. The reverse side is a 300 thread count organic lyocell bamboo, which feels a little cooler on your skin.
To remove the cover there's a very subtle zip that's well hidden – it actually takes a while to find it. With this size blanket, there are 12 ties and loops, which is a good number to keep the cover nicely attached. The stitching is strong, but I do think it could have been finished a little bit neater.
A small issue I had is that the loops are quite tight, so it's slightly fiddly to attach the ties. The internal weighted blanket itself uses glass beads and polyester filler batting, which actually seems to do a really good job of keeping the beads evenly spread, despite the relatively large 6 inch pocket size.
The 233 thread count cotton seems very robust, but it's not the softest feel. One point I really like about the Luxome is that both the internal blanket and the external cover can be machine washed and dried.
For daytime use, I think the Luxome feels cozy enough and looks good with the cover, so it's one that I'd happily use on the sofa while relaxing.
Weight options and price
Let's take a closer look at the different weights they decided on. For this style, they have 8, 15, 18, and 30 pound weights. The blanket size also increases accordingly. So there's an 8 pound for kids, and I personally use the 18 pound version. Interestingly, my wife and I both find that that weight works nicely.
They also have several different covers to choose from, including sensory dots if you like that style. The price varies by the size and the cover you choose, ranging from under $100 for the smallest up to around $250 for the largest. So once again, it's not exactly a budget weighted blanket.
They have a 30 day returns policy, but you must include the original bag if you want your money back. And there's no extended warranty either, like the Bearaby, which is a bit of a shame. But it should be fine if you look after it well.
Sleep
For sleep, the Luxome feels cozy, looks good, and conforms nicely to your body. It's not as breathable as the Baloo, Gravity, or the Bearaby because of all the fiberfill, but it's better than most that use very thick minky on both sides of the cover.
Verdict
The Luxome is a good option if you're not quite sure what weight to choose, and you prefer the simplicity of choosing the basic dimensions instead.
It's an elegant and comfortable weighted blanket that looks good in the bedroom too. One caveat is the tiny hidden zip, which might not suit some people, such as those with less finger sensitivity.
---
5. Layla
A stylish one-piece blanket that's machine washable and avoids the need to remove fiddly covers
In the photo, I'm using the 15 lb, 48 x 72 inch twin size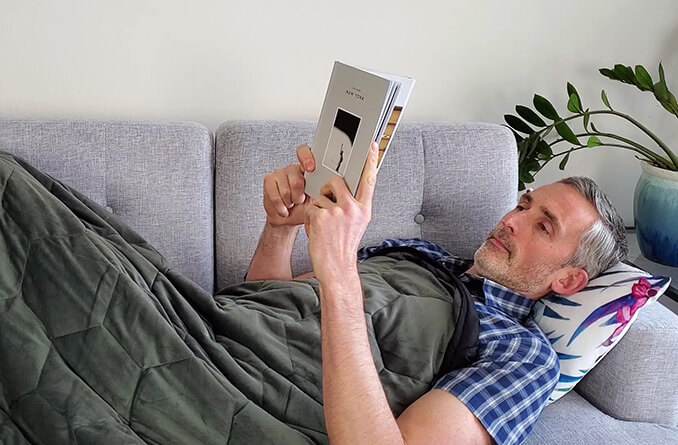 Layla is a bedding company, and like many other bedding companies they've gotten in on the weighted blanket action. And I think they've done a really good job in creating a decent weighted blanket.
Materials, stitching and cleaning
Personally, I really like the hexagonal design that Layla uses. The top side has a plush soft minky, that feels lovely against the skin. The pockets are six inches across and they're very robustly stitched, which helps keep the microbeads and the polyester filler in place.
The underside is 300 thread count cotton, which also feels soft and smooth against the skin. It does tend to show up any lint that's been floating around though. The stitching is fantastic across the whole of the Layla blanket – definitely one of the best in that respect. That gives me confidence that it will last the test of time.
Another plus is that the blanket can be machine washed and dried, which is very convenient compared to the Gravity, Quility, and Weighted Evolution (below). It's important to note that this is a one-piece weighted blanket with no cover, and only comes in black and green at the moment.
So although I personally like it for relaxing on the sofa, do be aware that you can't choose a different color or material.
Weight options and price
Like the Luxome, you don't choose by your body weight, but by the blanket size. They have a twin, queen, and king at the moment. The one I'm using is the twin – it's 48 by 72 inches and weighs 15 pounds. I find it's a good size and the right dimensions for me. It costs around $100 for the twin, which is a reasonable price as well.
Another point that appeals to me about the Layla is that they have a very generous 120 day money back guarantee and a 5 year warranty. Both of those are much longer than most companies have for weighted blankets.
Sleep
The Layla blanket is reasonably breathable, feels soft, and contours nicely to the body. Again, it depends if you like the black and green color scheme. If not, then you can hide it between your bedsheets.
Verdict
Overall, I think the Layla shines as a practical weighted blanket because you don't need to remove a cover and it can be machine washed. It will suit some people more than others because of the lack of colors to choose from. But it's well designed, it feels good, and they have one of the longest trial periods and an uncomplicated returns policy.
---
6. Quility
A reasonably priced and warm weighted blanket for colder weather
Below, I'm using the 20lb, 60 x 80 inch version, with a minky and sensory dots cover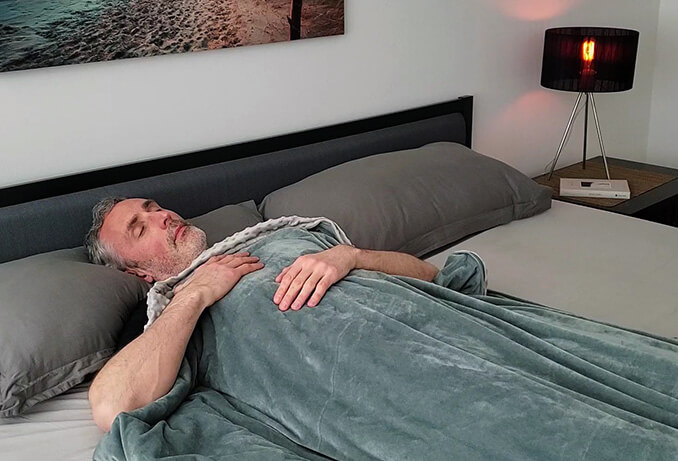 If you're a hot sleeper like me, skip to the next section; this is not the one for you! But if you're a cold sleeper or you're looking for one to add a little bit of warmth in the winter, the Quility weighted blanket is a really good option.
This is by far the warmest weighted blanket that we've tried. In fact, you really don't need to spend much time underneath this before you start to feel warm again if you've come in from the cold.
Materials, stitching and cleaning
The first thing to note is that the external cover is made with a super soft minky, which feels great. And it also has the sensory nodes on one side, which are always kind of fun to play around with.
The other side is also minky, but it's a smooth surface and a different color. The zip is robust and nicely tucked inside one edge. The inside blanket uses glass microbeads, and the compartments are around six inches in length and width. They aren't exactly the smallest compartments, but they do their job of distributing the weight equally.
The cotton they use for the internal weighted blanket is very thick and robust, but it's not the smoothest, so I probably wouldn't use it without a cover. The stitching on the internal blanket is good. I've had no issues with it, even after a year's usage.
There are eight loops and ties to keep the cover and the blanket nicely attached, and the loops are well stitched. One major downside is that the inner blanket can't be machine washed – only the external cover can.
As for using it around the home, the soft and warm feel of the minky, the thickness of the blanket, and the layers of polyester filler mean that this is a really good one to use in the wintertime. It's one that we use quite a lot during the day and the evening, and in the winter we often snuggle up under it while watching a movie.
Weight options and price
One of the points that I like about Quility is that there are a lot of different sizes and weights to choose from. In fact, there are so many combinations, I can imagine it might be a little bit confusing to decide which size and weight combination to go for.
They run from 5 pounds right up to 25 pounds. There doesn't seem to be a 30 pound, but that should be enough to cover most people's weight. And it does mean that there are kids sizes as well.
The price is reasonable, which will depend in part on the size. As an example, mine is 60 by 80 inches and 20 pounds, and it costs under $100, with the cover included and pre-attached.
Another downside is that there's only a 30 day returns window, which is pretty standard with products that are sold on Amazon. But there's no guarantee, which for me is a bit of an issue.
Sleep
The warmth of the Quility makes it a practical weighted blanket to use in the bedroom in the winter. Maybe the spring and autumn as well, depending on where you live. You can use it on its own or perhaps combine it with your own bedding for extra warmth. I wouldn't use it for sleep in warm weather though.
Verdict
Overall, the Quility is a decent option if you're looking for a soft minky feel and a warm weighted blanket for a reasonable price. However, you do need to be prepared to hand wash, spot clean, or dry clean the internal blanket.
---
7. Weighted Evolution
A cozy weighted blanket with pronounced sensory dots
Below, I'm using my 20 lb, 60 x 80 Weighted Evolution with minky on one side and bamboo lyocell on the reverse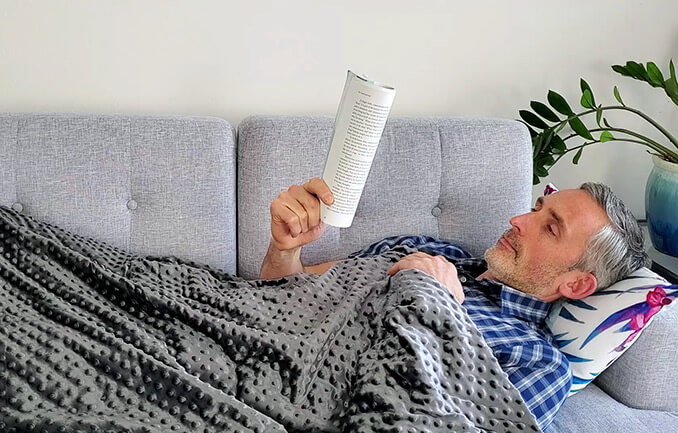 The Weighted Evolution is one that I think will appeal to people who like shiny things. And maybe even sci-fi fans because of the metallic, shiny exterior that the minky side with all the nodes has. It has a fun, futuristic feel to it.
Materials, stitching and cleaning
My favorite feature of the particular Weighted Evolution cover style I chose is the touch sensory dots embedded in the ultra-soft minky that they use on the top side. On the other side, there's bamboo lyocell, which is also very smooth and soft, and feels a little cooler against the skin.
The external stitching is pretty good on the Weighted Evolution. I inspected it carefully and it seems well constructed and robust. And I like the fact that the zip is well hidden, so you don't feel it when you're using the blanket.
I also like that for larger sizes there are 12 loops and ties, which helps keep the blanket and the cover in place. But like all heavy weighted blankets, you do need to be careful how you use it or you can end up damaging the stitching if you put too much strain on them.
I was very impressed by the design of the internal blanket. It has small double-stitched pockets, which means that the weight is kept well distributed. And it has just enough fiberfill in each one to spread the beads out and stop them bunching up in the corners.
And compared to the more delicate stitching of the cover, the stitching on the internal weighted blanket is neatly finished, uniform and looks robust. One downside though is that only the external cover can be machine washed. So you'd need to hand wash or spot clean the blanket itself.
To use around the home, the Weighted Evolution is one that looks good and feels cozy enough to use when you're chilling on the sofa, whether that's reading, watching a movie or whatever it might be. It's just one that you wouldn't mind having out on the sofa compared to some of the more basic weighted blankets.
Weight options and price
They have several different weights, including 8, 12, 15, 20 and 25 pounds. The 15 and 20 are made in the commonly found 60 x 80 inches.
As for the price, that will depend on the size and the cover you get. For example, mine is the 20 pound blanket that's 60 by 80 inches and it currently costs around $150. They offer a long trial period of 100 days, which is longer than most companies. And there's a year long warranty, which is good to see.
Sleep
To use when you're sleeping, it's in the middle in terms of breathability. It's not the coolest, but it's definitely not the warmest either. However, it's right up there with the best for how soft and luxurious the external cover feels when you're relaxing in bed.
Verdict
The Weighted Evolution is a good choice if you like the sensory dot style and the coziness of a soft minky cover. But it perhaps won't be right if you'd prefer to be able to machine wash the internal weighted blanket as well.
---
8. YNM
One for those on a tight budget
In the photo below, I'm using a 15 lb YNM internal weighted blanket without a cover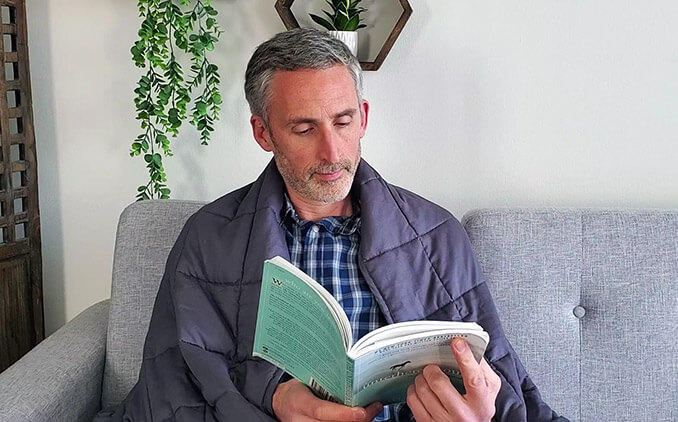 I bought the YNM as an experiment to see what you could get if you tried to spend as little money as possible on a weighted blanket. And what I found you get is a weighted blanket that weighs what it's supposed to do, and does its job, but doesn't look or feel particularly special.
Note that this is the only one that you can get a cover for if you want to that I didn't buy a cover for. I wanted to adopt the position of being on a tight budget and see if you could happily use a basic blanket without adding a soft cover.
Materials, stitching and cleaning
The first thing to note is that the bare YNM weighted blanket isn't made from the smoothest cotton that I've felt. What I do like, however, is that it has a nice tight compartment size. So both sides of the square pattern they've gone for are just under five inches. The stitching is actually pretty good as well and I really couldn't fault it.
The entire blanket can be machine washed cold and tumble dried low. I tested it a couple of times and it came out just as it went in – well, a little bit cleaner obviously!
Weight options and price
Something I like about YNM is that they offer a lot of variety in terms of the dimensions and the weight of the internal blanket. So from 5 pounds right up to 30 pounds, and different lengths and widths as well.
If you would like an external cover, they offer cotton, bamboo and minky – with or without the sensory nodes, and many different colors and patterns.
The price varies by size, but my 15 pound blanket, for example, is currently under $50 without a cover. Like the Quility, there's a 30-day returns period but no additional warranty, unfortunately.
Sleep
To use around the home, the YnM wouldn't be my top choice for relaxing whilst reading or watching TV, just because of the lack of softness in the cotton that they've used.
For sleep, it's not the most breathable that I've tried, but neither is it the hottest. There's quite a bit of fiberfill inside those pockets, so some heat does build up, but it could be worse.
Verdict
If you don't mind having a basic weighted blanket as long as the price is good, the YnM offers a way to try a weighted blanket on a low budget.
Arguably, the main job of a weighted blanket is to provide weight, and it will do that the same as any other. However, if you're looking for extra warmth, breathability, stylish design, or environmentally friendly manufacturing, it might not be the right one for you.
---
Buying guide
---
Do weighted blankets work?
This is a tricky question to answer. There is some research that suggests that the deep pressure stimulation of a weighted blanket might help with anxiety. But really, there isn't exactly an enormous wealth of research. Another study, for example, found that it didn't help with children's sleep, but they still enjoyed using one.
So I think it's more of a personal matter. For my wife and I (she's been testing and using the blankets too), I think that they're great for relaxation. There's definitely something that we feel that they help with on that front.
For sleep, it depends on the individual and what causes your sleep problems. If solving all sleep problems was as simple as using a heavier blanket, we'd know about it by now! Maybe a weighted blanket is going to be no help at all; maybe it'll be just what you need. It's very much a personal thing.
Sorry if you were looking for a more definitive answer. But I wouldn't feel right in saying they will help everyone with sleep, relaxation, anxiety, etc. You simply won't know until you try one.
---
Do they sleep hot?
Are there cooling weighted blankets? Are some better than others? I think this is a very easy question to answer in some respects, which is that there is no such thing as a cooling weighted blanket. It just doesn't exist (in my opinion!)
Any blanket that you put on top of you is always going to make you feel warmer than you did without the blanket. Some of them are definitely more breathable than others though. I think that when they have a thick minky polyester cover, it's going to be warmer than one that uses cotton and doesn't have so much fiberfill in the pockets.
So I think the material can be breathable, and I think it can be less warm than others, but it can't be cooling. When you see the word 'cooling' on websites, I'd take it with a grain of salt.
---
How do you choose the weight?
There are two approaches to this. One is that you choose 10 to 12 percent of your body weight, and that's been the standard approach for quite a long time. However, it doesn't always work if you're in-between weights.
Weighted blanket manufacturers don't create a 10, 11, 12, 13, 14 ,15 pound weight, for example. They are more likely to have 15, 20, 25, and 35. Some of them have individual weights, but it's not common.
So if you're in the middle, you need to decide whether to go down or up in weight. And that's very much a personal choice. For me, and my wife also, going down weight is better than going up. But maybe you'd prefer more weight.
The other approach is that you have a set weight for each square foot, and this is something which a couple of manufacturers have started doing recently. And they claim that people enjoy that more than having a particular weight based on your body size.
And I can see some logic in that. Two people can weigh the same but with completely different body dimensions. So an average weight per square foot across different blanket dimensions might suit more people.
---
Do you need a cover?
Some weighted blankets, like the Bearaby Napper and the Layla, are one piece so there's no cover anyway. Others come with a pre-attached cover, so you just choose the style and the material that appeals to you.
In some cases, you have to buy the cover separately. So if you're a hot sleeper or on a tight budget then you could just get the main weighted blanket and skip the cover to save some money.
However, one major benefit of having a cover is that you can just wash that, instead of having to stuff a heavy 25 pound blanket into your washing machine.
Another point to think about with the cover is that the internal blanket isn't always so soft, and it's the cover that creates the luxurious feel, such as ultra-soft minky, bamboo lyocell or cotton. And if you like the style with sensory nodes, that's done with a cover too.
---
What creates the internal weight?
In most cases these days it seems to be glass microbeads (often as small as 1mm diameter). A common marketing phrase some companies use is "Ours use hypoallergenic glass microbeads – not plastic pellets like others do".
I haven't seen any that use plastic pellets recently though. Perhaps the older or cheaper manufacturers use them, but all the ones in this review use glass microbeads. So when they say that they're special because they use glass microbeads, it's not really that special because they all seem to these days! But it's still worth checking if you're going to use one that isn't in this article.
The Bearaby is an exception and doesn't have any beads it's all, opting for a heavy cotton weave instead.