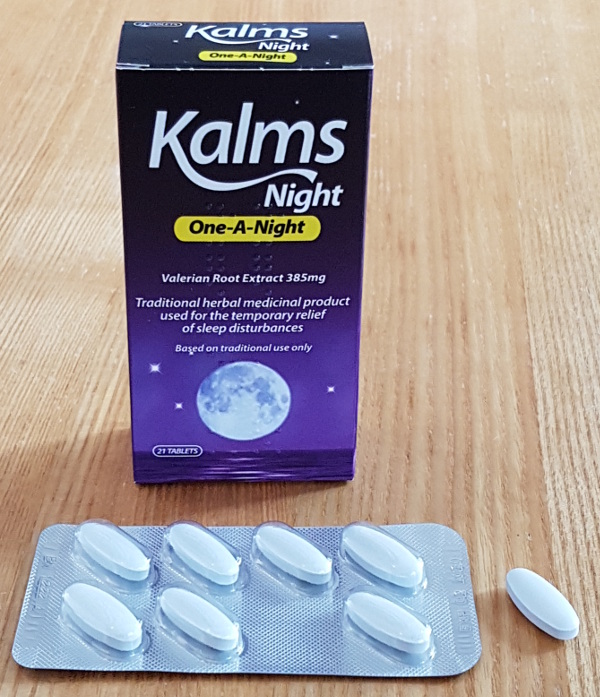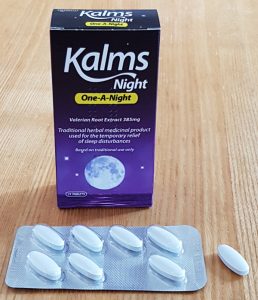 This past week I've been testing out Kalms, hoping they can perform the miraculous and help reduce the anxiety and insomnia that have crept back into my life.
If you're looking for a herbal remedy to help you relax or sleep better, Kalms is a popular choice.
In the UK, they have a regular place in the medicine section of many supermarkets and chemists.
But do they actually work? And is there any research evidence for their sedative effect?
In this Kalms review, you'll find out how well they worked for me. I'll also take a look at the four different types and discuss the potential side effects if you're thinking of trying them yourself.
---
The four types
There are four different types of Kalms. The first two are intended for anxiety during the day, and the night versions to help with sleep.
1. Kalms tablets (Kalms Day)
These are meant to be taken throughout the day to help with mild anxiety. You take two tablets, three times a day. The ingredients are valerian and hops. They used to contain gentian, but that was removed.
2. Kalms Lavender
Lavender has growing research evidence for its sedative properties. Kalms Lavender is a capsule containing lavender oil 80 mg, intended to help with anxiety.
3. Kalms Night
As you'd imagine from the name, these are intended to help you sleep. You take four tablets one hour before going to sleep. Each pill contains valerian root extract 96 mg, so you can take less than four if you prefer.
4. Kalms One-A-Night
Rather than having the option to take less if needed, Kalms One-A-Night is a single pill at a stronger dosage of valerian extract 385 mg.
---
My experience
This week I tried Kalms One-A-Night, though not so long ago I also tried the daytime tablets and the sleep varieties.
My first thought about the night version was that it was better having to only take one pill rather than the four with the Sleep version. Admittedly, it's twice the size, but it's sugar-coated and easy enough to swallow.
Another bonus of it being sugar-coated is not getting the strong valerian taste as you do with similar products, like Nytol Herbal.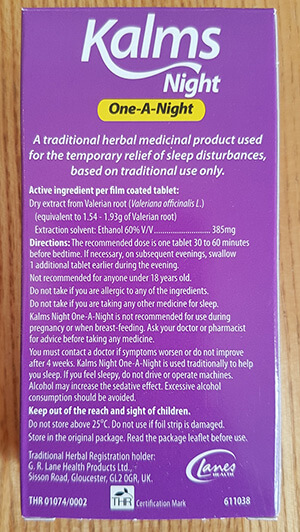 During the day
I decided to take them in 2 different situations to try to really gauge if I could feel any effects. I first tried one in the middle of the day while working on my laptop.
I didn't feel anything noticeable, but this doesn't necessarily mean nothing is happening; they aren't meant to be too strong after all.
At night
I then tried the normal dose of one pill 3 nights in a row, and I do think I felt a mild sedative effect each night.
But whether it was a real sedative effect, placebo effect, or tiredness due to not sleeping well lately is hard to say. I did, however, sleep a little better each night than I had done recently.
I mentioned that I've been having sleep problems recently, and this has largely been due to having quite a lot of stress in my life. So maybe the calming effect of the valerian helped me drift off a little easier.
But really, it's the day version which is supposed to help mild anxiety, and I can only comment on this in hindsight. I actually took them regularly a while back, and I do remember thinking that they helped a little.
The problem is that it's so hard to tell whether something which is only meant to have a light effect is actually working or not.
It could be a placebo effect, which is known to be powerful for many people. Or it could be a combination of that and anything else you're doing at the time to help yourself deal with anxiety or sleep problems.
So my feeling is this: if you think it helps, then that's arguably good enough. But you may never know for sure exactly how much it's really helping.
For now, I'll continue with them for a few more days as I think I have felt a mild effect, and that's all I need.
---
What evidence is there that Kalms work?
Being a herbal remedy, there's no need for clinical studies to pass them as effective. And accordingly, no research studies have been done on them.
So technically, no scientific research exists for the effectiveness of Kalms.
When I first wrote this article, the UK Medicines and Healthcare products Regulatory Agency website had a full entry for Kalms. It seems to have been removed now, but here's a quote I found previously:
This registration is based exclusively upon evidence of the use of Hops and dry extract of Valerian root and Gentian root as a traditional herbal medicine and not upon data generated from clinical trials. There is no requirement under the Traditional Herbal Registration scheme to prove scientifically that the product works. No new or unexpected safety concerns arose from this application and it was, therefore, decided that a Traditional Herbal Registration Certificate could be granted.
Now the website simply has a list of approved herbal medicines, each one with the same repeated caveat saying "based on traditional use only."
Evidence for valerian
Perhaps it's more productive to look at whether valerian is known to help promote sleep. And in this case, the answer according to research could be summarized as 'sometimes'.
As I wrote about in my article about valerian, it does have some research evidence showing a sedative effect. So based on that, Kalms might have the potential to do what it's intended to do.
What others say
The biggest test is of course what people say. Both the US and UK Amazon sites show mixed feelings from customers. Some people say they work brilliantly, while others found they didn't work at all.
And since first writing this review, there have been many comments from readers describing their experience. Once again, some say it worked wonders, but others aren't so convinced.
And this raises a key point: it's very hard to predict whether Kalms will work for you or not.
Your expectations and previous experience of sleeping or anxiety pills might also play a role. If you've taken strong prescription medication before, you might find the lighter effect of Kalms just isn't enough, or takes some adapting to.
However, if you've never dabbled in the prescription heavyweights before, then the gentle calming effect might be enough.
---
Further Information
Ingredients
As per the instruction leaflet, the active herbal ingredient is:
Valerian root extract 385 mg (equivalent to 1.54-1.93 g of valerian root)
And the other ingredients are:
Extraction solvent: Ethanol 60% v/v
Excipients: Maltodextrin, Colloidal Anhydrous Silica.
Croscarmellose Sodium
TalcSilicified Microcrystalline Cellulose
Magnesium Stearate
Silicon Dioxide
Hypromellose
Titanium Dioxide
Macrogol
Saccharine Sodium
Who should avoid Kalms
The manufacturer advises against taking Kalms in some situations:
If you're allergic to any of the ingredients.
If you consume excessive amounts of alcohol, as it can increase the sedative effect.
If you're pregnant or breastfeeding.
You should avoid driving, operating machinery or tools.
If you're taking any other medication for sleep.
Possible side effects of One-A-Night
The manufacturer only lists two possible side effects. If you experience these or any other adverse symptoms, stop taking them and consult your doctor:
The other versions have different possible side effects, so please make sure you read the label carefully before taking them.
Have you tried Kalms?
I'm interested to hear your thoughts about any of the Kalms. Have you tried them, and if so, what effect did they have on you?