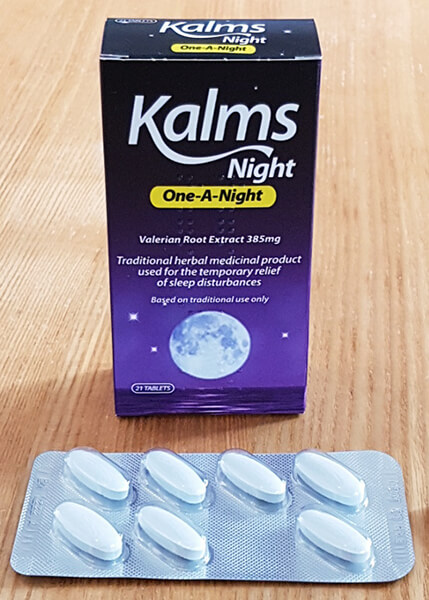 I took the Kalms Night One-A-Night sleep aid for a week in the hope that it would help tame the insomnia and anxiety that had crept back into my life.
If you're interested in trying a herbal remedy to help you relax or sleep better, Kalms is a well-known brand in the United Kingdom. You can buy it over the counter in many shops and pharmacies, such as Boots and Holland & Barrett.
Kalms Night contains valerian root extract as the main ingredient, which is also used in several other sleep aids, such as Sominex Herbal and Nytol Herbal.
In this review, I'll be discussing my experience of taking Kalms in two different years, and how I felt a mild sedative effect with no side effects both times. I'll also look at the research evidence that it works and some other key information if you're thinking of trying it yourself.
---
My experience
---
A single tablet that's easy to swallow
A few months ago, I tried the original Kalms Night version. With that one, you have to take up to four tablets per night instead of just the single one that you take with the aptly named Kalms One-A-Night.
My first impression of the One-A-Night version was that I preferred only having to wash down one tablet. Admittedly, it's twice the size as each of the Kalms Night tablets, but it's coated with an artificial sweetener and easy enough to swallow.
Another benefit of it being sweet coated is that you don't get such a strong valerian taste as you do with similar products, like Nytol Herbal.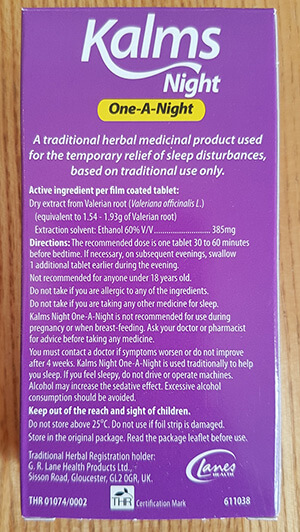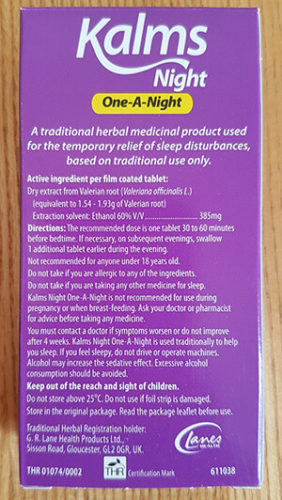 Deciding how well it works
Just to be clear, my way of judging how well sleep aids work is very subjective. I don't do any tests in a sleep lab, and just take them in my natural home setting. I write notes on how I feel after taking them, how I feel in the morning, and how I feel during the day.
I do use a sleep tracker (a Fitbit Versa in this case) to see how my total sleep time and sleep score look compared to previous weeks. However, I prefer to trust my own observations most of all. Experience has taught me that the way I feel the next day is the best way to judge how effective a sleep aid is in improving my well-being.
During the day
I decided to take the Kalms One-A-Night in two different situations to try to really gauge if I could feel any effects – in the middle of the day, and then at night later in the week.
I first tried one in the middle of the day while working on my laptop, for three days in a row. I didn't notice any sedative effect and I didn't suddenly become more relaxed after taking them. This doesn't necessarily mean nothing is happening though as they aren't meant to knock you out.
It did make me realise that it would be perhaps trickier to judge if they were helping me with anxiety more than sleep though. I'm pretty busy during the day (as is my mind!), so I'm not entirely sure if I'd notice a small effect.
That said, the reality is that I didn't notice anything special happening. Things that stressed me out continued to stress me out. I know they are supposed to be taken at night, but I was curious to see if I would notice a sedative effect when taking them during the daytime. The answer was no.
How I slept when taking Kalms One-A-Night
On the fourth day, I didn't take a tablet during the day, but waited until bedtime instead, which is when you're supposed to take the Kalms One-A-Night really. The clue is in the name!
I took one tablet each night before bedtime for three nights in a row, and I do think I felt a mild sedative effect each night. Whether it was a real sedative effect, placebo effect, or tiredness due to not sleeping well lately is hard to say. I did, however, sleep a little better each night than I had done recently.
My thought in the morning was that it had taken me slightly less time to fall asleep, and that I'd slept throughout the night with less wakings on all three nights. My sleep tracker data also backed that up, though the overall sleep time was only better by a few minutes. Still, every minute counts.
I mentioned that I've been having sleep problems recently, which I believe has been caused by feeling under a lot of pressure for various life reasons. Maybe the calming effect of the valerian helped me drift off a little easier, even if I hadn't noticed much of an effect in the daytime earlier in the week.
No side effects for me
I had no noticeable side effects during the week I took Kalms One-A-Night, which is great. I often get side effects with antihistamine sleep aids, such as a dry mouth, headaches, or groggy feelings in the morning. And melatonin also gives me vivid dreams sometimes.
So I was pleased to see that I could take the Kalms One-A-Night without worrying about needing strong coffee or a cold shower to wake myself up properly in the morning.
Do keep in mind that this was just my experience though; some people might have a reaction to the valerian. For example, Heathline.com discusses possible side effects like heart palpitations, dry mouth, upset stomach, vivid dreams, headaches, and mental fogginess.
My conclusion & would I take it again?
I don't think the Kalms One-A-Night improved my daytime stress levels, but I do believe I slept slightly better on the nights I took it.
The problem is that it's so hard to tell whether something which is only meant to have a light effect is actually working or not. As I said, it could be a placebo effect, which has been demonstrated in research studies as a real effect for various health concerns – even pain relief.
It could also be a combination of the placebo effect and any other steps you're taking to cope with anxiety or sleep problems.
So my belief is that if you think a sleep aid helps, then that's arguably good enough. You just might never really know for sure exactly how much it's helping directly, or how much the act of taking a sleep aid is contributing to your confidence that you'll have less trouble sleeping.
Personally, I would take Kalms One-A-Night again if I needed to because of the (possibly) mild sedative effect, natural herbal ingredient, lack of side effects, low cost, and easy availability.
Eight years later – trying it again
I originally published this article way back in 2014, which is when I first took the Kalms Night One-A-Night. Eight years later, in April 2022, I saw it on a local supermarket shelf and decided to give it another go.
The packaging and information seemed pretty much the same as when I first took it, with the same ingredients. And the effect it had on me was very similar too. This time, I used the latest version of the Fitbit, the Fitbit Versa 3. The sleep tracking has improved, so it was interesting to see if it would show any objective improvement in my sleep.
I took it for a week again, and the effect was very similar (as far as I can remember). No discernible sedation during the day or reduction in stress levels that I could tell. Once again, I do think I felt slightly more relaxed when going to sleep, with both my mental observations and sleep tracker data suggesting a slight improvement in the time it took me to fall asleep, as well as the total sleep time.
Nothing miraculous, with no more than ten minutes more sleep on average each night. Still, that's ten minutes I'll gladly take.
---
Further information
---
Who makes it?
Kalms is a brand owned by the UK company Lanes Health, which has been operating for over 90 years. They also own several other health product brands, such as Pro Plus and Olbas. You can find out more about them on Laneshealth.com (not a sponsored link).
The five types of Kalms
There are five different types of Kalms. The first two are intended for anxiety during the day, the two night versions to help with sleep, and the latest one is for fatigue.
1. Kalms Day
Kalms Day are made to help with mild anxiety. The ingredients are valerian and hops, and you take two tablets, three times a day. They used to contain gentian as well, but that was removed.
2. Kalms Lavender
Kalms Lavender is a capsule containing lavender oil 80 mg, and is intended to help with anxiety. Lavender does have some research evidence for its sedative properties.
3. Kalms Night
As you'd imagine from the name, Kalms Night are intended to help you sleep. You take four tablets one hour before going to sleep. Each pill contains valerian root extract 96 mg, so you can take less than four if you prefer.
4. Kalms Night One-A-Night
Rather than having the option to take less tablets if needed, Kalms One-A-Night is a single pill at a stronger dosage of valerian root extract 385 mg.
5. Kalms Rhodiola
Kalms Rhodiola was created to help with stress-related symptoms, such as fatigue, exhaustion, and mild anxiety. It's in tablet form, containing the root of the Rhodiola rosea plant. You take two tablets per day, one before breakfast and one before lunch.
You can find out more about the different products on the Kalmsrange.com website (not a sponsored link).
What evidence is there that Kalms One-A-Night work?
Because it's classed as a herbal remedy/supplement, UK law doesn't require Kalms to undergo the same rigorous clinical trials as prescription sleeping pills. The same applies in the United States, for example, where supplements don't need to be passed as safe and effective in clinical trials either.
So, no scientific research on the effectiveness or safety of Kalms has been done.
However, the gov.uk website does show that Kalms One-A-Night has been granted a traditional herbal registration.
What evidence is there that valerian works?
An alternative avenue to explore is whether the ingredient valerian has been found in any other research to help with sleep. The answer, according to research, could be summarized as 'sometimes'.
As I wrote in my article about valerian, it does have some research evidence showing a sedative effect, but it's not consistent from one study to the next.
Interestingly, in 2020, a team of researchers in Japan and the UK conducted a meta-analysis of many previous studies of valerian's effectiveness for sleep and anxiety to work out why the evidence is so inconsistent.
They suggested that the variable results could be explained by researchers using different quality valerian extracts in each study. They have one positive conclusion that gives some room for optimism:
In conclusion, valerian could be a safe and effective herb to promote sleep and prevent associated disorders. However, due to the presence of multiple active constituents and relatively unstable nature of some of the active constituents, it may be necessary to revise the quality control processes, including standardization methods and shelf life.

Shinjyo et al.
What others say
It's always interesting to see what other people have to say and to check websites that have large numbers of customer reviews.
When I checked Amazon.co.uk, there were over 700 ratings for Kalms One-A-Night, with an average score of 4.1 out of 5 stars. 57% of people gave it 5 stars and 6% gave it one star.
Many people say they work really well and help them sleep better, while others say they don't help, or only help a little bit. This is a common pattern with non-prescription sleep aids that I've seen with several others.
I read through 50 reviews of each star (which took a while!) and discovered some interesting points about side effects too. Most people didn't mention any or said that there were none. The most common side effect I read was about strange dreams.
Since first writing this review, there have been many comments from readers describing their experience. Once again, some say it worked well, but others aren't so convinced.
This raises a key point: it's very hard to predict whether Kalms One-A-Night will work for you or not.
Your expectations and previous experience of sleeping or anxiety pills might also play a role. If you've taken strong prescription medication before, you might find the lighter effect of Kalms just isn't enough, or takes some adapting to.
However, if you've never dabbled in the prescription heavyweights before, then the gentle calming effect might be enough.
Ingredients
As per the instruction leaflet, the active herbal ingredient is:
Valerian root extract 385 mg (equivalent to 1.54-1.93 g of valerian root).
And the other ingredients are:
Extraction solvent: Ethanol 60% v/v.
Excipients: Maltodextrin, Colloidal Anhydrous Silica.
Core: Croscarmellose Sodium, Magnesium Stearate, Silicified Microcrystalline Cellulose, Talc and Silicon Dioxide.
Coating: Hypromellose, Talc, Titanium Dioxide, Macrogol, Saccharine Sodium.
Warmings
The manufacturer has the following warnings on the patient leaflet:
Don't take it if you're allergic to any of the ingredients.
Don't consume excessive amounts of alcohol when you take it.
Avoid it if you're pregnant or breastfeeding.
You should avoid driving, operating machinery or tools.
You should consult your doctor or pharmacist if you're taking, or have recently taken, any other medicines, including those that make you drowsy or any other non-prescription medicines.
Possible side effects of Kalms One-A-Night
The manufacturer only lists two possible side effects. If you experience these or any other adverse symptoms, stop taking them and consult your doctor:
The other versions have different possible side effects, so please make sure you read the label carefully before taking them.
To find out more about the potential side effects of valerian itself, take a look at the WebMD.com article on valerian or the Rxlist.com article.
Have you tried Kalms?
I'm interested to hear your thoughts about any of the Kalms range. Have you tried them, and if so, what effect did they have on you?