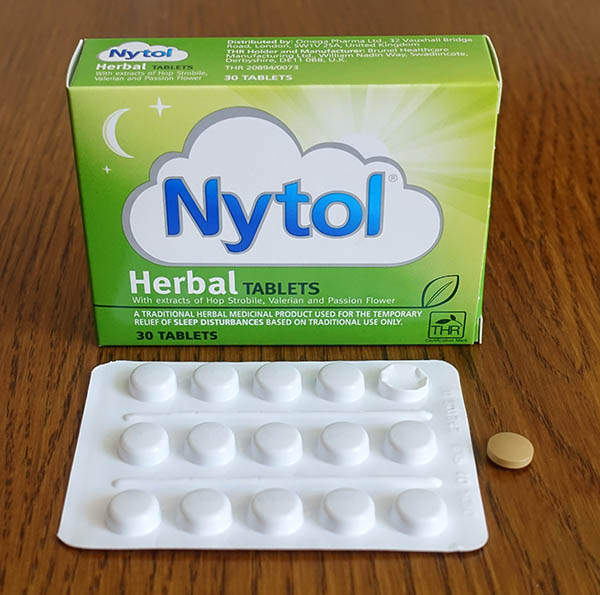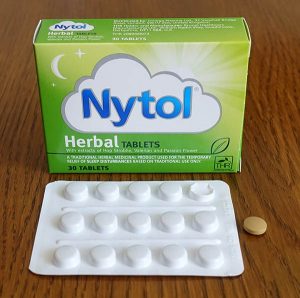 I decided to try Nytol Herbal for a week in a typical situation where my insomnia flares up – sleeping in an unfamiliar bed in a new house.
I know that it takes me a couple of nights to settle into a new bedroom, so it was a good time to try out a new sleep aid.
I have to admit, I was slightly skeptical that it would work, knowing that research into the sedative effect of valerian is still inconclusive.
But perhaps being skeptical is a good thing in this case; it might help reduce the potential for the placebo effect to influence my opinion.
---
Different types of Nytol
There are a few different versions of Nytol. So it might be useful to take a quick look at the difference between them:
Nytol Herbal Tablets – the one I tried first. It contains valerian, hops, and passion flower (photo above).
Nytol Herbal One-A-Night – only contains valerian (photo below).
Nytol Herbal Elixir – valerian in liquid form for those who struggle with tablets.
Nytol Original and Nytol One-A-Night – these aren't herbal but contain an antihistamine. They come in blue packets instead of the green herbal ones.
Nytol Liquid Caramel Flavour – the latest in the Nytol range. It also contains an antihistamine, but as an oral solution for those who don't like tablets.
Please note that this review is only for Nytol Herbal. To find out more about the stronger antihistamine version, you can read my review of Nytol One-A-Night.
---
My experience with Nytol Herbal Tablets
Despite writing a review, the problem is that realistically it's hard to judge how effective a mild sleep aid is. There are just too many other factors that can contribute to how well you sleep or not.
With a strong pharmaceutical sleeping pill, it's usually pretty clear if it worked or not. Herbal sleep aids can be more subtle, so it's not always easy to determine their effectiveness.
I do believe, however, that I felt a mild sedative effect on the second and third night. The first night I had a bad night, but I can also attribute that to a fiercely noisy storm outside.
You could argue that the sedative effect was partly due to tiredness because I'd slept badly the first night. But I don't think it was, as I definitely felt a mild calming feeling on top of the physical tiredness.
I wasn't mentally tired when I went to sleep, so I think the calming effect could probably be put down to the Nytol. I felt no lingering feeling the next day, which is always a bonus.
The question is though – do they really work as a sleep aid? Well, all I can say is that from my experience they could have a slight sedative effect.
But it's definitely not as strong as some other over the counter sleep aids, such as the anti-histamine Nytol. And it's incomparable with most prescription sleeping pills.
This was only my experience of the sleep aid – remember that it could be very different for you.
---
My experience with Nytol Herbal One-A-Night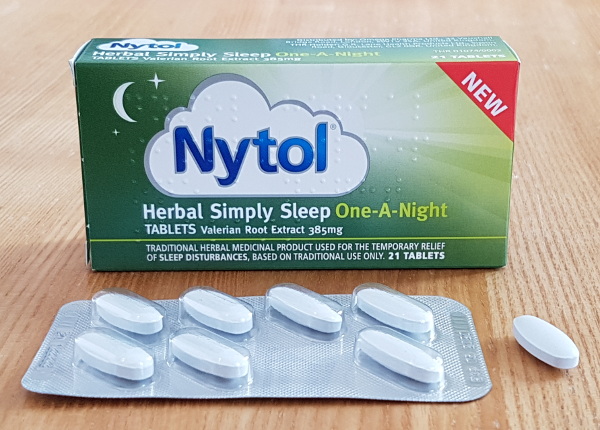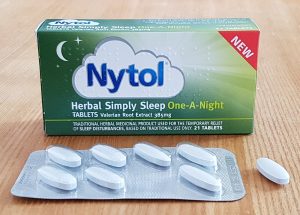 I first wrote about the version with valerian, hops, and passionflower in 2014. And in 2018, I decided to test the valerian only One-A-Night to find out if it was much different.
The first thing I noticed is the improvement to the smell and taste. The previous type had a very strong valerian smell and was kind of unpleasant to swallow.
This time, the tablets were coated so you don't have that same smell. They are larger tablets, but you only take one rather than two or more.
It's suggested that valerian needs a couple of weeks to build up in your system before it's most effective. So I decided to take it every night for a month.
Again, I think it did help a little, providing a mild sedative effect. It never knocked me out as such, but I do think it helped me relax at night.
I'm not sure the effect was much better in the second half of the month though really. If it was, then it wasn't something I could objectively measure, either with my sleep diary or sleep tracker.
But on the whole, I think I slept reasonably well most nights of the month.
---
Further information
---
The ingredients of Nytol Herbal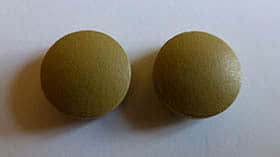 According to the information sheet, the ingredients are:
200 mg extract of hops
160 mg extract of valerian
130 mg extract of passion flower
Calcium hydrogen phosphate
Microcrystalline cellulose (E 460)
Stearic acid
Magnesium stearate
Hypromellose 4500
Polyethylene glycol 400
Iron oxides (E 171)
Titanium dioxide (E 171)
Out of these ingredients, it's the hops, valerian and passion flower which are meant to have the sedative and calming effect.
Who shouldn't take it
The sheet comes with these warnings of situations when you shouldn't take them:
If you've ever had an allergy to hops, valerian or passion flower, or any of the other ingredients listed above.
If you suffer from depression.
If you're under 12 years old.
You shouldn't drive or operate heavy machinery.
You shouldn't mix them with alcohol.
You should talk to your doctor if you're taking any other medications, especially beta-blockers or any that can make you drowsy.
You should talk to your doctor before taking them if you're pregnant or breastfeeding.
Possible side effects of Herbal Nytol
The information sheet advises speaking to your doctor if you experience any of these side effects:
Stomach cramps.
Palpitations or feeling faint.
Nausea and vomiting.
Fever and headaches.
Gastroenteritis or diarrhea.
As with any medication, if you notice any symptoms after taking them it's wise to stop taking them and contact a medical professional.
---
Nytol Herbal One-A-Night information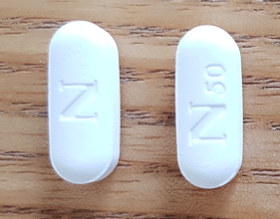 This version only contains one active ingredient, valerian 385 mg, and comes with fewer warnings.
Similar precautions are advised in terms of when not to take it:
Pregnant or breastfeeding women.
If you're allergic to the ingredients.
Don't drive or operate machinery.
Don't drink excessive amounts of alcohol.
Consult your doctor if you take any other medication or sleep aids.
The possible side effects listed are:
---
What others say about it
Nytol Herbal doesn't exactly get gleaming reviews online. On the US Amazon site, it has a rating of 4 out of 5 at the time of writing. On the UK Amazon site, it currently has a score of 3.7 out of 5.
Many readers have left comments since I first wrote this review, which has been helpful to read. Interestingly, some people find Nytol doesn't work at all, whereas others have had a very positive experience.
So really, my feeling is that there's just no way to predict how well it will work for you until you try it – if you decide to of course.
Your views
Have you tried Nytol Herbal or One-A-Night? Did you find it helped you sleep better?
Feel free to share your thoughts or experiences in the comments below.