Availability update: When I last checked the ReST website (April 12, 2023) there was a message saying they are not taking any orders currently. I don't know why that is exactly, or when orders will resume.
Summary
The ReST Bed is a high-tech smart mattress that will appeal to people who do a lot of physical activity or sports, those with back problems, and partners who need different levels of firmness on their own side of the bed.
Using an app on your smartphone or tablet, you can set the firmness of five body zones manually, or set it to adjust automatically when you change position. Smart sensors in the mattress provide live pressure mapping to help you work out where you need softer or firmer support.
It's a very comfortable mattress to sleep on in my experience, and having the option to control different zones really helps when you have aches and pains. However, it's an expensive mattress that many people will find unaffordable. With a trial period, you can at least find out if it works for you before making such a big financial commitment.
The good points
Five air chambers on each side of the mattress so you can adjust the firmness across the length of your body.
Dual zones so you and a partner can independently set the firmness on each side.
App with live pressure mapping to see where you need more support.
Suitable for side, back, and front sleepers.
Three modes: manual, auto-position and automatic.
4 inch gel-infused memory foam layer on top of the air chambers provides extra comfort and support.
Fully encased in a machine washable cover.
Easy installation.
10-year warranty and 90 day trial period.
The main criticisms
On automatic and auto position modes, the pump makes some noise when you change position. On manual mode, it's completely silent though.
It's a very expensive mattress. For example, a queen costs over $4000.
The app sometimes takes a minute to connect to the pump.
Full review & video transcript
Below, you can see how I set up my ReST bed at home. Notice the thick memory foam layer on top, which is very comfortable. You can also see the pump under the bed.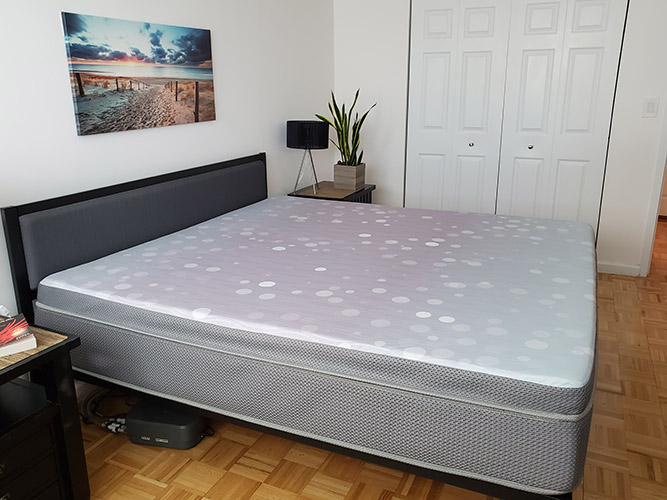 Hi, this is Ethan from No Sleepless Nights, and in this review, I'm going to be talking about the ReST bed.
The ReST bed is a smart mattress that has an amazing capacity to let you adjust the firmness or softness on your side of the bed, and also to individually change the softness or firmness on each side of the bed. And that's what's magic about this particular mattress.
My partner and I have had this one for the last two months. So far, we've been very happy with it. It did take a little while to understand exactly how it works and how to make it work best for us to begin with. But to be honest, that's part of the fun.
It's an interesting mattress to play around with, especially when you start using the App on the phone because it has dynamic pressure mapping. So as you lie on it, it will tell you where your body is applying more or less pressure on the mattress. And then you can adjust the mattress to suit your body style.
So in this review, I'm going to first of all cover a few of the key points about how it works, because I know it can sometimes be a little bit confusing understanding what it does.
So I'll just give a brief synopsis first. Then I'm going to look at the details in more detail! I'll show you how the App works and what you can do with it. I'll get inside the mattress (well, not literally!). But I'll unzip it and show you the different layers.
And then I'll go through some pros and cons, and talk about some of the extra key points that are worth noting.
Overview of how the ReST Bed works
So, just to give a brief overview of exactly how the ReST Bed smart mattress works. The first thing that you're going to need to do is to install it, which can either be done by yourself or with the white glove delivery service.
And actually, it's pretty easy to set up. Having seen the guys come and do it for me, I think I could easily do it myself. The actual mattress and all the components inside come folded up in half in a giant box, and you just unfold it.
And then the smart pump will sit underneath the bed. It has tubes that come out the back of the mattress, and those plug into the smart pump.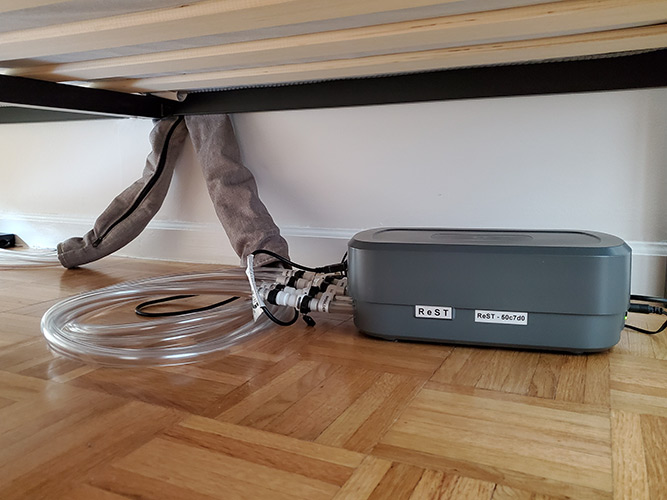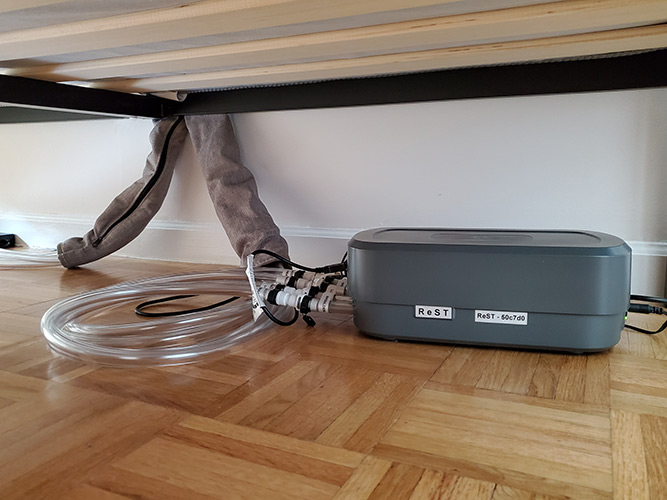 The mattress, as you lie on it, has some data points in a 'smart sensor', as they call it, which is going to be underneath the memory foam layer. And as you lie on it, it's going to send information about the pressure that your body is applying across five zones: your legs, your hips, your lumbar, shoulders, and your head.
And as the pump receives that information, it's then going to send it to an App on your smartphone. I believe the company used to give out tablets with the mattress. They no longer do, so you do need a smartphone to make it work.
And that's how the bed actually works in brief.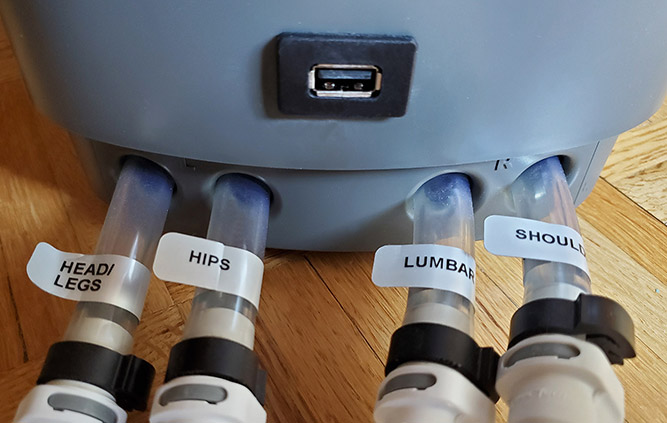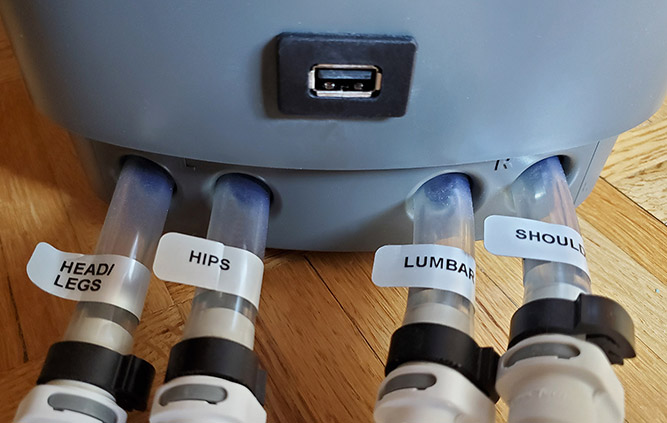 Note: I don't mention how to connect the App to the pumps in the video. You can use your home WiFI network to do that. But they also have their own WiFi signal if you prefer to connect that way.
If you want to check for any updates, you'll need to connect to the home WiFi from time to time. For example, they told me the sleep tracking will be a future feature, and you'll need to get an update for that to work.
ReST Bed App controls
Now let's have a look at the App. And I'll show you in more detail about what it does, and show you the pressure mapping so you can understand that better.
let's have a look at the main controls on the App for the ReST bed. At the moment I've got it set on manual mode here. You can see that if I press 'switch mode', you'll see that there are three options. And that's essentially all you need to do with the App.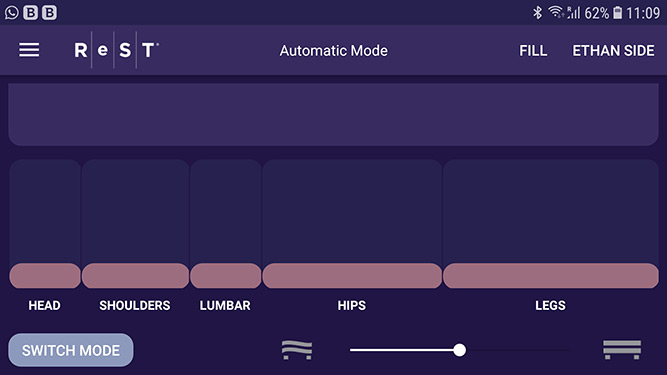 Manual mode
With manual mode, going back to that one, you can see that you've got the head, shoulders, lumbar, hips, and legs section. And each of those corresponds to one of the air cavities in the mattress.
With this one, you can just press them or slide them how you want to get the exact setting. So if you want it with more air, you press it right up there. And if you want it with less air, you can put it there.
Live pressure mapping
I should also emphasize that one of the key features of the ReST Bed is that you can use the live pressure mapping on the App to see how much pressure the different parts of your body are putting on the mattress.
And you can use that to then decide how much to inflate or deflate each of the zones, and have softer or firmer support across your whole body.
At the same time, if you're sharing the bed, your partner can do the same on their side using the App on their phone. And this is a really good way of finding the exact comfort level for both of you throughout the whole night.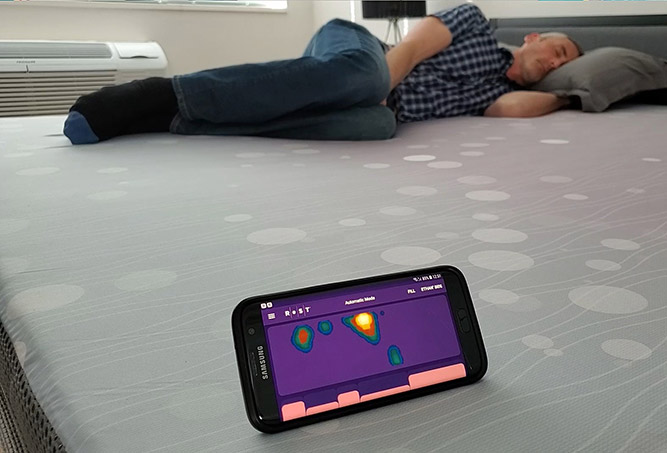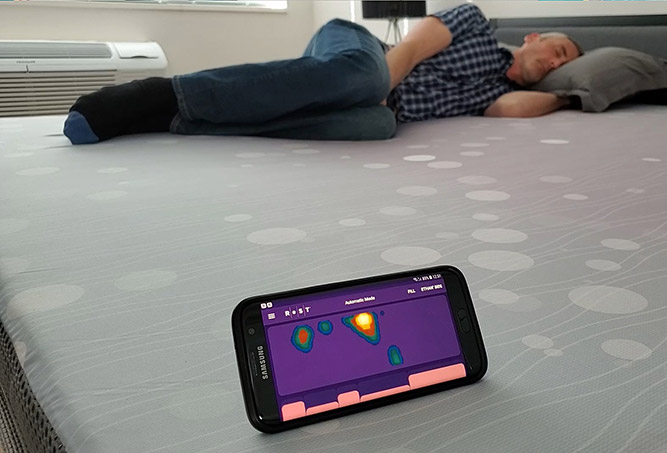 Auto position mode
If you go back to the 'switch mode' and use the auto position mode option instead here, you can see that you've got two main options: the back and the side. And what you can do here is choose the settings that you want for each position.
At the moment, it's on the setting for the 'back' and I've got it set to quite firm – because I'm on my back so it's nice to have firm support.
But then on the side, I've decided here to have it with less pressure on my shoulders. And a little bit less in my hips, legs and head as well, but more in my lumbar. But you can change those settings how you like. And then ideally, the bed's going to recognize when you're on your back or your side and change it to those positions.
Automatic mode
The mode that I use the most is automatic. With this one, essentially you have a sliding scale from soft to firm. You can have it on the softest setting, which is probably around a 4 out of 10 for softness. You can have it on the hardest setting, which is probably around an 8 on the firmness. And if you want to, you can have it somewhere in the middle, which is what I tend to do.
I've discovered recently that It seems that I sleep best when I have it on even less than middle-range softness, which was an interesting discovery with the ReST Bed.
The layers and smart sensors
Let's take a look at the layers of the ReST Bed. The first thing to note is that it's all encased in a removable cover, which is machine washable. The cover itself has a nice pattern and gradient color, which looks stylish.
It's made from a very lightweight material that they call the 'sleep skin'. It's kind of like athletic clothing. It's very soft, but we use a sheet on top anyway so it's not that important how soft it is.
More importantly, you have the memory foam layer underneath. This is a 4 inch gel-infused memory foam layer. What that means is that it hopefully sleeps a little bit cooler than memory foam is sometimes notoriously famous for.
And we do find that it's very comfortable. It's springy and conforms nicely to the body. It doesn't have that 'stuck in the mud' feeling that memory foam sometimes can. And secondly, it doesn't sleep that hot.
Underneath the memory foam, you've got the place where the magic works. And these are the live pressure mapping sensors. There are a thousand data points on each side of the bed – if you've got a large bed size. And they're encased in this blue section.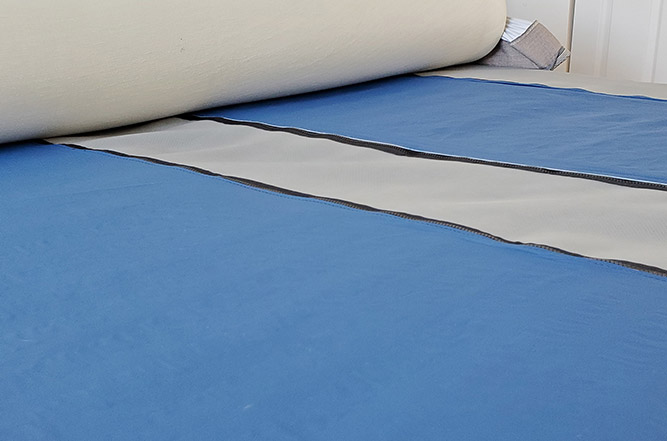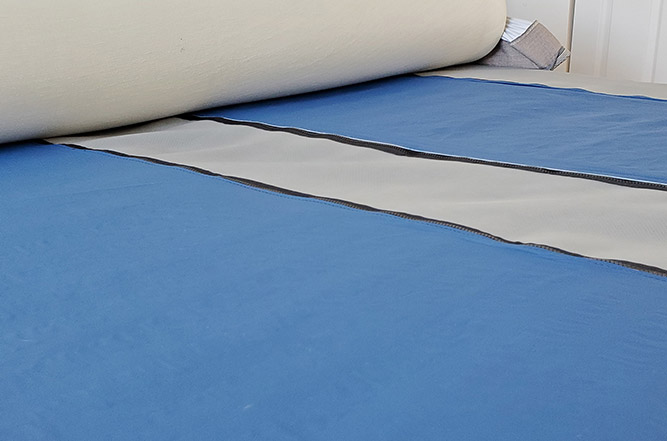 You can see just in the middle there where the ripples are that you have the data points. And this is where it sends the information back to your App on your smartphone, so you can make the adjustments.
And then underneath the memory foam layer and the pressure points, there are the air chambers. Each of these air chambers is made with polyethylene material. They're welded together so they have hopefully no chance of having any slow air leaks. They are medical grade, which means that they're very resilient and strong, so you shouldn't have any problems with them.
There are air chambers on each side of the bed, and each side of the bed has five chambers. So there are five underneath the mattress there. And it just means that you can have control of each side, and five different points on each side – as I already said.
These air chambers are really good. They're effective, and at the moment this one's really inflated and it's very strong.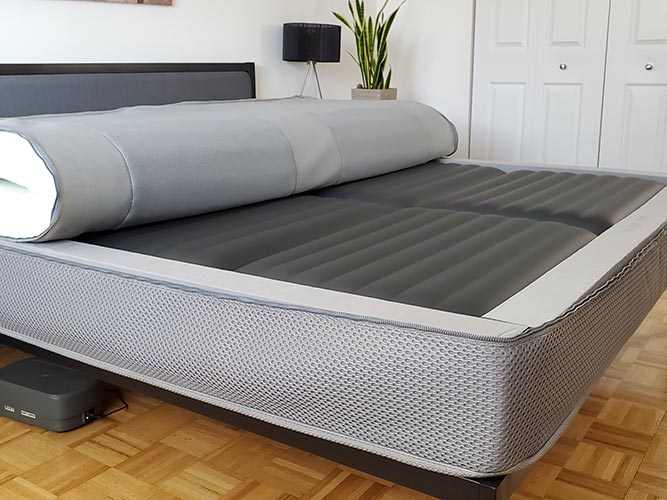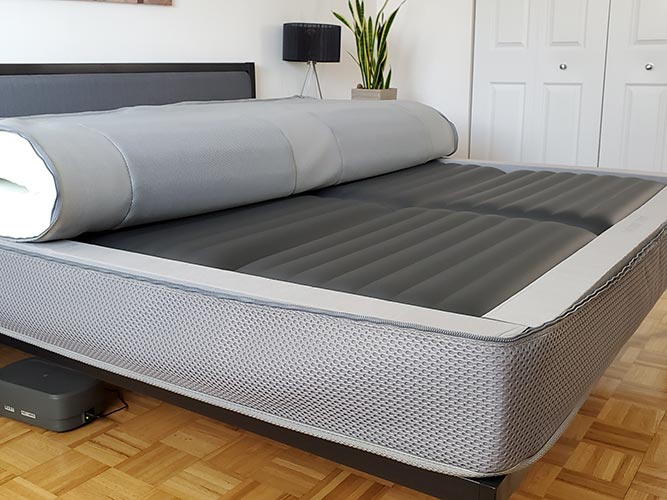 You can also see the strong side supports here. They're thick, made from high-density foam. And that's something I really like about the ReST Bed. With these strong side supports, when you sit on the edge of the bed or lie on the edge of the bed, it doesn't collapse at all. So you can use the full width and length of the bed.
Something I like about the ReST Bed is the motion transfer isolation. It's good at just not disturbing you when your partner's rolling around in the night changing position.
Or if they get out of bed and then get back into bed and they tend to slump into the bed or jump into it- that can sometimes result in a bounce – especially with box springs – that can disturb your sleep. So I found that your partner can be having a disturbed night's sleep, getting in and out of bed, and you're not really going to feel it.
Warranty
The ReST Bed smart mattress comes with a very good 10 year warranty. It has a modular design, which is useful as it means that each of the components can be replaced individually.
So if you've got a problem with the memory foam or with one of the pumps or with one of the air chambers, then they'll replace that piece if necessary, rather than you having to organize sending back the whole mattress.
They also have a 90 day trial period which is very useful if you're going to pay this much money for a mattress, and if you're looking for one to tackle health needs.
Pros and Cons
The good points
So let's take a look at some pros and cons of the ReST Bed as I see them.
I think the main thing that it's got going for it is the fact that you can change the firmness or the softness on your side of the bed. And your partner can do the same as well. You can also change it across the whole length of the bed in those five different zones.
That gives it a lot of flexibility for finding just the right level of comfort for your body. And the fact that you can change it over time, as well, is great. So it's not just a case of going into a shop and choosing one mattress that is going to work hopefully right for both of you.
You can have a mattress that will work correctly for both of you according to the position that you want as time goes by. I like the fact that it has this modular design. So if there's any problem with the parts, you can send them back and just replace that one. And you can do that for up to 10 years.
I like the fact that it's very easy to set up, either with the white glove delivery service, which incidentally does cost a couple of hundred dollars. But I don't think you necessarily need that – unless you're kind of wary of tech or you don't want to be moving around the mattress like this.
Actually, it looks big, but even this king size wasn't that heavy. I found that you can maneuver it quite easily. Perhaps because it's got air chambers rather than being a solid base.
Then I also like the fact that it's easy to clean. It has a removable exterior cover which also feels very soft. And I like the fact that it has four inches of memory foam. I think that does make a difference as well.
I think the app is useful, very easy to use, very simple. It doesn't have a million different features. It just has those three core modes that you can choose from. And then again, the fact that you can choose those three modes and choose whether you want it on automatic or manual or auto position just gives it more flexibility.
Criticisms
I think the main cons of the ReST Bed for me would be:
Firstly, the noise on automatic. It's not that bad, to be honest. But if you're super sensitive to noise, then it's something that you might notice. But if you've got it on manual mode, it doesn't make any noise at all.
Then there's the price. This is a high-end luxury mattress that's going to be a barrier to some people. You're looking at between four and six thousand dollars, more or less, depending on the size that you want.
My final complaint is that occasionally you'll lose connectivity with the App. I think sometimes when you fire up the App, it struggles to find a pump. And you need to spend 30 to 60 seconds finding the pump again, which is kind of a little bit irritating.
But let's face it – the only thing in my house that never loses connectivity is the kettle. That's just technology these days, it seems, so I can kind of forgive it for that.
But I know some people perhaps won't forgive it, and they just want their App and their device to be constantly connected. But having said that, sometimes we don't even look at the App. Once you've got it on automatic, for example, or manual, then you can just leave it. You don't even need to use the App, and that's something that we've found.
Note: this is true on all three modes. The pump remembers your settings, so if you find the mode you prefer and set it, you can just leave it on and every night it will perform the same for you.
Final Verdict
My final verdict then is that the ReST Bed is an excellent mattress for sportspeople, and potentially for people with physical pains who need to have a surface that is going to respond well to their body.
Not all physical conditions or back conditions can be alleviated by a mattress. But if they are ones that can be, then this is a mattress which will give you a really good chance of doing that, by being able to find the exact surface that you want.
It's also a great mattress If you're into tech and you like to have the latest tech products and the high-end tech in the world of sleep.
I also found that it helped me with my back problems, and helped me to sleep a little bit better than previous mattresses did; perhaps a lot better on some days. So overall, this is a mattress that I like and I plan on keeping.
Update 2021
If you visit their website, you'll notice that they also have a newer version with a gel surface instead of memory foam. I haven't used this one, so can't comment personally on how well it works. I believe the aim is to provide better breathability in warmer climates.
They still offer the same version I've covered in my review, which was fine for breathability in my opinion. However, if you really struggle with heat, it might be worth inquiring more about how much better they expect the gel layer to be.
Update 2023
As I said at the start, the company's website restperformance.com states that they are not currently taking orders. I don't know why this is, or when they plan on resuming orders.