Summary
The Avantek white noise machine excels when it comes to nature sounds, with 18 variations, such as rain, brook, and ocean. There are also 6 white noise and 6 fan sounds to help mask external noise.
With a rechargeable internal battery, auto-off timers, and clear speaker quality, there's a lot to like about this portable little unit.
Pros
Great variety: 6 white noise, 6 fans, and 18 nature sounds.
Crisp speaker quality.
10 hour rechargeable internal battery.
1 to 7 hours auto-off timers, or continuous play.
Headphone jack for private listening.
Good maximum volume and effective sound masking.
Compact and portable design.
Cons
The touch buttons can be tricky to use in low light.
A couple of the nature sounds are on a shortish loop.
Discontinued: This model has been discontinued. There are still products sold on Amazon under the Avantek name, but none of there white noise machines have been available to buy for a while now.
I'll leave this review up in case you find a second-hand one, or they start selling them again in the future.
The alternative I currently recommend is the Dreamegg D3 Pro. It also has a great range of sounds and an internal rechargeable battery.
Full review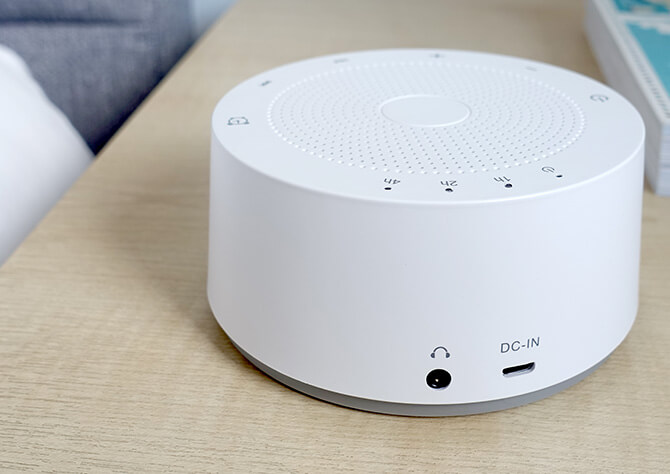 The good points
1. Excellent sound quality and variety
There are too many sounds to discuss individually, so here's a summary of my opinion:
The speaker quality is excellent. All 30 sounds are crisp, even on a loud volume.
I liked that some have variations, such as two ocean and three running water (with and without added birds).
It's great to have 6 fans and 6 white noise variations. They include deeper pink noise, which for many people is more relaxing to listen to.
My least favorite were the ticking clock, dripping water and heartbeat.
There are some fun sounds unique to this device, like echoing frogs and water bubbles.
The sounds are recorded live and appear authentic.
List of the sounds
Clock
Waterdrop
Heartbeat
Crickets
Birds
Frogs
Crowd
Rapids
Brook 1
Brook 2
Water bubbles
Ocean wave 1
Ocean wave 2
Rain
Wind
Thunder
Campfire
White noise 1
White noise 2
White noise 3
White noise 4
White noise 5
White noise 6
Fan 1
Fan 2
Fan 3
Fan 4
Fan 5
Fan 6
Hair dryer
2. Built-in headphone jack
Strangely, very few white noise machines have a headphone jack. So the built-in 3.5 mm headphone jack is an excellent addition.
It means you can listen privately when working or studying. And if you share your bed, your partner won't complain about the thunder or crickets!
I also find that listening to white noise on headphones helps block even more external sound at night.
3. Rechargeable internal battery
Again, not that many sound machines have a wireless play option. And if they do, it's usually two or three AA batteries.
The Avantek has a built-in 2600 mAh lithium battery. That allows for 10 hours of play, even at maximum volume. You can also leave it playing with the included power adapter and USB cable.
For me, this is a key upgrade to the previous Avantek model. Having the option to position it wherever you like, without worrying about power outlets, is very convenient.
4. Good volume range and masking of unwanted noise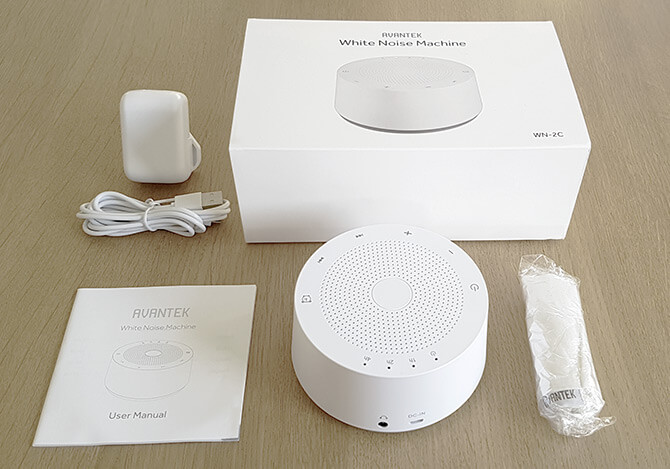 Like the old model, there are 30 incremental volume controls. The loudest is 115 dB, which is very loud on some settings, like birds.
This is more than enough volume and sound choice to mask most external noise. I tested it in both my bedroom and study, finding that even on medium volumes, it capably cuts out external noise like music, television, people talking, and cars.
5. Memory function
The Avantek will automatically start with your last set volume, soundtrack, and timer. With 30 sounds to potentially go through, this is a useful feature that will save you time.
6. Sleek design
There are a handful of design points that I liked a lot:
The new round design looks more elegant on a table that the square shape.
The new touch buttons are silent compared to the previous 'clicky' buttons. However, they are harder to find in the dark.
An Anti-slip bottom keeps it in place on the nightstand.
It's small, taking up little space on a nightstand. But it's also robust and feels like it was made from solid, quality materials.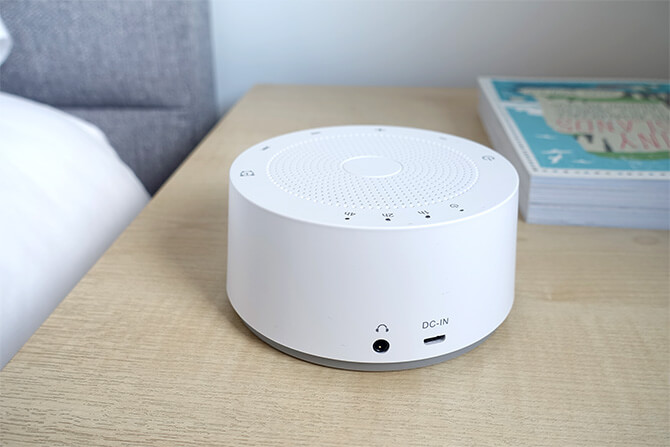 7. Choice of auto-off timer or continuous play
You can leave it running constantly if you like. Or there are one hour incremental auto-off timers from one to a maximum of seven hours.
Since it's advised not to listen to white noise for longer than necessary, this is a useful safety feature, especially for children.
8. Portable
The machine is small and light, so excellent for traveling. It measures just 4 x 4 x 2 inches and weighs 15.5 ounces. This puts it in the lower end of the size spectrum of the white noise machines I've used.
It also comes with a fabric drawstring carry pouch to keep it in good condition.
Criticisms
1. No richness feature
It would have been good to include a 'richness' feature that a couple of devices, like the Sound+Sleep Special Edition has. It would be nice to combine crickets with the fireplace, for example.
Having said that, there is water with birds and water without birds. So they have tried to cater to more than one taste.
2. Too many nature sounds compared to white noise
Personally, I'd prefer more variety of white noise and fan sounds rather than so many nature sounds. With 6 white noise, 6 fans, 18 nature and ambient sounds, the balance could be better.
3. Sound descriptions could be better
I think the manufacturer could have described the white noise better, rather than simply listing white noise 1 to white noise 6. The LectroFan, by way of comparison, does this very well and specifies if it's pink noise or an industrial fan.
4. Definition of non-looping is ambiguous
Non-looping gives you the impression that there is zero looping, which isn't true. I'd like the manufacturer to be clearer about this, and state exactly how long each recording is. And some of the recordings do appear to be on quite a short loop.
Though to be fair, I don't know of any company that does that yet!
Verdict
I love the fact that there's so much variety with the Avantek – there really is a sound to cater to every possible taste. Whether you prefer white noise, fan sounds, nature sounds or even a ticking clock, you should find several sounds you enjoy.
Most importantly, I found it very capable of blocking out the kind of noise that disturbs me at night or when working. And with the built-in headphone jack, you can achieve even more sound masking if you need it, and even deal with a snoring partner.
I think the only real deal-breaker for some people will be that it's not exactly user-friendly to change the settings in the nighttime because of the touch buttons and lack of a display.
But for daytime use, or to just set it before you go to bed and allow the auto-off timer to turn it off for you, it's a great machine. It's a shame it's been discontinued!