Summary
The Moona cooling pillow pad provides targeted cooling to your head and neck, but not the rest of the body. It can be used with any pillow, and a smartphone app gives you plenty of control over the temperatures during the night.
I found the effect of the cooling was quite subtle, and it was the heating function that impressed me most, which wasn't what I'd expected. So it's an interesting piece of sleep tech with the potential to help some hot, and cold, sleepers.
If you're a hot sleeper, but don't like using air conditioning or a fan in the bedroom, it might be one to try. If you're on a tight budget or live in an area with extreme heat, it might not tick all the right boxes.
Pros
Provides both cooling and warming.
Stylish design.
Smaller than other cooling devices.
Easy to set up.
Good app with lots of features.
Can be used manually if needed.
Relatively quiet.
Cons
Expensive ($399).
Only cools the head and neck.
Makes some noise on the heating setting.
Potential for connectivity problems if using the app rather than manual settings.
Update: the Moona 1 currently isn't available to buy. The company is now promoting the upcoming Moona 2 on their website getmoona.com.
Full review and video transcript
Please note that I lightly edited the transcript to make it easier to read. I also added a few notes to clarify some points I make in the video.
Below, I have the Moona and the box in front of me. You can see the base unit is quite large, but it did leave enough room on my nightstand for a glass of water and my phone!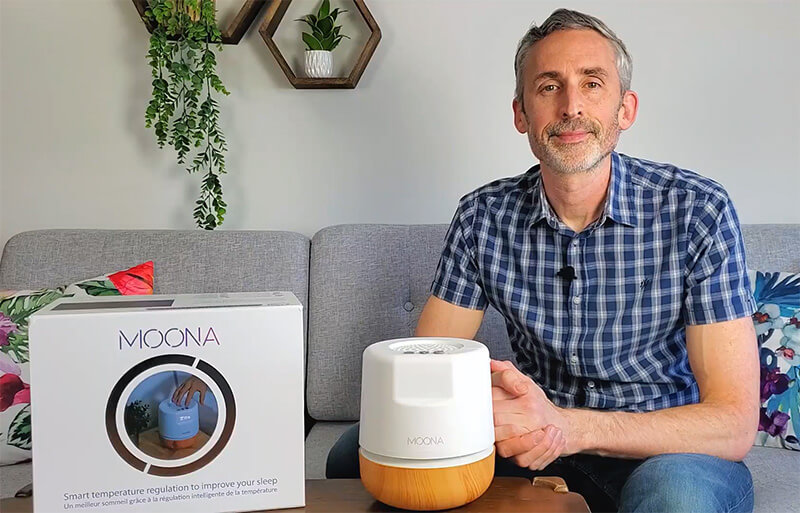 Introduction
Below, I'm using the Moona in my bedroom. You can see the base unit on the nightstand, but you could put it on the floor. I placed the pillow pad on top of the pillow for the purpose of the photo, but you can tuck it inside the pillowcase if you prefer.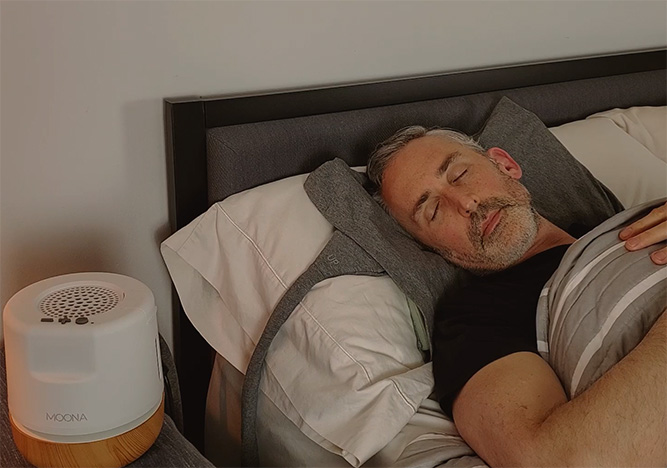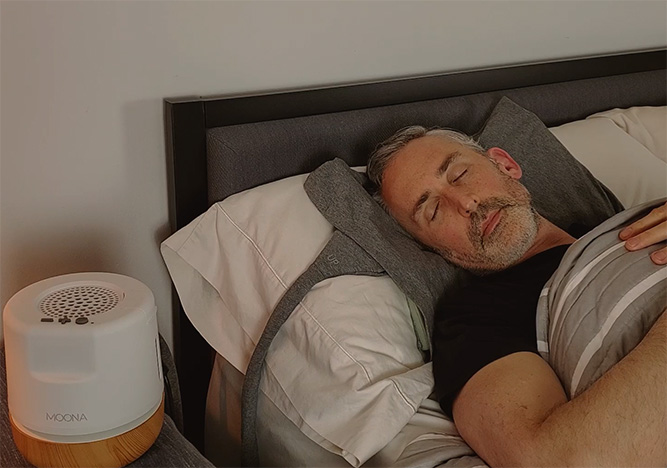 Hi, I'm Ethan Green from nosleeplesnights.com, and in this video I'm going to be doing an unboxing and review of the Moona cooling pillow.
The Moona works by pumping cooled water into a pad that you can use with your existing pillow. There's a pod that sits on your nightstand, where the cooling is done. And there's an accompanying smartphone app that controls it. The Moona also has some basic sleep tracking built in.
So if you're a naturally hot sleeper and an insomniac like me, or you suffer from night sweats or hot flashes, the Moona might be a device that interests you.
However, like a lot of sleep tech these days it's not cheap, costing just under $400 at the moment. And unlike some other bed cooling systems, it only cools the head and the neck area. However, the company says that targeted cooling to just the head is enough to improve people's sleep.
So that's what I'll be looking out for in this review, along with the answer to one very simple question: is it any better than just flipping your pillow over to the cool side when you're feeling a bit hot at night. So without further ado, let's unbox it, set it up and give it a go.
Unboxing
Below, you can see the original box the Moona came in, and all the components: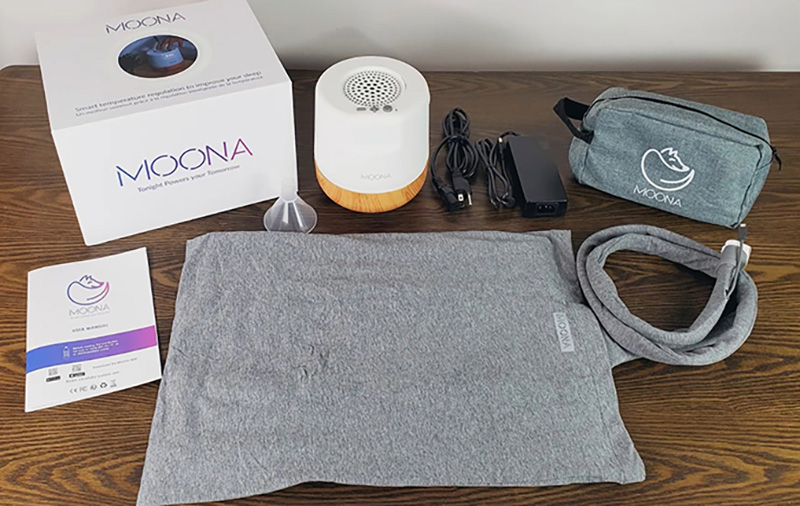 The Moona box was actually shrink-wrapped, but I've cut that out the video because when I undid it, and I was trying to film it earlier I accidentally slid the box half off the table and made a massive amount of noise with the shrinkwrap! So I've cut straight to this bit instead. I don't think the shrink wrap missing is going to upset too many people.
Inside we've got the different components. We've got the user manual, which I'm guessing is going to be quite large considering how many different things it does. So I'm going to go through the user manual after this unboxing and read it in my own time and then do the setup afterward.
Let's see what we've got here. This, I'm assuming, is going to be the actual cooling pad. It comes in a nice bag. There's a funnel, presumably to put the water into the pod unit. And here inside we have the pad. There's the plug – a standard U.S. plug.
Note: if you buy it in Europe, you will receive the relevant plug, not a U.S. plug.
And here we've got the pad itself. I can feel the material is quite soft and I quite like the material just to touch. Although I suspect it's going to be inside my pillow.
So that's the bit that presumably is going to go into the pod. And here's the tube. That's interesting, let's see how long this tube is. It's quite long, it looks like it's about a meter, a meter and a half, which is good depending on how far away your nightstand is and where you're going to put the pod.
I think I needed to film this a bit further away! But it looks like it's going to be a standard small pillow size. I don't believe these come in different pillow sizes either, it's just one size fits all. So presumably that's going to be something that you put in the middle of your pillow no matter what the size.
It does feel quite nice though – I like the material. I'm wondering whether I'm going to put that straight on top of my pillow or have it underneath my pillow, or rather inside my pillow inside the pillowcase, which I imagine I'll probably do.
And I can feel it's got this kind of plasticky stuff inside as well, which is going to be the bladder to hold the water, so I'll be looking at that later as well. So let's put that to one side and get the pod, which is quite heavy.
Note: I don't really look in detail at the inside of the pad in the video. It basically has a robust silicone exterior and foam layered across the sides to make it feel softer inside your pillowcase.
Here we've got the pod and it looks really nice. I like this wood effect here. I don't think it's actual wood. It looks like it's faux wood or some kind of faux wood. Is that a thing? Veneer! But it looks nice.
And on top we've got some buttons which I'm going to have to look at later to see what they do. Some feet, which is good as they will stop it sliding off the nightstand. And these bits in the back, which is going to be to plug in the power presumably, turn it on and off, and then the tube will go in there. And we've got a maximum line so you know how much water to put in.
So all together that looks like a very neat piece of kit at first inspection. It's going to be interesting to see what it's actually like when I get it going.
Let's see what this last piece was in here. So this is heavy – it's the power adapter. Not much to say about that – it will be put to use in the bedroom when I get it all set up.
So what I'm going to do now then is read the instructions in my own time and then I'll do the next bit of the video which will be a little bit of a setup. And then actually test it and tell you what it feels like.
Installation and set up
Below, I'm pouring water into the unit. It does require periodic topping up.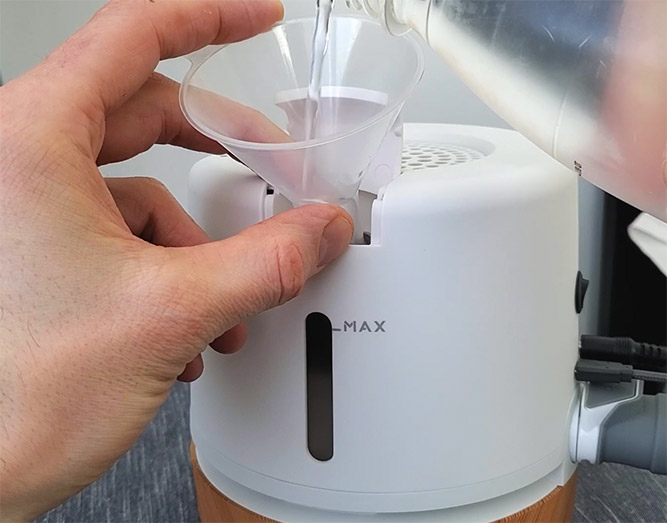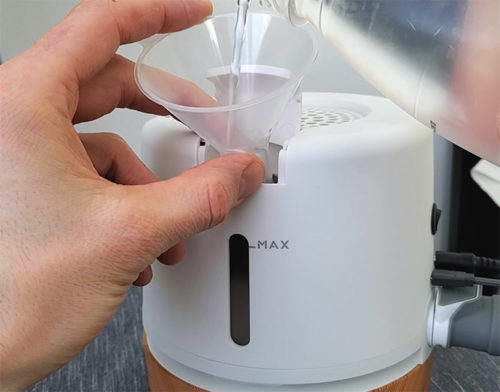 I've had a good look through the manual, and the first thing to say is that it gives you instructions for setting up the Moona manually but also suggests installing the app. And that's what I decided to do because it has a walkthrough.
The first step was to sign up, which I chose to do via email. After confirming your email and signing back into the app you're then asked lots of personalized questions about your sleep and temperature preferences. When you finish all those questions, the app gives you very clear step-by-step instructions to set up the Moona in your bedroom.
The first step is to place the main device, or the pod, on your bedside table. But you can also put it on the floor if you prefer. Then place the pillow pad inside the pillowcase, though I do think that 'stuff it in any way you can' is a more realistic description of that step.
Then you connect the pillow pad tubing to the back of the Moona device, along with the micro-USB cable. Connect the power supply to the power outlet cord. Plug one end into a wall outlet and the other into the device. Then you can turn it on using the switch on the back.
The next step is to use the funnel to pour distilled water into the Moona until it reaches around two-thirds of the window, making sure you don't exceed the max line. You can see some bubbles here, which shows that there's water inside the pad. But I have to say I was quite surprised by how little water seems to go into the pad.
Anyway, when you've done all of that, the final step is to connect the app to your Moona so you can get it fully up and running and access all the settings and features.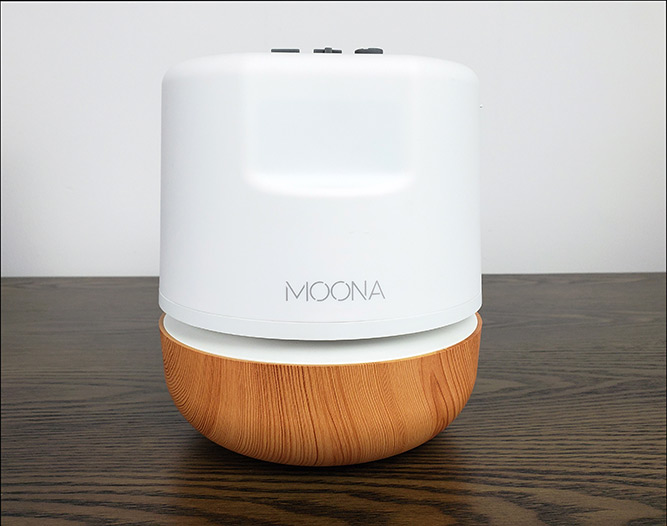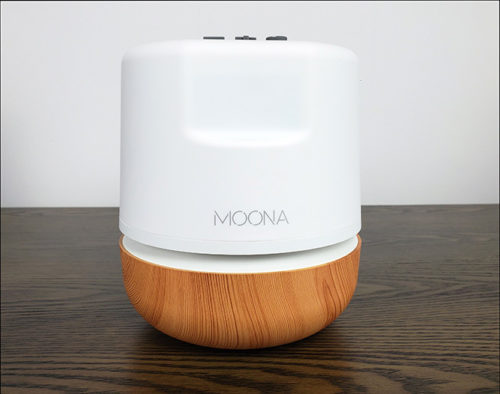 Connectivity problems
Okay, I've got some good news and some bad news, and unfortunately the bad news is probably outweighing the good news at the moment.
What's happened is that even though the app looked like it was great, getting it all set up with personalized questions, and setting up the actual device was really easy as well – there's just a few steps – I've hit a major problem.
I needed to update the software to get into the rest of the app. And then I needed to restart the device. So I updated the software, it said it was successful, then I needed to unpair and repair the device. And then it asked me to update the software again, and again, and I got stuck in an infinite loop.
So then I went on the website to do the troubleshooting and see if it's a known problem, which it is, but I couldn't fix it. I got in touch with their support, their live chat, who are very friendly and helpful, and obviously keen to try and fix this problem.
Now, what they've told me is that it's a known issue with some Samsung Galaxy phones. And I actually pointed out to them that I saw reviews on the Play store that people had an issue a year ago – so why wasn't it fixed? And they told me that there was a different issue with Samsung phones.
So now I'm thinking that there's a big problem with connectivity. And I can't use the app – I literally can't get in to use the features. However, the good news is that I managed to set it up manually, which I'll talk about in a minute. But going back to the connectivity, they told me that they'll try and find a workaround in the next seven days, which I suspect they wouldn't do for everyone (I told them I was doing a review).
So what I'm going to do is test it for a week now just using the manual settings unless they happen to get back to me and find a workaround. But in the meantime, I'm just going to go with what I've got, which is an app that I can't open, a device that I have to use manually, and a limited number of features.
Connectivity issue fixed
It's now a week later, and I'm happy to report that the company did actually manage to fix the connectivity problem I was having and made an update on the Play store available within 48 hours, so I was very impressed by that.
Whether they'd actually manage to fix a problem like that for any normal customer rather than a known reviewer is hard to say, but the fact that they did fix it does deserve some acknowledgment I think.
So it means I was able to get into the app and use all of the different features rather than just relying on the manual settings, which by the way if you don't have a smartphone you can use to operate the cooling and the warming features just fine. So that's an option out there for you if you're not a smartphone user.
Features of the Moona app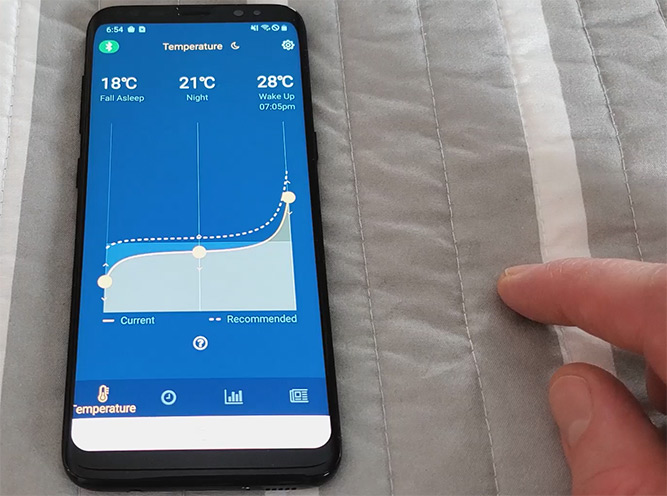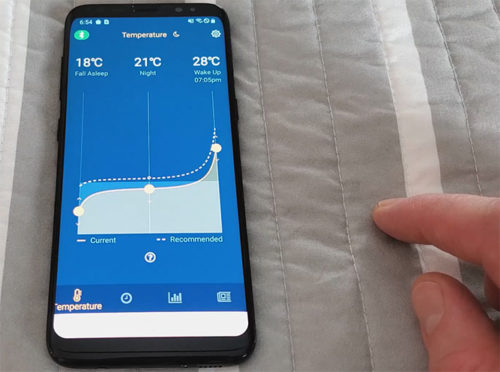 Rather than going through all the features of the app, because there's quite a lot – I was quite surprised by how many features it has – I'm just going to show you the ones that I found the most useful and interesting.
Most importantly, we have the temperature setting screen. This lets you set the temperature for the three sleep phases that the Moona has. There's the fall asleep phase, the long night phase, and the wake-up phase.
The white line shows the recommended settings, which is useful to see. You can also drop it down to 18 degrees Celsius, which is 64.4 Fahrenheit. Or as high as 35 degrees Celsius, or 95 Fahrenheit. I really like how easy the app is to use for the temperature controls, and I also like how they split the night into three phases.
Here you can see the sleep data page, which shows the sleep tracking data. I'm always interested in sleep tracking, but since it relies on your movement it suffers from the same problem that many sleep trackers do in that can overestimate your total sleep time if you're lying on the pillow awake, but just not moving.
So in my view, you can't really rely on the Moona for sleep tracking data. Incidentally, it doesn't attempt to measure your sleep stages, which is probably a good thing. It also measures the average room humidity, temperature, and light. The humidity matched my other measuring device, but it seemed to overestimate my bedroom temperature.
There's a sleep coaching section with tips and articles about sleep, and a setting screen to explore the device and get help. But I'm not going to go through all of those as there are just too many.
Overall, there's a lot on the app and it's interesting to see the data. It's just a shame some of it was clearly inaccurate because that lowers my confidence in the app and any features that rely on that data. So really, I can imagine selecting the temperatures myself in the future and just ignoring the app, if I'm honest.
My thoughts on how effective the Moona is
Now let's finally talk about how effective the Moona was, because at the end of the day despite all the bells and whistles on the app it has one core function, and that's to help me sleep better by keeping me cooler in bed at night.
For me personally, even though it was cooler than just flipping my pillow over to the cooler side, as I was joking about in the introduction, it still just didn't quite do enough cooling for me to stop me from having to do the other things that I would normally do to remain cool in bed.
For example, I still needed to use lighter bedding, still felt like I needed to stick my feet out the end of the covers, and I still needed fresh air in the bedroom. So even though it did some cooling, it wasn't quite as powerful as I was hoping for.
I tried using it on top of the pillow instead of inside the pillowcase, but that didn't make any difference. So really, I just think it has its limitations. Somewhat ironically, I actually really liked having a warmer waking up phase in the morning. It felt really nice to wake up with a warm pillow, which I hadn't really thought of as a key use for the Moona.
One more important point to mention is the noise. Generally, I found that the Moona generally operates very quietly. The hum and the constant noise is very, very quiet. And when I was using earplugs, which I normally do, I couldn't hear anything.
However, from time to time, especially on the heating phase, it does seem to make what I would probably describe as a mechanical gurgling noise. It doesn't happen very often, but it does happen, so it's something to be aware of.
Final verdict
Overall, the fact that the cooling of the Moona was perhaps a little bit less than I was hoping for – a little bit more subtle, the connectivity issues that I had at the beginning, and the inaccuracy of the sleep tracking data mean that there are some real issues with this device for me.
And that's a real shame because I had high hopes for the Moona. I still really like the look of it, I think it's a great design and a great concept. But for just under $400, I think this is a device that's only really going to suit people for whom money is no object. If you're on a tight budget, I'm not sure I'd recommend saving up for it.
Moona 2 in development
The last time I checked, on March 22, 2023, there was a note on the company's website saying the Moona will soon be in preorders. I also found it on Kickstarter, which they also used to raise funds for the original Moona.
You can find out more about the development and changes with the Moona 2 on their website getmoona.com