Disclosure: This review contains affiliate links. If you choose to buy a product after clicking a link, I may make a small commission, at no extra cost to you (learn more).
Summary
The Sound+Sleep Special Edition offers superb variety, with 64 white noise, fan, and ambient sounds. It includes a responsive volume feature that helps mask external sound, a headphone jack, and two USB charging ports.
It's one of the more expensive white noise machines, and isn't ideal for travel due to its larger size. But for use in the home or office, it's a good option that has more than enough sounds to help you sleep, relax or study.
Pros
Wide range of sounds: 8 fans, 12 white noise, 44 nature/ambient sounds.
High-quality, long recordings with no obvious looping.
Good volume and noise masking.
Option to use a 'responsive' setting that changes the volume if the external noise increases or decreases.
Headphone jack for private listening.
Audio in to connect your own device.
Two USB charging ports.
Auto-off timers between 30 and 120 minutes, or continuous play.
Cons
Relatively expensive (I paid just under $100).
No internal battery, so it needs to be plugged in to work.
Not the most portable device.
The speaker is better on low-mid volume.
Full Review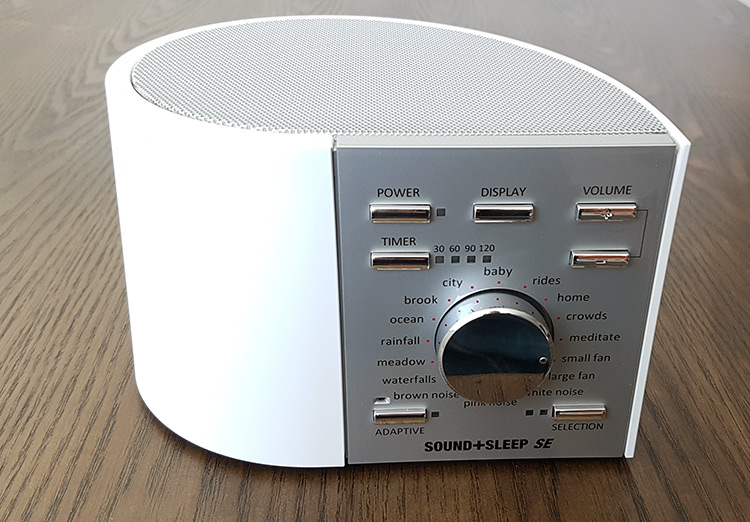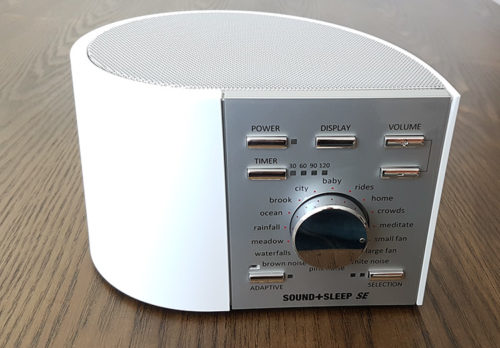 The Sound+Sleep SE is made by Adaptive Sound Technologies Inc., who also produce the excellent LectroFan range.
At first glance, it's a fun looking machine, with an unusual teardrop shape. Add to that the very shiny buttons (you can use the main dial as a little mirror!), and it's a more elegant device than many of the budget machines made nowadays.
Let's take a look at both the pros and cons of what could be described as one of the premium sound machines in a relatively crowded market.
The good points
1. Huge range of high-quality sounds (64 in total)
I've tested many white noise machines, but never seen one with so much variety of sounds. I thought 30 was excellent in some of the other devices, but 64 is in another league altogether.
There's a lot I could say about them, so I think it's useful to summarize the main points I've discovered:
All of the sounds are high quality, with the exception of the city sounds which I wasn't so impressed by.
The variety means you can finally remove the birds from the brook, or add them to the meadow if you want.
They are not on noticeably short loops. I can't tell when they repeat, if they even do and are not randomly generated (still not sure about that!).
It's quick to find the sound you want because of the dual dial and selection button interface.
List of the sounds
It's important to note that there are 16 sound categories on the main dial, or 'soundstory group' as the manufacturer calls them. But there are 64 different sounds in total as each category has 4 variations.
You use the dial to select the main category, then press the 'selection' button to cycle between the 4 options in that category. So you can choose to have rainfall with or without thunder, for example.
The 16 main sound categories
Rainfall
Ocean
Brook
City
Baby
Rides
Home
Crowds
Meditation
Small fan
Large fan
White noise
Pink noise
Brown noise
Waterfall
Meadow
The 4 variations in each category
Some don't need much explaining – there are 4 types of white, pink and brown noise, and 4 types of small and large fan. So that's 20 variations of white noise and fan sounds. I really like that they range from very deep to more intense sounds, so you can find the exact type you find relaxing.
I think it's useful to take a look at a few examples of how the ambient sounds vary within a category. Some are very different, and others add extra elements which you may or may not want. Again, the idea is to cater to every possible taste.
Ocean
Waves and lapping water
Waves, lapping water & gurgling water
Waves, lapping water, gurgling water, gulls, seals & buoy bells
Waves, lapping water, gurgling water, gulls, seals, buoy bells & foghorns
Baby
Undersea whales
Whale party
Heartbeat
Aviary
Crowds
Restaurant
Open air market
Coffee shop
Ball game
Rides
Plane ride
Car ride
Train ride
Paddle boat ride
Meadow
Crickets and wind
Crickets, wind, bird wings & splashing water
Crickets, wind, bird wings, splashing water, song birds & bees
Crickets, wind, bird wings, splashing water, song birds, bees & frogs
Meditation
Om
Om & sitar
Om, sitar & guitar
Om, sitar, guitar & other instruments and sounds
Being able to fine-tune your sound choice like this is great. Some people might like the sound of flowing water on its own, while others enjoy the sound of birds accompanying it. Personally, I love the fact that you have such an amazing choice.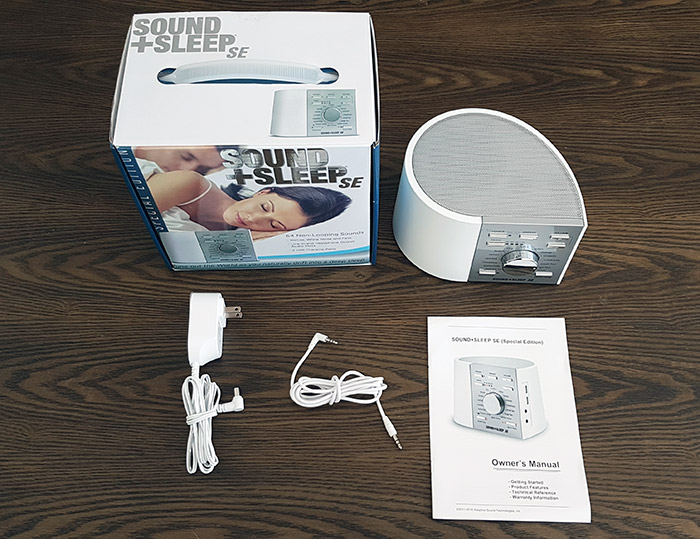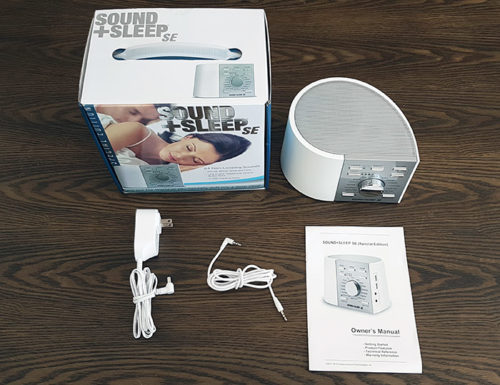 2. Good noise masking, with an adaptive mode that adjusts the volume automatically
The Sound+Sleep is an efficient masker of external noise that might keep you awake or disturb you when concentrating. There's enough volume and sound choice to find just the right combination to drown out the world around you.
In addition, there's the 'adaptive' mode – a feature that's unique to the Sound+Sleep (as far as I'm aware). It's a clever feature that provides an extra level of noise masking.
The machine has a microphone that listens for external noise (not in a creepy way!) If the ambient noise level rises, then it turns the volume up. And when all is quiet, it drops down again. Note that this is an option, and you can have a constant volume instead if you prefer.
It works surprisingly well. So well, that if I have the responsive mode switched on while I write, it turns the volume up every time I start typing on my keyboard. Even the sound of my coffee cup hitting the table triggers a volume change! I like this feature personally, though I can also imagine it won't be for everyone. Perhaps a constant sound and volume will work better for some.
3. Headphone and audio input jacks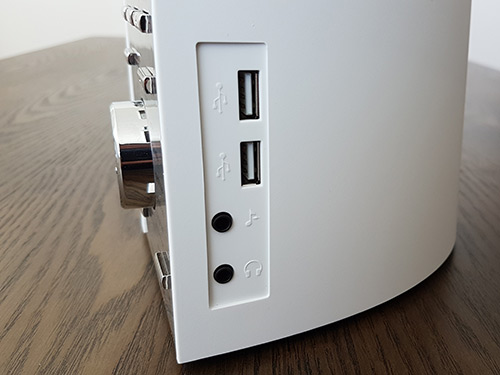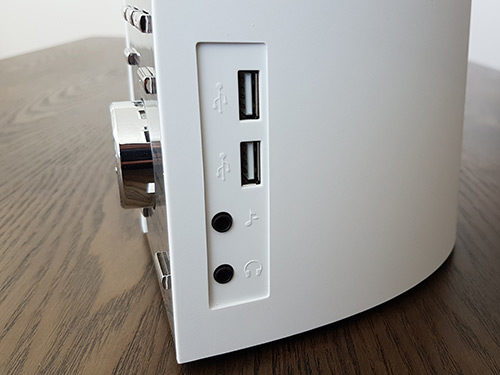 Not everyone will appreciate your white noise or whale sounds. So I appreciate it when a headphone jack is included to let you listen in private. There's also a 3.5 mm audio input jack, with an audio cable provided, so you can play your own music or sounds from a phone or other device through the speaker.
4. Two USB charging ports
Another thoughtful touch from the manufacturer – it's handy to have not just one, but two USB-A charging ports. If you only have a couple of outlets near your nightstand, and a lamp and the white noise machine are plugged in, it's great that you can still charge your phone.
5. Auto-off timers
Personally, I think every sound machine should have one (eyebrows raise disapprovingly at the old Marpac range). It's nice to fall asleep or relax to these sounds, but once you're asleep, there's no need to subconsciously listen to white noise or thunder for 8 hours.
So having the 30, 60, 90 or 120 minute sleep timer is convenient, and arguably healthier for the brain. Unless that annoying dog won't stop barking all night, in which case the timer button might remain shiny for a long time.
6. Ease of use & convenient buttons
I often criticize sound machines for their buttons: endlessly pressing the same button to cycle through 30 sounds, volume and sound choice sharing the same button, touch buttons that you'll never locate in the dark, and so on.
So I'm happy to report that the Sound+Sleep gets the interface exactly right in my opinion:
The main dial is large and smooth to turn.
The sound categories are labeled.
The volume and feature buttons are large and clearly labeled.
You can easily find the right button in the dark if you need to.
The timer has little lights to tell you how exactly how long it's set for.
The jacks and USB ports are nicely lined up on the side, not hidden around the back.
So all in all, the interface is just really easy to use, whilst still remaining elegantly designed.
Criticisms
1. The speaker could be better for the price
Personally, I don't necessarily expect high volume levels in a machine that has relaxation and sleep promotion as its primary job. However, for the price and size of the device, you could arguably expect a better speaker.
To be fair, white noise machines are notorious for having low-quality speakers, so it's not an uncommon point. And for me, it's absolutely fine for nighttime listening. It just won't get you up and dancing if you use the audio input to play upbeat music.
2. Needs to be plugged in
Once you've used a sound machine that has an internal rechargeable battery, it's a feature that you either miss or don't care about with your next device.
The Sound+Sleep comes with a standard plug that needs to be connected to a wall outlet. And there's no internal battery option. This isn't a deal-breaker, as most people will use it on a nightstand or desk where there's an outlet nearby. But there are other machines that allow wireless play if you want that.
3. Large device for a nightstand
With so many sounds and features, it's no surprise that the Sound+Sleep is at the larger end of the spectrum of sound machines. So it's not going to fit neatly in a suitcase, and it will occupy significant space on your nightstand.
Verdict
For me, the Sound+Sleep SE blows the competition out of the water when it comes to the variety of sounds. I've already said it throughout this review, but I can't stress enough how unusual it is to have so many options.
I really like that it offers variety within each category. It's frustrating when a device only offers rain with two thunderclaps on constant repeat – you soon learn the sound and it takes away the feeling that you're listening to a natural sound.
Not with the Sound+Sleep though – not only can you have rain with or without thunder, but the thunder is more random than most other devices.
Sure, it's not the smallest machine out there, and the price does raise my expectations, which is why I feel the speaker could be a little better. But the other features it offers I think help mitigate that price a little – especially the responsive sound setting, and those four useful ports/jacks on the side.
So I think if you're looking for a portable device, but are on a tight budget, this perhaps won't be the right one for you. But if you want tons of sound options and don't mind having it plugged in on your nightstand, this is definitely one I'd recommend.