Disclosure: This website is supported by my readers. If you decide to purchase a product through one of the links provided, I may receive a commission, at no additional cost to you. Learn more.
At a glance
The Magicteam is an affordable white noise machine with a broad spectrum of 40 calming sounds. It excels in the variety of rain, running water, and wave sounds it has – more than any other sound machine I've seen. Additionally, it includes five soothing music tracks that children might find relaxing.
The small and lightweight design makes it easily transportable, so it's a convenient device if you're traveling. However, the speaker doesn't produce a lot of bass, and the maximum volume isn't extremely high. So the small speaker may be less effective at blocking external noises compared to the more powerful white noise machines.
Pros
Wide range of sounds: 5 white noise, 5 fan sounds, 5 music tracks, 25 nature/ambient tracks.
Excellent variety of water sounds.
Lightweight and portable.
Affordable price (I paid £24.99 in the UK)
Cons
Speaker lacks bass.
Not loud enough to mask all external noise.
Takes time to scan through all the soundtracks.
Full review
Please note that this article isn't an exact transcript of my video above. I've organised it to be more concise and easier to scan for the information you might be most interested in.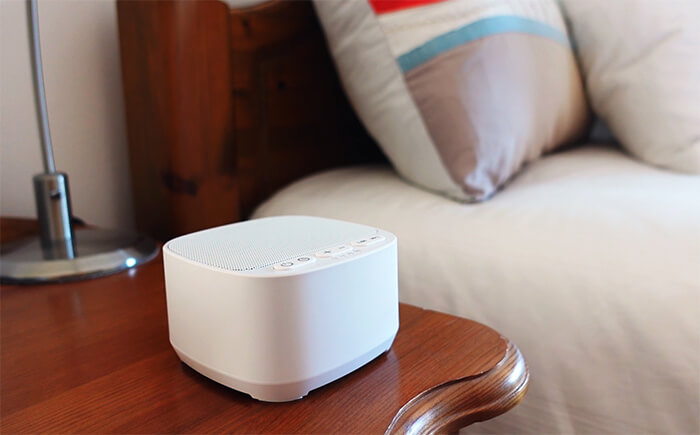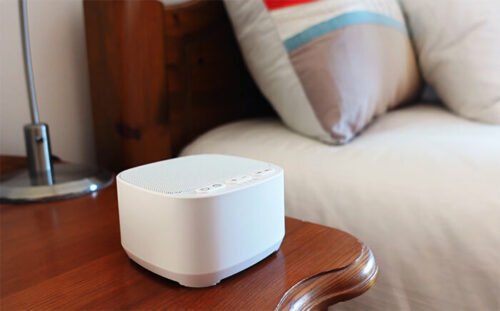 Price
I paid £24.99 for the Magicteam white noise machine in the UK, and it's listed for $26.99 in the US at the time of writing, which puts it at the budget end of the typical price range for sound machines.
Note that there are a couple of different versions. In this review, I'll only be discussing the one with the buttons on the top and 40 sounds – not the one with buttons on the side and 20 sounds.
The box, packaging, and what you get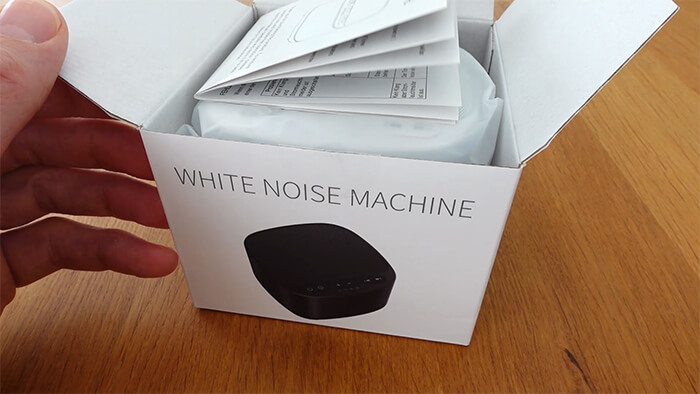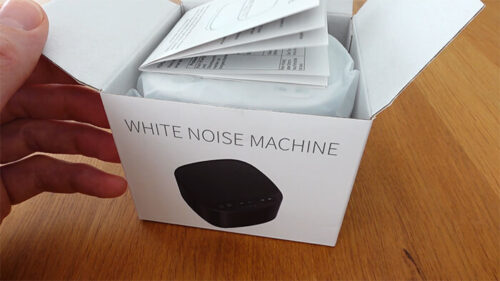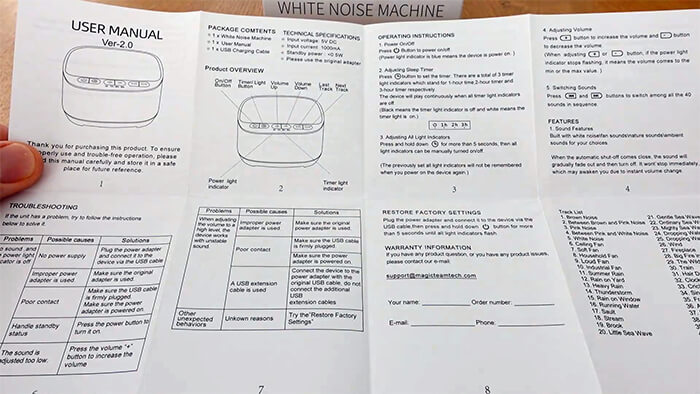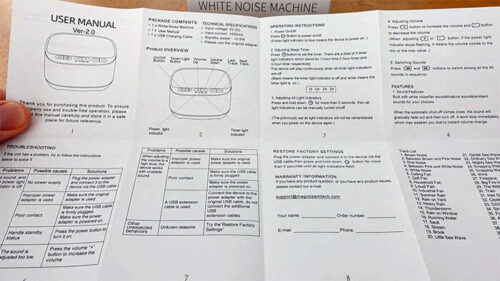 It came in a cardboard box that can be recycled, and the device itself was protected by foam padding on the top and bottom. On the one hand, that probably means waste unless you're the kind of person that keeps boxes to protect tech when you're not using it.
On the other hand, the protective packaging means it's less likely to be damaged in transit, reducing the risk of it being thrown away sooner.
There's a physical manual with comprehensive operating instructions and a tracklist. I'd read other people's reviews saying that it didn't come with a tracklist, so perhaps they've updated the manual.
My first thought about the sound machine itself was that it's very small and lightweight. I've reviewed many white noise machines over the years, and this is one of the smallest and lightest.
Power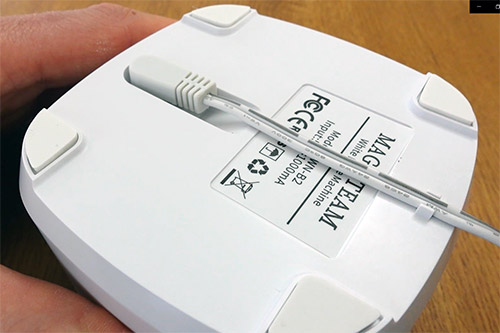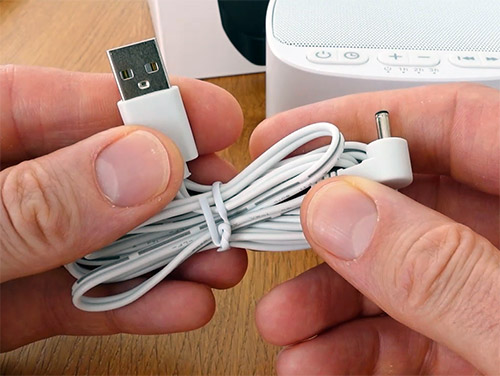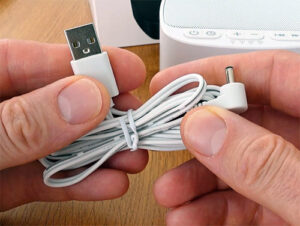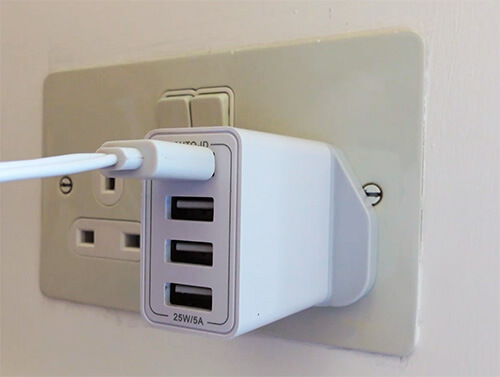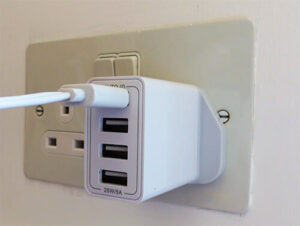 The Magicteam needs to be plugged in to a standard five volt USB power outlet to work, and will also work if you plug it into a computer or laptop USB outlet. It comes with a meter and a half long cable, which is a good length and long enough to reach a wall outlet from my nightstand and desk.
They don't include a power adaptor, which I don't have a problem with as I already have enough USB outlets and another power adaptor would just end up collecting dust. It's something to be aware of though if you don't currently have anywhere to plug a USB cable into.
Buttons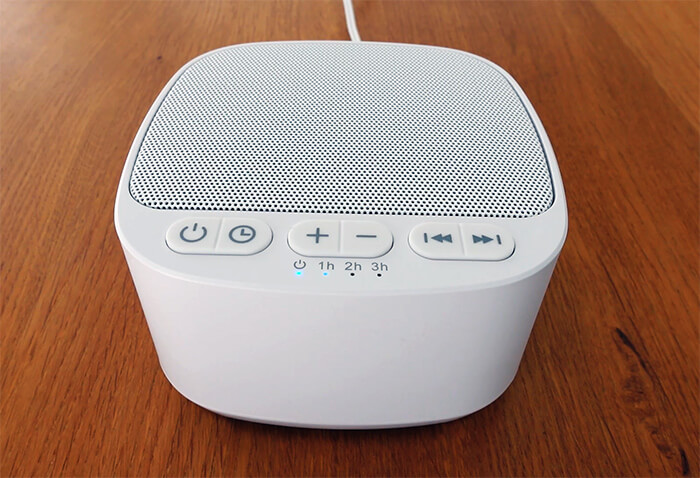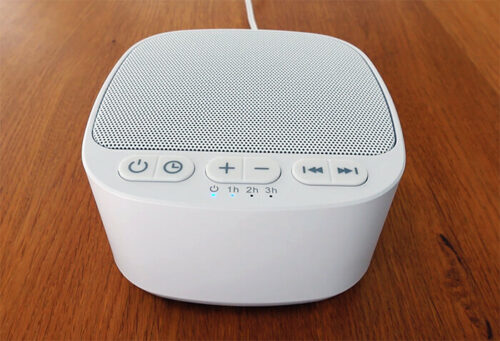 The Magicteam is simple to operate, with just six buttons on the top: a power button, a timer selection button, volume up and down, and track left and right.
The buttons are clearly identified and easy to press, but I would have preferred to have a separate button for the nature sounds, white noise, and fan sounds. For example, the Dreamegg D3 pro splits the sounds into three buttons, which makes it faster and easier to select the sound you want.
Non-slip feet and robust case
On the underside, there are non-slip feet to prevent it from sliding off your nightstand if you accidentally knock it in the night. I gave it the classic 'prod it really hard with my giant finger' test, which it passed. The hard plastic exterior and feet are robust enough to withstand some knocks.
The sound options
In the video, I play through all 40 sounds, so I recommend having a listen if you can as I'm not going to attempt to describe and comment on all 40 in written form!
Here is the complete tracklist though. Note that I added 'river' myself as the manual listed it as 'sault' which I'm assuming is a translation error as it's unlikely to be 'salt' I think.
Nature / relaxing tracks
Summer rain
Rain on yard
Heavy rain
Thunderstorm
Rain on window
Running water
River (typo in the manual…)
Stream
Brook
Little sea wave
Gentle sea wave
Ordinary sea wave
Mighty sea wave
Dropping water
Dropping water in cave
Wind
Fireplace
Big fire
The wild fire
Train
Hairdryer
Clock
Cricket
Singing bird
Frog
Music tracks
Alpha waves with dripping
Brahms lullabye
Piano
Stars in the night
Thinking
White noise
Brown noise
Between pink and brown
Pink noise
Between pink and white
White noise
Fan sounds
Ceiling fan
Soft fan
Household fan
Loud fan
Industrial fan
My thoughts on the sound options
I think the variety of sounds is fantastic as there are so many different sounds to choose from. Many white noise machines only have six to 20 sounds, so 40 is a more generous number.
I particularly like that there are so many types of rain, running water, and waves, most of which sound quite good for a budget sound machine.
It's also good to hear five music tracks, which is unusual for these devices. Most I've used only have one or two lullabies, so it makes a change to have a few more to choose from and adds more variety for when you're bored of white noise or nature sounds.
Speaker quality
My main complaint when listening to the Magicteam is that the speaker quality isn't the best. It clearly lacks bass, which is most noticeable with tracks like the thunder, wind, pink and brown noise. Those should sound deeper than they do with the little speaker housed in this device.
To be fair, many white noise machines, especially the cheaper ones, struggle to reproduce those types of sounds because they tend to have a small and relatively basic speaker that corresponds to the price. So this isn't an issue that's unique to the Magicteam, but it's important to be aware of this before you buy it.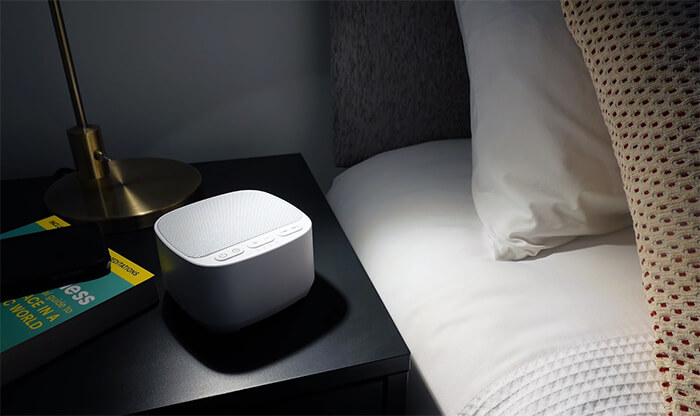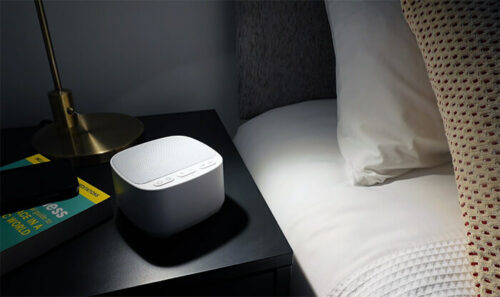 Volume range
Again, I demonstrate the volume range in the video, so have a listen if you can. There are many incremental volume settings, which is good, and it sounds clear enough at lower volume levels.
However, the maximum volume is no match for the more powerful white noise machines. Depending on the particular soundtrack you play, I found it will mask some external noise from other rooms, but won't completely block out loud noise, such as loud traffic, building works, or music, for example.
After one week of using it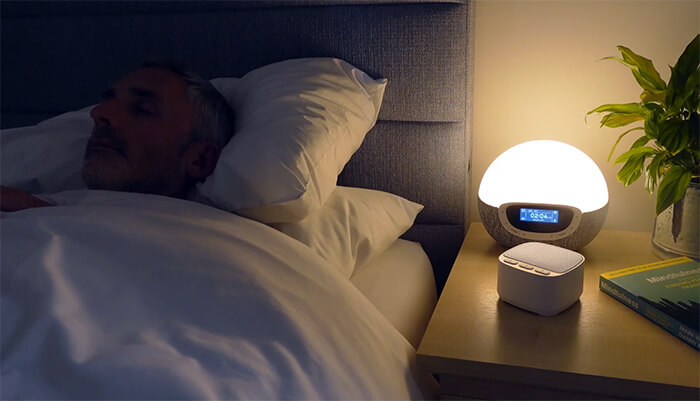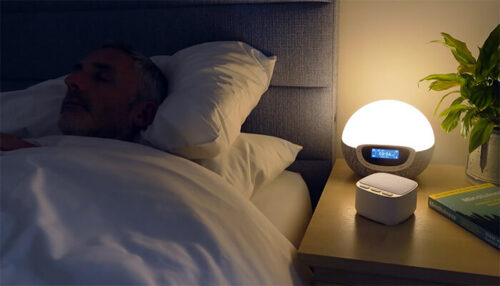 After using the Magicteam for a week, I found that my initial thoughts during the unboxing and first tests were accurate. I did discover some extra points that are worth bearing in mind though.
Loops
I tried to time as many of the loops as I could, armed with my stopwatch and a lot of patience!
As expected, I couldn't tell where the loops restart with many of the soundtracks because they are constant noise with less variability or random sounds. It's definitely good that there is no noticeable break and restart with those.
I could time the loops with some tracks, such as the music and lullabies. I was impressed to find they all have loops of at least 70 seconds, which is longer than many other budget white noise machines, some of which have loops of just 30 seconds.
Timers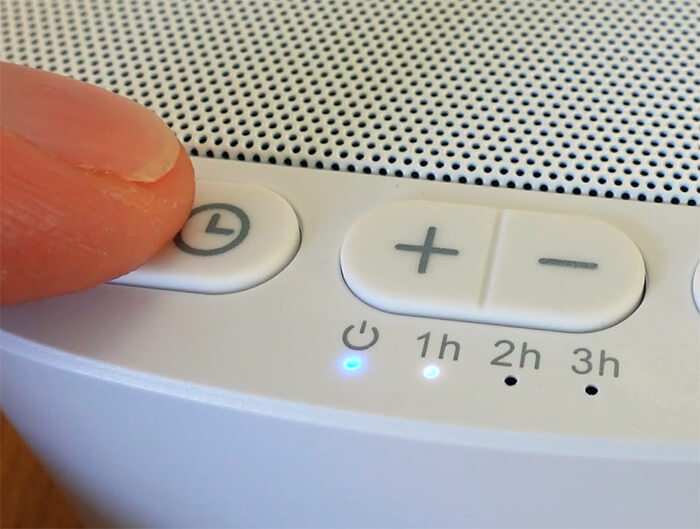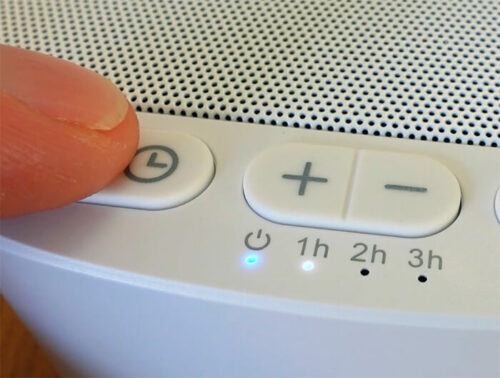 One feature that was well designed is the auto-off timer. You can run it all night if you like or select a timer of one, two, or three hours. I like how the volume fades out too, which is good if abrupt volume changes wake you up.
And if you don't like having any LEDs shining in the bedroom when you're trying to fall asleep, you can turn them all off by long holding the timer button, which is a user-friendly option that some people will appreciate.
Dimensions
Weight: 0.95 pounds (431 grams)
Dimensions: 3.9 x 3.93 x 2.3 inches (9.9 x 9.98 x 5.84 cm)
The Magicteam is very small and light. It's a similar size to the Lectrofan Evo, the Renpho, and the Dreamegg D3 Pro, which you can see in the photo below, but it's definitely the lightest of all of those. So as I already mentioned, it could be a good option if you need a portable sound machine to take with you when you're traveling.
In the photo, the sound machine on the top row is the Dreamegg D3 pro. From left to right on the bottom row are the LectroFan Evo, Magicteam, and Renpho.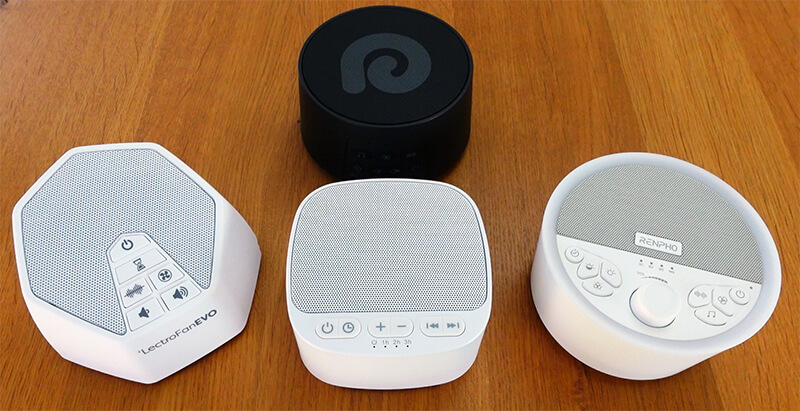 Memory
The Magicteam has a useful memory feature. If you turn it off and on again, it will start up with your most recent sound choice, volume, and timer settings. And that saves time when there are 40 different sounds to choose from.
Features it doesn't have
Compared to other sound machines there are some notable features missing. For example, there's no headphone jack or nightlight, and there's no internal battery, so it has to be plugged in to work.
Verdict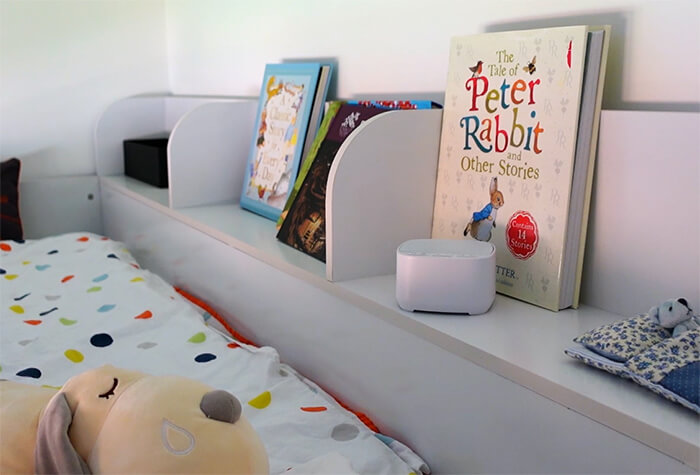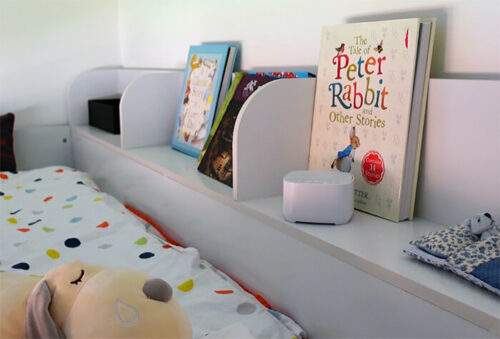 My final verdict is that the Magicteam white noise machine excels when it comes to the variety of sounds, especially for the relatively low price, but it is let down somewhat by the underwhelming speaker.
I think it might appeal to the parents of young kids as there are bound to be several sounds they find relaxing and that helps mask some external noise.
Adults who enjoy the sound of rain and running water might appreciate the wide range of those it has as well. But if you prefer white noise or fan sounds, I'd probably recommend a device that specializes in those, such as the Lectrofan Classic or Evo, the Snooz, or the Dohm range.