Disclosure: This website is supported by my readers. If you decide to purchase a product through one of the links provided, I may receive a commission, at no additional cost to you. Learn more.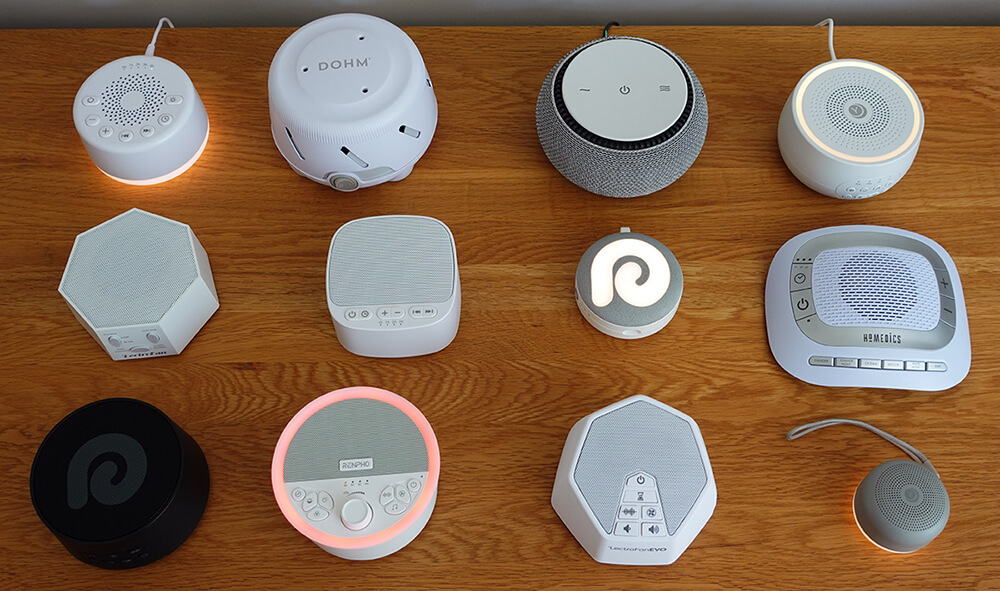 In the photo above, you can see 12 white noise machines I tested before writing this review. The photo is darker than usual so you can compare the nightlight feature that five of them have.
Top row, left to right: Easysleep, Dohm Uno, Snooz, Yogasleep Dreamcenter. Middle row: LectroFan Classic, Magicteam, Dreamegg D11, Homedics Sound Spa Rejuvenate. Lower row: Dreamegg D3 Pro, Renpho, LectroFan Evo, Yogasleep Travel Mini
If you, or someone you know, is frequently disturbed by unwanted noise you can't control, there are various ways to reduce how much noise you actually hear.
Other than improving the soundproofing of your room, some effective options include earplugs, headphones, speakers, and white noise machines.
White noise machines are a good choice for several reasons:
They mask disruptive or inconsistent noise with a steady, soothing background sound.
They are easy to use.
The power consumption is typically low.
They offer a variety of sounds to cater to different preferences.
You can play them in your room, or a child's room, without needing a smart device or WiFi signal.
Even without external noise to block out, the sounds they produce can be calming and beneficial for relaxation.
Over the past decade, I've extensively used and tested a wide range of white noise machines. I've shared my insights in more than 25 video reviews, both here on my website and on my YouTube channel.
In this article, I'll be sharing my top picks, from compact and portable models to larger machines with more powerful speakers. You'll find an in-depth look at each white noise machine, followed by some comparison tables.
Please note that all of the photos are my own, and the exact white noise machines I used. However, the manufacturers may change design details in the future.
1. LectroFan Evo
The best white noise machine for sleep, studying, or tinnitus. Ideal for adults who prefer white noise and fan sounds to nature sounds.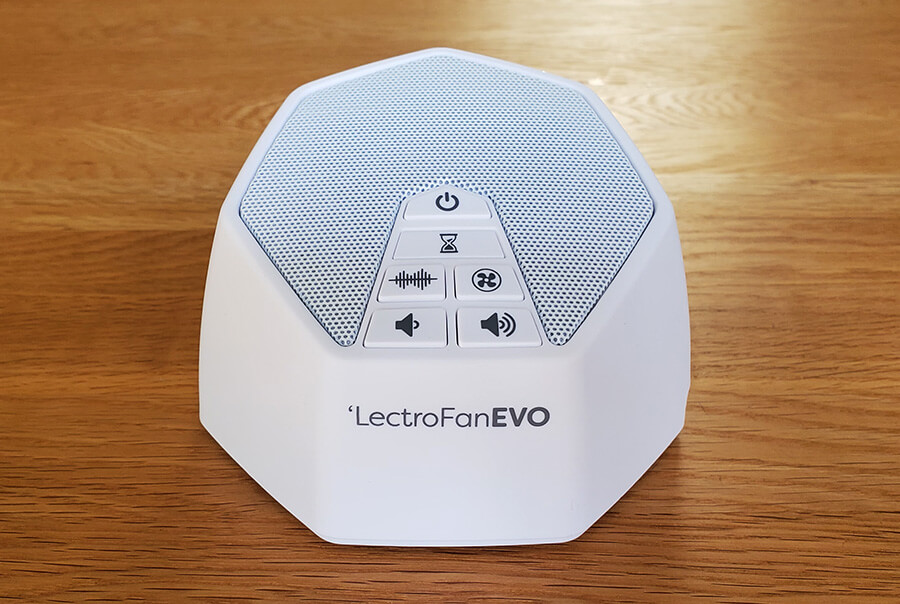 Soundtracks
Brown (noise)
Chestnut
Cinnamon
Tan
Amber
Cream
Pink
Coral
Champagne
Pure white
Ocean surf 1
Ocean surf 2
Large fan
Industrial fan
Mellow fan—Low
Mellow fan—High
Exhaust fan
Attic fan
Circular fan
Vent fan
Box fan
Oscillating fan
The LectroFan Evo is a robust and effective white noise machine that excels in blocking out disruptive noise. It has 22 unique sounds, giving you options for masking whatever external noise is bothering you. It's also a good choice if you have tinnitus and want to mask that internal sound.
What's particularly good about the Evo is that it offers a wide spectrum of white noise and fan variations. There are household or industrial fan sounds to choose from. And as well as intense white noise, there's deeper pink and brown noise that block lower-frequency ambient sounds well.
The sound quality is excellent, with a speaker that produces louder maximum volume than the others in this list. I measured it at 77 decibels on a white noise setting from a meter away.
The incremental volume range is particularly beneficial if you need to match higher levels of external noise like traffic or loud music when you want to sleep, study, or work. Furthermore, its sounds are dynamically generated, providing a continuous, non-looping noise.
Physically, the LectroFan Evo is designed with user-friendliness in mind, with easy-to-use buttons and a headphone jack for private listening. It also has useful auto-off timers and a minimalist, compact design for easy transport.
One downside is that it lacks nature sounds, with only two ocean surf sounds. It also needs to be plugged in to operate, which could be a drawback for some people.
With a typical price range of $50 to $60 in the US or £60 to £80 in the UK, the LectroFan Evo is a slightly more expensive option, but offers high-quality sounds, a superior volume range, and excellent sound masking.
See it in action in my full LectroFan Evo review.
---
2. Dreameg D3 Pro
The best white noise machine with nature sounds alongside white noise and fan sounds. Also includes an internal rechargeable battery.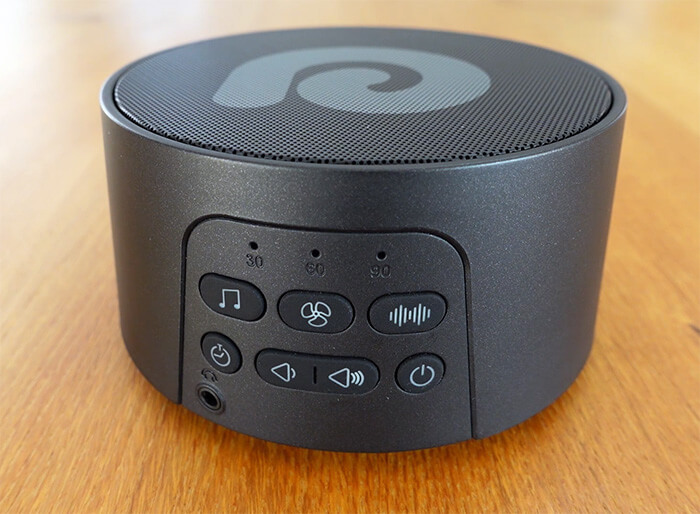 Soundtracks
White noise 1
White noise 2
White noise 3
Pink noise 1
Pink noise 2
Pink noise 3
Brown noise
Fan 1
Fan 2
Fan 3
Fan 4
Fan 5
Fan 6
Fan 7
Birds
Sea waves
Gentle surf
Lullaby
Music box
Rain
Rain & thunder
Campfire
Campfire
Crickets
Drip
Pendulum
Train
Shushing
Fetal tone
The Dreamegg D3 Pro is an excellent all-rounder white noise machine. There are 29 sound options to choose from, including 15 nature/relaxing sounds, seven types of white noise, and seven fan sounds.
As well as having some relaxing deep pink and brown noise, there are favorites like rain, sea waves, and birds. There are also a few for kids, such as a lullaby, music box, and heartbeat.
The D3 Pro has clearly labeled category buttons, making it convenient to cycle through the sound types. The speaker delivers clear and impressively loud sound, with surprisingly good bass quality for a white noise machine. The device is close to the LectroFan Evo in maximum volume, reaching over 70 decibels.
One notable feature is its internal rechargeable battery, which takes only two hours to fully charge and lasts over eight hours. This is especially useful for parents, providing flexibility in where you place it in a bedroom. It also has useful auto-off timers from 30 to 90 minutes, and a 3.5mm headphone jack for private listening.
Two minor downsides include some sounds having a white noise background and the device coming with just a USB cable to charge or power it. However, they will send you a power adaptor if you request it.
All in all, the Dreamegg D3 Pro strikes just the right balance between sound variety, quality, user-friendly features, and affordability. It's usually available for under $40 in the US and under £40 in the UK, putting it in the middle of the typical price range for white noise machines.
Find out more in my full Dreamegg D3 Pro review.
---
3. Snooz
The best white noise machine with a real fan instead of a speaker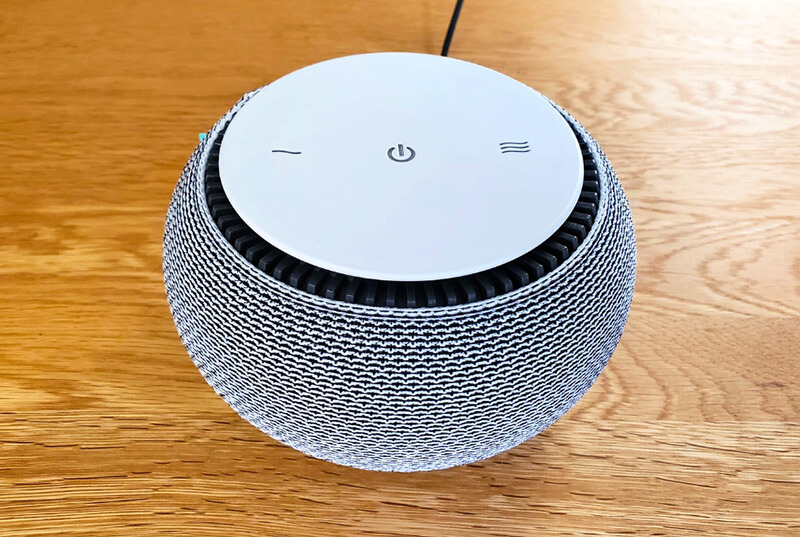 Soundtracks
The Snooz doesn't have a speaker and soundtracks. Instead, it houses a real fan with options to adjust the tone and volume.
The Snooz white noise machine will appeal to those who love fan sounds and want an authentic sound rather than recordings. Because it contains a real fan, you can conveniently save space in your bedroom and avoid the cold draft of a standard room fan in the winter.
Unlike many white noise machines, the Snooz offers the ability to adjust the tone of the fan sound by turning the side cap. Moreover, it has more nuanced volume control, allowing you to fine-tune the volume in 10 steps. Most other fan-based sound machines don't offer much control over the volume, and the maximum volume is surprisingly loud.
The Snooz also comes with a companion smartphone app for iPhones and Android devices. The app provides extra features like Bluetooth control, daily timer settings, and nightlight brightness adjustments. Keep in mind, though, that these additional functions are only accessible via the app.
Another unique feature is its nursery calibration setting, which ensures a safe volume level if you'd like to use it in an infant's bedroom.
The Snooz is light and compact, weighing less than 2 pounds and measuring 5.6 x 5.6 x 3.2 inches. Its small size and aesthetic appeal, coupled with a modern color scheme, make it a great addition to any room.
A couple of potential downsides include the need to keep it plugged in and the somewhat disappointing nightlight feature. It's also the most expensive white noise machine on my list, costing $99.99 in the US and over £100 in the UK.
Despite the cost, the Snooz offers a balance of advanced features and high maximum volume, making it a top choice compared to more basic fan models like the Yogasleep range. If the sound of a fan brings you comfort but you don't want a bulkier fan, the Snooz could be a good choice.
See it in action in my full Snooz review.
---
4. Yogasleep Dreamcenter
The best white noise machine with a nightlight for babies and kids.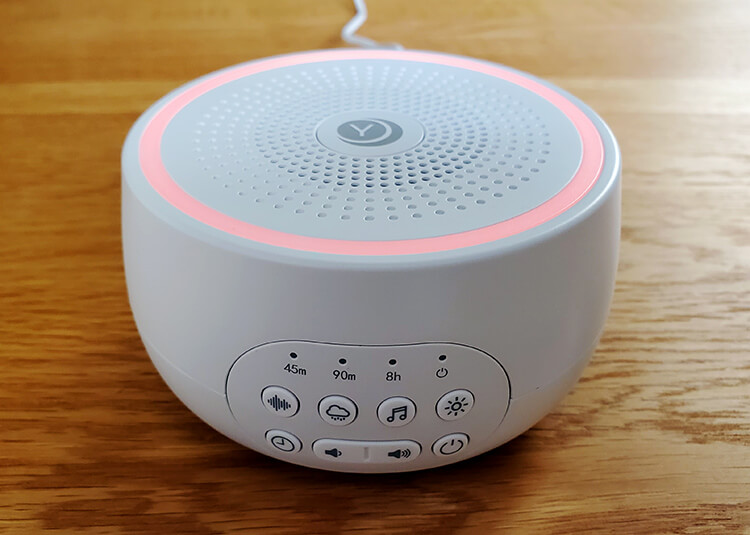 Soundtracks
Pink noise 1
Pink noise 2
White noise 1
White noise 2
Brown noise 1
Brown noise 2
Dohm high
Deep fan
Dohm low
Ocean surf
Gentle surf
Stream
Thunderstorm
Rain
Birds
Campire
Relax
Calm
Restore
Chimes
Lullaby
Twinkle Twinkle Little Star
Happy child
Landscape
Shushing
Womb sounds
With a visually appealing curved design and a robust build, the Yogasleep Dreamcenter offers 26 distinct sounds, an adjustable multi-colored nightlight, and several handy features for sleep.
There's a wide variety of sounds to choose from, including white noise, pink noise, brown noise, nature sounds, and music tracks. There are specific tracks for youngsters, such as lullabies, shushing, and a womb sound. There are also several popular nature sounds that adults will enjoy, such as rain and ocean surf.
The loops are unusually long for a white noise machine; I timed several at over three minutes (some devices have loops of just 30-60 seconds).
The speaker quality is excellent, with clearer sound and considerably more bass than most other white noise machines. Even the thunder claps don't distort, which is an issue with many sound machines.
It has eight easy-to-use buttons for power, volume, nightlight, timers, and the main soundtrack categories. A headphone jack also allows for private listening if you prefer.
Another feature that infants and older kids will like is the nightlight. It has a rainbow of colors to choose from, which provides comforting reassurance if they dislike total darkness. However, cycling through the colors could be faster as you have to hold a button down rather than quickly press it.
The main drawbacks are its short power cable and the need to keep it plugged in. The nightlight could also be brighter, and the chime that sounds when you finish cycling through the tracks might bother some people.
Despite these drawbacks, the Dreamcenter's high-quality sounds, effective sound masking, and affordable price make it an excellent choice, especially for parents, given its multicolored nightlight and numerous child-friendly tracks.
You can usually find it for just under $30 in the US and £35 in the UK.
Find out more in my full Yogasleep Dreamcenter review.
---
5. Dreamegg D11
The best white noise machine for travel that kids will like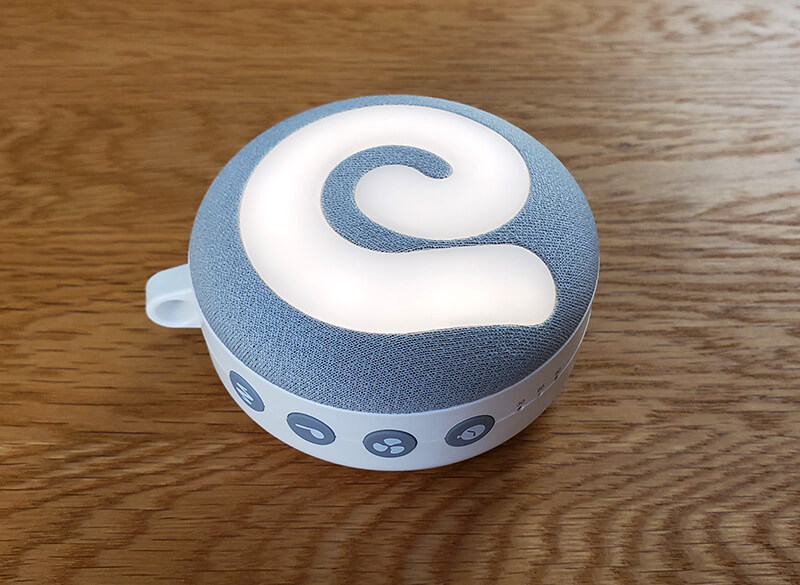 Soundtracks
Ocean
Brook
Lullaby
Music box
Shushing
Vacuum cleaner
Fetal tone
Fair sound
Cricket sound
White noise
Fan
The Dreamegg D11 is a portable, kid-friendly white noise machine with 11 tracks to choose from. These include calming lullabies, a music box tune, a repetitive shushing sound, and even a soothing fetal tone.
The unconventional fair sound and vacuum noise probably wouldn't be an adult's first choice for relaxation, but may work well to comfort some children.
A key feature is its warm nightlight, with a reassuring glow that comforts kids and helps parents see in the dark when checking in on the little ones.
The compact D11 has a clearer speaker and louder volume than its small size would suggest – perfect for masking disruptive external noises.
An internal rechargeable battery that will last around eight hours and a convenient lanyard combine to open up more options for positioning it in a bedroom. You can also play it with the USB cable if you prefer.
Other useful features include auto-off timers and a child lock button to keep young hands from inadvertently changing the settings.
Despite its kid-focused sound offerings, the D11 leaves room for more diverse adult choices. It has just one white noise and fan sound each, and doesn't have the ever-popular rain sound.
In summary, the Dreamegg D11, with its child-centric sounds, pretty nightlight, rechargeable battery, and reasonable price is a great choice for parents who want a portable white noise machine when staying away from home.
The D11 typically costs under $30 in the US and under £40 in the UK.
See it in action in my full Dreamegg D11 review.
---
6. Easysleep
A low-cost white noise machine with lots of water tracks and a calming nightlight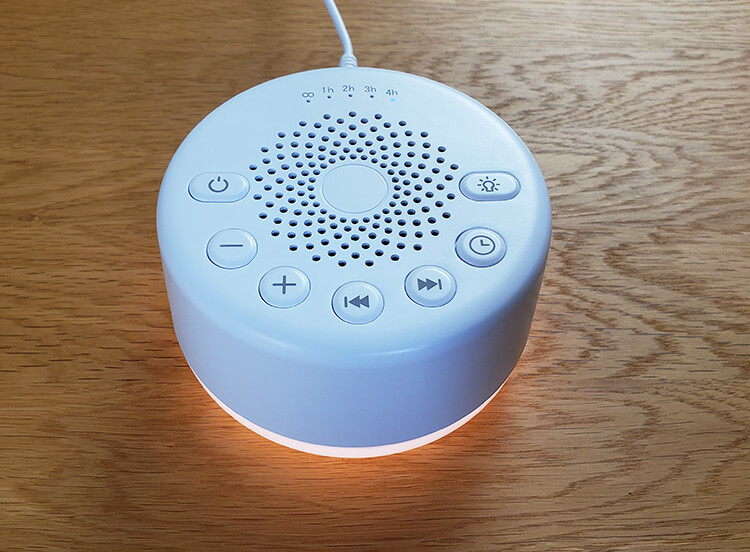 Soundtracks
Brown noise
Pink noise
Blue noise
White noise
Soft fan
Household fan
Industrial fan
Loud fan
Rain in yard
Heavy rain
Rain on window
Stream in cave
Brook
River
Gentle sea wave
Mighty sea wave
Little sea wave
Singing birds
Campfire
Train
Piano
Brahms Lullabye
Alpha wave with dripping
Stars in the night
Meditation
The Easysleep is an affordable and portable white noise machine that packs in 25 sounds, a nightlight, and a timer feature.
A plethora of sound choices span across white noise, fan sounds, and relaxing nature and music tracks – catering to both adult and children's tastes.
The standout feature is the collection of nine water-centric tracks, with three rain variations. This variety could be a major draw if you find rain or running water to be particularly relaxing.
While the sounds are reasonably clear, the speaker is lacking in the bass department. Despite this, its maximum volume effectively muffles everyday household noises.
For such a small device, the Easysleep has long loops; I timed the music and meditation tracks, with all of them being around four minutes. However, its portability doesn't extend to an internal battery, so you need to keep it plugged into a USB outlet.
The nightlight emits a calming amber glow with adjustable brightness, creating a comforting environment for children and adding practicality for parents.
The user-friendly interface consists of seven simple buttons for easy volume and sound control, reducing the hassle of combined controls. The choice to play continuously or set a timer for up to four hours adds some more flexibility.
In essence, the Easysleep is a good pick if you're looking for a budget-friendly white noise machine with lots of tracks, albeit with potential compromises in sound quality. It's typically priced under $20 in the US or £22 in the UK.
Find out more in my full Easysleep sound machine review.
---
7. Dohm Uno
The best quiet white noise machine, with a gentle fan sound created by the internal fan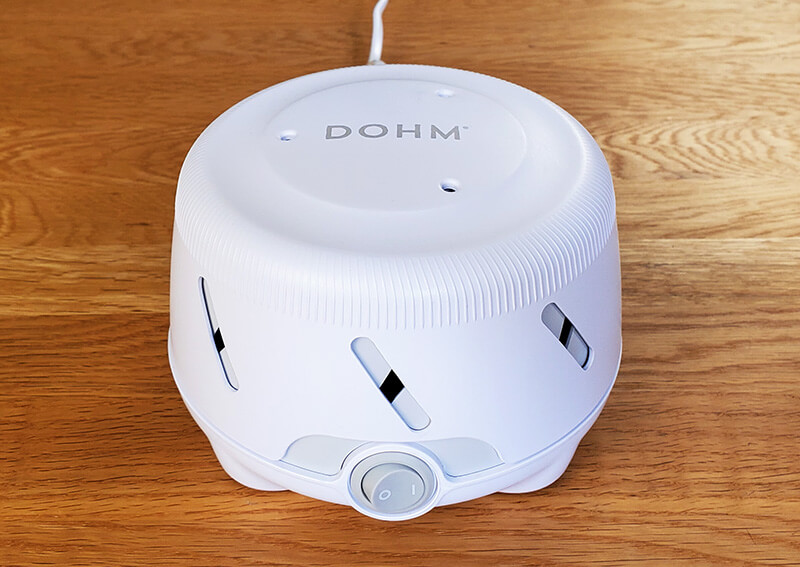 Soundtracks
The Dohm Uno doesn't use a speaker to play recordings. Instead, it houses a real fan with options to adjust the tone and volume.
The Dohm Uno is the second white noise machine on my list that contains a real fan. It's a no-frills device, with just one button used to switch the internal fan on or off. The fan produces a reliably constant sound that's soothing to listen to when falling asleep, relaxing, or studying.
You can adjust the sound by rotating the device's cap, allowing for minor variations in the tone emitted. However, unlike its counterpart the Dohm Classic, the Uno model lacks speed adjustment.
Despite its simplicity, the Dohm Uno shines in creating authentic fan-produced white noise, setting it apart from other machines that rely solely on recorded sounds. It's also a sturdy device that has a solid casing that should last the test of time.
For some people, the biggest drawback of the Dohm Uno will be the volume, which is notably lower than other machines. It's significantly quieter than the Snooz, and all the devices that use recordings and a speaker are also much louder. As such, it may not be as effective for sound masking in louder environments.
On the other hand, others might appreciate the fact that it can't get too loud. If you're worried about playing white noise too loudly to a baby or infant, for example, the Dohm Uno might be a good choice.
Just keep in mind that it also lacks common features that other machines may offer such as a headphone jack, an internal battery, nightlight, or auto-off timers.
In terms of pricing, the Dohm Uno is a budget-friendly option, retailing at just under $40 in the US and around £35 in the UK, making it less than half the price of comparable models like the Snooz.
Find out more in my full Dohm Uno review.
---
8. Magicteam
An affordable white noise machine with the widest variety of sounds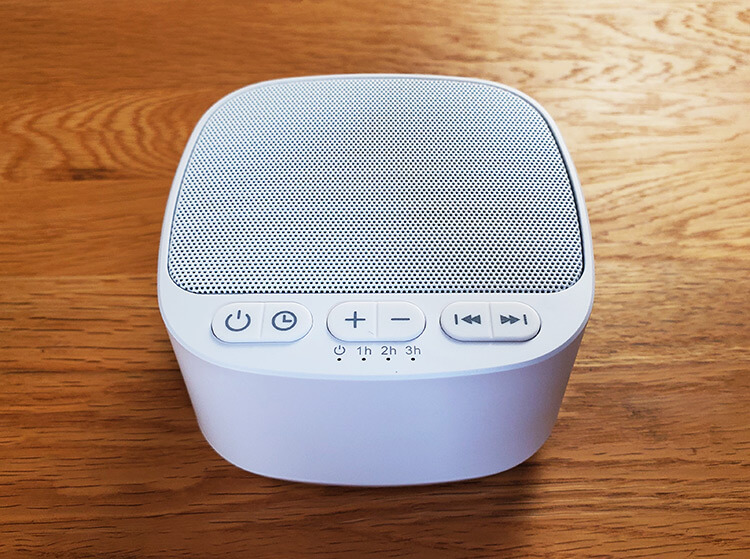 Soundtracks
Brown noise
Between pink and brown
Pink noise
Between pink and white
White noise
Ceiling fan
Soft fan
Household fan
Loud fan
Industrial fan
Alpha waves with dripping
Brahms lullaby
Piano
Stars in the night
Thinking
Summer rain
Rain on yard
Heavy rain
Thunderstorm
Rain on window
Running water
River
Stream
Brook
Little sea wave
Gentle sea wave
Ordinary sea wave
Mighty sea wave
Dropping water
Dropping water in cave
Wind
Fireplace
Big fire
The wild fire
Train
Hairdryer
Clock
Cricket
Singing bird
Frog
The Magicteam white noise machine stands out for its compactness, simplicity, and huge range of sounds. With 40 soundtracks to choose from, it gives you plenty of options for relaxation and many ways to mask external noise that might be disturbing you.
As well as the usual white noise and fan sounds, there's a broad selection of nature sounds and music tracks. Like the Easysleep, there are many water-centric tracks – 15 in total. However, the speaker quality doesn't quite match up, resulting in less depth for some sounds.
Volume-wise, the Magicteam provides a good range, although it may struggle to completely block out louder external noises. Among its user-friendly features are an auto-off timer with volume fade-out and an option to turn off all LEDs. The device also remembers your last settings upon restart.
Operating it is straightforward with its six clear buttons. Each button is dedicated to power, timer, volume, or track selection. With so many tracks though, it can take a while to cycle through them – splitting them into groups with separate buttons would have been more user-friendly.
The Magicteam is powered by a USB cable, lacking an internal battery. It also misses out on a headphone jack and nightlight. Despite these omissions, its light weight of 0.95 pounds makes it highly portable.
Overall, while the Magicteam white noise machine offers an impressive range of sound options, the speaker quality is somewhat lacking. However, it's an affordable choice at under $30 in the US or £25 in the UK, making it an appealing option for those who like rain and water sounds especially.
See it in action in my full Magicteam review.
---
9. Yogasleep Travel Mini
The smallest and lightest white noise machine overall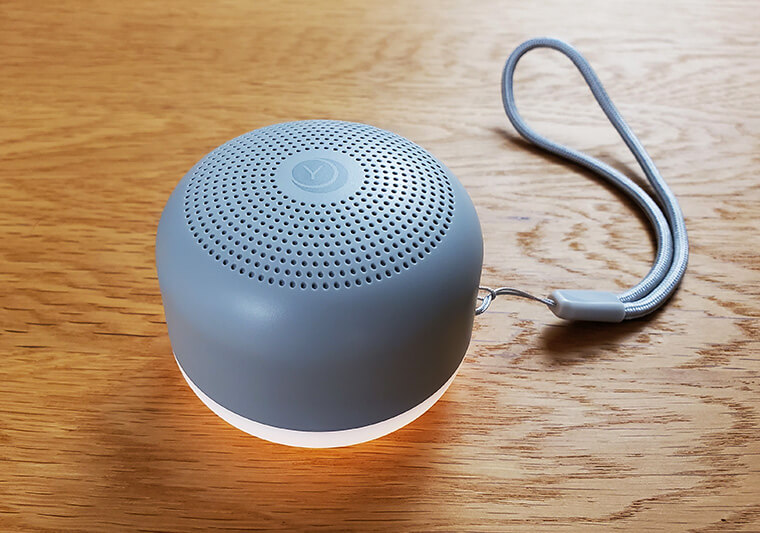 Soundtracks
White noise
Brown noise
Stream
Gentle Surf
Original Dohm
Thunderstorm
The Yogasleep Travel Mini lives up to its name by being the smallest and lightest white noise machine I've used. Its mini size, internal rechargeable battery, and nightlight make it an ideal travel companion.
Despite initial reservations about its limited selection of only six sounds and lack of an auto-off timer, I found that it performs excellently in its specific niche.
The Travel Mini offers portability and flexibility, letting you place it anywhere in the room without worrying about power outlets. The three brightness settings of the nightlight are particularly helpful when navigating unfamiliar rooms in the dark, and some children will find the light reassuring.
In terms of sound selection, it has two white noises, three nature sounds, and the Dohm sound, which is a recording of the YogaSleep Dohm's real fan.
The sound loops are around a minute long – a decent length for such a compact device. However, the speaker's small size may not deliver deep bass or sufficiently loud volume for certain sounds, such as brown noise or thunderstorms.
The Travel Mini's design does pose minor inconveniences. Its small, bottom-located buttons are challenging to find in the dark and may be problematic for those with sight or sensitivity issues. Also, the lack of an auto-off timer might deter some.
But these minor setbacks are overshadowed by the Travel Mini's major strengths: ultra-compact size, calming nightlight, soothing sounds, and durable battery life of roughly eight hours.
With a stylish design and reasonable price, it's a solid choice for frequent travelers or those needing a small white noise machine. However, for those looking for a more powerful home device, other options might be worth exploring.
It typically costs under $30 in the US or £35 in the UK.
Find out more in my full Yogasleep Travel Mini review.
---
10. Homedics Sound Spa Rejuvenate
The best white noise machine that can be operated with batteries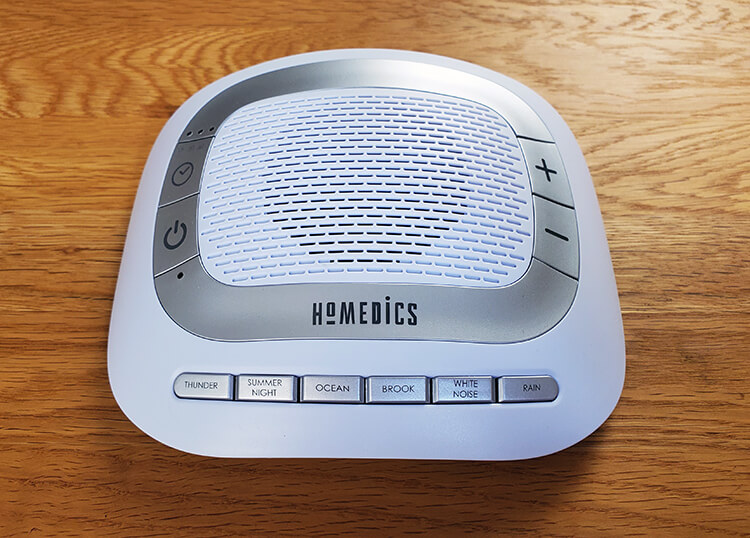 Soundtracks
Thunder
Summer Night
Ocean
Brook
White Noise
Rain
The Homedics Sound Spa Rejuvenate has one unique feature warranting its inclusion in this review – the capacity to run on batteries.
While it does include a power adaptor, it can alternatively be powered by 4 x AA batteries, a rare trait amongst white noise machines, which mostly rely on USB cables or power adaptors.
The Sound Spa comes equipped with six soundtracks, which can be smoothly navigated with individually labeled buttons. However, the speaker falls short in performance, delivering shallow bass and some distortion when playing thunder at higher volumes.
While it can mitigate some external noise, its maximum volume and speaker quality can't compete with the likes of the LectroFan Evo, Dreamegg D3 Pro, Snooz, or Dreamcenter.
It does offer convenient auto-off timers of 15, 30, and 60 minutes, along with a memory function that reboots the device with your last settings.
Despite these shortcomings, the Homedics Sound Spa Rejuvenate might appeal to those needing a device with battery power autonomy or those with budget constraints.
Typically, it retails under $30 in the US and under £30 in the UK.
See it in action in my in-depth Homedics Sound Spa review.
Comparison tables
Let's compare the white noise machines in a few tables now so you can evaluate them side by side and find the one that will work best for you.
Table 1: Ratings
In the first table, I've given them ratings out of 10 in some key performance areas: speaker and soundtrack quality; volume & sound masking; loops; portability.
The speaker and soundtrack quality is based on how much bass, mids, and highs the speaker produces, and if it distorts with increasing volume. I also considered how relaxing, enjoyable, and authentic the soundtracks are. Those with an internal fan score a 10 because the sound is mechanically created and not a recording.
The volume & sound masking is based on my measurements with a decibel meter, and how well they block music, talking, and traffic from outside a bedroom I tested them all in.
For the loops, I spent many hours trying to time them as it's often difficult to spot the loop. The higher score means the loop is longer and/or undetectable with sounds like rain.
The portability is based mainly on the size and weight, but I also considered whether it can be played without plugging it in.
The blue links will take you to Amazon.
Table 2: Power method and sound options
In table 2 below, you can see the way the white noise machines are powered, and the sounds they play. Note that many of them include a USB cable, but not all come with an AC adaptor to plug it into. However, you can use the USB cable with any existing USB outlet in your home, as well as devices like a laptop.
Machine
Power
Sounds
LectroFan
Evo
-AC adaptor
-USB cable
10 white noise
10 fan sounds
2 ocean surf
Dreamegg
D3 Pro
-USB cable
-Rechargeable
internal battery
7 white noise
7 fan sounds
15 relaxing sounds
Snooz
Corded
Real fan inside
Yogasleep
Dreamcenter
USB cable
6 white noise
3 fan sounds
17 relaxing sounds
Dreamegg
D11
-USB cable
-Rechargeable
internal battery
1 white noise
1 fan sound
9 relaxing sounds
Easysleep
USB cable
4 white noise
4 fan sounds
17 relaxing sounds
Dohm Uno
Corded
Real fan inside
Magicteam
USB cable
5 white noise
5 fan sounds
30 relaxing sounds
YogaSleep
Travel Mini
-USB cable
-Rechargeable
internal battery
2 white noise
1 fan sound
3 relaxing sounds
Homedics
Sound Spa
Rejuvenate
-AC adaptor
-4xAA batteries
(not included)
1 white noise
5 relaxing sounds
Table 3: Extra features
In table 3 below, you can see which ones have some of the main features I look out for when reviewing white noise machines. These aren't the only features that exist in the sound machine world, but I think they are important ones to consider.
Machine
Headphone
Jack
Auto-off
Timers
Nightlight
LectroFan
Evo
✔
✔
X
Dreamegg
D3 Pro
✔
✔
X
Snooz
X
✔
✔
Yogasleep
Dreamcenter
✔
✔
✔
Dreamegg
D11
X
✔
✔
Easysleep
X
✔
✔
Dohm Uno
X
X
X
Magicteam
X
✔
X
YogaSleep
Travel Mini
X
X
✔
Homedics
Sound Spa
Rejuvenate
X
✔
X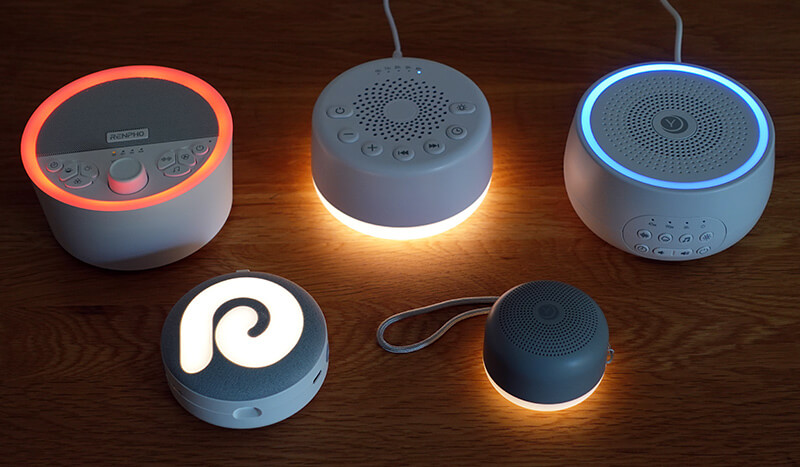 Top row, left to right: Renpho, Easysleep, Yogasleep Dreamcenter
Lower row: Dreamegg D11, Yogasleep Travel Mini
Table 4: Price
The prices will naturally fluctuate throughout the year. To give you an idea of the price range though, table 4 shows a snapshot of the prices of the white noise machines on Amazon in dollars and pounds the last time I checked, which was September 13, 2023.
Machine
US dollars
UK pounds
LectroFan
Evo
$59.95
£79.95
Dreamegg
D3 Pro
$39.99
£39.99
Snooz
$99.99
£134.78
Yogasleep
Dreamcenter
$29.98
£34.95
Dreamegg
D11
$29.99
£39.99
Easysleep
$19.99
£21.24
Dohm Uno
$36.99
£34.95
Magicteam
$24.99
£24.99
YogaSleep
Travel Mini
$27.99
£34.95
Homedics
Sound Spa
Rejuvenate
$29.99
£29.99
Alternatives
If you read other articles about white noise machines, you'll see that some writers include smart speakers, wake-up lights, apps, and other devices.
I decided not to include any of those in this list as I wanted to only cover dedicated white noise machines. After all, a smart speaker isn't technically a white noise machine – it's a smart speaker that you can ask to play white noise.
Having said that, smart speakers, smartphone apps, and household appliances like fans can work well if you don't want to buy a separate white noise machine. If you'd like to find out more about alternatives like those, take a look at my guide to choosing a white noise machine.
If you'd like to see more about the volume range of white noise machines, I published a video a couple of years ago in which I tested several of them with a decibel meter. Several of the devices in this article appeared in it. You can read the article and watch the video in my volume test of white noise machines.