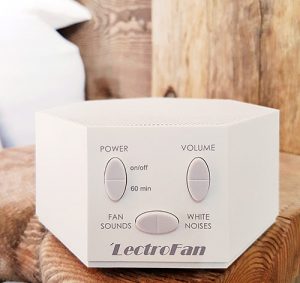 Using a white noise machine can be a very effective way to handle sounds that keep you awake at night.
In my experience, they tend to work better for noise that comes from outside the bedroom, but they can also help if your partner snores.
Some machines focus on generating high-quality white noise and fan sounds, whereas others provide recorded nature sounds too.
I've tested all of the most popular devices in recent months, along with some newer models. And in this review, I'll be highlighting the ones that had the best sound quality and most useful features.
Contents
Key questions
---
Why use a white noise machine?
The most common reason to use a dedicated white noise machine is to mask external sound when trying to sleep. Adults, children, and even babies can benefit from replacing disruptive noise with a more constant sound.
As you'll see below though, there are many situations in which white noise can be helpful.
It's also worth noting that they are designed to be very easy to use in the dark. So it's simple and quick to change settings like the sound, volume or auto-off timer at night.
Who can benefit from one?
If any of the following apply to you:
External noise keeps you awake, such as traffic, music or snoring
Your overactive mind keeps you awake
Some babies and young children find white noise or nature sounds soothing
You have tinnitus
It can help you focus when working or studying
So with all those points in mind, let's take a closer look at the different devices.
---
Reviews
---
1. LectroFan
Widest range of sounds, with 20 different white noise and fan sounds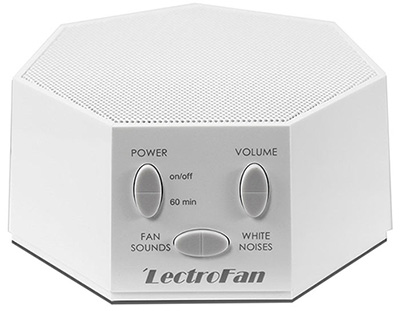 The LectroFan provides excellent sound quality across a wide range of different white noise and fan sounds.
Importantly, the 20 different sounds are dynamically generated, rather than recorded. That results in authentic sounding white noise which remains constant throughout the night.
It has 10 different white noise sounds, including other colors, like pink and brown. Many people find those deeper variations more relaxing, as they sound more like rain or waterfalls than TV static.
There are also 10 different fan sounds, with some that are soft and gentle, and others that are more industrial. I liked the variety of fan sounds, and I think there's a type to cater to every taste.
I also like the solid, yet compact and portable design of the LectroFan. Where some have a flimsy plastic feel to them, the LectroFan has a robust design.
But at the same time, it's one of the smallest devices and takes up little space on your bedside table.
Even though it's small, it still had the loudest maximum volume compared to other machines I tested. So if you need to mask loud external noise, it's very much up to the job.
Pros
20 different fan and white noise sounds, including pink and brown noise.
High quality, dynamically generated sounds that have no looping or breaks.
Excellent speaker and volume range.
Solid build from quality materials.
Compact design that doesn't take up much space.
A simple button gives an auto-off timer of 60 minutes.
Large buttons that are easy to find and use in the dark.
Can be used with AC or USB powered, and includes a long cable.
Cons
No nature sounds.
Needs to be plugged in as there's no battery option.
Only one timer setting of 60 minutes.
Verdict
Overall, the LectroFan is an excellent choice, with the widest range of white noise and fan sounds.
Whether you prefer intense white noise or deeper and more calming pink and brown noise, you should find a setting that works for you.
It's unobtrusive on a bedside table, has good sound quality, and is great for relaxation and blocking out external noise.
If you're looking for other nature sounds, like birdsong or rivers, I'd perhaps try the Avantek below. Otherwise, this is the white noise generator I'd recommend for adults and children alike.
Buy from Amazon
2. Avantek
Wide choice of 20 white noise, fan and nature sounds
The Avantek has six white noise options, with some at the deeper end of the spectrum. And there are more intense variations for those who prefer higher frequencies.
There are also six fan options, which sound authentic. And like the LectroFan, they range from gentle fans to more industrial types.
You also have the choice of eight nature sounds. I liked the streams, ocean waves, rain, and campfire.
The birds and crickets are good, even though they have relatively short loops. But the wind is more like a howling gale, and the ticking clock perhaps not so relaxing.
The speaker itself is good quality, producing decent sound. It has 30 incremental volume controls, with the maximum volume being the second loudest after the LectroFan.
A minor issue is having to press a back or forward button to find the sound you want. However, it does have one nifty feature to help – an automatic memory of your last selected sound and volume.
I also liked that it has a range of auto-off options, from one to seven hours. And the sound will gradually fade out as your time runs out, which is another useful feature.
Pros
A wide range of sounds – six white noise, six fan, and eight nature sounds.
Good speaker and sound quality for most of the sounds.
Some nature sounds, such as the ocean, are particularly relaxing.
30 volume settings, with a loud maximum volume.
One to Seven hours auto-off feature, with fading volume reduction.
Lightweight and compact, so a good travel option.
Looks and feels well made.
18 month warranty.
Cons
No battery option, but does work with a standard socket or USB.
Some short looping on a couple of the nature sounds.
Not all the nature sounds are that relaxing, such as the wind and clock.
Verdict
Although the Avantek has a couple of forgettable sounds, it has great sound quality, with an impressive choice of different types of white noise and nature sounds.
It's small and lightweight, has a good range of volume, and excellent timer functions. It's capable of masking external noise if your sleep is being disturbed.
And it has some lovely nature sounds that both adults and children will enjoy listening to.
Buy from Amazon
3. Marpac Dohm DS
Creates the soothing sound of rushing air with an adjustable internal fan
The Marpac Dohm DS uses an internal fan to create the sound rather than playing recordings.
And fan sounds and simplicity are what it does best: there's just one button, with three settings: off, and two different speeds.
The fan is housed inside what Marpac call an 'acoustic casing'. Once the fan is running, you can manually rotate the two moving parts – the top and side panels – to adjust the sound and volume.
The resulting sound is one of rushing air that's soft and pleasant to listen to. It sounds like a cross between a fan and the comforting 'shushing' noise parents make.
It's great that you can fine-tune the exact sound that comes out. The movable panels don't move a huge amount, but with the tiniest adjustment, you can change the sound considerably.
My main criticism is that the maximum volume is still comparatively low. So if you need to mask loud external noise, it might not do the trick.
Secondly, it's larger and heavier than the other machines. It takes up quite a lot of space on the bedside table and has a long lead that can't be detached. So it's not the most practical for travel.
Pros
Creates authentic fan sounds with an internal fan.
It's relaxing and pleasant to listen to.
Creates a constant sound that doesn't change, loop or break.
You can fine-tune it to create the exact sound you like.
Feels solid and made from quality materials.
Easy to use.
Has a one year factory warranty.
Cons
No white noise or nature sounds.
The maximum volume is low.
It's quite heavy compared to other machines, so not the best for travel.
No battery or USB option – only works with the wired plug.
No auto-off timer.
Verdict
The Marpac Dohm DS will be a good option for some people, but not everyone. If you know you prefer fan sounds, you'll probably enjoy the authentic and soothing sound it produces.
But if you'd prefer more variety, need it to mask loud external noise, or want a lightweight machine for travelling, it perhaps won't be quite right.
Buy from Amazon
4. LectroFan Micro
Ultra-compact, with wireless play and Bluetooth audio streaming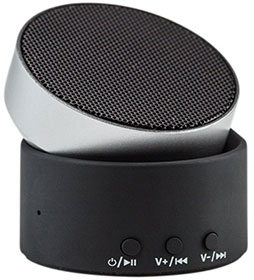 As the name suggests, the LectroFan Micro is the smallest white noise machine. It's a convenient device when traveling, and it works as both a sound machine and Bluetooth speaker.
It's the only one that has an internal rechargeable battery for wireless use. And it has a respectably long battery life when fully charged: 16 hours with white noise or six hours with Bluetooth audio streaming.
It comes with five white noise and four fan sounds, as well as an ocean sound. Though the ocean sounds more like static white noise fading in and out.
I liked like most of the sounds, especially the deeper versions. And importantly, the maximum volume is loud enough to mask external noise.
Two points to bear in mind are the short cable and the fiddly buttons. It comes with a very short USB cable, so you do need to charge it before going to bed if you don't have a USB plug nearby.
And it only has three tiny buttons, with the volume and sound choice sharing buttons. Hold to change the volume, and press to change track.
Pros
A versatile machine, with built-in white noise, Bluetooth speaker, and microphone for phone calls.
10 different white noise and fan variations.
Good quality white noise.
The Bluetooth speaker is good enough for both casual listening and quiet nighttime use.
Small and lightweight, making it convenient for travel.
Internal chargeable battery lasts long enough for wireless use at night.
Good range of volume, with the maximum being enough to mask most external noise.
Cons
The buttons are small.
The volume and sound choice share the same button (hold or press).
The USB charging cable is short.
Verdict
The LectroFan Micro lives up to its name by being the most compact white noise machine. Along with its portability, it's the versatility that really makes it shine.
With high quality built-in white noise sounds, a decent Bluetooth speaker, and a rechargeable internal battery, it's a useful little all-rounder.
If you have a problem with finger sensitivity, the buttons could be an obstacle. But otherwise, it's great for travel, especially if you don't have much space in your luggage.
Buy from Amazon
5. AuCuTee
Versatile machine with 10 sound mixer, Bluetooth speaker & wireless phone charger
The AuCuTee is the only white noise machine I tested which offers an inbuilt sound mixer, and it works surprisingly well.
It has 10 different sounds – 1 white noise and 9 nature sounds. Each of these can be set to a different volume with the simple slider controls. So you can have a distant thunderstorm with the crackle of a fire and nearby crickets if you so desire.
I particularly liked the fireplace, brook and bird sounds. The ocean is a bit too wild to be relaxing, and the ticking clock sound isn't to everyone's taste. The frog and cricket sounds are pretty good, but a little repetitive.
There's one lullaby, and although the sound quality is good, I think they could have picked a more relaxing song.
But on the whole, the nature sounds are better than many of the cheaper sound machines and are on slightly longer loops.
It has a Bluetooth speaker, so you can play your own music when you're not in the mood for white noise or nature sounds. And the speaker quality is good enough for some quiet bedtime listening.
The AuCuTee also has a Qi-compatible surface which allows you to wirelessly charge the latest Samsung and iPhone devices. And there's a handy USB outlet too for older phones.
Pros
You can mix up to 10 different sounds.
Good speaker quality.
Some good sound options – especially the fire, brook and bird.
Wireless charging for smartphones, or a USB port for older devices.
All night play or auto-off timers of 30, 60 or 90 minutes.
Charge with a USB socket through the mains or another device.
Cons
The mixer is a little too sensitive, so even tiny movement on a slider starts the sound.
It's too large and heavy for travel.
Only one white noise option, which isn't as pleasant to listen to as the nature sounds.
Needs to be plugged in, with no battery option.
Verdict
Overall, the AuCuTee offers two key features that none of the other white noise machines do. The mixer is great to play with, offering many combinations of nature sounds.
And the charging options make it a versatile machine to have on the bedside table, saving you from plugging in two devices to the mains.
If you're after a wide variety of white noise and deeper noise colors, this isn't the one for you. But if like the idea of creating your own composition of nature sounds, you'll enjoy the option to do just that.
Buy from Amazon
6. Big Red Rooster
Easy to use, with 6 nature sounds
The Big Red Rooster has six sounds to choose from, with just one white noise setting. It sounds like intense TV static, which will appeal to those who prefer higher frequency white noise.
The rain sound is good, as is the ocean. Though I would have called it lakeside rather than ocean, as it's quite gentle. The brook also sounds nice, but is on a short loop if you listen out for it.
The thunder option is predominantly light rain with occasional thunder. And again, it's on a relatively short loop of a few different thunderclaps.
I'm not sure why, but the summer night has a faint white noise in the background. I think the nature sound would have been pleasant enough on its own.
The plus side to the limited sounds is that they have their own buttons and label, so you can quickly select the sound you want. It's also easy to find the large volume and auto-off timer buttons.
But the simplicity also applies to the overall build and speaker quality. The plastic casing feels flimsy, and it has a light speaker with an underwhelming maximum volume.
Pros
Low cost.
Easy to use, with individual big buttons for each sound.
A couple of the nature sounds are pleasant to listen to.
Has auto-off timers of 15, 30 and 60 minutes.
Lightweight, so good for travel.
Can be powered by USB plug, or with four AA batteries (not included) for wireless listening.
Cons
Limited number of sounds.
Just one type of white noise.
Some of the nature sounds are on a short and obvious loop.
Maximum volume might not be enough to mask external noise.
The plastic casing doesn't feel robust.
Verdict
If you're on a budget, and just want a simple sound machine that's easy to use, the Big Red Rooster is probably the best of the lower priced devices.
If you prefer nature sounds, and aren't the kind of person to be fixated on spotting looping, you might like the sounds it offers.
But if you do get frustrated by looping, or need more variety, one of the previous machines might be better for you.
Buy from Amazon
7. Homedics Sound Spa
5 nature and 1 white noise sound
The Homedics Sound Spa, like the Big Red Rooster, is designed to cater for those on a tighter budget.
It has six sounds in total – five nature sounds and one white noise. The lower quality speaker does result in the white noise sounding quite intense though.
I also found the ocean, rain and brook options lacked some deeper tones, and are on relatively short loops. Maybe it's just my personal preference, but I didn't find them so relaxing.
The summer night is on a particularly short loop, so is a bit too repetitive for my liking. And the thunder rattled the casing, even on mid volume.
The positives are similar to the Big Red Rooster. Firstly, it can be used either with the standard plug it comes with, or with four AA batteries.
Secondly, it's easy to identify the different sounds as they have individually labeled buttons. And there's a useful auto-off timer of 15, 30 or 60 minutes.
The controls might be slightly different, depending on your country: one version has buttons for the volume, and another has a turn dial.
Both versions are quite flat and wide though. So they take up more space on a bedside table compared to the other noise machines.
Pros
Low price.
Easy to use, with individual buttons for each of the six sounds.
Can be used with the included wall plug or with batteries (not included).
Three auto-off options – 15, 30, 60 minutes or constant play.
Simple volume controls.
Lightweight design.
Cons
Lower quality speaker.
The maximum volume results in sound distortion and rattling.
Only six sound choices.
All of the sounds are on a short loop.
Wider surface area than most other white noise machines, taking up more space.
Verdict
All in all, the Homedics Sound Spa really is a basic white noise machine. The low price, the option to use it with batteries, and the clear buttons are probably the main points in its favor.
But when it comes to the sound quality, which is what I'm personally most interested in, it's no match for the more advanced machines.
If your main need is to listen to white noise in bed, you'll only like this one if you like the sound of TV static.
Buy from Amazon
Still not sure?