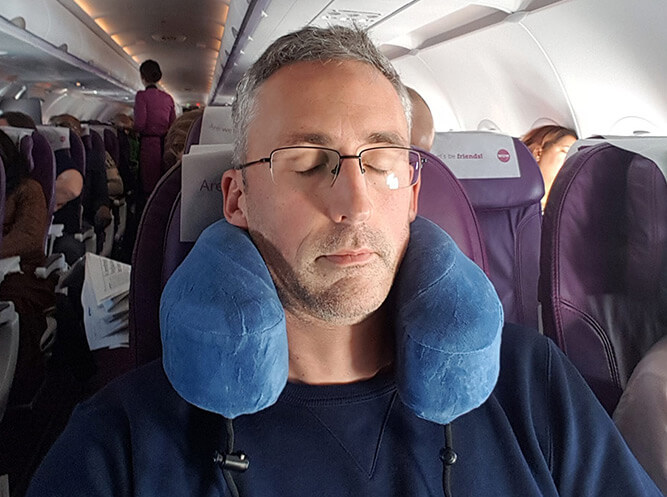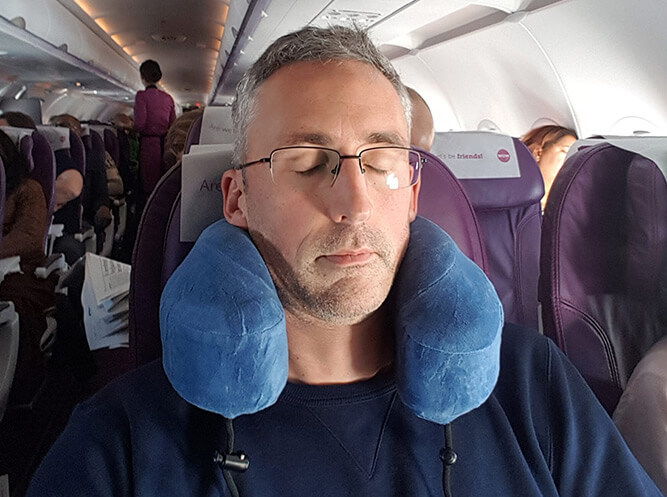 That's me in the photo, trying my best to pretend I'm sleeping. It's not easy taking a selfie on a plane with your eyes closed while trying not to get people you don't know in the picture!
Enough about my underdeveloped photography and acting skills. Let's talk about travel pillows.
You may already know that it's kind of tricky to fall asleep when your head is nodding up and down like a bobblehead figure on a car dashboard.
Okay, so I exaggerate a little. You probably wouldn't fit on a car dashboard. But you'll know what I mean if you've ever tried sleeping with the wrong travel pillow that's now 2000 miles away from a refund.
I regularly test new travel pillows, from the standard ones sold in airports to some very bizarre inventions. If you've ever seen the ones you stick your arms and face in, you'll know what I mean.
Take a look at this inflatable oddity I bought online: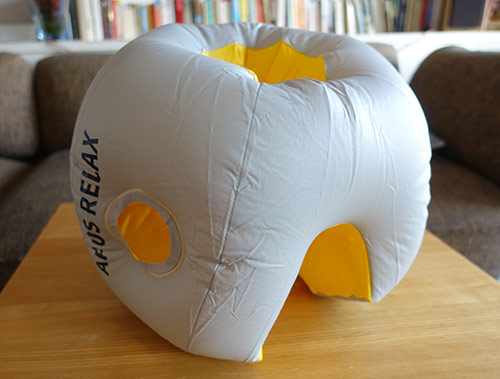 I decided not to test this one in public because I'm not a huge fan of being laughed at by children.
"Mummy, why is that man's head stuck in a beachball?"
I really don't think manufacturers need to reinvent the wheel where travel pillows are concerned. It just needs to feel comfortable, support your head, and not take up too much space.
How hard can that be?
To find out, I bought a wide range of travel pillows and took them on a car trip with a couple of friends to test them on different body shapes.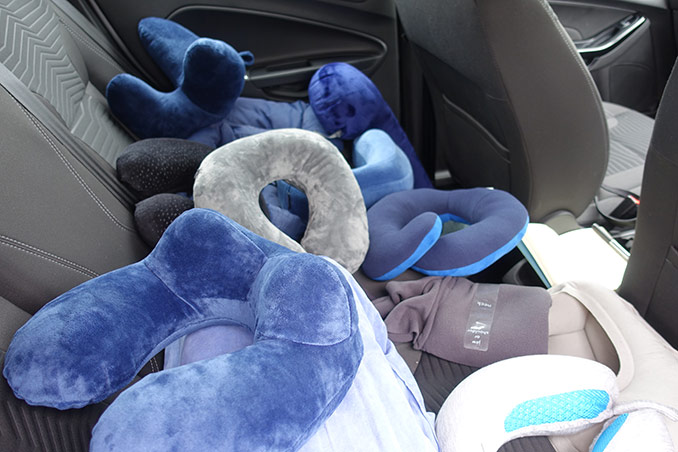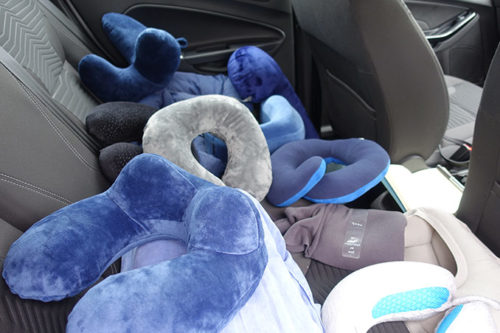 As well as our funny little road trip, over the last few years I've slowly but surely tested them when traveling back and forth across the Atlantic. So if you need a good travel pillow for your next trip, here are the ones I recommend based on many hours of personally testing them on planes, trains, and automobiles.
Disclosure: This article contains affiliate links. If you choose to buy a product after clicking a link, I may make a small commission, at no extra cost to you (learn more).
1. Cabeau Evolution S3
Best memory foam travel pillow, with excellent neck support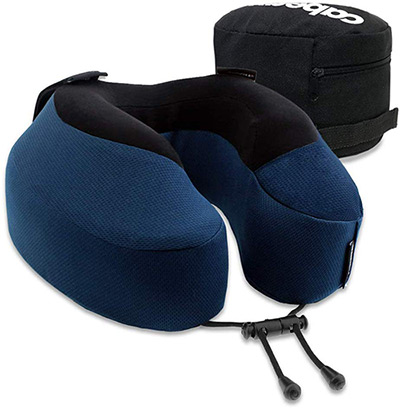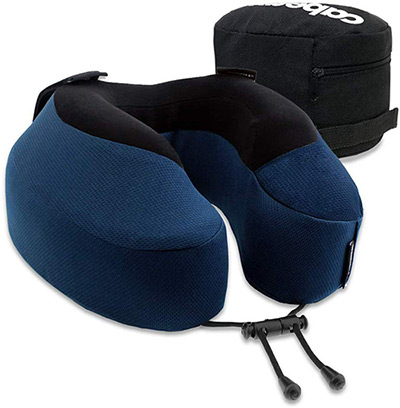 The Cabeau Evolution S3 has raised sides that help keep your neck and head aligned. With the adjustable cord lock at the front, it feels like it has 360-degree support, which is great for sleeping in the sitting position.
You can also use the attached seat straps to keep it in place and prevent your head from doing that 'flopping forward' thing that might lead to neck pain.
The memory foam is medium density, which contributes to the effective support you feel when you lean into it. It feels soft on your skin and molds gently to your head, providing a gentle cushioning that feels very comfortable.
Conveniently, it comes with a small travel bag that it compresses into to save space, and the exterior cover can be removed and machine washed.
In the photo below, I'm using the Cabeau travel pillow.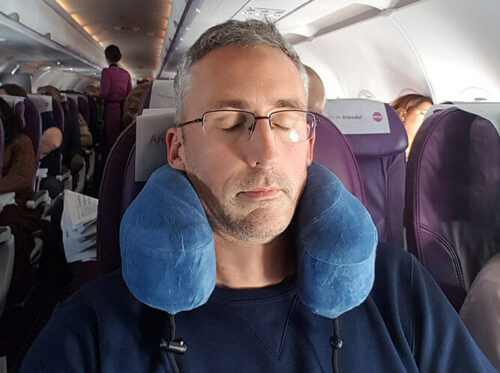 I wouldn't recommend this one for children due to the relatively high sides. And if you're driving in hot weather without air conditioning, it might not be appropriate either.
Otherwise, the Cabeau is an excellent travel pillow that most people will find very comfortable to use when flying. It costs under $40 in the US on Amazon, and over £50 in the UK.
---
2. Bcozzy
Best micro-fiber travel pillow, ideal for kids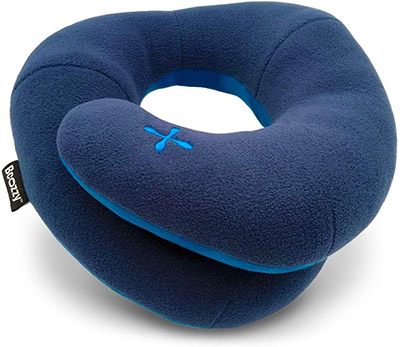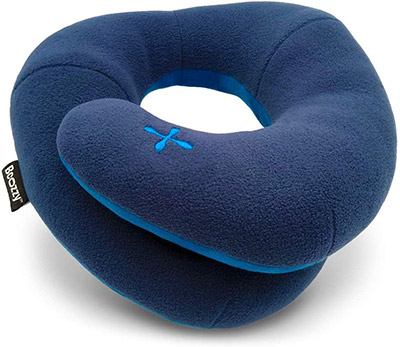 The versatile Bcozzy is my recommended travel pillow for children, with its friendly look and comfy feel. However, teens and adults will also find the adult version to ve very comfortable and effective. It provides complete 360-degree neck support, and you can create different support heights with the overlapping ends.
If you have a shorter neck, you can lean your head on just one level of the pillow. And if you're a bit of a giraffe (like me…), you can double the ends together to get more support. You can also fold it in half to get even more cushioning if you're in a window seat.
The flexible design means you either lean on the pillow or wrap it a bit tighter to keep your head more upright. I also found the flatter back section meant it doesn't push your head forward when you're flying – a problem that chunkier pillows sometimes create.
Below, I'm using the adult version of the Bcozzy (because I'm an adult…)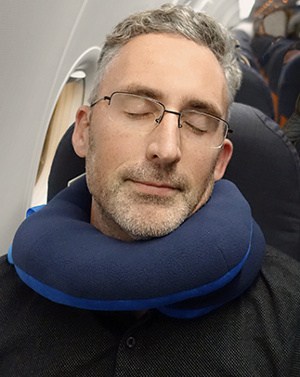 The plush cover feels soft and comfy. And the polyester fiber interior has just the right amount of fill to cushion your head for long periods of time. Conveniently, the whole pillow is machine washable.
I like that it comes with a handy snap strap to tie it onto hand luggage, which is useful as my only criticism is that it's not as compact as some travel pillows.
Overall, the Bcozzy is a versatile travel pillow that can help you relax and sleep more comfortably when traveling. It costs between $30 and $40 in the US, and £30 to £40 in the UK, depending on the size. They now make them in four sizes: small, medium, large and extra-large.
---
3. Purefly
Best inflatable travel pillow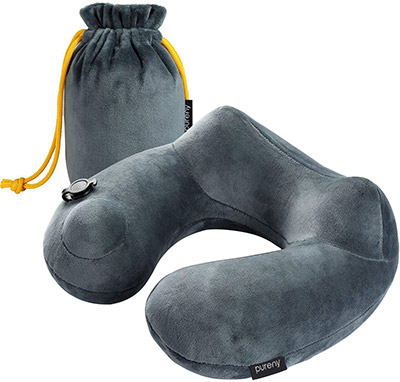 If you need a travel pillow that takes up as little space as possible in your luggage, the Purefly is the most comfortable of the many inflatable travel pillows I've tried.
It inflates to the classic U shape, but with a style of raised neck support that more and more inflatable pillows use these days. This style of raised support does work well, but only if you're sitting upright in my experience – not if you're fully reclining.
I liked the micro-velvet fabric, which really felt like soft velvet on the skin. The cover is removable and machine washable too, which means you'll get more life out of it, especially if you're off doing some serious traveling.
In the photo below, the Purefly is keeping my head upright on an early morning flight.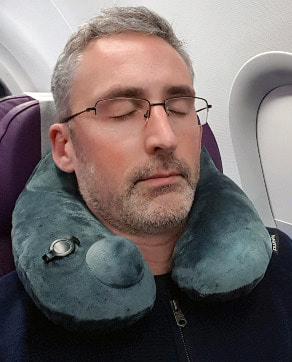 It has an inbuilt hand pump, avoiding the need to use your mouth to inflate it. You just squeeze the little dome next to the main air valve, and it slowly inflates.
As with all inflatable designs, the Purefly won't be quite as comfortable as memory foam of fiber-fill. But it shines when it comes to saving space and convenience. It costs around $25 in the US, and under £20 in the UK.
---
4. J-pillow
A versatile pillow that's ideal for window seats, cars and trains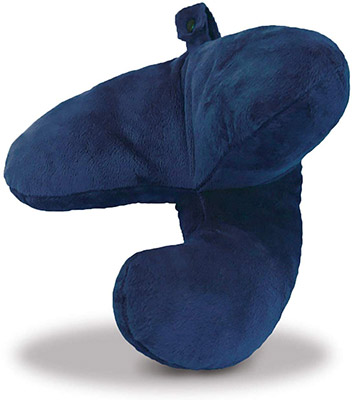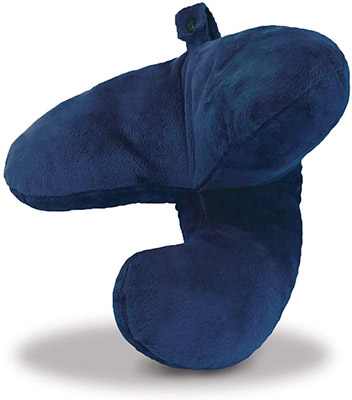 The J-pillow won a British invention award back in 2013, with its unique design that steers well away from the classic U shape. It has a sort of double J shape instead, with a section that sits under your chin to help prevent your head from dropping forward.
I've tested it on two flights, and it's very comfortable to use in a window seat. That chin support really does help keep your head in place, and the side part feels plush to lean on. It didn't feel quite as effective in a middle or aisle seat though.
The interior material is made from squishy polyester fiber. I personally like the feel of that, and it doesn't get as hot as some memory foam pillows. I also like the fact that the whole pillow is machine washable, not just a cover.
In the photo, I'm using the J-Pillow in the position I found most comfortable – leaning up against the side of the plane.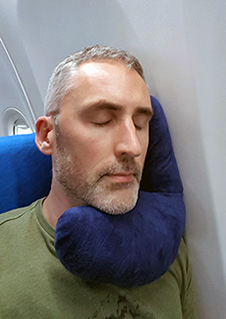 My main issue is that the strange shape and springiness of the filling make it slightly inconvenient for storage. You can squash it down into your bag, or use the strap to tie it to your hand luggage. But it's still kind of a lumpy 'thing' you have to cart around with you.
I think the J-pillow is a great choice if you have a window seat on a plane, or are traveling by car or train. It's still okay for middle and aisle seats – just be aware that it might not stay in place quite as well. It costs around $40 in the US and around £20 in the UK.
---
5. Travelrest
Compact inflatable pillow for side sleepers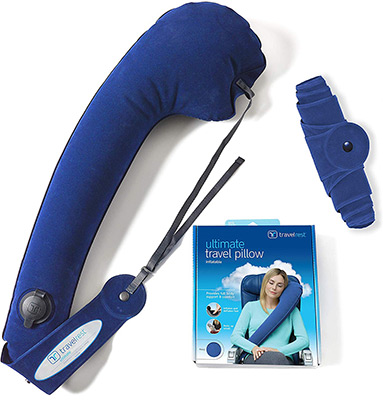 The Travelrest is another one with an unusual design. It has a long shape that crosses the front of your body, providing a large surface area for you to lean against.
It comes with an attached strap that you can tether around the top of your seat to keep it in place. Alternatively, you can wear it like a bag and hug it to your body.
I like how it gives you a comfortable surface to lean against – especially if you have a window seat. And you can even make it work in a middle or aisle seat.
My main complaint is that it didn't stop my head from drooping forwards when sitting upright. But in a reclining seat, it worked well as I'm naturally a side sleeper. My second complaint is that it looks a bit odd due to the size, and is a little awkward to change sides.
Below, I'm using the Travelrest in a window seat, which is the position I find it works best.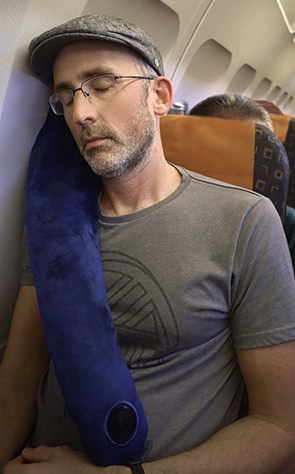 Considering how large it is when inflated, it rolls up tightly and is remarkably compact. So if you're in need of a space-saving pillow, and you're a side sleeper at home, this could be one you like. It's also good for children on long car journeys, who might like the comforting feeling it provides. It costs around $30 in the US, but it's not currently sold in the UK.
---
6. Cloudz
Large microbead pillow, with a plush cover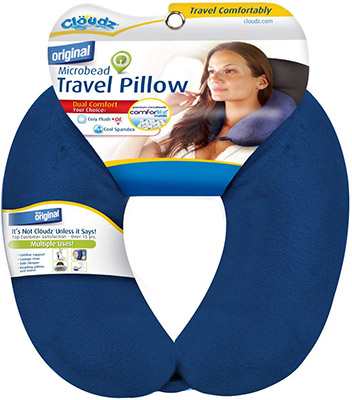 The Cloudz travel pillow is a large micro-bead travel pillow that feels comfortable to sleep with. It's large enough to keep your head reasonably upright, which isn't always the case with this style.
It has a convenient snap closure which allows for a tighter fit around your neck, meaning your head is less likely to bobble around on awkward angles.
Like so many of this style though, the sheer quantity of material in the back section means you need to play with it to find a comfortable position. I found it was good for reading and watching movies, but when I wanted to sleep, I had to turn it sideways so it didn't push my head forward.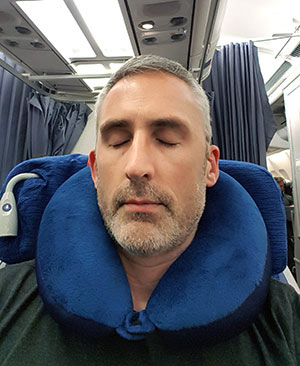 The large size and quantity of microbeads also mean it doesn't compact well, so you'll need to tie it to the outside of your hand luggage.
If you're a fan of the feel of microbead fillings, the Cloudz travel pillow offers comfort and head support along with a soft external material. But if you'd rather save space and value ergonomic design, it might not be the one for you.
It costs around $18 in the US, which is a reasonable price for a travel pillow. It's not currently sold in the UK.
---
7. Mlvoc
Memory foam pillow with a curved design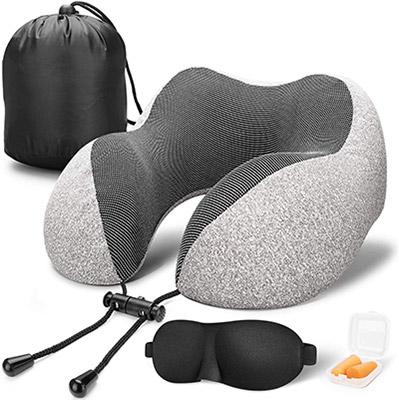 Mvloc used to make one of my favorite inflatable pillows, but they appear to have stopped that model and now produce this memory foam version instead.
It has a very similar look and feel to the Cabeau, with a memory foam filling, the raised neck support and the adjustable rope lock at the front to help keep your head upright.
The contours of the sides are slightly more curved than the Cabeau, but the raised sides are not as high. So for me, this is one that will suit adults with shorter necks, whereas the Cabeau might be better for those with medium and longer necks.
Sorry about the bad image quality of the next photo. I was exhausted during an early flight and didn't pay enough attention! Regardless, you can still see how the sides are more curved than the Cabeau.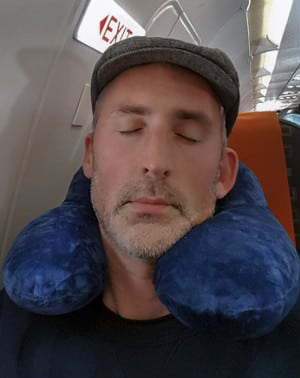 The external material, unusually, is made from cloth and gauze. It feels breathable and soft on the skin, so along with the memory foam, is very comfortable on the whole.
Like most memory foam designs, the main problem is that it's not so compact when not in use. But it does have a carry bag you can squish it into, and then hang on the outside of your hand luggage.
It costs just over $20 in the US. It's not available in the UK at the moment, so I'd stick with the Cabeau as it is sold in the UK and has a better design anyway.