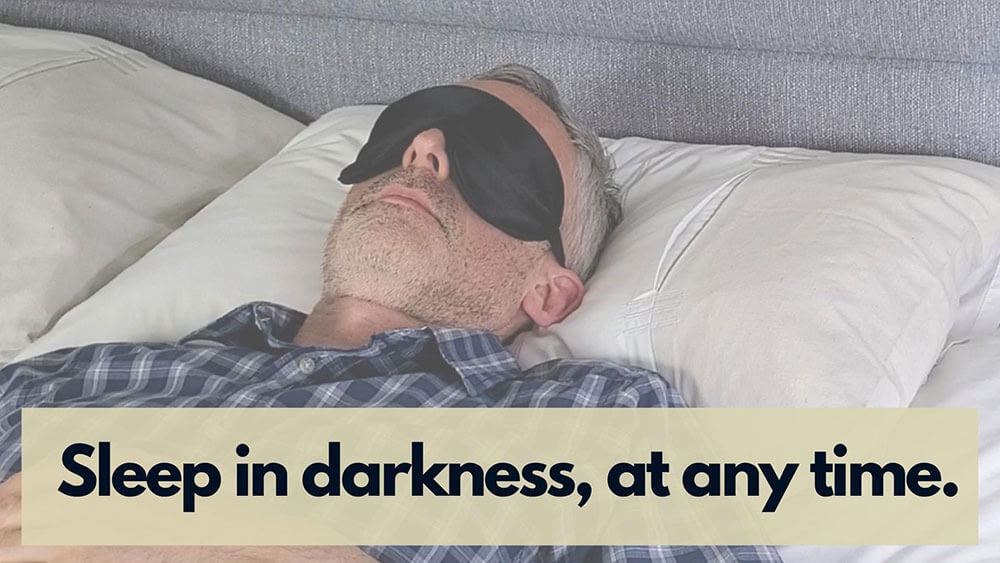 Light: can't live without it, can't sleep with it. So in those less than pitch black situations, a sleep mask can give you control over the balance between the light and dark.
I've tested many eye masks in the years since starting this website and regularly try new ones. I use them when flying (on a plane, not in my superhero outfit), and if I need to sleep in the daytime.
I also ask my partner to test them – she has long hair and prefers not to have to untangle it from the straps in the morning. So little details like the quality of the strap design matter to her.
Whether you need a comfortable sleep mask to shut the world out or a contoured mask with room for maneuver, you should find the right mask for the job in the reviews below.
Below are some of the sleep masks I tried out before writing this article. You can see how there's quite a wide range of styles and sizes: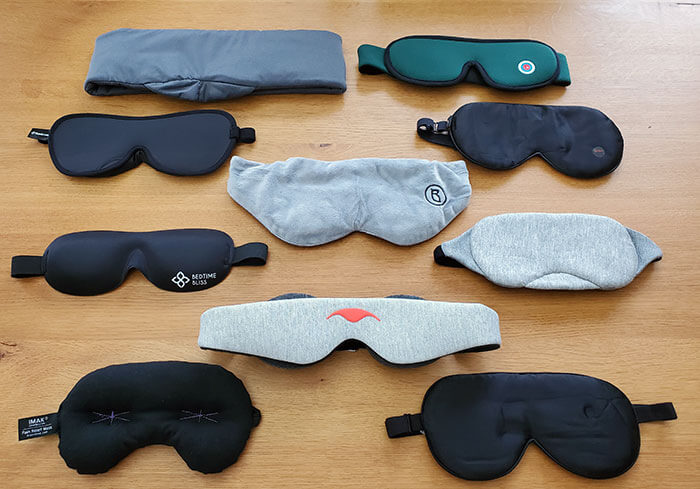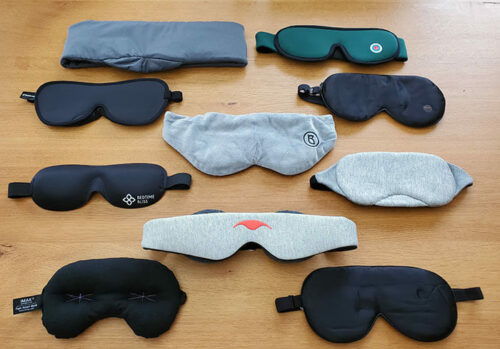 Disclosure: There are affiliate links in this article. So if you choose to buy a product via a link, I may make a small commission, at no extra cost to you (learn more).
1. Alaska Bear
Best silk sleep mask, with excellent light blocking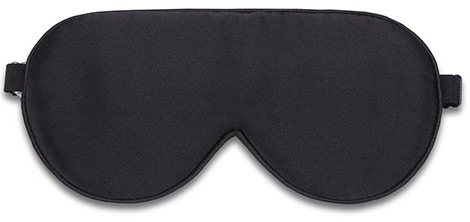 If you'd like a lightweight and comfortable sleep mask that shuts out as much light as possible, the Alaska Bear is an excellent choice.
I find it completely blocks out light, even if the light source is quite bright. It's made from natural Mulberry silk, which feels beautifully soft on the skin and is more breathable than the denser memory foam sleep masks.
The straps are elastic and adjustable, so you can find the exact fit you need. And the strap adjuster is very small, so you won't feel it when you're lying in bed. There's no velcro, so you won't get your hair tangled in the straps.
It's also a great option for traveling. It's very lightweight and unlike some of the larger contoured masks, you can roll it up into a really small space. So if all you need is a comfortable sleep mask that will reliably block out light, the Alaska Bear will give you just that.
2. Mzoo
Best contoured sleep mask, with superb light blocking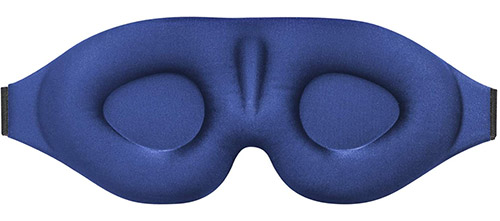 The Mzoo sleep mask impressed me right from the outset, arriving in a smart-looking box rather than the plastic wrapping that most tend to. And the mask itself looks stylish – kind of like sleek goggles, but blacked out of course.
It has plenty of space for the eyes and eyelids to rest in, rather than feeling the material pressed up to your eyes as you do with silk masks. And instead of opting for a thin contour, they've used memory foam to create a bubble effect that feels comfortable in the night.
I found the light-blocking is excellent – the overall shape fits snugly across the nose and doesn't let any light in the sides. The strap is wide and has a sliding buckle, which is preferable to velcro.
As with all contoured masks, it might not be ideal if you sleep on your front. But overall, this is the contoured sleep mask that worked best for me, both in terms of comfort and light blocking.
3. Mavogel
Shapable nose section prevents light from entering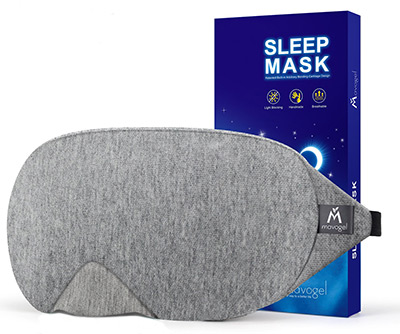 The Mavogel takes a unique approach to the age-old problem of light reaching your eyes via the gaps created where a sleep mask sits on your nose.
It has a winged 'bending cartilage' over the nose, with flexible carbon steel inside. You can shape that nose section until the light is cut out, and it will stay in place while you sleep. It's a simple, yet clever, idea that works very effectively.
The mask itself is made from breathable cotton and sponge, which feels like soft T-shirt material. It doesn't have much of a contour though, so it's not one for those who need to protect eyelashes.
The strap is long and uses a slider, so it will fit any size head. I discovered that it works well if you sleep on your side or your back. My feeling is that this is one that will suit people whose facial structure always seems to let light in.
4. Jersey Slumber
Softest sleep mask overall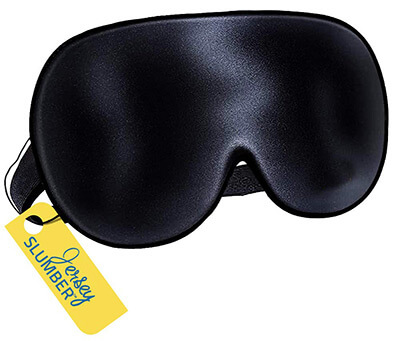 Many sleep masks are made from silk and have a similar design, so it's not always obvious what the difference is between them. What I like about the Jersey Slumber is that the silk feels very soft and it rests gently on the eyes.
It's long and wide enough to do a good job of blocking out the light. The strap omits that potentially hair-tangling velcro, opting instead for an adjustable slider clasp. And it's so thin and unobtrusive that you can sleep on your side with no problem.
If you've found silk masks in the past let in light around the nose, you might find the same with this one because the design isn't as contoured as it perhaps could be.
Having said that, it's still a reasonably effective sleep mask that ticks all the right boxes for comfort. And because of its soft and light shape, it's a good choice if you need to sleep while traveling.
5. Imak Eye Pillow
Can be cooled to relieve headaches, migraines and tension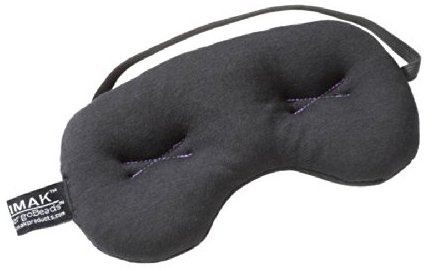 The Imak eye pillow goes beyond simple light blocking, providing acupressure and cooling to the whole area around your eyes. The exterior is made from a comfortable lycra material. It's considerably heavier than most other sleep masks, which you may find brings a feeling of comfort in itself.
It has ergo beads built into the mask, which provides pain relief and relaxation due to the massaging pressure of the beads on your face.
You can leave it in the fridge or freezer for a short while to get a cooling effect, again helping with pain relief and relaxation. It stays cool for 20 to 30 minutes on average, which seems to be about the right amount of time to help soothe my eyes.
The weight helps it to stay in position over your eyes, which helps it block out light more effectively as it closes some natural gaps. It also has that convenient contoured space, allowing some room for maneuver for your eyelids and eyelashes.
With the combination of acupressure and cooling, the Imak eye pillow is more than a simple sleep mask. If you suffer from headaches, migraines or puffy eyes, this is one to try.
6. Manta
Adjustable eye cups to help block out more light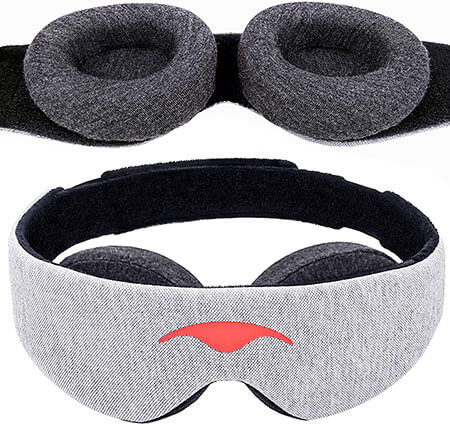 Some of the previous masks clearly stray from the tried and tested concept of stringing some opaque fabric to your face to block out light. The Manta sleep mask goes even further in reinventing the wheel with a very unique design.
What I like about the Manta is that you can adjust the position and angle of the eye cups. And that means you can hopefully find the perfect position to totally block out light. I did find you have to adjust it quite carefully, but once you do, it works really well.
I also like the tangle-free strap, though you do need to keep it a little tighter than some other masks if you're trying to block out a brighter light source in bed.
I might have put this one further up the list if it weren't three times more expensive than simpler masks that do the job perfectly well. But I do think the Manta will suit people who like exploring new designs or who've been frustrated by contoured sleep masks that didn't match their particular facial shape.
7. Yiview
Contoured sleep mask with a wide design and space for your eyelids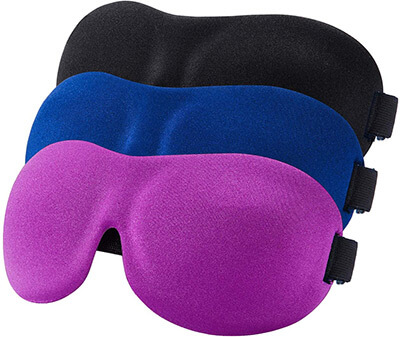 The Yiview combines a large surface area with a good amount of space for your eyes with its contoured design. The eye cavities aren't as deep as the Mzoo, but it will cover more of your face, which some people will find helps block out more light than thinner masks do.
The internal padding contains light memory foam, with a gently contoured shape to fit over your nose. That helps reduce the amount of light that so often creeps in between the nose and eyes.
It has an adjustable elastic strap, with a velcro fastener. It's well stitched together, so you shouldn't find your hair gets stuck in the velcro. And once you decide how loose or tight you want it, you can easily pop it on and off without even undoing the velcro end.
My only criticism is that the external material is synthetic, so it doesn't feel quite as luxurious as some of the others I've tried. But it does the principle job of keeping you in darkness very well.
8. Bedtime Bliss
Shallower contoured sleep mask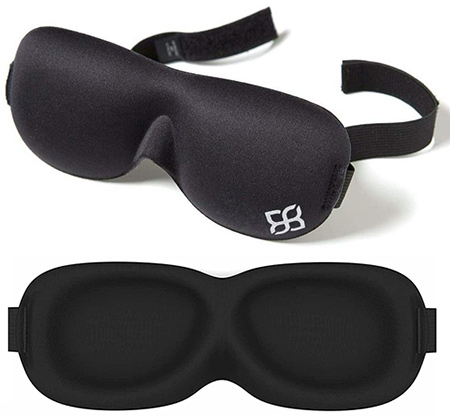 The Bedtime Bliss is another well-designed contoured sleep mask, though with less space for long eyelashes than the Mzoo and Yiview. If you don't have epic fan-sized eyelashes though, there's plenty of breathing space between the mask and your eyes.
It blocks out light well considering the fact that it's a contoured type. As with many sleep masks, you may find it lets in tiny slithers of light, depending on the shape of your facial features. The straps are adjustable and won't bother your skin or hair.
On the whole, I think they've done a good job of creating a one-size-fits-all shape. It also comes with a little fabric bag and a good set of earplugs, so it's ideal to take on your travels.
I recently tried the new version, which is made from bamboo and cotton. It feels even softer and has a slightly larger overall shape. So you might prefer that one if you plan on using it for longer periods of sleep.
9. Dream Essentials
Cotton sleep mask with a wide design and gentle contours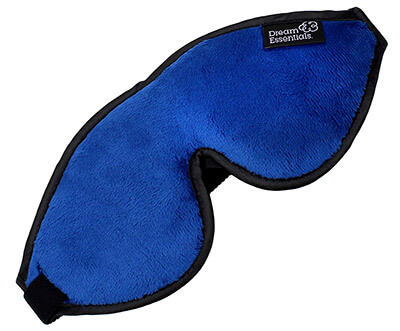 The Dream Essentials sleep mask has deep eye cavities, created with inbuilt foam that maintains the shape. That allows you to open your eyes freely, even if you have long eyelashes.
I like the material, which differs from the more common choice of silk these days. Instead, the inside is made from natural cotton that feels gentle on your skin, with a plush fabric on the outside.
The strap uses a simple slider, which you can get a tight fit with if you want to keep that last slither of light out. Note that they also make a mask with velcro – the Infinity mask – which isn't such a great choice if you have long hair.
Interestingly, it has two small cloth sections attached to the nose contour. The idea is that you can position them to block out any remaining light if the mask shape isn't immediately the perfect shape for your face.
My only criticism is that the foam padding around the eyes can apply more pressure around the eyes than a simpler mask design. I didn't find it an issue personally, but I can imagine some people might do.
10. PrettyCare 3D Sleep Mask
A wide memory foam contoured sleep mask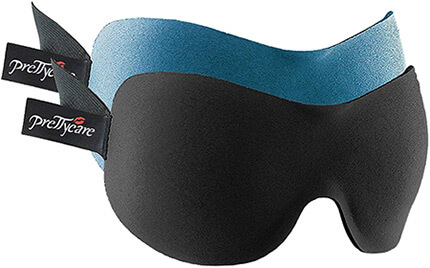 The PrettyCare eye mask is made from memory foam, yet it's surprisingly thin and lightweight. What I liked is that it feels soft, yet maintains a contoured shape with ample space for your eyelids and eyelashes.
It does a decent job of blocking out light, and the adjustable strap has a reliable fastener to keep it in place on your face. I think there's just enough on the strap to suit head sizes at both ends of the spectrum, though you might have that velcro strip on the end if you have a smaller head.
There are two masks included in the pack, along with two sets of earplugs. I've seen some complaints online that the mask comes apart at the edges faster than others, but that wasn't the case with mine and they have held up well so far.
Overall, I think the Mzoo, Yiview, Bedtime Bliss, and PrettyCare mask are all worthy choices if you want a contoured style sleep mask. This particular one has the largest overall surface area of the four, so it might be a good choice if you're worried about too much light creeping in.