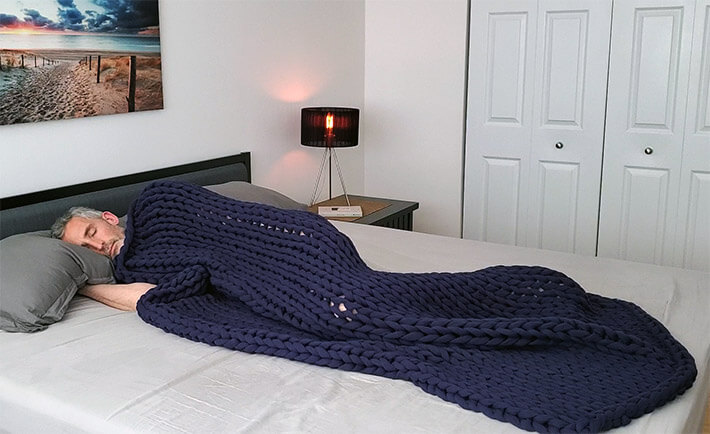 I'm using the 20 lb Bearaby Napper in the above photo. You can see how the giant cotton weave creates air holes, which is why it's a good weighted blanket if you're a hot sleeper.
Summary
The Bearaby Napper is the most breathable weighted blanket I've used. It's a good choice if you're a hot sleeper or live in a hot region of the world. It will also appeal to those who value aesthetic design as it looks great in the home.
The weight is created by a chunky hand-knitted cotton weave instead of the standard approach of using polyester fiberfill and glass microbeads. The weave creates air holes, which lets your body heat escape much more effectively than weighted blankets that have boxed pockets of material.
The good points
Very breathable in hot weather.
Looks stylish.
Made from hand-knitted organic cotton.
No artificial fill or materials.
Eco-friendly company that values sustainability.

Feels soft on the skin.

Good for daytime and nighttime use.
Can be machine washed and dried.
Main criticisms
Relatively expensive (I paid $259 for mine).
It can take two cycles in a tumble dryer to fully dry, or many hours to air dry.
Only a 30 day returns period, with no extended warranty.
Disclosure: This review contains affiliate links. If you choose to buy a product after clicking a link, I may make a small commission, at no extra cost to you (learn more).
Full review
The Bearaby Napper is currently in second place in my ongoing review of weighted blankets.
The Bearaby is arguably just as good as my top pick, the Baloo. I only really put it in second position because it has an unusual design for a weighted blanket. But for some people, that unusual design is going to be the very thing that makes it special.
For me, where the Baloo is a good all-around choice, the Bearaby Napper excels in aesthetic design and breathability. This is a weighted blanket you'd leave out on your sofa as a classy design touch, and guests would comment on how stylish it looks. The chunky cotton weave and the rich colors just look amazing.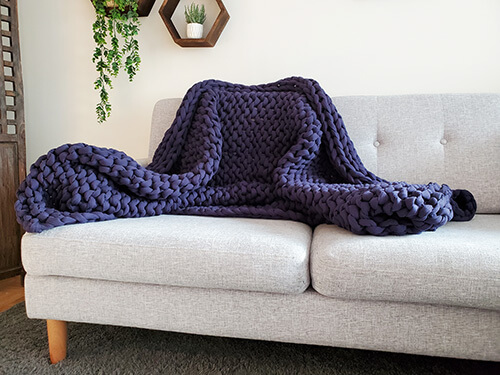 Don't get me wrong, it will still do its principal job of providing comforting weight for relaxation and sleep. It's just that it will do the job with flair and elegance – something I often find missing in the many generic weighted blankets that are hot on the trail of the early trailblazers, like the Gravity blanket.
So let's take a closer look at the Bearaby Napper and I'll explain why there's so much to like about it, along with a few points to consider before you buy it.
Who makes it? A company that values sustainability
One of the reasons I'm drawn to both the Baloo and the Bearaby is that the two companies try to incorporate sustainable design.
The reality is that weighted blanket manufacturers have a bit of an uphill battle when it comes to eco-friendliness. A typical weighted blanket will potentially release tens of thousands of microbeads into the environment when you're done with it (unless you're good at making stuff last).
So I really like the fact that the company behind Bearaby managed to avoid microbeads altogether, and chose to use heavy layers of cotton instead.
I think this quote from their website explains the company ethos nicely:
We're on a mission to free the planet from sweaty , plastic-filled, synthetic weighted blankets that are uncomfortable to use and bad for the environment.
So if you also care about the environment, you can relax under a Bearaby weighted blanket while watching documentaries about the state of the oceans and not feel so guilty.
The different versions available
To avoid any later confusion, it's worth noting that Bearaby make a few different styles of weighted blanket:
Cotton napper: the one I'm reviewing here. It uses knitted layers of chunky cotton.
Tree napper: it looks similar to the cotton napper, but is made from plant-based tencel.
Nappling: a kids version of the cotton napper – it's the same, but smaller.
Sleeper: this one looks more like a traditional weighted blanket. But instead of microbeads, they use a eucalyptus filler, with a tencel cover.
The design and feel
In the photo below, you can see the thick cotton weave of the Bearaby. The entire blanket has a very consistent knit and finish – both in the body and edges.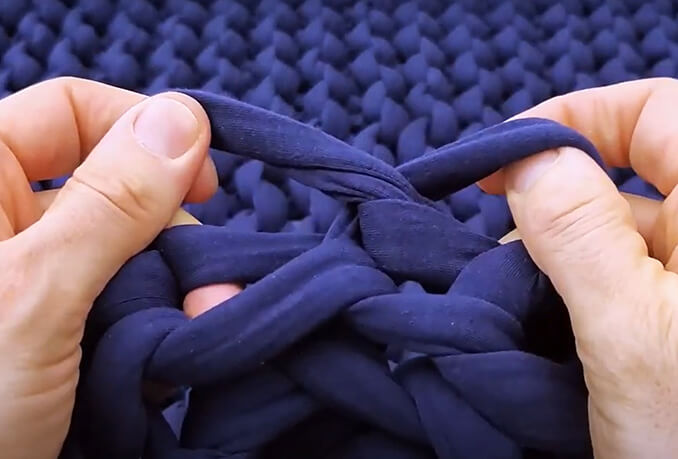 As I already mentioned, the cotton version of the Bearaby napper consists of nothing more than a giant cotton weave. It's hand-knitted, which explains why they are sometimes completely out of stock; it must take a while to knit such a big and heavy blanket!
The material is 95% cotton and 5% spandex, so it has a little stretch to it. I really like how uniform the knit is, and how well it holds its shape. I've had mine for 8 months at the time of writing, and it still looks perfect visually.
The cotton feels soft, is pleasant to touch and run your hands across, and is nice against the skin. However, it's worth noting that it doesn't feel as plush or smooth as weighted blankets that use high thread count cotton or minky, which is very popular these days.
So really, it depends on what you're looking for in a weighted blanket. If your main objective is to find one with the fluffiest, softest feel, the Bearaby won't be the one for you.
But one very important point to consider is that the lack of a soft flat surface to run your hands across is due to the weave. That weave means loops. And loops means air holes.
The result is that it's much more breathable than just about every other weighted blanket I've tried (which is a lot!)
Weight and size options
In the photo below you can see that my Bearaby arrived in an attractive fabric bag. A bag with a handle might have been more convenient though, considering how heavy it is to move around.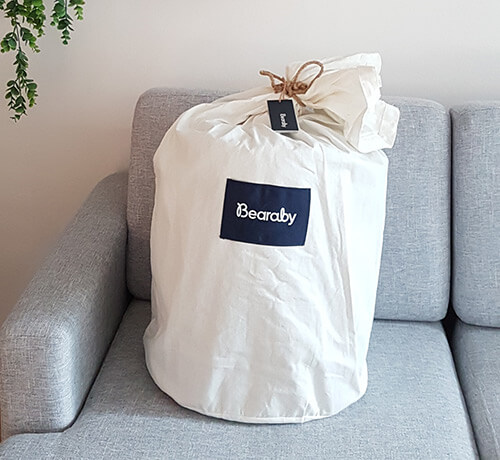 The Bearaby napper comes in three different weights (four if you include the child size):
15 lbs – 40″ x 72″
20 lbs – 45″ x 72″
25 lbs – 48″ x 72″
8 lbs kids size
Interestingly, each weight only comes in one width and length, as the company decided to focus on individual weighted blankets.
They told me that they think this is a more effective approach than making giant king size weighted blankets to fit bed sizes. Those either end up being colossally heavy or spreading the weight over such a large surface area that it becomes less effective.
My blanket is the 20 lbs version, and it works well for both my wife and I. We have very different weights, so it's interesting that the rule of thumb of 'choose a blanket based on 10% of your body weight doesn't apply and we still both like it.
I know choosing the right weight can be confusing. Remember that you can exchange it for a different weight if you think lighter or heavier would be better after trying it for a few nights.
Cover
It's worth pointing out that the Bearaby Napper doesn't have the option of an additional cover – it's a one-piece weighted blanket. But you can put your own bedding on top of it if you want to change the look.
How cool and breathable is the Bearaby?
Whether you're a perennially hot sleeper or you simply live in a hot region of the world with no air con, the breathability of your bedding is understandably important. So it's not an unwarranted worry that sleeping under a blanket that weighs 15 to 25 lbs is going to be too hot.
It's a worry that often turns out to be completely warranted with weighted blankets that use a lot of artificial filler. And some are intentionally designed to be warm for winter months.
As I said earlier, the loops in the Bearaby create natural air holes, so your body heat can escape. Sure, you still have all that weight, which might make you feel warmer than if you just had a thin sheet.
But compared to most other weighted blankets that use polyester fill and solid covers, this is a great choice if not overheating is one of your priorities.
In fact, it came out top in a video I did in which I tested several weighted blankets for heat build up.
How good is it for relaxing on the sofa?
Here's me posing again for the photo. The Bearaby is my wife's top choice to use in the living room because it looks good and feels nice to snuggle up under. She just didn't want to appear in the photo to prove it!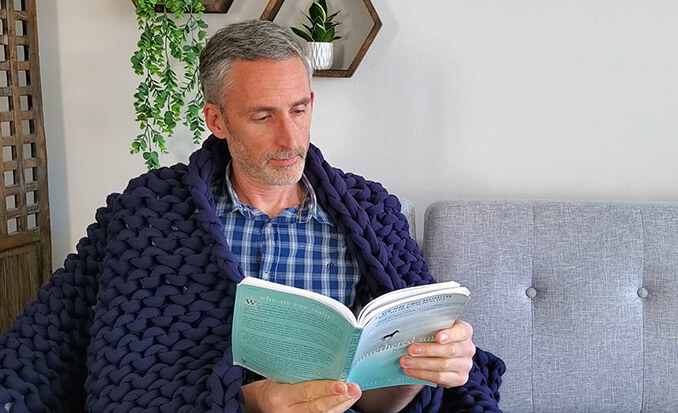 Some people get a weighted blanket to help them sleep; for others it's all about reducing anxiety or stress and having another way to help them relax.
Whether they work or not is a question that's still the topic of debate and research. Manufacturers say they work by promoting the release of serotonin (a 'happy hormone') and reducing cortisol (a 'stress hormone').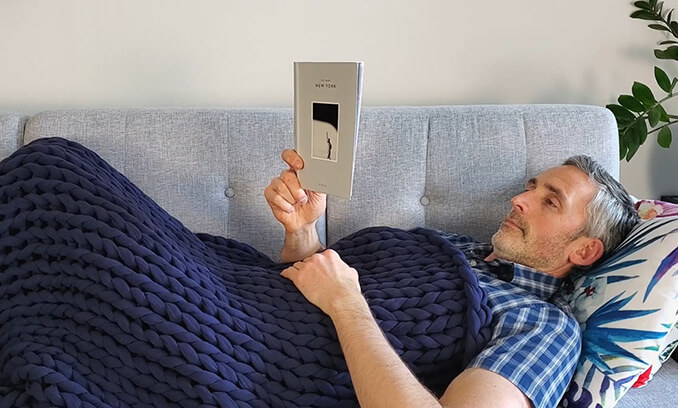 I'm not going to examine the science behind those claims here. All I'll say is that on a personal level, my wife and I both find the Bearaby relaxing to sit or lie under on the sofa.
It does seem to have a calming effect, but I can't say if it's the only thing we'd ever need in times of serious stress. Maybe an additional glass or two of wine and a box of chocolates would complete the package!
How good is the Baloo weighted blanket for sleep?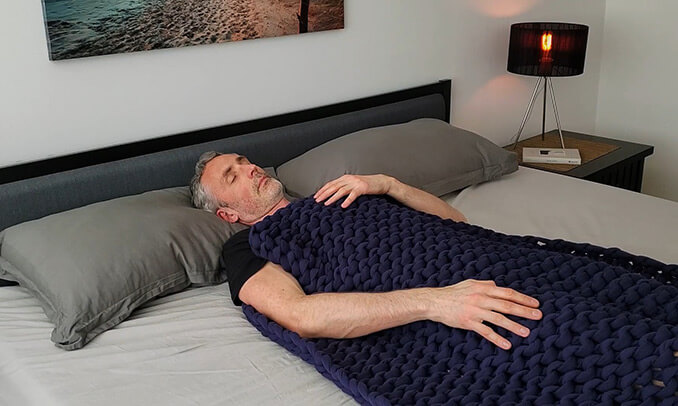 There are two questions here: do weighted blankets in general help you sleep? If so, would you want to have the Bearaby in your bedroom?
The first question is a tricky one to answer. My view is that it depends on what's causing your sleep problems. If it's being too hot in bed, then no, a weighted blanket won't help – no matter how 'cooling' it's meant to be.
But if it's anxiety, stress, worry etc, then maybe it will help. Honestly, I think it's very much a personal thing, and impossible to predict whether it will help you or not. You'd have to try it and remember not to miss the 30 day returns window if it doesn't meet your expectations.
As for the second question, again it's a purely personal choice. Do you like the look and feel of the Bearaby? Does it match your bedding and bedroom? Do you even care, as long as it does its job?
Personally, I like how it feels in bed, but actually much prefer to use it on top of a cotton sheet. I don't know why, but I just prefer the feel of a flat cotton surface on top of me rather than the weave, with its loops and holes. Again, it all comes down to personal preference.
Cleaning
The Bearaby Napper can be machine washed in cool water (max 30 °C) on a delicate cycle. You can tumble dry low, but in my experience it takes more than one cycle to dry it properly. This blanket seems to hold an incredible amount of water!
To reduce how often you need to wash it, you can use a sheet underneath it. Personally, I quite like to combine my weighted blankets with normal bedding anyway, especially when the blanket isn't big enough to cover my entire bed.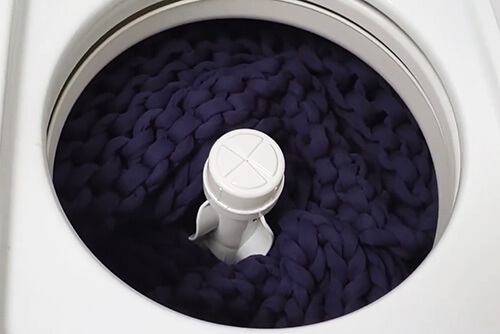 Warranty
Bearaby offers a 30 day returns window if you're not happy with it or feel like a different size or weight would be better.
Unfortunately, they don't have an extended warranty for any craftsmanship issues that might crop up. This isn't unusual for weighted blanket companies, but there are some with longer warranties. So this is one of my criticisms of the Bearaby.
Price
People are sometimes caught by surprise when they find out how much weighted blankets cost, and the Bearaby is no exception.
It's not uniquely expensive – there are several other companies with similar prices, like the Baloo and Gravity blanket. But there are less expensive brands if you're on a budget, such as the YnM, Layla and Quility, for example.
Here are the prices at the time of writing (February 25, 2022):
15 lbs: $249
20 lbs: $259
25 lbs: $279
---
Verdict
The Bearaby Napper is one of the best weighted blankets I've relaxed and slept under. What makes it shine (apart from the shiny cotton!) is the fact that it looks great and doesn't sleep hot. It will be a talking point in your living room, and a comfort point in your personal time.
It's like someone decided to knit you the biggest scarf you could imagine and then wrap you in it so you feel all cozy and secure. But unlike a scarf, you won't overheat if you use it in the summer since it's one of the most breathable weighted blankets you'll find.
Yes it's expensive, doesn't have the most generous warranty, and takes more effort to clean than many other blankets. So it's one for people who like to take care of things and make sure they last the test of time. I wouldn't let my dog near it, for example, and I'm very careful when I choose the wash cycle.
As for how well it works, that will be up for you to decide as I can only talk from personal experience. It feels comfortable to me, I like to relax on the sofa under it reading a book or watching a movie, and I've used it for many nights while I sleep. And if nothing else, it's a stylish addition to the home.