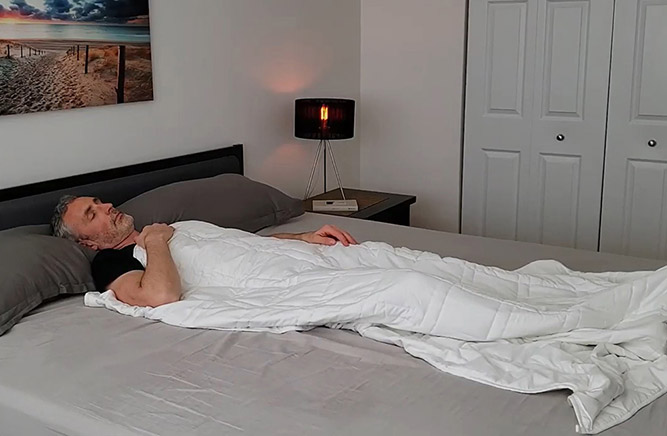 I'm using my queen-size 20 lb Baloo weighted blanket in the photo, trying my best to look like I'm sleeping!
Summary
The Baloo is an excellent weighted blanket that gets the balance just right between aesthetic appeal, breathability, and robust design. It has a versatile look and feel, so you can use it for relaxation on the sofa or sleep in the bedroom.
It's made by an eco-friendly company that clearly put a lot of thought into the design and materials used. It's relatively expensive compared to other brands of weighted blankets, but the lifetime warranty helps make up for that.
Good points
High-quality design that looks great aesthetically.
Neatly finished double-stitched pockets to prevent leaks.
Lead-free glass microbead fill.
Breathable, which hot sleepers will appreciate.
Both the outer cover and internal batting are 100% cotton, with no polyester fill.
Oeko-Tex certified chemical-free materials.
Good for both daytime relaxation and sleep.
30 day returns period, and lifetime craftsmanship warranty.
Criticisms
Expensive.
Only available in four sizes.
Only one duvet cover style (French linen).
---
Full review
---
In July 2020, I published a comparison of several different weighted blankets, which you can see here on my blog, and also on my YouTube channel.
The Baloo was my top choice, so I wanted to do it justice with a separate article. There's always more information than I can squeeze into the lengthy comparison articles without landing on the boring side of epic!
So, let's take a closer look at why the Baloo is my personal favorite of the many weighted blankets I've used.
Who makes it? An eco-friendly company that values sustainability
In the last few years, there's been an explosion of weighted blankets as they gain in popularity and more companies and industrious individuals get in on the action.
The problem is, they don't all seem to care equally about the materials they use. There are several sold on big online stores (no names, but you can probably guess) that are clearly made with cheap materials and less consistent quality control.
There's often little to no information about where the materials come from, and no reference to the manufacturing process.
I'm not going to bore you with a long monologue about the state of rip-offs being sold online (it's pretty bad right now). But I will say that Baloo is one of the exceptions, which is a key reason I like it so much.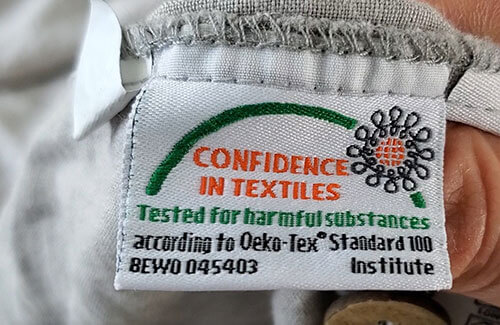 It's a small startup that clearly stands behind its eco-friendly philosophies. The company is carbon-neutral, the materials used are all Oeko-Tex certified, they donate a portion of their profit to the pajama program, and they are a member of the NYC Fair Trade Coalition and Ethical Brand Directory.
So in my opinion, if you're passionate about the environment and the world we live in, and you fancy a weighted blanket, Baloo is a company to consider.
Design and fill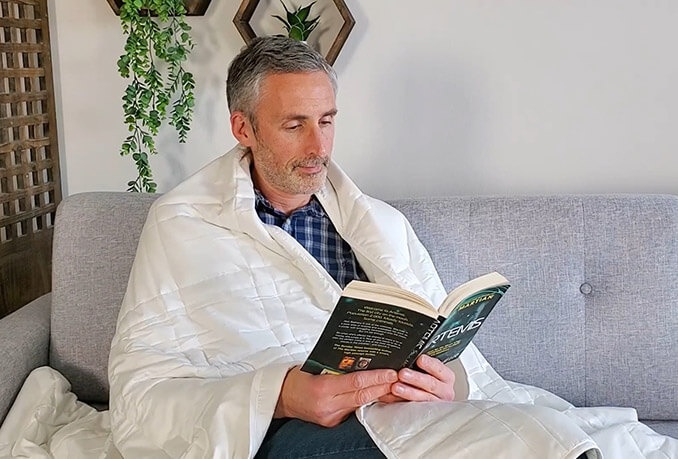 Having waxed lyrical about the company, let's take a look at the actual blanket. The first thing to note is that the internal Baloo weighted blanket – the main part – is white.
Some brands offer different colors for the actual weighted blanket as well as the covers. But the Baloo only comes in white, which looks elegant, but perhaps leans more towards bedroom use than the sofa.
The cover of the internal blanket is described as a 'premium cotton', though I couldn't find any information about the exact thread count.
But it feels very soft, smooth, and comfortable, so I think you can easily use it on its own without a duvet cover. And that's great, as you can then save money by only buying the weighted insert – as long as you like white.
As with most weighted blankets these days, the fill is glass microbeads rather than plastic. Baloo says they are hypoallergenic, but to be honest, they all say that as far as I can tell.
The beads are contained in small double-stitched pockets (see below). And each pocket contains only a minimal amount of cotton batting. It's the only weighted blanket I know of that uses 100% cotton for both the internal cover and fill, with zero polyester. And that means it sleeps cooler than most other weighted blankets (see the section on cooling below).
The minimal amount of fiberfill does mean that the beads move around more in their individual pockets though. So be prepared to see them bunching up in the corners and edges of each section. However, I personally prefer that to thicker covers and denser fill, as the beads often tend to get stuck in the corners. With the Baloo, they are free to move and hug your body in each new position you move into.
For me then, the Baloo oozes quality where the design is concerned. It just looks and feels better than any of the others of this style that I've tried. The only one I'd say that matches it in terms of elegance is the Bearaby Napper, which is a different style altogether.
Note: the original version of the Baloo used polyester batting. In 2020, they changed to only use cotton, which is a good thing in my opinion.
Stitching
I always get the ruler out to check the dimensions of these blankets!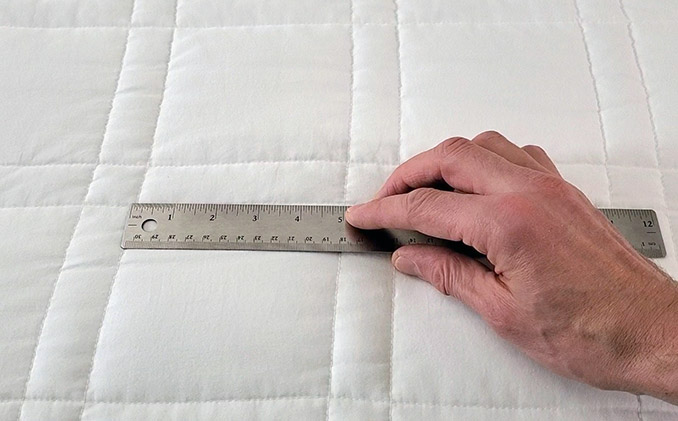 It's worth talking about the stitching a bit more, as it's really important that a heavy weighted blanket is robust and durable. I've seen cheaply made ones come undone with very little usage. The beads then spill from one pocket into the neighboring one, which affects the overall feel and weight distribution.
As you can see in the photo above, the Baloo has a double stitch design to the pockets. The main pockets are roughly five by five 5 inches, with one by five inch sides and one inch corners. It means there's a double layer of protection should any stitching come undone.
The only other brand I've seen recently with this high level of stitching is the Weighted Evolution. For example, the YnM, Quility, Luxome and Layla all just have single stitching between the pockets.
The stitching on the sides and the loops is also very neatly finished. No loose cotton and no mistakes.
Weight and size options
The Baloo blanket comes in three bed sizes – throw, twin/queen, and king.
They don't have multiple weight options for every bed size, as some companies offer. Whether that's a good thing or not will depend on whether you value simplicity of choice or being able to specify the exact weight you feel you want.
The throw is only available in 12 lbs weight, and the king in 25 lbs. The twin/queen has two weight options – 15 lbs and 20 lbs.
Personally, I use the 20 lbs queen and really liked the weight distribution. Interestingly, my wife weighs a lot less than me and also found the weight to be comfortable.
There's a fair bit of debate about choosing the right weight. Some companies say you should select 10% to 12% of your body weight. Others say that doesn't make sense because the blanket dimensions and your body shape will also play a role in how the weight is distributed.
I've tried many different weights and sizes of different blankets, and come to one perhaps oversimplified conclusion: as long as it's not really heavy (30-35 lbs) or really light (10 lbs or less) it usually feels fine. I often can't even tell whether it's 15lbs or 20lbs once I'm under it.
Cover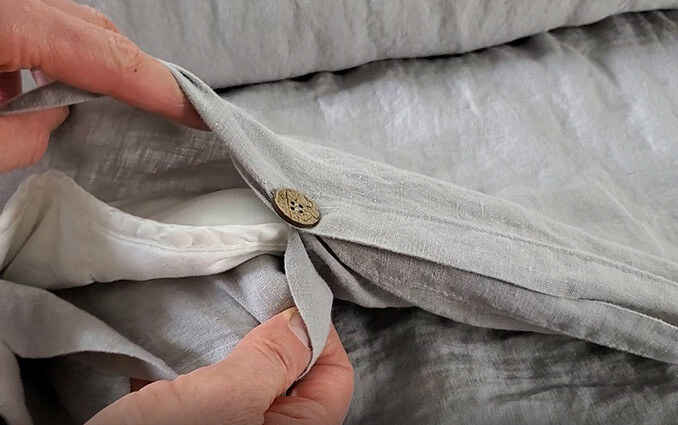 The Baloo only has one cover choice – French flax linen. I personally really like the rustic feel of it, but my wife wasn't such a fan and prefers cotton or Minky. It's fastened with wooden buttons rather than a zip, which is uncommon for weighted blankets, but does look stylish.
It's a shame they don't have other cover choices, and it's also a shame that it's quite expensive for what it is. At the time of writing it's $129 for the twin or queen, and $179 for the king. This makes it the most expensive cover I've seen for a weighted blanket, and probably my main criticism.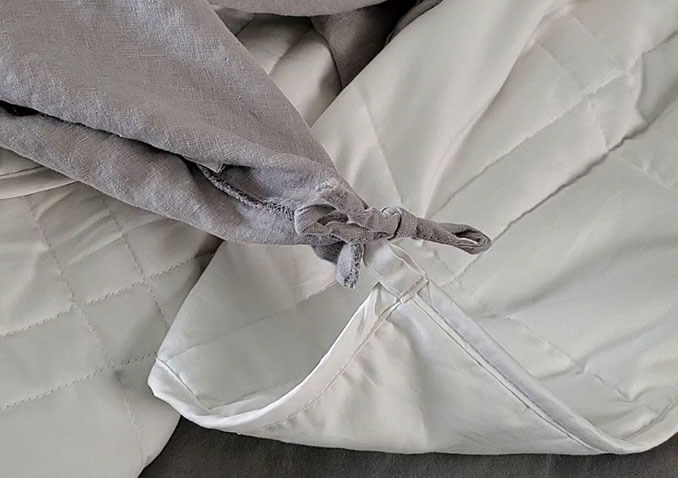 The Baloo blanket has six loops and six corresponding ties on the cover. It's very easy to attach and remove the cover as the loops are big enough to easily thread the ties.
I think eight ties would be better for larger sizes though, so I recommend tying them all well to avoid damaging them when moving the blanket around as it can put a lot of strain on individual ties.
How cool is the Baloo? Does it overheat?
The idea of a weighted blanket being 'cooling' is one I have strong opinions about.
I just don't think you can put a blanket on top of you – especially one that weighs 15 lbs – and expect it to cool you.
Yet marketing departments still insist on adding the word 'cooling' to their bedding when there's no evidence, or even common sense, to back it up.
Baloo doesn't quite fall into that trap, fortunately, carefully choosing these words for their website:
We use premium cotton chosen for its softness, breathability, and durability. The blanket doesn't trap heat, so it's cool enough to use year-round in all climates.
Now, I do agree that it's relatively breathable compared to all other weighted blankets I've tried. The only one that beats it is the Bearaby Napper, which literally has holes in it to let heat escape (see my review of the Bearaby here).
Is it cool enough to use in all climates? I think that depends. I don't find it overheats most of the time. But in New York when it's still 90 degrees at night and I don't turn the air conditioning on, the last thing I want on top of me is a blanket, no matter how breathable it is.
So to put it bluntly, this is one of the top two I've used at night in terms of breathability, but don't expect miracles if your bedroom is a sauna at night.
How good is it for relaxing on the sofa?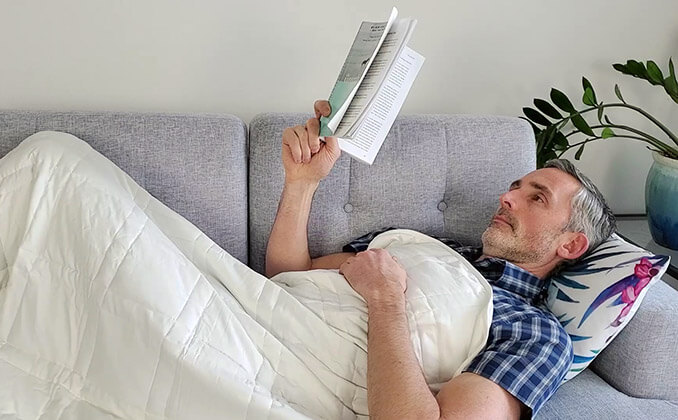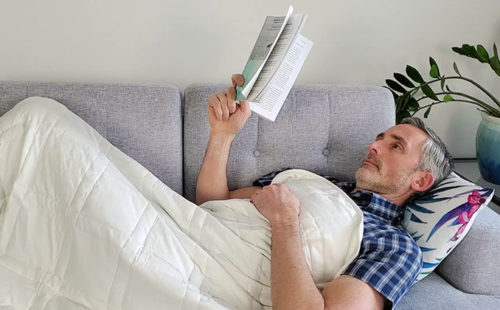 When I review weighted blankets, I tend not to wade too deeply into the debate about how well they actually work. You can easily get lost examining the research that's been done, and trying to unpick what's objective, what's not exactly relevant, and what was sponsored by companies that make them.
So here's my personal experience and viewpoint. I like using the Baloo when I'm chilling on the sofa reading, watching a movie or just whiling away the hours on my phone. I do think there's something relaxing about having that weight on top of you. And when I'm feeling particularly stressed, there's something calming about it.
Whether it's psychological because I know it's supposed to be calming, or whether it's having a real effect on my happy or stress hormones is something I just can't say. But it feels good.
How good is the Baloo weighted blanket for sleep?
Okay, here's the thing. I love using a weighted blanket in the bedroom in the cooler months of the year. I put it on top of my duvet, and it creates a fantastic cocoon to sleep under.
In the summer, not so much. Honestly, when it's hot I sleep with just a cotton sheet over me. I've used the Baloo for naps/siestas in the summer months with the air-con going, and that's fantastic. But for all night use in hot weather, you either need to love the heat or have air-con to want to use any weighted blanket – no matter how breathable it is.
In terms of aesthetic appeal for the bedroom, the Baloo definitely looks like it belongs in the bedroom. And in some ways, it has a more serious, minimalist bedding look to it than brands that come in funky colors and patterns. So for me, the Baloo is arguably better suited to the bedroom than the living room.
Cleaning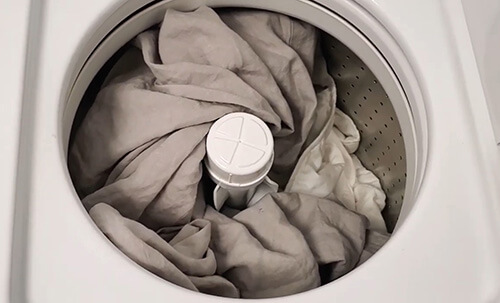 I love that you can machine wash and dry the Baloo. I've washed mine twice and it comes out absolutely fine.
Some brands need to be spot cleaned or dry cleaned. And although they say you can machine wash just the cover, I personally think it's much more convenient if you can machine wash both the weighted blanket and the duvet cover.
Warranty
Baloo have a 30 day returns window, which is fairly common for weighted blankets. However, they have a lifetime craftsmanship warranty. This is an exceptional warranty period and the only company I know that offers it.
Price
The Baloo is one of the more expensive weighted blankets I've seen, even without the cover. Here are the current prices at the time of writing (August 6, 2021):
Throw 12 lbs: $159
Full/Queen 15 lbs: $169
Full/Queen 20 lbs: $169
King 25 lbs: $204
---
Verdict
The Baloo is my personal favorite of the many weighted blankets I've relaxed and slept under. I love how it looks visually, how it feels to touch, and how well it hugs your body.
Because I'm able to compare it to many different weighted blankets, I can tell that more thought has gone into the craftsmanship than most others. Perhaps that's why they feel confident in offering a lifetime warranty.
A key feature I look out for is breathability. And while the Baloo doesn't feel 'cool' in the summer, it's definitely more breathable than most because it has less batting and is made with high-quality cotton.
My only real criticism is the price: this is a luxury weighted blanket and one of the most expensive out there. So if you're on a tight budget, you can find others for less than half the price. If you really want it, but it's a bit of a stretch, consider getting the insert and not the additional cover.
But if you want a high-quality weighted blanket that will look great aesthetically and last the test of time, the Baloo is one to consider.