Disclosure: There are affiliate links in this article. If you choose to buy a product via a link, I may earn a commission, at no extra cost to you (Learn more).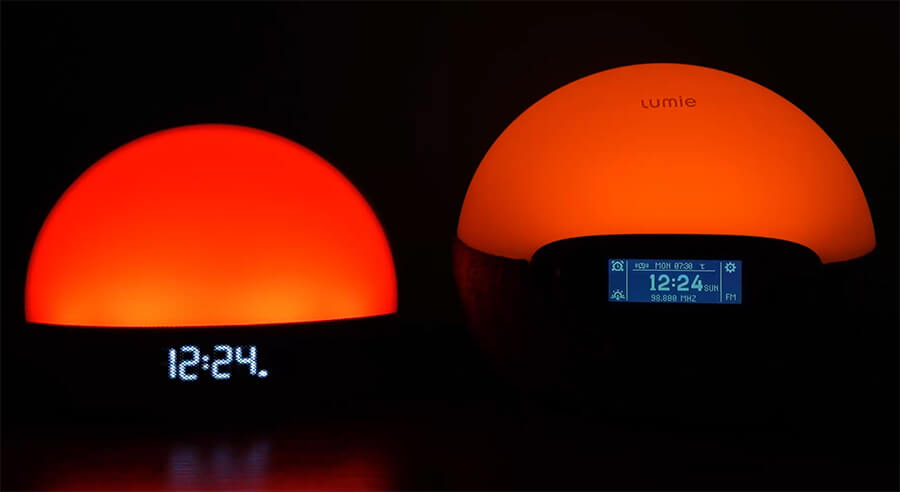 In the photo above, and the one below, you can see two of the wake-up lights I tested extensively before writing this article. On the left is the Hatch Restore, and on the right is the Lumie Bodyclock Shine 300.
The core concept of a wake-up light is that it helps make waking up in the morning a more pleasant experience. No more loud alarm tones that rudely remind you that your dream world wasn't real and you have to go to work, again.
Sure, you still have to get up and go about your business, but hopefully the transition from blisssful sleep to the daily grind will be a bit more subtle. And if you find waking up before the crack of dawn a little depressing, it might be a more positive experience to wake up to the warm glow of light instead of a blaring alarm in the darkness.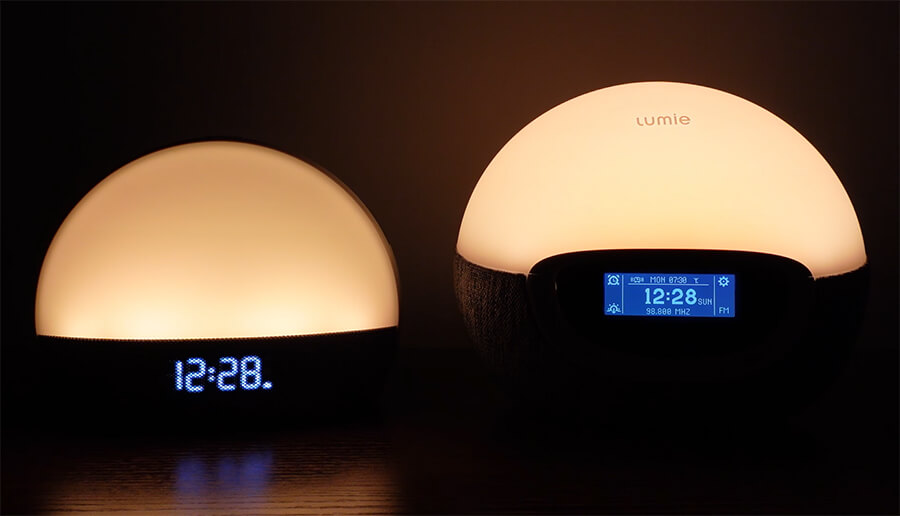 I always have a wake-up light on my nightstand, both because I write about them and because I genuinely enjoy using one. Experience has taught me that I tend to start the day in a better mood if I wake up with light rather than loud noise. And I also like falling asleep with the bedroom light slowly fading through deep reds.
As well as the sunrise and sunset simulator, many wake-up lights also have audio, such as white noise, nature sounds, meditations, or radio. The features they have can vary a lot from one device to the next though, so it's important to choose one that has the color and sound options that you think you'll like.
In this review, I'll be looking at some wake-up lights made by Philips, Lumie, and Hatch. Whether you're looking for a wide range of features or a specific light setting, you should find one here that helps make waking up and falling asleep a more pleasant experience for you.
---
1. Lumie Bodyclock Shine 300
A smooth sunset and sunrise effect, with FM radio and manual controls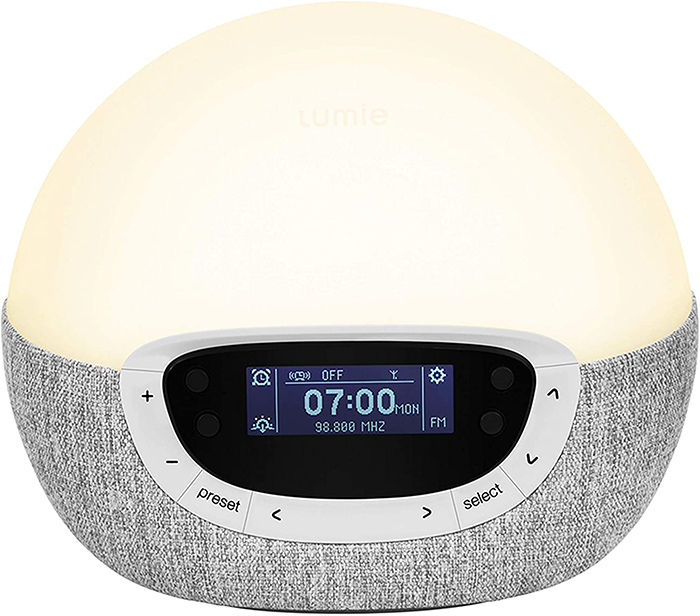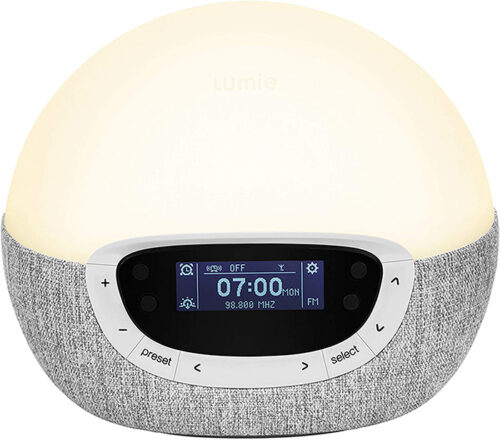 Lumie is a UK company that specializes in medical-grade light therapy devices. The Lumie Bodyclock Shine 300 might look quite basic, but it's an excellent wake-up light that has a very smooth color transition from bright white to deep red. It also includes an FM radio, with white noise or nature sounds to help you fall asleep or wake up to if you like.
The beautiful light created by the LEDs is what really stands out for me. The slow fade is much smoother than most other wake up lights, and the glow of the deep red hues looks amazing in the bedroom.
In the photo below, I'm using the Lumie as a reading lamp. I like that you can use wake-up lights this way, as it means you don't need a separate reading lamp on the bedside table.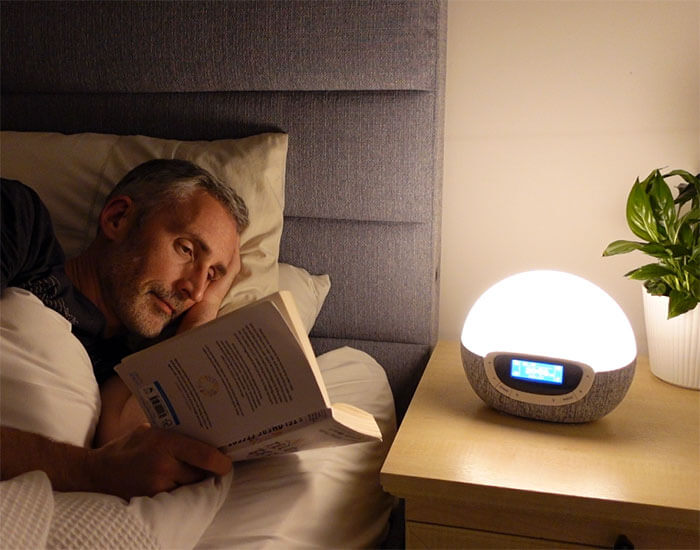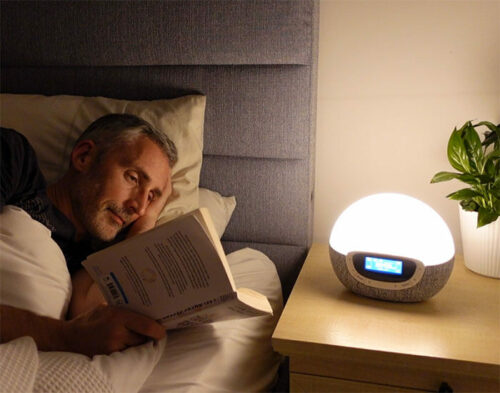 In the next photo, you can see the middle of the sunset and sunrise color transition.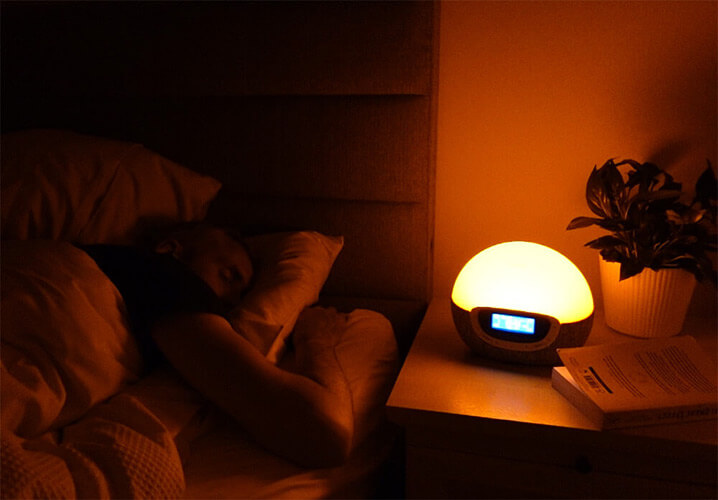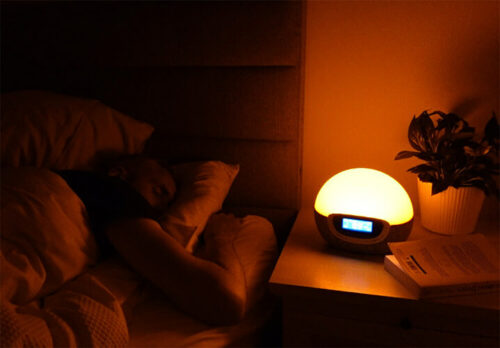 Pros
Clean design that looks good on the nightstand.
Mixed LEDs create a warm sunset and sunrise effect.
Smooth transition from bright white to deep red.
Option to set any of the color/brightness levels as a reading light or nightlight.

Sunset timer from 15 to 90 minutes to help you fall asleep.

Sunrise timer from 15 to 90 minutes, and you can set the final brightness level to wake up to.
Optional morning alarm or night sounds: FM radio and 15 sounds such as beeping, white noise, birds, waves or kittens.
Option to turn off the digital display clock.

Snooze feature.

Manual controls, so there are no issues around connectivity.
Cons
The instructions and button combinations can be complicated until you get used to them.
Not a budget option (I paid close to $140).
The speaker lacks bass.
Verdict
The Lumie Bodyclock Shine 300 is my personal favorite of the wake-up lights I've used. It does its main job very well – helping you wake up more gently in the morning with light slowly filling the room. And there's just enough flexibility in the alarm, light, and sound settings to find a combination that works for you.
Although the Hatch Restore (coming up next) has more features, with many more color and sound options, I prefer the fact that you don't need an app, Bluetooth or Wi-Fi to control the Lumie. I love the deep red hues of the sunrise and sunset, and the bright white works perfectly for me as a reading light.
The price puts it in the middle of the upper range of prices for wake-up lights, so it's not a budget option. Personally, I think you get your money's worth if you'd rather have one high-quality sunrise and sunset effect rather than endless features you might not use. But if you prefer to have tons of features, check out the Hatch Restore instead.
Where to buy
See it in action in the video in my Lumie Bodyclock Shine 300 review.
---
2. Hatch Restore
Huge range of features, with many audio and light options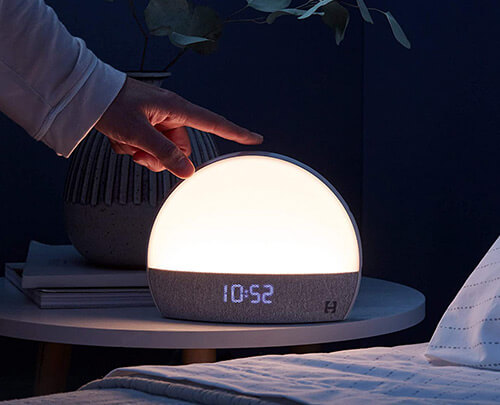 The Hatch Restore has by far the widest range of features I've seen in a wake-up light. Really, this one is much more than just a wake-up light though. They call it a smart sleep assistant, as you can program a nightly routine that consists of multiple steps to help you unwind.
The wake-up part has a lot of flexibility to tailor it to your liking. There are 10+ different sunrise effects to choose from, each with different colors involved. And that's one of the areas where the Hatch Restore stands out – it has a rainbow of colors to choose from, rather than just whites, yellows, oranges, and reds that most wake-up lights typically have. So if you'd like a sunrise that includes blues, pinks, or purples, for example, the Hatch Restore is one to consider.
It also has a wide range of sounds to choose from, with longer loops in the recordings than any of the traditional white noise machines I've tested in the past.
However, many of the best sounds are only available if you subscribe to their premium membership, which will cost more on top of the price you pay for the device itself. And while the sounds are excellent, not everyone will want to pay a subscription to access them.
In the photo below, I'm selecting one of the different sunrise effects the Hatch Restore has.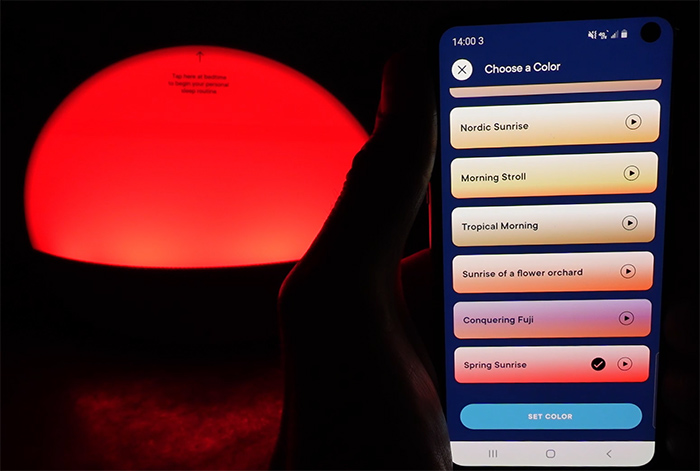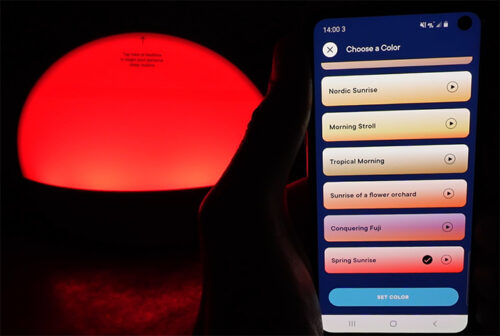 In the next photo, I'm sleeping while the Hatch is halfway through a sunrise setting.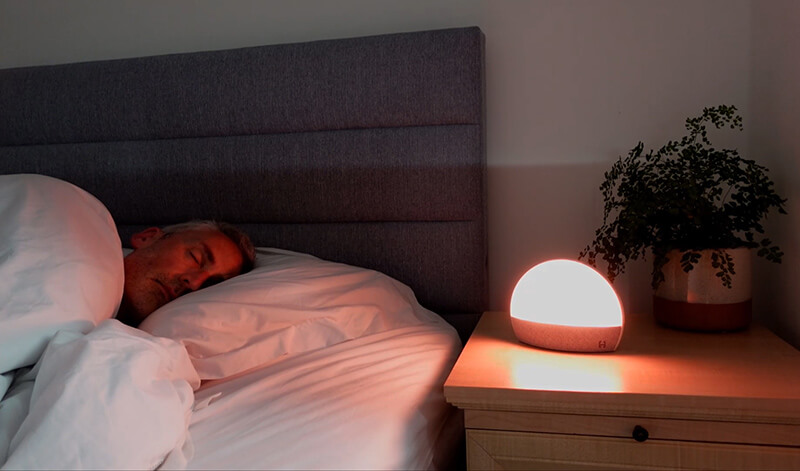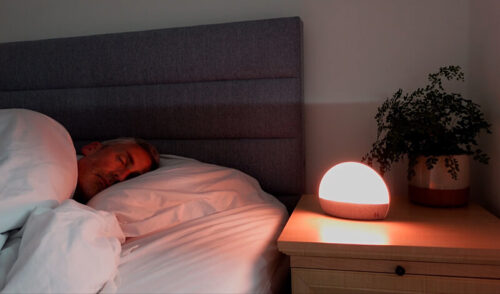 Pros
Widest range of features out of the wake-up light.
Multiple sunrise and sunset effects to choose from.
All the colors of the rainbow are available as a nightlight or reading light.
Minimalist design that doesn't take up much space.
Digital display clock can be dimmed or switched off.
Huge range of alarm sounds and sleep sounds.

Meditations to help you relax.

Modern smartphone companion app.
Cons
Many sounds are only available if you pay for the additional premium membership.
Needs to connect via Bluetooth and Wi-Fi.
You need the app to adjust most of the settings, with only basic manual controls.
Not a budget device (I paid $140 and then $49 per year to access the extra sounds).
Verdict
The Hatch Restore excels when it comes to the light effects and the endless ways you can program your own sleep routine, with plenty of wake-up light and alarm options too. You're not just stuck with one style of sunrise and sunset simulator, but can choose the exact colors you want it to cycle through, and over what length of time.
The sounds are excellent too, with some very relaxing sleep stories, meditations, and slow songs. However, it's a shame you have to pay to access many of them. The Hatch Restore also won't suit you if you don't have Wi-Fi in your bedroom or if you prefer to control a device manually.
On balance, this is an excellent wake-up light if you like the idea of being able to fine-tune the colors, sounds, and times via a modern app interface on your smart device.
Where to buy
See it in action in my Hatch Restore video review.
---
3. Philips HF3520
Excellent sunrise simulation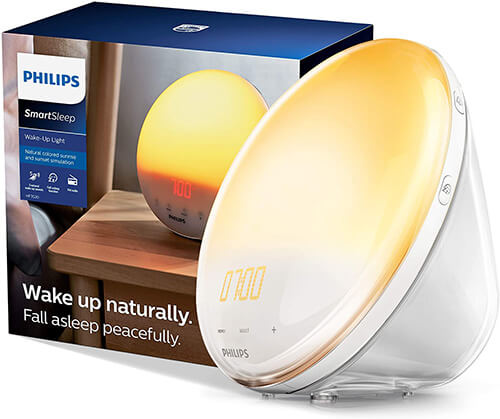 Philips make a wide range of wake-up lights, with the HF3520 being one of their most advanced and most popular.
It has a stylish design, high-quality light settings, smooth fading, and a range of different hues. When it comes to sunrise simulation, it provides one of the smoothest transitions I've seen in wake-up lights.
It's common for them to offer just a few shades of white which jump noticeably in brightness. But the Philips starts with a deep red, cycles through shades of orange and yellow, and finishes with a warm white.
Pros
It has a stylish design that looks good on a bedside table.
The sunrise simulator cycles from red to orange to white with 20 incremental brightness levels.
The maximum brightness of 300 lux should help you wake up in the morning.
You can select the maximum brightness reached, and adjust how long before your chosen alarm time the sunrise effect begins.
There's an option of either just light or light and sound combined as an alarm.
You can have a different weekday and weekend alarm.
There's a choice of an FM radio or five nature sounds, such as birdsong or ocean, to fall asleep or wake up to.
There's an easy to use snooze option – just touch anywhere on the face and snooze away.
It can be used as a bedside lamp, and also as a sunset simulator at bedtime.
Cons
The buttons on the top aren't visible from the front and are quite small. So you either need to look carefully when changing settings or turning the audio alarm off or learn by touch where they are.
Not as many light options as the Hatch Restore.
Not a budget option (I paid $99).
Verdict
The Philips HF3520 gets the lighting part spot on. The sunrise simulator is gentle enough to help you wake up feeling more relaxed .
It's a shame that the buttons are somewhat tricky to use, but at the same time it does look slick with the buttons tucked neatly away. Although it's less expensive than the Lumie Bodyclock Shine 300 and Hatch Restore, it's still in the middle of the range that wake-up lights cost, and there are more budget options out there.
Overall, if you're looking for a smooth simulator, and you can put up with some fiddly buttons, the Philips is a good wake-up light.
Where to buy
---
4. Philips HF3505
Good mid-range option with easy controls, 10 light settings and 3 alarms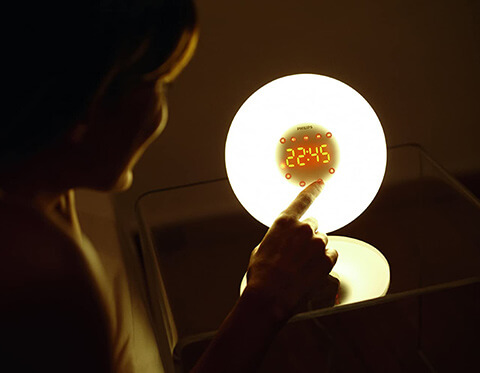 There are several versions in the Philips HF3000 series, with some subtle differences between them. There are differences though, with the 3505 having some key improvements, such as extra buttons on the front which improves the usability considerably.
Unlike the larger 3520, these smaller models have the physical shape which is so often copied nowadays – the circular face with a fixed prop to keep it upright.
Although it doesn't have the same range of features and light options as the 3520, the 3505 does solve one or two problems even that more expensive model has – namely the accessibility of the buttons and controls.
Pros
It has a contemporary design and is easy to use.
There are 10 brightness settings, with the maximum being bright enough to help you wake up.
You can set how long the gradual sunrise takes – starting up to 30 minutes before the final brightness is reached.
You can choose the maximum brightness reached – up to 200 lux.
There's a choice of two natural bird sounds or FM radio with the light, or silence and light alone.
You can snooze it for nine minutes with a simple tap of the top.
The digital display has four brightness options.
You can use it as a bedside lamp, choosing any of the brightness settings.
It has easy to use touch-sensitive controls, conveniently placed on the front.
Mid-range price (I paid $70).
Cons
It's fairly light, so even though it has anti-slip rubber feet, it might move around on the bedside table if you push the buttons hard.
You can dim the display, but not turn it off completely.
Verdict
The Philips HF3505 is a good lower-priced option, with a decent number of adjustable brightness settings, an easy control system, and a few choices of alarm sounds.
It doesn't have the same smooth light transition as the high-end models, but it should still do the job of helping you wake up more gradually and calmly than with a sudden alarm. If you don't want to spend too much on a wake-up light, but don't necessarily want the basic quality of the cheapest either, this is one to consider.
Where to buy