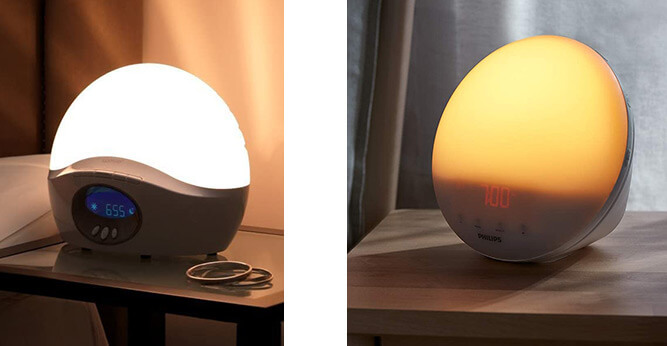 A wake-up light is a great way to make getting up in the morning an easier and more pleasant experience.
If you're not a fan of loud alarms (who is?!) or you struggle to get up when it's still dark outside, waking up with light gently filling the room can help you start the day on a more positive note.
In this review, I'll be looking at some popular wake-up lights made by Philips, Lumie and Hatch.
Hopefully, you'll find one which shines just enough light to help you get up on the right side of the bed and face the day with a smile.
1. Hatch Restore
An excellent all-in-one wake up light, sound machine, and reading light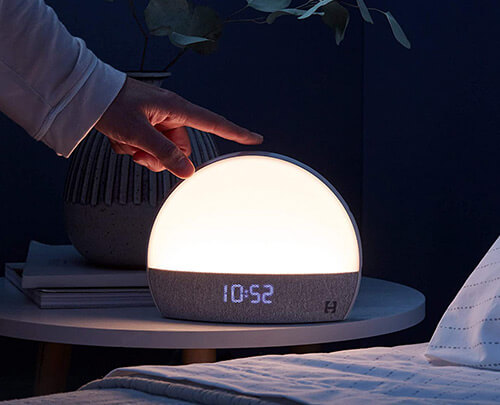 The Hatch restore is designed to improve your bedroom ambiance and sleep, with multiple functions to do so. You can use soft light and sounds to help you wind down before sleeping, as a reading light, and a wake-up light.
It has more light settings than most wake-up lights, letting you choose many shades of the entire rainbow. So it's not just red, orange, yellow and white like most have, but there are greens and blues too, for example.
Pros
Multiple sunrise styles to choose from, with a smooth transition between colours.
Aesthetically pleasing with a clean and minamilist design.
Large digital clock that you can adjust the brightness of.
Touch sensor buttons that don't click.
Option to use it as a reading light with a stable brightness instead of fading, and any colour you choose.
Over 30 sleep sounds in the library to choose from, with decent speaker quality.
Many meditation sounds to help you relax.
Can be operated with manual buttons on the device, and also the smartphone app.
Cons
Most meditation sounds are for premium users, behind a paywall.
Quite large, so not ideal for travel.
Relatively expensive (I bought it for $140).
Verdict
The Hatch Restore excels in the choice it gives you to finetune the light settings. You're not just stuck with one style of sunrise simulator, but can choose the exact colours you want it to cycle through, and over what length of time.
The speaker quality is good too, so it will easily replace a traditional white noise machine or phone app. And with the flexible light settings, you don't need a separate reading light either.
So unless you're on a tight budget (see the Philips further down if you are), this is a wake-up light that I'd recommend trying.
---
2. Philips HF3520
Excellent sunrise simulation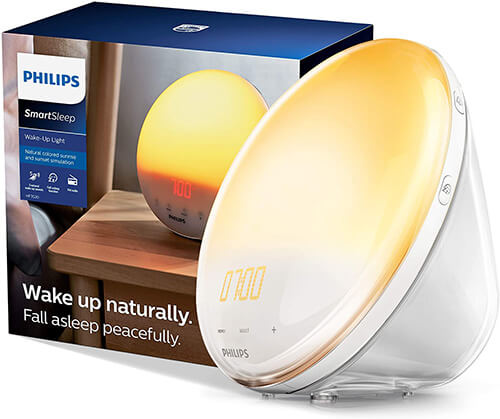 Philips make a wide range of wake-up lights, with the HF3520 being one of their most advanced and most popular.
It has a stylish design, high-quality light settings, graduated fading, and a range of different hues. When it comes to sunrise simulation, it provides one of the smoothest transitions I've seen in wake-up lights.
It's common for them to offer just a few shades of white which jump noticeably in brightness. But the Philips starts with a deep red, cycles through shades of orange and yellow, and finishes with a warm white.
Pros
It has a stylish design that looks good on a bedside table.
The sunrise simulator cycles from red to orange to white with 20 incremental brightness levels.
The maximum brightness of 300 lux should help you wake up in the morning.
You can select the maximum brightness reached, and adjust how long before your chosen alarm time the sunrise effect begins.
There's an option of either just light or light and sound combined as an alarm.
You can have a different weekday and weekend alarm.
There's a choice of an FM radio or five nature sounds, such as birdsong or ocean, to fall asleep or wake up to.
There's an easy to use snooze option – just touch anywhere on the face and snooze away.
It can be used as a bedside lamp, and also as a sunset simulator at bedtime.
Cons
The buttons on the top aren't visible from the front and are quite small. So you either need to look carefully when changing settings or turning the audio alarm off or learn by touch where they are.
Not as many light options as the Hatch Restore.
Not a budget option (I paid $99).
Verdict
The Philips HF3520 gets the lighting part spot on. The sunrise simulator is gentle enough to help you wake up feeling more relaxed (hopefully!)
It's a shame that the buttons are somewhat tricky to use, but at the same time it does look slick with the buttons tucked neatly away. And this isn't a device for those on a budget (see below for more affordable options).
But if you're looking for the smoothest and most convincing sunlight simulator, and you can put up with some fiddly buttons, the Philips is a very good wake-up light.
---
3. Lumie Bodyclock Shine 300
Wide range of light and sound features with FM radio and timers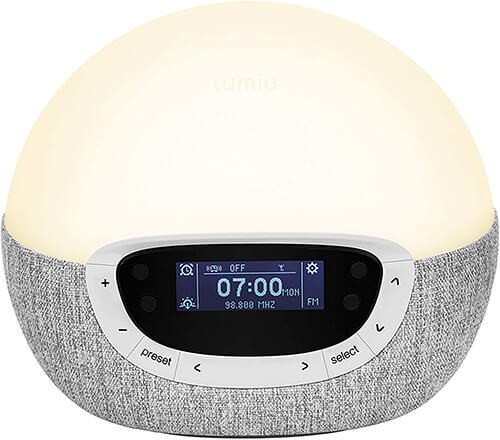 Based in the UK, Lumie specializes in medical-grade light therapy devices. The Bodyclock Shine 300 not only focuses on waking, but on the going to sleep part too. Along with an excellent slow sunset simulator, it has white noise or nature sounds to help you sleep.
The light quality is what really stands out though. For me, the slow fade is much smoother than most other wake up lights, and the deep glow of the red hues looks great on the nightstand.
Pros
The stylish design looks good on the nightstand.
Mixed LEDs creates better sunset colors than most wake up lights.
Light transition from a warm red glow through to a bright light, or in reverse.
Sunset timer of 20, 30 or 45 minutes to help you fall asleep.
Sunrise timer of 15 to 90 minutes, and you can set the final brightness level to wake up to.
It has a choice of optional alarm sounds: FM radio or 15 sounds such as beeping, white noise, birds, waves or kittens.
You can also listen to the sounds at night to help you sleep.
It can be used as a nightlight for reading, with a choice of brightness or a slow fade.
The display turns off when the alarm is set, or can be faded with a simple button combination.
It has a snooze feature.
A battery back-up means the settings are kept if it loses power.
Cons
The instructions and button combinations can be complicated until you get used to them.
Expensive (I paid close to $140 in 2020).
Verdict
I really like the Shine 300, and for me it's the best wake-up light from Lumie so far. It can match the Philips where the light quality is concerned, and has more extra features than budget and mid-range wake-up lights.
It is fairly expensive, there's no getting around that. But considering you also get a radio, white noise machine, and reading light as well as the light effect, this is one that will appeal to those who like to have both sound and light at their fingertips when falling asleep or waking up.
---
4. Philips HF3505
Good mid-range option with easy controls, 10 light settings and 3 alarms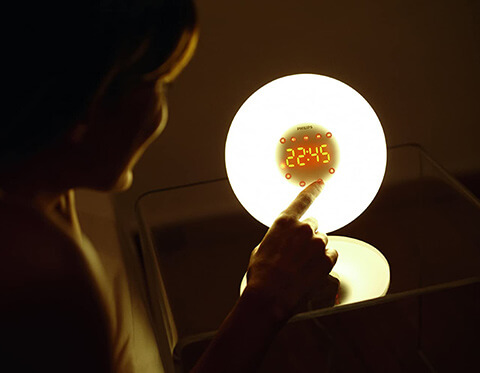 There are several versions in the Philips HF3000 series, with some subtle differences between them. There are differences though, with the 3505 having some key improvements, such as extra buttons on the front which improves the usability considerably.
Unlike the larger 3520, these smaller models have the physical shape which is so often copied nowadays – the circular face with a fixed prop to keep it upright.
Although it doesn't have the same range of features and light options as the 3520, the 3505 does solve one or two problems even that more expensive model has – namely the accessibility of the buttons and controls.
Pros
It has a contemporary design and is easy to use.
There are 10 brightness settings, with the maximum being bright enough to help you wake up.
You can set how long the gradual sunrise takes – starting up to 30 minutes before the final brightness is reached.
You can choose the maximum brightness reached – up to 200 lux.
There's a choice of two natural bird sounds or FM radio with the light, or silence and light alone.
You can snooze it for nine minutes with a simple tap of the top.
The digital display has four brightness options.
You can use it as a bedside lamp, choosing any of the brightness settings.
It has easy to use touch-sensitive controls, conveniently placed on the front.
Mid-range price (I paid $70, but as of June 2021 it was over $80).
Cons
It's fairly light, so even though it has anti-slip rubber feet, it might move around on the bedside table if you push the buttons hard.
You can dim the display, but not turn it off completely.
Verdict
The Philips HF3505 is a good lower-priced option, with a decent number of adjustable brightness settings, an easy control system, and a few choices of alarm sounds.
It doesn't have the same smooth light transition as the high-end models, but it should still do the job of helping you wake up more gradually and calmly than with a sudden alarm. If you don't want to spend too much on a wake-up light, but don't necessarily want the basic quality of the cheapest either, this is one to consider.