Disclosure: This website is supported by my readers. If you decide to purchase a product through one of the links provided, I may receive a commission, at no additional cost to you. Learn more.
At a glance
The Dreamegg D3 Pro white noise machine gets the balance just right between the sounds it plays, speaker quality, useful features, and price.
With 15 nature sounds, 7 fan sounds, and 7 white noise sounds, good volume, and better bass than most white noise machines, it does a great job of masking external noise.
The headphone jack, auto-off timers, internal rechargeable battery, and portable size make it a convenient sound machine for parents to play to kids, or for adults to use themselves.
Pros
Wide variety of sounds.
Internal rechargeable battery allows flexible placement.
Headphone jack for private listening.
Masks external noise very well.
Good price (I paid £31.99).
Small and portable.
Cons
White noise interference in a couple of quieter sounds.
Makes a chiming sound at the end of selections.
Comes with a USB cable, but no power adaptor.
Full review
Please note that this article isn't an exact transcript of my video. I've lightly edited it so it's easier to read and scan for specific information, but all the main points from the video are here.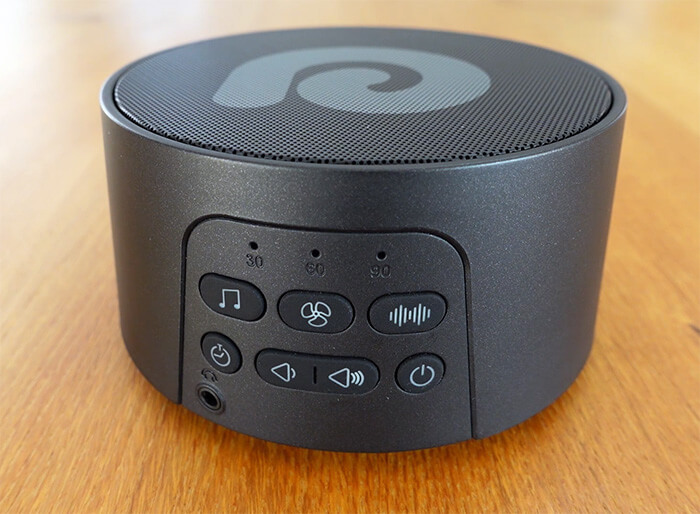 Introduction
Hi, I'm Ethan Green from NoSleeplessNights.com, and in this video/article I'll be doing a review of the Dreamegg D3 Pro white noise machine.
I paid £31.99 for it in the UK, which puts it in the middle of the price range of the 20+ white noise machines I've reviewed in the last few years.
When I bought it, it came in a cardboard box and didn't have too much plastic or polystyrene packaging, which is always good for the environment. There was a physical manual with the device specs and operating instructions, which are very easy to understand.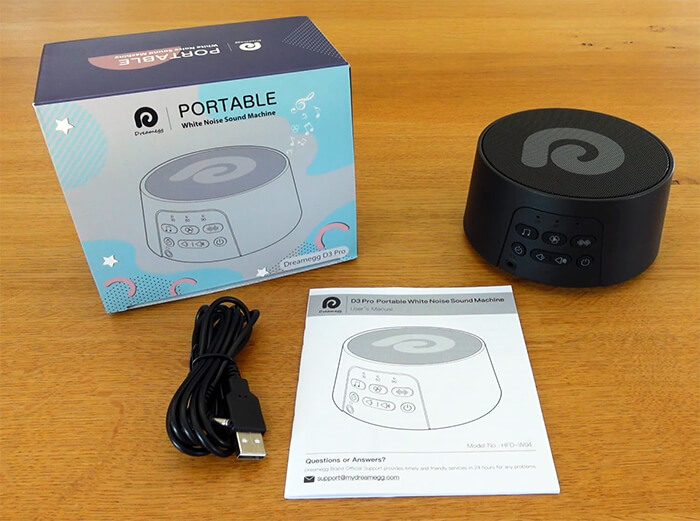 How to power it
The Amazon listing said it included a power adapter, but mine only came with the USB charging cable and the instructions only refer to the charging cable as well, so I'm not quite sure what's going on there.
I emailed the company about this, who replied pretty quickly and sent me one for free. On the plus side, you can use the cable to plug it into any USB outlet or any other five volt power adapter that you already have.
Internal rechargeable battery
One of the key features of the Dreamegg D3 Pro is that it has an internal rechargeable lithium battery. It takes around two hours to charge and I found that it easily lasts over eight hours, so you can leave it playing continuously and it will last all night.
It's great that it has the internal rechargeable battery as it means that you can place it wherever you like in a room without being constrained by proximity to a power outlet. That said, the cable is over a meter long which meant that I could leave it plugged in on a table or a nightstand.
Power consumption and running costs
When you have the Dreamegg D3 plugged in and running, the power rating is 5 watts, which works out at 0.005 kilowatts.
As an example, if you run it for 8 hours every night for 30 days, which is 240 hours, the kilowatt hour consumption will be 1.2 kilowatt hours.
As a rough estimate then, if you're billed 25 pence in the United kingdom per kilowatt hour, it will cost you 30 pence per month to run.
And if you pay 15 cents per kilowatt hour in the United States, that would work out at 18 cents per month.
Please keep in mind that this is only a very rough estimate running cost because factors like the volume and sound choice, as well as your actual tariff, will affect the cost.
Dimensions and design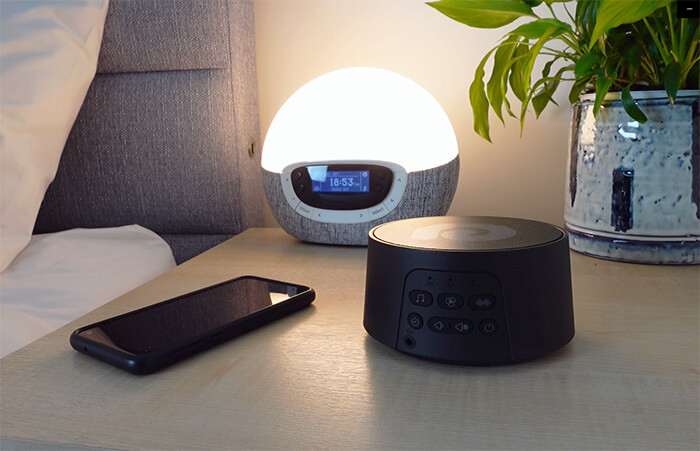 Dimensions
4.4 x 4.4 x 2.3 inches
11.2 x 11.2 x 5.8 cm
Weight
I like how small and portable the Dreamegg D3 Pro is. It's at the smaller end of the spectrum of white noise machines, and it doesn't take up too much space on a desk, nightstand, or suitcase when traveling.
I also like the design, with the minimalist round shape and the charcoal color. The upward facing speaker is good too, as it helps fill the room with sound better.
Buttons / controls
The Dreamegg D3 Pro only has seven buttons and it's very easy to operate, with no complicated button combinations to worry about and no companion app with hidden settings.
There's a button to turn it on and off, two for volume up and down, three to select the sound tracks, and one to select a timer.
Considering there are 29 sounds, it's great that the three main categories each have their own button. You'll see later when I play the sounds that there's a button for the 15 nature sounds, a second button for the seven fan sounds, and a third for the seven white noise sounds.
It makes it much easier to get to the exact sound that you like compared to white noise machines that make you cycle through all the sounds with one or two buttons.
Headphone jack
A very useful feature is the headphone jack. You can use any standard 3.5 millimeter headphone plug to listen to your white noise in private without disturbing anyone else. This is particularly good if you sleep with someone who doesn't appreciate loud rain or fan sounds all night long when they're trying to get to sleep.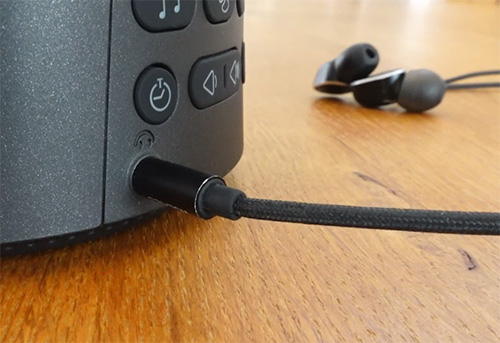 Auto-off timers
It's good that the Dreamegg D3 Pro has auto off timers or the option to play it continuously all day or night. If you press the timer button, a tiny led will indicate whether you have it set to 30, 60, or 90 minutes.
The LEDs on the original Dreamegg D3 were brighter and I like how they've dimmed them on the D3 Pro because not everyone likes to have bright LEDs in the bedroom when they're trying to sleep.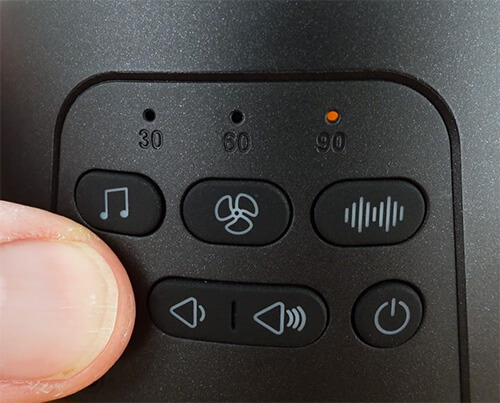 Feet and robust exterior
On the underside, it has non-slip feet which work well to stop it sliding off the table when you're using it half asleep in the nighttime. The casing is a hard plastic though and I found it's robust enough to withstand fairly hard knocks.
The sound options
In this section of the video, I play through all 29 sounds, so you can decide for yourself if you like them or not.
The manual describes the sounds as seven fan sounds, seven white noise sounds, and 15 nature sounds. They don't describe the fan sounds, but they range from industrial fan to household fan in my opinion. They describe the white noise options as three pink noise, three white noise, and one brown noise.
Here are the nature sounds as listed in the manual:
Birds
Sea waves
Gentle surf
Lullaby
Music box
Rain
Rain & thunder
Brook
Campfire
Crickets
Drip
Pendulum
Train
Shushing
Fetal tone
My opinion of the sound options and speaker
Personally, I think it's a fantastic selection of sounds. It's great to have so much variety of white noise and fan sounds, with some deeper pink and brown noise included, which I personally find more relaxing than the sole bright white noise that some devices have.
The nature sounds on the whole are good too, and I like how the Dreamegg D3 Pro has rain on its own or rain with thunder. The speaker has better bass than most other white noise machines I've reviewed, which is an area where they're typically lacking.
The crickets sound a bit too fast for my liking, which is one of my main criticisms of the nature sounds – maybe they're crickets from a coffee plantation! And a couple of the sounds, like the campfire, have a white noise sound in the background which does ruin the effect a little.
It's worth noting that there are two lullabies, a shushing noise, and a fetal sound, which I'm not a fan of because I'm not three years old. Maybe when I'm having a tantrum, but not generally! It means this device is a good option for the parents of young children though.
Loops
Most of the sounds have undetectable loops, which is always a plus. The ones I could time (like the lullaby and music box) were around 90 seconds long. That might seem short, but it's actually longer than the average for these devices, believe it or not.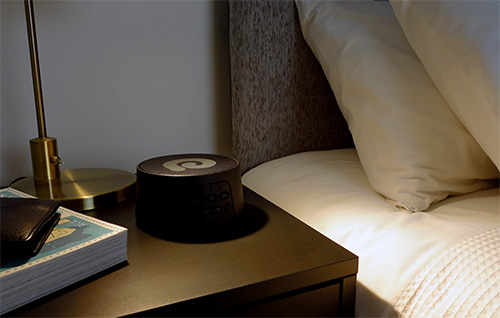 Volume
The D3 Pro has plenty of incremental volume settings and the maximum volume is very loud. I measured the white noise from a meter away at just under 80 decibels, which makes it one of the louder white noise machines I've heard.
That explains why I found that it did a very good job of blocking out external noise, such as birds and traffic outdoors or tv and music from another room. So all in all, I think that the sound options, the volume, and the speaker quality are very good, especially for this price.
Memory
This information was not in the video, so I've added it here. The Dreamegg D3 Pro does have a memory function – when you turn it on, it will start up with your last sound choice, volume and timer selections.
---
Pros
Before I wrap up with my final verdict, let's consider the main pros and cons.
Lots of sounds: The number one pro is that it has 29 sounds. There's a good balance of white noise, fan sounds, and nature sounds.
Battery: The internal rechargeable battery is convenient as it allows you to place it wherever you want in the room (or even outside).
Headphone jack: You can listen to it privately without disturbing anyone else.
Masks other noise well: The speaker is more than capable of masking a lot of external noise.
Good price: The price is reasonable for a white noise machine.
Portable: It's great that it's so portable and quite lightweight considering it has that internal lithium battery.
Cons
White noise interference: It has some white noise playing in the background of a couple of the quieter sounds, which is a bit annoying.
Chime sound: I don't like the fact that it makes a chiming noise when you reach the end of the sound choices, as well as the lowest or maximum volume.
Missing power adaptor: It should include a power adapter rather than having to ask them to include a part which was in the original listing.
In their response to my email, they said someone must have forgotten to pack it in the box. However, when I bought the original Dreamegg D3, they told me it was intended to be portable and that the USB cable should be sufficient, and also offered to send me a power adaptor for free. This is clearly a completely different explanation for the same issue.
So I do wonder if it's actually their policy not to include one unless people specifically ask for it. If this is the case, the Amazon listing shouldn't say the power adaptor is included. The customer should be given the choice of whether to leave out a part that they believe they are paying for, in my opinion.
Verdict
My final verdict is that the Dreamegg D3 Pro is a decent little white noise machine with a lot to like. It has some useful features that make it practical to use in the bedroom. And I think it has a good range of sounds and a better speaker than the original Dreamegg D3.
I do think that perhaps the parents of young kids are going to make the best use of it, specifically because there are several sounds which probably only little kids are going to listen to. However, there are plenty of sounds that also adults will enjoy.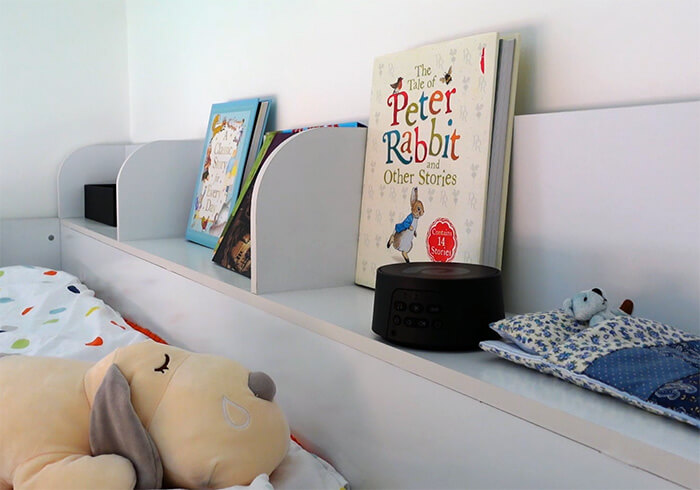 I think the speaker is capable of masking a lot of external noise, even louder external noise, which at the end of the day is one of the main jobs of a white noise machine. Even on the lower volume settings, the nature sounds are relaxing to listen to, which is great if you're just going to use it quietly when you're trying to fall asleep.
And the inclusion of the headphone jack means that you can listen to those nature sounds in a relaxing way without disturbing anyone else, even on the lower to mid volumes.