Disclosure: My website is reader supported. If you decide to purchase a product through one of the links provided, I may receive a commission, at no additional cost to you. Learn more.
Summary
The BedJet 3 is a versatile bed cooling and heating system designed to cater to the needs of both hot and cold sleepers. While it effectively cools down naturally warm sleepers and those living in warm climates, it also provides warmth to keep cold sleepers cozy during the winter season.
It's important to note that the BedJet 3 isn't an air conditioner and won't cool the entire bedroom. Instead, it employs a forced air system to deliver targeted cooling that can cover your entire body, be contained within a boxed sheet, or even focus just on your feet if you like.
Pros
Provides continuous cooling or heating throughout the night.
Adjustable fan speed for personalized airflow.
Offers a wide temperature range of 66°F to 104°F (19°C to 40°C).
Includes a user-friendly remote control and app for convenient operation.
Single zone, or dual zone option if you share your bed.
Programmable temperature changes and timer settings for customized comfort.
Compatible with most divan or slat bed designs.
Cons
Not a replacement for air conditioning.
Audible fan sound at higher speeds (quieter than standard household fans).
Requires placing the base unit next to the bed if there is insufficient clearance underneath (six inches).
Needs a power source near the bed.
Full Review
In the photo below, you can see the BedJet 3 set up in my bedroom, with the base unit neatly tucked under the bed: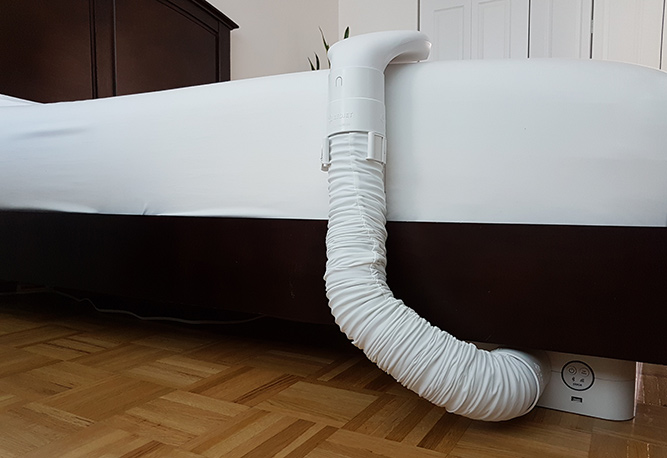 My partner and I have very different opinions about what the ideal bedroom temperature should be. A cold, dark Icelandic cave sounds about right to me, while she prefers something akin to warm tropical air.
The BedJet 3 has many useful features to delve into, but there's one simple reason why it works so well for us: I can cool my side of the bed while her side stays warm. So we never have to compromise on the air conditioning or heating settings, and have complete control over the temperature on our own side of the bed.
---
The cooling
In the photo below, you can see the physical remote control that comes with the BedJet 3. I like how you can finetune the cooling by adjusting both the fan speed and temperature.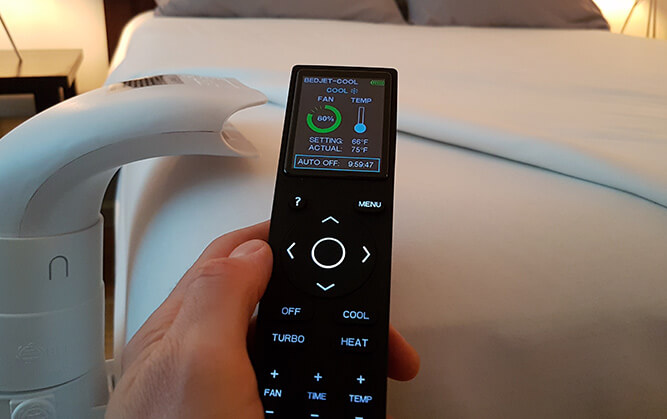 Even though the BedJet 3 can provide you with both cooling and heating, it's the cooling that appeals most to me. Here's how the way it works is explained in the BedJet manual:
The BedJet cools via powered ventilation of fresh ambient air injected directly onto the bed. This powered ventilation gently wicks away the body heat and body moisture that gets trapped in the bed by your mattress and bed covers.
Essentially, you have a base unit that sits under your bed, or to the side if there are less than six inches of clearance under the bed. An air hose comes out of the base unit, stretches up to the foot of your mattress, and blows cool air out of an elegantly designed nozzle.
Multiple settings and options to finetune your cooling
You have several options to play around with, each of which has an impact on exactly how and where you feel the cooling.
Main cooling options
You can select the fan speed, from 5% to 100%.
You can drop the temperature of the cool air right down to 66° F (19° C), or have it slightly warmer if you prefer.
You can have the air blow directly onto your body or between your top sheet and comforter.
You can use the additional BedJet Cloud Sheet, which has a hollow cavity to improve the spread of cool air and not have it blowing directly onto your feet.
A dual zone Cloud Sheet lets you have the cooling on just one side of the bed, whereas a single zone means the entire bed shares the refreshing breeze of coolness.
Our preference is to use BedJet's dual zone cloud sheet. It costs extra if you only buy one base unit (it's included free with two units), but it means the cool air envelops my entire overheated body, rather than having plenty of cooling around my feet but less on my upper body. And of course, my partner doesn't shiver herself to sleep.
Below, you can see how the air hose sits inside the cloud sheet. There are several openings, so you can choose where you want the main airflow entering: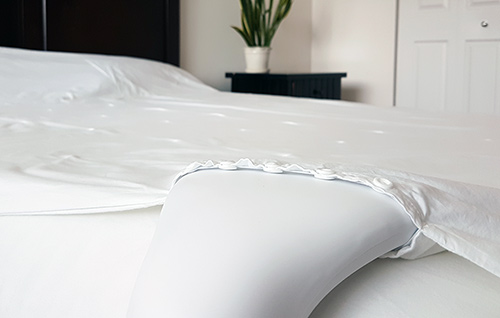 I do find the fan at 100% is a little too powerful, especially when I'm trying to sleep. So I often go to bed with the fan speed around 70% to 80%, and then use the remote control to program it to reduce to 10-20% while I sleep.
This approach to cooling works really well. I've tried many normal fans, basic cooling mats, and mattresses that are supposed to sleep cooler. And the BedJet 3 wins hands down compared to all of them. The only methods that can compete are powerful air conditioning and even more expensive systems that use cooled water inside the mattress.
---
The heating
Although it's the cooling I personally use most, there have been times when I've appreciated the BedJet's secondary job as a bed warming system. It admittedly doesn't happen very often, but in the breath-stealingly icy depths of winter, I've been known to ask my partner to share the warm air from the BedJet on her side of the bed.
She, on the other hand, giggles in delight every time she gets into bed and feels that powerful flow of warm air on her freezing toes.
You can have instantly warm air right up to 104° F (40° C) if you've just come in from the snow, or you fancy using the BedJet as a giant horizontal hairdryer after a late-night shower (yes, she does that). Or you can select a more moderate temperature – anywhere along the BedJet's full heating spectrum of 72° to 104° F (22° to 40° C).
The BedJet 3 also includes some suggested heat settings, each of which has its own button on the remote control to save you time finding the right setting for a particular moment.
Main heating options
Turbo heat: a maximum10 minute pre-warming burst of the highest heat.
Heat: strong warming for up to 4 hours, from 72° to 104° F (22° to 40° C).
Extended heat: moderate warming for up to 12 hours, from 72° to 92° F (22° to 33 C).
Dry: middle temperature that helps keep night sweats at bay, up to 92° F (31° C).
My partner tends to use the pre-heat for five minutes or so, as it's too intense even for her. She then has it programmed to slowly lower over the next couple of hours before eventually turning off unless it's a particularly cold night.
What's great about the BedJet's heating compared to other options is the safety and power consumption. There are no wires or electricity inside your bed, which is preferable to heated mattress pads or electric blankets.
And it costs less to run a BedJet 3 than a standard portable heater or central heating system. I asked BedJet about this, and they told me it would cost no more than a 'few dollars a month'.
Dual zones for partners
The BedJet 3 allows a range of different setups. If you sleep alone, it's simple – you just need one unit, with or without a Cloud Sheet. If you share your bed, you have three options.
Options for two people
2 people, 1 BedJet, 1 zone. If you never disagree on temperature, you can share 1 unit. Either use your normal bedding or a single zone Cloud Sheet for better airflow.
2 people, 1 BedJet, 2 zones. If one of you is happy with the room temperature, you only need one BedJet. But it works best with a dual zone Cloud Sheet so you can keep the air to your zone/side of the bed.
2 people, 2 BedJets, 2 zones. In this case, you both get a separate remote control to control your own BedJet on your side of the bed. So one can have cool air while the other has warm air.
We currently use one BedJet 3 and a dual-zone Cloud Sheet. I have it for cooling in the summer, and my partner will take the reins in the winter to use it for heating.
---
Remote control, App and smart home integration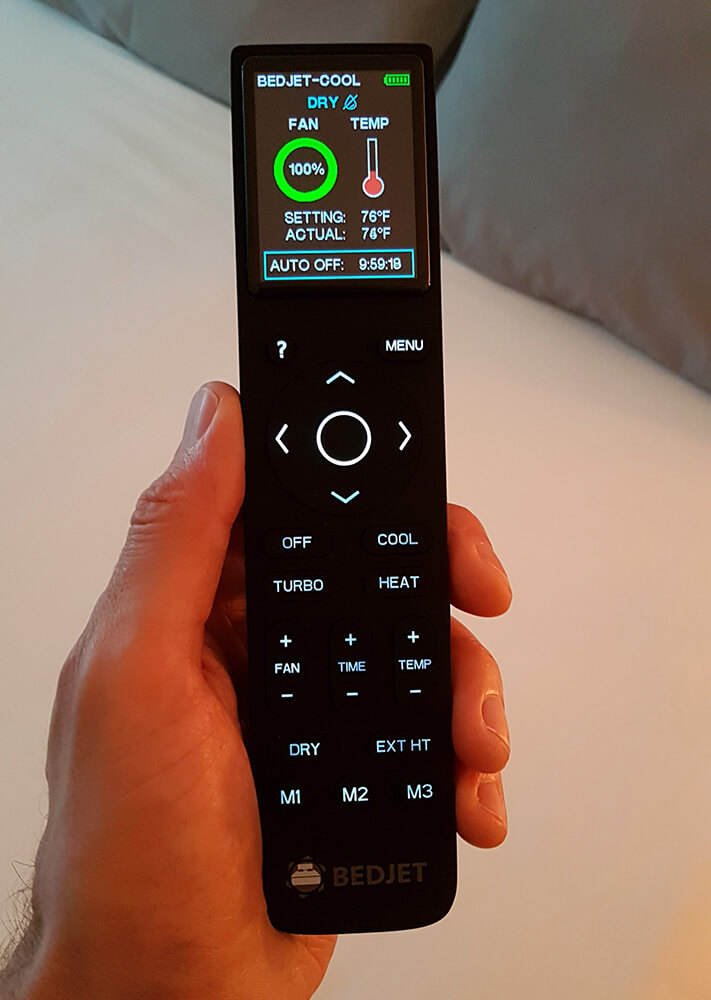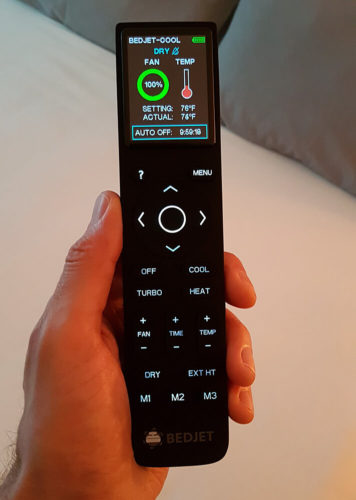 One of my criticisms of the BedJet 2 was that the remote control was too basic, and that you could only access advanced features with a smartphone App.
So I was very pleased to see that the BedJet 3 comes with an excellent new remote control. It has a color screen so you can see what settings you're choosing, and adjust them easily in the night. And you can control all the settings right there on the remote, without needing the App.
I also like that all the main functions have individual buttons, clearly labeled and with an optional backlight. So in the middle of the night, it's very easy to change the fan speed, temperature, heat setting, or up to three pre-programmed biorhythm settings (see below). And if you prefer to use your phone, there's an App for the BedJet 3 which lets you and/or your partner control your own side of the bed if you have two units.
Biorhythm feature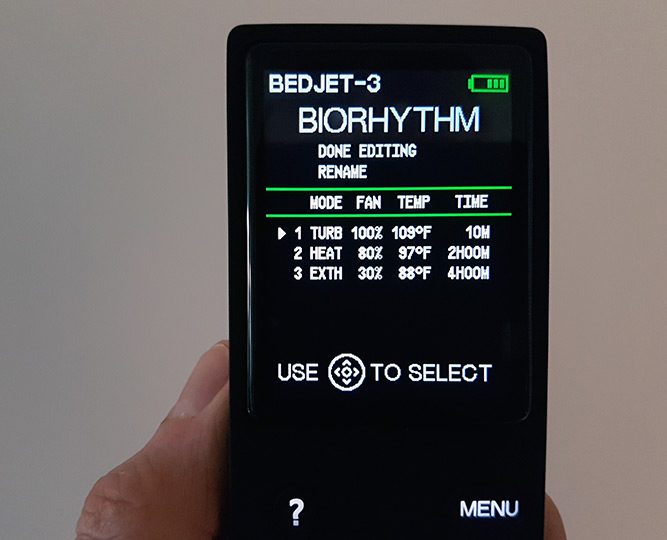 I mentioned above that we like to pre-program the BedJet 3 to change temperatures as the night progresses, and that's thanks to the clever biorhythm feature. It was groundbreaking in the BedJet 2, so I was happy to see it's still going strong – it's a feature we've both made good use of.
For example, you could have turbo heat for 10 minutes to pre-heat your bed. Then normal heat on 80% fan speed for two hours. And finally, a gentle heat on 30% fan speed for the next three hours, after which it switches off automatically. You can program those three steps on the remote control, save your bio program to the M1 memory button, and hit it when you go to bed.
Once you work out what temperature changes help you sleep, it's a very useful feature that works seamlessly and with no extra input from you. It's particularly useful if your ambient temperature changes dramatically in the night. For example, if it's stuffy when you go to bed, but then cold as dawn approaches.
As another example, if you just want 25 minutes of cooling, after which the BedJet 3 turns off automatically, you can have that simple program at the touch of a button too.
---
Installation
The BedJet 3 is very easy to install. It took me less than 10 minutes to unbox it, set it up and switch it on.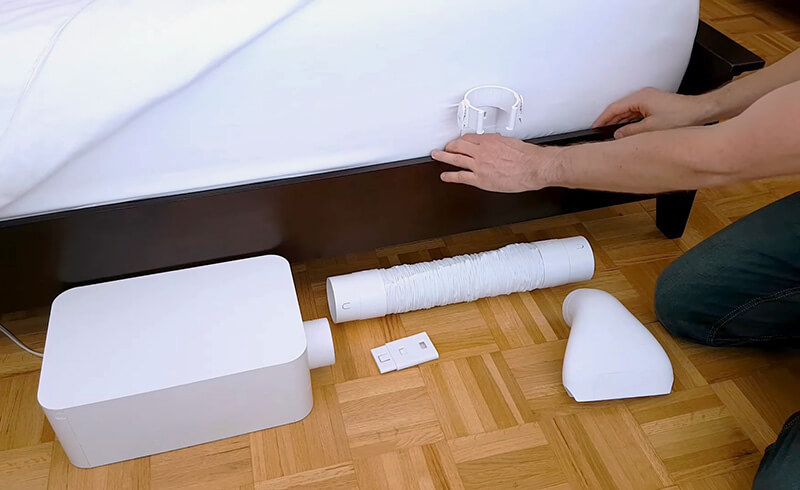 The main issue to be aware of is where you're going to put the base unit. Ideally, you want to keep it under your bed to avoid kicking it during blurry-eyed bathroom trips in the night. To do that, you need at least six inches of clearance under the bed base.
Otherwise, it's fine to sit it next to the foot of the bed. The BedJet 3 is actually 30% smaller than the BedJet 2, and is flat on all sides rather than the previously rounded design. And that means you can place it vertically or horizontally, depending on how neatly you'd like to tuck it away.
Note that to download the latest firmware, you do need to download the smartphone App. And after that, you need to use your phone to connect it to your router's 2.4 GHz Wi-Fi band.
If you're not particularly tech-savvy, you might wonder why it's not connecting, and it might be that you're using your router's 5 GHz band. All you need to do is search for your Wi-Fi again and connect to your home router's second band – the 2.4 GHz – which it should have.
I rang the BedJet customer service helpline to see how well they respond to a query about connectivity, and they were very helpful, quickly solving my issue. So if you're worried about connecting the BedJet 3 properly, or run into problems, you can get help with it.
---
Criticisms
The BedJet 3 has even less to complain about than its predecessor, especially since the manufacturer has addressed my main complaint with the jazzy new remote. However, there are still a couple of points to be aware of.
As someone who can be kept awake by the sound of my own heartbeat, the BedJet 3 is still a little too loud for me on the highest fan speeds. But on the lower fan speeds, which is what we use to sleep anyway, it's barely noticeable and much quieter than our air conditioning unit's random little tantrums.
Secondly, the BedJet 3 is a luxury product that may stretch some people's budget. I personally think the price is fair considering how effective and versatile a device it is. And it will reduce your monthly bills if you tend to rely on central heating or air conditioning.
Reassuringly, the company makes a point of saying they built the BedJet 3 to be very robust, promising many years of usage with the 20,000 hour DC Motor. So it's an investment that should last the test of time.
It's also worth bearing in mind that the BedJet was designed to be kept safely under the bed. But if you don't have six inches of space under your bed, it's still a relatively sizable box to have next to your bed. So you'll need to remember it's there when you get up in the night.
Please also note that if your bedroom is extremely hot, regularly topping 79 degrees, you will probably find the BedJet isn't as effective. Even their website recommends getting air conditioning first if this is the case for you.
Maintenance, warranty & returns
I like the fact that the BedJet 3 requires minimal maintenance. All you need to do is wash the filter roughly once every three months – a simple job that takes a couple of minutes.
The BedJet 3 comes with a two year warranty, covering all the parts and even the comfort sheet if you get one. They also offer a generous 60 day return guarantee as long as it's all in one piece.
---
Verdict
The BedJet 3 is an excellent addition to the bedroom, whether you're in need of some relieving cooling in the sizzling summer, or comforting warmth while snow falls outside.
The range of temperatures the air can be set to is pretty remarkable – especially at the heating end. But even the cooling, notoriously difficult to achieve in the bed, is more than good enough to tackle most hot weather.
The new remote control with the BedJet 3 is great, and gives you complete control over all the settings, right there on the user-friendly color screen.
And as with previous BedJet versions, you can use it on your own, share one BedJet between two people, or get two units and have both cooling and heating going on in your own little temperature cocoon. And it's the versatility of the BedJet setups that makes it such a useful device for a wide range of people's specific needs.
Compared to other devices I've tried that are designed to help with temperature issues, such as heated bedding or large fans next to your bed, the BedJet 3 is simply better – both for cooling and heating. And that's ultimately what I like about it: it just works.
You might like it if you:
Are a hot sleeper.
Suffer from night sweats or hot flashes.
Don't have air conditioning in the bedroom.
Like the feel of cool air.

Want to keep the cooling just to one side of the bed.

Have been disappointed with cooling bedding that doesn't really cool you.
Enjoy using tech.
You might not like it if you:
Are on a tight budget.
Need 100% silence to sleep (and don't use earplugs, which work well with the BedJet's sound).
Were already thinking about installing an air conditioner.
Don't have space under your bed and are worried about tripping over the base unit, or don't want a large box next to the bed because of aesthetic reasons.
Can't sleep if there is noticeable air movement near your body.