Disclosure: This review contains affiliate links. If you choose to buy a product via a link, I may make a small commission, at no extra cost to you (learn more).
Summary
The Drowsie pillow speaker offers a convenient way to listen to music in bed that will especially appeal to those who find headphones uncomfortable.
The flat design and Bluetooth connectivity mean you can place it under a pillow and listen in private without disturbing a partner or having a cable stretching to your audio device.
Pros
More comfortable to use in bed than headphones.
Flat and padded, so you won't feel it under the pillow.
Connects wirelessly via Bluetooth.
Music controls on the speaker itself.
Auto-off timers.
Full charge lasts all night.
30 day trial period.
Cons
More expensive than most comparably small pillow speakers.
Can't be machine washed as the internal components can't be removed (spot clean only).
Like all pillow speakers, lacks bass and the max volume is still quiet compared to headphones.
Full review
Please note that this written article is not an exact transcript of my video above. I've organised it to be easier to scan and find key information.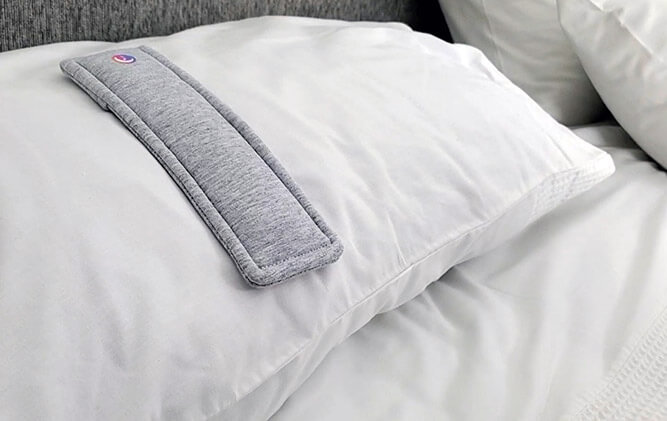 Why use a pillow speaker?
The main benefit of using a pillow speaker is that it allows you to listen to music, radio, or podcasts, in bed without disturbing a partner.
It also offers a comfortable way to listen to your music in bed while lying on your side. It's a good alternative to normal headphones, which aren't always so comfortable for side sleepers, particularly if you've got big headphones or quite sensitive ears.
Bluetooth makes the Drowsie different
The Drowsie is the only pillow speaker I've tried in the last couple of years that works via Bluetooth. It means you can listen to it without a wire in bed, which is more convenient.
One other point that makes it slightly unique in my opinion is that it's designed by a company in Australia; it's the first pillow speaker I've tested out that's made by an Australian company.
Packaging and what you get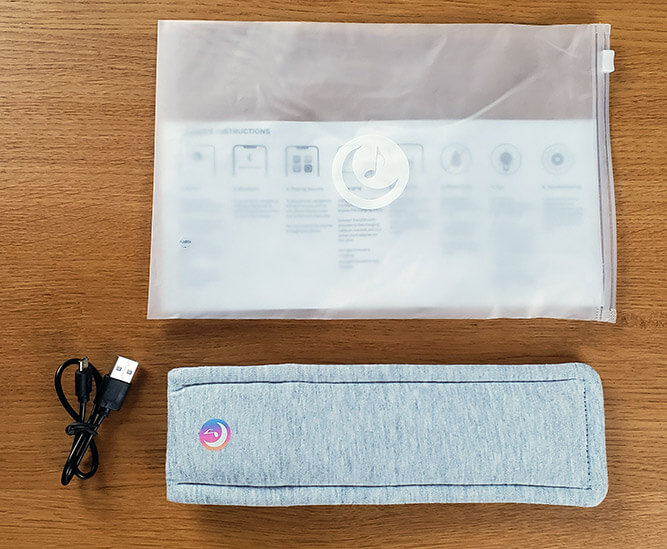 In the photo above, you can see the pieces that arrived when I bought the Drowsie. It came in a simple zip lock bag; there's no shrink-wrap or excess packaging, and the bag can be reused, so for the environmentally conscious, it could be much worse.
Power & battery life
As it works via Bluetooth, you need to remember to charge the Drowsie. It came with a very short micro USB cable to charge it; it could have done with being a bit longer, but it does its job.
There's a pouch on the back of the pillow speaker that houses the charging point, which is quite fiddly to access if you have big fingers. You have to get your fingers in there to pull it out of the pouch so you can connect the cable.
It takes around two hours to charge and then it will last for about 10 hours, which is a good amount of time. You can get a whole night's use out of it, or a couple of nights if you're going to be listening to it with the timer.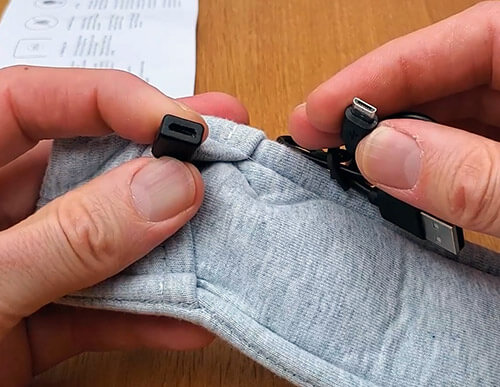 Instructions
It came with one sheet of instructions. They are very clear and easy to understand, with just a few essential points to bear in mind.
Fabric, design, and dimensions
The Drowsie is essentially a long, flat padded casing with the control unit and speakers sewn into it. It looks good and doesn't appear to be as cheaply made as some low-budget pillow speakers I've seen.
The exterior fabric is soft cotton, and the padding is sponge. It's very well padded, so you can put it underneath your pillow and it's not going to feel too unnecessarily lumpy in different places.
It measures 220mm (w) by 70mm (D) by 14mm (H) and weighs just 100 grams. So it's small and portable if you want to take it with you when traveling.
Removing the components and cleaning
The Drowsie is stitched all the way around and there's no way to take the electrical components out, which has two repercussions.
One is the fact that you can't actually see what the components are without destroying it or undoing all the stitching, which I'm not going to do. I don't believe in damaging products just to see the insides when I do reviews as I prefer to use them, and keep them in good condition to compare with future products.
Secondly, you can't machine wash it. That means that you can't really have it underneath your ear directly, if that's what you're thinking of doing, for weeks or months on end. You can if you want to, but you'd have to spot clean it or use wipes as per the company's guidelines.
I would have preferred it if you can remove the components though so you can wash the exterior properly. However, I do like the way that it's very nicely stitched at least. It has a nice all-around look to it, with no fraying of the stitching.
Power on/off and buttons
To Turn the Drowsie on, there's a company logo on the fabric over the on/off button. When you press it, a little voice will say "power on" and then "connected" when it connects via Bluetooth. It will also say "power off" when you turn it off. I can imagine some people might find those notifications annoying, but I don't have a problem with it.
Connecting via Bluetooth was very easy to do, just holding the power button and searching my phone for the device. Then as long as you keep your Bluetooth on, it automatically connects next time.
There are also two little buttons on either side of the power button. You can use those to adjust the volume and change track. That's great as it means you don't need to turn on your audio device in the night to change the settings and have the bright light that accompanies it.
The buttons are quite small and tricky to locate, but it's still better than reaching for your device on the nightstand and going through the process of turning it on and finding the settings you need.
The three speakers
There are three small, flat speakers in a line inside the padded fabric. You can bend the fabric between each speaker, so they are arranged in quite a flexible way.
Specifications
Battery: 3.7v, 180mAH, Li-Ion
Speakers: 3
Impedance: 32 Ohm
Power: 10 mW
Frequency: F0-20kHz
Listening to a podcast
In the video, I play a podcast and two different pieces of music. If you haven't watched it yet, I think it's a good way to understand what the speaker really sounds like – better than I can explain in writing, though I'll do my best!
If you'd like to have a listen, I play the podcast at 2:59 and music at 3:42 as well as 5:50.
In my opinion, you can hear people speaking clearly through the Drowsie. The first time I turned it on, I wasn't sure whether the voice was coming from my phone directly because it wasn't connected or whether it was coming from the pillow speaker, which is a good sign.
The fact that you can listen to it clearly means that there's a good chance that you can hear it through your pillow, which you can, and I'll be talking about that later.
Listening to music
When I listen to music with the Drowsie, the maximum volume is pretty good for a pillow speaker. I've definitely heard several which are much quieter, as well as one or two which are a touch louder perhaps, like the Sangean PS-300.
On balance, I think it has a good volume range for a pillow speaker and I like the fact that you can hear it clearly, particularly the treble and the higher frequencies.
However, one thing that's typical of all pillow speakers is that it doesn't produce much bass. In fact, I couldn't really hear any bass at all, which is a bit of a shame.
Auto-off timer
The buttons I mentioned earlier that can be used to change the volume and track also have one more function; they've squeezed three functions onto one button!
You can save battery life by double clicking the left button to set it to turn off automatically after one hour. And that means that it has an auto-off timer. You can double click it a second time to set it to turn off after two hours, and you can double click it a third time to set it to play all night.
I think it's fantastic that it has auto-off timers. It's the first pillow speaker that I've tried that does have auto-off timers, which is great for a couple of reasons.
Firstly, sometimes it's nice to not have your music playing all night, but just listen to it for an hour and then have it turn off, which also saves power. Secondly, if you use the timer, then you can get three or four days' use out of it. That means that you don't need to remember to charge it every day and you'll get a few days between charges, and I like that a lot about this device.
Using it in the bedroom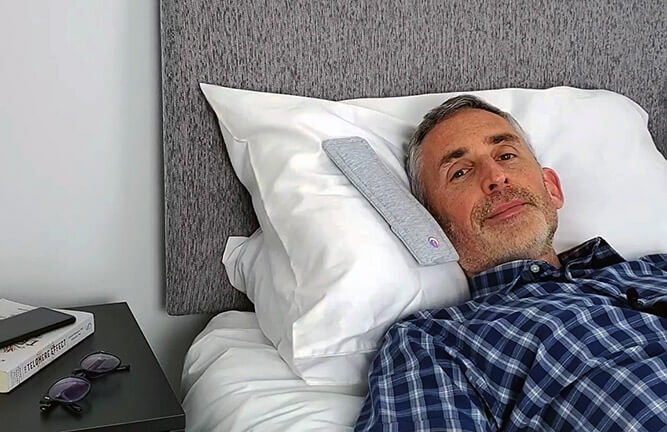 There are three points to consider when using a pillow speaker in the bedroom:
Where you place it exactly.
If you can hear it through a pillow.
If anyone sleeping next to you can hear it.
Let's look at those points in turn.
Where to place the Drowsie
Perhaps the best thing about connecting via Bluetooth speaker is that you have the flexibility of placing it wherever you like in the bed.
That's great because all the other pillow speakers that I've tried have a cable that needs to be connected to your audio device. So you've always got to worry about where the cable is, whether you're going to yank out in the night, or if it's going to get wrapped around you.
You can put the Drowsie on top of the pillow, next to the pillow, under the pillow – you've got lots of different options to try out to find what works best for you.
Personally, I wouldn't put it directly under your ear even though it's very flat and soft and padded and you could do, in theory. The fact that you can't wash it is a concern for me, so I don't want it directly under my ear night after night.
However, having it next to your ear as I do in the photo above is also quite pleasant and very clear to listen to.
Can you hear the Drowsie through a pillow?
When it comes to putting it underneath your pillow, I've tested it with different densities of pillows and you can still hear it with thicker pillows.
It will depend in part on your own hearing though, what you're listening to, and what particular pillow you have. But I found that you can hear it with no problem through most pillows, even with two pillows.
Having said that, with very dense pillows or two pillows, I've found that I can hear it much clearer when I'm on my side, as you would expect, than if I'm lying on my back when it's underneath the pillow.
If you don't have good hearing though, I think you might struggle to listen to someone speaking through very dense or two pillows, especially if you lie on your back.
Can anyone else hear it?
If you sleep next to someone and you're worried about them listening to your music with heavy bass, then you don't need to worry about that because it doesn't really have much bass!
However, what you can hear if you're sleeping next to someone using the Drowsie is some of the treble, the higher frequency sounds, because it is a bit more high-pitched in terms of the sound that it's pumping out. Well, pumping is a bit of an exaggeration – some of the sound that it's producing!
So you might want to do some negotiating with anyone sleeping next to you to find the right volume setting. But if you stick it underneath your pillow and you lie on your side directly over it so you've got your weight on it, then it's going to help to reduce the sound that they hear.
Still, I do find that you need to keep the volume down, particularly if you're playing more intense and energetic music rather than a relatively calm podcast.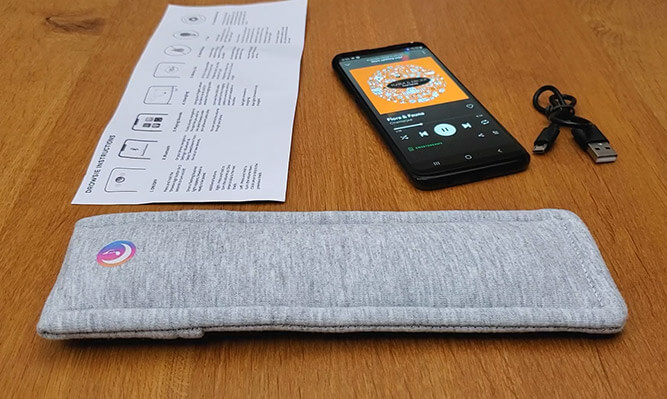 Pros
More comfortable than headphones. The main pro applies to all pillow speakers: you can listen to your audio in bed without the discomfort of headphones, which is great if you're a side sleeper.
Bluetooth. The main benefit of the Drowsie compared to other pillow speakers is that you don't have a cable in bed as it connnects via Bluetooth. This is also better than many headphones that still use a wired connection.
Flat and padded. It's one of the flattest pillow speakers that I've tried. Some of them are bulkier than this one, so it's good that it's not going to create too many lumps and bumps underneath even a thin pillow.
Controls on the speaker. You can use it to change the track, volume, and set timers. This is more convenient and less blinding than turning a phone on in the night.
Auto-off timers. It's very unusual for a pillow speaker to have an auto-off timer, so it's good that it has a one or two hour timer, or the option to play continuously if you prefer.
Battery life: 10 hour battery life is good for a small Bluetooth speaker, and two hours to charge it isn't too bad. And if you use timers, you don't have to charge every day.
Cons
Price: It's the most expensive small pillow speaker that I've seen. Does it warrant that price? I think that comes down to whether you really value the Bluetooth functionality. If you don't and you're happy having a cable connecting to your audio device then you can get one for quite a bit cheaper.
Price comparison
These prices (in US dollars) were accurate on March 22, 2023 and may change by the time you read this. It gives a good overview of the typical price range for pillow speakers though.
| Speaker | Price |
| --- | --- |
| Drowsie | $59.99 |
| Sound Oasis | $44.99 |
| Sangean PS-300 | $27.95 |
| Pillowsonic FM-15 | $25 |
| C Crane PS2 | $21.95 |
| Sangean PS-100 | $11.99 |
Can't be machine washed. Another key downside to consider is the fact that you can't take out the speakers and wash the fabric part. They say that you can wipe it, which is fair enough. But I think it would have been better if they'd made it in a way that you can remove the internal components and machine wash it.
Lacks bass. All small pillow speakers lack bass because they use little speakers. They're not designed to be particularly loud either as one of the main reasons to have one is that it doesn't disturb anyone else.
However, if you're used to listening to good quality headphones or a normal speaker, you might be slightly disappointed when you listen to one of these for the first time if you're expecting the same kind of sound quality. But as long as you've got reasonable expectations and you understand why you're listening to it and what it's going to provide, it's not such an issue
Verdict
I think the Drowsie is a good pillow speaker to use in the bedroom. I like the fact that it's so flexible in terms of placement options, and the sound quality is clear when it comes to listening to music, radio, and podcasts.
I can hear people talking through the pillow, which is all I really need from it. And my partner doesn't have to listen to if they don't want to, as long as I play around with the volume in a way that's convenient for them as well.
It's a shame you can't machine wash the fabric and it lacks bass like all pillow speakers seem to. But despite those downsides, it still gets a thumbs up for use in the bedroom.
The Drowsie comes with a 30 day trial period, so if you don't like it you can send it back to get a refund.