Disclosure: My website is reader supported. If you choose to buy a product after clicking a link, I may make a small commission, at no extra cost to you (learn more).
Summary
The C.Crane Soft Speaker 3 is a comfortable little pillow speaker that allows you to listen to audio quietly in bed without wearing headphones or disturbing anyone else. The soft padding gives you the flexibility to place it directly under your ear, under your pillow, or next to your head. The maximum volume isn't loud and it doesn't have much bass, but for quiet bedtime listening, it's very practical to use in bed.
Pros
Clear enough sound for bedtime listening.
Very long cable (78 inches).
Comfy cover so you can place it under or next to your ear.
Control unit for volume and to focus either on music or voice.
Auto-off sleep timers of 1, 4, or 8 hours.
Reasonable price (usually under $40)
Cons
Requires two AAA batteries to use the Amp feature. You can turn it off and listen normally without batteries if you prefer though.
If you use a very thick/dense pillow, it will muffle the sound.
Won't play music loudly.
---
Full review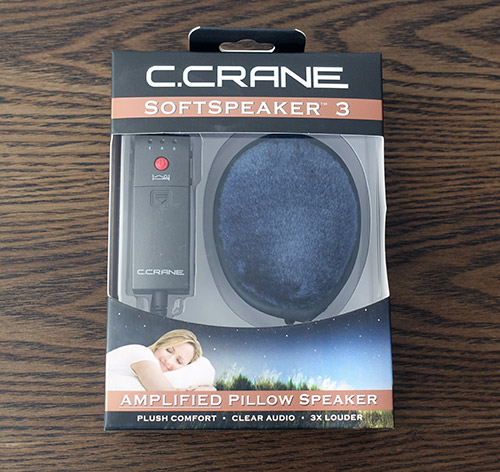 Please note that this written review is not a transcript of my video above, though it does contain similar information. The video shows me unboxing the C.Crane Soft Speaker. I also do some initial tests of the sound quality on a table close up and with two different pillows.
Since then, I've spent more time using the Soft Speaker 3 to get a better understanding of how well it works. So below, you'll find a more concise explanation of the functionality.
The different C. Crane pillow speaker versions
First of all, I think it's important to note that at the time of writing, C. Crane makes three different pillow speakers:
Version 1: just a simple speaker with a cable to connect to an audio device.
Version 2: includes an in-line volume control on the cable.
Version 3: adds an amplifier on the cable, with several additional features. The pillow speaker casing is also larger.
I liked version 2 a lot, as it was simple to use, the fluffy casing was comfy and the sound quality was decent. Version 3, however, is even better as it's more comfortable and has some very useful features.
Let's take a closer look at what it offers, and then I'll talk about sound quality and pillow placement.
The speaker design and casing
The actual speaker is very small and flat – just 3.5 cm in diameter. They don't say how many watts the output is, but I believe it's no more than 1 watt at most.
It's buried inside a soft casing, which is great as it means you can place it next to your ear on the pillow, or even under your ear if you have a soft enough pillow.
You can also remove the casing and wash it, which is useful if you plan on using it on a nightly basis. And if you place the speaker under your pillow, you can remove the casing to get a little more volume out of it.
The connector
The end of the cable connects to your audio device with a standard 3.5mm pin. That means it will work with most radios, TVs, laptops, tablets, kindles, and smartphones. Some iPhone users will need the lightning adaptor though.
The cable
The cable is very long – 78 inches (198cm) in total. And the control unit is 24 inches down from the connector. So you can place either the control under your pillow too, or keep it out of the way on the nightstand.
This is an unusually long cable for a pillow speaker, so it's ideal if your audio device is far away. But you might want to keep the ties on the cable if your device is close by on a nightstand to stop it from looking messy.
The control unit and Amp features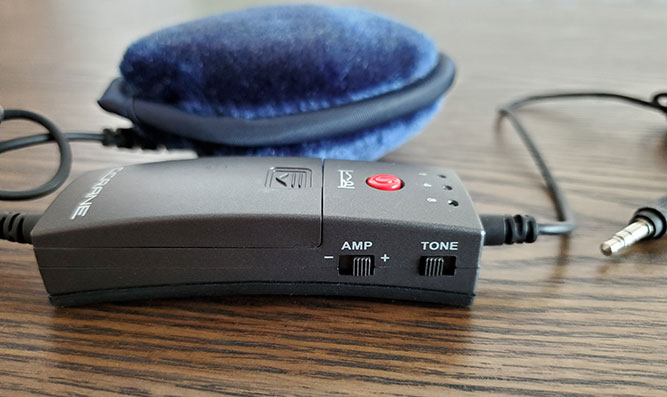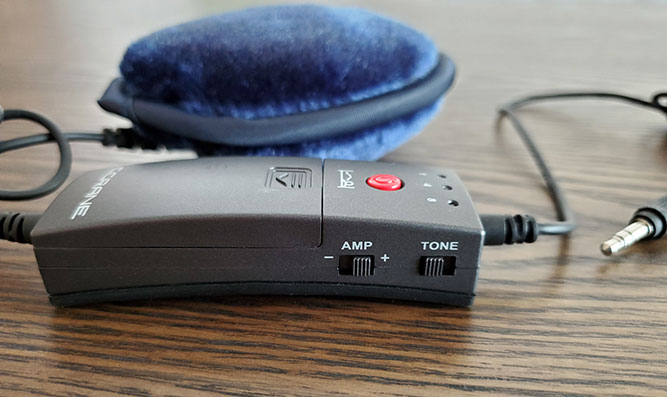 This is where things start to get interesting. The control unit has several different features you can access, so it's worth getting to know them if you want to get the best sound out of the speaker.
Note that the Amp needs 2 x AAA batteries to work. But there is a bypass button so you can just listen to it without using batteries, which I was happy to see. Not everyone wants to use batteries constantly, so it's good they give you the choice.
1. Battery tester
Strangely, they decided to include a mini battery tester on the controller, not that I'm complaining as I think it's a cool feature to have. If you press the battery button, one of the three lights will shine to tell you if you have roughly no, one third, two thirds, or full batteries.
So if you stop using the pillow speaker one day, you'll at least have a bonus AAA battery tester instead!
2. Power button and sleep timers
The main red button turns the Amp on for one hour. If you hold it down, you can set the timer to four or eight hours.
The minimum one hour timer is always set to save batteries. So that means you can never have more than eight hours of continuous play if you use the Amp. But personally, I really like the inclusion of sleep timers on the pillow speaker – it's the only one I know of that has that feature.
3. Volume control
This is just a simple turn dial that is easy to use, and relatively easy to find in the dark as it's the only button that turns rather than needs to be pressed.
4. Tone switch
This button lets you choose between voice or music. If you choose music, it sounds richer as it provides full range audio, but it also consumes more battery. I can tell the difference when I switch between the two options, but I don't think the increase in quality is worth the 50% extra battery drain.
The instructions say you'll get around 80 hours of battery life when on the voice position rather than music. That still means you might need new batteries every 10 days or so – if you listen to it for 8 hours a night.
5. Amp switch
If you turn this off, then it bypasses the Amp and you don't need to use batteries. As I already mentioned, I like that the manufacturer gives you the choice here.
---
Sound quality – can you hear it through a pillow?
Obviously, such a tiny speaker is going to have limitations. And for $30, which is what I paid for mine, you're never going to get the same sound as a $300 set of speakers or headphones.
But the main goals of pillow speakers are to provide just enough sound that you can listen to audio relatively quietly in bed without disturbing anyone else, or needing to use headphones all night.
That said, I do believe the sound quality needs to be reasonable and the volume good enough that you can hear it through your pillow, otherwise it will be pretty much useless. Nobody wants to listen to their favorite podcast or audiobook if the voices are muffled!
On top of a pillow
Below: me using the Soft Speaker 3 with it positioned on top of the pillow. I like this position when I lie on my back as it's comfortable and clear to listen to. And yes, I know, the expression on my face is a bit odd!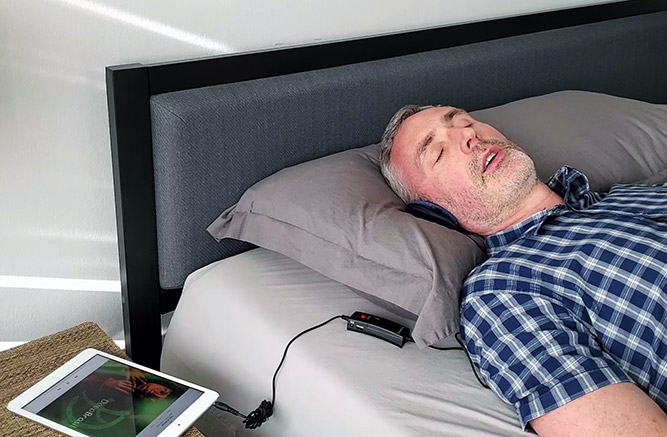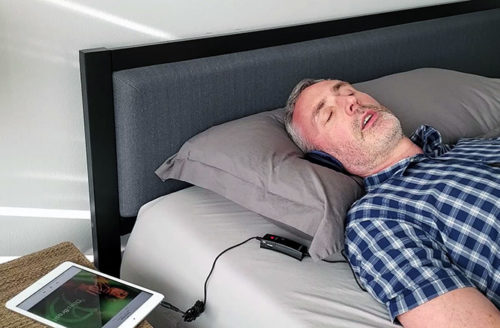 I'm happy to report that the C. Crane Soft Speaker 3 speaker quality was quite impressive when I played it on top of the pillow, with or without the Amp on.
Whether listening to music or an audiobook, I could hear it clearly when the speaker was placed under or next to my ear. The voices were clear, and it even managed to handle music with bass without distorting horribly – something many other pillow speakers I've used are very guilty of.
You won't be dancing around the pillow speaker, of course, but to listen to in bed, I really like the sound compared to others I've tried.
Under a thin pillow
When I used a thin pillow, I could hear both spoken word and music just fine, so that's good news. It's more muffled than when used on top of the pillow, but still good enough. However, I do think it's best to use the Amp if you listen to someone talking and have the speaker under the pillow, unless you have good hearing.
Under a dense pillow
This is where the volume + Amp on or off + pillow density + sound type + your hearing equation becomes more delicately balanced.
For me, I struggled to hear people talking without the Amp, and music sounded quite soft – even with my iPad on max volume and the speaker volume cranked up too. But I could still just about hear it enough to relax.
With the Amp on, music sounded fine again – a little quiet, but more than enough to relax to in bed. But spoken word was still pretty quiet for me, even with the Amp on. I found I needed the volume on max and my ear right lined up over the Soft Speaker when it was buried under my very dense pillow.
So really, I think if you have hearing difficulties, you might struggle to listen to people talking with a very dense pillow, even when using the Amp.
Specifications
According to the instruction leaflet included in the box, here are the specs:
Sensitivity: 115 dB
Frequency: 20-20,000 Hz
Impedence: 32 Ohm
Cable length: 78 inches
Driver unit: 38 mm
Warranty: 1 year
Batteries: 2 x AAA
Battery life with voice setting: 80 hours
---
Final verdict
I really liked the C. Crane Soft Speaker 3, for three main reasons. Firstly, the sound quality is very good compared to many other pillow speakers I've tested.
Secondly, the fluffy casing is much nicer to use on top of your pillow than plastic speakers or headphones.
And thirdly, the control unit has some great features which let you find the right settings to listen to your preferred music or spoken word in bed. And if you don't want to use batteries, you can just ignore all of those features and simply plug it in and play your audio.
Just be aware that if you have hearing difficulties, you probably won't want to use a super thick pillow or the sound will be too muffled and you might not hear it at all.