In the video above, I review the AcousticSheep SleepPhones in depth. I unbox them, test them in bed, and compare them to other headphones.
You can read the written version below if you prefer. And if you'd like to find out more or buy them, take a look at the Sleepphones website (affiliate link).
Full review
Please note that this article isn't an exact transcript of my video. I've organised it to be easier to read and scan for the information you might be most interested in. I also added some extra points I've discovered since filming.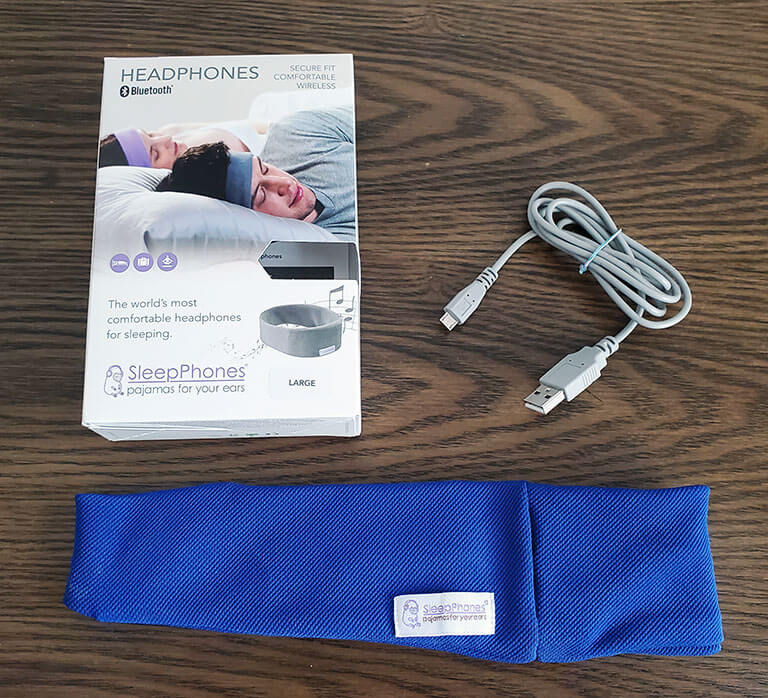 Tackling the problem of making headphones comfortable to use in bed
Even some of the most expensive headphones just don't lend themselves to nighttime use – especially large over-ear headphones.
So it makes sense for companies to try and make soft, padded headphones that can be worn for hours in bed, and that side sleepers won't complain about in the morning.
Strangely, there aren't as many headphones made specifically for sleep as you'd think there would be by now. And there definitely aren't as many good ones as you'd hope!
Interestingly, the company AcousticSheep was the brainchild of a physician, Dr. Wei-Shin Lai, who struggled to sleep herself. So I was expecting the headphones to be designed with quality in mind, since the creator presumably planned on actually using them.
And while I don't think the SleepPhones will be right for everyone, for reasons I'll explain later in this review, I personally liked them a lot and will continue to use them – for reasons I'll also explain.
Let's take a closer look.
---
The good points
---
1. Comfortable for sleeping in any position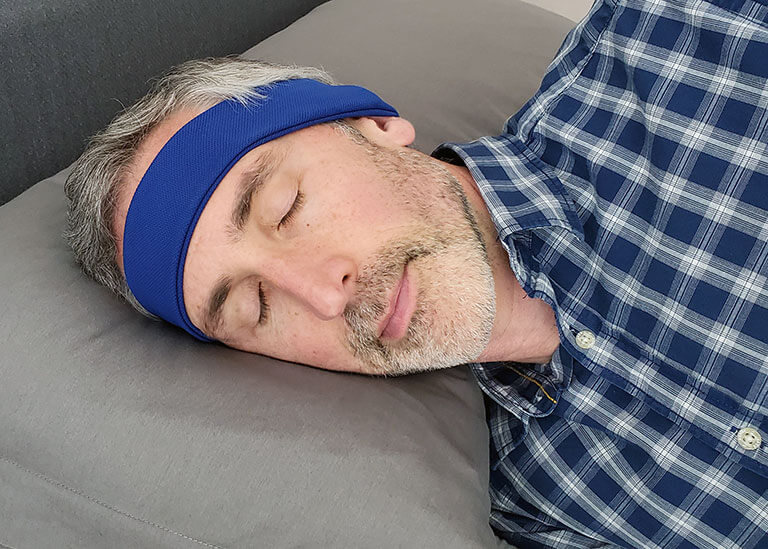 Headphones designed specifically for use in the bed need to be comfortable, and ideally on your back, front or side. The AcousticSheep SleepPhones achieve this by combining very flat speakers with just the right amount of padding.
Each speaker is sewn into a fabric patch, which is then slotted inside the headband. I've seen others that have flat speakers, but very little padding. So the additional padding here really makes a difference.
Sure, you can feel something between your ear and your pillow, but it's padded enough, and flat enough, that it's comfortable to fall asleep on your side.
And if you just lie on your back listening to music or using a device while relaxing, the soft headband design is very comfortable too.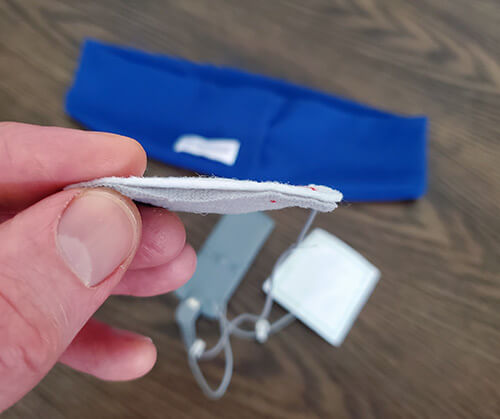 2. Good speaker quality
As often happens when I talk about headphones, the speakers appear in both the pros and cons!
In this case, the main positive is that they have used decent speakers in terms of their overall quality. And while they may not have incredible volume, they are clear – and that's the main thing for me personally.
I like to listen to podcasts at night or relaxing music. So I look out for key points like how clear male and female voices sound, if I can hear the full range of music, if bass distorts, and if you get an overall feeling of stereo sound.
And for me, the SleepPhones speakers tick all those boxes. The sound quality is clean and full enough to enjoy in bed. And I felt no bass distortion when using my Samsung S10 to play heavy rock and electronic music, even on maximum volume.
3. Breathable fabric
When I first took them out of the box, I mistakenly guessed that the fabric is a micro-mesh. I'm still not sure where that idea came from! After doing some research, it turns out AcousticSheep call the fabric 'Breeze'. It's 95% polyester and 5% spandex.
It means the headband is stretchy, and I didn't find it overheated in the night. I think it helps that they appear to have only included as much fabric as necessary rather than some other makes which have considerably more fabric.
Importantly, I found that the fabric didn't leave any marks on my skin in the morning. Some headbands do leave marks, especially those that place a control unit over your forehead.
I think it helps that the SleepPhones are designed to have the main module on the back of your head. It's also very thin like the speakers, and bendy, so I could hardly feel it between my head and the pillow.
Note that you can also get a fleece version, which will be softer and warmer in the winter if you like that style.
4. Works wirelessly with Bluetooth
The SleepPhones work via Bluetooth, so they are compatible with many modern smartphones, tablets and other devices.
I found it was simple to connect to my phone by holding the center button on the control module and linking it in my phone's Bluetooth settings. Over the course of a week, I didn't have a single connectivity problem, which is good news.
The main plus is that it means you don't have a cable connecting from your headphones to your audio device on a nightstand. And if you need to get out of bed, you don't need to take the headphones off or unplug them, as you would do with a wired version.
They say it takes three hours to fully charge them and you'll then get up to 10 hours usage. I found in two hours there was enough charge to last 7-8 hours. And if you only listen to them for a short while each night before taking them off to go to sleep, they will last for several days.
Update: the latest version, released since I made the video, now charges in two hours and lasts up to 12 hours.
Charging cable
Note that they come with a decent length USB to mico-USB charging cable. There's no power adaptor though, so you need to provide a USB outlet.
You have to pull out the main module to charge them, which is slightly inconvenient. But it's quick enough to be forgivable considering it means there are no exposed connection points on the external part of the headband.
5. Audio control unit in the headband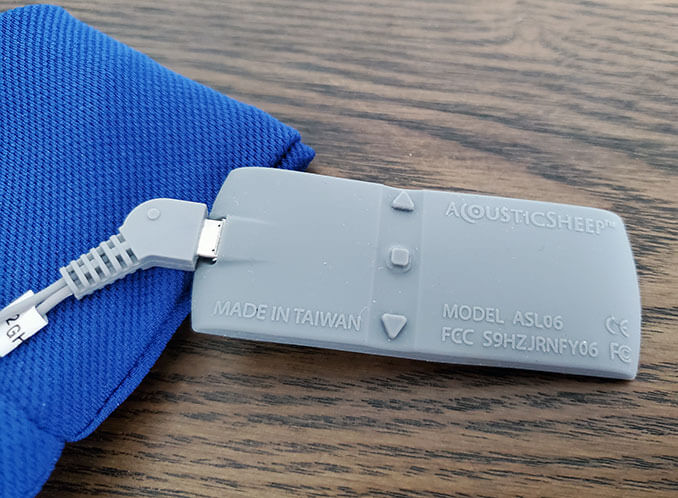 The headband has a control module with three buttons. You can use it to change the volume, change tracks, and stop and play music on your audio device.
The module is flat and bendy so it can contour to your head while you lie in bed. It's not fixed in place though, so I found you sometimes need a couple of seconds to locate the module in the dark and then find the right buttons as they are relatively small.
It's a little fiddly, but it's good that you can control some settings without needing to grab your device and turn the screen light on. Personally, I tend to just set my device how I like and then forget about it. But some people will appreciate having controls right there in the headband.
6. Machine washable headband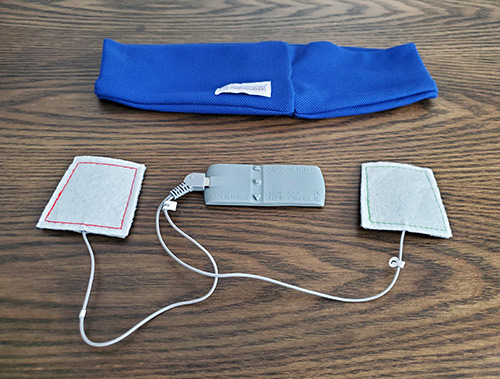 The headband can be washed in a machine, which is great if you use it regularly. You need to take the module and two speakers out, which takes a minute.
And putting them back took me a couple of minutes as the opening to slot them back into the headband is quite tight, and you then need to wriggle each piece along the headband into the position you want it.
---
Criticisms
---
1. No active noise-cancelling
The AcousticSheep SleepPhones don't have active noise cancellation. To be fair, I haven't found any dedicated sleep headphones that do.
But if you're used to high-end noise-cancelling headphones, and you're hoping to block out a snoring partner or noisy neighbours, you might wonder where all the sound blocking went.
The SleepPhones will definitely block out some noise because they put music right next to your ears, and the fabric will also help cut out a little. It just won't be as effective as using noise-cancelling headphones.
2. The speakers and module aren't fixed in place
The headband is hollow, housing two speakers and the control module, each connected by a thin wire. There are no pockets sewn into the headband to keep them in place, which means they can move around.
On the plus side, it means you can adjust the speakers so they lie directly over your ears. But it also means that if you change position in the night a lot, they might move around inside the headband, meaning you need to readjust them.
Additionally, the control unit can shift its position, meaning that the buttons aren't always going to be in exactly the same position on your headband when you try to find them with your eyes closed in the dark. They might only be slightly out of place, but it still leads to a slightly less consistent user experience.
Personally, I didn't really mind this as I can understand the usefulness in choosing where you want each component to sit. But I imagine some people would prefer them to be kept in position.
Another point about this issue is that with other headbands that do have pockets, it's even trickier to work the speakers back into their positions when you put them back in after washing.
3. They aren't budget headphones
At the time of writing, the wireless version costs $99.95 and the cordless classic version is $39.95.
So even though there are more expensive sleep headphones, like the DubsLabs for example, there are also considerably cheaper.
The SleepPhones look smart, with good stitching and excellent padding for the speakers in comparison to cheaper headphones like the Lavince.
But the price will still be an issue for some people, depending on your budget and how much you're looking to invest in a decent set of headphones.
How they compare to other headphones
Here's a summary of how they compare to five other headphones:
Lavince
The Lavince are much cheaper and actually louder. But the design isn't so attractive and the padding isn't as comfortable for side sleepers.
Dubslabs
The DubsLabs Bedphones sound better generally in my opinion. But I didn't find them so comfortable when sleeping on my side because of the stiff wire that goes over your ears.
AKG N20
My AKGs are comfortable, small in-ear headphones with better sound quality than the SleepPhones. But the SleepPhones are more comfortable on my side, and don't fall out when I move.
Bose Quiet Comfort 20i
These have amazing sound quality and excellent noise cancelling. If you're a back sleeper, I'd recommend them. But the earbuds are huge, so they are impractical for side sleepers.
Avantree
These are fairly standard large over-ear headphones with decent noise cancellation. They are okay if you sleep on your back and barely move. But really, no over-ear headphones are particularly comfortable to use in bed except for relaxation before you fall asleep.
Warranty
AcousticSheep offers a one year limited warranty and will repair parts that aren't damaged by misuse. They also have a returns policy, but it's not clear if it's a no questions asked policy if you don't like the headphones, or if it's only for problems like choosing the wrong size headband.
If you're out of the warranty period, they do sell individual parts on their website so you can replace them for less than the price of buying another one.
Hopefully, it's not the core module you'll need to replace though, as that alone costs $79.95. In comparison, a new headband will cost $19.95 if you accidentally shrink it in the wash.
Specifications
Here are some key specifications and points from the SleepPhones website and instructions:
Plug: Micro-USB plug
Impedance: 32 Ω
Frequency: 20-20 kHz
Power: 300/500 mW
Compliance: Eco-friendly RoHS compliant (lead-free)
Fabric: 95% polyester, 5% spandex
Warranty: one year limited
Sizes: small, medium and large (sizing chart on their website)
---
Summary
---
Pros
Comfortable in any sleeping position – even on your side.
Connect wirelessly via Bluetooth.
There's a control module in the headband for volume, track skip, pause and play.
Breathable fabric.
A full charge lasts 12 hours.
A partner won't hear your music in bed unless it's on full volume.
Machine washable (after removing the components).
Cons
No active noise cancellation (the fabric will help block some noise though).
The speaker position might need adjusting as they are not sewn into place because you need to be able to remove them to wash the headband.
Not a budget option ($99 – $149, depending on the style).
Verdict
On balance, I think the AcousticSheep SleepPhones do an excellent job of addressing the age-old problem of providing a comfortable listening experience to side sleepers – and any other position for that matter.
How do you design headphones so that they don't put too much pressure on your ears, but aren't padded so thickly that you can't fully enjoy rich music or gentle spoken word?
I think the AcousticSheep design team has gotten that tricky balance as right as you can do. The padding is thicker than some other sleep headphones I've tried, which admittedly results in less impressive volume.
But they are the most comfortable I've tried, so I'm happy to sacrifice a little volume and bass for the freedom to sleep on my side listening to my favorite podcast.
So unless you fall asleep to heavy rock or techno, I recommend considering the SleepPhones if you've struggled with standard headphones in the past.