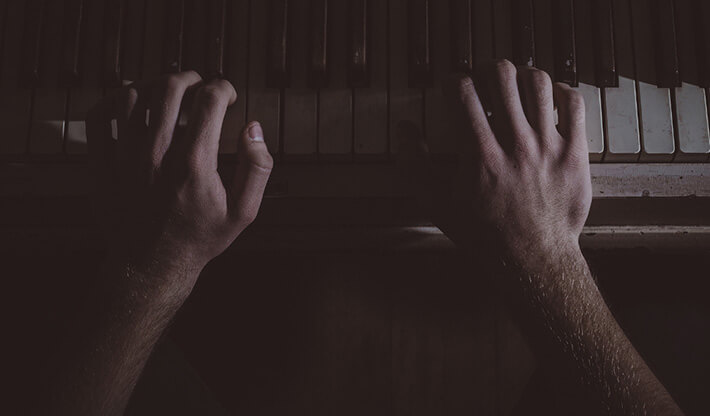 Whether you enjoy listening to classical, ambient, rock, or a genre only you and five other people have heard of, there are countless songs that are ideal for relaxation and sleep.
Having said that, if you're a punk, metal, grime, or techno fan, you can probably count on one hand the number of tracks that were written with the aim of inducing sleep.
Over the last few years, I've been steadily creating four different playlists for nighttime snoozing. Below you'll find the complete lists, with links to Spotify so you can listen to them when you feel the need.
I hope they work nicely for you, with no hidden explosions of tempo or jarring volume changes. Just a nice smooth ride into your dream world.
Classical music
Even if classical music isn't your thing, it's hard to resist the relaxing effect that these beautiful pieces have at the right time and in the right place. These composers are all indisputable masters. Like Jedi, only with quills instead of lightsabers.
Tracklist
Moonlight Sonata (Beethoven)
Gymnopédie No.1 (Satie)
Symphony 9, 3rd movement, Adagio molto e cantabile (Beethoven)
Clair De Lune (Debussy)
Suite No. 3 in D major, BWV 1068 (Bach)
Piano Concerto No. 21 in C major (Mozart)
Serenade no.10 (Mozart)
Adagio for Strings (Barber)
Canon in D (Pachelbel)
Méditation from the opera Thaïs (Massenet)
Piano Quintet in A Major – 2, Andante (Schubert)
Berlin Song (Einaudi)
Piano Concerto in A minor (Grieg)
Clarinet Quintet in B Minor (Brahms)
Traumerei (Schumann)
Sonata 16 C major (Mozart)
Piano sonata No. 8 in C Minor. Op. 13 (Beethoven)
Sonata No. 14 "Moonlight" (Beethoven)
Ave Maria (Bach)
Laudate Dominum (Mozart)
Nocturne En Mi Bémol Majeur Opus 9 n°2 (Chopin)
Contemporary classical
I'm not entirely sure what point in time marks the end of classical music and the beginning of contemporary classical, so forgive me if one or two here belong in the section above. Personally, I love some of the modern piano music being composed, and this is my favorite playlist right now. It's also the only thing that calms my dog when he's lost in post-dinner zoomies.
Tracklist
Opus 20 and 23 (Dustin O'Halloran)
Opus 23 (Dustin O'Halloran)
Prelude 2 (Dustin O'Halloran)
River Flows In You, Passing By (Yiruma)
River Flows In You, Twilight (Yiruma)
Nuvole Bianche (Ludovico Einaudi)
Spiegel Im Spiegel (Pärt)
The Heart Asks Pleasure First (Michael Nyman)
Ambre (Nils Frahm)
Comptine D'un Autre été (Yann Tiersen)
In The Morning Light (Yanni)
Seductive (Dominic Anderson)
One Man's Dream (Yanni)
We Should Waltz (Kevin Kern)
Waterfalls (Alexis Ffrench)
Calm Seas (Philippe Sanderos)
The Armed Man (Karl Jenkins)
The End of All Our Exploring (Max Richter)
Début (Mélanie Laurent)
Vladimir's Blues (Max Richter)
Carousel #3 (Federico Albanese)
Cavu (Ann Sweeten)
An Amalgamation Waltz 18 (Joep Beving)
Every Ending Is A New Beginning (Joep Beving)
Bluebird (Alexis French)
Le Onde (Ludovico Einaudi)
Sleeping Lotus (Joep Beving)
The Light She Brings (Joep Beving)
Fin (Melanie Laurent)
Soffia La Notte (Fabrizio Paterlini)
La Valse d'Amélie (Yann Tiersen)
Some (Nils Frahm)
Falling, Catching (Agnes Obel)
To The Sky (Dirk Maassen)
Sometimes (Fion Kippenren)
Trilho (Pedro Meirelles)
Chill-out and ambient
This playlist starts off with some relaxing, but upbeat chill-out. The second half slows things right down, with some brain entrainment tracks included that might help send you on your way to a peaceful night's sleep.
Tracklist
So Easy, Melody A.M. (Royskopp)
The Promise (Ryan Farish)
Structures from Silence (Steve Roach)
Cafe Del Mar – they produce compilation albums, with lots of great chill-out. On the playlist I've included an ambient remix of Gymnopédie No.1 by Erik Satie, Summer Sun by Chris Coco, and Troya by Rue du Soleil to give some examples.
14:31, from 76.14 (Global Communications)
Structure of Ambient Life (Diatonis)
Shpongle Falls, from Are you Sphongled (Simon Posford and Raja Ram)
Earth Garden (Nanda)
Shivai (Mantra Man)
RCA (+) (Carbon Based Lifeforms)
Cathedral Oceans (John Foxx)
Complex Heaven (Brian Eno, John Hopkins & Leo Abrahams)
Discreet Music (Brian Eno) – note that this is 32 minutes long!
Music for Airports (Brian Eno) – another epic at 48 minutes long.
Weightless Parts 1-6 (Marconi Union) – this was specifically written to be extremely relaxing. I've even heard it called the most relaxing song ever. It was also intended to be long enough for you to listen, relax and fall asleep to.
A lovely Place To Be (Patrick O'Hearn)
Bless This Morning Year (Helios)
Pacific (Deep Divers)
Glow Stick (Deep Divers)
The Cage, Be My Baby (Deep Divers)
A relevant Space (Sircle) – ethereal music specifically created for use in flotation tanks.
A Lunar Descent (Sircle)
Fearless (Future Zen)
Deep Theta (Steven Halpern)
Bless This Morning Year (Helios)
Pacific (Deep Divers)
Glowstick (Deep Divers)
The Cage (Deep Divers)
A Relevant Space (Sircle)
A Lunar Descent (Sircle)
Fearless (Future Zen)
Elisa's Theme (Alexandre Desplat)
Circles (AAESPO)
Somnus V (Lyz Cooper)
The Brilliant Light Of What's To Come (Aidan Tulloch)
World music
Many moons ago, I used to go into the enormous Virgin Megastore on Oxford Street in London and take random world music CDs to the listening post on the hunt for new music.
Once in a while, I'd discover something that would inspire me to buy the CD. Ahh, the good old days of physically owning music and seeing your stacks of CDs grow on a shelf! Here are some of my current favorites, both from my listening post days and Spotify recommendations that actually made sense.
Tracklist
Debe (Ali Farka Touré & Toumani Diabaté) – If you haven't heard it before, I highly recommend the stunningly beautiful entire album 'In the Heart of the Moon'.
800 (Mercan Dede)
18 Mayis (Mercan Dede)
Amazonia (Deep Forest)
Yeha-Noha (Sacred Spirit)
Saxophone, Song of Miho (Paul Winter Consort)
One Man's Dream (Yanni)
Djarimirri (Geoffrey Gurrumul Yunupingu)
Echoes of Time (R. Carlos Nakai)
Compassion: Om Mane Padme Hum (The Gyuto Monks of Tibet)
May It Be (Enya)
Rain of Blessings (Lama Gyurme)
Basin Street Blues (Lake City Stompers)
Divano (ERA)
Your recommendations
If you have any suggestions to add to any of these playlists, feel free to share your recommendations in the comments below.
If you're a musician keen to get your music onto a playlist, you're welcome to email me (ethangreen@nosleeeplessnights.com). Or just leave a comment with information about your music and a link to Spotify if it's available there. I do read and reply to all the emails, and will listen to your music while I'm working. I believe in supporting new musicians, so I'll listen with an open mind even if it's not immediately my thing.
Enjoy and sleep well!