At a glance
The Mifa has good sound quality for a white noise machine, with a loud 20 watt speaker and 15 sound options. It has an internal rechargeable battery, which makes it convenient for placement in the room.
With three lullabies, parents might make the best use of it. The option to play your own music through the Bluetooth speaker, audio in, or MicroSD makes this a versatile device that adults might use themselves though.
Pros
Clear speaker quality.
Effective sound masking with loud volume (20 watts).
15 sound choices, including 3 lullabies/relaxing sounds.
Bluetooth speaker, audio in and microSD so you can play your own music.
Auto-off timers or continuous play.
Dimmed visual display with a clock.
Rechargeable internal battery.
Reasonable price (usually under $40).
Cons
Confusing buttons.
Only one white noise and fan option.
Clock, but no alarm.
Quite large compared to most white noise machines.
Currently unavailable
The last time I checked (August 18, 2023) the Mifa was unavailable to buy online or in stores. I believe it has been discontinued by the manufacturer. There is a newer machine being sold online called the Mifo rather than Mifa, but it is not the same as the one I discuss in this article.
I'll keep this article live in case you're thinking of getting it second hand, or in case they start selling it again in the future.
Full Review
Please note that this written article is not a word for word transcript of my above video. I've edited it to be easier to read and find specific information about the Mifa.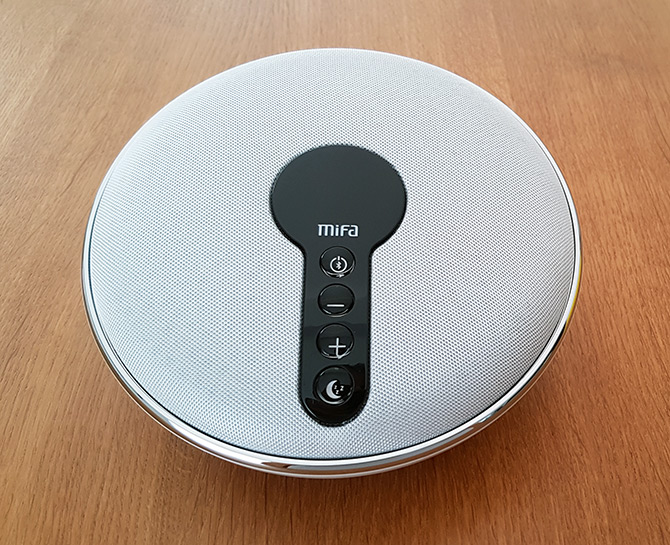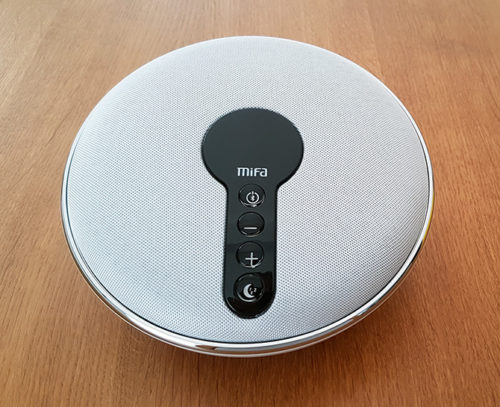 The good points
1. Good sound quality and noise masking
Perhaps the most impressive aspect of the Mifa is the speaker quality. I've reviewed many sound machines over the years, and poor speaker quality comes up time and time again.
So I was pleased to discover that the Mifa has very good sound quality (compared to similar machines, not expensive modern speakers).
The 20 watt output sounds crisp, and on the maximum volume doesn't distort. It even has a little bit of bass, which is unusual for these devices.
And because of the great speaker quality, you can rely on it to mask external noise. If you have loud noise outside your bedroom or office that's disturbing you, I found you can find a sound option and volume that capably blocks it out. And that's what a white noise machine is meant to do.
In the photo below, you can see what came in the box when I bought the Mifa.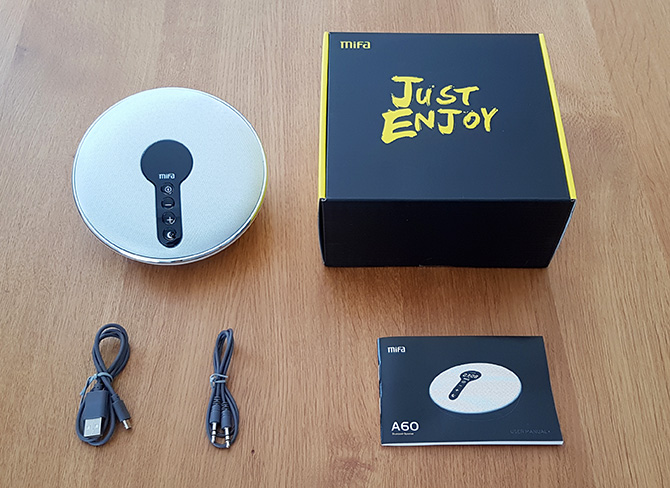 2. Good nature sounds and lullabies
There are 15 sounds in total, with a focus on nature sounds and relaxing lullabies rather than white noise and fans.
Most sound machines only have one or two lullabies, if any at all, so it's worth noting that the Mifa has two lullabies and another relaxing soundscape. And that, for me, makes me think it's going to be better for small children rather than adults.
Not that I would listen to them personally, but objectively I think the lullabies are good quality recordings. And I imagine parents will appreciate having some variety rather than putting up with the same lullaby over and over!
Mifa sound options
White Noise
Clock
Bubbles
Fan
Lullaby
Summer night
Relaxation
Lullaby
Ocean
Forest
Pasture
Rain
Rainy car
Thunder
Stream
The nature sounds are, as expected, on loops of around a minute it seems. It's rare to find them on longer loops unless you get a more expensive device, so that's nothing out of the ordinary. You don't really notice it with repetitive sounds like the rain, ticking clock, or crickets, but you will with the thunder or birds.
Something I really like is that there are three rain options, so you can choose to have it with or without thunder, in a car, or just normal rain.
3. Bluetooth speaker to play your own music
The Mifa can be used as a Bluetooth speaker, so you can play your own music from a phone, tablet, or another device that has Bluetooth capability.
Once you work out which buttons to press to pair your device, I found it was reliable at pairing, and the sound quality was decent.
4. Audio in or Micro SD for more sound options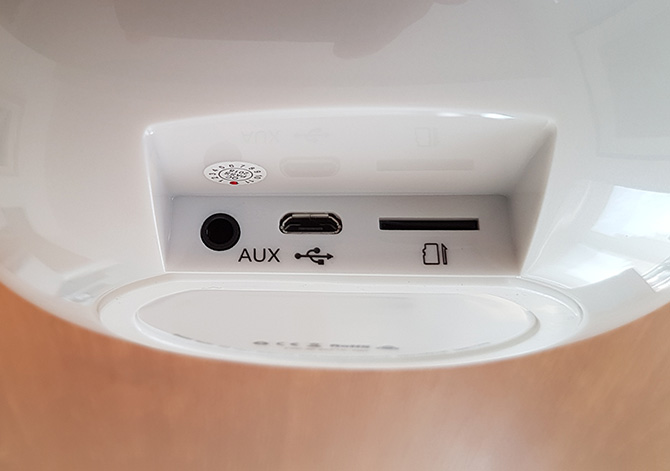 If your device doesn't have Bluetooth, there's an included 3.5mm audio cable so you can plug it in directly. And there's also a micro SD slot so you can add music directly and then you don't need to keep your external device nearby.
I like that the Mifa gives you three different ways to add to the 15 inbuilt sounds, even if the micro SD isn't a method I imagine too many people will want to take advantage of.
5. Auto-off timers
There are three auto-off timers: 30, 60, and 90 minutes, or you can have continuous play. They are easily accessed by tapping the fourth button. It's always good to have this option to reduce how long you're exposed to white noise during the night.
6. Rechargeable internal battery
The Mifa comes with a USB cable so you can plug it in and keep it on. But it also has an internal lithium battery that will last all night when fully charged.
For me, this is an excellent feature as it means you're not constrained by the location of power outlets when using the device, and you can even take it outside if you want to.
7. Visual display
It's not common for sound machines to have a visual display. I think this is partly because manufacturers feel people prefer not to have lights on their nightstand, but also to keep costs down.
So it's interesting that it has a clock, and the auto-off timers will also count down on the display. In addition, you can see the battery level, and whether the Bluetooth or microSD is in use.
The light emitted by the display is very dim, so I didn't find it disturbed my sleep at all.
Criticisms
1. Confusing buttons
The way the interface and buttons are designed is my biggest gripe with the Mifa. Considering the size of the machine, I think it's a shame they only included four buttons to control all of the options, when there's plenty of space for more.
For starters, I don't like that you have to hold the power button for two seconds rather than simply pressing it. And that same button also controls the Bluetooth if you double tap it.
The volume and sound choice share the same two buttons: press plus or minus to cycle through the sound choices or hold them to adjust the volume. This is an issue I have with some other sound machines too, and I much prefer it when those two functions have their own buttons.
Finally, you have to hold the fourth button to start the built-in sounds or press it to activate an auto-off timer.
So I find that even after several days, I still press buttons the wrong way sometimes, which is frustrating as I end up accidentally choosing options I didn't want.
2. Limited white noise and fan options
With three lullabies, it's clear this device was intended for young people. However, I still think it would be good to have at least two more white noise or fan options – preferably deeper sounds which are usually more relaxing.
3. Clock included but no alarm
It feels a little unfair to complain that there's no alarm when most sound machines don't even have a clock! But the manufacturer missed an opportunity to add a feature that I know some people would appreciate.
4. Relatively large and heavy device
Below, I have the Mifa next to a small glass of water so you can judge the true size when it sits on a bedside table.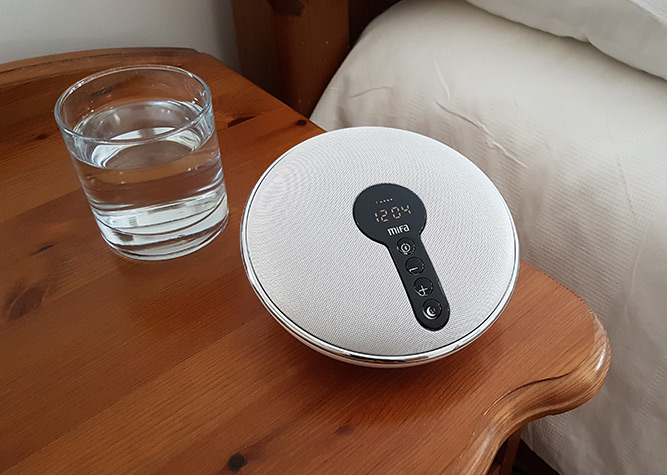 The Mifa isn't one you'll be taking with you when travelling. The 20 watt speaker needs some space, and also adds a little weight compared to most sound machines I've used.
It weighs 13.4 ounces and measures 6.1 x 3.1 x 5.8 inches, so it will occupy some room on your nightstand.
Verdict
The Mifa left me with conflicted thoughts about it. On the one hand, I really liked the sound quality and speaker. As I said already, sound machines, especially low-cost ones, sometimes have unimpressive speakers. So when one has a genuinely half-decent speaker, it's a major plus point.
On the other hand, the buttons were more confusing than I believe necessary. I think if you're going to be using a sound machine in a bedroom, or changing settings in dim light, or even darkness, you need it to be easy to use.
Where the sound choice is concerned, I felt that it was lacking in white noise and fan choices, yet good for lullabies. And you have three different ways to play your own sounds through the speaker, which is really useful.
So it will boil down to personal preference I think. Some people are used to complex tech, so the buttons won't bother them at all, while others really need it to be simple to use, and not difficult to remember how to use.
Which type of person you are will determine whether the Mifa is right for you or not.