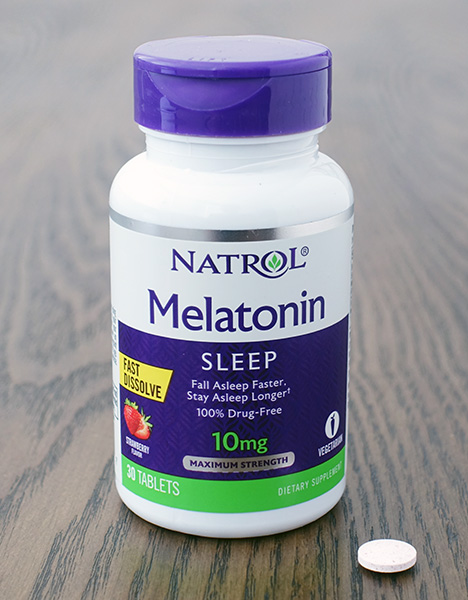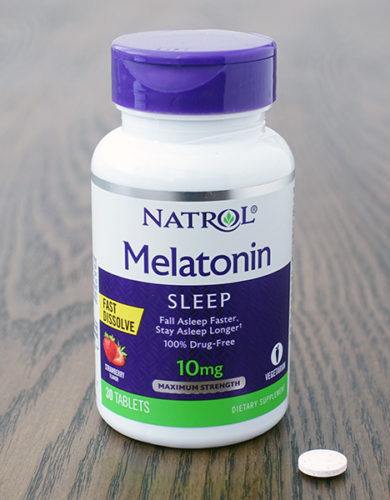 I've been testing the Natrol melatonin sleep aid for the past month, both to review it and also as part of a wider experiment I wanted to do with a stronger dosage of melatonin.
Usually, I only test an over the counter sleep aid for a week or two – especially those that quickly lead to side effects, such as anti-histamines. But this time, I had an ulterior motive for giving it a longer run on the bedside table.
Why I took the high 10mg dosage
In the past, I've had good success with melatonin sleep aids, such as Vitafusion SleepWell. They helped me sleep better, and the side effects were minimal and tolerable.
The thing is, there's a lot of talk (and opinion) about melatonin, especially where the dosage is concerned. Some sleep experts recommend taking the smallest possible dosage – 0.5mg or less, and ideally none at all.
You can easily buy 5mg and 10mg tablets over the counter in the United States though. And I can imagine many despairing insomniacs would give those a whirl. But should they, or is it unnecessary and likely to lead to worse side effects, visible or hidden?
Despite concerns around supplementing the body's natural melatonin with a synthetic version, researchers haven't found evidence of serious side effects in adults, even in higher doses.
And evidence seems to suggest that that taking melatonin doesn't stop your body's natural production. One caveat, of course, is that the researchers involved in these studies usually say that more research is needed into the long-term effects.
Long story short – I wanted to find out for myself what would happen if I took a higher 10mg dosage for 30 days. And Natrol seemed like a good option, as they are an established brand of supplements in the US and make a 10mg version, as well as 1mg and 5mg.
---
My experience
---
A fast-dissolving tablet with a sweet taste
First things first – the taste and type of pill. Natrol tablets are pretty small and fast-dissolving, which is better than swallowing a pill in my experience.
They do have a slightly sugary taste, so I found it's best to take them before brushing your teeth – something I've seen customers write on review sites.
Judging how well it works
The way I judge how well a sleep aid works is admittedly quite subjective. Other than spotting obvious side effects like headaches or grogginess, or having clearly significant changes to my sleep times and pattern, the effects can be subtle and hard to work out if it's the sleep aid, a placebo or something else entirely.
So I use a written sleep diary to note how I slept and felt the next day, along with a couple of sleep trackers to back up my manual data.
Round one: melatonin versus jet lag
I actually bought the Natrol in the United States and then started taking it after returning to England, as I was interested to see if it would help with the Jet Lag.
I had pretty good results for the first five days. I felt that I managed to realign my sleep pattern to the local time reasonably quickly, even if it took me a while to drop off during the first two nights.
Although it didn't exactly knock me out, I still got enough sleep to function fine. What I liked was that the mornings weren't too bad either. I had no noticeable side effects from the melatonin and seemed to get into the swing of things with some help from a strong coffee.
So all in all, the jet lag wasn't as bad as it has been in past trips, though was definitely still there to a certain extent.
The following weeks
Although I sleep reasonably well on many nights, over the course of a month I will always have at least a few bad nights of insomnia, especially if I can't do any exercise for whatever reason.
And I have to say that both my manual sleep diary and sleep trackers showed a pretty decent month of sleep. There was only one night when I slept particularly badly, and this could be largely attributed to stress that day I think.
It's not that I slept for significantly longer than my usual good nights, just that there were more good nights and with less wakings. Even on a couple of nights when I visited family or friends – a time when I usually struggle to sleep well – I was managing to get a reasonable night's sleep.
No side effects of note
It's rare that a sleep aid gives me no noticeable side effects, but this was the case with the Natrol.
What's strange is that even with other melatonin brands I've tried – and at a lower dosage – there has been something, such as disorientation when waking in the night or some morning grogginess. But I just didn't get any of that this time.
My conclusion
I felt that the Natrol helped me overcome jet lag a little easier than normal, which was positive.
And over the next few weeks, I fell asleep on average faster than I often do, had less bad nights' sleep than my monthly average and woke less in the night.
I didn't sleep significantly longer overall than usual, which I think is important to note. It's more the case that I just had less bad nights, and less time lying in bed feeling frustrated that I wasn't asleep yet.
Would I take it again?
I don't plan on taking Natrol on an endless basis, as I try to sleep without any sleep aids most nights unless I'm testing a new one or having a bad patch.
However, I think Natrol is arguably one of the best sleep aids I've tried over the years. It might not have a knock-out effect, but does seem to stabilize my sleep and gave me no side effects.
Despite choosing to take 10mg for this review, I would drop down to a 1mg dosage next time though. And I'd also recommend starting with a lower dosage too, unless you have a valid reason to increase it.
Despite my own positive experience with this dosage of melatonin, it's not to say other people don't have side effects or that it's appropriate for everybody. I recommend checking carefully that melatonin is right for you, ideally with the advice of a healthcare professional.
---
What evidence is there that Natrol melatonin tablets work?
I couldn't find any specific clinical trials for Natrol sleep aids. However, this isn't unusual for over the counter sleep aids in the United States. They aren't required to undergo rigorous testing as they are part of the extensive grey area of supplements rather than medications.
So, assuming the ingredients are accurate, it's useful to consider the evidence that other melatonin supplements work for insomnia, which was the point of my test.
There has been a lot of research done, and much more will probably be done in the future considering the wide range of possible uses for melatonin supplements that are being explored.
Where sleep is concerned, the bottom line seems to be that melatonin can help some people with certain sleep problems.
The National Center for Complementary and Integrative Health in the United States indicates that there is evidence melatonin can help some people with:
Jet Lag
Delayed Sleep Phase Disorder
Shift Work Disorder
Insomnia
On the insomnia front, they mention a 2013 review of 19 studies of people with primary sleep disorders. There was evidence that melatonin helps slightly with:
Time to fall asleep
Total sleep time
Overall sleep quality
And a more recent review of 12 studies in 2017 found evidence that melatonin helps reduce the time taken to fall asleep in primary insomnia and delayed sleep phase syndrome. The study author reported:
These findings highlight the potential importance of melatonin in treating certain first degree sleep disorders.
---
What others say
Whenever I test a new sleep product, I like to research what both customers and other writers have to say.
When I checked on Amazon.com, there was a strange pattern in that the 1mg and 5mg tablets have excellent average reviews from hundreds of verified purchases (4.5 out of 5 stars at the time of writing), but the 10mg only averaged 3.9.
I read through many of them to find out what the problem might be. Was the high dosage causing more side effects? But it turns out that many people just don't like the taste, with some complaining the ingredients had changed, or that it was different from the version they had bought in stores.
Taste aside, they get many positive reviews from customers, with the majority of people saying Natrol helps them sleep. The main complaints I could find were the taste, vivid dreams and sometimes just not working.
Scanning through other sites with customer reviews, such as Costco and Walmart, there's also generally positive feedback from people, though mostly for the 5mg version rather than 10mg.
---
Further information
---
Who makes it?
Natrol is an American company based in California. They have been manufacturing vitamins, minerals and supplements since the 1980s. You can find out more about the company at natrol.com (not a sponsored link).
---
Ingredients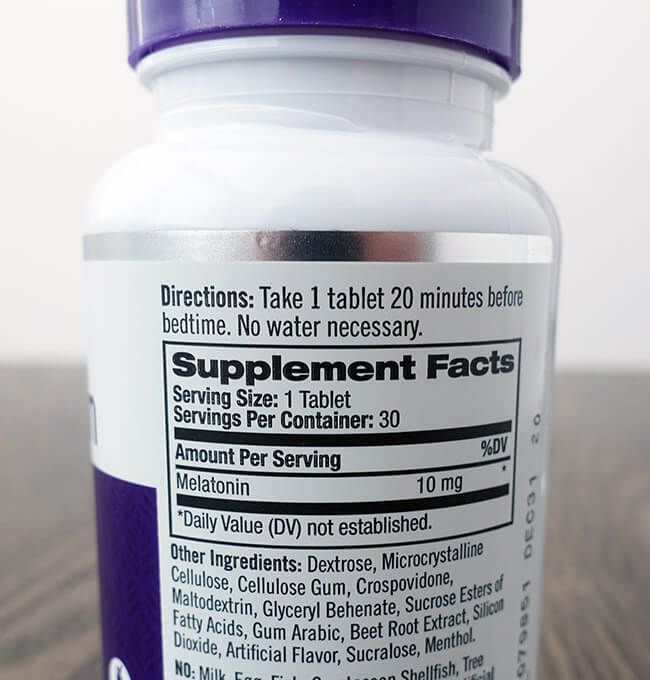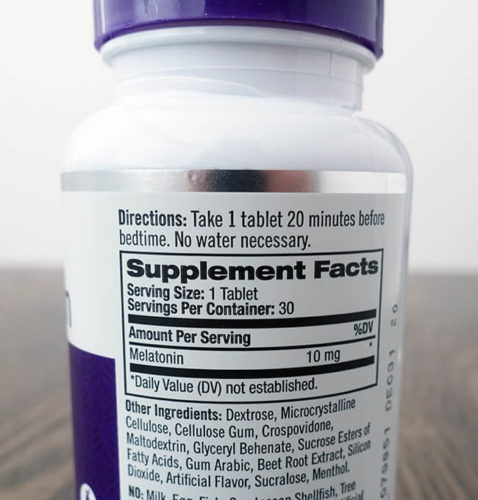 The active ingredient listed on the bottle I bought is:
Melatonin 10mg (the active ingredient)
The other ingredients are:
Dextrose
Microcrystalline cellulose
Cellulose gum
Crospovidone
Maltodextrin
Glyceryl behenate
Sucrose esters of fatty acids
Gum arabic
Beet root extract
Silicon dioxide
Artificial flavor
Sucralose
Menthol
---
Dosage & directions
The instructions tell you to take 1 tablet 20 minutes before bed. Since it's fast dissolving, you don't need to drink water with it.
Interestingly, the Natrol website has some advice about dosage and which dosage to take. Despite making a 10mg version, they advise starting with a lower dosage. Here's a quote from their site:
While melatonin supplements are typically sold in doses of 1, 3, 5 and 10 mg, the right amount depends on your individual situation and how your body processes the supplement… If you aren't sure how much melatonin to take, it is recommended to start with a smaller dose like the 1mg or 3mg rather than starting with the max. Although melatonin is safe in doses up to 10mg per day, more is not necessarily better.
This advice is in line with the many medical sites which recommend starting with a lower dosage if you're going to take melatonin.
---
Possible side effects of Natrol melatonin tablets
The bottle I bought doesn't have any potential side effects listed. Their website lists three circumstances in which you should decrease the dosage though:
If you feel groggy in the morning after a full night's sleep
If you experience vivid dreams
If you get headaches
Melatonin is thought to be relatively safe for most people, but the above are three of the most common side effects. Medical sites such as WebMD and Healthline list a few others to be aware of, including:
Short-term feelings of depression
Daytime sleepiness
Dizziness
Stomach cramps
Nausea
Diarrhea
Irritability or anxiety
---
Who should avoid Natrol melatonin tablets?
My personal view is that it's a good idea to discuss taking melatonin with your personal doctor first, especially if you have any medical conditions or take any other medication.
There are many different situations, such as pre-existing conditions and drug interactions to be aware of. And they change over time as new research is done. So to be on the safe side, it's a positive step to check with a medical profesional based on your personal situation.
That said, there are some specific warnings at the time of writing this article. The bottle recommends checking with a healthcare professional first if any of the following apply to you:
If you are under medical supervision
If you use any tranquilizers or sedatives
If you have an autoimmune condition
If you have a depressive disorder
If you are pregnant or lactating
Not for use for children under 12
Medical sites list even more possible warnings and interactions. So my advice is to check a few, such as WebMD, Healthline, and Mayo Clinic as well as consulting your doctor.
---
Have you tried Natrol melatonin?
Let me know in the comments if you've tried any of Natrol's melatonin products. Did they work for you? Did you have any side effects from them?