Disclosure: This website is supported by my readers. If you decide to purchase a product through one of the links provided, I may receive a commission, at no additional cost to you. Learn more.
At a glance
The SNOOZ is an excellent white noise machine that people who like fan sounds will make the best use of. It uses a real internal fan instead of recordings, so the sound is authentic and relaxing to listen to. If you prefer standard white noise or nature sounds, the SNOOZ won't be right for you though.
You can adjust both the tone and the volume to find just the right setting to mask external noise that might be disturbing your sleep or work. And an accompanying app gives you control over useful features such as timers and nursery calibration.
Pros
Real fan that sounds calming.
Good sound masking.
10 volume settings + loud max volume.
Adjustable tone.
App for convenient control.
Daily on and off timers.
Fade in and out.
Lightweight & compact.
Nursery calibration.
Cons
Expensive end of the sound machine range (currently $99.99)
Dim nightlight.
Some features only available on the app.
No internal battery.
Full Review
Please note that this article isn't an exact transcript of my video above. I've organised it to be easier to find the information you might be most interested in. I've also added some extra points I've discovered since filming.
In the photo below, you can see the SNOOZ, the simple box it comes in, the sleep mask they include, and the instructions: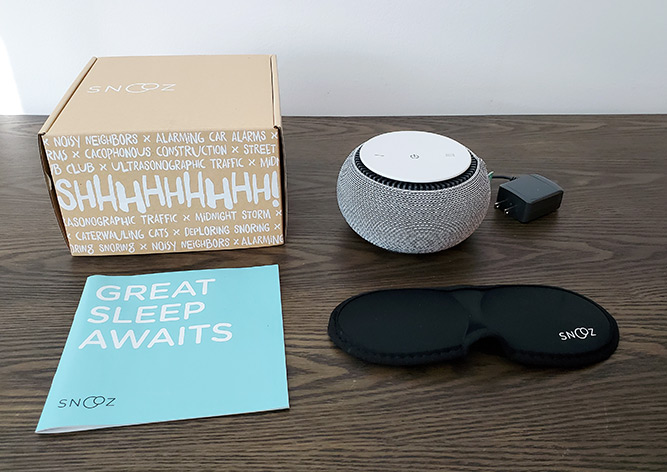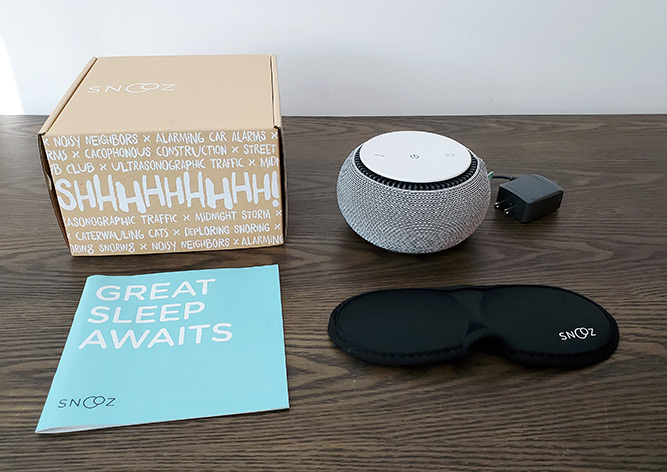 Below, you can see the SNOOZ from above, with the 6 foot cable and the three buttons the device has: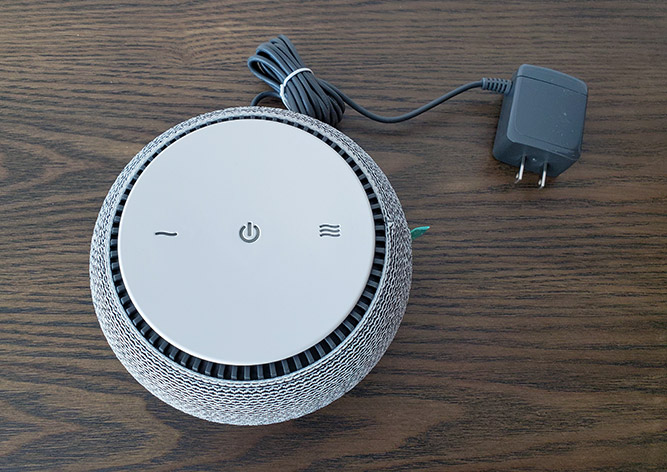 The good points
1. It uses a real fan, not recordings
The core concept of the SNOOZ is relatively simple. Stick a real fan inside a stylish external casing and give people a way to listen to a fan sound at night without having a much larger real fan blowing air around the room.
Using a normal fan isn't a problem in the summer, but you end up pointing it at a wall in the winter to avoid an unwanted draft. A normal fan also takes up more space. And in my case, can lead to toe-stubbing moments in the middle of the night if you have it next to the bed!
Most white noise machines use recordings so that they can give you a wider range of white noise, fan and nature sounds. And although the best models sound pretty convincing, it's never as authentic as a real fan.
There are a couple of other devices that use real fans, most notably the Yogasleep Dohm line, which ruled the white noise roost for many years (Yogasleep was previously called Marpac).
Personally, I've been won over by the SNOOZ though. As you'll see below, not only does it sound really good, but it has more features than you usually find in mechanical white noise machines.
2. You can adjust the tone
I don't want to make this review a running comparison of the Dohm and SNOOZ, but it will be helpful for a couple of points since Yogasleep pioneered this style of sound machine.
The SNOOZ has a similar mechanism to change the tone – just twist the side cap. I imagine they were inspired by the Dohm range when coming up with that design.
I really like the way you can adjust the tone as it lets you pinpoint a fan sound that you enjoy listening to. The instruction manual says it ranges from a normal room fan to the sound you'd hear in an airplane cabin. I'm not convinced by the latter, but in any case, it sounds great across the full range.
3. It has incremental volume controls
I've long criticized the Dohm range of fan-based white noise machines for their lack of volume control. For example, you can only choose between two speed settings with the Dohm DS, which also changes the volume. And as you turn the cap, the volume changes somewhat with the tone.
In contrast, the SNOOZ actually has volume control buttons that let you specifically adjust the volume in 10 incremental steps, from fairly quiet to surprisingly loud.
The Dohm devices are notoriously quiet and not that good for masking external sound at night. The SNOOZ on higher volumes is much louder, and I find it blocks out most noise coming from outside my bedroom window – especially the air conditioning unit and distant sirens, which is great.
4. Nursery calibration setting keeps the volume at a safe level
When you use the app (more on that below), you can set it to nursery calibration. That keeps the volume at a level that's apparently been found in research to be safer for infants. They reference the research on the app, which shows how important they felt this feature is.
5. Lightweight, compact and stylish design
At less than 2 pounds, and measuring 5.6 x 5.6 x 3.2 inches, the SNOOZ looks smaller and feels lighter than I was expecting. I think the Dohm fan models have taught me over the years that they tend to be bulkier and heavier than most other brands.
Not so with the SNOOZ though. Although there are smaller devices out there, you could squeeze it into a suitcase if you're traveling, and it won't take much space on a nightstand. And that's always a good thing.
Where the aesthetic appeal is concerned, I like the SNOOZ personally. The round design is pleasing to the eye, the fabric cover for the side neatly hides the plastic casing, and the white and grey color scheme has a modern feel to it.
So I think this is one you can have on a nightstand, shelf or office desk without feeling like you have an ugly lump of plastic standing out.
In this photo you can see that the SNOOZ isn't much bigger than a standard small glass: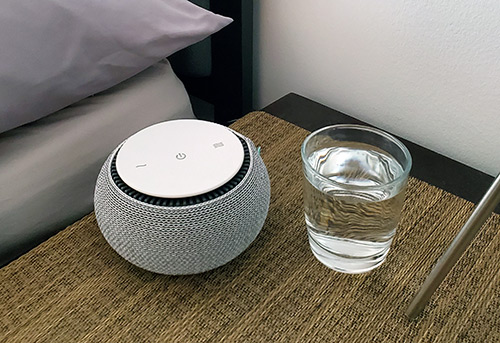 6. An accompanying app with more features
The SNOOZ has an accompanying smartphone app (for iPhones and Android), which opens up several other features.
It's one of my criticisms that you can only access some with the app. Nevertheless, they are good features, so let's take a look.
Bluetooth control of the device
First of all, I do like that you can control it with Bluetooth. If you put it by the window or door, for example, you can turn it on or off, and adjust the volume, without getting out of bed (assuming you didn't leave your phone on the window ledge too…).
You can't adjust the tone on the App though – you need to manually twist the cap.
Timers
You can set it to turn on and off at any time of the day, which is great. Weirdly, you have to set the off timer for the next day, so it doesn't work for daytime naps.
But I like that you can set a different start time and auto-off for each day of the week if you like. Or you can just have it on continuous play if you prefer.
The timers can also be programmed to turn on and off abruptly, or with a fade from 30 seconds up to five minutes.
Night light brightness settings
You can choose to have no light at all (dark mode), which will benefit those who really dislike even the tiniest slither of light in their bedroom at night.
Alternatively, you can set the nightlight to one of three brightness levels. As you'll see in the criticisms below, I'm not a fan of the nightlight feature. But I do like that you can adjust the brightness.
Criticisms
1. Price
The SNOOZ is one of the more expensive white noise machines available. I assume it's because they managed to combine a real fan with an app that allows more control over the device than other brands give you.
2. The nightlight feature isn't really a nightlight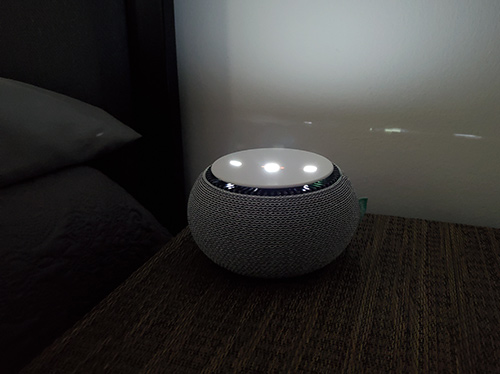 Instead of adding a traditional light with a pleasing soft glow, they simply boosted the maximum possible brightness of the three buttons.
The light is white, which isn't very pleasing for starters. And the design of the device means that light escapes from the side and casts an uneven line across any nearby vertical surface like a wall or shelving unit.
So in my opinion, if this is a feature that really matters to you, the SNOOZ will give you a small amount of light which might help you see a little if the room is pitch black. It's not a light that will make an infant feel reassured though. And it's not a light that you can use to read in bed.
I think it's a little bit cheeky to call it a nightlight, if I'm honest. 'Bright buttons that you can dim' is a more accurate description.
3. You need the app to access all the features
Maybe I'm showing my age here. Although I like being able to control a device with an app on my phone, I kind of dislike it when I don't also have the option to control it manually.
Sure, I would never expect my TV to give me full control with endless buttons on the side – I can accept that.
If a device only has a handful of features, why not make them available both physically and on the app though? Not everyone wants to have their phone switched on and on their nightstand. Some people don't have a smartphone that is compatible with the app.
So just be aware that you can control the volume and tone without the app. But timers and brightness of the buttons are only available on the app.
4. Needs to be plugged in to work
This is only a minor complaint as other sound machines with a real fan also need to be plugged in to work. But it's worth remembering that it doesn't have a battery option.
Verdict
In my opinion, the SNOOZ is the best of the white noise machines that work with an internal fan. Others, such as the Yogasleep range, don't have nearly as much volume and have limited features.
So the SNOOZ really stands out when it comes to the maximum volume and the extra features that bring it into the modern world a bit more than the older style of devices. I like how you can control it with the app and set different daily timers, which is a key feature I look out for with these machines.
If you can forgive the fact that some features are only available via the app, then this is a device that will please those who love the natural sound of rushing air, but who don't want a normal fan in the bedroom all year round.
You might like it if you:
Love fan sounds, but don't want basic fan recordings or a real fan in your bedroom or study.
Like to control devices from your smartphone or tablet.
Need loud volume to mask external noise.
Want a white noise machine with timers.
You might not love it so much if you:
Are on a tight budget.
Would like a mix of fan sounds, white noise and nature sounds.
Want a sound machine that's battery operated.