Disclosure: This website is supported by my readers. If you decide to purchase a product through one of the links provided, I may receive a commission, at no additional cost to you. Learn more.
At a glance
Compact and lightweight, the Yogasleep Travel Mini is an excellent white noise machine for travelers who are tight on space in their luggage. It features a dimmable night light and an in-built rechargeable battery, both convenient features for adults and kids alike.
Although the small speaker may not deliver strong bass and the sound options are limited to six, these sounds are nonetheless calming. Notably, it incorporates a recording from the larger, fan-based Dohm device, which those who enjoy the soothing sound of rushing air will appreciate.
Pros
Soothing sounds, including the original Dohm fan sound.
Compact, lightweight, and portable.
Reassuring night light with three brightness settings.
Internal rechargeable battery (lasting over 8 hours) and a USB cable for added convenience.
Comes with a one-year warranty and a 101-night money-back trial period.
Fairly priced (I bought mine for £35 in the UK).
Cons
Lacks auto-off timers.
Limited selection of six sounds.
Speaker doesn't provide a strong bass output.
Buttons are small and difficult to distinguish in low-light conditions.
Full review & video transcript
Hi, I'm Ethan Green from nosleeplesnights.com, and in this video/article I'm going to be doing a review of the Yogasleep Travel Mini white noise machine.
It really does deserve the word 'mini' because it's the smallest white noise machine I've discovered from reviewing dozens of white noise machines over many years.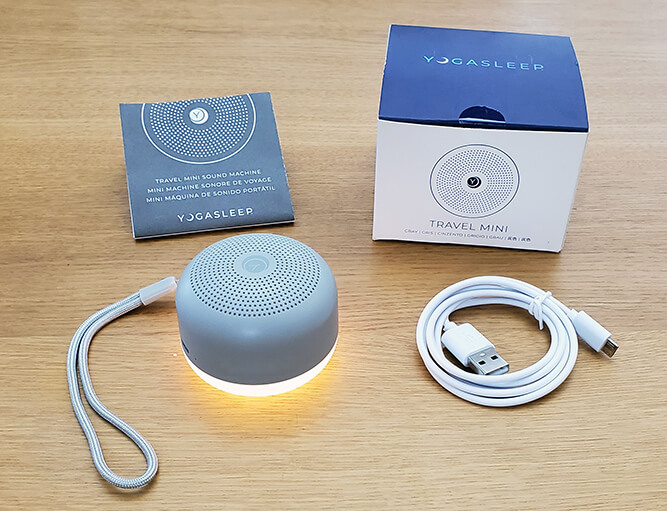 It also has an internal rechargeable battery and a night light so it's a good one for people who are looking to take a white noise machine with them when they're traveling, or perhaps to use in their kid's bedroom.
I paid just under £35 in the UK for this one, although at the moment you can get it in the US for just under $25, so it's a pretty budget white noise machine as well.
So, let's go over to the table where I'm going to play through the sounds, show you the features and the night light, go through some pros and cons, and then we'll wrap up at the end.
Power & internal battery
This section starts at 0:40 in the video
The first thing to talk about is the power. It came with a small micro USB to USB cable, so you can use a longer one if you've got one in the house or use this one to keep it plugged in, and that way you don't need to worry about the battery.
The internal rechargeable battery is one of the best features of this white noise machine. The little hole here is the charging indicator, which isn't on at the moment because I'm not charging it, but it will flash or steady hold to tell you whether it needs charging or whether it's fully charged.
Charging time and battery life
When empty it takes 3.5 to 4 hours to fully charge.
With just sound, a full charge lasts 8+ hours (depending on volume and sound choice).
With sound and the nightlight, a full charge lasts around 5 hours.
Buttons
Starts at 1:08 in the video
Before I play through the sounds, let's talk about the buttons. On the top you've got the speaker grill, but the buttons are on the underneath (so you need to turn it upside down to change settings).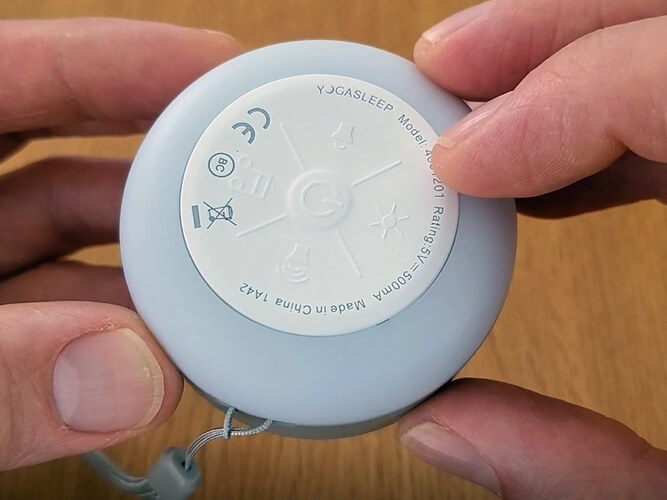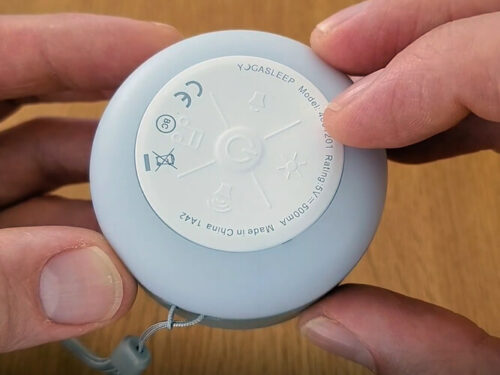 As you can see, the buttons are quite small. Let me try and find an angle where you can see them – there they are. They're really, really tiny – almost like braille I think. They're kind of difficult to see in the dark, and kind of difficult to see in the daytime as well if I'm honest.
There are five buttons: power on/off in the center, the little sun one for the night light, volume down, volume up, and the sound choice.
The sounds
Starts at 1:52 in the video
So I'm going to play through all the different sounds so you can have a listen. And then when I get to the last sound I'll play through the volume so you can hear it on the lowest and the maximum volume setting. So let's start, and I'm not going to talk while I play through the sounds.
Sound options
White noise
Brown noise
Stream
Gentle Surf
Original Dohm
Tunderstorm
Personally, I quite like all six sounds. However, I think the little speaker struggles a little with the thunderstorm, as do many white noise machines that don't have a bigger speaker, to be honest. I'm not sure that thunderstorm is the best one to include in a speaker of this size.
However, I really like the stream, and I like the gentle surf. The deep white noise is kind of okay as well, though it sounds more like a fan than deep white noise.
The original Dohm is great. It has the recorded sound of the Dohm Uno or Dohm DS. So it's an option I know Dohm lovers will really appreciate having in this portable device. They don't need to take the very large Dohm machine with them if they're traveling. And then there's the brown noise as well, which is also relaxing to listen to.
So I think these are really good sounds on the whole. It would have been good to have more sound choice, but it's rare to have more sounds on such a small white noise machine.
Looping
I timed the thunderstorm as being around one minute long. It consists of two very long rumbling thunderclaps that repeat. The gentle surf is on a similar length loop that you can spot if you pay attention. None of the others had an obvious break or repeating sound that I could identify, which is a good thing!
It's quite common for white noise machine loops to be between 30 seconds and 90 seconds, so this is an average length in comparison.
Night light
Starts at 4:08 in the video
Now let's look at the night light function. Here we can see that we've got the light button – if I press it here during the daytime you're not going to be able to see much. There we go – oh, you can see it through my camera. That's good, I wasn't expecting that!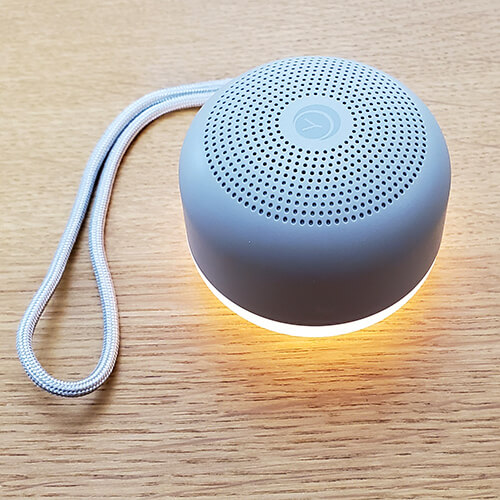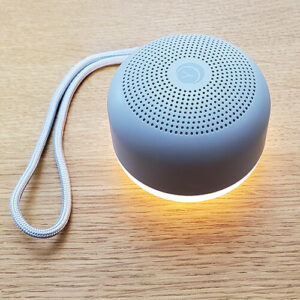 There are three dimmable options: low brightness, medium, and high brightness, and off if you don't want the light. And you can see it's got this really nice amber glow. So let me show you a video that I've already taken in a kid's bedroom so you can really see it in action.
It has a very pleasant glow, and I like the fact that it's dimmable. The inclusion of the lanyard is great as well because you can hang it wherever you like in the room – it just adds another element of portability. If you want to hang it on the inside of the door then that's a great option if you're going to be walking into a kid's room and checking on them in the night.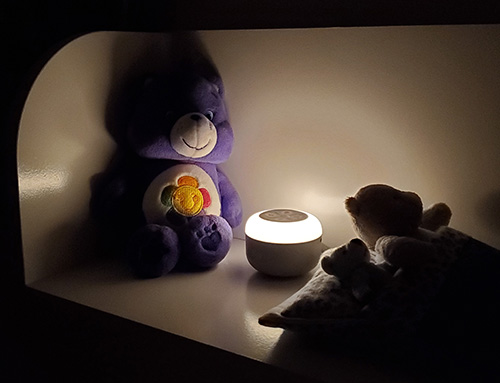 So personally, I really like the night light. And there's something else I like about it, which is that you don't need to turn the sounds on with the main power button to operate the night light. You can operate the night light independently. That's a good little feature as it means that you don't need to turn the power on and turn the sounds on; you can just have the night light.
Size
Starts at 5:06 in the video
One of the main benefits of the Yogasleep Travel Mini is that it's so small.
Weight: 0.3 pounds / 136 grams
Dimensions: 2.5 x 2.5 x 1.77 inches / 6.35 x 6.35 x 4.5 centimetres
Warranty
It comes with a one year warranty and a 101 night trial, which is great as it means that you can test it out, and if you don't like it you can send it back and get your money back.
Visual design
As for the design, I like the look of the Yogasleep Travel Mini a lot. It's very sleek and minimal, you can pop it on a bedside table, or any table really, and it looks nice. It will sit there without looking too ugly, which some noise machines do.
Tricky buttons in the dark
One of my main complaints with the Yogasleep Travel Mini is the buttons. I think they are kind of tricky to operate, especially in the nighttime. So if you've got finger sensitivity issues or vision problems then you're not going to find it very easy to use.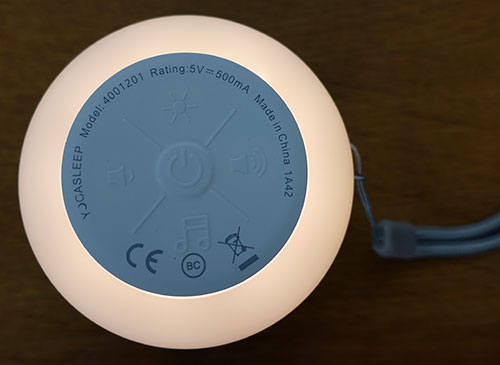 I've found the best thing to do in the night is to work out that the one next to the lanyard is the volume up and the one opposite is volume down. And then you just need to remember that if you go right, you've got the light. And if you go left you've got the sound choice.
But again, it's not very good if you need to work out that kind of system. It would have been better to have some clearer, easier buttons I think.
Pros
Starts at 6:06 in the video
Let's talk about some pros and cons quickly of the Yogasleep Travel Mini.
Portability: I think the main pros are, as I've already mentioned, the portability and tiny size. I think it's really good if you're using it for travel.
Nightlight: I like the fact that it's got a night light. That's always a useful feature with a white noise machine.
Internal battery: I like the fact that it has an internal rechargeable battery. So really, this one is great for portability, convenience and practicality.
Price: The price is another good point about this one. It's a budget white noise machine, definitely not at the higher end of the range that can get up to $100 or £100. So if you're not looking to spend an enormous amount on a white noise machine, this is one to consider.
Cons
Starts at 6:42 in the video
No auto-off timers: In terms of the downsides, the first point is that it doesn't have any timers. I think it's good to have an auto-off timer rather than have to listen to it continuously and have it playing all night while you're asleep.
Limited sound choice: The fact that it only has six sounds is a bit disappointing. It would be nice to have a few more sounds included. But at least the ones it's got are pretty good.
Lack of bass in the speaker: Like so many white noise machines, particularly smaller ones, it does lack bass. There's not much energy at the lower frequencies of the white noise. So if you're trying to block out your neighbor's bassy music or footfall from upstairs then you're going to struggle with this little device I think. It's going to be one that's better for blocking out mid to higher frequency external noise rather than anything that's really booming through your walls.
Button visibility: One of the biggest cons is the fact that it has those tiny little buttons. It's just a bit of a difficult machine to use in the dark compared to some of the others that have giant buttons that are clearly labeled, for example.
Final verdict
Starts at 7:34 in the video
My final verdict of the Yogasleep Travel Mini is that it's great for portability. I like the fact that it's got a night light and a convenient internal rechargeable battery. And lovers of the larger Dohm devices that have an internal fan will appreciate being able to listen to a recording of the rushing air sound when they're traveling. Just be prepared for some tricky buttons and a relatively basic speaker that reflects the low price.
Where to buy the Yogasleep Travel Mini
In the United States, you can find it on the manufacturer's website – yogasleep.com. It's also available on Amazon.com.
In the UK, you can find it on Amazon.co.uk.
In Canada, it's on Amazon.ca.