Disclosure: This website is supported by my readers. If you decide to purchase a product through one of the links provided, I may receive a commission, at no additional cost to you. Learn more.
At a glance
With 26 sounds and a multicolored nightlight, the Yogasleep Dreamcenter sound machine might appeal to parents who want to create a calm sleeping environment for children.
There are plenty of soundtracks that adults will enjoy too though, such as brown noise, rain, and calming music. The speaker quality is excellent for a sound machine, with more bass than most and long loops. It has a good volume range and will mask most external noise very well.
Pros
Wide range of sounds: 9 white noise and fan sounds, 7 nature sounds, 10 music tracks.
Good speaker, with enough bass for deeper soundtracks.
Multicolored nightlight.
Masks noise well.
Reasonable price (I paid £34.95).
Portable.
Headphone jack for private listening.
USB-C power cable.
Cons
Short power cable.
No power adaptor included.
Slow nightlight color selection.
Full review
Please note that this article isn't a word-for-word transcript of my video above. I've edited it to make it easier to scan for the information you may be most interested in. I've also added some extra details that I've thought of since filming.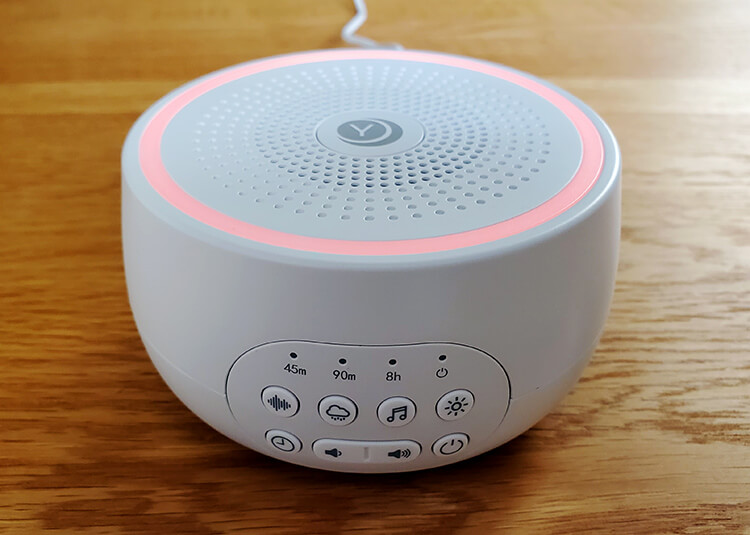 Introduction
Hi, I'm Ethan Green from NoSleeplessNights.com and in this video/article I'll be doing a review of the Yogasleep Dreamcenter. It has 26 different sounds to choose from, a customizable night light, and a couple of useful features for sleep.
I paid £34.95 for it in the UK, which I think is a reasonable price for a white noise machine – as long as it's good of course. Note that at the time of writing it costs just under $30 in the US.
Who makes it
The Dreamcenter is made by Yogasleep, which is an American company. They rebranded from Marpac, and were the creators of the popular Marpac Dohm white noise machine range. To my knowledge, the company was the first to create a consumer white noise machine, and their white noise machines are all assembled in the US.
Packaging and what's in the box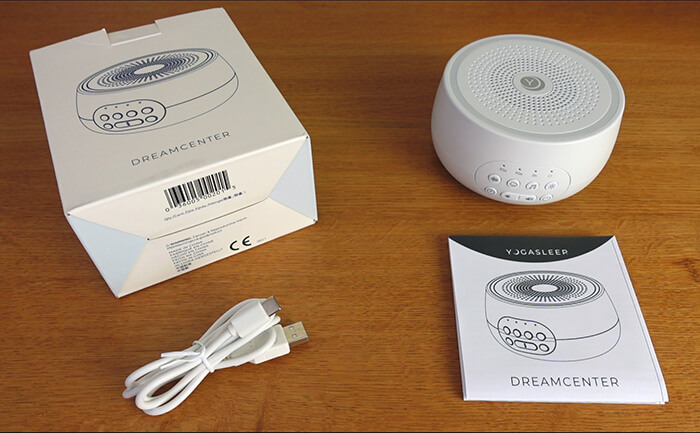 The Yogasleep Dream Center comes in a recyclable cardboard box, with no plastic wrapper on the outside, which is always better for the environment. The device is packaged inside a foam bag to protect it during transit though.
The box also contains a comprehensive instruction manual and a short power cable.
How to power it
To power it, you need to use the included USB-C to USB power cable. They don't include a power adaptor though, so you need to use your own USB outlet.
Personally, I don't mind as I have enough cables and power adaptors already and don't need more of them clogging up my cupboards! But I know some people might prefer to have one included.
The cable is quite short, which may be an issue if your power outlet is far from where you'd like to place the device.
There's no internal rechargeable battery and you can't operate it with disposable batteries either, so it has to be plugged in at all times to work.
As with most white noise machines of this style, the power consumption and running costs will be very low. Even if you ran it for eight hours a night, for example, it would cost less than 40 cents in the US or 40 pence in the UK per month.
Dimensions and design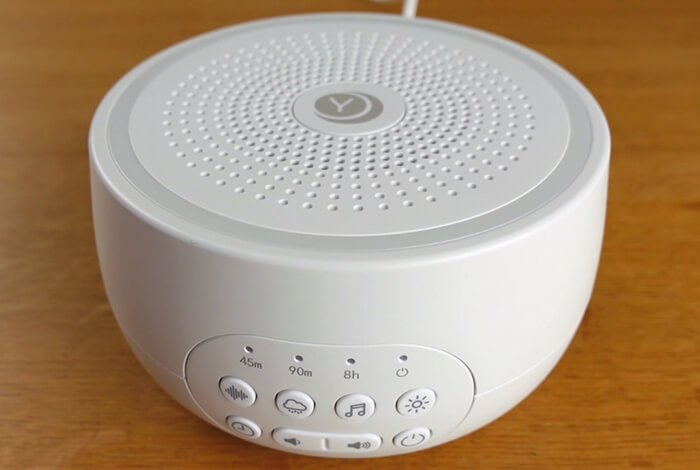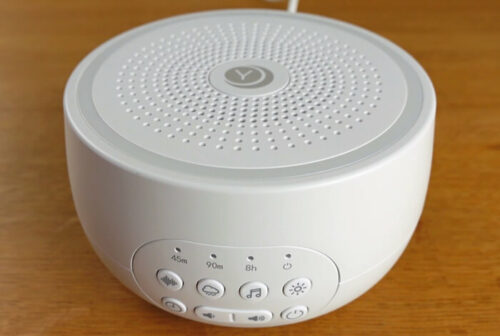 Dimensions
4.6 x 4.6 x 2.5 inches
11.7 x 11.7 x 6.4 cm
Weight
I like the curved shape of the Dreamcenter. It's visually appealing, with a unique curved side which isn't typical of white noise machines. The curved buttons also look quite pretty, and they don't make the irritating 'clicking' noise that some devices do.
It's relatively small for a white noise machine, but does have a bit of weight to it, which will be partly due to having a better speaker than many other devices in this price bracket.
While there are smaller sound machines, such as the Yogasleep Travel Mini for example, there are also much larger ones. So I'd still describe it as a portable device that wouldn't take up too much space in luggage.
I also like how there's a non-slip ring on the button rather than just four small pads. The larger surface area of the ring really helps keep it in place on your nightstand when you press the buttons in the night.
The overall feel is that it's a robust machine that can withstand a few knocks. It definitely doesn't feel cheap or flimsy like some low-cost sound machines do.
Buttons and controls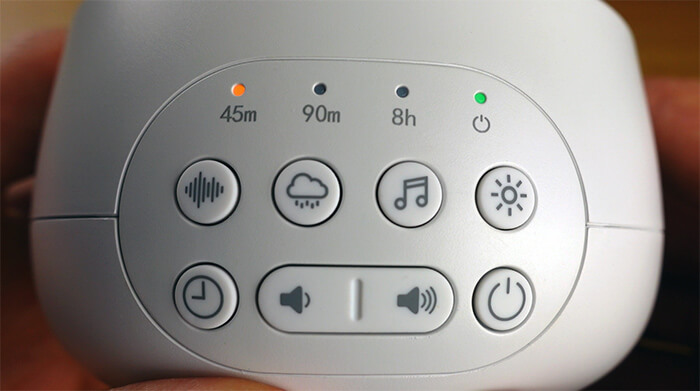 There are eight buttons, and it's very straightforward to operate. There are no hidden settings, complex button combinations, or smartphone app to worry about. Every setting is accessed with clearly labeled buttons.
There's a power button, volume up and down, nightlight, timers, and three for the main soundtrack categories: white noise, nature, and music.
I really appreciate having different buttons for the soundtrack categories as it's annoying and time-consuming pressing a button 25-30 times to find the one you want!
Timers
There are four timing options:
Continuous play all night
45 minute timer
90 minute timer
8 hour timer
I haven't seen a sound machine with this particular combination of auto-off timers before, and I think they should meet most people's needs.
The timer indicator is a very small LED light, which shouldn't disturb your sleep. I like having a small LED as you then know exactly which timer you've selected.
Headphone jack
You can use any headphones with a standard 3.5mm plug to listen to the Dreamcenter privately and not disturb anyone else who isn't fond of the sounds.
I also find this helps block out even more noise from outside, or a snoring partner, as the sound is played directly into your ears rather than into the room. Just don't turn the volume up too high would be my advice!
The soundtracks
In the video, I play through all the sounds if you'd like to listen to them yourself. The timings are 3:35 for the white noise, 4:07 for the nature tracks, and 5:04 for the music tracks.
Here are the tracks as listed in the manual:
White noise
Pink noise 1
Pink noise 2
White noise 1
White noise 2
Brown noise 1
Brown noise 2
Dohm high
Deep fan
Dohm low
Nature
Ocean surf
Gentle surf
Stream
Thunderstorm
Rain
Birds
Campire
Music
Relax
Calm
Restore
Chimes
Lullaby
Twinkle Twinkle Little Star
Happy child
Landscape
Shushing
Womb sounds
My opinion of the sound options and speaker
I was quite impressed by the speaker. The tracks sound clear, and there is considerably more bass than most other white noise machines I've reviewed. Keep in mind that there's a low bar with these devices, and most Bluetooth speakers will probably still have more bass.
I love how there are so many different tracks to choose from. There's a good range of white noise, with some nice pink and brown noise that I find more relaxing than bright white noise.
It's great that there are several nature tracks to choose from, with a good range of different water tracks and realistic birdsong.
I also like the fact that there are several music tracks, with some I haven't heard on other sound machines. Having said that, there's also the classic Twinkle Twinkle Little Star, which seems to be a fan favorite for white noise machines!
Overall though, I thought the speaker quality and recordings were excellent for this price.
Multicolored nightlight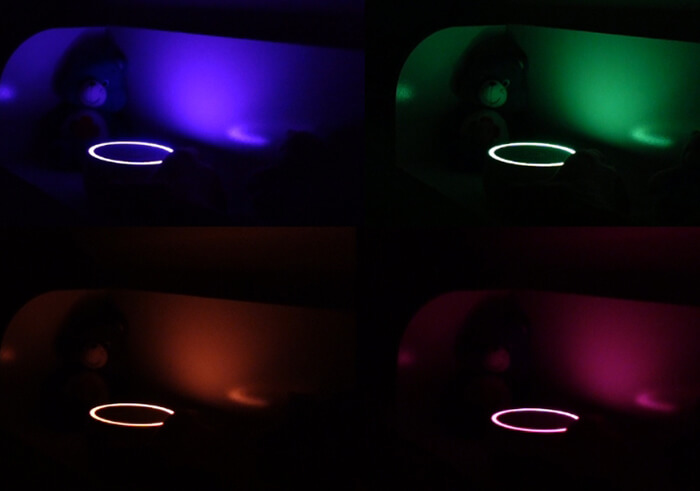 There is a nightlight included, which is on a ring on the top of the Dreamcenter. It's not particularly bright and you can't adjust the brightness, but it does have multiple colors to choose from, such as amber, red, orange, green, magenta, and blue.
However, to choose a color, you have to hold the nightlight button down to cycle through them, which is very slow. So if you overshoot the color you wanted, you have go through them again. I would have preferred it if you could press a button to quickly change color.
Still, it's a pretty nightlight that will provide some comforting reassurance for those who don't like to sleep in the dark. Just be aware that it won't help you navigate a large bedroom with the dim light it emits.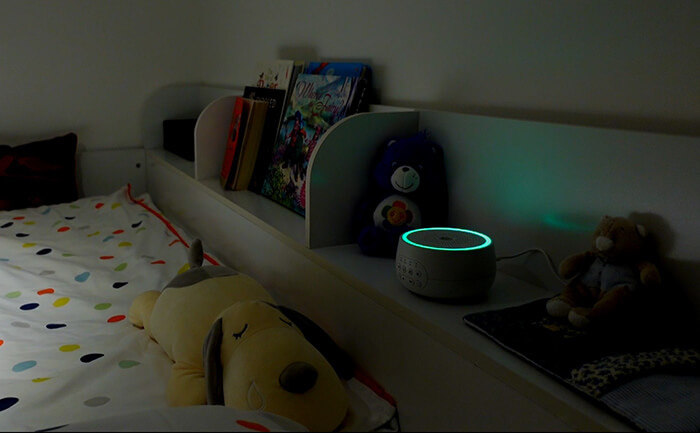 My thoughts after a week of using the Dreamcenter
After a week of using the Dreamcenter every night when going to sleep, and also during the day while working, I found there was a lot to like about it, along with a couple of gripes.
The best point about it is the speaker quality. For the relatively low price, it actually has some decent bass and it doesn't sound as tinny as many other comparable white noise machines. I played several others I have side by side, and the Dreamcenter consistently sounded better. For example, the Magicteam and Easysleep, which I most recently wrote about, have considerably less bass.
I liked that the thunder doesn't distort when you turn it up and the brown noise sounds deep and relaxing. I also enjoyed having loads of tracks to choose from and discovered that the loops are quite long. I timed the relax and calm tracks at around three minutes, which is very long for a sound machine (loops of just 30-60 seconds isn't unusual).
So the speaker quality and recordings are in my opinion better than most other white noise machines in this price bracket. The maximum volume is good too. I measured the maximum dBA at 77.6 on a white noise setting from a meter away.
I also tested the sound masking in bed and found it was very capable of blocking out external noise from outside or from other rooms in the house.
In the photo below, I'm having a snooze with the Dreamcenter on the nightstand. It did a good job of masking external noise when I tested it with different sounds in the home.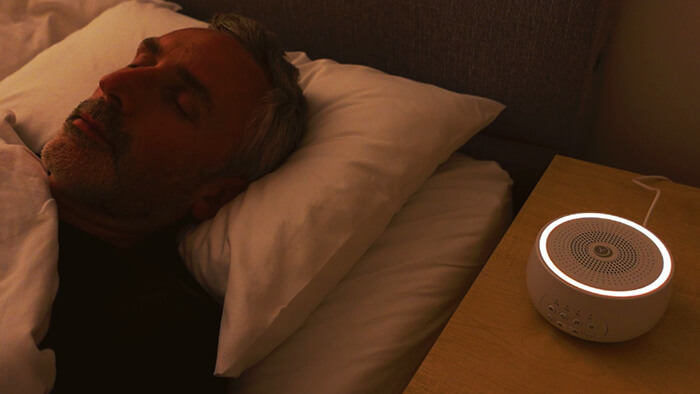 Criticisms
My main criticism is that the power cable is just too short. Considering the fact that you need to keep it plugged in for it to work, you're kind of restricted by the proximity to a power outlet. And since it doesn't even include a power adapter, I think the short cable and the lack of the power adapter could be an issue for some people.
As I mentioned earlier, another obvious criticism is that the night light isn't bright enough for my liking, and it's too slow to cycle through the colors.
And finally, I don't really like the chime sound it makes when you cycle through the tracks, though some people might find that helpful to let them know that they've finished cycling through them.
Verdict
My final verdict is that the Yogasleep Dream Center has some great sounds and a decent speaker for a reasonable price. I think perhaps parents will make the best use of it because of the multicolored night light and the number of tracks that are clearly intended for kids.
However, there are plenty of sounds that adults will enjoy too. Just be aware of the issues around the short cable and the lack of a power adapter.