Summary
The Dreamegg is an affordable white noise machine that has a lot to like. With 24 sound options and a good volume range, it capably masks external noise that's disturbing you.
The internal rechargeable battery, lightweight size and headphone jack also make it a convenient device for travel and private listening.
Good points
Wide variety of sounds: 10 nature, 7 fans, 7 white noise.
Good speaker quality and volume.
Rechargeable internal battery.
Small, lightweight, and portable.
30, 60, 90 minutes auto-off timer or continuous play.
Headphone jack for private listening.
Reasonable price (under $30 when I bought it).
Criticisms
You'll notice the loop with some sound options, which is typical of white noise machines.
A power adaptor isn't included. It comes with a USB cable though, so you can use your own USB outlet.
Full review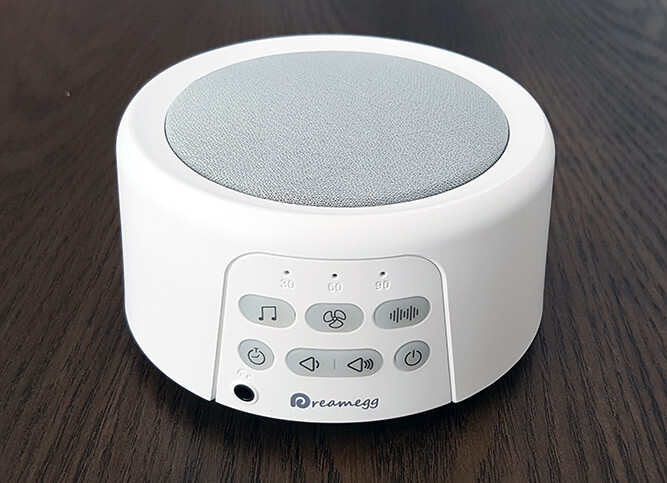 The Dreamegg D3 white noise machine is the newer version of their original model – the D1. The main differences are that they removed the nightlight, and added a rechargeable battery and some new sounds.
The manufacturer is keen to stress that they've designed the D3 to be more portable. And I agree that it's a good option if you need to move it around rather than simply leaving it plugged in one place: it's small, light and can be played wirelessly.
But a white noise machine's true value is judged by the sound quality, not just how many features they managed to cram into the smallest possible unit.
So let's take a closer look.
How well it masks external sound
There are two factors when it comes to blocking out any disruptive sound that keeps you awake or distracts you from work or study: the variety of sound options, and how good it actually maintains the sound at different volumes.
I found the speaker quality is pretty good, especially for a relatively inexpensive machine. I like that it has a good range of incremental volumes, and the maximum volume is enough to drown out a lot of external noise, like television or people talking in the next room, or light traffic outside.
There's a good range of sounds too, so you can find one that you both enjoy listening to, and seems to work best for whatever external noise is bothering you.
Useful headphone jack for better sound masking
The inclusion of a headphone jack has become more common in recent sound machines, and it's a great option to have.
Not only can you listen in private, so you don't drive anyone else crazy with your whirring fan sounds or repetitive thunderclaps, but you can get even better sound masking.
The 24 sound options
The Dreamegg has 10 nature and ambient sounds, which you can see below. The manufacturer doesn't name the individual white noise or fan sounds though, so I've 'creatively' listed them as 1-7.
Bird
Sea wave
Brook
Fetal tone
Lullaby
Cricket
Thunder rain (combined)
Campfire
Pendulum
Train
Fan 1
Fan 2
Fan 3
Fan 4
Fan 5
Fan 6
Fan 7
White noise 1
White noise 2
White noise 3
White noise 4
White noise 5
White noise 6
White noise 7
My thoughts on the individual sounds
The nature recordings are on a loop of around 30 seconds as far as I can tell, which is standard for this type of sound machine.
The repetition is more obvious in the dramatic sounds, like the thunder or sea waves, than it is with brook or crickets. But there's no click or break as they repeat, which is good.
Here's a brief summary of my thoughts on the different sounds:
White noise: good, ranging from deeper color noises to more intense white noise.
Fan sounds: quite industrial, and some too heavy for my liking.
Brook: authentic and relaxing.
Birds: various species and best on a lower volume as a couple are quite piercing.
Sea waves: good, but again best on a lower volume due to one wave sounding heavy.
Fetal sound: sounds industrial and not very organic.
Lullaby: clear and pleasant.
Cricket option: high-pitched and seems like it's been sped up.
Rain: sounds authentic, but has thunder mixed in. There are just two distinct thunder sounds before repeating.
Fire: seems to have a fan sound in the background.
Ticking clock: fine.
Train sound: good.
Memory function
If you leave it plugged in with the USB cable, it will remember your last selected sound when you turn it on, which saves time looking for your preferred sound and volume. However, if not plugged in, it resets each time you turn it off.
Design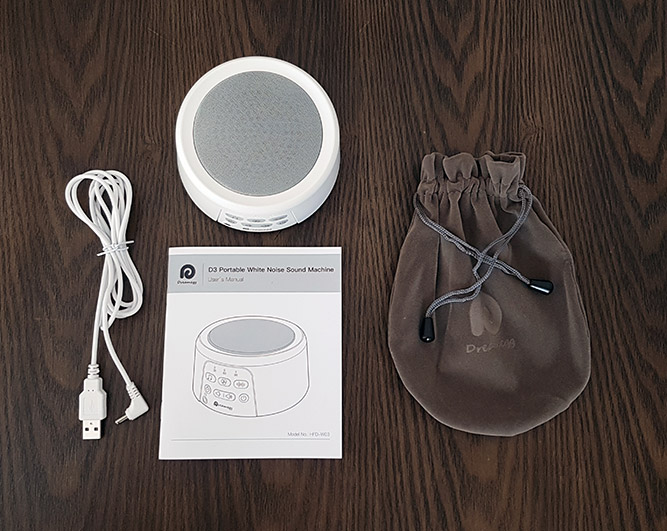 In this price range, sound machines tend to look and feel cheaply made. So I was quite impressed that the little round Dreamegg looks and feels robust, whilst maintaining a light and portable physique.
Measuring just 4.1 x 4.1 x 2.3 inches, it's similar in stature to the LectroFan Evo and Avantek, making it ideal for travel as it takes up little space – either in your luggage or on a nightstand. The inclusion of a drawstring bag is a nice thought too, helping protect it on the move.
I like the fact that there are individual buttons for the nature, fan and white noise sounds. With 24 options, it's just easier to find the one you want if you have no more than 10 to cycle through.
Auto-off timers
There are four options where timers are concerned: 30 mins, 60 mins, 90 mins or continuous play.
Although some other models have longer timers, I personally think 90 mins is plenty. It's also handy that a tiny light lets you know which timer option you've selected.
Two power options
The Dreamegg comes with a USB cable which you can plug into a USB hub, computer or power adaptor.
Strangely, it doesn't come with a power adapter. I wrote to the company to ask about this, and they told me it's because it was intended to be portable, so the USB cable should be sufficient. They offered to send me a free power adaptor though, which I appreciated.
What's great is that it has an in-built rechargeable lithium battery. So using the USB cable to charge it, it will have enough juice to run all night. And that's very convenient if you need to place it away from a wall socket.
---
Verdict
---
It feels like the manufacturer of the Dreamegg D3 looked at the key features of the more expensive devices and tried to create a lower-priced version, which is admirable.
And I think they largely succeeded in doing so where the battery, portability, timer functions and ease of use are concerned.
However, I think it's slightly let down by some of the sound options and the inconvenient lack of a power adaptor.
Although it's good enough to mask noise at night, some of the fans are a little too heavy to me. And a few of the nature sounds are either on too short a loop or have unnecessary fan sounds in the background.
Having said that, I still think the Dreamegg D3 is one of the best I've listened to in the under $30 price range. At the time of writing, it's currently listed at $29.99 on Amazon in the United States. So if you can accept the fact that most white noise machines have some hit or miss sounds, it's a solid little option.