Disclosure: This article contains affiliate links. If you choose to buy a product after clicking a link, I may make a small commission, at no extra cost to you (learn more).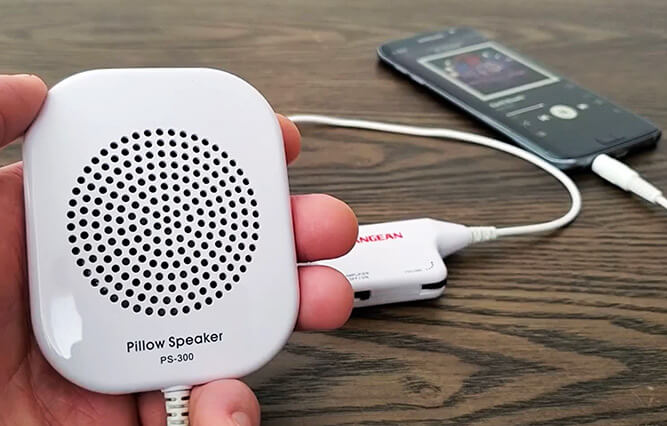 My wife and I have very different preferences when it comes to music in bed. I usually prefer silence, but sometimes enjoy listening to some relaxing music or white noise.
She, on the other hand, just can't fall sleep without the hypnotic chat of her favorite Spanish radio program.
Neither of us wants to listen to the other's choice, and we prefer not to wear headphones unless we're trying to block out noise from neighbors.
The solution? Little pillow speakers that allow us to listen to our chosen music or radio in private. We've tested a good range over the years, and I'll be talking about the best we've found in this article.
To avoid repeating the same information, all of the pillow speakers in this review will connect with a standard 3.5 mm headphone jack. So they are compatible with most audio devices, except some iPhones, which will need the lightning adaptor.
Below you can see four pillow speakers I tested before writing this review so you can compare their sizes. Top left is the C. Crane Soft speaker 2. Top middle is the Sangean PS-300. Top right is a cheap one I bought online but didn't include in the article because they broke after a week! The long one is the Pillowsonic.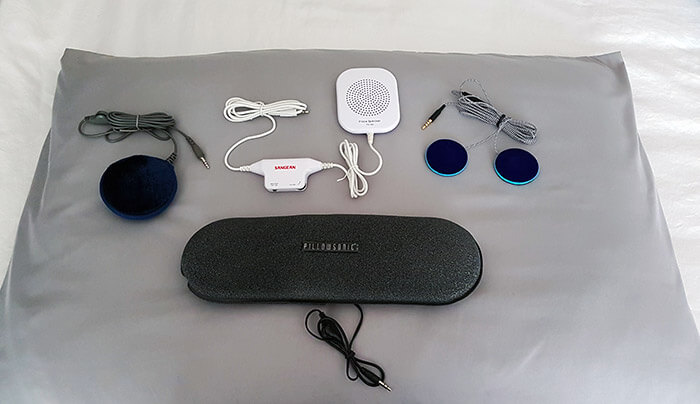 1. Sangean Pillow Speaker PS-300
A compact pillow speaker with in-line volume control
The Sangean PS-300 pillow speaker is a versatile little pillow speaker. It consists of one small and unobtrusive speaker and also has an in-line volume control.
It's not designed to be placed directly under your ear as it has no padding or material casing. So the options are to place it under your pillow, inside your pillowcase, or next to your ear on the pillow or mattress.
It also has an additional Amp which boosts the volume. The Amp requires one AAA battery, but you can use it without the Amp if you want to. I find the boosted volume is really useful for podcasts, radio and audiobooks.
However, if you listen to music that has a lot of bass, the sound does seem to distort if you turn the Amp on and the volume up. That said, it's still a great option if you listen to spoken word or relaxing music.
I can hear both speaking and music easily when I position it under a thin or medium thickness pillow. But if you have a dense pillow and/or struggle with your hearing, then you might find you need to put the speaker on top of your pillow instead.
The cable is 47 inches long, which should be more than long enough to reach a nightstand, even if it's far from the bed. At just under $30, the price is very reasonable – especially compared to a lot of headphones and Bluetooth speakers.
See it in action in my full Sangean pillow speaker review.
---
2. C. Crane Soft Speaker 3
Soft casing and a volume boosting Amp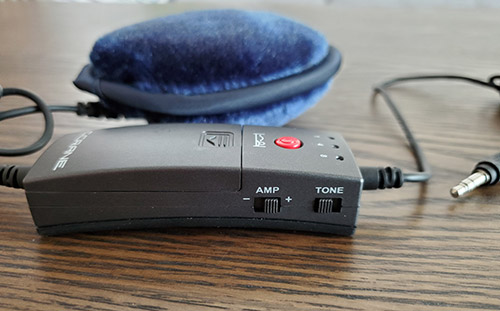 The C. Crane Soft Speaker 3 is one for those who want the music right next to their ear, but without needing headphones.
The manufacturer has clearly thought about what people might need in a pillow speaker, and tried to make it work while keeping the cost reasonable.
I like that it has a removable soft casing for the speaker to hide inside. It means you don't have to bury the speaker under your pillow as you do with most others; you can place it under or next to your ear, which is great if you have a thick pillow or your hearing isn't the best.
It also has a useful control box built into the very long cable (78 inches long). The control lets you select the Amp, which boosts the volume nicely.
There are sleep timers of 1, 4 or 8 hours, which is great for saving the battery or if you just want music for the start of the night. And you can switch between voice or music modes, depending on what you're listening to.
My only criticism is that you need two AAA batteries if you want to use the Amp. You can ignore that though, and just play it on normal volumes without the batteries.
It's the sound quality that also makes this one a winner for me. Many pillow speakers really struggle when music has bass, or are so quiet that you can't even hear them through a standard pillow. But this one both sounds clear and is audible through all but the very thickest of pillows.
Find out more in my C.Crane pillow speaker review.
---
3. PillowSonic FM-15
A flat speaker that sits under your pillow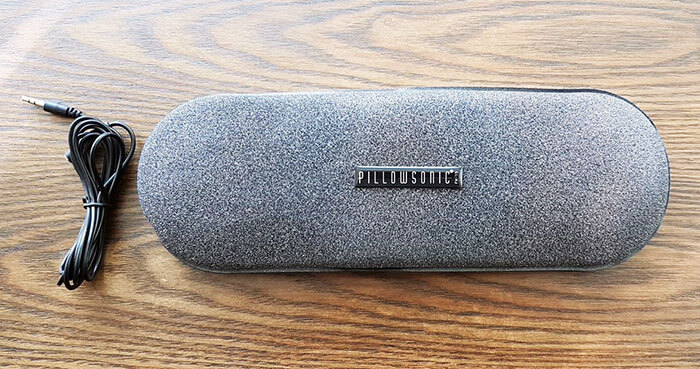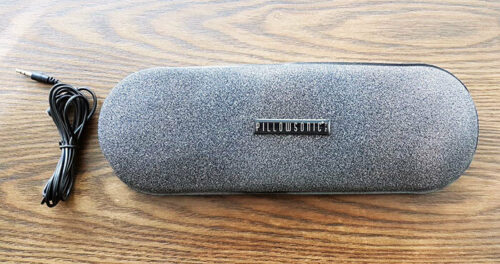 The PillowSonic consists of a long rectangular insert that you can slide under any pillow. It contains two flat, digital micro-speakers, encased in a thin foam so you won't feel them through the pillow.
The fact that it has two speakers means you have stereo sound, so it's intended to provide more of the modern feel you're probably used to when listening to music.
In my experience, however, it doesn't really sound any different than the previous two speakers once you have a pillow on top of it. Perhaps that's because the speakers are actually quite close together – the design isn't as long as it seems to look in photos.
The sound quality is reasonable, especially if you use a thinner pillow. But it's lacking an Amp and the maximum volume isn't as loud as the C.Crane or Sangean without the option of a boost. It does have an inline volume control though, so it's easy to adjust the volume in the night with your eyes still closed.
The cable is long enough to stretch to a bedside table, and comes with an extension. I like that as it means you don't have to tie up excess cable if your audio device is really close to your pillow.
I found the PillowSonic is good enough for voice and quiet music, though also struggles a bit with electronic music that has a lot of bass. And if you use a very thick pillow, like all the other pillow speakers, the sound will invariably be a bit muffled.
It's unlikely you'll find an incredible speaker for just over $20 though. As with all pillow speakers, the goal seems to me to be low-budget practicality rather than exceptional speaker quality.
---
4. C.Crane Soft Speaker 2
A simpler version of the Soft Speaker with just an in-line volume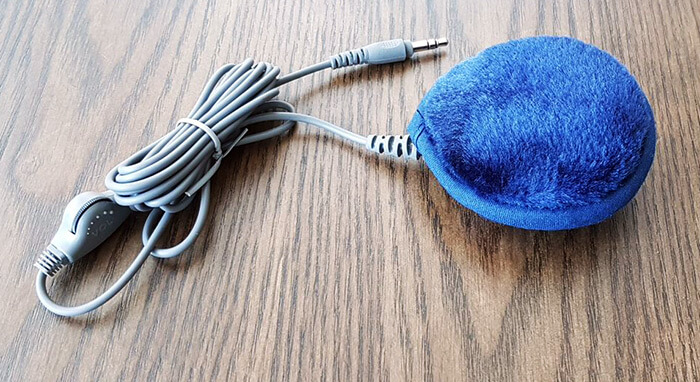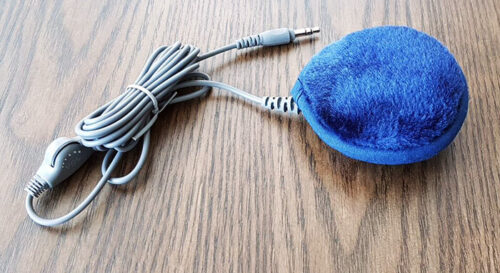 For the final pillow speaker in my list, it's back to the reliable C. Crane series. This time it's the Soft Speaker version 2, which was my top pick until version 3 came along.
The main differences are that the casing is smaller, so it's a little less padding under your ear. And there's no Amp control box, so it's missing all of those features that the version 3 offers.
What it does have though is a very simple design. So it's perhaps better if you just want to plug your pillow speaker into your audio device and never have to worry about batteries or finding the right button on the control unit.
It has a simple slider inline volume control on the cable. That means you can easily change the volume in the night without opening your eyes and blinding yourself when your smartphone screen fires up.
The cable is the same length as version 3, at a whopping 78 inches long. This is useful if you have a radio on a desk or shelf; otherwise, it's a lot of cable you'll want to tie up neatly.
The sound quality is nice enough to listen to people talking or soft music. But it's definitely quieter than both version 3 and the Sangean, and similar to the Pillowsonic.
I don't think it's ideal for thicker pillows because of that and is best used under the ear. But if you use a thin or medium sized pillow and your hearing is ok, you can pop it under your pillow no problem.
The price is pretty good too, at around $25 on Amazon usually. This seems to be the average price for these little pillow speakers; I'm yet to find one that's significantly cheaper or more expensive than the four here.