Disclosure: My website is reader supported. If you choose to buy a product after clicking a link, I may make a small commission, at no extra cost to you (learn more).
Summary
The Dubslabs Bedphones are lightweight headphones that will suit people who sleep on their back and those who listen to music for a short while before taking them off before they fall asleep.
Side sleepers might find them a bit uncomfortable because of the wire that hooks over your ear. However, the fact that they don't go inside your ear canal or completely cover your ear might also appeal to people who need to listen out for kids or alarms.
The speaker quality is clear at lower volumes, so they are good enough to listen to music, radio, or podcasts in bed without shutting the world out completely.
---
Pros
Comfortable to use when lying on your back.
Lightweight design.
Clear speaker quality.
Connect wireless via Bluetooth.
Charge lasts around 12-13 hours.
Don't feel too hot to wear.
You can still hear children or other devices.
Inline volume control.
Very portable, with a carry case included.
30 day trial period and one year warranty.
Cons
Less comfortable to use on your side.
Fiddly to fit and don't stay firmly in place all night.
No active noise cancellation.
The bass is a little lacking.
A partner might hear your music with the volume turned up.
Relatively expensive (over $100).
---
Full Review & video transcript
Please note that this article isn't an exact transcript of the video. I've organized it to make it easier to find specific information.
Below, you can see the Bedphones, the charging cable, instruction manual, and the fabric carry case: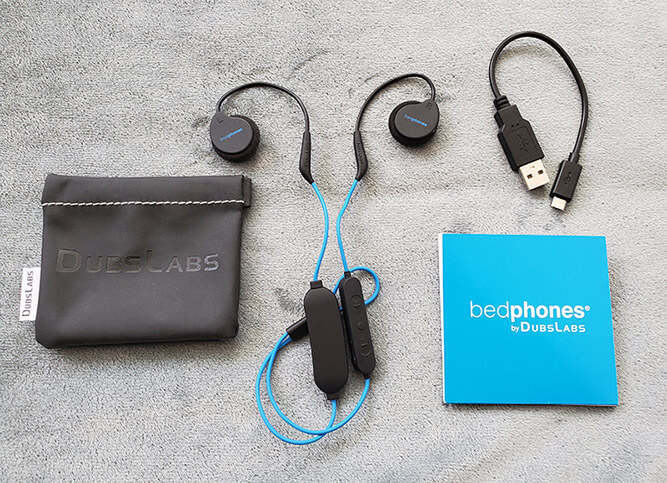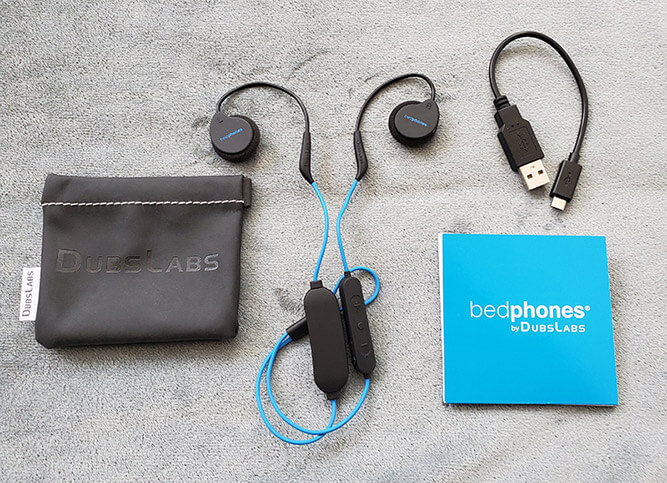 The different versions of Bedphones
I don't mention it in the video, but it's interesting to note that the Bedphones were invented by an American nuclear submarine propulsion engineer.
I believe Dubslabs was the original brand name he chose. Over time, the company has expanded and they now produce some other sleep products, under the name Moonbow.
And there are currently four versions of headphones sold under the Dubslabs/Moonbow brand: a wired version, a Bluetooth version, a slightly funkier looking Bluetooth version, and a sports set called Versafit. In this review, I'll only be talking about the standard Bluetooth version.
What's included
My Bedphones arrived in a very ordinary plastic baggie. I believe the wired version comes in a box, so I wasn't initially impressed by the packaging.
However, the headphones were neatly tucked inside a much better looking faux leather case. There were four spare foam pads for the speakers, which I was happy to see. There's a small charging cable and an instruction manual. The overall size of the packaging and contents is pretty small.
Design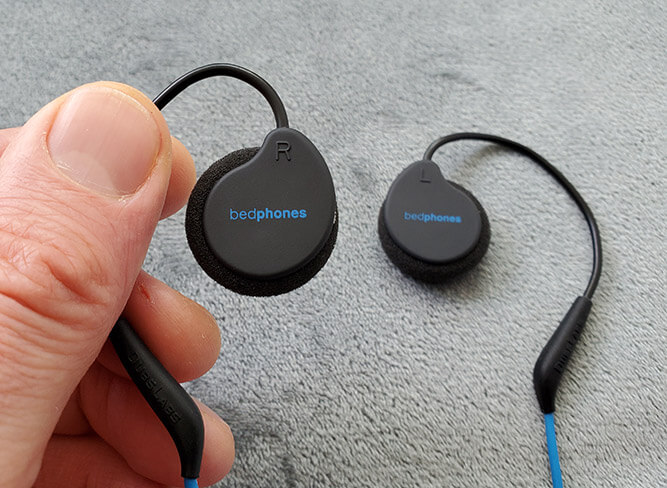 The Bedphones consists of two small, flat speakers on the end of a malleable wire which you hook over your ear. The memory wire design means that they will work for any ear size and shape – even if your ears have different shapes, like mine!
Then there's a thin plastic-coasted cable connecting the two speakers, with a small inline control unit on that cable.
I really like that the two speakers are so flat – they are a little wider than a quarter dollar coin, and well padded. It means you can lie on them comfortably – as long as your pillow isn't unusually hard.
They have an attractive blue and black color scheme. And considering how bizarrely ugly some fabric sleep headphones seem to be these days, the Bedphones look stylish and modern enough to warrant a place on a nightstand.
The thin design also means they are cooler to use in warm bedrooms than fabric sleep headphones or bulky over-ear headphones, with all the padding they typically have.
Comfort and fitting the headphones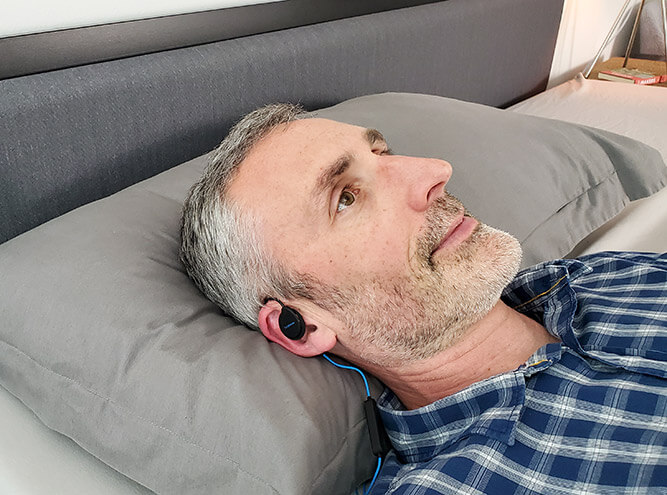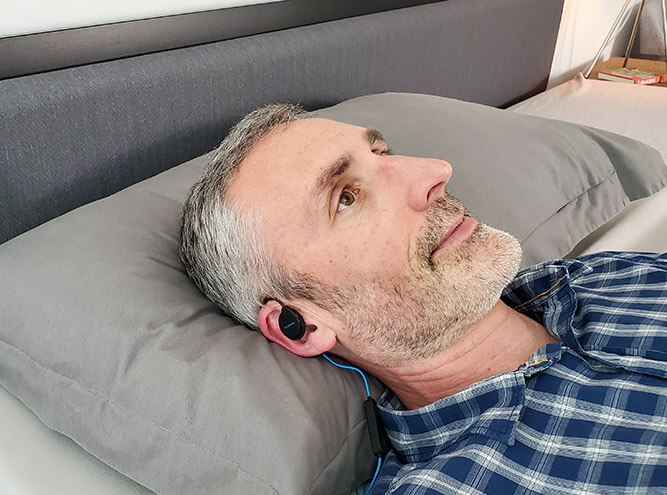 Let's talk about that memory wire first, as it's a key point I think. For me, it was kind of fiddly to put the headphones on. You need to push the speaker onto your ear with one hand, and then use the other hand to bend the wire over your ear.
The fact that you need two hands for each side makes it less convenient than simply popping earbuds into your ears or over-ear headphones onto your head. Even cheap headband style headphones are quicker to put on.
But once you do get them into place, I found they were very comfortable to wear when sitting up in bed or lying on my back. Since the speakers hover over the outside of your ears rather than going in, and the overall footprint is much smaller than over-ear headphones or a headband, I really liked how little you feel them.
Now, they were okay on my side or front for short periods of time, but I had some issues with sleeping on my side with them during the night – more on that in the criticisms section below.
But for now, I can say that they felt great for sleeping on my back, or when sitting in bed reading or using a phone or tablet.
Speaker and sound quality
When I'm in bed, I like to listen to podcasts, classical or ambient music, and perhaps background music of a game on my phone (yes, I know I'm not supposed to!). So being able to enjoy soft music and human speech clearly is important.
The Bedphones ticked those boxes. A range of voices sounded realistic and clean, and relaxing music across various genres sounded rich enough to enjoy in bed.
The maximum volume is pretty good, but I keep it low anyway, so as not to disturb my partner. And although the lack of deep bass is also in my criticisms list, there was just enough to enjoy ambient music quietly.
So unless you're a fan of sending yourself to sleep with heavy rock, the speaker quality is more than good enough.
Bluetooth and charging
I really like that they work with Bluetooth. They connected to my phone quickly and stayed connected without dropping unexpectedly.
It means that although there's a wire connecting the two speakers, there isn't a long wire to your audio device, which is great.
They fully charged in around an hour, and then worked for around 12 hours. So I could use them all night one night, and fall asleep using them the next night without needing to charge in between.
The charging cable is very short, and is USB to micro-USB. There's no adaptor, so you need your own USB adaptor or outlet. And they charged fine from my laptop and various USB adaptors I have at home.
Inline control unit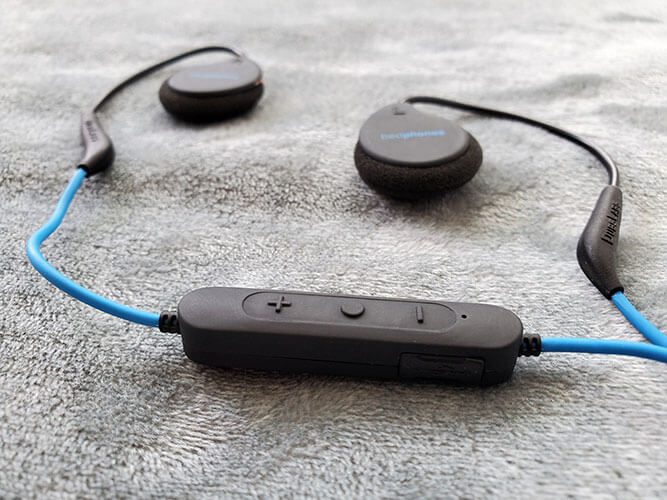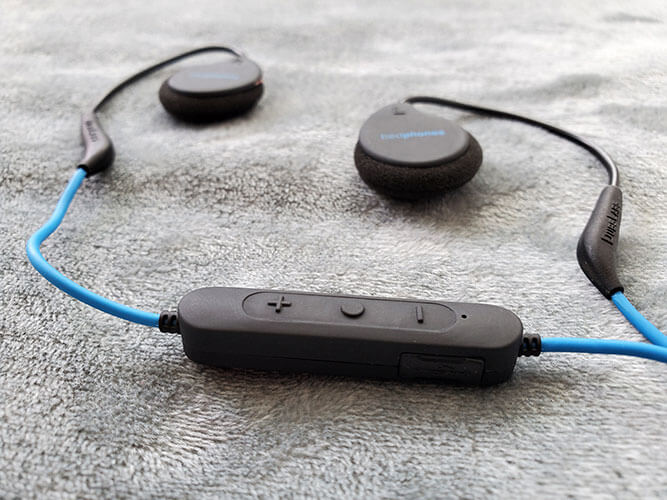 There's a very small inline control just below one of the speakers. It has a plus and minus button to change the volume or track. And a middle button to turn the headphones on or off, as well as answer calls.
I don't usually like controls that make you use the same button either with a single press or a long hold. But in this case, they actually worked fine. Single press to change the volume or hold to change track.
Some devices put the volume on the long hold, which results in difficulty finding the exact volume you want. But the Bedphones let you change volume incrementally with single presses. And a long hold only changes to the next track without jumping tracks if you hold it too long by accident.
So I was happy with how the controls work, and it's much better than needing to grab your audio device in the dark to change volume, tracks, or power off.
Good if you need to listen out for children, alarms or phones
This is a design point that will make or break the Bedphones, depending on your personal needs.
If you're worried about blocking out sound and not hearing a child crying or calling out, or your need to hear an important sound like an alarm, doorbell, or ringing phone, then these might appeal to you.
Since there's no noise cancellation and the speakers kind of hover over your ears rather than blocking them, I found you can hear sound in your home – unless you're blasting loud music.
On your side, one ear will of course be blocked by your pillow. But the other will have the speaker gently on top of it, so you can still listen out for the little ones nearby.
---
Criticisms
---
Uncomfortable for extended use on your side
As I said above, the Bedphones were very comfortable to use when lying on my back. And even when I lay on my side relaxing or falling asleep, I found the speaker was small enough to feel fine between my pillow and my ear.
The problem I had though, was that on two of the seven nights I used them, I woke up after 20-30 minutes feeling that the memory wire was uncomfortable on my pillow-side ear. It felt like it was digging into the top of my ear and was slightly painful. And since my initial week-long test in the video, it's happened again.
I'm not sure if it was because I got myself into an awkward position, or if I have sensitive ears from wearing glasses during the day. But it happened more than once, so made me feel that I can't recommend them for side sleepers.
It's a shame, because I really, really wanted them to work well for me on my side. And to be fair, most headphones can be uncomfortable if you sleep on your side. But it just means that they didn't turn out to be the perfect solution I've been looking for as a side sleeper.
Bass
Although the Bedphones sound clean and crisp on the whole, the bass doesn't feel particularly rich or punchy. There is bass, and I've heard much worse in some other dedicated sleep headphones. But I still expected better considering the price.
And when lying on your side, the pillow-side speaker which is pressed into your ear will have considerably more bass than the one on the outside as it's less tight against your ear.
So for me, this is an issue that people who value great bass will want to consider. But if you're just going to listen to soft music or spoken word, it's not such an issue.
No noise cancelling and some sound bleed
As I said above, this is a point that some people will love, and others will be disappointed by. The Bedphones have no active noise cancellation. And since they don't sit tight on your ear, even listening to music won't naturally block out as much sound as many standard headphones will do.
So if you have a snoring partner, noisy neighbors, a rattling air conditioning unit or whatever it may be that keeps you awake, I wouldn't expect too much help from the Bedphones.
And the fact that they sit away from your ear also adds to the sound bleed coming from them. My partner could hear my music on a medium-loud volume level. So that's another point to keep in mind if you're using headphones to isolate yourself from the world.
The App doesn't seem to exist any more
The instructions say there's an App on the Play and Apple store, but I couldn't find it. I don't know why it no longer appears, but the instructions should reflect the current situation.
Relatively expensive
For over $100, I think you have every right to have high expectations from a set of headphones, both in terms of the sound quality and the design.
Considering there are several brands of sleep headphones that go for $30 to $50, I think the sound quality and comfort in any position could be better.
---
Verdict
---
I'm not convinced that the Dubslabs Bedphones are the ideal headphones to use if you're likely to fall asleep wearing them. I can see why some people will potentially love them, while others might find they aren't right at all.
I can't ignore the fact that as a side sleeper, they didn't work out for me. So I personally wouldn't spend over $100 on headphones that are only useful in bed and only on my back really – those conditions are just too specific.
Having said that, if you only need them for quiet use in bed while relaxing and/or you sleep on your back anyway, and perhaps if you don't want to block out the world entirely, these might work well for you.
I probably wouldn't save up for them if you're on a tight budget, as cheaper headphones might also work well. But if money isn't an issue, they might be worth trying. There's a 30 day trial period, so you can always send them back if they didn't tick all the right boxes for you.