Disclosure: This website is supported by my readers. If you decide to purchase a product through one of the links provided, I may receive a commission, at no additional cost to you. Learn more.
At a glance
The Easysleep sound machine has an excellent range of sounds, with 25 white noise, fan, nature, and music tracks to choose from.
It has a dimmable nightlight that will provide reassurance to kids, and help adults navigate a dark bedroom. It lacks bass and an internal battery, but masks external noise well and is relaxing to listen to when working, studying, or sleeping.
Pros
Wide range of soundtracks.
Lots of water-centric sounds.
Long loops.
Warm amber glow nightlight.
Auto-off timers.
Powered with a USB cable.
Affordable price (I paid £24.99).
Small and portable.
Cons
Needs to be plugged in to work.
Lacks bass.
Some tracks lack clarity.
Full review & video transcript
This article isn't an exact transcript of my video above. I've edited it in place to make it easier to read and scan for specific information, but all the main points from the video are here.
At the end, I've included some additional information that wasn't in the video.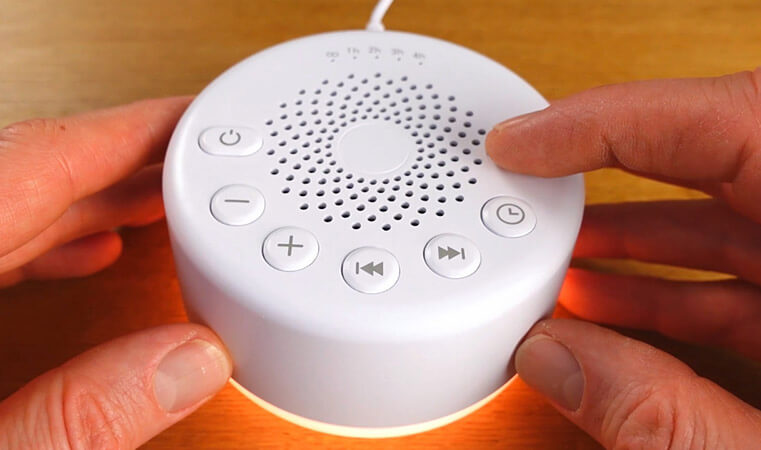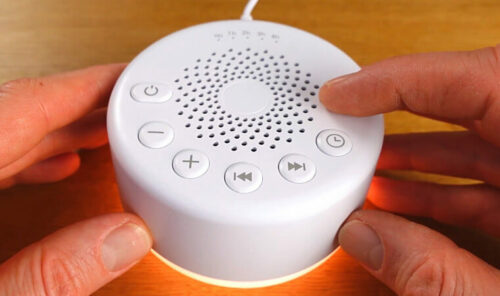 Hi, I'm Ethan Green from NoSleeplessNights.com, and in this video (and article), I'm back with another review of a white noise machine. This time it's the Easysleep sound machine.
I bought it for £24.99 in the UK, which I think is a reasonable price for a white noise machine, especially one that has 25 sounds to choose from, a night light, and timers.
I'll start by unboxing it and looking at the features and the design. After that, I'll play through all the sounds so you can have a listen to them yourself, and then I'll show you the nightlight in action. Finally, I'll test it for a few days and get back to you with my final verdict. So, let's open it up and take a closer look.
Unboxing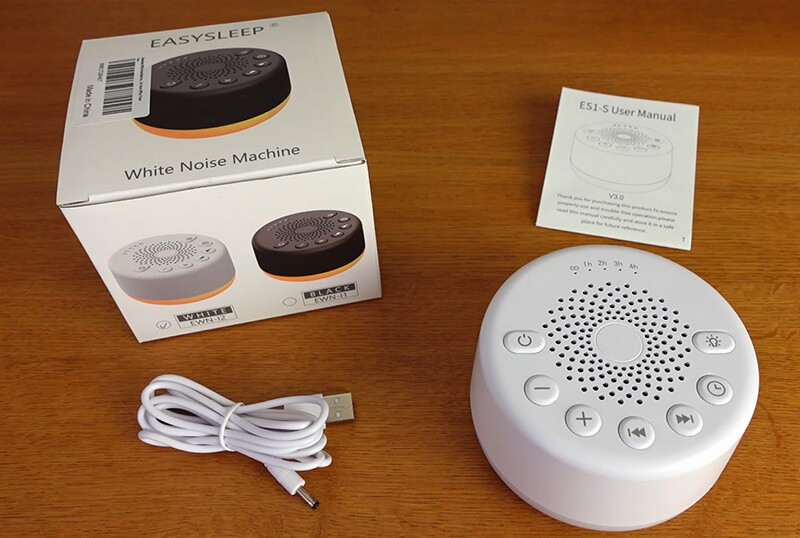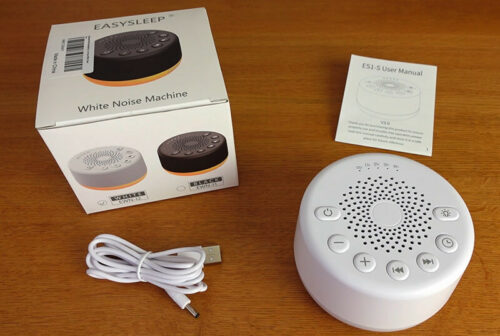 The Easysleep comes in a plain cardboard box with no plastic on the outside, which is better for the environment. Inside, there's a user manual, which is in English and German.
There's some foam padding on the top to keep it safe in transit, and the machine is inside some thin plastic packaging to keep it clean.
Power
In the box, there's a charging cable, with USB on one end and a pin on the other to connect to the Easysleep. It doesn't come with a power adapter though. I know some people like to have a power adapter with these devices; others don't mind because they have USB outlets in the house already. Personally, I don't mind, but it's something to be aware of.
Note that it needs to be plugged in at all times to work, as there's no internal battery and it can't be run with normal batteries either.
Design and buttons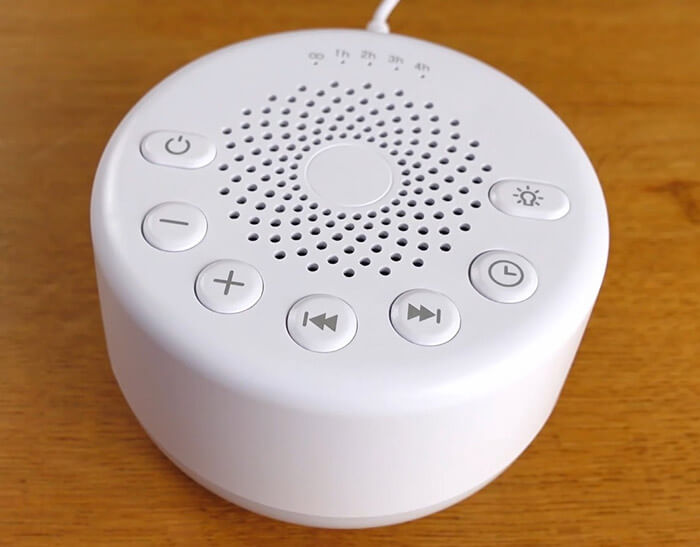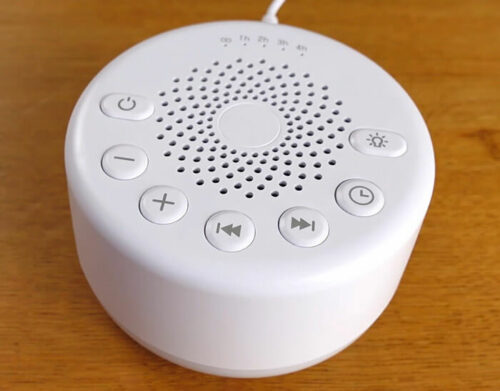 My first impression is that the Easysleep feels very lightweight. I always like it when a white noise machine is lightweight and portable, but it does sometimes mean that the speaker isn't the best; we'll find out more when we listen to the sounds.
All the buttons are on the top: there's a button for power on and off; a button to control the nightlight; two buttons for volume up and down; two to scroll through all the tracks.
I like it when there are separate buttons for the volume and track choice. Some devices have one button which you have to either press or long hold to change the track or the volume – and that kind of bugs me.
There's also a button to select the timers. You can choose to have it on continuous play, or set an auto-off timer of one, two, three, or four hours. Four hours is the maximum timer, so I think it would have been good to have a longer one of seven or eight hours. At the end of the timer, the sound will fade out, which is a good feature.
On the underside, there are non-slip feet. You can also see from the plastic casing that the nightlight is on the bottom. Other than the fact that it's quite a nice design and I like the round shape, really the proof of the pudding is in the eating – or the listening in this case and the watching. So I'm going to plug it in now and then we'll have a listen to the sounds.
The soundtracks
In the video, I play all 25 sounds. If you'd like to listen to them, it starts at 2 minutes and 33 seconds.
Track list
Below is the track list in the user manual. I believe there were a couple of typos, so I've corrected them as I thought appropriate!
Brown noise
Pink noise
Blue noise
White noise
Soft fan
Household fan
Industrial fan
Loud fan
Rain in yard
Heavy rain
Rain on window
Stream in cave
Brook
River
Gentle sea wave
Mighty sea wave
Little sea wave
Singing birds
Campfire
Train
Piano
Brahms Lullabye
Alpha wave with dripping
Stars in the night
Meditation
My thoughts on the soundtracks
My first impression was that the Easysleep has great variety. I really like the fact that there's a nice balance of white noise, fan sounds, and nature sounds, as well as some music tracks, which will be good for kids and also potentially for adults.
Most of the tracks are reproduced clearly enough by the speaker. It doesn't have a huge amount of bass, as you'd expect from such a small device that's not too expensive, but it's still quite good on the whole.
There are a few tracks that I wasn't too impressed by. Some of the water tracks sounded a bit muddled, and perhaps the music tracks could have been clearer. Most were absolutely fine to listen to though.
As for the volume, the loudest volume isn't particularly impressive compared to some of the more powerful white noise machines such as the Lectrofans and the Dreameggs. Still, it was loud enough to mask other noises in my home when I tested it.
Timers and LED indicator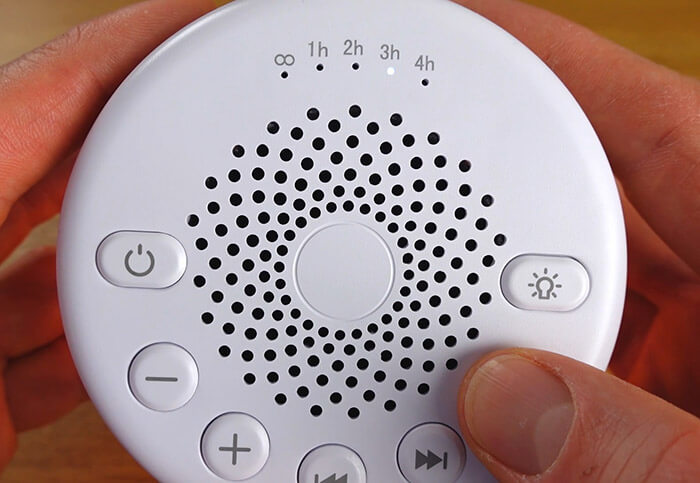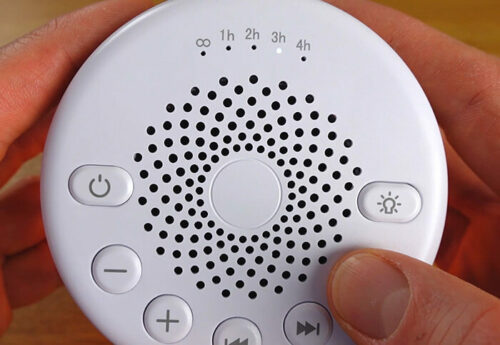 When you turn it on, there is a tiny LED light that lets you know which timer you have it set to. If you repeatedly press the timer button, you can cycle through continuous play, one hour, two hours, three hours, or four hours. If you hold it down, you can turn the LED off, which is a nice feature because not everyone likes to have LEDs in the bedroom.
Nightlight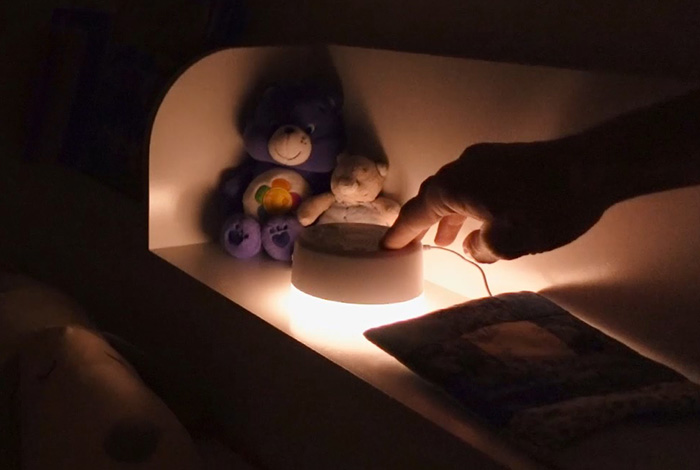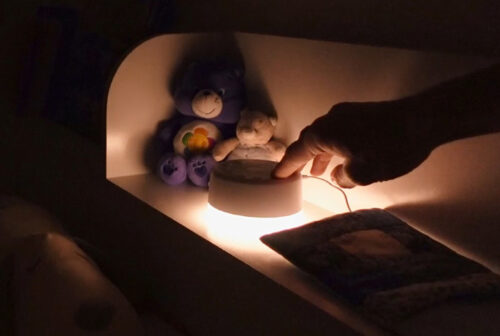 To turn the nightlight on, simply press the nightlight button. And if you hold it down, it will scan through different brightness settings. There are four brightness settings, which is great as you can find just the right level for your room.
It only has one color option, which I'd describe as a light amber. It's still quite warm though and bright enough to let you find your way around the bedroom at night, so I think it's a good nightlight for a budget sound machine.
Thoughts after a few days using the Easysleep sound machine
After unboxing it, I spent a few days using the Easysleep sound machine. While there's a lot to like about it, I do have a couple of criticisms, as you'd expect.
Firstly, the main draw is that there's such a wide variety of sounds to choose from, and the loops are pretty good too. I timed the music and meditation tracks at between one and four minutes each, which is very long for a white noise machine – especially a budget one. I also like the fact that there are so many water tracks to choose from. It's great to have three different types of rain, for example.
One thing that I don't like about this device is that it's noticeably lacking in bass. So for example, when you're listening to the brown noise, it just doesn't really sound deep enough.
Having said that, the maximum volume was better than I first thought, on louder tracks at least. I measured 77.3 dBA from one meter away on a white noise setting. And when I tested it in the bedroom, I found it was able to block out external noise like traffic outdoors or television in other rooms in the house very effectively.
Another plus is the nightlight, which is a useful addition to a sound machine for adults or kids. It's also very small and lightweight, making it a good one to use when traveling. However, the lack of an internal battery means you need to keep it close to a USB outlet.
To understand the size better, here you can see it compared to the Yogasleep Dream Center, which I've also recently tested, and the Lectrofan Classic, which has long been one of my favorite white noise machines.
In the photo below, the Lectrofan classic is on the left, the Easysleep is in the middle, and the Yogasleep Dreamcenter is on the right.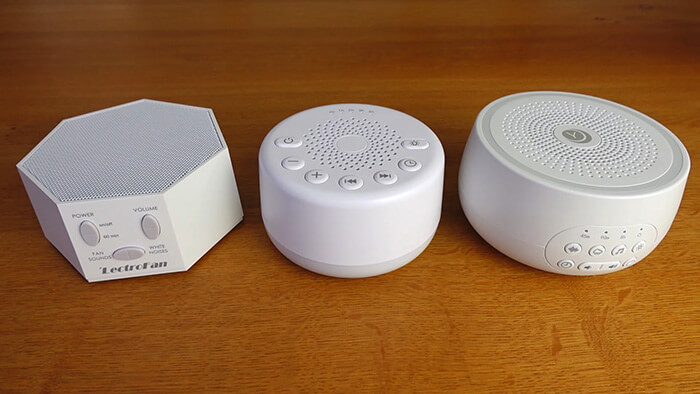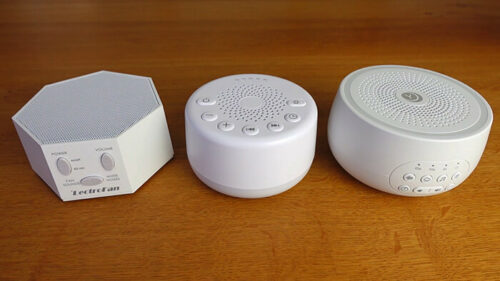 Final verdict
My final verdict is that this is a decent little white noise machine for a relatively low price. I think adults and kids will find music tracks that they like and enjoy listening to, and it blocks out external noise very well.
One thing to be aware of though is that the speaker quality just isn't the best, which is normal for this kind of white noise machine and this budget price bracket.
Extra notes since filming
Here are some additional points I didn't include in the video, or have discovered since filming it:
It's very cheap to run. It will only cost a few cents or pence per month, even when used for many hours every night.
There are 32 volume levels.
It comes in multiple colors.
It measures 10 x 10 x 6 centimeters (3.94 x 3.94 x 2.36 inches).
It weighs 0.4 pounds (181 grams)
It has a memory function. When you turn it off and on, it will start with the previous track, volume, timer and night light brightness.
It comes with a 30 day money back guarantee and one year warranty.
The buttons make quite a noticeable 'click' noise when you use them.
It's made in China.