Disclosure: This website is supported by my readers. If you decide to purchase a product through one of the links provided, I may receive a commission, at no additional cost to you. Learn more.
At a glance
The Dreamegg D11 is a portable white noise machine that parents will make the best use of. It has a dimmable nightlight, 11 sounds including lullabies, and a rechargeable internal battery that makes it convenient for placement in the bedroom and travel.
For adults, the main appeal would be the loud maximum volume, which is very impressive for such a compact device. However, five of the eleven soundtracks are clearly intended for children, leaving just six options for adults.
Pros
11 soundtracks.
Good speaker quality and volume.
Rechargeable internal battery.
Dimmable nightlight.
Compact and portable.
Timers of 30, 60, and 90 minutes, or continuous play.
Memory function.
Reasonable price (usually under $30)
Cons
Only one white noise and one fan variation.
The 'fair' sound is a bit strange.
No rain sound, which is often a popular sound.
Full Review
In the photo below, you can see that the Dreamegg D11 is a small white noise machine with simple buttons: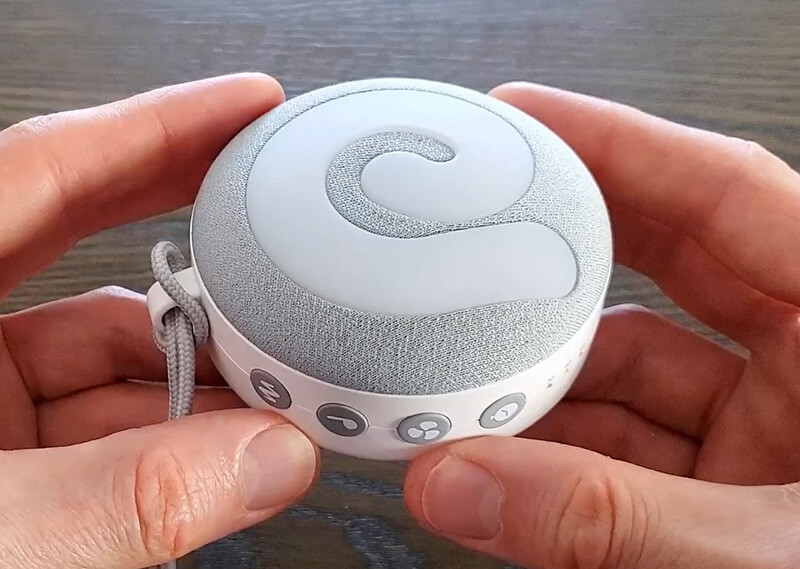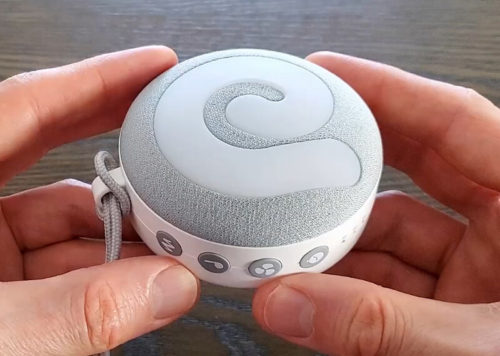 Please note that this written review is not an exact transcript of my video above. The video focuses a lot on unboxing the Dreamegg D11 and going through the instructions. And both of those are more interesting to watch than read I think.
So instead, I've taken all the key information from the video and organized it more clearly below so you can scan through and find the parts that most interest you.
Comparing the Dreamegg D3 and D11: an upgrade or just different?
In the photo below, you can see the Dreamegg D3 on the left and the Dreamegg D11 on the right: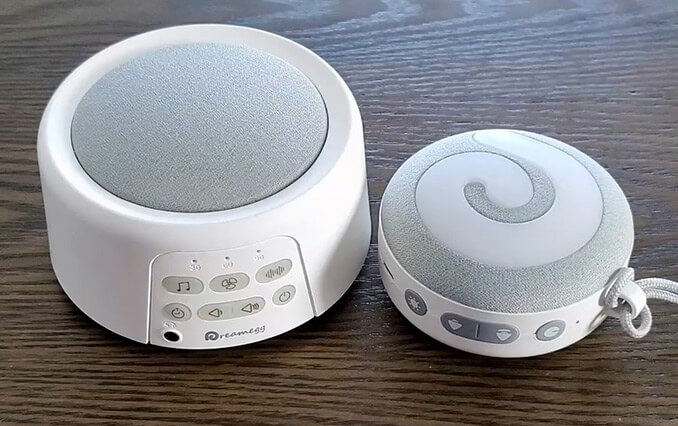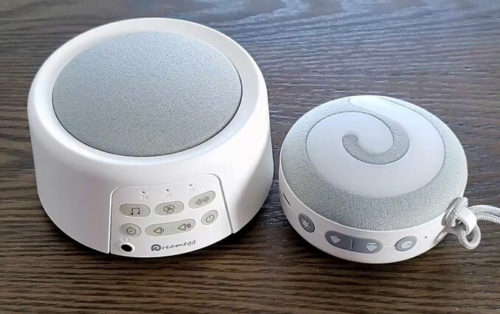 I really like the Dreamegg D3, with its good range of sounds, internal battery, and headphone jack. So I was very curious to see what makes the newer Dreamegg D11 model different and/or better.
As it turns out, there are more important differences than similarities, which is good to understand if you're not sure which one will suit you more.
I think the Dreamegg D3 is probably a better option if you're going to use it yourself – unless you really want a nightlight. There's just much more sound choice for adults – 24 compared to 11. The headphone jack is also a really useful feature that's obviously not meant for kids.
But if you're looking for a good sound machine to play to your children, I think the Dreamegg D11 is the better option because of the nightlight, the additional sounds intended for kids, and the smaller size.
Having said that, if you already have a nightlight, I'd still be tempted to stick with the D3 because of all those extra sounds. As for the old D1 model, which also had a nightlight, the inclusion of the internal battery in the Dreamegg D11 makes it a better model in my opinion.
So, now let's take a closer look at the Dreamegg D11 and what I did and didn't like about it.
The good points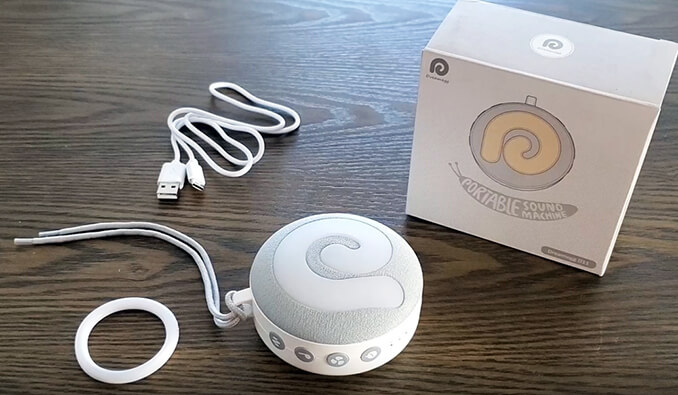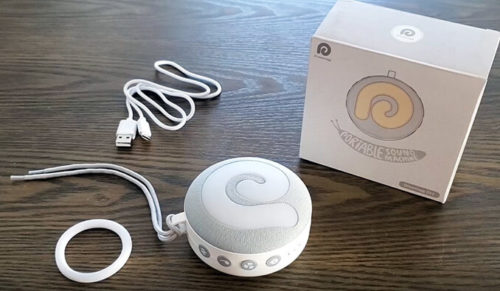 11 sound options
There are 11 sounds to choose from, and I like how the manufacturer included some that parents might find especially useful for soothing their kids to sleep.
Soundtracks
Ocean
Brook
Lullaby
Music box
Shushing
Vacuum cleaner
Fetal tone
Fair sound
Cricket sound
White noise
Fan
As you can see, five of those eleven sounds are clearly intended for children – the lullaby, music box, shushing, vacuum, and fetal tone. Perhaps the fair sound as well.
I timed the lullaby and music box, and they are both around 90 seconds long. And as many parents will know, that's much longer than it takes to get through the somewhat repetitive Twinkle Twinkle Little Star when you're singing it to the best of your ability in the dark for the millionth time!
I think the vacuum, fetal tone and shushing recordings could have been a bit gentler. But I imagine on a low volume, some kids will like them. As for the fan and white noise sounds, these are both good as they are at the deeper end of the spectrum. I personally find deeper white noise more relaxing than bright white noise.
The nature sounds all seem pretty good to me, without jarring looping which is always a good thing. I didn't like the fair sound though, which I'll mention more about in the criticisms below.
Good speaker quality and volume
I was very surprised by the volume of the D11's speaker. I expected it to be considerably quieter than the D3 or other larger white noise machines, but it punches well above its weight for such a small device.
The specs say the speaker is 3W with 5W output. I tested it on a loud white noise setting, and it came out around 85 dB – just a few short of the D3, which hovered around 87 dB.
So even though I think it's best not to play white noise loudly to children, this is a point that some adults looking to buy one for themselves might like to consider. And it has good incremental volume control, so you can play it quietly if you prefer.
As for the speaker quality, the sounds are really clear. The melodies are crisp, and the nature options sound realistic and relaxing to listen to. There was no speaker distortion that I could tell, even on louder volumes.
Rechargeable internal battery
The internal battery, which is recharged using the USB to micro-USB cable provided, is one of the best features of the Dreamegg. You can leave it plugged in if you prefer, but the option to place it anywhere in a room and move it around easily is great.
The battery lasts all night, so this is a very convenient feature that sets it apart from many other sound machines.
Good nightlight
In the photo here, you can see the warm glowing color of the nightlight: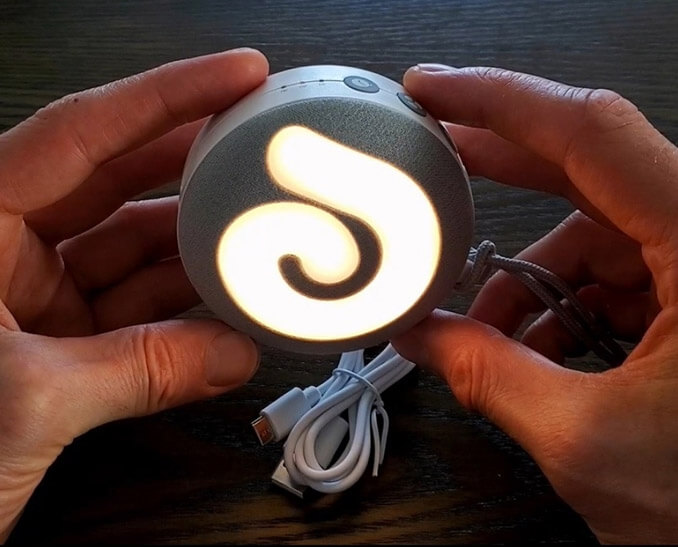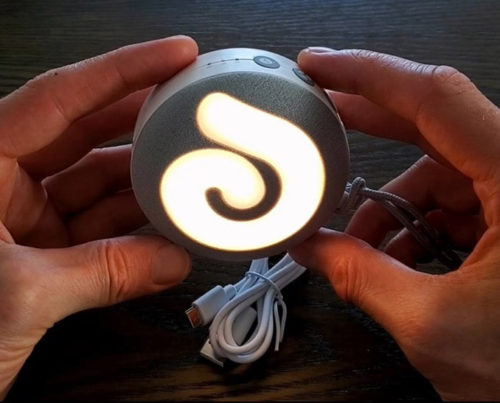 One of the key features of the Dreamegg D11 is the inclusion of a nightlight. It has a nice warm white/yellow glow that comes out of the top, in a spiral design.
I really like how it looks, and it's enough to illuminate a bedroom so you can see in the dark. The nightlight can be dimmed as well, which is a great feature and useful if the maximum brightness is too much.
It also has a mode called 'breathing' which basically cycles from dim to bright repeatedly. It's a great idea, but I didn't find it was as good as a constant brightness. It does a little jump when it reaches the lowest brightness, which makes it less subtle than I would have liked.
But overall, the nightlight is a great feature. It's even better than the Snooz, which is a much more expensive white noise machine with a nightlight.
Small and portable design
I've already mentioned that the D11 is small, but it's worth reiterating. I really like how portable this one is. It also comes with a small rope and plastic loop, so you can hang it on door handles or other places in the bedroom.
And that internal battery also adds to how portable it is. So if you need one you can easily tuck away into a bag when you're on the go, this is a good choice.
Here you can see that the internal battery and lanyard allows you to hang the Dreamegg D11 in the room, and doesn't need to be within cable distance of a power outlet: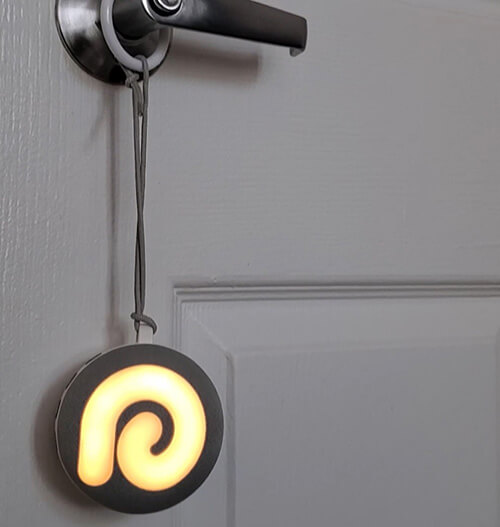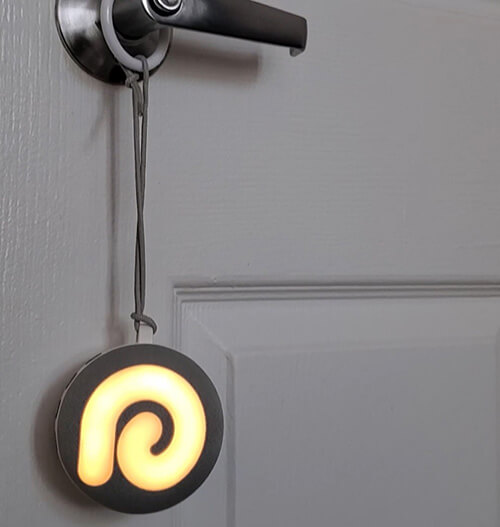 Easy to use
The buttons on the Dreamegg D11 are very easy to use. They are large enough to be easy to find in the dark, clearly labeled, and you don't need to read the instructions to work out how to operate it.
I also like the fact that they have separate buttons for the sound choice and volume. Some devices combine them, and you have to either tap or long hold, which I find irritating personally. So for me, the interface of the Dreamegg is just about perfect.
Sleep timers
You can set a timer for 30, 60 or 90 minutes or have continuous play all night. In my opinion, this is a basic requirement of a sound machine, especially if you play it to a child, so it's good that there are three options. I also like that there's a tiny light showing you which timer it's set on, which not all devices have.
Memory function
Many devices have a memory function, and it just saves time when you use it night after night. So although this isn't a unique feature, it is another useful one the Dreamegg gets right.
Good price and warranty
The Dreamegg D11 cost $29.99 the last time I checked (January 24, 2022). And considering the features it has, I think this is a good price. Compared to many others in the same budget price range, it has a lot to like.
It comes with a 365 day warranty, which you can extend by six more months if you register with Dreamegg. There's a 60 day money back guarantee too, so you have time to decide if you like it.
Criticisms
Not enough sound options for adults
The manufacturer says this is a sound machine both kids and adults will use. However, I think that with five (arguably six) of the sounds clearly made for children, there just isn't much variety left for adults to listen to.
I might be wrong, but I imagine most people would prefer to have more than five or six sounds to choose from, especially considering there are many white noise machines that have 20, 30 or even more.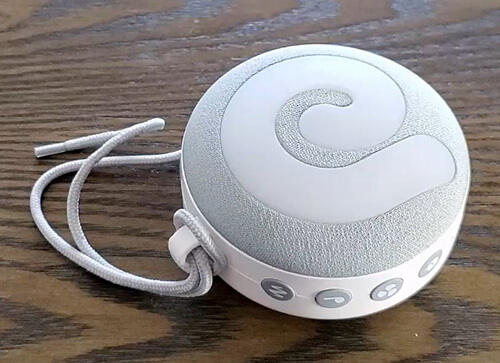 Only one white noise and fan option
This is kind of an extension of my first criticism, but it's important to note that there is only one fan sound and only one white noise. The older D3 model had seven of each, and I would have liked to have seen a similar choice in the D11.
No rain option
Rain is a really popular sound choice, so I think they missed a trick by not including it. Sure, the brook sounds like running water, but it's not the same as the relaxing sound of rain.
The fair sound is strange
The fair sound is on a 30 second loop, and basically just consists of several people talking at once. It sounds more like a market or busy café than a fair. And every 30 seconds, someone says in Spanish "no puede" which means he, she or it can't.
Maybe it's me that's strange and not the device! But I can't help think that's kind of a negative subliminal message to play to a child all night long – or even for 30 minutes. I wouldn't appreciate listening to the words "he can't" every 30 seconds for even five minutes.
Verdict
The Dreamegg D11 is an effective white noise machine that the parents of young children will appreciate most. The nightlight, good incremental volume controls, and the option to use it without a cable make it a convenient device for parents. And there are enough relaxing sounds to choose from that there should be at least one or two that children like listening to.
An adult could make use of the nightlight too if they don't like sleeping in the dark. And there are a few good sounds that someone of any age might find relaxing and useful for blocking out external noise at night. But really, I think there are other white noise machines that are better for adults because of the wider range of sounds they have.
Overall, I think that with this new sound machine, Dreamegg now offers two very good options to choose from: the D3 for adults, and the D11 for kids.