Disclosure: This article contains affiliate links. If you choose to buy a product after clicking a link, I may make a small commission, at no extra cost to you (learn more).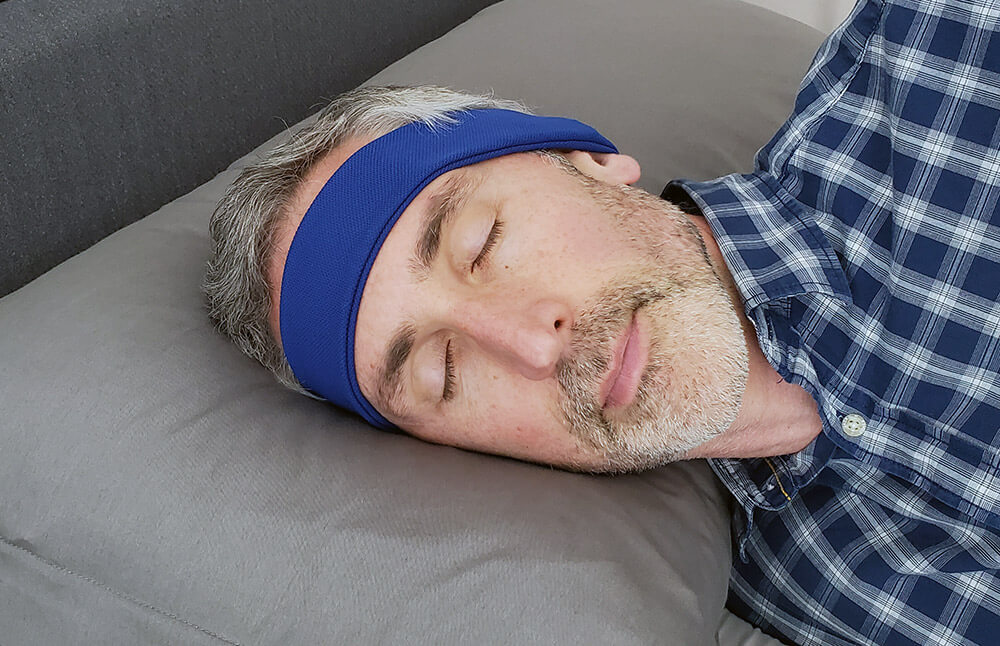 As much as silence can be golden at night, sometimes listening to music in bed is the perfect way to drop down a few gears and wash off the mental dust at the end of a long day.
As well as enjoying your own music, headphones can also help when your neighbor accidentally sits on the volume button of a TV remote, or if your partner's snoring creates audio earthquakes in your bed.
The thing is, not all headphones are comfortable to wear in bed for long periods of time, especially if you sleep on your side or front. So it's important to choose headphones that strike the right balance between comfort, speaker quality, and noise cancellation (if you need that).
Which style to use in bed?
In the photo below, you can see some examples of the different styles of headphones I tested before writing this article: earbuds, over-ear, on-ear, and headbands.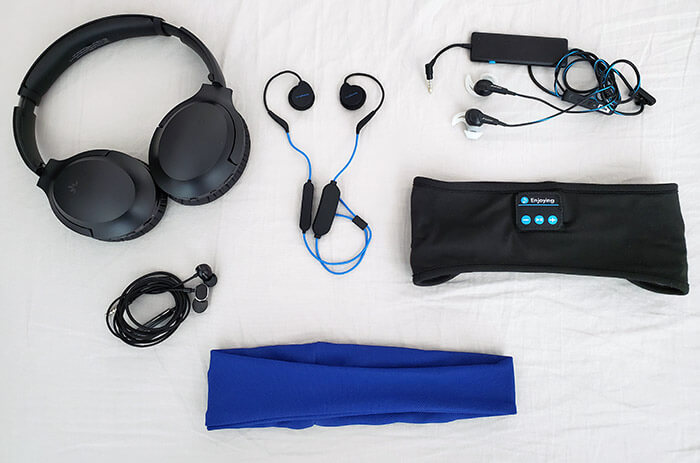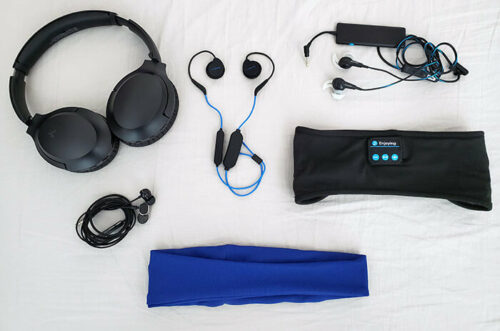 If you always sleep on your back or only listen to music for a while before turning it off, you can probably use most headphones. That opens the door to the full range of noise-cancelling headphones, including on-ear and earbud styles.
However, if you want to be able to lie comfortably on your side, I recommend trying one of the headband styles. Those headphones typically have flat and padded speakers, which makes them very comfortable to wear in bed.
They won't give you active noise cancellation or the loudest bass, but they more than make up for it where comfort is concerned and are good enough for some quiet nighttime listening.
In this review, I'll be looking at the flat headphones that have most impressed me, along with some budget options. I've also included my favorite noise-cancelling headphones for those who really want to shut the world out at night.
You'll find an overview and comparison tables first to give you an idea of what's coming up and how they compare. After that, I'll cover each set of headphones in depth.
Overview of the headphones
AcousticSheep Sleepphones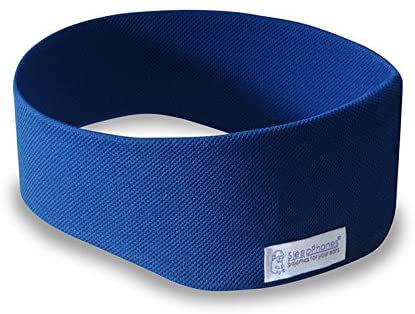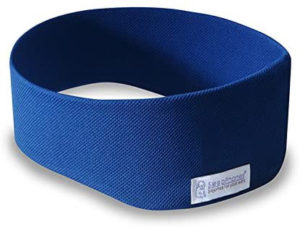 Price: $$
My number one choice if you're looking for the most comfortable headphones to wear in bed. The speakers are very flat and well padded, so they are particularly good if you spend any time lying on your side. The speaker quality is clear when listening to music or spoken word, but they don't have active noise cancellation. They connect via Bluetooth and have an excellent 24 hour battery life.
---
Sony WF-1000XM4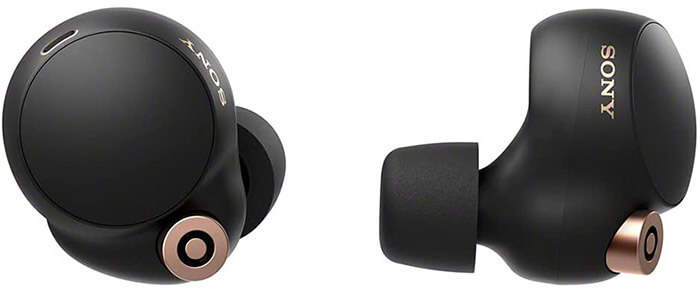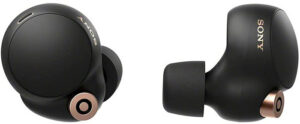 Price: $$$
The most effective noise-cancelling headphones and my top choice if you lie on your back in bed and want the best audio experience. They have superb speaker quality and formidable bass. These are high-end headphones that will block the world out better than any others in this review, and give you crystal clear music in return. They work via Bluetooth, with eight hour battery life, and also have voice assistant options.
---
Dubslabs Bedphones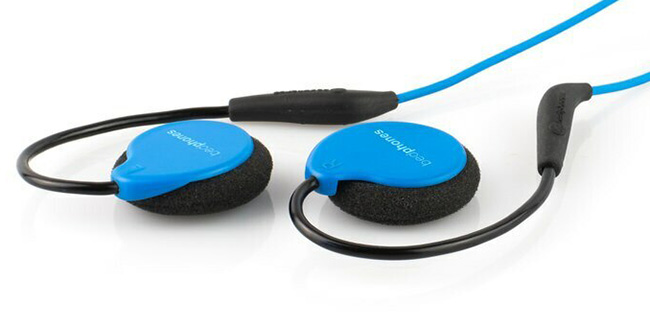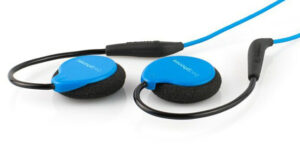 Price: $$
Practical headphones to wear in bed if you need to listen out for children, alarms, or doorbells. They hook over your ears rather than going inside or covering them, so you'll still be able to hear other sounds. The speaker quality is good, and there's a wired or wireless option.
---
Bose QuietComfort 45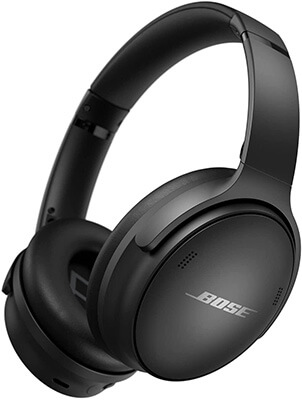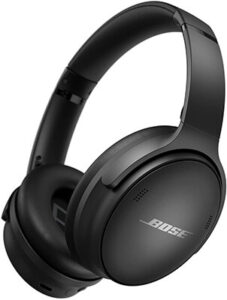 Price: $$$
The best over-ear noise-cancelling headphones that are comfortable to wear in bed for short periods or to use when traveling. Excellent speaker quality, clear mids and highs, with punchy bass. Ideal if you lie on your back, but don't like the feeling of earbuds in your ear canals. They connect wirelessly, have excellent battery life, and also work with voice assistant.
---
Lavince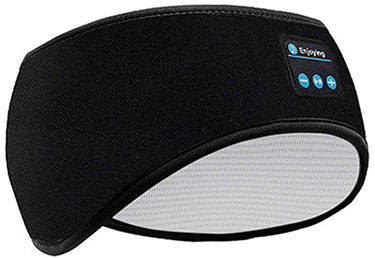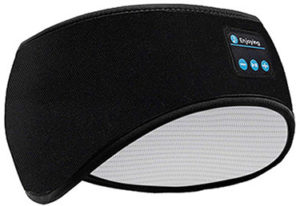 Price: $
The best low-cost headband style of headphones. They have good speaker quality and are comfortable for side sleepers. They connect wirelessly, with a whole night's play on a full charge. They aren't as neatly stitched as the Sleepphones and the buttons on the forehead are an aesthetic flaw in my opinion.
---
Cozyphones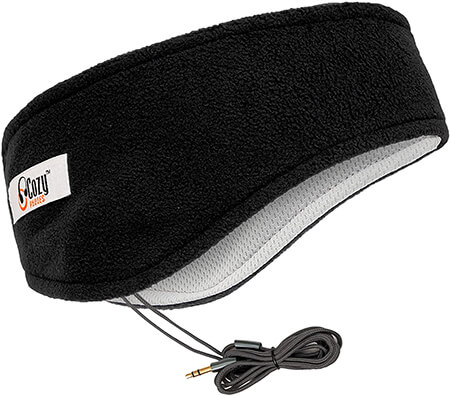 Price: $
A good choice if you'd like a wired headband style for a low price. The wired Sleepphones version has softer padding and better speaker quality, but these are still a reasonable option that cost considerably less. They are very easy to use, and comfortable enough to wear while lying on your side.
---
Comparison tables
In the table below, you can see which headphones tick some of the key boxes I look out for when using headphones in bed, as well as the approximate battery life when playing music. Note that the Sony battery life is when using active noise cancellation, hence the lower battery life.
Headphones
Wireless
Active
Noise
Cancellation
Side
Sleeper
Friendly
Battery
Life
Sleepphones
✔
X
✔
~ 24 hrs
Sony
WF-1000XM4
✔
✔
X
8+ hrs
Dubslabs
✔
X
X
~ 12 hrs
Bose Quiet
Comfort 45
✔
✔
X
~ 24 hrs
Lavince
✔
X
✔
10+ hrs
Cozyphones
X
X
✔
Wired
In the next table, you can see how I rate each of the headphones out of 10 in some key areas: comfort on your back, comfort on your side, speaker quality, durability, and sound leakage.
Note that they are all comfortable to wear on your back, otherwise I wouldn't have included them in this article. It's on your side that their practicality is more noticeable.
The speaker quality rating is based on a combination of how clearly I could hear a podcast played quietly, and the quality of the bass, mids, and highs when listening to music more loudly. Sound leakage is based on how much my partner could hear ambient electronic or classical music at a low-mid volume.
Headphones
Comfort
On Your
Back
Comfort
On your
Side
Speaker
Quality
Durability
Sound
Leakage
Sleepphones
10
9
8
8
9
Sony
WF-1000XM4
10
6
10
10
10
Dubslabs
9
6
9
8
7
Bose Quiet
Comfort 45
9
3
10
10
10
Lavince
9
8
8
6
6
Cozyphones
9
8
6
7
6
The headphones in detail
1. AcousticSheep SleepPhones
The most comfortable headphones for side and front sleepers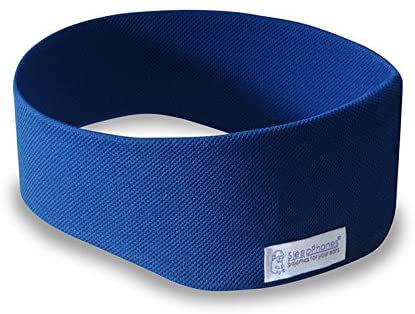 The AcousticSheep SleepPhones are the headphones I've found most comfortable to use in bed. The main reason they work so well is that they have flat speakers encased in soft padding, so you can use them while lying on your side for much longer than normal headphones.
They connect via Bluetooth, which is convenient as it means there's no cable connecting to your audio device. The battery life is excellent, lasting 24 hours on a four hour charge.
They don't have active noise cancellation (no headband style does), but the padding of the material helps block out some of the outside world – especially compared to budget fabric headphones that have thinner padding.
The sound quality is more than good enough for relaxing in bed and drifting off to sleep. You can hear podcasts, radio, or video speech clearly. Music sounds decent across the bass, mids, and treble compared to other headband brands, so you'll be able to enjoy a variety of music genres.
Having said that, the bass isn't as punchy as high-end headphones. If you value rich bass, the reality is that no headband style is going to rock your world; they are specifically designed for comfort first, not for workouts or losing yourself in music on the sofa.
The headband fits snugly without feeling too tight or too loose, and there are two fabrics to choose from: breeze and fleece. I prefer the breeze style as it's designed to sleep cooler, though I can imagine colder sleepers might like the extra warmth of the fleece.
In the photo on the left, I'm wearing the Sleepphones – you can see how flat they are. And on the right, I've removed the speakers and control module. Again, you can see how flat and padded they are.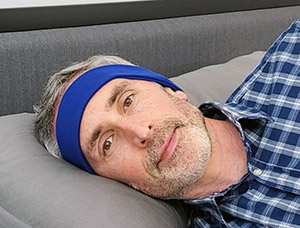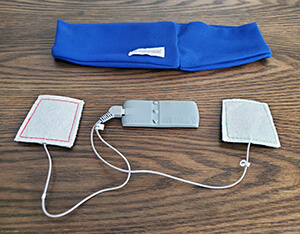 There's a flat control module inside the headband, so you can adjust the volume, change tracks, play and pause music. The buttons are buried inside the fabric and can take a few seconds to locate, but it's great having that control option rather than needing to turn your phone on in the night.
Another potential downside is that the extra padding around the speakers results in reduced volume compared with traditional headphones.
Personally, I don't mind the volume range as I prefer to listen to music at a lower volume when I'm in bed. It also means there's less sound leakage, which my partner appreciates as she doesn't want to listen to my music in bed.
As for the company itself, I like how they offer three types of packaging: eco-friendly, retail box, or gift. Personally, I think it's good to choose eco-friendly packaging, whether it's for yourself or a gift.
The price is reasonable at just under $100, especially compared to the noise-cancelling headphones coming up next. There are cheaper fabric headbands available, but they don't tend to be as robust or nicely designed as the Sleepphones in my experience.
Overall, for nighttime use, the SleepPhones are a great alternative to normal headphones. Whether you sleep on your front, side, or back, they are comfortable to use for extended periods of time.
They might not be the right choice if you're an audiophile who's used to the very best sound quality and thumping bass. But they are probably the best headphones if you're likely to spend any time sleeping on your side or wear them for many hours.
Pros
Great for side sleepers.
Clear sound.
Comfortable.
Bluetooth connection.
Built-in control module.
24 hour battery life.
Cons
No active noise cancellation.
Underwhelming bass.
Lower maximum volume.
Where to buy
You can find them on:
See my full Sleepphones review to find out more about them.
---
2. Sony WF-1000XM4 Wireless Noise Cancelling Headphones
The best noise-cancelling headphones, with fantastic speaker quality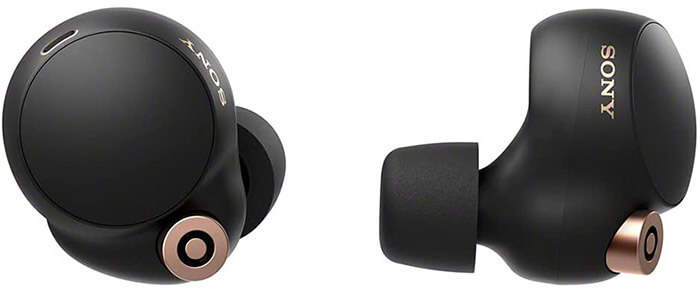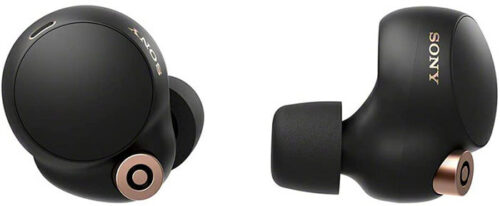 If you're looking for headphones that will both sound incredible and block out some noise from the external world, the Sony WF-1000XM4 are the best active noise cancelling earbuds I've ever tried.
When I write reviews, I try to be careful with how positively I talk about a product so as not to sound over the top. And although there are a couple of downsides to the Sony earbuds, I feel confident that this is one of those times where they deserve some serious praise.
For starters, the active noise cancellation is superb. Sony say they have used a new V1 processor, which improves the noise cancellation. And while the techy stuff might interest some people, for me the proof of the pudding is in the eating. When you wear these, they cut out more background noise than other earbuds (including the Apple AirPod Pro), and a lot of over-ear headphones too.
Now, they won't cut out everything; they are better for background rumble (such as traffic, air con units, neighbor's music) than higher frequency sounds. You'd still hear a dog barking, someone talking loudly in the same room, or loud snoring next to you. But they will reduce how much you hear. And when you turn the music on as well, even more will be cut out.
The sound quality is very impressive: great bass response, rich mid range, crystal clear highs. Every genre of music sounds amazing, and speech in podcasts and radio is beautifully reproduced. The volume range is great, with music and bass sounding just right from the lowest to maximum volume. The sound bleed is good too, so a partner is unlikely to hear your music unless it's turned right up.
The accompanying Sony app gives you some interesting options to play around with. There's an EQ to adjust the settings, various sound modes to choose from, and a slider to choose how much external noise gets through. That's especially useful if you want to be able to listen out for kids or alarms.
One reason the noise cancellation and sound bleed are so good is the memory foam style ear tips. They are very comfortable, and the three sizes help ensure a good seal in your ear. If you're not a fan of memory foam, you could replace them with silicone tips if you have some that will fit.
As for battery life, they will last around eight hours with noise cancellation, 12 hours without, and the charging case will hold another 16 hours once you remove them. There's a fast charge option too, giving 60 minutes of play time in five minutes. That's great if you get into bed only to realise you forgot to charge them, as you can get them up and running in no time.
Below, you can see the charging case, which holds an additional 16 hours of charge once you've fully charged them.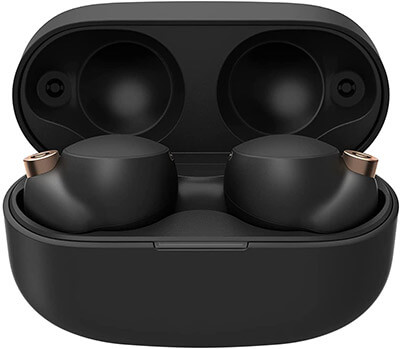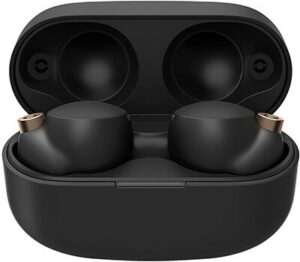 There are only three downsides to consider. Firstly, they aren't ideal for side sleepers because of the hard ear shell. You could just wear one of them, but you'd have to put up with the sound only in one ear.
Secondly, they are expensive, costing between $230 and $280 on average, depending on seasonal sales. This isn't an unusual price for high-end headphones, but it won't be right for some people's budgets. Finally, and least important for sleep, the call quality could be better when compared to other headphones of this price.
How do they compare to the AcousticSheep Sleepphones? Well, although I stand by my opinion that the Sleepphones are the most comfortable headphones to use for many hours in bed, the Sony WF-1000XM4 are superior when it comes to sound quality and noise cancellation.
They simply aren't comparable when it comes to sound reproduction; the Sony are in a different league, with only the Bose from this particular list (see below) able to compete.
If you want comfortable headphones and are a side sleeper, go with the Sleepphones. If you want the best sound quality and amazing noise cancellation, and don't plan on falling asleep on your side while wearing both earbuds, go with the Sony.
Pros
Comfortable tips to wear.
Superb active noise cancellation.
Crystal clear sound.
Incredible bass response.
Bluetooth connection.

Water & sweat resistent.

Google assistant / Alexa integration.
Cons
Not the best for side sleepers.
Call quality could be better.
Expensive.
Where to buy
You can find them on:
---
3. Dubslabs Bedphones
Lightweight Bluetooth headphones that let you listen out for other sounds in the home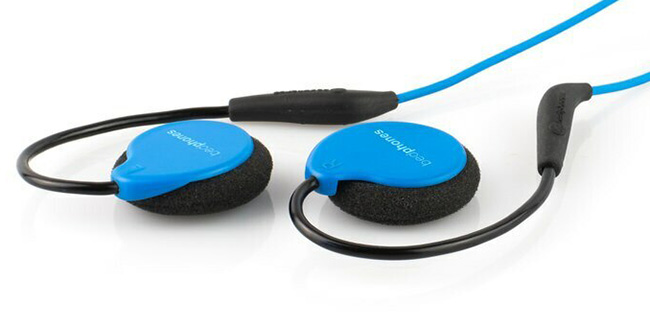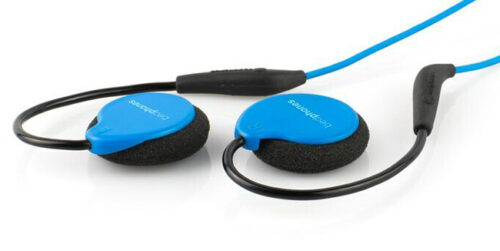 The DubsLabs Bedphones differ from both headbands and normal headphones, with their thin and light speakers that rest over your ears.
For me, the main appeal is the fact that they were designed to use in bed, but will never feel too warm in hot weather, which sometimes is the case with the headband styles.
You can see in the image above that they have a cable, but this is just to connect the two speakers. They work via Bluetooth, and I found you can easily get a whole night's charge out of them (they fully charge in a couple of hours).
There's an inline volume control, which is always convenient for the night. And the speaker quality is very clear, so they are ideal for listening to radio and podcasts.
However, even though they excel where clarity of voice is concerned, I did find the bass was underwhelming and the maximum volume not so loud. So if you like to fall asleep feeling like your brain is being enveloped by deep bass, they might not be the right choice for you.
In the photo below, you can see me wearing the Dubslabs (and smiling weirdly at the ceiling!) Notice how they hook over the ear and then just rest against your ear canal opening.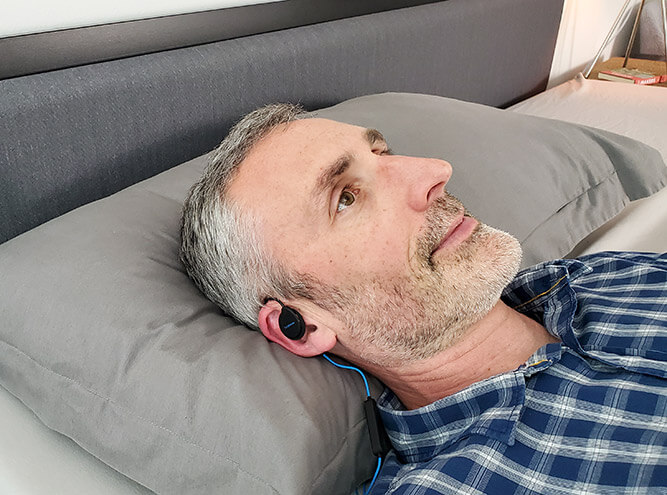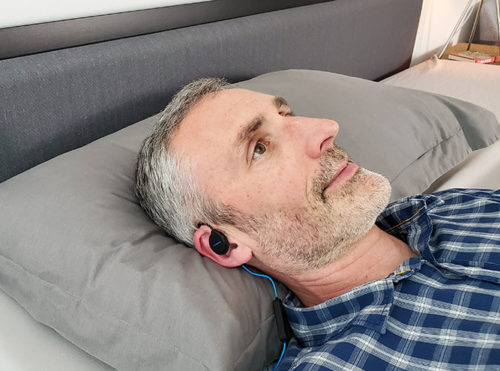 My main criticism though is the way they sit on the ear. Each speaker is attached to memory wire, which is slightly fiddly to shape to your ear. You need both hands to get each speaker in place, which feels counterintuitive compared to the simplicity of normal headphones.
Once you do get them in place, they are very comfortable to wear if you're sitting in bed relaxing or lying on your back. Personally though, I wasn't overly keen on the feel of the memory wire against my ear when lying on my side. It was fine to relax and listen to music for a while, but not to use all night long on my side.
It may just be my ear and pillow combination, I can't say for sure. So on balance, I think that like the Sony WF-1000XM4 and Bose Quiet Comfort, the DubsLabs are ones that back sleepers and those who relax in bed before sleeping will appreciate most.
Looking at the price, the wireless version costs $149. Alternatively, you can save money with the wired version as they are just $89. Personally, I prefer to avoid a wire in bed, but you can't argue that it's a big price difference for a point not everyone is fussed about.
Pros
Clear speaker quality.
Wireless.
Don't overheat.
Can still hear people and alarms.
Inline volume control.
Cons
Not ideal for sleeping on your side.
No active noise cancellation.
Lacks some bass.
Where to buy
You can find them on:
Find out more in my Dubslabs review.
---
4. Bose QuietComfort 45 Wireless Noise Cancelling Headphones
The best over-ear noise-cancelling headphones, with excellent sound quality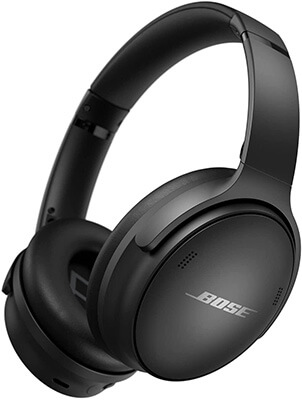 Like the Sony WF-1000XM4, the Bose Quiet Comfort 45 will take your bedtime listening to a whole new level. They reduce background noise better than any other over-ear noise-cancelling headphones I've tried, and better than most in-ear headphones too.
Even if the external noise is unusually loud, when you add your music on top of the active noise-cancelling, you can go a long way to reducing how much the unwanted noise continues to bother you at night.
As you would expect from the Bose Quiet Comfort line (these are the third I've tried), the sound quality is superb, both for music and spoken word such as radio or podcasts. And that makes all the difference if you want to create your own little audio cocoon. Punchy bass, great mids, and clear highs – there's little to complain about when listening to them.
The fact that they can be used wirelessly with Bluetooth means you don't need to worry about having a cable in bed, which I find more convenient at night. You'll get up to 24 hours of battery life, and a convenient 15 minute quick charge will give you three hours of play.
The most obvious downside is that over-ear headphones of this size aren't practical for side sleepers. Even on your back, the casing will restrict your head's range of motion. So really, these are ones to listen to music for a while before going to sleep, but probably not to use for the whole night.
You could try them with a doughnut-shaped pillow, which might sound silly but does exist. At the end of the day though, flat fabric headphones and in-ear headphones are the better options if you're a side sleeper rather than trying to squeeze a square peg into a round hole.
Having said that, one reason I recommend these rather than other over-ear headphones currently is the soft padding of the case. The headphones feel lighter and more padded than most others I've tried, which makes them more comfortable to wear in bed.
Another potential downside is that they are expensive, which isn't a surprise for high-end headphones. The price is usually around $300 or more, so it's an investment in excellent sound quality and noise cancellation rather than an impulse buy just to see what they're like.
Overall, if your goal is to block out as much of the external world as possible at night and replace it with the highest quality sound experience, the Bose Quiet Comfort 45 are a solid choice.
They won't suit side or front sleepers, or those shopping on a tight budget. But for relaxation in bed with excellent speaker quality, and to use in everyday life too, they won't disappoint.
Finally, which are better: these or the Sony WF-1000XM4? Personally, I'd go with the Sony because they allow a wider range of movement for your head in bed. I don't think there's much in it where the active noise cancellation is concerned. So I think the main reason to choose the Bose would be if you don't like the feeling of earbuds in your ear canal, but you still want noise cancellation.
Pros
Very good active noise cancellation.
Excellent speaker quality.
Serious bass.

Voice control.

Wireless.
Cons
Can't lie on your side.
Might feel warm in bed in hotter months.
Expensive.
Where to buy
You can find them on:
---
5. Lavince Bluetooth Sleep Headphones
Low-cost Bluetooth fabric headphones for those on a tighter budget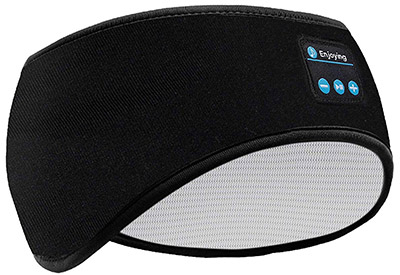 The Lavince headphones do a reasonably good job of enabling side sleepers to enjoy their music, radio or podcast in bed.
You can connect to your smartphone or tablet via Bluetooth, so you don't need to worry about tucking a cable out of the way under your pillow. They will last for 10 hours on a full charge, so all but the most committed sleepers will get a full night of music out of them.
The headband is made from a breathable, stretchy mesh that helps prevent heat from building up in the night. This might not be a problem in the winter in cooler regions, but it's a gripe I have with thicker fabric headphones in the summer months.
The speakers themselves are thin and tucked inside pockets in the headband. That means you can lie on your side with your ears directly over the speaker to hear quieter music or radio better.
For this low price of around $20, you won't get anything like the sound quality you find with advanced headphones like the Sony or Bose. However, for nighttime listening, I was impressed by how clear they sound.
My main criticism is an aesthetic one: the buttons on the forehead make you look like a fabric android. This is more of an issue if you're thinking of using them for sports too, which is their second purpose. To use in bed, it doesn't matter quite so much that you've got the word 'enjoying' and some obvious buttons splashed on your forehead.
In the photo below, I'm wearing the Lavince headband. Notice how they are wider than the AcousticSheep Sleephones (above). You can clearly see how the buttons stick out on your forehead.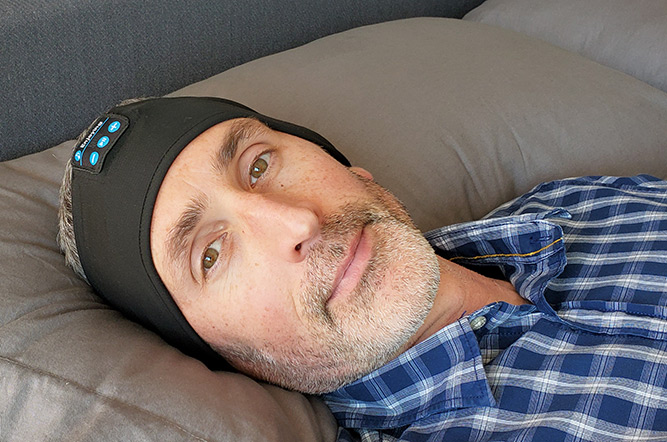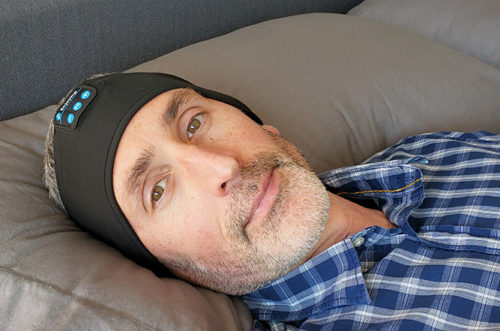 It's also worth bearing in mind that they don't have active noise cancellation like the Bose do. So if you need to block out external noise like snoring, they won't help much if your partner snores like a lion.
A final criticism is that the padding isn't nearly as thick as the SleepPhones. So although I could use them on my side for 30 minutes or so, the lack of padding meant they were uncomfortable to use all night on my side.
Overall, if you can put up with some dodgy design decisions, these are a reasonable budget option that side sleepers in particular will make good use of. Just be aware that the trade-off for the low price is a noticeable lack in design quality.
Pros
Good for side sleepers.
Cheap.
Wireless.
Don't overheat.
Change volume and track easily.
Clear sound.
Cons
Buttons on your forehead.
No active noise cancellation.
Look cheaply manufactured.
Where to buy
You can find them on:
Find out more in my longer Lavince headphones review.
---
6. CozyPhones
Breathable fabric headphones that connect with a cable rather than Bluetooth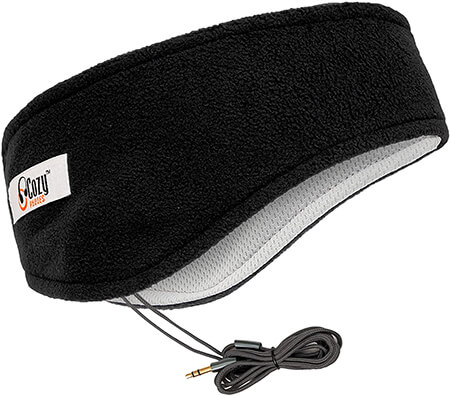 If you're looking for comfortable fabric headphones that connect via a cable rather than Bluetooth, CozyPhones are a good choice. Like the Lavince, they are inexpensive, costing under $20.
The most notable point in their favor is that the speakers are thin and flat, so if you're a side sleeper, they don't put too much pressure on your ear; not quite as flat as the AcousticSheep, but still better than standard headphones.
The internal material is a cool mesh lining that helps prevent overheating. And I like that you can remove the speakers and machine wash the headband.
The sound quality is good enough for quiet listening. The maximum volume isn't anything to get excited about, but the sound is clear enough to enjoy some relaxing music in bed.
The cable is long (52 inches) and tangle-free, with a standard 3.5mm stereo plug to connect to your audio device. Having a cable means you never need to worry about charging your wireless speakers or the battery running out in the middle of the night.
My main criticism is that even though the speakers are fixed in place, you still might find they move a little and you need to readjust them. This isn't a unique issue with the CozyPhones to be fair, as it's the trade-off for being able to remove the speakers for cleaning.
A second potential issue is that they come in just one size. However, with the stretchy material, most people will find they fit well enough (unless you have a particularly large head).
Overall, CozyPhones are comfortable headphones to use in bed, with reasonable sound quality and made from a material that doesn't overheat.
If the headband style of headphones appeals to you, and you'd prefer to connect to your audio device or smartphone with a cable rather than Bluetooth, they might be the ones to try. Skip them if you're looking for wireless connection, noise cancellation and more impressive speaker quality though.
Pros
Good for side sleepers.
Cheap.
Don't overheat.
Cable for those who don't like wireless.
Cons
No active noise cancellation.
Lacks bass and volume.
Where to buy
You can find them on: