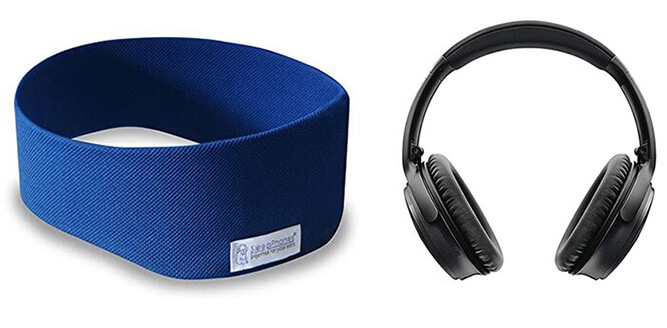 As much as silence can be golden at night, sometimes listening to music in bed is the perfect way to wash off the mental dust at the end of a long day.
My partner prefers to listen to podcasts in bed, so even though I'd love to play music through my bedroom speakers when I'm in the mood for some relaxing music, I use headphones and keep the mellow playlist to myself.
As well as enjoying your own music, headphones can also help block out some unwanted noise from partying neighbors or a relentlessly snoring partner.
Fabric headband or noise-cancelling headphones?
If you always sleep on your back or only listen to music for a while before turning it off, you can probably use most headphones. That opens the door to the full range of noise-cancelling headphones and those with the very best sound quality.
However, if you want to be able to lie comfortably on your side with headphones on, it's worth considering a headband style specifically made for sleep.
These headphones are designed to be flat, padded, and comfortable to wear in bed. They won't match high-end Sony or Bose headphones for noise cancellation and speaker quality, but they work very well for side sleepers.
In this review, I'll be looking at the flat headphones that have most impressed me, along with some budget options. I've also included my favorite noise-cancelling headphones for those who really want to shut the world out at night.
1. AcousticSheep SleepPhones
The most comfortable headphones for sleep overall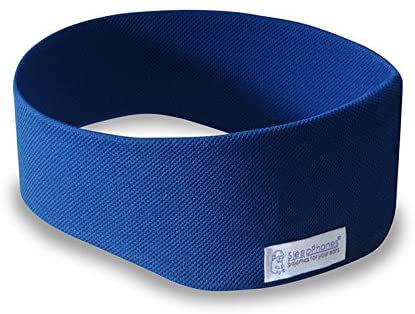 The AcousticSheep SleepPhones are the headphones I've found most comfortable to use in bed. The main reason they work so well is that they have flat speakers encased in soft padding, so you can use them while lying on your side for much longer than normal headphones.
There are several versions of the SleepPhones: a wired one with a standard 3.5mm plug, a wireless Bluetooth version, a version that's easier to charge (called 'Effortless'), and even one with a wireless transmitter for a television.
I personally use the standard wireless Bluetooth version, which is convenient, comfortable, has good speaker quality, and lasts all night on a full charge. Podcasts and radio sound clear, and I can hear the full range of music when relaxing in bed, with no sound distortion.
They don't have active noise cancellation, but the extra padding helps block out some of the outside world – especially compared to budget fabric headphones that have thinner padding.
The headband fits snugly without feeling too tight or too loose, and there are two fabrics to choose from: breeze and fleece. I prefer the breeze style as it's designed to sleep cooler, though I can imagine colder sleepers might like the extra warmth of the fleece.
There's a flat control module inside the headband, so you can adjust the volume, change tracks, play and pause music. The buttons are buried inside the fabric and can take a few seconds to locate, but it's great having that control option rather than needing to turn your phone on in the night.
As for the downsides, there's only one that I think could be a deal breaker for some people: the extra padding around the speakers results in reduced volume compared with traditional headphones.
Personally, I don't mind as I prefer to listen to music at a lower volume when I'm in bed. And they don't have as much sound leakage as many others do, which my partner appreciates. If you want to play music loudly, however, these won't be the ones for you.
As for the company itself, I like how they offer three types of packaging: eco-friendly, retail box, or gift. So if you like to do your bit for the planet, they offer a small step you can take to reduce how much packaging gets thrown away the moment you open them.
The price is reasonable at just under $100. There are cheaper fabric headbands, but the lower price is clearly reflected in the overall design and the lack of padding around the speakers in the ones coming up later in this article.
Overall, for nighttime use, the SleepPhones are a great alternative to normal headphones. Whether you sleep on your front, side, or back, you'll find them comfortable and reliable to use.
---
2. Bose QuietComfort 35 II Wireless Bluetooth Headphones
The best noise-cancelling headphones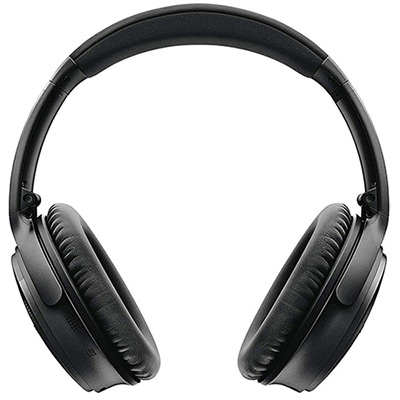 The Bose Quiet Comfort 35 II will take your bedtime listening to a whole new level. Despite some solid competition from Sony, I find the Bose reduce background noise better than any other noise-cancelling headphones I've tried.
Even if the external noise is unusually loud, when you add your music on top of the active noise-cancelling, you can go a long way to reducing how much the unwanted noise continues to bother you at night.
As you would expect from Bose, the sound quality is superb, both for music and spoken word such as radio or podcasts. And that makes all the difference if you want to create your own little audio cocoon.
The fact that they can be used wirelessly with Bluetooth means you don't need to worry about having a cable in bed, which I find more convenient at night. You'll get up to 20 hours music on a full charge, or around 40 using just the noise cancellation.
If you're a fan of smart home systems, you'll appreciate that the headphones are Alexa enabled. So with the touch of a button, you can control your music in the dark, as well as access other smart assistant features.
The obvious downside is that over-ear headphones of this size aren't practical for side sleepers. Even on your back, the casing will restrict your head's range of motion. So really, these are ones to listen to music for a while before going to sleep, but probably not to use for the whole night.
You could try them with a doughnut-shaped pillow, which might sound silly but does exist. At the end of the day though, flat fabric headphones are likely to work better for you if you're a side sleeper.
Another point to consider is that they are by far the most expensive headphones in this review, which isn't a surprise for high-end headphones. You're looking at around $300 for these, so it's an investment in the best sound quality rather than a trial and error impulse buy.
Overall, if your goal is to block out as much of the external world as possible at night and replace it with the highest quality sound experience, the Bose Quiet Comfort 35 II are my recommended headphones.
---
3. Dubslabs Bedphones
Lightweight Bluetooth headphones that let you listen out for other sounds in the home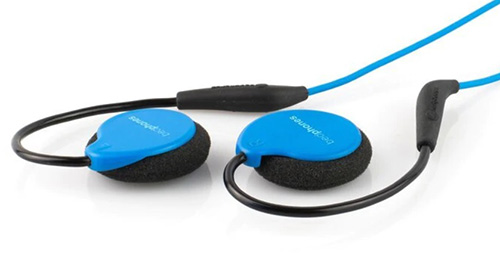 The DubsLabs Bedphones differ from both headbands and normal headphones, with their thin and light speakers that rest over your ears.
For me, the main appeal is the fact that they were designed to use in bed, but will never feel too warm in hot weather, which sometimes is the case with the headband styles.
You can see in the image above that they have a cable, but this is just to connect the two speakers. They work via Bluetooth, and I found you can easily get a whole night's charge out of them (they fully charge in a couple of hours).
There's an inline volume control, which is always convenient for the night. And the speaker quality is very clear, so they are ideal for listening to radio and podcasts.
However, even though they excel where clarity of voice is concerned, I did find the bass was underwhelming and the maximum volume not so loud. So if you like to fall asleep feeling like your brain is being enveloped by deep bass, they might not be the right choice for you.
My main criticism though is the way they sit on the ear. Each speaker is attached to memory wire, which is slightly fiddly to shape to your ear. You need both hands to get each speaker in place, which feels counter-intuitive compared to the simplicity of normal headphones.
Once you do get them in place, they are very comfortable to wear if you're sitting in bed relaxing or lying on your back. Personally though, I wasn't overly keen on the feel of the memory wire against my ear when lying on my side. It was fine to relax and listen to music for a while, but not to use all night long on my side.
It may just be my ear and pillow combination, I can't say for sure. So on balance, I think that like the Bose Quiet Comfort, the DubsLabs are ones that back sleepers and those who relax in bed before sleeping will appreciate most.
Looking at the price, the wireless version costs $149. Alternatively, you can save money with the wired version as they are just $89. Personally, I prefer to avoid a wire in bed, but you can't argue that it's a big price difference for a point not everyone is fussed about.
---
4. Lavince Bluetooth Sleep Headphones
Low-cost Bluetooth fabric headphones for those on a tighter budget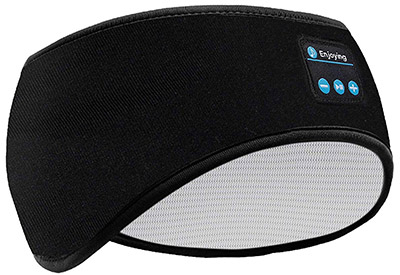 The Lavince headphones do a reasonably good job of enabling side sleepers to enjoy their music, radio or podcast in bed.
You can connect to your smartphone or tablet via Bluetooth, so you don't need to worry about tucking a cable out of the way under your pillow. They will last for 10 hours on a full charge, so all but the most committed sleepers will get a full night of music out of them.
The headband is made from a breathable, stretchy mesh that helps prevent heat from building up in the night. This might not be a problem in the winter in cooler regions, but it's a gripe I have with thicker fabric headphones in the summer months.
The speakers themselves are thin and tucked inside pockets in the headband. That means you can lie on your side with your ears directly over the speaker to hear quieter music or radio better.
For this low price of around $20, you won't get anything like the sound quality you find with advanced headphones like Bose. However, for nighttime listening, I was impressed by how clear they sound.
My main criticism is an aesthetic one: the buttons on the forehead make you look like a fabric android. This is more of an issue if you're thinking of using them for sports too, which is their second purpose. To use in bed, it doesn't matter quite so much that you've got the word 'enjoying' and some obvious buttons splashed on your forehead.
It's also worth bearing in mind that they don't have active noise cancellation like the Bose do. So if you need to block out external noise like snoring, they won't help much if your partner snores like a lion.
A final criticism is that the padding isn't nearly as thick as the SleepPhones. So although I could use them on my side for 30 minutes or so, the lack of padding meant they were uncomfortable to use all night on my side.
Overall, if you can put up with the slightly odd design, these are a reasonable budget option. Just be aware that the trade-off for the low price is a noticeable lack in design quality.
---
5. CozyPhones
Breathable fabric headphones that connect with a cable rather than Bluetooth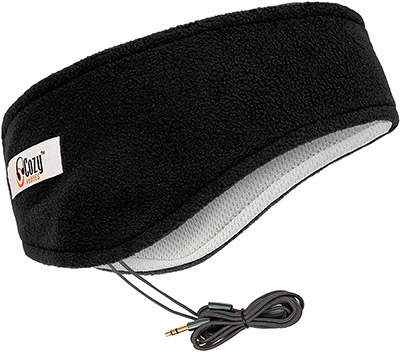 If you're looking for comfortable fabric headphones that connect via a cable rather than Bluetooth, CozyPhones are a good choice. Like the Lavince, they are inexpensive, costing under $20.
The most notable point in their favor is that the speakers are thin and flat, so if you're a side sleeper, they don't put too much pressure on your ear; not quite as flat as the AcousticSheep, but still better than standard headphones.
The internal material is a cool mesh lining that helps prevent overheating. And I like that you can remove the speakers and machine wash the headband.
The sound quality is good enough for quiet listening. The maximum volume isn't anything to get excited about, but the sound is clear enough to enjoy some relaxing music in bed.
The cable is long (52 inches) and tangle-free, with a standard 3.5mm stereo plug to connect to your audio device. Having a cable means you never need to worry about charging your wireless speakers or the battery running out in the middle of the night.
My main criticism is that even though the speakers are fixed in place, you still might find they move a little and you need to readjust them. This isn't a unique issue with the CozyPhones to be fair, as it's the trade-off for being able to remove the speakers for cleaning.
A second potential issue is that they come in just one size. However, with the stretchy material, most people will find they fit well enough (unless you have a particularly large head).
Overall, CozyPhones are comfortable headphones to use in bed, with reasonable sound quality and made from a material that doesn't overheat. If this style of headphones appeals to you, and you'd prefer to connect to your audio device or smartphone with a cable rather than Bluetooth, they might be the ones to try.
Watch my in-depth video reviews
If you haven't already spotted it on this site, there are individual video and written reviews for several of the headphones in this comparison.
In each case, I test them out and compare them to other headphones so you can see them in action:
Watch my full AcousticSheep SleepPhones video here