Disclosure: My website is reader supported. If you choose to buy a product after clicking a link, I may earn a commission, at no extra cost to you. Learn more.
Summary
The Inofia hybrid memory foam and pocket springs mattress is a lower-cost mattress that's reasonably good value for money. It's comfortable to sleep on, especially on your back or stomach. Some side sleepers may like it too, but perhaps not if you're heavier and prefer a very thick layer of foam padding.
---
Pros
Good price.
Plush cover.
Good motion isolation.
Doesn't overheat.
Doesn't smell on arrival.
Not too heavy.
100 night trial.
10 year guarantee.
Cons
Cover can't be removed.
Top layers are thinner than the product images suggest.
Lacks reinforced edges, so can sink a bit on the edge.
---
Who might like it
Those who prefer a medium-firm mattress (I rate it 7/10 for firmness).
If you're light to medium in weight yourself and sleep more on your back or front.
Hot sleepers, as the temperature regulation is very good.
If you need good motion isolation so you or a partner don't disturb each other when you move about.
If you want a low-cost mattress (I paid £212.99 in the UK for a king size).
If you'd like to test this style, as you can easily return it to Amazon within 30 days even if you've slept on it.
Who it might not be right for
Those who prefer a soft mattress.
Heavier side sleepers who need a good layer of cushioning.
If you need your mattress to provide reliable relief from pressure points in the hips, shoulders, or back.
Cold sleepers (unless you add a plush mattress topper).
Where to buy
The exact model I bought and discuss in the video and article is available on Amazon.co.uk in the UK currently. If you're in the US, there are several other Inofia mattress models on Amazon.com too.
Full review and video transcript
Please note that I've made a few edits to the transcript so it's easier to read and find specific information you may be most interested in.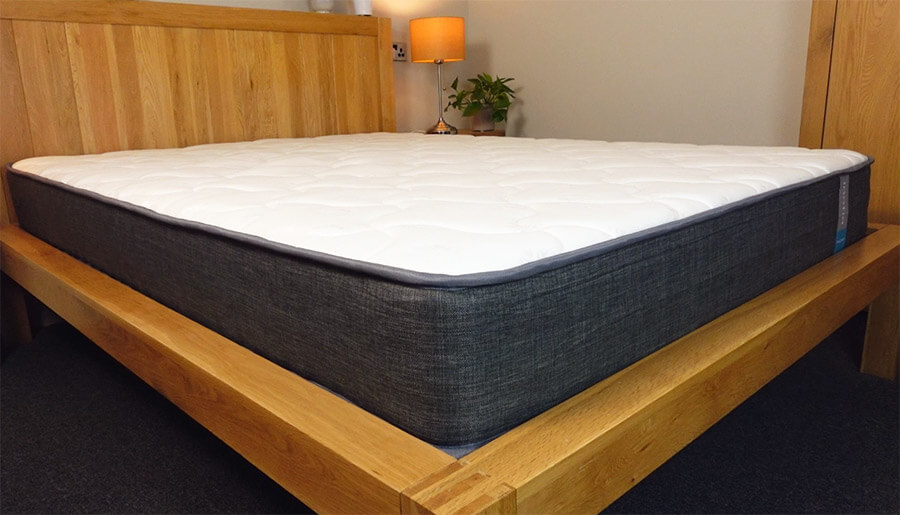 Introduction
If you've ever wondered how good any of the lower-cost mattresses sold on Amazon are, in this video (and article), I'll be sharing my experience with buying and sleeping on one.
A month ago, I bought a king-size Inofia hybrid pocket springs and memory foam mattress for £212.99 on Amazon in the UK. My partner and I have slept on it every night for the whole month, so I now have a clear idea of how comfortable it is and whether it's good value for money.
As you'll see, I think you can get a reasonable mattress for a low price that will suit some people. However, I've decided to return mine because it's just not quite right for me. Before I explain more about why and also how I intend to return a giant mattress without a magic 'Reducio' shrinking spell, let's start at the beginning with how it arrived, unrolled, and smelled.
Unboxing, setup, and smell
Like many bed-in-the-box mattresses, it arrived vacuum-packed in a cardboard box. I like this style as it's easier to carry the mattress from the front door to your bedroom. It comes with a safety cutting tool which you can use to cut through the plastic wrapper so it can expand on your bed.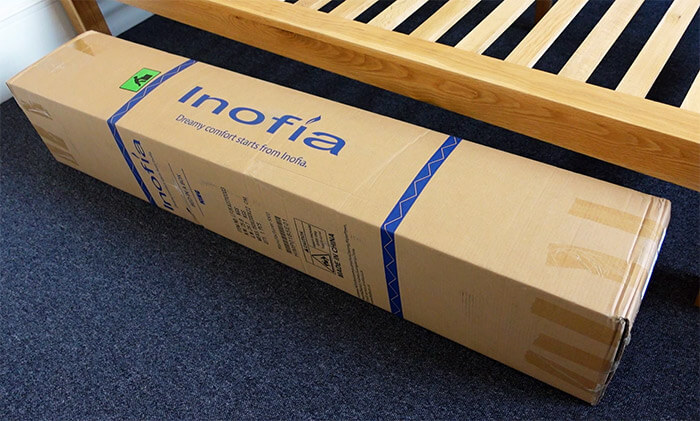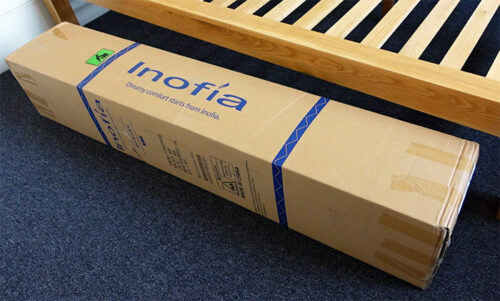 The label says to allow enough distance and room as it has a risk to smack you when opening. Since I'm not a fan of being smacked or catapulted out of windows, I opened mine from the side and was fine. The mattress itself has some weight to it, but it was easy enough to maneuver into position on the bed frame and lift to remove the plastic from the underside.
In the photo below, I'm unwrapping mine. It took me less than five minutes to get it out of the box and fully unwrap it on the bed. It took me longer than that to cut and fold up the cardboard box and plastic wrapper ready for recycling!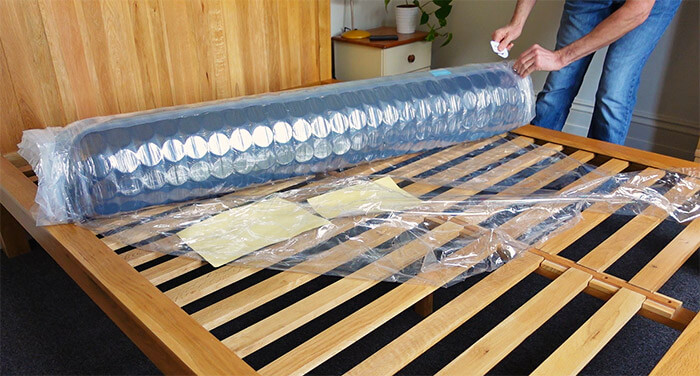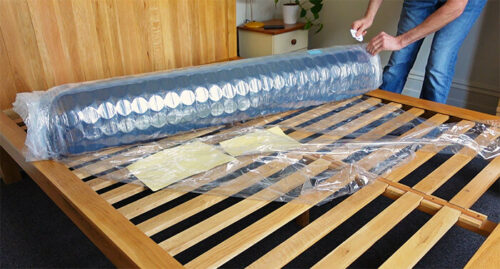 As for the off-gassing smell that memory foam sometimes has, I didn't find it had a bad smell at all. It smelled new, but I didn't need to air it for a day or two before sleeping on it. In fact, I opened mine in the morning and slept on it the same night without any issues.
Construction and materials
The construction and materials caused me some confusion because the product images on the Amazon and the Inofia website that helped me decide to buy it don't quite match the mattress I received. It's meant to be a hybrid mattress with multiple layers of foam on top and pocket springs underneath that are arranged into different zones to provide support for the whole body.
When you look at the product image below, however, it gives the impression that the combined thickness of the various foam layers is quite substantial. Since I sleep in different positions, I liked the idea of having thick foam on top for when I'm lying on my side. Another image, both on Amazon and the Inofia website, shows six different layers above the pocket coils.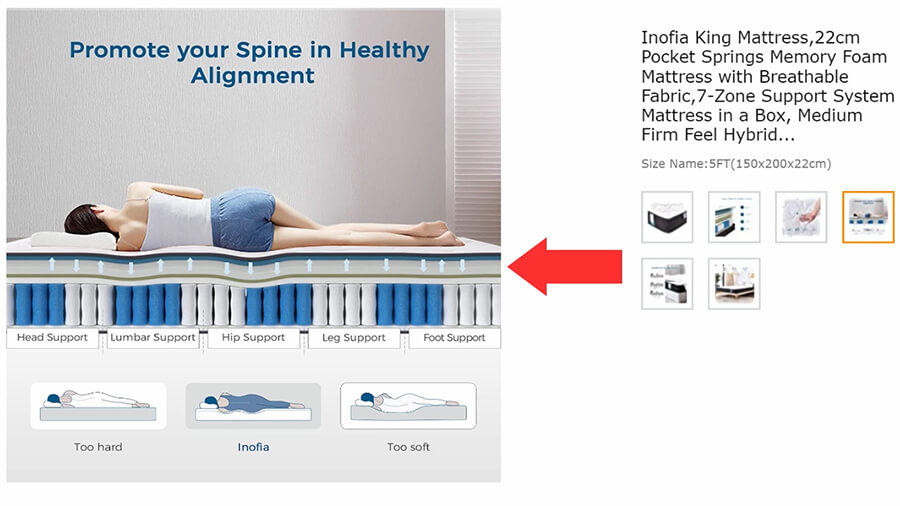 The reality though is that the cover and the foam layers feel quite thin before the springs start. Just a few centimeters, or a couple of inches, underneath the top of the mattress by the edges, the springs begin. And when I push down on top of the mattress, it's not very far before I can feel the springs if I push into it – again, just a few centimeters or inches.
A third image on the Inofia website seems a bit more accurate, suggesting that the top layers are thinner, but that image wasn't on the Amazon listing when I bought mine.
So I have to say I was a bit disappointed to discover that the foam layers are quite thin and much thinner than I was expecting. Also, when I push down with my hands into the mattress, it springs back quite quickly without the slow release that you'd expect from a thick layer of high-quality memory foam.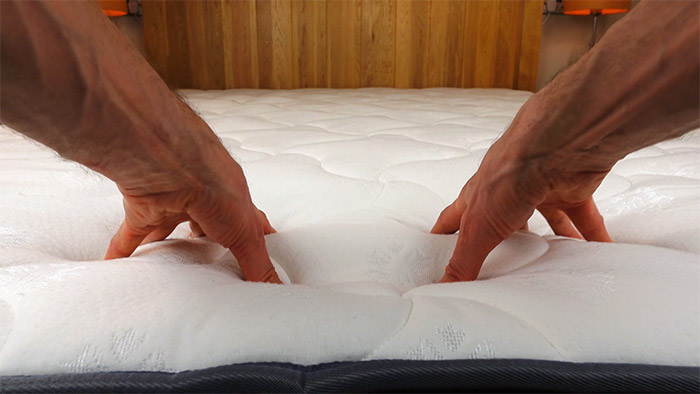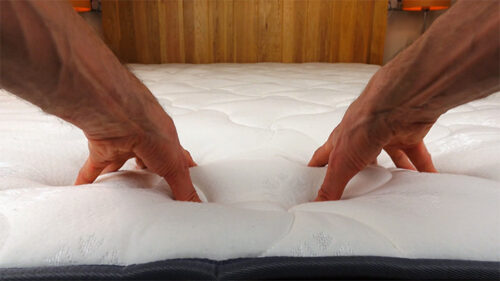 Since the cover isn't removable, the only way to actually see the internal layers would be to cut into the mattress or undo all the stitching. Tempted as I was to do that for this review, I'm not really a big fan of damaging products just for the sake of a 10 second video clip, and also wouldn't be able to return it.
On a more positive note, the top cover layer does feel very soft with some plush fiber fill padding and seems to be of good quality. The stitching around the edges seems robust too, with strong enough material around the outside edge of the mattress. The depth of this particular model is 22 centimeters, which is 8.7 inches, and it fits nicely on my king-size bed frame.
Comfort, support, and firmness
So, the construction wasn't exactly what I was expecting, but despite that, how comfortable is the Inofia to sleep on? Well, perhaps surprisingly considering what I've said so far, my partner and I actually found it quite comfortable to sleep on, especially on our fronts and backs.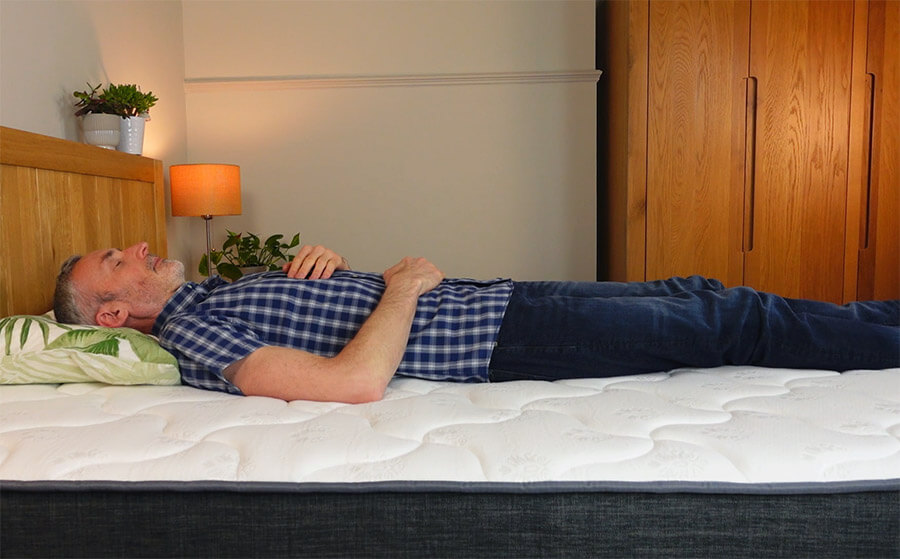 As I said, the top layer feels quite soft and padded, and there's just enough foam underneath to cushion your body nicely in those positions. When I lie on my side, however, I don't feel that there's enough support in the areas around my hips and shoulders. I wouldn't describe it as uncomfortable or creating painful pressure points, but it doesn't mold to the shape of my body as well as thicker memory foam mattresses I've tried in the past.
As for the firmness, I'd describe the mattress as being medium firm, which is what Inofia describes it as too. I'd give it a 7 out of 10 on the firmness scale. To give you a clearer idea so you can compare yourself to me, I'm six foot three, which is 192 centimeters, and weigh 83 kilos, which is 182 pounds.
My partner, on the other hand, is five foot four, which is 163 centimeters, and weighs 60 kilos, which is 132 pounds. She says she'd give it a 6 out of 10 on the firmness scale though, describing it as quite soft and comfortable.
The difference between our opinions just shows that the comfort and firmness you feel from a mattress are largely subjective, so please bear in mind that you might have a different experience if you try this mattress.
Edge support
One of my main criticisms of the Inofia mattress is the edge support – or the lack of it. There isn't any kind of reinforced edge, with the springs going right up to the sides. So, when you lie on the edge of the bed, you feel like you're on a bit of a slope, and when you sit on the edge, you really sink into the mattress.
It's not the worst I've seen for edge support, but it will still potentially be an issue if you share your bed and naturally sleep more toward the edges. The lack of reinforced edge support and proximity of the coils to the edge do give me cause for concern about the durability of the mattress in the long run as well. I definitely wouldn't recommend jumping up and down on it near the edge!
It's also worth noting that you can't sleep on the reverse side of the mattress, so any dips that appear on the top over time are there to stay.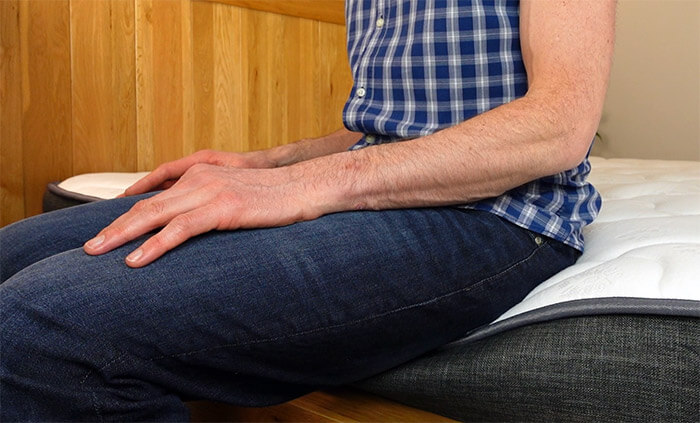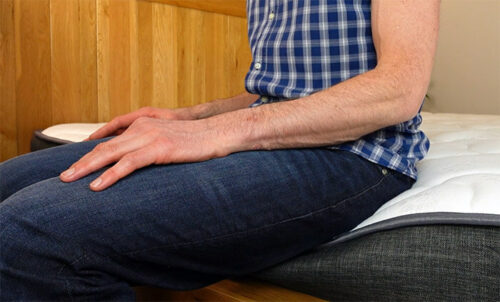 Temperature control
Okay, let's talk about the temperature control next. One of the benefits of not having so much memory foam is that the mattress actually sleeps quite cool.
Memory foam can sometimes feel very warm, especially in the summer or if you're a hot sleeper like me. I find that the Inofia keeps nice and cool, though, helped by all the gaps between the pocket springs, which aren't far below your body. So, if you're a hot sleeper, you might appreciate the thinner foam layers.
Motion isolation
Let's consider a couple of the key points that are particularly relevant when you share your bed. Firstly, the motion isolation, or how much you disturb each other when you go in and out of bed or change positions in the night.
One of the benefits of having a pocket spring construction, rather than a continuous spring, is that it improves motion isolation. When I move around or bounce on the bed, a fairly full glass of water wobbles but doesn't spill or fall over.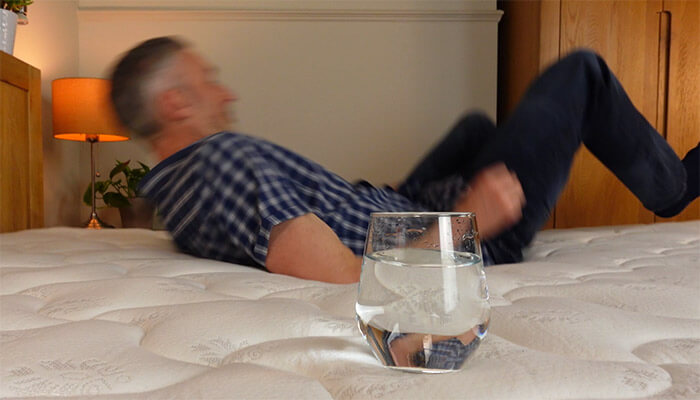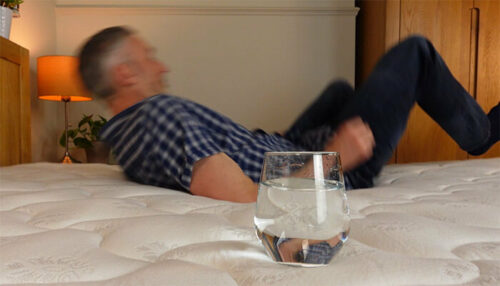 And from real-life experience, I can tell you that the motion isolation of the Inofia is very good. My partner starts work earlier than me, and I rarely wake up when she gets out of bed, which is great. And when one of us gets up in the night to use the bathroom, we don't tend to wake the other up. Even though the springs do make some plasticky clicking noises when you compress them with force, the mattress on the whole is very quiet.
Getting passionate…
Another couple's related question that I know some people have about mattresses is around sex. I'm not going to bore you, or entertain you, with personal experience, but what I will say briefly is this: Yes, you can move around on the mattress and roll around without feeling like you're getting stuck, and no, it doesn't squeak…much.
Sizes and prices
As for the available sizes and prices. In the UK, this particular model is currently available in four sizes: single, small double, queen, and king. The prices may fluctuate during the year, like many products sold on Amazon, but to give you an idea, on the 29th of March 2023, they were £139.99 for a single, up to £209.99 for the king, which is less than I bought it for in February.
Trial period and guarantee
The Amazon seller of Inofia mattresses offers a 100-night trial and 10 year guarantee, which is reassuring as it gives you an opportunity to test it and send it back if it's not right for you or get support later down the line. Please do keep in mind that by the time you watch this video/read this article, anything from the sizes to the prices, product images, and descriptions may have changed.
Verdict
It's time for my final verdict now and who I think the Inofia mattress will or won't suit. As I said at the start, I was really curious to see how good a mattress you can get on Amazon when you don't want to spend too much.
There are lots of lower-cost mattresses which obviously I can't comment on because I haven't tried them all. But what I will say is that with the Inofia mattress, you can get reasonable value for money, even though the product listing wasn't exactly accurate!
Who it might be a good choice of mattress for
For just over £200, you can get a hybrid mattress that I think many people will find comfortable, especially if you like to sleep on a medium to firm surface. Despite some of my criticisms, my partner and I slept pretty well on it most nights during the last month.
I think it's probably best suited to back and stomach sleepers who are light to medium in weight, though even that's very subjective. The motion isolation is excellent, which is helpful if you are a partner sleep lightly. I also think it will suit hot sleepers as the temperature regulation is good and it doesn't retain body heat.
Who might not find it so comfortable
If you prefer a soft mattress or you're a heavier side sleeper, however, it might not suit you. Also, I don't think it'll be right for people who really need a thick layer of carefully designed cushioning to relieve pressure points related to hip, shoulder, or back pain, for example.
And if you're a cold sleeper who likes a thick layer of warm padding underneath, it may not be the best choice unless you add a plush mattress topper to it.
Why and how I returned my Inofia mattress
In the end, after a month of using it, I decided to return the Inofia mattress; not because it's bad per se, but because as a heavier side sleeper, I just need thicker foam padding to keep me comfortable. My partner also wants to return it because of the lack of edge support. She likes to sleep right on the edge of the bed and doesn't like how she feels like it's sloping downwards.
The returns process was actually very smooth. I organized it through the Amazon customer service live chat and bypassed all communication with the original seller. They arranged for a courier to pick it up, and it was all very easy. I didn't have to pay for any of the return postage/courier and received a 100% refund.
In case you're wondering, yes, you can return a mattress that you've slept on, and no, you don't need to compress it back into its original packaging. I did have to wrap it in something though, so I used a heavy-duty mattress bag, which was relatively cheap and easy to use.
You'll see the mattress appears again in the final part of my video because I filmed it before returning it. I recorded the audio for the penultimate section an hour after I got my money back as I wanted to be able to confirm that you can return it. Interestingly, Amazon refunded me the money almost immediately after the courier confirmed they'd picked it up, even while it was still in transit back to wherever it was going to end up.
Extra information about returning a mattress you buy on Amazon
I didn't have time to cover all the details about returning my mattress in the video, but I do have a few extra points you might find useful if you haven't returned a mattress before and are anxious about whether you'll be able to.
I actually chatted at length three times with different Amazon live chat representatives from the UK, US, and Canada before filming my video as I wanted to get my facts straight before talking about their returns process.
Here is what I learned:
I was told you can always return a mattress within 30 days, for any reason, in all three countries if it's fulfilled by Amazon. I didn't check with Amazon in other countries though.
In the UK, a courier firm called Arrow picked it up from my house. In the US, I was told you can take a mattress to a drop-off point, or they can arrange UPS to pick it up.
You can return it, even if you've unrolled and slept on it.
They don't mind what you package it in, but do ask you to package it. Suggestions they gave me were: a big box, bubble wrap, packaging paper, plastic mattress bag, garbage bags taped up.
After 30 days, it's not always so easy to return a mattress, but it is still possible in some circumstances. You can always chat with them before buying to check the conditions for one you're interested in.
They can override a third party seller who is being difficult about returning a mattress or fobbing you off with endless questions about why you want to return it. That's why I recommend dealing with them directly and not even bothering with the seller unless you have a good reason to.
My advice would be to double-check before you buy a mattress if you have any concerns about whether it will be comfortable for you or not. I had a positive experience with returning mine, but since a mattress can feel like a big purchase, I think it's wise to know your rights in advance.
Your thoughts
Have you tried an Inofia mattress before? Let me know in the comments below. And feel free to ask questions if there's anything I didn't cover in the review that you'd like to know.