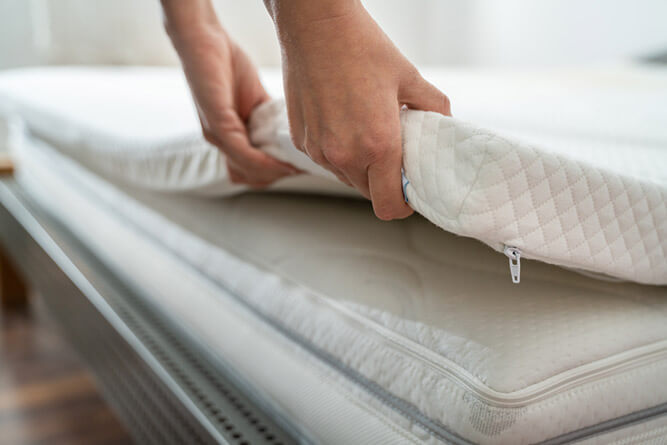 Using a mattress topper is an effective way to improve your bed, and is usually much less expensive than replacing the entire mattress.
If you need to breathe new life into your aging mattress, make it softer or have better support for your back or pressure points, there's a topper for the job.
At the end of the day, choosing the right topper is a subjective matter, much like picking a new mattress would be.
So below you'll find a selection of mattress toppers that should improve both your bed and your sleep. I've included different materials to cater to different needs, as well as an appropriate range of both budget-friendly and luxury brands.
1. Plush Beds natural latex topper
If you'd like a 100% natural latex topper that's made in the United States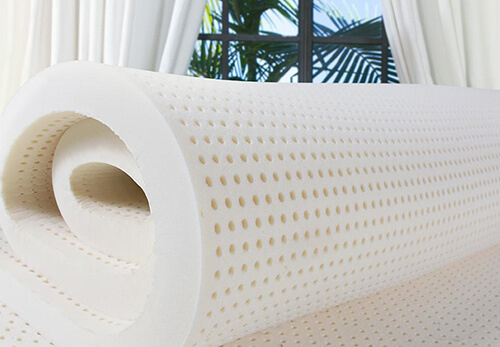 There are three main factors that stand out for me with the Plush Beds company and their latex topper. Firstly, they have excellent production standards, with OEKO-TEX Standard 100 and GreenGuard Gold certifications.
There are very few mattress companies that attain both of those. And it's reflected in their ethos of producing their 100% natural latex toppers in the U.S. rather than outsourcing to other countries, and being mindful of all the materials they use.
Secondly, they have four firmness options, as well as two thickness choices. The 3 inch version is considerably more expensive than the 2 inch, but I like how all four firmness options are the same price. It just gives more flexibility to find the right combination for your sleeping position. They also have a clear reference guide on their website to help you choose the right one.
Finally, it provides excellent cushioning for your body and is comfortable to use night after night. At the end of the day, that has to be true for all the other points about production standards and choice to be worthwhile.
Here are some of the key details to consider:
It feels comfortable to sleep on in any position.
There are four firmness options to choose from: soft, medium, med-firm, extra firm.
They offer two thickness options – two inch and three inch.
It has excellent pressure point relief and cushions the body well.
It's breathable and doesn't sleep hot.
It's made to a high standard in the U.S. with certified 100% natural latex that's sustainably farmed.
You get a five year warranty, with the claim that it should last 20 years.
The main downside is that like most latex toppers it's not the cheapest option if you just want to add a little extra padding to your existing mattress. For example, it's over $300 for a queen size two inch, and over $400 for a queen size three inch. I'll be looking at a cheaper option further down this list if you're on a tighter budget than this.
Overall, I highly rate the Plush Beds latex mattress topper, and the company itself too. It's a superb topper, so it's one of those rare cases where you really do get your money's worth where quality is concerned, and a good chance of some improved sleep along with it.
---
2. Molecule AirTEC mattress topper
An ideal choice if you sleep hot and want a mattress topper that's breathable and comfortable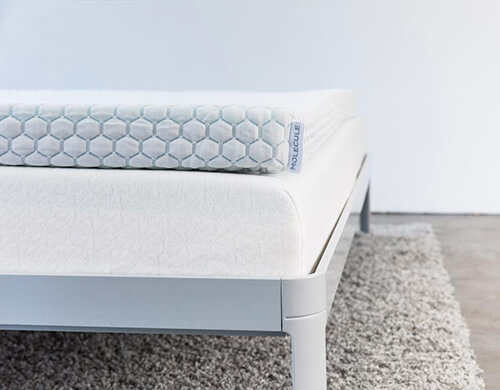 As a hot sleeper, the Molecule AirTEC is my personal favorite of the many memory foam toppers I've tried – both for breathability and comfort.
You can really tell the difference in quality when you compare the multiple layers with generic memory foam toppers. Those might be cheaper, which is great. But they tend to be chunks of generic memory foam that feel too warm or just aren't as supportive for the body as you'd hoped for.
Molecule have successfully designed the most breathable memory foam mattress topper I've slept on. And rather than being one piece, it's engineered with three distinct layers (as well as a cover).
The top layer is designed to have five times more airflow than standard memory foam, and also conforms very comfortably to your body. The main foam layer has an open cell structure which also helps with air flow. And a base layer adds more support for the entire body while you sleep. The end result is a surface you can comfortably sink into at the end of a long day.
These are the key points to consider:
It conforms well to the body and provides pressure relief for the hips and shoulders.
It feels cooler than other memory foam toppers due to better airflow.
The cover looks good aesthetically and feels soft and cool on the skin.
The base layer helps with body support and to disguise an uneven mattress.
It's made in the U.S. from CertiPur-US certified foam.
The company has a focus on eco-friendly manufacturing.
There's much less off-gassing than cheaper brands.
Made from durable materials, with a five year guarantee.
There's a 30 day money back trial period, and they donate returns to a charity.
The only downside as I see it is that it's more expensive than a lot of generic memory foam toppers, which is the only reason I didn't put it at the top of this comparison. For example, the queen costs around $300. It's around $250 for the smallest size, the twin, and just under $350 for the large California king.
If you don't mind paying a bit extra for improved breathability, comfort, and support, the Molecule is the memory foam topper I would recommend. It looks great aesthetically compared to basic memory foam, it's much more breathable, and it feels very comfortable to sleep on.
---
3. Linenspa gel infused memory foam
A good option if you'd like a low-cost memory foam mattress topper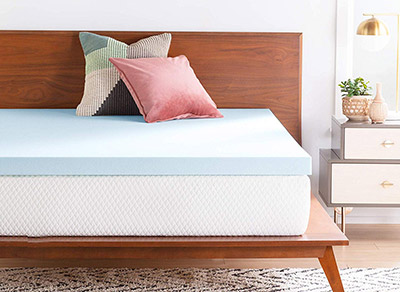 The Linenspa gel-infused memory foam topper offers an opportunity to try out memory foam at a considerably lower price than some of the more luxury toppers.
With a choice of either two or three inches thickness (I would go with three inches if you need more body support), this is a topper that will cushion your body, feel soft and still provide support for your body.
That cushioning means you can drift off to sleep safe in the knowledge that you won't be bothered by the pain of pressure points. And if you have an old mattress that's become uncomfortable, it will help hide lumpy parts and reduce the firmness a notch or two.
Here are some key points to consider:
It molds well to the shape of your body, both cushioning and supporting you.
It provides support for your back and joints to ease pain and pressure points.
The foam is CertiPUR US certified for quality.
It's available in two inches or three inches for maximum body support.
It comes in eights sizes, so there's one for most bed sizes.
Affordable price for a memory foam topper.
Generous three year warranty.
For such a reasonable price, it's hard to complain about the Linenspa mattress topper. Most of the eight sizes cost under $100, which is two to four times cheaper than some of the others in this comparison. Even the king doesn't cost much more than $100.
However, it's a visibly basic memory foam topper and does have noticeable heat build up, especially in warmer months and if you're a naturally hot sleeper.
If your aim is to add some extra padding to your bed without spending too much, you will get that with the Linenspa. But in a hot bedroom in the summer, you might need additional methods to tackle the heat.
Overall, this is a good option for adding some extra comfort and body support. If heat is an issue though and you have a bigger budget, you might prefer one of the following three toppers, all of which are more expensive but significantly better for hot sleepers.
---
4. Saatva latex mattress topper
For those with a bigger budget who want a luxury latex topper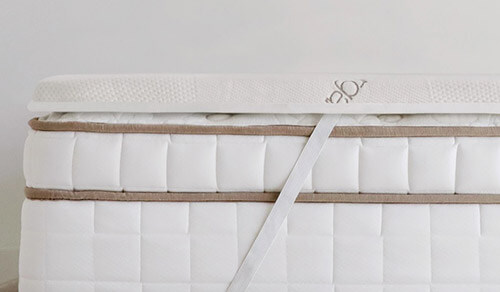 The Saatva latex mattress topper was the first latex topper I bought when I moved to the United States. It had just the right balance of support and comfort, and it was still going strong after three years before I had to make room to test other toppers.
As a side sleeper, I need good support for my hips and shoulders in particular, which are usually the first to complain if a mattress or mattress topper is too hard. I'm also a perennially hot sleeper, so I was very impressed by how little heat retention this latex topper had compared to the memory foam toppers I'd tried.
If you've never slept on a latex topper before, it's hard to describe the difference in how it feels compared to memory foam. For me, it's the comfortable springiness that stands out. It conforms to the shape of your body like memory foam, but it feels like you're cushioned rather than simply sinking in.
The fact that it's only 1.5 inches thick but still managed to fully support me from head to toe, absorbing all the key areas where my weight needs extra support, says a lot.
Here are the key points to consider:
It feels very comfortable to sleep on.
The pressure point relief is superb, no matter which position you sleep in.
The latex is all-natural.
It's hypoallergenic.
It's encased in a breathable organic cotton cover that feels very soft.
The latex is durable and will last for a very long time.
It's more breathable than most memory foam toppers.
It has corner straps to fit it to your existing mattress and keep it in place.
Made in the U.S. by a responsible company that supports its local community.
45 day money back trial period and long warranty.
The Saatva is an impressive mattress topper; it's constructed and finished to a high standard with excellent materials, and provides effective support for the length of the body.
My only caveat is that like the Plush Beds topper, it's considerably more expensive than some of the more budget-friendly brands in this list. Having said that, I think the price is still reasonable for latex, which can be notoriously expensive. As always, the size dictates the price somewhat. It ranges from just under $250 for the twin to just under $550 for the split king.
If you're looking for an upgrade to your bed and the most comfortable surface possible to sleep on, the Saatva latex topper is one I highly recommend.
---
5. Exceptional Sheets bamboo mattress pad
A decent option if you'd like a layer of soft cushioning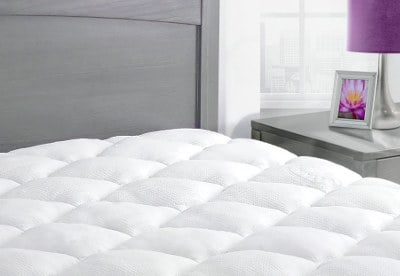 The natural bamboo topper by Exceptional Sheets is technically advertised as a pad rather than a topper. However, the terms pad and topper are often interchangeable, with the end result being what really matters.
The pad is particularly soft and comfortable, feeling like goose down and very popular due to this. It won't mold to and support your body like a memory foam topper, but it does a pretty good job of providing the fabled 'sleeping on a cloud' feeling.
Here are the key features:
The inside of the pad is filled with Revoloft cluster fiber. It has the gentle feel of down, but without the feathers.
It has a silky bamboo blend cover, which makes it feel even softer under your sheets.
It's a good alternative if you're allergic to down, but enjoy that feel and softness.
It can be used on top of either a mattress or a firmer topper such as memory foam or latex.
It's designed with individual boxes of fiber to keep an even shape.
It's easy to clean and machine washable.
Low price compared to memory foam, latex or wool.
You get a 30 day return and one year exchange warranty.
One point to bear in mind is that if you need to hide large lumps or dips in your current mattress, you might need a thicker topper. This one will disguise some minor signs of usage, but not if the mattress is in particularly bad shape.
The price is good, with all six sizes from twin to king hovering between $80 – $120, depending on the time of the year and any sales on during holidays.
If your main goal is to add an extra layer of softness and comfort, this is a good option to consider. It will definitely boost the softness of your current mattress and feels cozy to sleep on.
---
6. Pure Green latex mattress topper
If you'd like to try latex and are on a tighter budget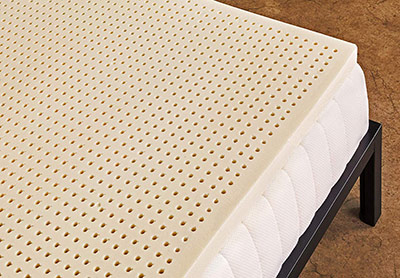 Latex mattress toppers are notoriously pricey and the cost can increase significantly if it's thicker, natural latex and accompanied by a luxury cover. So the main reason I'm including the Pure Green is the reasonable price.
The three inch version is cheaper than other latex topper brands I've looked at recently. And you can choose a one or two inch version instead of the full three, which will bring the cost down even more. For example, a basic 1 inch twin is around $100, and the 1 inch California king is $150.
They also have soft, medium, or firm versions, which gives you more choice. Personally, I like the soft version as I'm a side sleeper and it helps make the bed feel more comfortable. If you sleep mostly on your back, you might prefer the medium or firm instead.
Essentially, this is an opportunity to try out latex without breaking the bank. It's made by a company in Sri Lanka, which perhaps explains the lower price than some American made toppers.
Let's take a look at some of the key details:
It's made from 100% natural latex, with no synthetic materials.
It has good durability as it's made with natural latex.
You'll have a temperature neutral and breathable sleep surface. It won't actively cool you, but it won't feel as hot as memory foam either.
It's available in all bed sizes.
You can choose one, two or three inch thickness.
There's a soft, medium, or firm version available too.
It feels very comfortable to sleep on, with the soft version both supporting the body and making a hard mattress feel much better.
I think the only real downside is that it's a little confusing working out which size to choose. Personally, I think one inch is arguably too little unless you already have a soft enough bed and just want a little extra support.
I think two inches is enough, but three better if you're a heavier person or have serious issues with pressure points. As for softness, I think that's purely personal preference. I went with the soft two inch king size and liked how it breathed new life into my mattress.
---
7. Sleep & Beyond organic merino wool topper
My recommended wool mattress topper – good for comfort and temperature regulation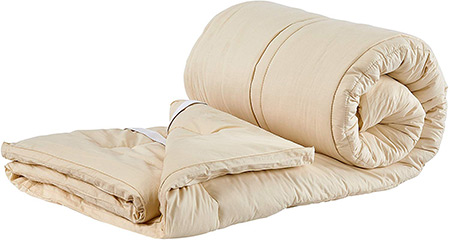 If you're not keen on synthetic materials such as memory foam or polyester, wool deserves a close look when selecting a mattress topper.
With an organic cotton jacquard encasement and filling of organic merino wool, the Sleep & Beyond mattress topper embodies both quality design and materials.
The result is a satisfying balance of luxurious feel, additional body support for your mattress, and good temperature regulation in both the summer and winter.
Here are the key points to note:
The inside fill is organic merino wool. The exterior encasement is 100% organic cotton.
At 1.5 inches thick, it adds some extra comfort while allowing easy movement in bed.
It provides firm, yet comfortable support for your body.
Hypoallergenic and more resistant to mildew and dust mites than most topper materials.
It's durable and should last for many years.
The breathable materials will help keep your temperature at a comfortable level.
The main downside is that the topper is only 1.5 inches thick. So although it will add some comfortable padding and support, it won't fix a significantly lumpy mattress. And it might not be thick enough if you're looking for as much soft padding as you can possibly squeeze into one topper.
A wool mattress topper of this size is a good choice if you need to add some extra body support and comfort without creating too thick a surface to sink into. And unlike memory foam, it won't sleep too hot in the warmer months of the year, yet will still feel cozy in the winter.
At just under $250 for a twin, it's one of the most expensive twin sizes I've seen. However, the cost of the California king doesn't rise relative to the twin when compared to some other brands, at around $330. So I'd perhaps skip this one for smaller bed sizes, but definitely consider it for a queen and up.
Overall, this is a carefully made topper with high-quality natural materials that will improve your sleeping surface and hopefully your sleep along with it.
---
8. Sleep Innovations 4 inch dual layer
Two separable layers lets you experiment with softening your mattress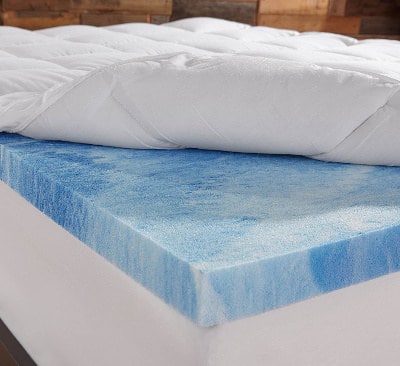 If your aim is to increase the softness of your bed with a mattress topper, the Sleep Innovations dual layer offers exactly that. And it will still provide excellent support for your body.
It's important to note that it's not just one topper that's four inches thick. It consists of two separate toppers, combining to provide the support you need.
The bottom layer is memory foam, probably best described as medium firmness, and molds well to your body. The top layer is a quilted fiber fill, neatly separated into boxed sections. This top section feels lovely and soft to lie on.
They give you the choice of two inch thickness of each layer, or three inches of memory foam and one inch of fiber fill. It's personal preference, but I personally like the even split.
Here are the key points to consider:
You have the choice of using memory foam or fiber fill, or combining them for extra softness.
The combined four inches is more than enough to completely change the feel of your current mattress.
It's an effective way to soften the feel of a firm mattress.
The memory foam molds quickly to your body, providing some support for pressure points.
The top cover also acts as a fitted sheet, stretching tightly over the foam section and mattress to keep both layers in place.
The top cover is machine washable.
Reasonable price.
It comes with a long 10 year limited warranty.
My only criticism is the promise of gel cooling. It might be better than some memory foam mattress toppers in terms of heat retention, but in very hot weather you'll still need to tackle the room temperature with air conditioning or other methods.
That aside, the core idea with this topper is to soften your mattress, and it does that very effectively. And since the softness doesn't come at the expense of support for your body, it's a good choice no matter which position you like to sleep in.
And the fact that you can choose between different styles (memory foam, fiber fill or both) means you can conveniently experiment with different levels of support.
This is another topper that won't break the bank either. All five sizes can usually be found for between $100 and $200, depending on the time of year. So it's another good option if your budget is stretched at the moment.