Disclosure: This website is supported by my readers. If you decide to purchase a product through one of the links provided, I may receive a commission, at no additional cost to you. Learn more.
At a glance
The LectroFan Micro 2 is a compact white noise machine, ideal for travel due to its minimal luggage footprint. Despite its small size, it effectively masks disturbance from external noise during sleep or work.
With a rechargeable internal battery that lasts up to 40 hours, 11 built-in sounds, and the flexibility to function as a Bluetooth speaker, it's a versatile device that meets many needs.
Pros
Diverse sound options: 5 fan, 4 white noise, and 2 ocean surf.
Compact and travel-friendly.
Doubles as a Bluetooth speaker.
Decent speaker output.
Built-in rechargeable battery.
Affordably priced (typically under $35).
Cons
Tiny buttons may be problematic for those with finger sensitivity.
Lacks auto-off timers.
Full Review
Please note that this written article isn't an exact video transcript. I edited it to be easier to read and scan for information you're interested in.
Below you can see the LectroFan Micro 2, the box it came in, and the included charging cable.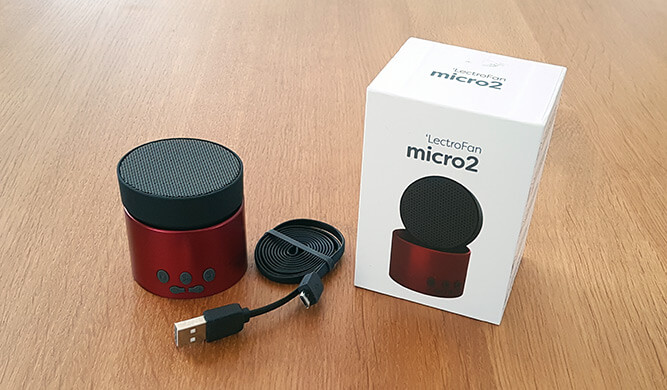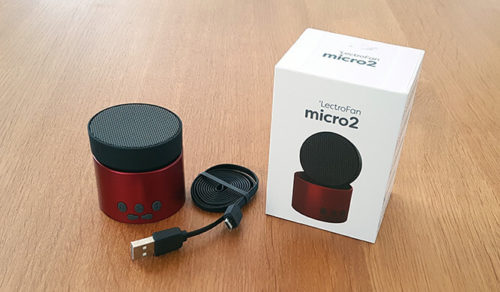 Improving the already good LectroFan Micro
Since the company Adaptive Sound Technologies took LectroFan into their fold, they've been busy improving the already popular designs. I previously reviewed the LectroFan Evo, for example, which had several welcome improvements to the LectroFan Classic.
With the LectroFan Micro 2, their engineers have once again done a good job of taking on board criticisms of the original version and making it even better.
Just to be clear, the original was already an effective white noise machine. However, I really like that they've added separate buttons for the sound choice and volume control (it bugs me when they share the same buttons and you either tap or long hold depending on what you want to do).
Additionally, the USB charging cable is longer than the cable that came with the LectroFan Micro 1, and there's an extra ocean sound.
So, let's take a more in-depth look at why I like this little sound machine so much.
The good points
1. Portable and compact design
Below, you can see how small the LectroFan Micro 2 looks on my bedside table: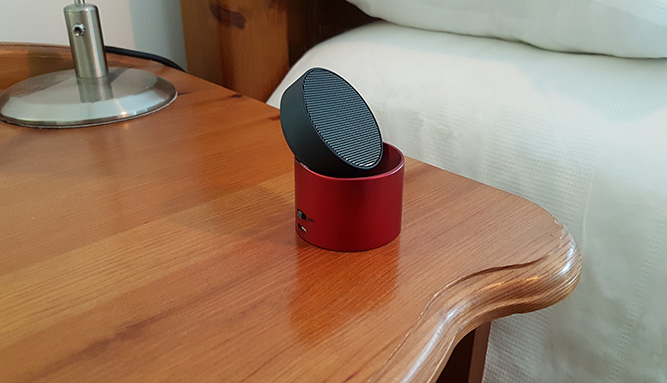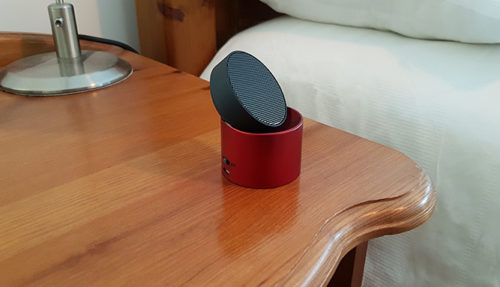 The LectroFan Micro 2 is tiny – it literally fits in the palm of my hand. Weighing just 6.4 ounces (180 grams) and measuring 2 x 2 x 2.1 inches, it's ideal for travel or if you don't want a large sound machine occupying too much space on your nightstand.
The internal battery (see below) also makes it convenient if you're on the go, as you can use it outdoors and place it anywhere you like in a room rather than having to plug it in.
The only other sound machine I've tested that's this small is the Yogasleep Travel Mini, in case you want to compare another one I recommend for travel.
2. Good variety of white noise and fan sounds
Many portable white noise machines are as short on sound options as they are in stature. The Rohm, for example, has just three sounds.
The Lecrofan Micro 2 has a choice of 11 sounds, which is great as not everyone will find the same fan or white noise sound appealing. Personally, I like the deeper sounding options, but you might prefer bright white noise. It also helps with sound blocking, as some noises are better at blocking unwanted external sounds than others.
I like that it has two ocean sounds as well. Even though they are digitally created, they sound quite authentic (though perhaps not as authentic as an actual recording of the sea).
It's worth noting that the LectroFan Micro 2 creates the white noise sounds digitally, which means there is no looping.
List of the sounds
The manufacturer says there's a mix of brown, pink, and white noise, but doesn't specify which one is which. So I list them somewhat ambiguously as follows:
White noise 1
White noise 2
White noise 3
White noise 4
Fan 1
Fan 2
Fan 3
Fan 4
Fan 5
Ocean 1
Ocean 2
3. Good speaker quality and volume control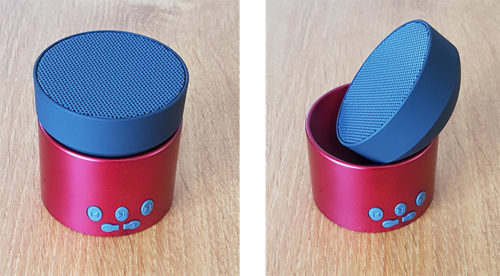 Strangely, I couldn't find any information about the speaker wattage – either in the instructions or on the AST website. What I can say is that it's louder than other portable devices I've used, and even some larger sound machines.
More importantly, it sounds crisp even at maximum volume. There's no distortion on the internal sounds at all. Having said that, when you use the Bluetooth speaker, some sounds – like a piano – are better played on a mid-range volume in my experience.
If you just want to listen to it quietly, there are incremental volume changes that still provide clear sound on low volumes.
One final note is that the speaker can either point upwards or rotate so you can point it in a specific direction. This just adds a little more versatility in how you listen to the sounds.
4. Internal rechargeable battery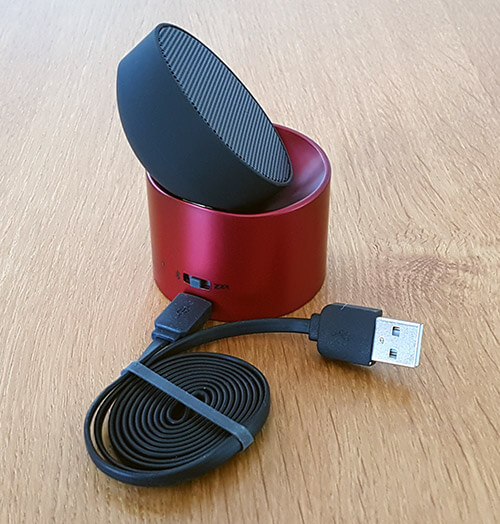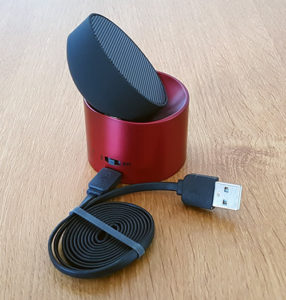 First of all, it includes a USB charging cable that you can leave plugged in if you choose.
But one of the LectroFan Micro 2's best features is the long-lasting internal rechargeable lithium battery. It will last for up to 40 hours with a white noise sound, and up to 20 if you use the Bluetooth speaker. This is remarkable for a sound machine, and the longest battery life I've seen in any of them so far.
This means you can take it outside, or leave it on a shelf or table, without worrying about the wall socket or USB port location in the night. It's a convenient choice that I personally love having.
5. Bluetooth speaker and built-in mic
I've already mentioned it throughout the review, but with the flick of a switch and a quick pairing, you can play music from your smartphone, tablet or other Bluetooth devices.
It's great to be able to play different relaxing music at night if you want a change from the white noise sometimes. You can have music during the day and fan sounds at night if you prefer. You can also use it to answer phone calls as there's a built-in mic that works well.
Criticisms
1. No auto-off timers
This was a criticism of the original and it remains the case with the LectroFan Micro 2. I think all white noise machines would benefit from having at least one auto-off timer, so it's a shame there isn't one.
2. Small buttons might be too fiddly for some people
A small, portable device like this will obviously have buttons that match its size. So while they don't look disproportionately small, people with finger sensitivity issues might prefer a device with bigger buttons.
I personally have no problem with them, so this will only be an issue for certain people. And as I mentioned above, at least this model now has a row of buttons for the volume and a row for the sound choice, rather than confusingly combining the two.
Verdict
The Lectrofan Micro 2 is a useful little sound machine that ticks the boxes in terms of practicality and sound quality. The only thing I'd like to have seen included is an auto-off timer.
Other than that, it does everything I'd like a travel sound machine to do – assuming you're not interested in having a wider variety of nature sounds. If you like rain, birds, crickets, etc, then you'll either need to look elsewhere or use the Bluetooth speaker and provide those sounds yourself.
For such a small device, the speaker quality is unbeatable, as is the internal rechargeable battery. So I think it will be a while before a comparable device comes along that does a similar job so well.
Price and where to buy
For a long time, it was unavailable to buy on Amazon, but then reappeared on Amazon in the US. You can usually find it for between $30 and $35, depending on the usual price fluctuations.
I've also seen it sold on the Walmart website at a higher price. Target sometimes has refurbished ones for sale too.
In the UK, only the original LectroFan Micro 1 seems to be available on Amazon, but I've seen the Micro 2 on eBay recently.