Disclosure: This website is supported by my readers. If you decide to purchase a product through one of the links provided, I may receive a commission, at no additional cost to you. Learn more.
At a glance
The Letsfit is a decent little white noise machine that will suit the parents of small children more than adults who want one for themselves.
With 3 lullabies, 11 white noise, and nature sounds, along with a soft night light, it's a useful sound machine for nightly use. For the very reasonable price, the speaker quality and recordings are better than most others I've tested in this price bracket.
Pros
Good range of sounds: 3 white noise, 3 fans, 5 nature, 3 lullabies.
Clear speaker quality.
Decent volume range, so it's good at masking external noise.
Auto-off timers from 15 to 120 minutes, or continuous play.
Has a gentle night light.
The compact size makes it convenient for travel.
Minimal and modern design.
Good price (I paid $20).
One year warranty.
Cons
The sound choice and volume control share the same two buttons. You have to keep it pressed to change the volume, which makes it harder to get the exact volume you want.
Unusual power button: press and hold the top for two seconds.
Needs to be plugged in to work.
Full Review and video transcript
This is a close transcript of my above video review. However, I've edited it in places to make it easier to read and scan for the information you're most interested in.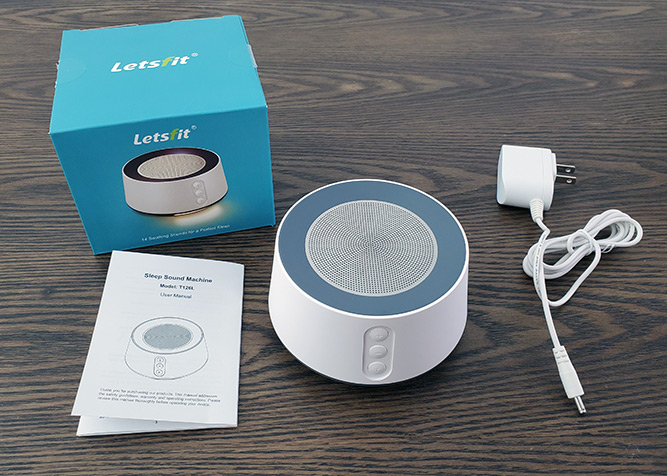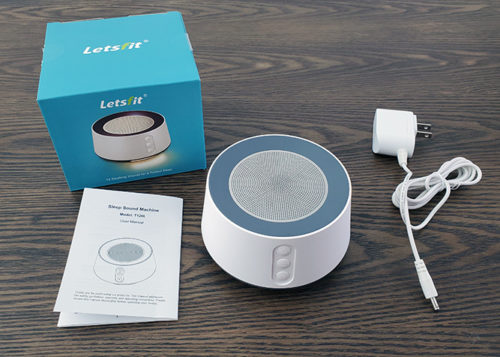 Introduction
Hi, this is Ethan from No Sleepless Nights, and in this review I'm going to be talking about the Letsfit white noise machine.
This is one which I think is really good for the parents of small children – mainly because it has three lullabies. There are actually only 14 sounds in total, so three out of 14 is very dedicated towards children I think.
It also has a night light, which is quite unusual for white noise machines. So again, it's a useful feature for adults who have children. Perhaps it's not one which is going to be so good if you're an adult looking to get a white noise machine for yourself though – unless you're a massive fan of twinkle twinkle little star!
So without further ado, let's take a closer look. I'll show you the buttons, show you how it works and play through all 14 sounds so you can decide in advance whether it's going to be the one for you or not.
Power and cable length
The Letsfit uses a standard power adapter. It doesn't have an internal rechargeable battery and you can't use batteries. So it does need to be plugged in at all times to work. The cable is 90 centimeters long, which is long enough to reach a nightstand.
An unusual way to turn it on
To turn on the Letsfit, there isn't a standard on or off button. You actually have to hold the grill for two seconds to turn it on. It also makes a beeping sound when turned on – something to be aware of.
The sound choice and volume buttons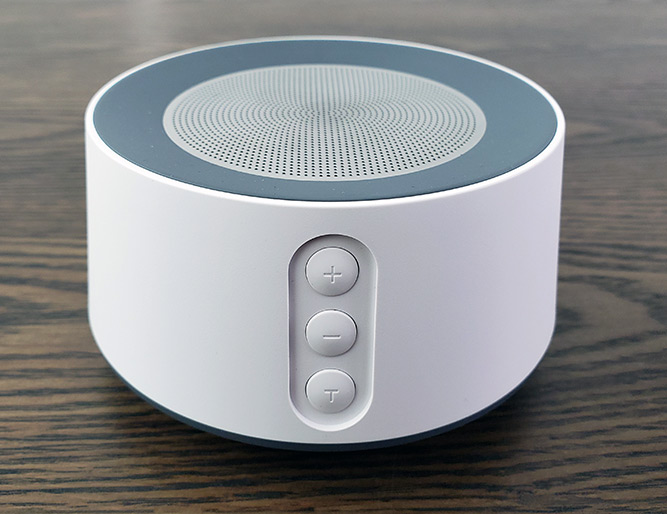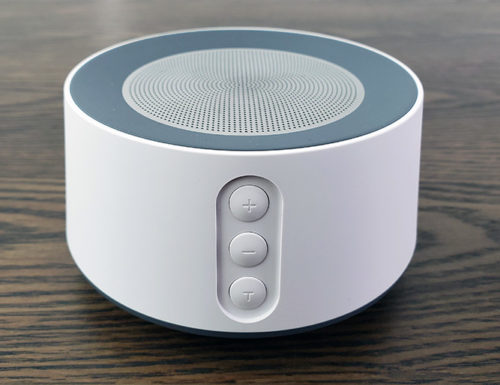 There are three main buttons on the device in addition to the top grill. First of all, there are the plus and minus buttons – and that's to do two things. You can use them to cycle through the sounds, of which there are 14.
But you can also use them to change the volume. And I have to say, I find that a little bit annoying personally. Pressing the buttons to change the sound is fine, but then to hold it down to change the volume means that it takes a longer time to change the volume than a normal button would do.
Auto-off timer
The final button is for the timer. Something that I like about the timer is that a voice (female) tells you how long the timer is when you press the button. You can have from 15 to 120 minutes timer. But if you don't select a timer it will play all night.
Now, let me demonstrate that volume thing that I was talking about. If I hold the button, It goes up to quite a loud maximum volume. And if I try to turn the volume down again, you'll see it actually takes quite a long time.
I have to hold the button for a fairly long time, which makes it difficult for me to change the volume easily. But if you know what volume one you can just leave it on that setting.
Night light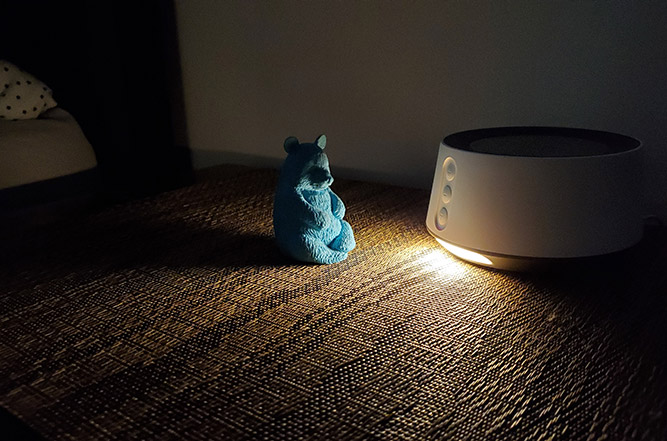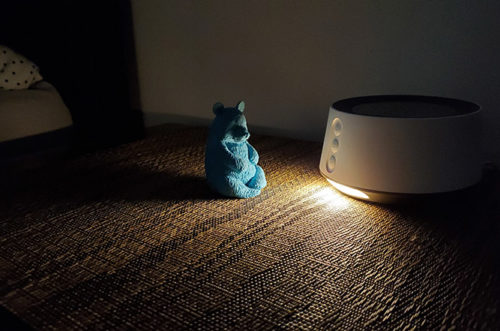 The final button worth talking about is the top grill, which is for the nightlight as well as the power. You hold it to turn the device on and off, or tap it to turn the night light on or off.
As I said in the introduction, this is a good feature for parents who want to walk into their child's bedroom at night without disturbing their sleep with a brighter light.
Now, you can actually see it on the desk there, but if I quickly cut to a video I took last night then you can see it in action in the bedroom.
Additional note: the night light is just one color – near white. It makes a soft glow on the table from the front, as the light itself is only a few centimeters wide. It doesn't illuminate the entire room, but is bright enough to make it easy to walk around in the dark.
Letsfit sound choices
White noise
Pink noise
Brown noise
Fan noise
Clothes dryer 1
Clothes dryer 2
Crickets
Singing birds
Ocean wave
Thunderstorm
Water stream
Twinkle twinkle little star
Hush little baby
Rock-a-bye baby
The loops on the lullabies
Note: I've edited this section heavily, as in the video I just list the sounds as I play through them, which isn't very interesting to read!
One point I make in the video that I do think is useful to read is the lengths of the loops of the lullabies. Twinkle twinkle little star is on a 40 second loop. Hush little baby is around a minute long. And rock-a-bye-baby is just over a minute long.
Speaker and sound quality
Personally, I think the sounds are very good quality on the whole. The speaker sounds good – even on maximum volume. The speakers around a maximum of three watts I believe, which means that it's not the loudest white noise machine, but it's definitely louder than some of them out there.
As for the nature sounds, they are on loops (this is normal for sound machines). But there's no break in the loop and you can't really tell which is a good thing – apart from the lullabies.
The ocean wave is one that I'm not a massive fan of because it sounds more like someone splashing around in a pool than an actual ocean. And as for the rain, the rain is accompanied by a thunderstorm. So if you'd like to listen just to rain then you're not going to have that – you also have the thunderstorm.
As for the white noise, I like the fact that there's pink and brown which is deeper than the standard white noise. And for the fan sounds and the clothes dryers, I'm not sure why they put two clothes dryers in, but they did. I guess that's something that they believe small children are going to potentially enjoy listening to.
Other than that, I think the sounds are good quality – especially for twenty dollars.
Conclusion
As I said in the beginning, I think the Letsfit is a white noise machine that's intended to be used by the parents of small children.
It's not going to be the best one for adults though, especially if you plan on taking it into the office; you'd get a few raised eyebrows as you blast out twinkle twinkle little star from your desk. But overall, I think for the low price of $20, The Letsfit is a good one for parents.