Disclosure: My website is reader supported. If you choose to buy a product after clicking a link, I may make a commission, at no extra cost to you. Learn more.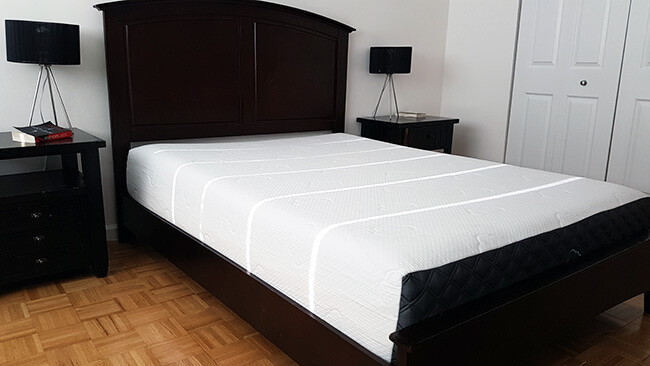 In the photo above, you can see the Puffy Lux mattress set up in my bedroom. It's noticeable how large the mattress is, with a height of 12 inches (30 cm).
Summary
The Puffy Lux is a hybrid memory foam and pocket springs mattress that strikes a good balance between comfort and body support in all sleeping positions.
My partner and I slept on it every night for six months. It was comfortable for me as a predominantly side and stomach sleeper, and she also liked it as a back sleeper mainly.
We found the temperature regulation was reasonably good considering memory foam's reputation for retaining body heat. The motion isolation is also good, reducing how much we disturb one another when we change position in the night.
Please note that this was just our experience though, and mattress choice is a very personal thing. You may have a different experience with the Puffy, so I recommend reading a range of reviews from different sources to get a balanced view of the mattress.
Pros
Four layers of foam provide good body support and pressure point relief.
Two of the foam layers are designed to help reduce heat build-up, and it does sleep fairly cool for memory foam.
Pocket springs base creates good motion isolation.
High-quality materials and robustly assembled.
101-night money back trial period.
Lifetime limited warranty.
Cons
Only one firmness option (medium).
Not ideal for heavier sleepers (perhaps 300 lb or more).
May still feel warmer than materials like latex or wool.
It's an expensive mattress compared to the wide range of budget ones available online.
Full Review
There are three different Puffy mattresses to choose from – the standard Puffy, the Puffy Lux, and the Puffy Royal. We opted for the Puffy Lux as it has an extra layer designed to reduce pressure points, something which interests me as a fairly heavy and very tall side sleeper.
Both versions have temperature-regulating layers, which was one of Puffy's most appealing features for me as I'm a hot sleeper.
Cooling is a major selling point for bedding companies nowadays, but the reality doesn't always reflect the marketing. So it was going to be interesting to see if they could make a foam mattress cooler than the competition.
To give you a clear idea so you can compare your size to my partner and me throughout this review, I'm 6 foot 3 and weigh 83 kg, which is 192 cm and 182 pounds. My partner is 5 foot 4, and weighs 60 kg, which is 163 cm and 132 pounds.
Delivery
Surprisingly, the Puffy Lux arrived in a relatively small box instead of a long roll, which is often the case with online mattress delivery. I thought they must have mistakenly sent me a single mattress!
It turns out they've managed to find a way to double and roll the queen size into a more convenient box to save on shipping fees (it has free delivery).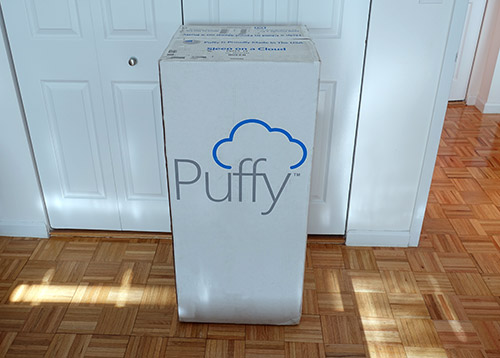 Setup
Out of the box, the mattress was tightly sealed in plastic, which is standard procedure for online mattress companies.
Once I'd cut it open, the mattress sprung into place in no time at all. That shows how responsive the foam is, as it changed from a tight double roll into a flat mattress in under a minute. Having said that, it did take around an hour in total to visibly appear to be fully expanded.
It obviously weighed a bit, being a queen-size mattress in this case, but it wasn't outrageously heavy and was easy enough for me to position on the bed on my own.
I was also pleased to discover that there was no noticeable off-gassing smell. This is sometimes an issue with memory foam, so as far as I could tell, the mattress was ready to sleep on within minutes of arriving.
Comfortable and supportive in any sleeping position
My partner and I agreed that the Puffy Lux is a medium density mattress that you can comfortably sink into whilst still feeling supported. On a scale of 1 to 10 for firmness, with 10 being very firm, I'd probably give it a 6.
It's not an easy balance to get right, but the multiple layers of pocket springs and foam seem to combine well to create a sleep surface that molds well to your body when lying on your back, side, or stomach.
I sleep mainly on my front or side, while my partner is predominantly a back sleeper, but we both found we could lie in any position and feel comfortable.
The key seems to be how well it conforms to your body as you sink into it, whilst responding to weight appropriately to keep any pressure point pain at bay, particularly in the areas around the hips and shoulders.
The Puffy Lux has a special layer that the standard doesn't – the 'plush dual cloud'. It adds even more pressure relief, so it helps reduce pain in the hips, back, and shoulders when you lie in bed.
I often suffer from back and shoulder pain, and it was noticeable to me that the Puffy Lux did a good job of keeping my body evenly and comfortably supported from head to toe.
Good motion isolation
Regular readers of this website will know that my partner and I sometimes sleep in separate beds. Different temperature needs is one reason, but disturbing one another through movement is also an issue.
For us, a mattress that reduces motion transfer is always preferable, and the Puffy Lux ticks this box. The motion isolation is excellent, allowing one of us to get in and out of bed in the night without the other one waking up usually. One of us can have a restless night with lots of tossing and turning without resulting in the other complaining that their sleep is being disturbed too.
The 7-inch pocket springs layer helps with the motion isolation, especially compared to the old-school single coil design mattresses used to have. With a single coil system, motion transfers throughout the mattress.
With pocket springs, however, the motion is kept more to one side when you move about. On top of that, memory foam is also known to be good for motion isolation, helping absorb vibrations and movement.
It's also worth noting that the foam feels a little lighter and fluffier than some of the older Tempurpedic styles that you can feel stuck in. So although you do sink in, and the motion transfer is minimal, it's still easy to roll over and change your sleeping position.
Cooler than other memory foam mattresses
The mattress has two layers of foam specifically dedicated to climate regulation: a cooling cloud layer, and a climate comfort layer, which you can see in the image below (from the Puffy website).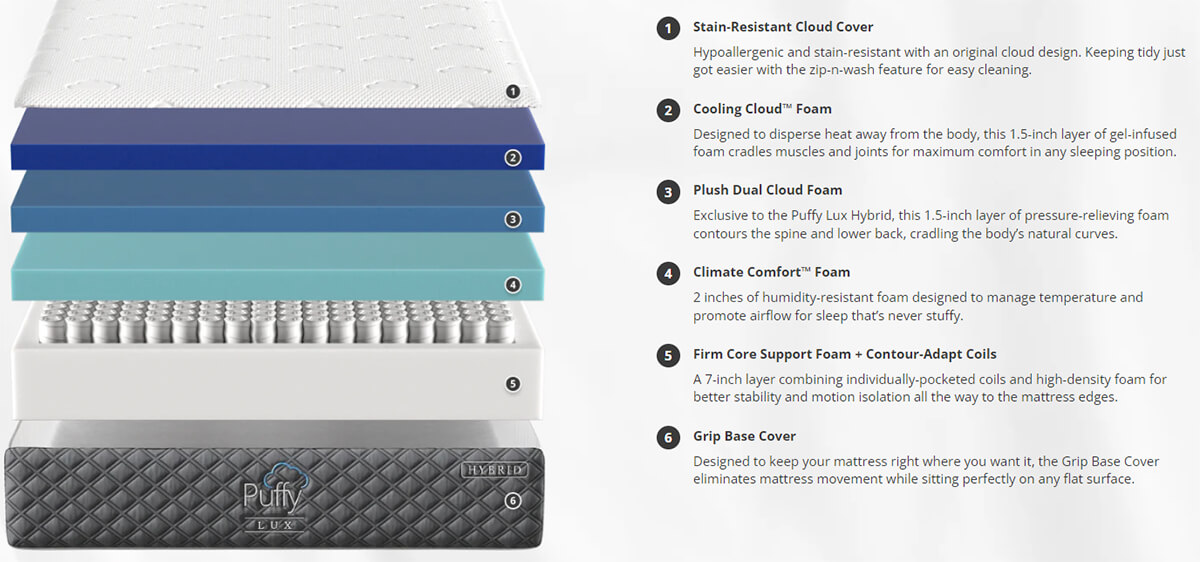 Puffy says that their cooling cloud foam layer is made of gel-infused foam that disperses heat through convection and conduction. They also claim it has considerably better airflow than other memory foam mattresses.
The climate comfort layer is designed to provide consistency of form in any weather. It's apparently temperature and humidity resistant, so it doesn't contract in cold weather or expand in warm weather. And that means it provides the same pressure relief all year round.
But does it actually work, especially as there are other layers that don't have these cooling properties?
We got our mattress in the cold New York winter, so the cooling layer wasn't important. The cushioning seemed great though, so if there was a worry about it contracting and becoming harder, it wasn't apparent.
As spring rolled in, we also cranked up the heating to test the cooling. And we came to the same conclusion: it does feel subjectively cooler under the body than previous memory foam mattresses we've slept on.
Logically, a mattress with an innerspring and lots of space for air to flow will always sleep a bit cooler, but you won't get the same level of pressure relief and support either.
So I think the Puffy Lux has a good balance between the body support provided by memory foam and the desire many people have to avoid excessive heat under their body.
Stain-resistant cover that's machine washable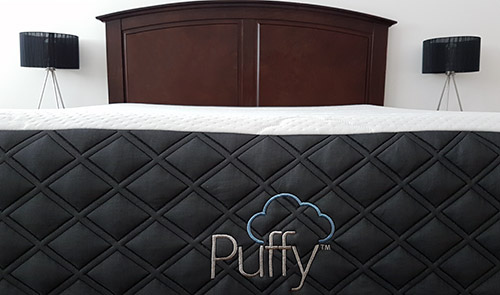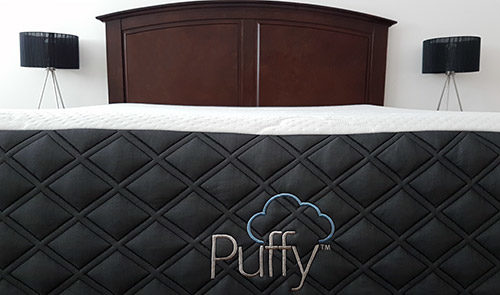 Unusually for a mattress, the cover can be removed and cleaned in a standard washing machine. It's also stain resistant, made from a material that gives you enough time to mop up any spills before they sink in.
We tested this, and although I think a heavy stain might still leave some marking, it does wash well and goes back over the mattress easily enough.
Price and sizes
At the time of writing, the Puffy Lux is available in seven mattress sizes. In the table below, you can see the sizes, dimensions and prices on April 12, 2023:
Size
Dimensions
(Inches)
W x L x H
Price
Twin
38 x 75 x 12
$1749
Twin XL
38 x 80 x 12
$1799
Full
54 x 75 x 12
$2049
Queen
60 x 80 x 12
$2249
King
76 x 80 x 12
$2449
Cal King
72 x 84 x 12
$2449
Split King
2 – 38 x 80 x 12
$3598
These prices mean the Puffy isn't a budget-friendly mattress. Considering you can get reasonably good low-cost mattresses for under $500, all sizes of the Puffy Lux are at the more expensive end of the price spectrum for mattresses.
Warranty and 101 night trial
Puffy offers a 101 no-questions-asked trial period, with a full refund if you're not satisfied rather than locking you into an exchange-only policy. It's not a cheap mattress, so it's great that they give you the chance to be absolutely certain it's the one for you.
They also provide a lifetime warranty, so if any manufacturing defects become apparent in the coming years, the company should address them.
How does it compare to other mattresses?
I haven't tried every mattress in existence, but I can compare it to a couple I've used in the last couple of years.
The Inofia hybrid mattress, for example, has pocket springs too, but much less foam padding. The Puffy is softer and has better overall support for the body with the thicker layers of foam. The Inofia is much cheaper though so you could save a lot of money with that one if the Puffy seems too much of a stretch.
The Emma Original is all foam, without the pocket springs layer. It's firmer than the Puffy, so might be a good option if you like memory foam and think the Puffy might be too soft for you.
Verdict
Choosing a mattress is a subjective matter. One person's 'like sleeping on a cloud' mattress means an out-of-alignment body and back pain to another. Conversely, one person's perfectly firm mattress might feel like a slab of rock to another!
After sleeping on the Puffy Lux for half a year, my feeling is that it will be best suited to those who like a medium firmness mattress, and perhaps even just to the softer side of medium as it has quite a lot of give and contours well to your body. If you prefer a firm mattress usually, I don't think this will be the best choice for you though.
My other caveat is that if you're very heavy, you might find you sink too deeply into the mattress. It's hard to say exactly what that weight limit would be, but my feeling is that around the 300 lb point is where it might not be right.
Considering the high price tag of the Puffy Lux mattress, it's also good that there's a 101 nights money back trial period. It means you have time to find out if it will suit your sleep style and preferences before making the final commitment to keep it for the long run.
I personally wouldn't recommend buying a mattress of this price without a trial period, so I suggest checking the small print on their website if you decide to buy it just to check you can get a full refund wherever you live.