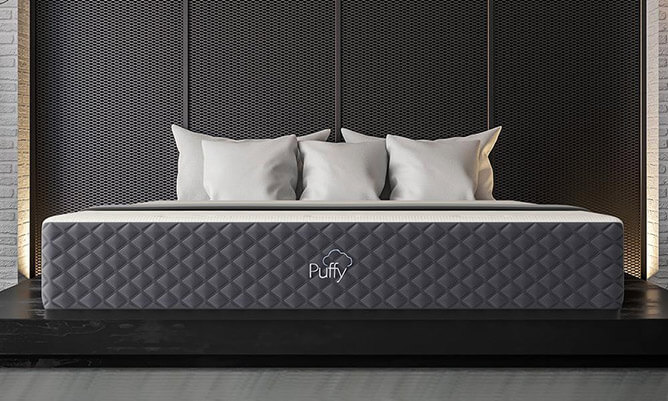 Summary
The Puffy Lux is a high-quality medium firmness mattress that gets the balance right between comfort, body support in any sleeping position, and motion isolation when sharing your bed.
My partner and I slept on it for six months to give it a good test. Importantly, I could use it as a side and front sleeper, and she was happy as a back sleeper. We also found it didn't build up heat as much as other memory foam mattresses we've used.
Pros
4 layers of foam provide excellent body support and pressure point relief.
Conforms well to your body, with a responsive springiness when changing position.
Breathable foam layer helps reduce heat build-up.
Superb motion isolation.
High-quality materials, all made in the USA.
101 night trial with a full refund.
Lifetime warranty.
Cons
Only one firmness option (medium).
Not ideal for heavier sleepers (perhaps 300 lb or more).
---
Full Review
---
There are three different Puffy mattresses to choose from – the standard Puffy, the Puffy Lux, and the Puffy royal. We opted for the Lux as it has an extra layer designed to reduce pressure points, something which interests me as a tall side sleeper.
Both versions have temperature regulating layers, which is one of Puffy's most appealing features. Cooling is a major selling point for bedding companies nowadays, but the reality doesn't always reflect the marketing.
So it was going to be interesting seeing if they could make a foam mattress cooler than the competition.
Delivery
Surprisingly, the Puffy Lux arrived in a relatively small box instead of a long roll, which is usually the case with online mattress delivery. I thought they must have mistakenly sent me a single mattress!
It turns out they've managed to find a way to double and roll the queen size into a more convenient box to save on shipping fees (it has free delivery).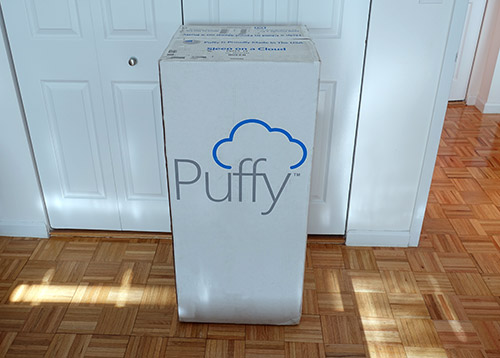 Setup
Out of the box, the mattress was very tightly sealed in plastic – standard procedure for online mattress companies.
Once I'd cut it open, the mattress sprung into place in no time at all. That shows just how responsive the foam is, as it literally changed from a tight double roll into a perfect looking mattress in under a minute.
It obviously weighs a bit, being a queen size memory foam mattress. But it wasn't outrageously heavy (like the Dreamcloud, our last mattress). And it was easy enough for me to position onto the bed on my own.
I was also pleased to discover that there was no noticeable smell. This is sometimes an issue with memory foam, so as far as I could tell, the mattress was ready to sleep on within minutes of arriving.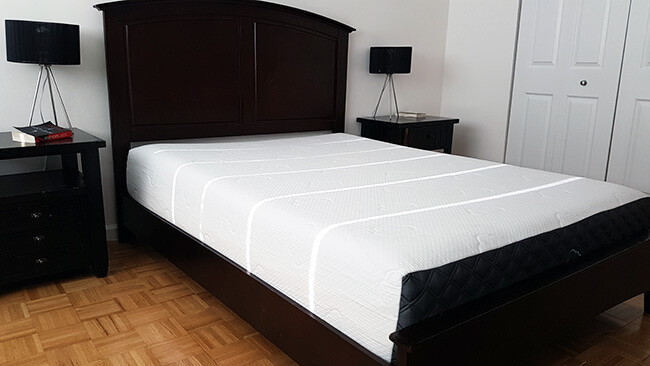 Excellent combination of comfort and support in any sleeping position
My partner and I both found the Puffy Lux to be a medium density mattress that you can comfortably sink into whilst still feeling supported.
It's not an easy balance to get right, but the manufacturer has done a very good job of combining different types of foam to create a mattress that feels right in any sleeping position.
I sleep mainly on my front or side, while my partner is predominantly a back sleeper, but we both found we could lie in any position and feel comfortable.
The key seems to be how well it conforms to your body as you sink into it, whilst responding to weight appropriately to keep any pressure point pain at bay.
The Puffy Lux has a special layer that the standard doesn't – the 'plush dual cloud'. It adds even more pressure relief, so it helps reduce pain in the hips, back, and shoulders when you lie in bed.
I often suffer from back and shoulder pain, and I'm happy to be able to say that the Lux did a great job of keeping my body evenly and comfortably supported from head to toe.
Very little motion transfer
Regular readers of this website will know that my partner and I sometimes sleep in separate beds. Different temperature needs is one reason, but disturbing one another through movement is also an issue.
So for us, a bed that reduces motion transfer is a huge bonus. The Puffy Lux is possibly the best mattress we've found for this issue so far. Perhaps because there are no springs or coils at all, with a firmer bottom foam layer for support instead.
Whatever the case, the motion transfer is negligible. One of us can have a restless night, but the other will hardly feel a thing through the mattress.
It's also worth noting that the foam feels a little lighter and fluffier than some of the older Tempurpedic styles that you can feel stuck in. So although you do sink in, and the motion transfer is minimal, it's still easy to roll over and change your sleeping position.
Cooler than other memory foam mattresses
Both the standard and the Lux mattress have two layers of foam dedicated to climate regulation. In the image below, you can see there's a 'cooling cloud' layer on top and a new 'climate-adaptive regulation' layer in the middle.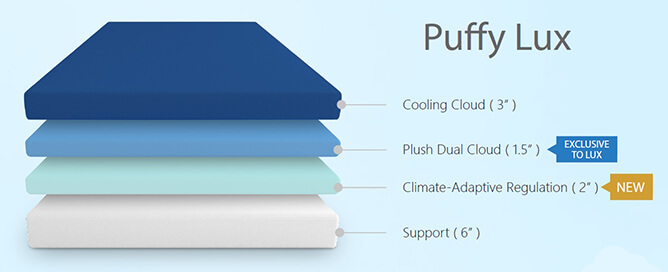 Puffy says that their patent-pending cooling cloud layer is made of gel-infused foam that disperses heat through convection and conduction. They also claim it has considerably better airflow than other memory foam mattresses.
The climate-adaptive regulation layer is designed to provide consistency of form in any weather. It's apparently temperature and humidity resistant, so it doesn't contract in cold weather or expand in warm weather. And that means it provides the same pressure-relief all year round.
But does it actually work, especially as there are other layers that don't have these seemingly magical properties?
We got our mattress in the cold New York winter, so the cooling layer wasn't important. The cushioning seemed great though, so if there was a worry about it contracting and becoming harder, it wasn't apparent.
As spring rolled in, we also cranked up the heating to test the cooling. And we came to the same conclusion: it does feel subjectively cooler under the body than previous memory foam mattresses we've slept on.
Logically, a mattress with an innerspring and lots of space for air to flow will always sleep a bit cooler, but you won't get the same level of pressure relief and support either.
So I think the Puffy Lux strikes the right balance between the excellent support provided by memory foam and the desire most people have to avoid excessive heat under their body.
Stain-resistant cover that's machine washable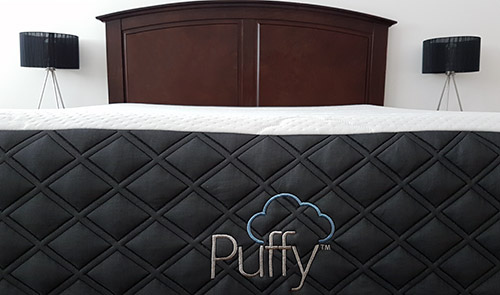 Unusually for a mattress, the cover can be removed and cleaned in a standard washing machine.
It's also stain resistant, made from a material that gives you enough time to mop up any spills before they sink in.
We tested this, and although I think a heavy stain might still leave some marking, it does wash well and goes back over the mattress easily enough.
Warranty and 101 night trial
I think you can tell a lot about a mattress company's confidence in the quality of the product by the trial period they offer and the type of warranty.
Puffy offers a 101 no-questions-asked trial period, with a full refund if you're not satisfied rather than locking you into an exchange only policy. It's not a cheap mattress, so it's great that they give you the chance to be absolutely certain it's the one for you.
They also provide a lifetime warranty. So if you have any problems over the coming years, the company will help you out.
Verdict
Choosing a mattress is a subjective matter – one person's unusually firm mattress is another's sweet relief from back pain.
That said, once you start looking at more high-end mattresses, it quickly becomes apparent what makes them special.
In the case of the Puffy Lux, it's the way the company has somehow created a wonderful sleeping experience for those who like medium firmness using nothing but memory foam and other foam layers.
My feeling then is that this mattress will be best suited to those who like medium firmness, and even softer mattresses as it does have some give. If you prefer a firm mattress usually, I don't think this will be the best choice for you though.
My other caveat is that if you're very heavy, you might find you sink too deeply into the mattress. It's impossible to say exactly what that weight limit would be, but my feeling is that around the 300 lb point is where it might not be right.
With the 101 money back trial period though, it's a good opportunity to find out if it will do for you what it did for us: allow both of us, with very different weights, to sleep on our side, back or front comfortably.