Disclosure: This review contains affiliate links. If you choose to buy a product after clicking a link, I may make a small commission, at no extra cost to you (learn more).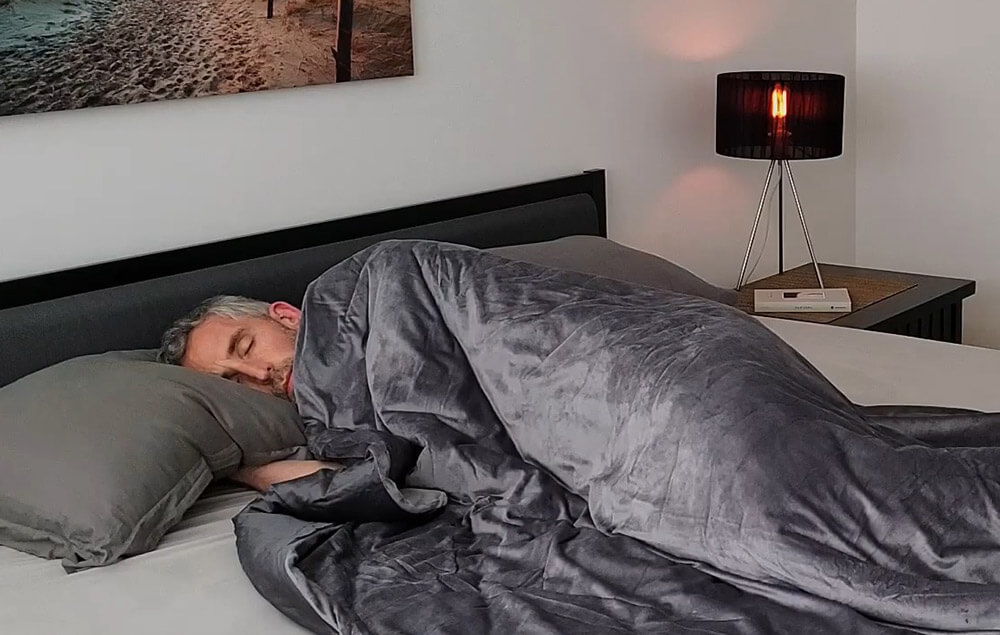 I'm using the 18 pounds Luxome weighted blanket in the photo. Yes, that's really me. If only I were as good at photography as I seem to be at pretending to be asleep.
Summary
The Luxome weighted blanket is robustly designed with high-quality materials and has excellent weight distribution. The double-sided minky and bamboo cover I chose feels soft on the skin and looks elegant.
Conveniently, you can machine wash and dry it. It's available in multiple sizes, with a range of covers. So it's one that will suit anyone who wants a classic weighted blanket to use either on the sofa or in bed. Just don't expect the blanket to be as cooling as their website claims.
Good points
Internal blanket is robustly stitched.
Glass microbeads held securely in place in 6 inch square pockets.
Can machine wash and dry.
Multiple removable covers, as well as integrated cover options.
Strong loops and ties holds the cover tightly in place.
Looks elegant and stylish.
Even weight distribution.
Criticisms
30 day returns period, but no extended warranty.
Fiddly to reattach the cover after washing.

Not really as cooling as they claim.
---
Full review
---
This review of the Luxome weighted blanket is part of a series I've been working on for the last few months; I've been busy testing lots of different weighted blankets at home.
If you haven't already, you might find it interesting to read my weighted blankets comparison, in which the Luxome did pretty well. You can also see the video version on my YouTube channel.
This review is all about the Luxome though. So let's take a deeper dive to find out how well they managed to put the 'luxury' into the 'home' when creating the Luxome.
Who makes the Luxome?
Luxome have their own website, which is always a good start. However, I couldn't find much information about the specific people behind Luxome.
They describe themselves as a family, saying they test their products at home and only sell what they would use themselves, which is an ethos I respect. Perhaps someone's name would help build more confidence in the brand though.
I'll give them the benefit of the doubt though, and assume it's a small family business trying their best to create a decent line of weighted blankets, which is no bad thing.
They say on their website and advertising online that their weighted blanket is the best compared to all the others.
Bold claims like that naturally attract my critical eye even more than usual. And as it happens, I have many weighted blankets to compare it to, so I'd be able to tell for myself whether it really is the best!
Design
There are two main styles of Luxome weighted blankets to choose from: a removable cover version and an integrated cover version. Both of those options then have multiple sizes and styles of cover to choose from.
I decided to get one with a removable cover. So my experience for this review is based on the large 18 pounds blanket with a grey bamboo and minky cover.
I think it's good to be able to remove a cover in warmer weather, stripping away some of the warmer fabric. It also means you can potentially change the cover in the future if you damage it or just fancy a different texture, look, feel, or color.
Interestingly, Luxome chose not to offer each size in multiple weights, as some companies do. They say that the standard advice to choose a weighted blanket that's close to 10% of your body size isn't based on science.
Instead, they tested different weights with people of different ages and body sizes to discover an average weight per square foot that most people find comfortable. I'll talk more about that in the weight options section below.
The internal weighted blanket and fill
In the photo below, you can see that the square pockets that contain the microbeads measure roughly 6 x 6 inches: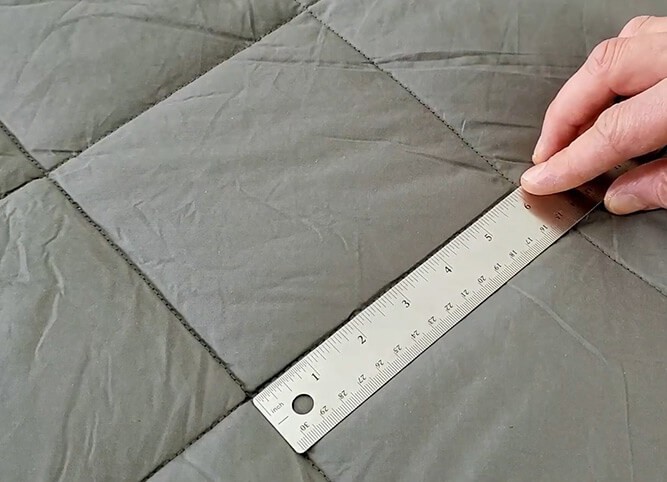 Most weighted blankets look great in photos when they have a fluffy minky cover on. But what really matters is that the inner blanket is well designed and robustly constructed. For me, that means quality materials, strong and consistent stitching, and small pockets to stop the beads from bunching up unevenly.
The Luxome weighted blanket certainly feels solidly constructed. The 233 thread count cotton cover that holds the glass microbeads in place isn't the softest cotton, but it definitely feels robust. And since I'll be using a soft cover anyway, I'd rather have thick cotton that will last the test of time.
The pocket size isn't the tightest I've seen, each roughly six by six inches. The Baloo and the Weighted Evolution, for example, have smaller pockets and are double stitched to add extra resilience.
The Luxome's six inch square pockets are good enough to create relatively even weight distribution, but I would have liked to see double-stitched sections around each pocket. However, the stitching appears to be very strong, which is a key to the longevity of the blanket.
They add quite a bit of polyester fiberfill to each pocket. The result is that the thousands of glass microbeads are well spread, which I really liked when using the Luxome. But it also means it's thicker than most others I've tried.
So even though they advertise this one as 'cooling' because of the bamboo cover, there's no way it's cooling because the actual blanket itself is comparatively dense. More on the cooling point below.
Overall, I felt that the main part of the weighted blanket didn't look or feel particularly special, so I probably wouldn't use it without the cover in my home. But it's robustly designed and has good weight distribution throughout the pockets.
Cover
In the photo below, you can see the minky side of the cover I chose. It's common for weighted blankets to have double-sided covers, sometimes with a warmer or cooler feel on the skin depending on which way around you have it.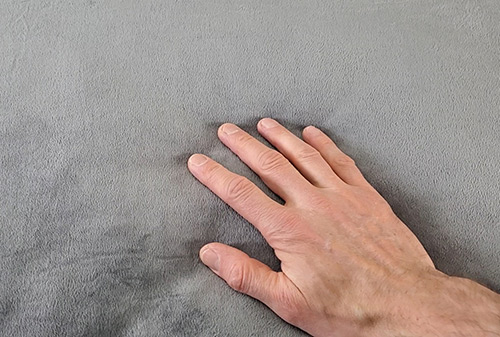 My slight disappointment with the way the internal blanket looks and feels was compensated for with the high-quality cover. This is an experience I've had with many other weighted blankets, like the YnM and Quility too.
To start with, I really liked that for this size there were 12 loops and ties to attach the cover to the blanket. And it came pre-attached which saves time putting the cover on. Some brands only use eight ties even for large sizes, and you really notice the difference in how it holds the shape.
One small issue I found is that the loops are quite tight, so it was a bit fiddly to reattach the cover after I'd removed it for washing.
I'm not sure why, but the Luxome sat really nice and tight inside the cover. And it was probably the most neatly presented of all the weighted blankets I've tried with the cover on. It just has a uniform look and feel that I really liked.
You could move it around the house, and it would always stay neatly in place inside the cover. It might sound like a minor point, but it's actually kind of annoying when they shift around inside the cover. So this is a big plus for the Luxome's design.
The zip is very small and nicely hidden inside the cover. So much so, that I couldn't find it at first. Another plus point for the cover.
In the photo below you can see the subtle zip. So subtle that I felt the need to add an arrow…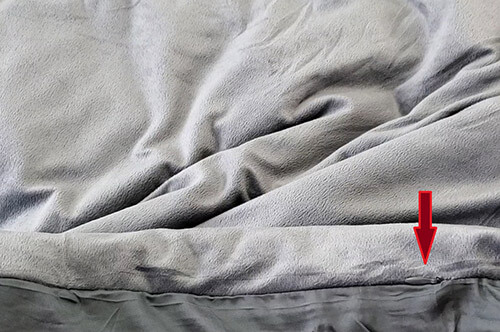 In terms of the material of the cover, I really liked how smooth and soft both sides were on mine. The minky looks velvety and feels really soft and smooth on the skin. Minky can sometimes look a bit too fluffy, but the Luxome have nailed it in terms of the aesthetic appeal.
The 300 thread count organic lyocell bamboo side feels silky and soft to touch. They say it's cooler than the minky, and perhaps it does feel a little cooler on the skin. But it's still a big heavy blanket on your body at the end of the day.
Overall, I loved the Luxome cover. It more than makes up for the fact that the internal blanket isn't the prettiest. With the cover on, it looks stylish and elegant, and it feels fantastic. And that's why I think this is a good choice of weighted blanket for people who prefer their bedding to look elegant rather than brightly colored and fluffy.
Weight and size options
The Luxome weighted blanket is available in four set sizes, from small to extra large, which you can see in the table below. As I mentioned before, they don't offer each size in different weights, as some companies do.
Weight
Size
Best for
Small
8 lbs
42″ x 56″
(lap)
Kids
Medium
15 lbs
54″ x 72″
(full)
Smaller adults
Large
18 lbs
60″ x 80″
(queen)
Most adults
X Large
30 lbs
100″ x 85″
(queen/king)
Sharing
With the Luxome, you simply decide which size blanket you'd like in terms of length and width. Then cross your fingers that the average weight per square foot that Luxome decided upon will suit you well. Whether this is the 'right way' to sell or buy weighted blankets is still up for debate.
I have the 18 lbs queen size, which both my wife and I find comfortable despite the fact that there is over 20 lbs difference in our own weights. And in my experience of trying multiple styles and weights, I usually find any blanket between 15 lbs and 25 lbs works fine for me.
Maybe some people will be more sensitive to the exact weight, but I seem to be able to enjoy a range of weights without getting caught up on the 10% concept. So for us, their theory about the average weight works just fine.
How breathable is the Luxome weighted blanket?
How hot weighted blankets feel is a major issue I think. I know from personal experience that bedding that's too hot isn't nice in the summer.
Weighted blanket manufacturers know this is an important point for many people, and often say they have 'breathable' or even 'cooling' weighted blankets.
Personally, I don't believe an active cooling weighted blanket exists. So it's all about cutting through the marketing hype and analyzing how breathable the materials and design are.
I feel Luxome are slightly naughty here and even have a section on their site for 'cooling weighted blankets' that just includes a mix of their two main categories. I personally couldn't identify anything in the design that warrants the use of the word cooling.
Perhaps the use of bamboo lyocell on one side of the cover might feel superficially cool initially. But after several hours of trying to sleep under an 18 lbs blanket in the summer with no air conditioning, it's likely you'll kick it off in the night.
For me then, the Luxome weighted blanket I have isn't cooling. To be fair, there are other brands that sleep even warmer and are less breathable. But this is ultimately a thick weighted blanket and you will feel some heat build up over the night. That's fantastic in the winter. But here in New York in August, mine is temporarily back in the cupboard.
How good is it for relaxing on the sofa?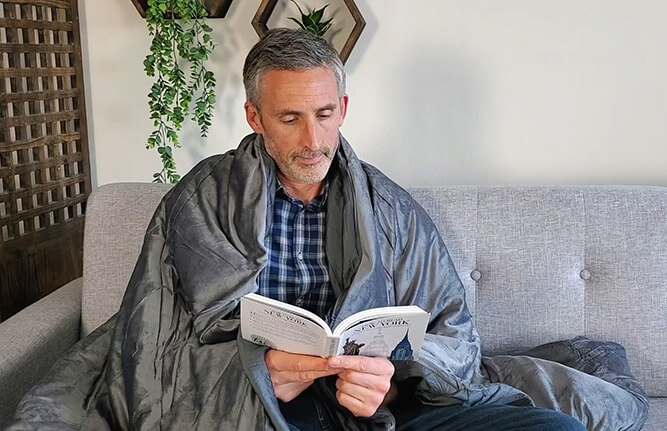 All the weighted blankets I've tried are fine to use on the sofa while relaxing, reading, watching television, or whatever. The difference only really lies in whether it's an item you'd want to have on the sofa.
For us, the Luxome looks great with the cover on, so we're happy to have it out on the sofa when we're using it. It's quite large because of all the padding though. So if you have a large or extra large size, you might find it's a little big for the sofa and perhaps better for the bedroom.
The cover I have feels good against the skin, which is also a point to keep in mind if you're actually awake and noticing the texture. So again, it's a nice blanket to use while you're chilling on the sofa.
How good is the Luxome weighted blanket for sleep?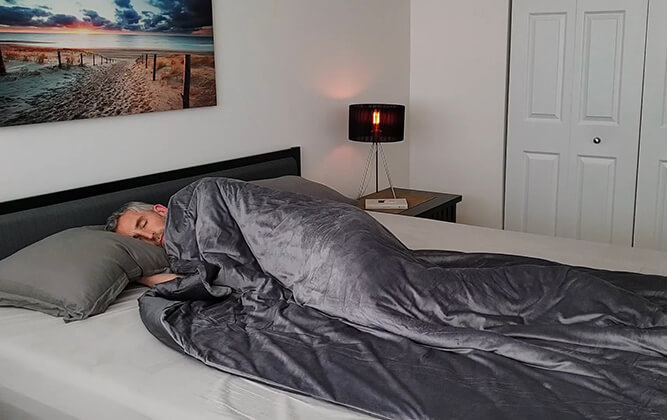 Whether the Luxome is right for you at nighttime is going to be very much a personal matter. So please bear in mind that even though I can tell you my view, you might have a different experience with the blanket.
First of all, the basic concept of a weighted blanket needs to work for you. After that, it's down to how much you like the look and feel of the Luxome, and how much you mind the extra warmth it will bring.
For us, it looks stylish in the bedroom (with the cover on), so that's a good start. I think it's a good choice for cooler months of the year, but only in the summer if you're a cool sleeper naturally or if you sleep with air conditioning. Otherwise, I suspect that like us, you'll just find it too warm.
Personally, I find the weight does help me relax at night and I like weighted blankets in general. So I think it has as good a chance as any weighted blanket when it comes to helping with anxiety, stress, and sleep.
Cleaning
The Luxome is one of the more convenient weighted blankets since both the cover and internal blanket can be machine washed.
You do need to be careful to only use a cold wash cycle though, without a softener. And make sure you tumble dry on a low setting.
I've washed mine twice already and it came out in perfectly good condition – unnoticeable from how it went in (apart from smelling a little sweeter maybe!).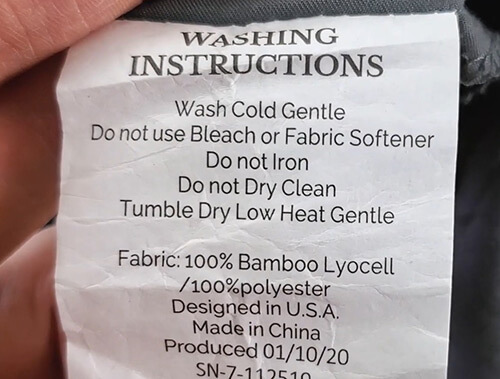 Warranty
Like many weighted blankets, Luxome isn't particularly generous when it comes to the returns window and warranty. I'm still not sure why weighted blankets are often a bit tight on this front, but I imagine they have their reasons.
The exchange and returns window is for 30 days. That should give you ample time to decide if you like it at all, or if you think a different size or cover style would be better.
There is no extended warranty though. So once your 30 days are up, try to remember to check the settings when you wash it, and don't let pets with sharp claws anywhere near it!
I've had mine for six months, and it's still in great shape, so I know it should last at least that long!
Price
The price of the Luxome weighted blankets varies according to the style, cover and size you choose.
Rather than me listing every variation, let's take a look at a couple of examples. These prices are accurate on March 1, 2022.
Removable cover
Starting with the one I have personally, which is the grey removable cover, with bamboo on one side and minky on the other.
Current prices for the minky / bamboo are:
15 lbs – $160
20 lbs – $190
30 lbs – $270
Of the removable cover options, the cheapest I could find is the 8 lbs minky on one side and minky dot on the other, which is $100. The most expensive is the 30 lbs bamboo on both sides, for $290.
Integrated cover
The integrated cover looks to be less expensive comparatively. Here are the current prices for the bamboo on one side and minky on the other:
8 lbs – $100
15 lbs – $160
18 lbs – $190
Note that there isn't a 30 lbs option for the integrated cover.
Cooling cover
One their website, they appear to have three categories of weighted blankets, with cooling being one of them. However, this section just combines the ones from the previous two sections that they think are most cooling. So there's no point listing the prices, as it's just the same as the removable or integrated cover prices.
I'm not a fan of the way they've done that on their website, but I imagine they did it to guide people who are looking for materials that don't overheat so much (ideally).
---
Verdict
Luxome boldly claims that their weighted blanket is the best. And while I do think it's very good, I didn't find it's the best in every situation when I compared it to the many others I have at home.
For example, in terms of breathability I found the Bearaby Napper and Baloo much more breathable. I think Luxome emphasizes the cooling point more because they know people want cooling rather than the blanket realistically being cooling.
Having said that, I think the Luxome is a really good option if you want one that looks elegant with the cover on and feels soft without being overly fluffy. I also think it's very robustly made, and the fact that it's machine washable makes it more convenient to use than those that have to be dry or spot cleaned.
It's in the higher end of the price range for weighted blankets, but still not as expensive as the Bearaby or Baloo, which are the most expensive I've seen.
I like the way they avoid the confusing 10% of your body weight rule and just have an average per square foot that they tested on different people. It makes it easier to choose based on the cover size rather than your own body size.
Overall then, I wouldn't recommend it for hot summers without air con. But for the rest of the year, the Luxome is a well-designed weighted blanket that looks good and will hopefully help you relax a little better.
---
You might also like
If you'd like to see more options, take a look at my top 8 weighted blankets in which I discuss my current recommendations.
And if you're a hot sleeper, have a look at the video and article in which I test and compare the breathability of weighted blankets.