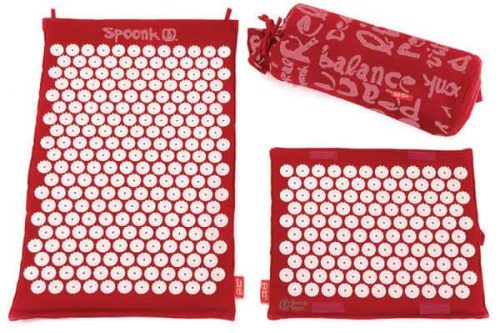 The Spoonk acupressure mat is one of the most unusual ways to deal with muscle tension and improve your sleep that I've tried.
When I first heard they were receiving praise throughout the health world, I have to admit I was a little skeptical.
But since I often have back problems, and am always interested in ways to sleep better, I bought one to see what all the fuss was about.
What is an acupressure mat?
The modern acupressure mat was invented in Sweden. It's based on the art of acupressure, which originates in India, and later developed in Japan as Shiatsu massage.
The Spoonk mat is made up of small plastic nodes, containing a total of 6210 stimulation points. That's supposed to be more than enough to distribute your weight across them safely when you lie on it.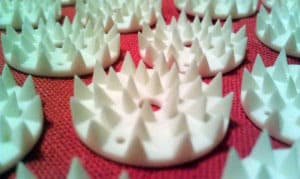 I have to admit that the mat doesn't look particularly inviting when you first see it. All those pointy bits don't exactly conjure up images of bliss and relaxation. Bear with me though, as first impressions don't always tell the full story.
The instructions tell you to lie still on the mat for just a few minutes the first time, slowly increasing the time with each session. Eventually, you'll be able to stay on it for 20 to 40 minutes.
My experience
My first impression was that the mat is well designed, with the fabric and plastic parts solidly connected.
The nodes are smooth and firmly attached to the base of the mat, itself made from quality fabric. It rolls up nicely inside the carry case, and so altogether is a neat piece of kit.
I inspected the pressure points to see how sharp they are exactly. And although they aren't as sharp as nails, thankfully, you need to be a little careful when using it.
I'm very tall, and even though the mat looks quite large in photos, it only fit my middle and upper back at the same time. If you're not a giant like me, you'll probably be able to cover your entire back at once.
I first tried it without a top on, just out of curiosity. It felt quite uncomfortable like that though, so I put my t-shirt back on and eased myself onto it again, which felt much better.
The instructions tell you that for a few minutes it's normal to feel uncomfortable. But after a short while, the increase in blood flow will give you a warm feeling and you'll relax more.
And that seemed to be true when I used it, as the initial discomfort did give way to a warmer and more pleasant sensation.
Buy from Amazon
A week of testing it
Over the period of a week, I used the mat every day. After 3 days I was up to 15 minutes, and by the end of the week, I could comfortably lie on it for 20 minutes without a top on.
I also discovered that I can stand on the spikes, which shows that they aren't going to go straight through your skin. It also made for quite a pleasant foot massage, which is one of the uses the manufacturer recommends.
The question is though, does it actually do what it's supposed to do?
I'm fairly certain it helped release some tension in my back. I use a computer for many hours most days, which often results in a very stiff back and shoulders.
Using the mat did seem to help reduce some stiffness and knots in my back and shoulders.
I also think it helped me relax mentally as well as physically. And since stress is one of the biggest factors that contribute to my sleep problems, anything that helps me relax can only be a good thing.
Acupressure mat benefits
Using an acupressure mat regularly is reported to have a wide range of health benefits:
Relieves back and neck pain, muscular tension, aches, and pains.
Promotes relaxation and reduces stress.
Improves sleep.
Increases blood circulation.
Increases energy levels and helps with fatigue.
Improves digestion.
Some of these effects arise because your body responds to the acupressure by releasing more of the endorphin and oxytocin hormones.
Sometimes called the happy hormones, these are also released when you engage in pleasurable activities. They then promote relaxation and form a part of your body's natural pain relief mechanism.
Who shouldn't use it
The following groups of people should avoid or be careful when using the Spoonk mat:
Children under 7
Children over 7 unless supervised by an adult
Pregnant women
People with high or low blood pressure should first consult their doctor
Specifications
It's made in the United States, from 100% cotton and CertiPur-US ECO-foam.
The plastic nodes are made from recyclable, non-toxic ABS plastic.
The dimensions are 20 x 16 x 5 inches.
It weighs 3 pounds, so is easy to roll up and transport.
There's also a more Eco version, made from a blend of organic hemp and cotton.
There's a 30-day money back guarantee.
Verdict
In my experience, the Spoonk mat did help alleviate muscle tension and back pain. And with that, it seemed to help me sleep better too.
I don't think it's a product that people with sensitive skin will tolerate so well. But if you're willing to try it out and push past the initial discomfort, it just might be an effective self-help tool in the struggle with aches and pains.
Buy from Amazon