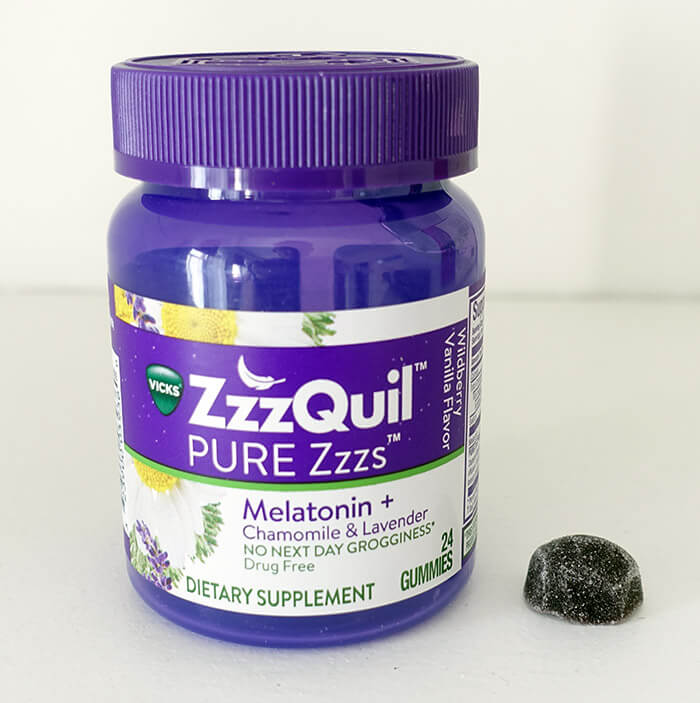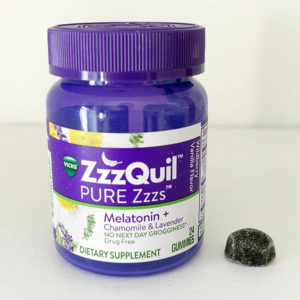 For the past week, I've been testing ZzzQuil Pure Zzzs – one of several over the counter sleep aids made by Vicks.
The active ingredients are melatonin, valerian, chamomile, lemon balm, and lavender.
It's important to note that this version is different from ZzzQuil Nighttime, which contains an antihistamine instead.
The short summary is that they seemed to work well for me, as has been my experience with melatonin in the past. It's always tricky to be sure if it's the sleep aid working or the placebo effect, but I do feel I slept better when taking them.
As for criticisms, for me the main issue was the sugar content – 5 grams per dosage.
In this review, I'll talk about my experience trying ZzzQuil Pure Zzzs. And I'll also take a closer look at the ingredients and safety advice if you plan on using them too.
---
My experience
---
Dosage and high sugar content
The instructions tell you to take one to two gummies 30 minutes before bedtime. I took two, immediately noting that they both taste good and are very sugary.
Each gummy has 2.5 grams of added sugars, so five grams in a full dosage. I'm not a fan of adding sugar to sleep aids – not only does it make you want to brush your teeth again if you already did, but I think it makes them too appealing to children.
On the plus side, the melatonin content is 2 mg, which although still higher than some sleep experts would recommend, is more reasonable than the huge 10 mg dose that some sleep aids have. And there's also the 100 mg blend of botanicals (see ingredients below).
First night
After taking them, I read in bed for a while. I do feel I was a bit drowsy after around 40 minutes, though I was tired anyway so I can't be sure it was the Pure Zzzs.
I slept for 7.5 hours in total that night and had no significant wakings. And that's a good night's sleep for me considering how often I sleep for less than seven hours.
No side effects so far
As far as I could tell, I had no side effects that night. No vivid dreams (a possibility with the ingredients of melatonin and valerian).
I had no fuzzy head in the morning either, as is often the case with prescription sleep aids and many common over the counter antihistamine sleep aids.
Three more nights testing
I took the same dosage around the same time for the next three nights. And again, I slept reasonably well each night, with no side effects.
Waking with a headache after night 5
On night five, I slept well but woke up with an unpleasant headache. I did work out hard in the gym in the evening, so there's a chance I was a little dehydrated during the night.
But I don't usually get that kind of headache though, so I suspect the ZzzQuil Pure Zzzs had something to do with it.
A milder effect, but no side effects on nights 6 and 7
After my headache during night five, I wondered if it was the beginning of ongoing side effects. This sometimes happens with sleep aids; you're fine for a couple of nights, but then side effects creep in and start to build over time.
However, I had no repeat of the headache or any other side effects. So either it was a one-off or perhaps down to my gym session.
In terms of my sleep, I did wake up a little more often than the previous nights, and my total sleep started to drop down again. Whether I was building a tolerance to them or there was another explanation is impossible to say.
My conclusion
I took ZzzQuil Pure Zzzs every night for seven nights and slept well for the first five. The effect lessened towards the end of the week, but it's not clear why this was.
There was only one night with any side effects – a headache – which is better than many other sleep aids. They often leave you with a fuzzy head in the morning (and sometimes all day), so it was good to wake up feeling refreshed and ready to start the day.
I don't like the sugar content though, and would personally avoid them in the future purely based on that point. And if you have children in the house, I would keep these well out their reach as they look, smell and taste exactly like sweets.
The role of the placebo effect
I have to admit, I've tried melatonin sleep aids before, and have had good results from them. So I'm aware that my positive expectation – i.e. placebo effect – may play a role when I test a new one. I've also found that the herbal ingredients valerian and chamomile have a mild sedative effect for me.
And since I'm not wired up in a sleep lab when I test a sleep aid, and rely on sleep tracker data and my observations, the outcome is a subjective review.
So please bear in mind that you might not have the same experience as me if you decide to try them.
What others say about them
At the time of writing, ZzzQuil Pure Zzzs are sold on Amazon, with more than 1000 customer reviews. It has 4.5 out of 5 stars, and although most give it 5 stars, there are still many who give it just 1 or 2.
Those who give it 4 or 5 generally say it just helped them sleep, with some also mentioning vivid dreams.
Those who give it 1 or 2 stars tend to say it didn't work at all for them, or that they had bad dreams. And there are some who also complain about the high sugar content and taste.
---
Additional information
---
Ingredients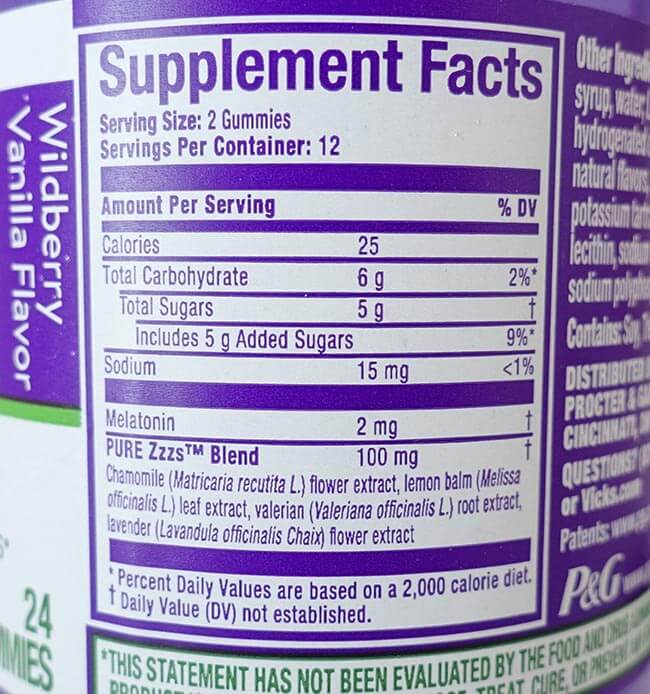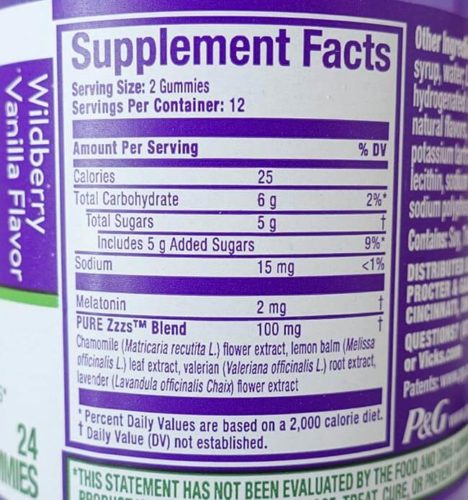 Active ingredients per 2 gummy serving
Melatonin 2 mg
100 mg blend of chamomile flower extract, lemon balm leaf extract, valerian root extract, lavender flower extract
Inactive ingredients
Sucrose
Corn syrup
Water
Hydrogenated coconut oil
Pectin
Natural flavors
Maltodextrin
Sodium potassium tartrate
Citric acid
Soy lecithin
Sodium citrate
Malic acid
Sodium polyphosphate
Red 40
Blue 1
If you search for www.zzzquil.com, they have a smart label for their ZzzQuil products, with brief notes about what each ingredient does.
Precautions – who should seek advice before using
According to the manufacturer, if any of the following apply, you should consult a healthcare professional before using:
Those under 18 years old
If you have long-term sleep problems (for more than two weeks is standard advice)
If you are pregnant, trying to become pregnant, or nursing
Those with a medical condition, taking medication or with a chronic condition (it doesn't specify which ones, so it's a good idea to check first no matter what the condition is)
If you take any other sedatives, tranquilizers or sleep aids
Don't drive or operate machinery when you take melatonin
Don't mix with alcohol.
In addition, if you're allergic to Ragweed, I would consult a doctor if you haven't taken chamomile before as chamomile might give you allergy symptoms.
Possible side effects
The bottle I bought had no warnings of possible side effects. I also couldn't find any on the Vicks website, or any online stores where it's sold.
So, my advice would be to check authority medical websites for the possible side effects of the active ingredients. Good sites to check include:
Healthline.com
Mayoclinic.org
Drugs.com
Webmd.com
Most people are thought to tolerate melatonin well, with only mild side effects if any. The main potential side effects that come up in studies include:
Drowsiness
Headache
Dizziness
Nausea
Have you tried ZzzQuil Pure Zzzs?
Let me know in the comments what your experience was this sleep aid. Did it work for you? Did you have any side effects?