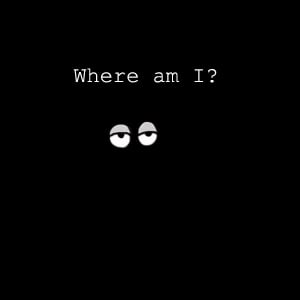 If you've ever experienced confusional arousals, you may have done something as equally strange as what I'm about to describe.
Two weeks ago, I woke up in the middle of the night, and then just sat up in bed for a while in the dark. I can't recall how long I sat in that position, but I vaguely remember feeling a little thirsty.
Instead of doing the logical thing and reaching for the glass of water on my bedside table, I picked up my phone.
It was only when lifted it to my mouth that I must have realized that it didn't contain anything drinkable, and put it back on the table.
I then vaguely remember rummaging around for the real glass of water and knocking it off the table onto the stone floor.
I think the sound of the shattering glass must have snapped me out of the confused state. But even then I couldn't quite understand what I was trying to do.
Over the next few minutes, I slowly came back to reality, and eventually got up to clean the floor. It was only when I was back in bed that it dawned on me that I hadn't been my usual self.
It seems I'd experienced an episode of what's known as confusional arousals. I'm sure it wasn't the first time either, but like many people, I probably don't usually remember it.
Do you wake up confused and do unusual things?
If you sometimes behave in a confused, strange, or even aggressive way if you wake up in the night, it could be that you've also experienced confusional arousals.
And if it tends to happen in the morning, it could potentially be that you have 'sleep drunkenness'. This is the popular name for what sleep experts call severe sleep inertia. Or in layman's terms, being unusually slow to come back to life when you wake up in the morning!
In this article, I'll be taking a look at what confusional arousals are, what's thought to cause them, and what can be done about them.
I'll also discuss some fascinating research which shows how common a sleep disorder it is, and who is more likely to have it.
Poll results
Back in 2015, I ran a poll to find out how often readers experience confusional arousals.
Note that it's a poll of people reading this article because it's relevant to them. So the figure of 2.8% who have never had them is likely to be higher in the general population.
Interestingly though, out of 657 readers, 230 said they have confusional arousals very regularly – between 1 and 3 times per week. However, 188 people only have a few per year.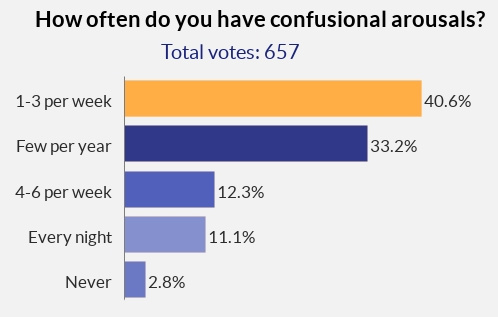 What are confusional arousals?
The International Classification of Sleep Disorders diagnostic manual describes confusional arousals as being when someone wakes up in a confused state.
That might sound obvious, but the confusion can take different forms. For example, you might be confused about who you are, where you are, or what's happening around you.
If someone talks to you, you might have slow or slurred speech. You might give short, blunt answers to questions, or make no sense at all.
It typically happens on waking from the slow wave stage of sleep in the first third of the night. But it can also occur when waking from any stage of sleep.
In the spectrum of sleep disorders, confusional arousals are classified as a parasomnia. Parasomnias include unwanted events or experiences around sleep, such as sleep talking, sleep paralysis and nightmares.
In an interesting research study published in 2020, the authors describe confusional arousals in a way that I think helps understand what can happen during a typical episode:
CA are episodes during which the subject sits on the bed and looks around as if confused. CA often begin with automatic movements, vocalizations or moaning and can progress to thrashing about in bed or violent behaviors towards oneself or others. Individuals usually appear with slow mentation and have poor reactivity to environmental stimuli; attempts to awaken the person are often unsuccessful and may be met with vigorous resistance.
Who experiences confusional arousals?
It's believed that an equal number of men and women experience confusional arousals. And it's more common in children and adults under the age of 35.
In 2014, researchers at the Stanford University School of Medicine published some fascinating research into confusional arousals.
The research made major news headlines, perhaps in part because they could use the captivating title of 'sleep drunkenness'.
Importantly, the researchers discovered that it's surprisingly common and that some groups of people are much more likely to have it.
Key points and findings
Here are the main findings of the Stanford study:
They interviewed 19,136 adults in the United States.
15.2% had experienced confusional arousals in the last year. Over 50% of those had experienced it more than once a week.
Of the 15.2% who had confusional arousals, they found:
84% were associated with either a sleep disorder, a mental health disorder, or were taking psychotropic drugs.
70.8% had another sleep disorder.
14.8% sleepwalk.
37.4% had a mental disorder (mostly bipolar and panic disorders).
31.3% were using psychotropic medication (mainly antidepressants).
Just 0.9% had no related condition or identifiable cause and could be said to have a confusional arousal disorder.
8.6% have either partial or no memory of episodes.
Different types of confusion
The study found the following were the most common types of behavior or confusion:
Temporospatial disorientation (confusion about where or when they are): 57%

Hallucinations

: 36%
Difficulty speaking or thinking clearly: 34%
Confused behaviors: 20%
Sleepwalking:15%
No memory of episodes: 9%
Interestingly, the team concluded that confusional arousals were often reported as arising from the treatment of other sleep disorders. And that both sleep and mental disorders were important factors – as seen from the figures above.
Aggressive behavior provoked by another person
Do you or someone you know sometimes act in an aggressive way during an episode? This is understandably worrying and can be stressful for partners. So why does it happen and what can you do about it?
In 2007, Mark R. Pressman, Ph.D. published an interesting review that looked at violent episodes during confusional arousals.
He wrote that violent episodes aren't common. But when they do happen, it's usually in two situations:
If someone wakes you up.
When you behave in a complex way in bed in your sleep, and someone else tries to calm you by holding or grabbing you.
He further clarifies that:
Violent behaviors associated with provocations and/or close proximity were found to be present in 100% of confusional arousal patients
So perhaps it's best to avoid physical contact with someone having an episode unless they are putting themselves or others in danger. And to try to avoid waking someone up who is prone to confusional arousals.
Causes and risk factors
Confusional arousals are thought to happen when transitioning from deep sleep to a lighter sleep stage, or when woken up suddenly.
Researchers in 2018 summarize what happens in a slightly more technical way:
Confusional arousals (CA) are characterized by the association of behavioral awakening with persistent slow-wave electroencephalographic (EEG) activity during non-rapid eye movement (NREM) sleep—suggesting that sensorimotor areas are "awake" while non-sensorimotor areas are still "asleep."
In addition, the American Academy of Sleep Medicine lists several possible risk factors and causes:
Shift work
Sleep disorders – sleep apnea, periodic limb movement disorder, insomnia, hypersomnia, circadian rhythm sleep disorder
Lack of sleep / recovering from sleep deprivation
Stress and worry
Psychotropic medication
Drug abuse
Being made to wake up
Bipolar and depressive disorders
Alcohol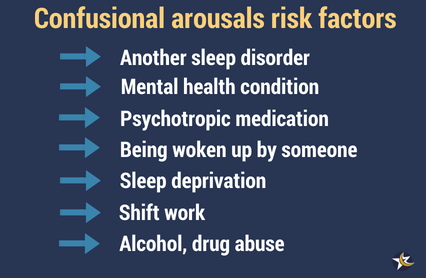 Treatment and prevention
There isn't a specific cure for confusional arousals as such, and no one-size-fits-all treatment.
If another disorder is causing the episodes, that's what needs to be treated. This is something to speak to your doctor about, especially if you have signs of a serious sleep disorder like sleep apnea.
The same applies to mental health conditions that can be treated and managed. And if you're taking medication, it's a good idea to mention the episodes to your doctor.
It's also important to try to focus on your sleep and make sure you're getting enough – don't allow yourself to become sleep deprived over time.
Reducing the amount of alcohol you drink or cutting it out altogether might help.
And the advice from sleep professionals is as always to practice good sleep hygiene. In particular, find ways to reduce stress, develop a consistent and relaxing bedtime routine so you go to bed in a calm frame of mind.
You're not alone
One final note if you've been worrying about your behavior is to remember that you're not alone. Don't be embarrassed or think you're abnormal because of what you do when you're not fully aware.
Many people experience sleep disorders or go through periods where bizarre things happen to them at night.
But if it's worrying you or having an impact on your life or relationships, it's a good idea to speak to a medical professional. At the very least they should be able to set your mind at ease.
The funny side
Personally, I choose to deal with it by trying not to take it too seriously. I try to laugh at myself when I do strange things like attempt to leave my bedroom via the wardrobe (yes, really!).
I know I have other sleep problems and am constantly working on those. So I hope that one day I'll get on top of my sleep problems once and for all. Perhaps the confusional arousals will then resolve too.
But until then, other than worrying about replacing a broken glass, I'm able to see the funny side. I remind myself that little events like this can make life all the more colorful.
Understandably, if your confusional arousal episodes are causing problems because of aggressive behavior, sleep disruption or complaints from a partner, you might not see the funny side.
But if it's just the occasional event of mistaking your phone for a lamp, or not knowing who you are for a moment, then perhaps a smile or laugh is the best way to stop yourself get stressed by it.
Your thoughts
If you've experienced confusional arousals I'd be very interested to hear from you. What exactly happens during your episodes? Have you found anything makes them more or less frequent?
It's often the case that readers find reassurance in knowing that they aren't the only ones who experience a particular sleep disorder. So please feel free to share you your story in the comments below.